Whether you realize it or not, every business needs copy.
It's easy to think that you can write all of your copy yourself, but it's far from the truth.
Think about all of the things in a business that require copy; PPC ads, blog posts, web pages, landing pages, lead magnets, etc.
Writing generic copy will only get you so far. It won't spark customers to take action or separate your business from the rest.
So, what's a company ought to do?
Hire a copywriting agency.
But, what exactly is a copywriting agency and how can they help grow your business?
That and more ahead. 👇
What is a copywriting agency?
A copywriting agency is a marketing agency that specializes in writing sales copy and other forms of business material.
This can also include:
Whitepapers
Case studies
Books
Etc.
They use their expertise to write copy that generates results. This changes based on the individual campaign, but it may be leads in one instance and revenue in another.
You pay the agency per project, per hour, or based on a monthly retainer if there's a set amount of work to do every month.
What does a copywriting agency do?
Copywriting agencies will perform several different services and processes to help your campaign succeed. Here are the main benefits of hiring a copywriting agency.
They (obviously) write you copy
Great copy is like a needle in a haystack. It's tough to come by and very difficult to write.
That's why a copywriting agency will write any material you need, no matter the industry, audience, or campaign.
Learning copywriting yourself can take years of effort and practice, so they are also saving you mountains of time.
They have proprietary techniques and processes that are used to carefully craft writing which converts customers.
It's an art and science best left to professionals for this reason.
Generate you traffic, leads, and revenue
Be honest. What do you really want as a business owner when buying services?
Results, right?
That's where the ROI of copywriting comes into the picture.
A good copywriter will ensure that the copy they write ultimately does something.
Otherwise, what's the point?
There's no shortage of writers available to hire, yet they don't offer anything special.
The reality is a talented writer or agency is an expert in conversion rate optimization, SEO, lead generation, and similar practices.
All of these are combined together like a Michelin star chef creates a fine dish.
Whether you're trying to generate more organic traffic to your website through blogging or driving revenue from a sales letter, an agency will do the heavy lifting for you.
Look at Amerisleep, for instance. The B2C mattress company worked with a copywriting agency to re-do their product pages.

They were able to increase checkouts by 13.9%, ultimately increasing the brand's annual revenue by millions. 💲
This is a prime example of what an agency should be able to do for your business.
And, that brings me to my next point.
Saves you time and energy
Copy isn't easy or quick to write.
In fact, it takes many hours of research and planning before a pen ever touches paper. (or, more likely, fingers touch a keyboard.)
That doesn't include writing, editing, proofreading, and performing revisions, either.
This all takes blood, sweat, and tears. None of which you'll have to shed if you hire a copywriting agency 🙂
You can focus on operating your business and other high ROI tasks as an agency does all of this work for you in the background.
Consider how much time we spend every day on various tasks.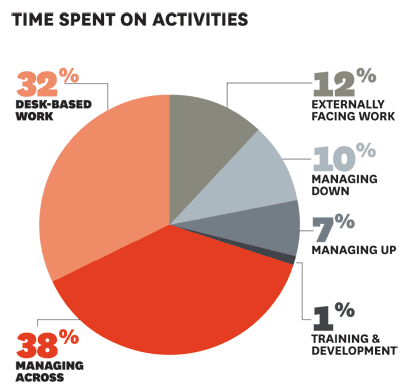 38% is managing activities followed by doing desk-based work.
Mix in copywriting–which may not be your greatest skill–and you're adding to the melting pot.
It gives you insight into your business
One of the most important processes of copywriting is researching.
For example, when I take on a new copywriting project I begin organizing resources like:
Content and brand guidelines
Market and industry reports
Competitor information
Buyer personas
Case studies
Whitepapers
Etc.
I study these items to find patterns, trends, and understand aspects of the client's business, such as:
What the customer wants, needs, feels, and experiences before and after using their product.
Their unique value proposition.
How competitors are writing copy and what we can learn or do better.
That information ultimately assists me in writing material that produces results and I can hand off any findings to the client. Often they gain insights into buyer personas, marketing strategies, and channels.
Agencies should perform these same processes along with surveys, questionnaires, and other methods of conducting primary research.
How to choose a copywriting agency
When you go hire a copwriter or agency, what should you look for?
These are some of the main factors based on my experience running an agency and hiring writers over the years.
Price is always a factor
Price does affect quality.
If you hire a cheap writer off of Upwork for example, you're not going to get the quality, workflow, and impact that someone like me would offer. (Not to toot my own horn or anything!)
The reality is you're not going to find a writer that can significantly impact organic traffic, lead generation, revenue, and other KPIs for cheap.
Writers worth their weight in gold are going to charge a premium based on their experience and previous results.
So, of course, work with your budget but don't be afraid to spend a little extra because it's worth it.
Imagine this: you pay a copywriter $10,000 to write a long-form sales letter. It generates $100,000 in sales which is 10x your original investment.
ROI like that is very common when working with talented writers.
Their portfolio and experience
The more impressive the portfolio, typically the better.
Here's why.
Large publications and companies aren't going to work with anybody.
They pick and choose very carefully and an agency that has top clients also means that they were able to meet editorial and business standards.
That speaks to their professionalism and capabilities, so always check out a writer's or agency's portfolio.
Ease of work and process
I'm a firm believer that working with a service provider should solve headaches, not cause them.
Consider for a moment that day-to-day stress is rising for the average American, as well.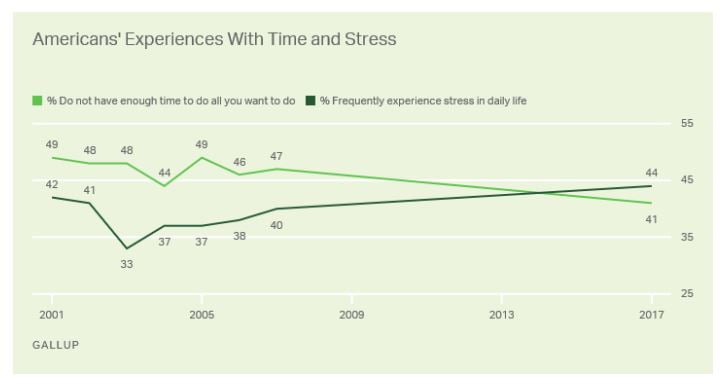 And, as an entrepreneur, it only gets worse.
Managing budgets, campaigns, employees, and more is enough to make your head turn gray in an hour.
That's why you should find an agency where your values and personalities match.
There's nothing worse than a bad client or service provider. Business is stressful enough. It doesn't need to be dreadful.
I'm sure you can think of the last bad client or business you've worked with, right?
If there's a free consultation or discovery call, always take it. Don't just ask about their rates and experience, but also how they work, what they value, etc.
What's their specialism?
While some agencies are generalists and are capable of writing copy for many industries, some use laser focus to master one.
Let's say that you're looking for a B2B content writer. It would most likely be better to work with an agency that focuses on that niche versus one that doesn't.
This is because the specialized agency has more knowledge, in-depth strategies, and a Rolodex to maximize the effectiveness of what they write.
Final thoughts on copywriting agencies
Hiring an agency to write your copy or content is an incredible investment as a business.
They have the skills and knowledge to produce copy that generates results, whether that's organic traffic, sales, hot leads, or otherwise.
Being able to focus on other tasks, not worry about writing, and kicking back as it's done for you are huge benefits.
Look for an extensive portfolio, rates that match your budget, and a provider that's easy to work with. You want to see results but not lose your hair in the process 😉