Looking for freelance writing gigs or inspiration to get past that pesky writer's block?
You're in the right place, my friend.
Today I'll be sharing the best subreddits for writers which can be used to find work, inspiration, or receive feedback.
They're also good for hiring if you're in need of freelancers.
I've used many of these myself and browse them on a regular basis.
Heck, I landed heaps of clients through them back in my early days as a writer.
Let's dive in!
1. /r/hireawriter
This, as you could guess, is a subreddit for hiring writers. People use it to advertise writing services or hire for their business.
The minimum rate is 5 cents/word and any jobs below that will be removed. This keeps a certain standard to the subreddit.
Users must use the [Hire Me] tag in their post tile or [Hiring] if they are looking to hire a writer.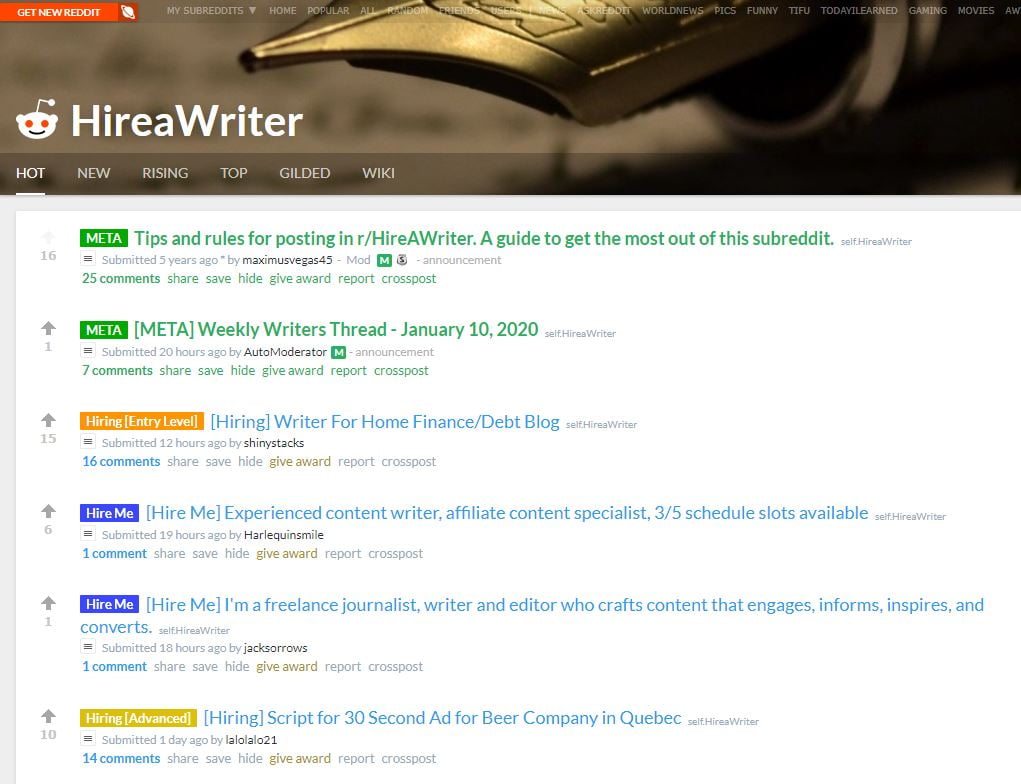 Keep in mind this checklist they provide to follow the basic rules of the subreddit:
Always mention a pay rate whether you're hiring or offering writing services.
Use the appropriate tag in the title.
Try to exceed 350 characters and provide as much context in your post.
Have some karma and age on your account. That means you should post and engage with other threats to build up your account.
Link to a portfolio if you're a writer.
This is a very active subreddit, as well. There are a couple of dozen posts every day, so yours will probably get pushed down quickly. Make it a habit to post there regularly for this reason or you'll get drowned out.
2. /r/writersforhire
Also known as /r/hireprowriters, this is a subreddit similar to the first in the sense it's used for both hiring writers and finding work as a freelancer.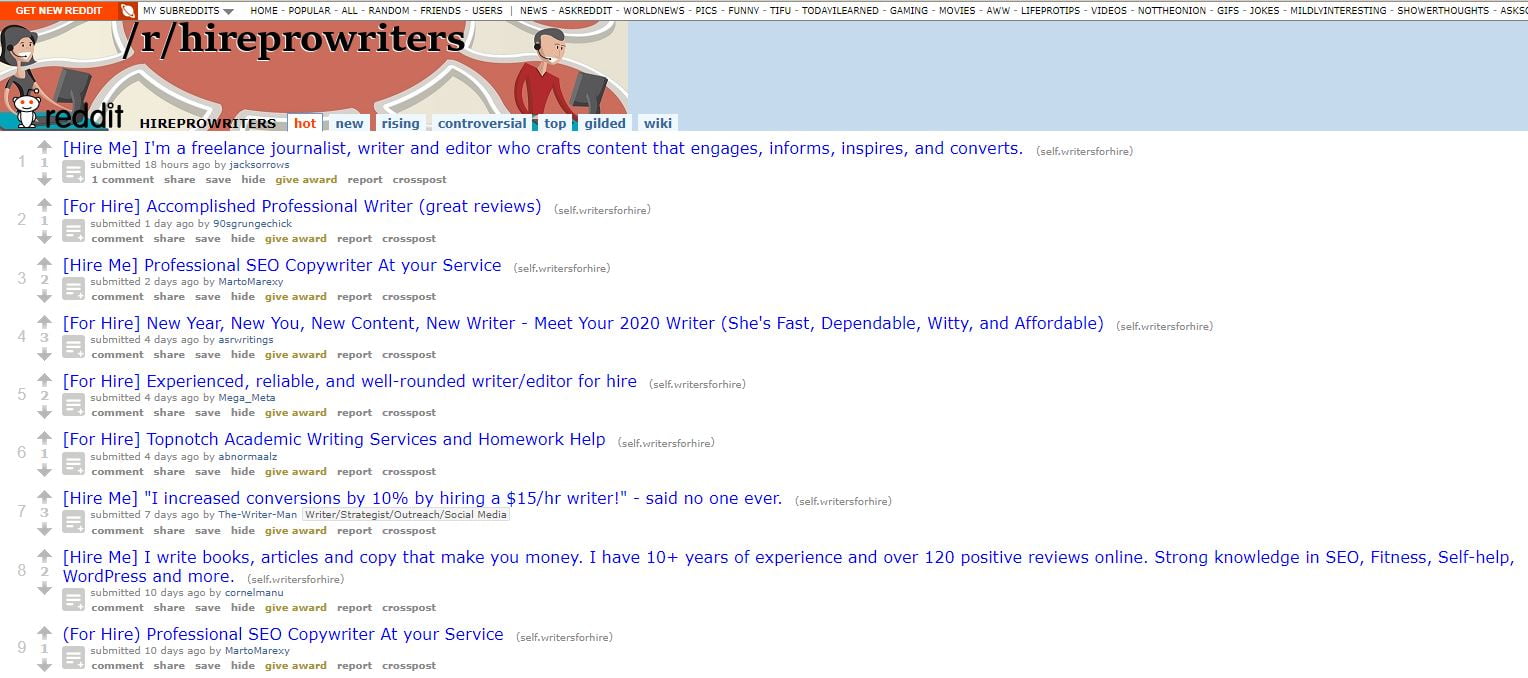 You can not ask for free work on this subreddit, however. The same applies to samples unless they are paid.
No work can be under 8 cents/word to make it beneficial for both parties, as well.
There's also a strict rule for no academic help. If you want someone to write that chemistry paper, you're out of luck!
Every post must include specific instructions regarding the project, time frame, wage, needed research, etc.
Contact information must also be given in the form of email, text, PM, etc.
No personal information is allowed either than what's required to complete a job. Reddit is massive. You shouldn't be posting personal information, anyway.
A portfolio is a must and the subreddit admins advise to always get a contract signed. It's better to be safe than sorry, right?
Furthermore, they don't allow those without experience to post. It's for more established writers. Sorry newbies!
I thought this rule was hilarious, but they say "Don't accept Bitcoin." 😂
There's roughly a new post per day so it's not extremely active but still has consistency. Your post will remain on the front page for a while for this reason.
3. /r/writing
This is by far the biggest writing subreddit there is on Reddit itself.
It has over 1,00,000 subscribers and hundreds of users are active on it at any given time.
However, it's not a place to look for work or hire.
It's more for discussions and talking about topics that matter for writers.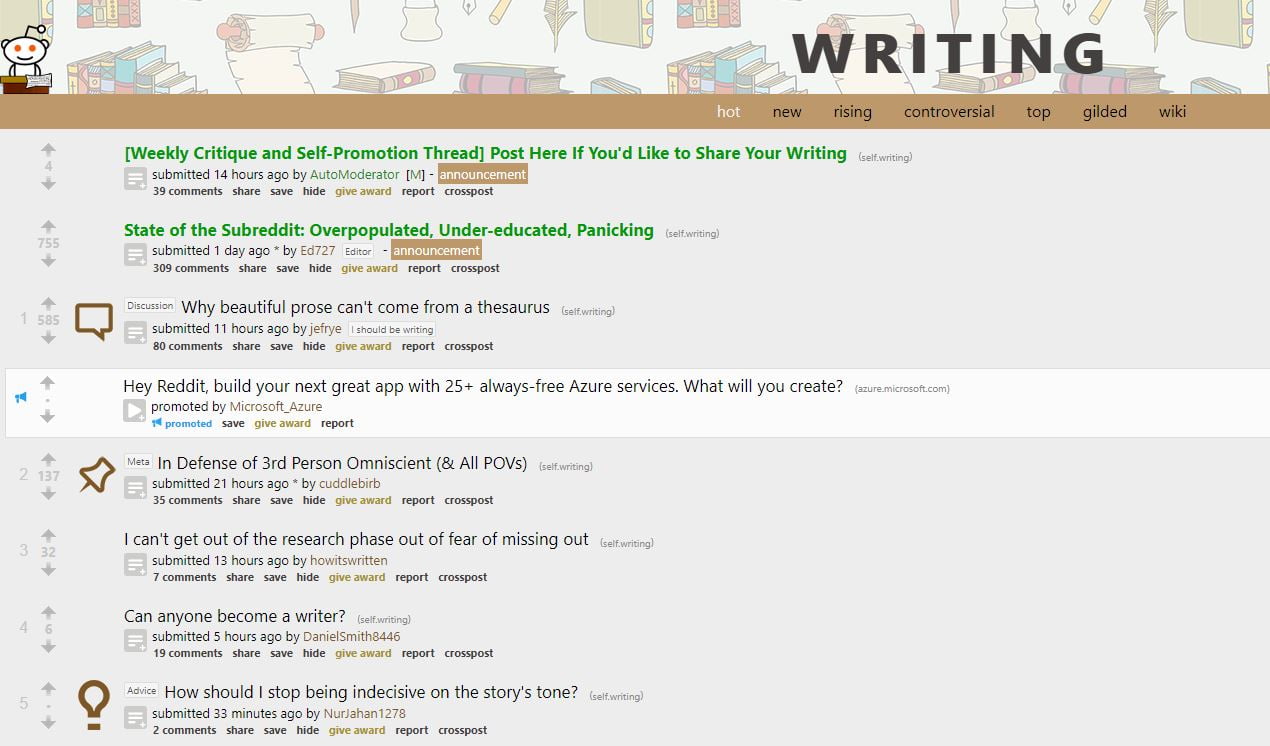 In fact, their welcome message is:
Welcome to the home for writers. We talk about important matters for writers, news affecting writers, and the finer aspects of the writing craft.
They are very strict about posting being related to writing. Anything even slightly related to outside topics will be removed. This includes threads about writing software, hardware, research questions, etc.
There are weekly critique and self-promotion threads you need to take advantage of, too. These help you get feedback to become a better writer while also promoting your work for increased reach.
If you're interested in sharpening the ax that is writing, look no further. Keep an eye out for this subreddit and you'll find it very helpful.
4. /r/writingprompt
Here's a fun one.
This subreddit gives you a daily idea to get you started writing. It puts you on the spot and pushes your creative buttons.
A user will create a thread with the beginning of a story, A.K.A a prompt, and everyone else has to use it to continue the story.

It allows you to be creative and warm up your writing for the day.
People, as usual on Reddit, will be quick to give you feedback as well 😉
It looks something like this (Weird prompt, I know):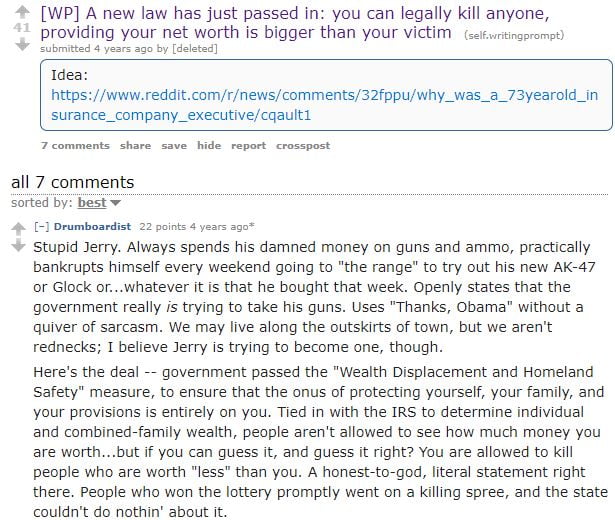 If you're shy, write your response in a Google Doc or Notepad file so it isn't public.
5. /r/wordcount
Let's be real. Achieving a certain word count for projects or on a daily basis is a big deal for writers.
I find myself writing a few thousand words per day, for instance.
If you struggle to find it motivating to hit a specific word count, use this subreddit.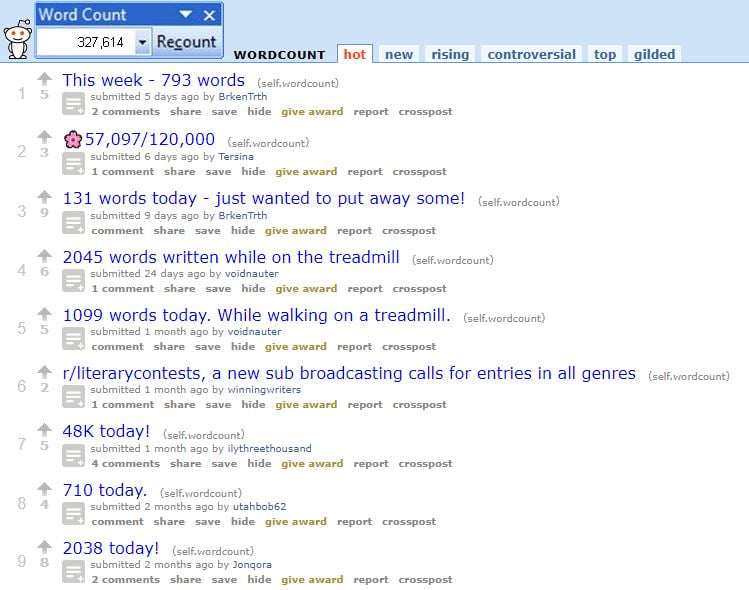 It's your place to brag about how many words you've written in a single day or week.
Writing a novel and need motivation? Post!
Trying to keep a winning streak? Post!
Other writers will motivate you along the way, as well.
It's not a very active subreddit but it's worth keeping in your toolbelt.
6. /r/selfpublish
Do you self publish books or have thought about starting?
Then you need to check out the self-publishing subreddit.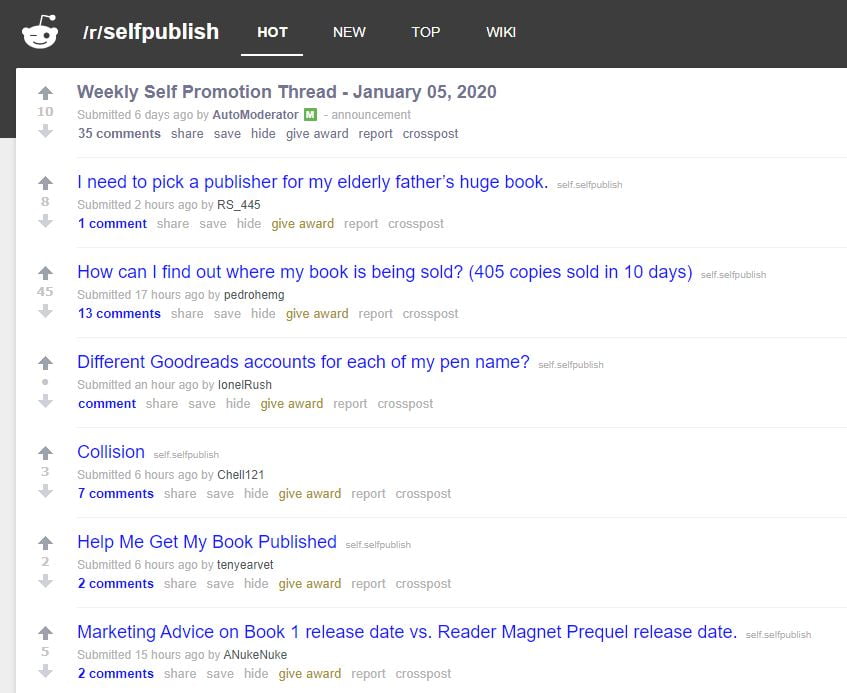 Their subreddit is advertised as:
A community for writers to discuss the process of self-publishing, share experiences in the "industry," and read up on self-publishing news.
It's a great resource for getting feedback on marketing self-published books, formatting, and other details that'll excel in your authorship.
Don't forget to take advantage of the weekly self-promotion thread, too. You can post your books and get free exposure.
7. /r/writermotivation
Some times you need a little push.
Because–as a writer–you know that writing is filled with obstacles and hoops you have to jump through.
It's nice to get a boost of motivation while writing and hitting those humps to stay productive.
That's where /r/WriterMotivation comes into the picture.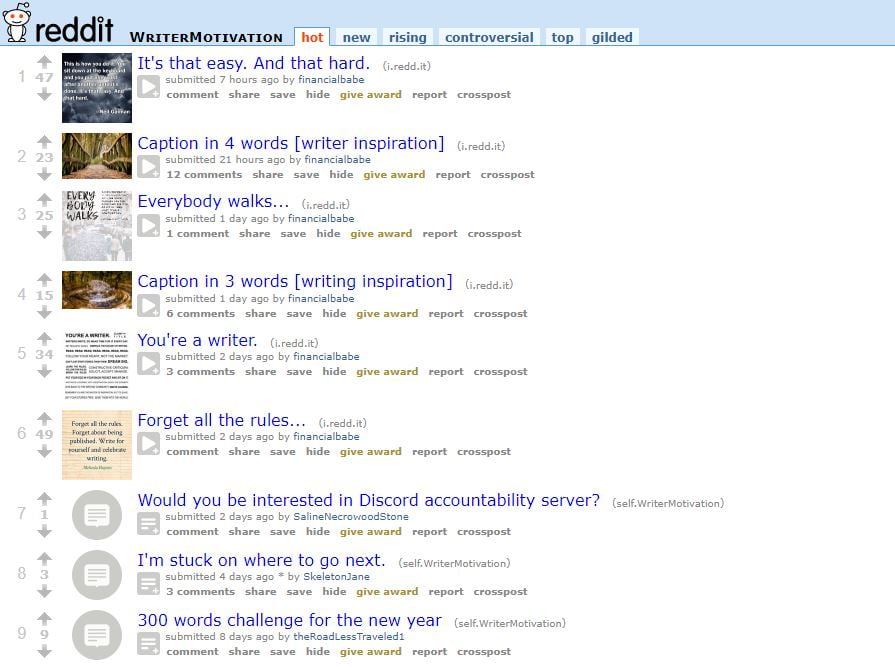 Their subreddit description puts it beautifully:
No matter how well you write, there will be times when you have to find the motivation to write the amount you want. 
Here you will find motivational tips, tricks, and images to kick writer's block in the butt.
8. /r/forhire
This is not a subreddit dedicated to writing, but it's incredible for finding writing-related work.
I used it to secure consistent writing clients back in the early days of my writing career.
You are able to post a self-promotional thread once per week detailing your services, rates, portfolio, and other required information.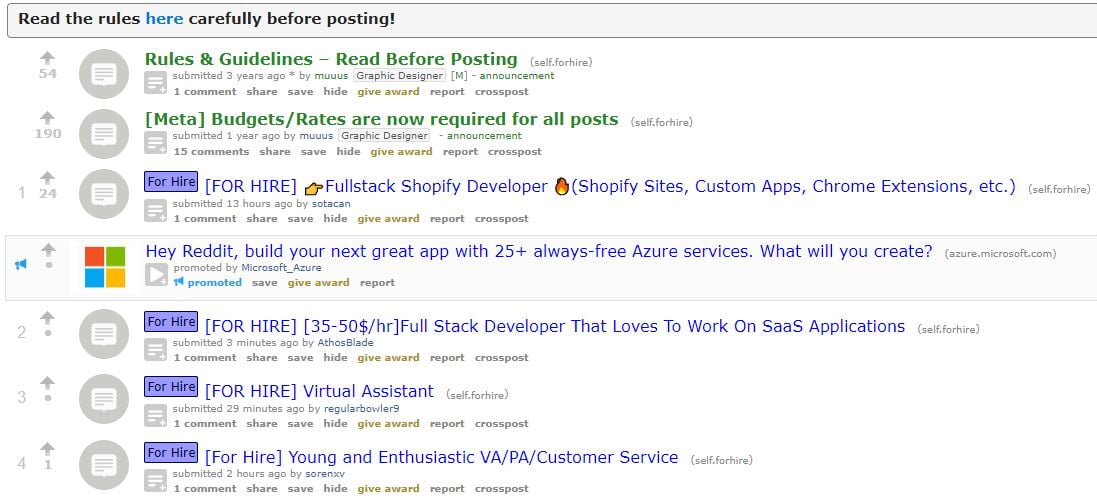 Who doesn't want leads showing up at their doorstep? (Or, more accurately, their inbox.)
It's also very effective for hiring. I've used it to onboard great freelancers who help me with client work and different projects to this day.
Makes sure you follow all of the subreddits rules or you'll get hit with the ban hammer.
9. /r/b2bforhire
This is another great subreddit for landing writing clients with a focus on B2B.
It moves very slowly, so your thread is guaranteed to remain the first page for a long time, giving you a steady amount of messages.
If you write content or copy for B2B industries, bookmark this one and post on a weekly basis.
10. /r/jobbit
Looking for a full-time writing job or freelance work?
Check out this subreddit, then.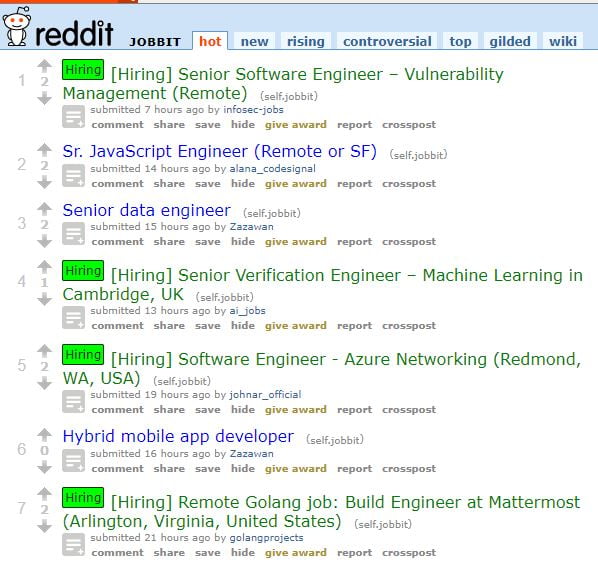 It's a great resource for posting jobs or landing gigs.
They allow for bids and resumes to be sent via the comment section, but many threads will have links to contact forms, email, etc.
You must also use [Hiring] or [For hire] tags appropriately like the other subreddits.
Wrapping up the best Reddit writing subreddits
Reddit is a great website. A little weird at times, but great overall.
It's easily one of the best websites for writers, too.
You can use the various subreddits I laid out today to find work, inspiration, or hire writers if needed.
Ensure that you read the sidebar in every subreddit, so you follow all of their rules.
What's your favorite subreddit for writers?