SEMrush is a freemium tool that will give any marketer an instant boost to their SEO performance.
You can use it for finding backlink opportunities, monitoring rankings, and discovering new content ideas.
I check the SEMrush results for my websites practically every day.
The best part about it is that it includes a free trial.
That's why I put together this quick SEMrush guide to help you use it like a pro.
Let's dive in.
Signing up for SEMrush
You can register for a free SEMrush account by clicking the green login button on the top right of the homepage here.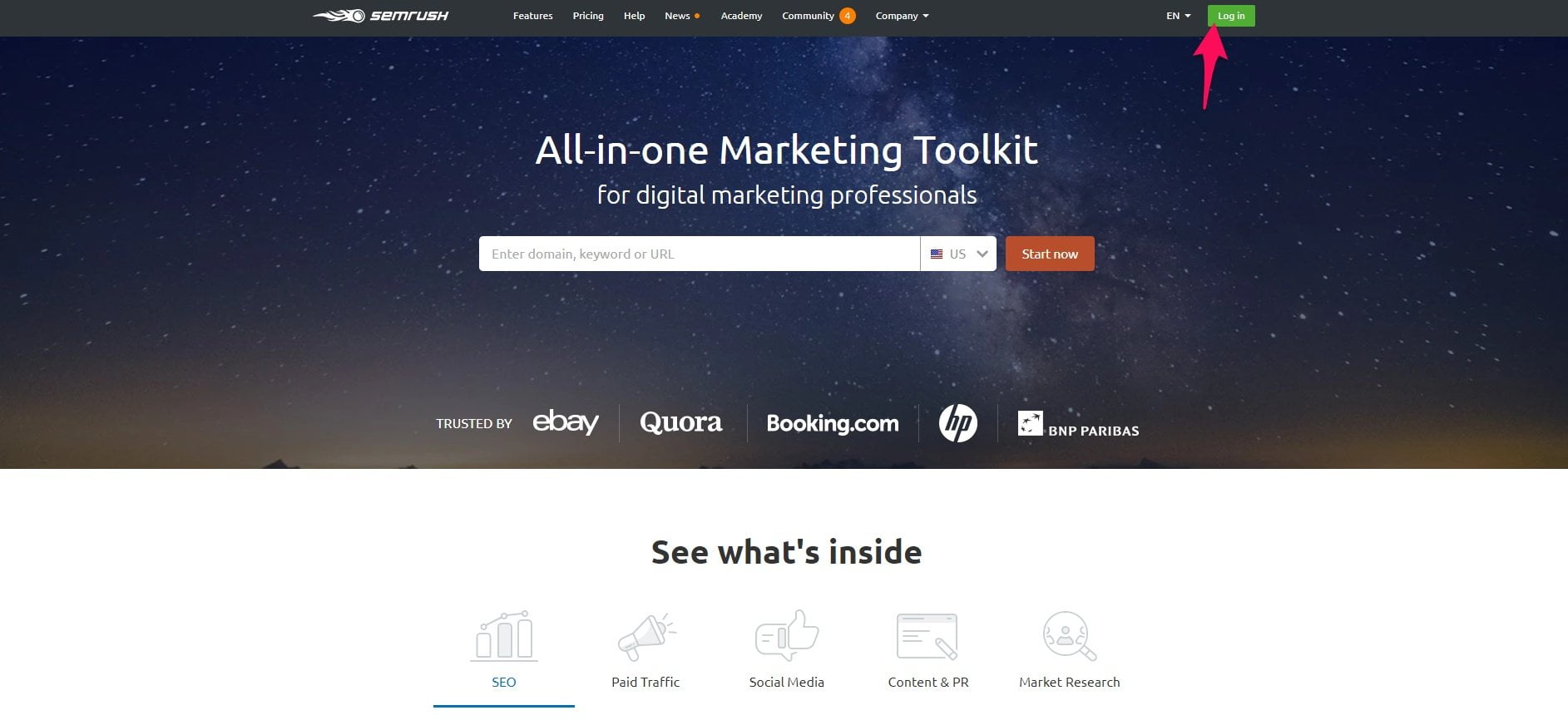 Click the "Register" tab afterward.
Enter an email and secure password, then click the button to create your account.
Using SEMrush
The first step to using SEMrush is entering the URL of your website or a competitor's from the dashboard.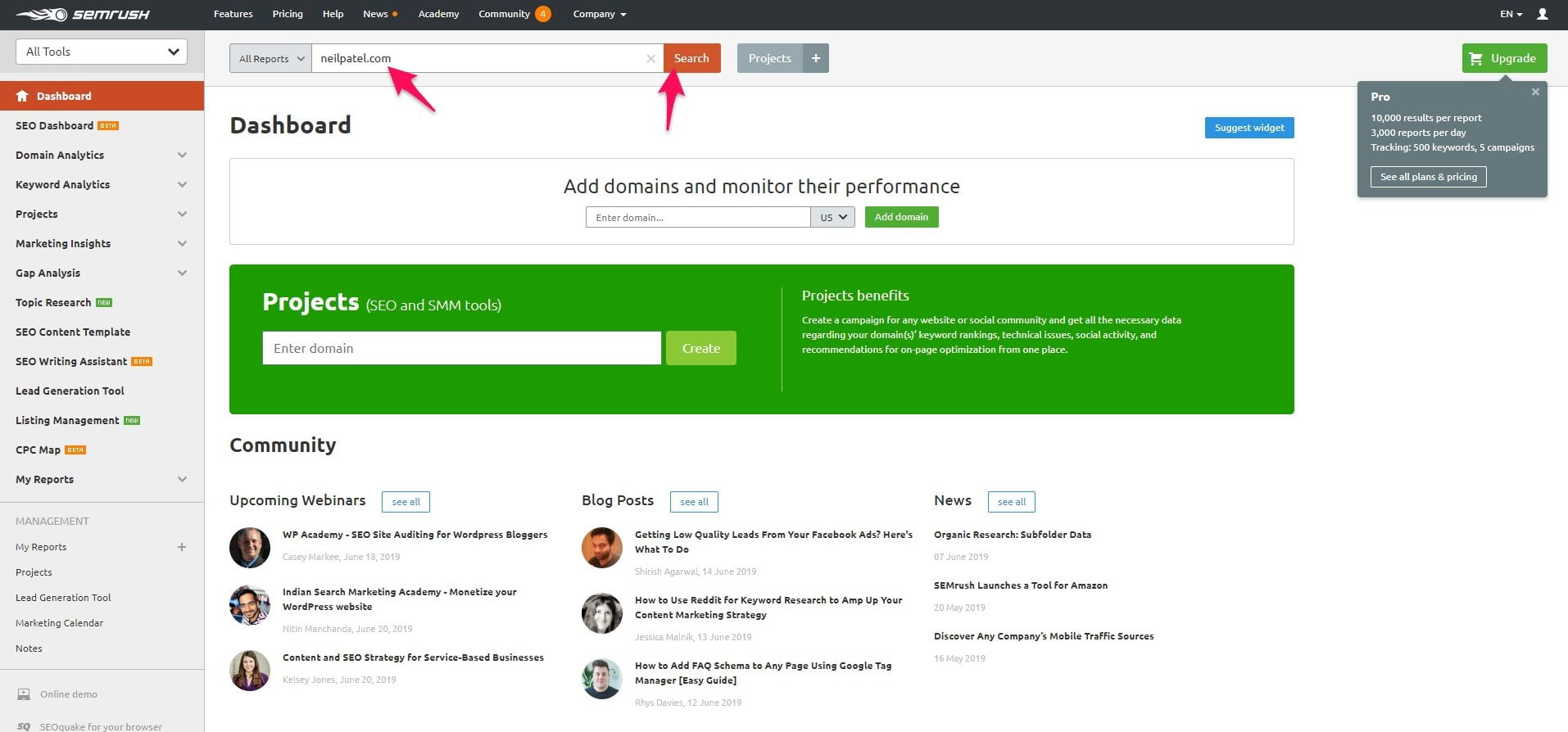 This will bring you to the next step.
Domain overview
The domain overview covers all of the major components of a website's performance, such as:
Backlinks
Keyword rankings
Paid traffic
Anchor text
Ads
It gives you an instant birds-eye view of how a website is performing in terms of organic and paid search.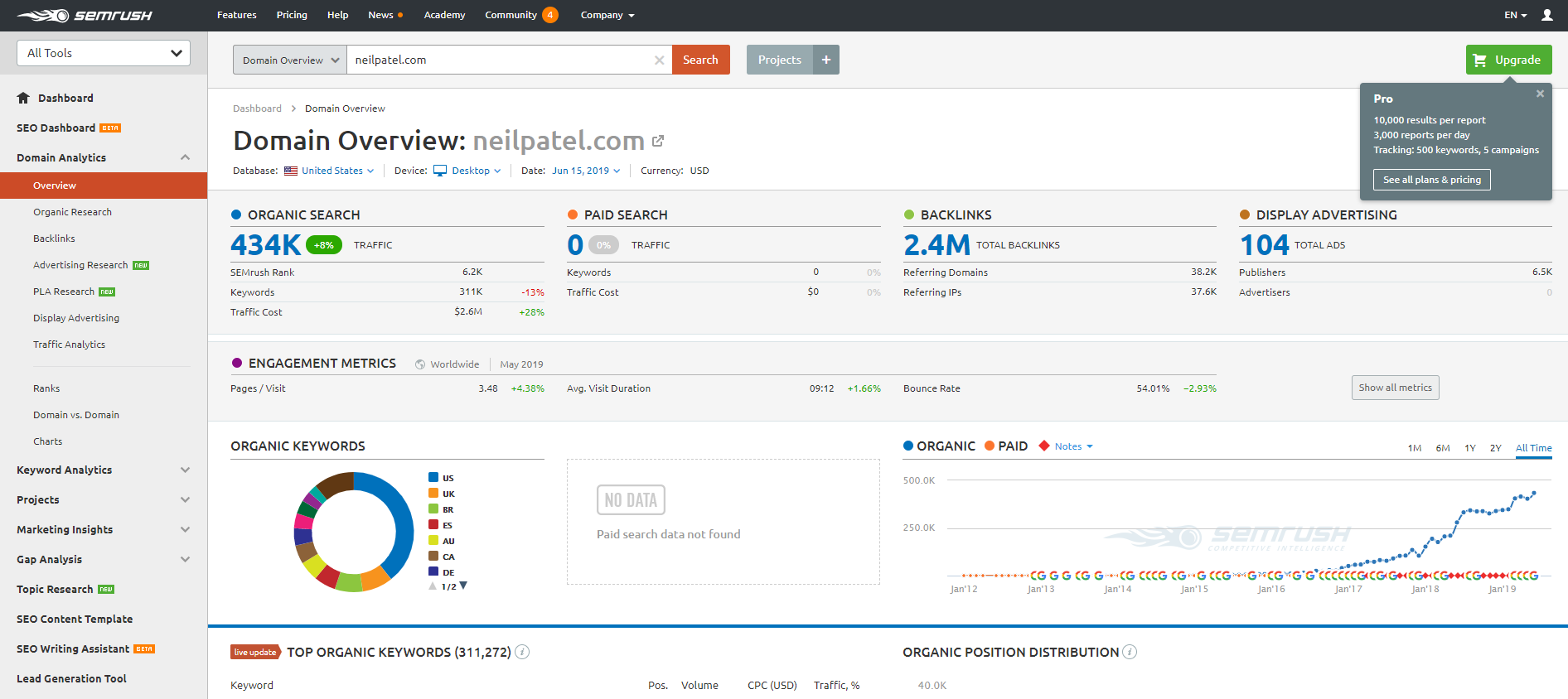 I love checking this for my websites to keep tabs on how organic traffic, rankings, and other KPIs I watch are changing.
It's also very convenient for snooping on the competition to see what keywords they rank for.
Let's talk a little bit about each area of the overview:
Organic search: This number is the approximate amount of monthly visitors coming to the website. I don't find it personally to be 100% accurate, but it can give you a rough idea of how a website is doing. SEMrush Rank is the rank the website has out of all sites in its database. Keywords are the number of search terms the site is indexed for, and Traffic Cost is the total CPC estimation.
Paid search: This is the amount of traffic a website is generating through paid advertisements. Keywords are the search terms being targeted in campaigns, and Traffic Cost is the CPC estimation.
Backlinks: The number of links that are pointing to the website. Referring Domains are the number of different websites giving the links, and the same goes for Referring IPs but for IP addresses.
Display advertising: The total amount of display ads they use and the number of networks they are being displayed on.
Engagement metrics: Average pages per visit, average visit duration, and bounce rate.
Below the main statistics are the organic keywords graph that breaks down which areas a website ranks for the most.
You will find the organic and paid traffic chart to the right of this.

Use this to determine how traffic levels of your site or another are changing over time.
Below this, to the left, is one of my favorite features of SEMrush: top organic keywords.

Here you will find which search terms are driving the most traffic.
Use this to discover what keywords competitors are targeting and find similar ones to boost traffic.
The backlinks section is another crucial area to keep tabs on.
SEMrush will show you what websites are linking to another along with anchor text and do/nofollow status.
You may notice that you're getting more links to a certain piece of content than another, for example.
In that case, you could promote that content more or create similar pieces.
Keyword analytics
SEMrush not only allows you to keep tabs on how well a website is performing, but individual keywords themselves.
This is thanks to their in-depth keyword analytics feature.
Click the "Keyword Analytics" tab from the left sidebar and enter a search term to begin.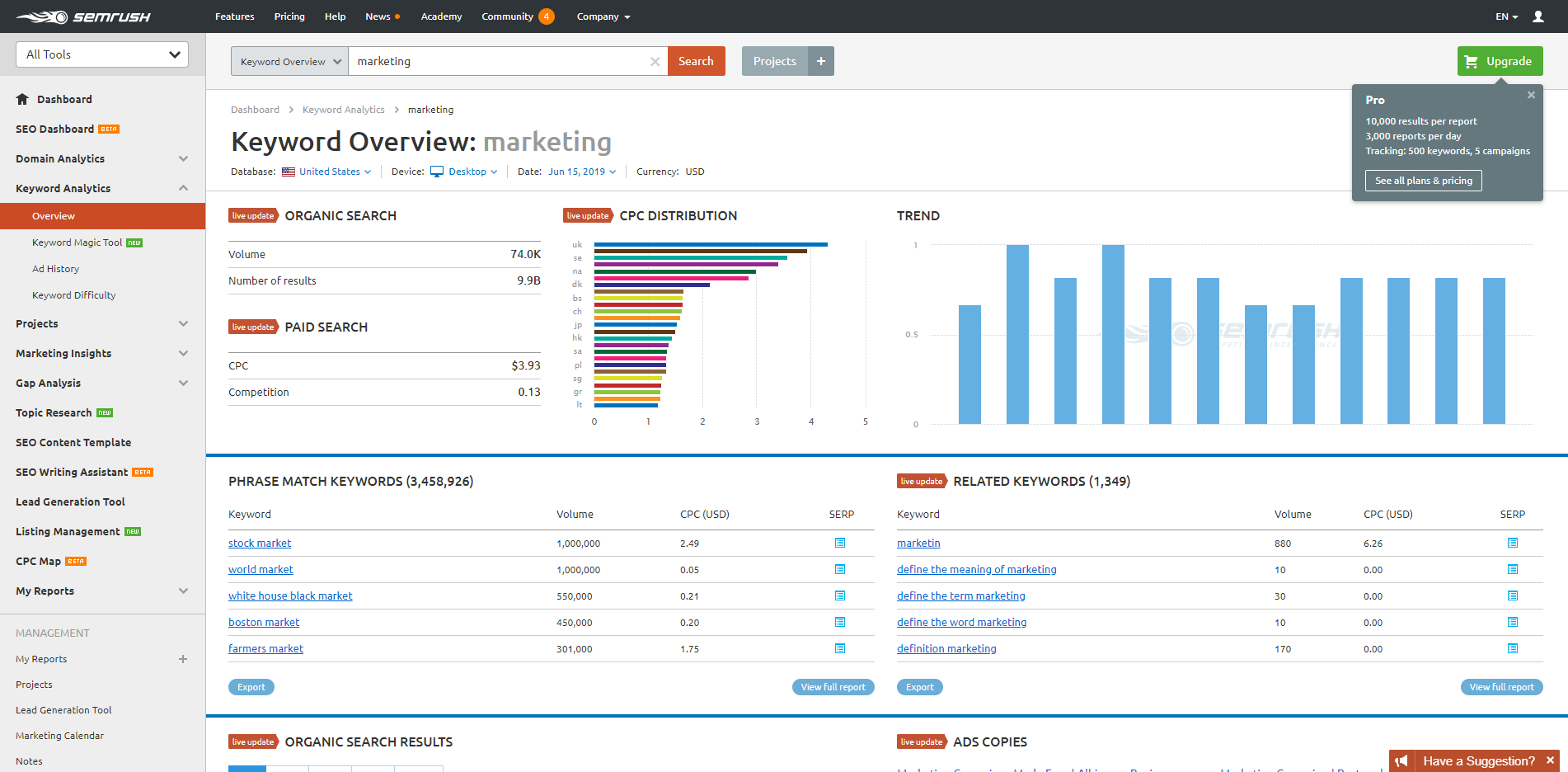 It will display the following:
The search volume and amount of results.
The CPC and competition level for paid advertising.
CPC distribution by location.
How it has trended over time.
Below those metrics, you will find phrase match terms and related keywords.
These are excellent for finding long-tail keywords and new terms to target.
SEMrush upgrade options
You get ten free searches per day when you have a regular SEMrush account, but you will need to upgrade for further searches and features.
Their current plans are:
Pro for $99.95/month: This is ideal for freelancers, startups, and smaller businesses. You will gain access to 10,000 results per domain and keyword reports and 3,000 results per day. You can create up to five projects and a single user with additional users costing $70/month.
Guru for $199.95/month: Growing agencies and medium-sized businesses will find this is a suitable plan. With 30,000 results per report and 5,000 results per day, it will give you all of the insight you need to grow your marketing. Customers can have up to 50 projects at once and up to two users.
Business for $399.95/month: Large e-commerce companies and agencies will find this package very accommodating. It offers white label reports, API access, Google Data Studio integration, and much higher limit options.
Enterprise: If you require a custom plan, you can contact SEMrush to have a plan created that suits your exact needs.