Amazon is kind of a big deal.
They're the biggest online marketplace on the internet and allow e-commerce businesses like you to sell on their platform.
As a matter of fact, there are over 25,000 Amazon sellers that generate one million in revenue.

Don't you want to numbers like that on your dashboard?
Who doesn't!
But here's the deal.
Just because you can list your products on Amazon doesn't mean they're going to sell like hotcakes.
You're going to need incredible titles, descriptions, and listings to beat the competition and drive sales.
That's why today I'm going to teach you how to optimize Amazon product listings to achieve just that.
Let's dive in!
Start with the Amazon product title
One of the best copywriters in the world, David Ogilvy, once said that once your headline is 80 cents of your dollar.
What he meant by that is the title plays a massive role in getting consumers attention.
A poorly written headline won't capture any interest, making customers go to a competitor's listing.
The same methodology can be applied to an Amazon product title.
Here are some strategies that are guaranteed to get your listing more clicks than others.
Take advantage of the character limit
Amazon product listings can include up to 200 characters in the title.
Store owners can take advantage of this by writing descriptive product titles which give customers more information.
Check out the title for this gaming computer to see what I mean: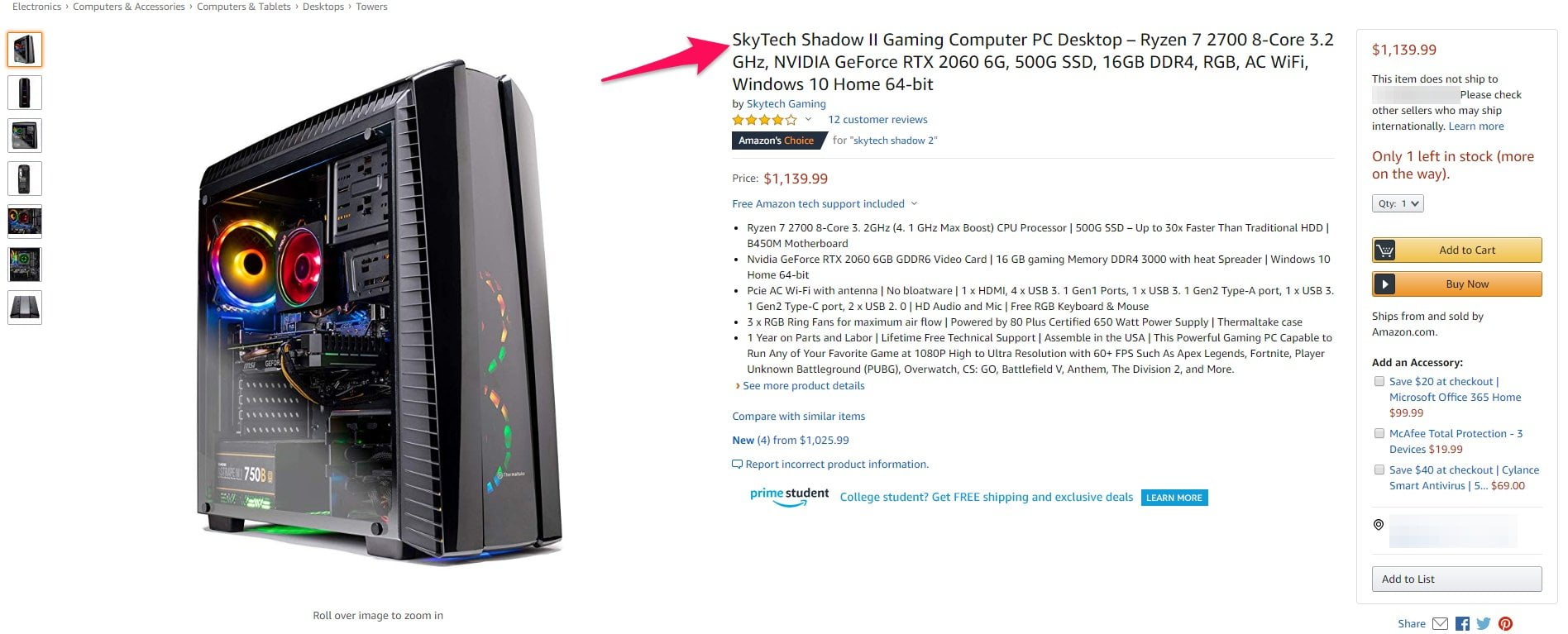 SkyTech didn't just stop at "SkyTech Shadow II Gaming Computer PC Desktop" but rather used the character limit to add all of the computer's specs.
This gives customers all of the information they need to know whether or not they should click through.
It's also a great example of knowing your customer.
Gamers are very interested in what graphics card, memory, and storage a computer has, so it makes sense to include it within the title.
Next time you're writing an Amazon listing title, describe the product's features as much as possible within the title while thinking about what your customers care about the most.
Here's another example, but of a PC monitor: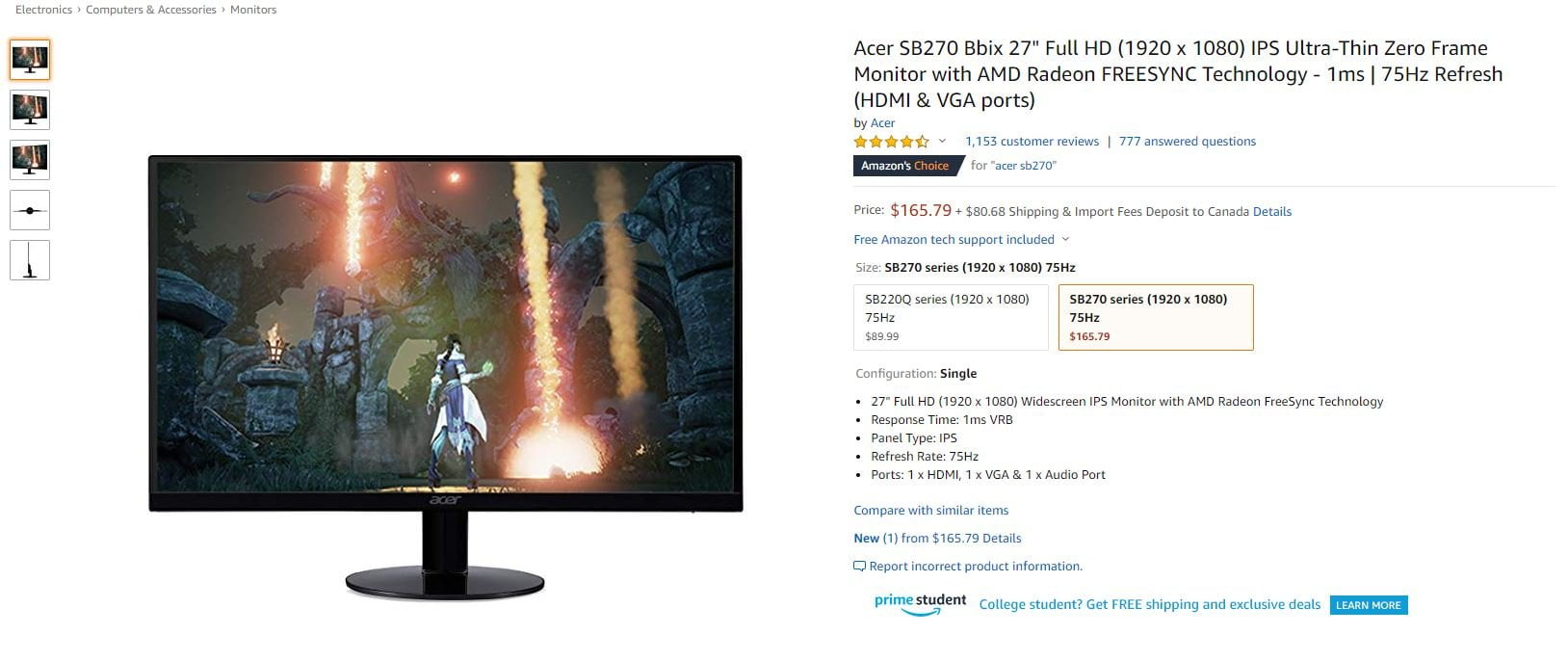 Note how the title mentions refresh rate, available ports, resolution, and the new technology it features. These are things that their customers care about a lot.
This brings me to my next point.
Search engine optimization isn't just for Google or YouTube. It works on Amazon, too.
Every large platform has an algorithm and search engine built into it.
You can take advantage of this by adding specific search terms to Amazon products titles. This will help you appear higher for these keywords and attract more organic customers.
I highly recommend that you install the free Google Chrome extension Keywords Everywhere.
I've written a review on it here if you'd like to read that first.
However, once it's installed you can visit Amazon and see keyword metrics when you search for something.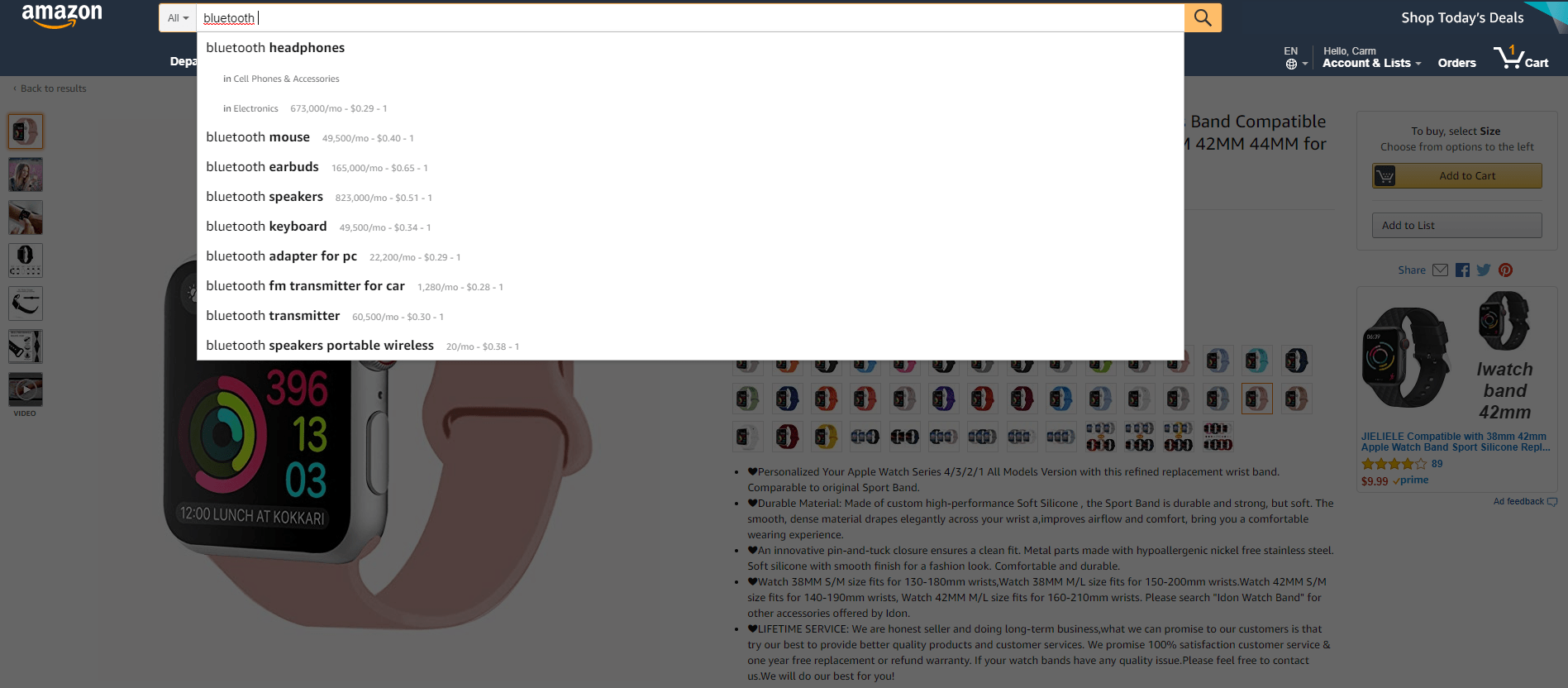 The goal is to find low competition keywords which have a healthy amount of monthly searches.
I always recommend marketers to use a blend of low, medium, and high competition search terms.
The low and medium competition keywords will bring in quick traffic and eventually you can rank for massive terms as your listing becomes authoritative.
Make it unique compared to other listings
Your Amazon listing will disappear into the crowd if it doesn't look any different.
That's why you must write a title that's unique.
I recommend searching for the product you're selling at taking notes on the titles.
Let's use dress shoes as an example.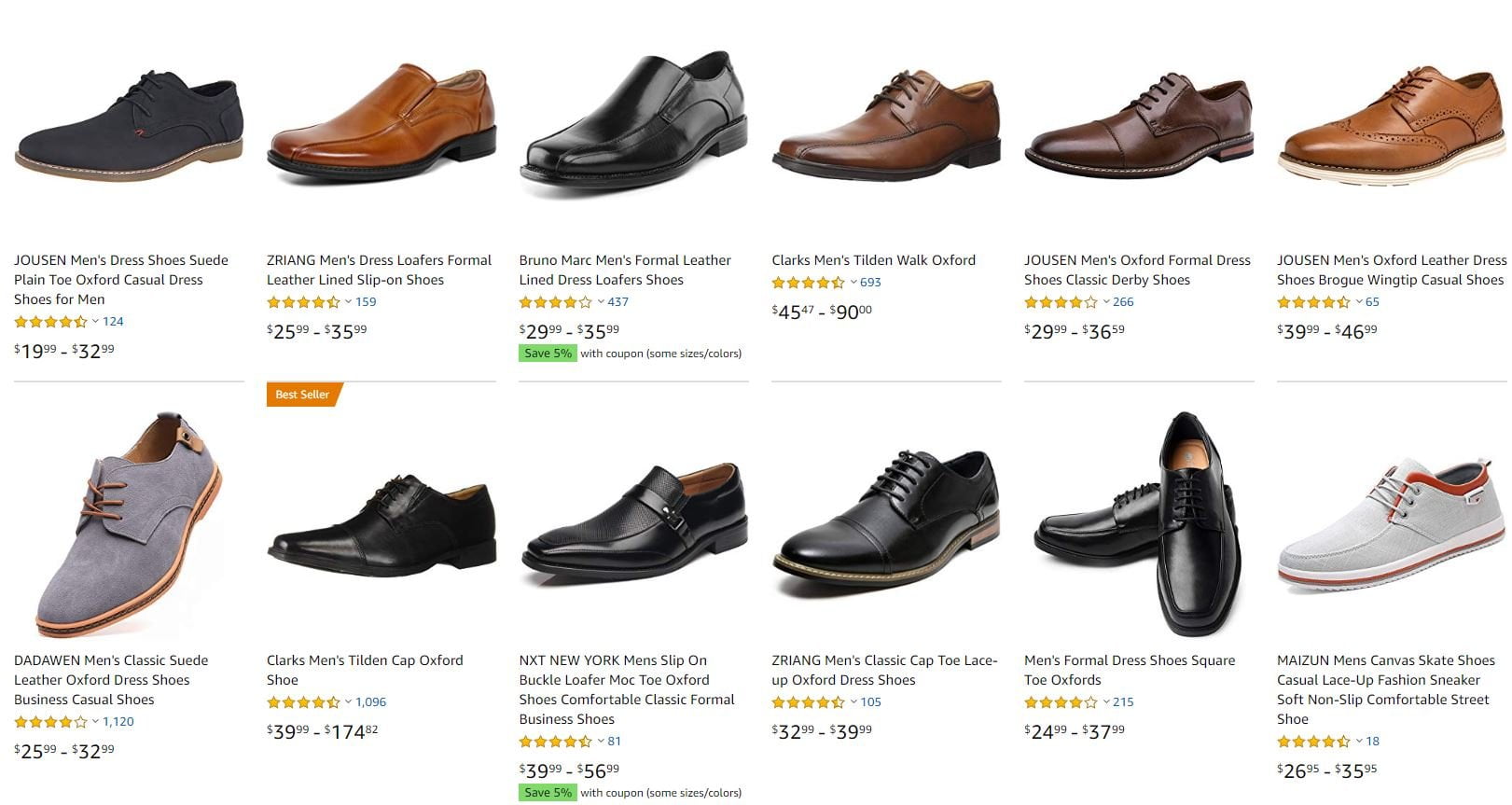 Notice how the above titles seem like their practically written by the same writer?
There would be an awesome opportunity to cut through the static if you sold mens dress shoes by making a unique title.
For example, you could use terms and phrases like:
Comfortable
Breathable
Hand made
Hand-painted
Stylish
Fashionable
Classy
Professional
Perfect for work
Great wedding shoes
Improves any outfit
Etc
Small changes like this could be what makes customers click your listing over others so take the time to analyze competitors before writing titles.
Write an amazing Amazon product description
What's after the listing title? The description!
This is perhaps the most important element of your listing that will help convert customers so don't be afraid to spend a lot of time here.
Alternatively, you can hire a copywriter like me to do the heavy lifting.
Either way, here are some Amazon copywriting strategies you can use for descriptions customers can't resist.
Features versus benefits
One of the most effective and staple copywriting techniques is elaborating on the benefits of a product, not just the features.
Features are elements like colors, sizes, technology, and specifications.
The customer needs to know these pieces of information, but other than that they don't help sell the product.
How these features will benefit the customer will, though.
Benefits are deeper reasons a customer wants to buy something. There's an experience or feeling they're after and by mentioning that you will snag their attention and emotions.
Here's another gaming computer example that schools us on how to use this strategy: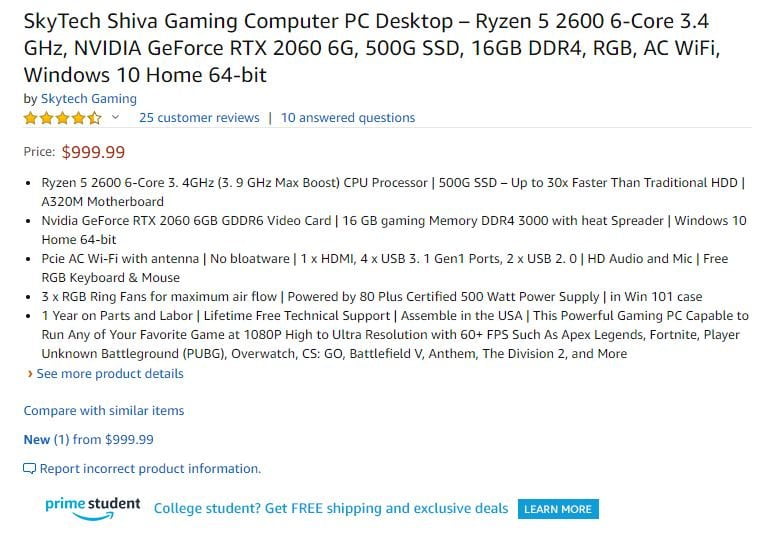 You can clearly see that all of the computer's specs are laid out, but SkyTech also mentions benefits such as:
"30x Faster Than Traditional HDD"
"No bloatware"
"Free RGB Keyword & Mouse"
"Maximum air flow"
"Lifetime Free Technical Support"
"Run Any of Your Favorite Games at 1080P High to Ultra Resolution with 60+ FPS"
Brainstorm what your customers are trying to experience by using the product and mention those benefits in the description.
Let me show you another example. Here's a gaming mouse which includes several benefits in the description: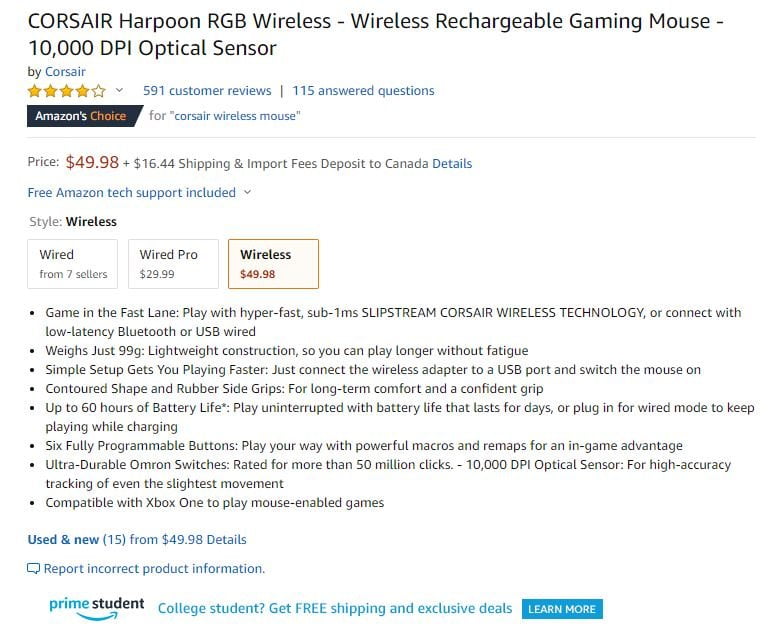 Some of the benefits of using this mouse are:
"Lightweight construction, so you can play longer without fatigue"
"Simple Setup Gets You Playing Faster"
"Long-term comfort and a confident grip"
"High-accuracy tracking of even the slightest movement"
"Play interrupted with battery life that lasts for days"
Calls to action
A call to action is a phrase or word that tells customers to do something.
It's a simple but effective strategy for moving customers along the sales funnel and closer to checkout.
Calls to action can be very bold like "Buy now!" or much more subtle like we can see scattered throughout this Sony camera description: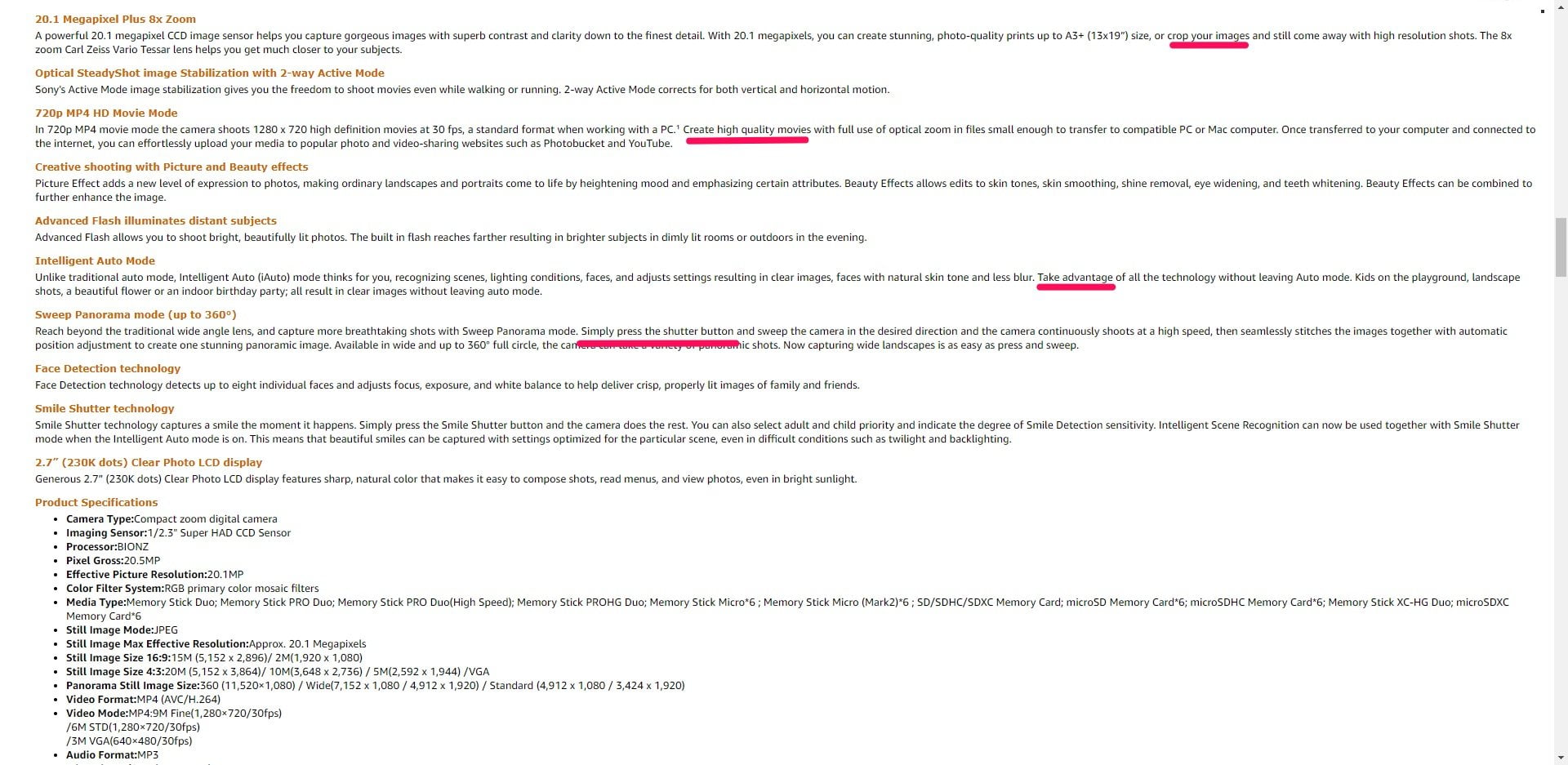 Adding words like "you" and "your" also makes the calls to action more personable. This helps customers see themselves experiencing the product.
I wrote a guide on calls to action that will help you understand this strategy more, so I suggest giving that a read, too.
Unique value proposition
If your product is like everything else on the market, why would anyone buy it?
I'll give you a hint: they won't.
That's why you need to shine a spotlight on your unique value proposition. This is the feature or technology that customers can't get anywhere else.
It's the defining trait that makes you stand out from the market.
This gaming laptop from Razer highlights its Synapse technology that's unique to their brand, for example:

While the product you sell can be one-of-a-kind or disruptive, proprietary features are very effective value propositions, too.
Include high-quality images
Images play a huge role in e-commerce.
They allow the customer to see the product up close and in detail before holding it in their hands.
This is especially important for visual-based products like clothing, shoes, and electronics.
It's also precisely why you need to invest in high-quality photos for Amazon listings.
You want to offer customers several angles of a product while showing off any key design features.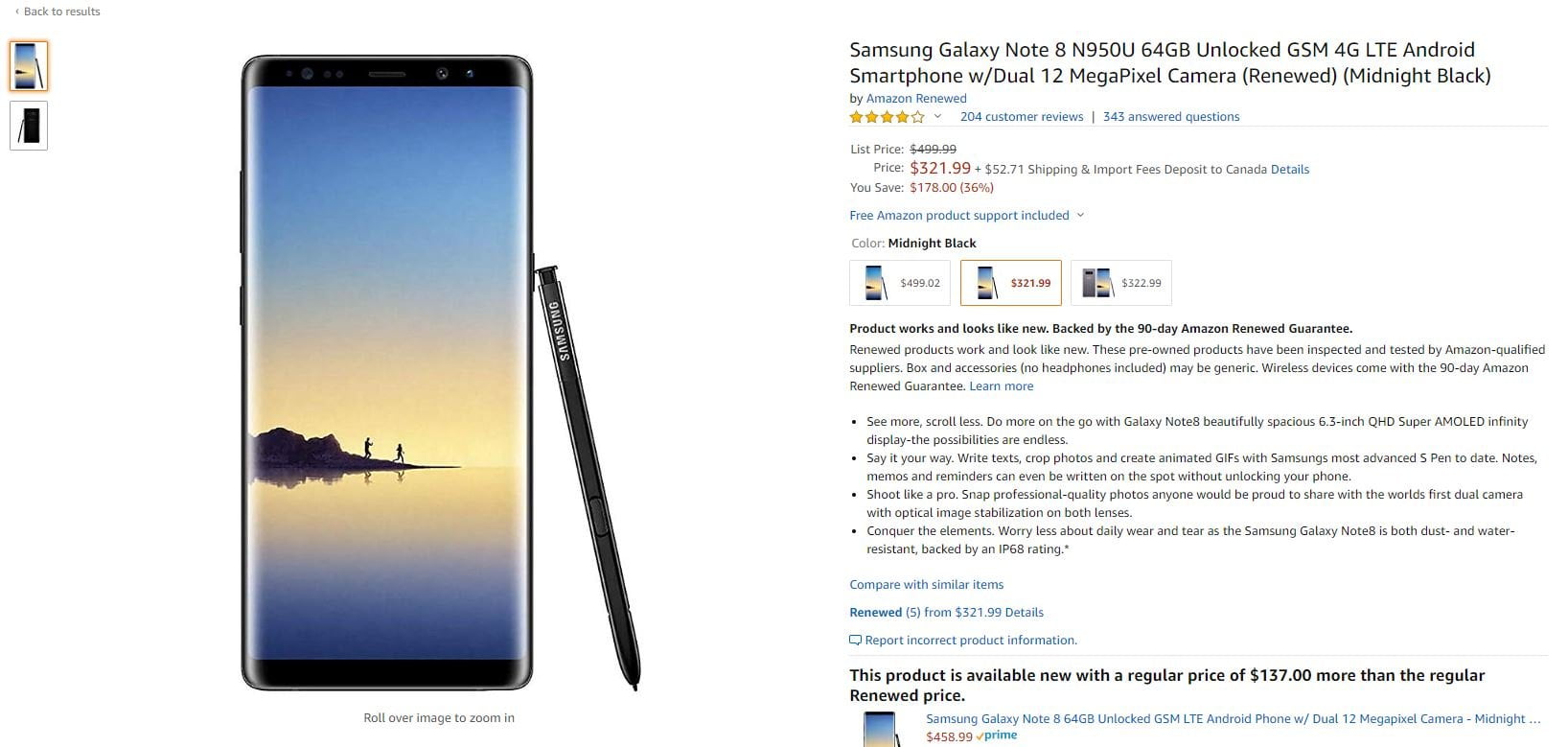 If you offer variations of products, ensure that you upload pictures of different colors, styles, etc.
The review section of your Amazon listing is HUGE when it comes to conversion rates.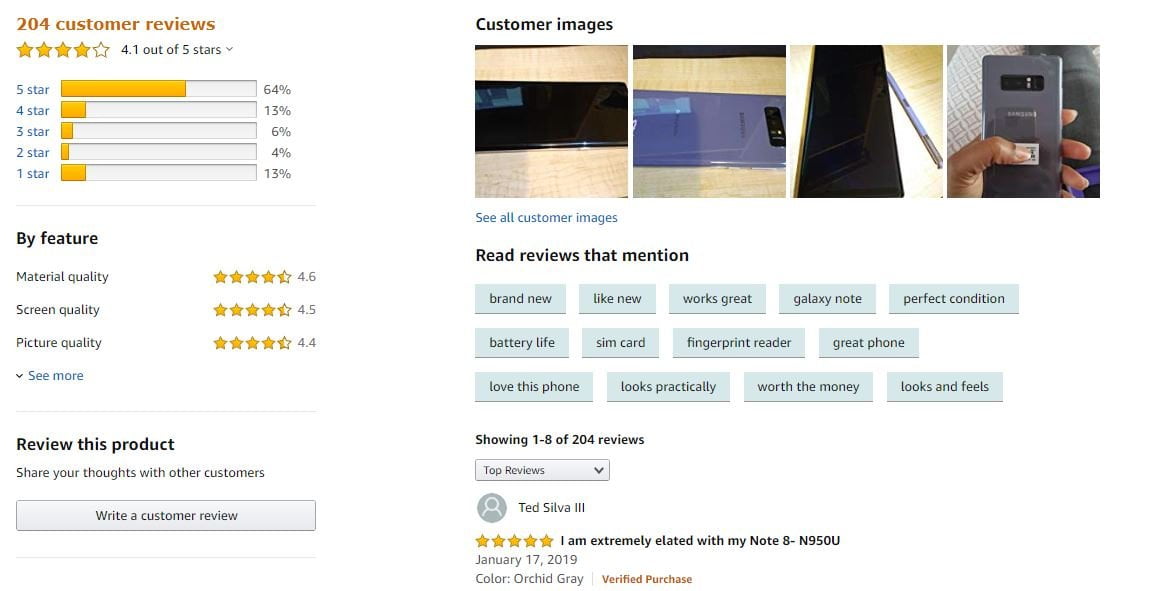 In fact, 85% of consumers read up to ten reviews before they feel that they can trust a business.
That means testimonials act as social proof displaying your product's quality and effectiveness.
If consumers see other people are satisfied with buying from you, they will be more likely to themselves.
The best way to begin generating reviews on your listings is through Amazons' Early Reviewer program.
Amazon will email your previous customers and ask them to leave a review in exchange for a gift card.
You can also ask friends and family to leave honest reviews if they have purchased the product or received a sample.
Final thoughts on Amazon listing optimization
There are many things e-commerce entrepreneurs can do to optimize Amazon listings.
Cleaning up product pages will result in more positive reviews, sales, and better user experience.
Below are the main takeaways from today's blog post:
Key takeaways
Optimize the title of every listing by using the character limit, adding SEO keywords, and making it unique among competition.
State the benefits of using the products you sell versus just the features. These are often emotional or experience oriented.
Use calls to action to entice customers to take action sooner.
Elaborate on your unique value proposition. This could be technology, features, materials, or something else that makes your product one-of-a-kind.
Add high resolution photos so customers can see the product upclose before purchasing it.
Work on getting reviews as it pushes you up Amazon's rankings and increases conversion rates.
Reach out to me if you need a copywriter for hire to help you write Amazon descriptions.