Imagine waking up every day, checking your affiliate dashboard, and seeing that you made $500 before the day has begun.
Money trickles into your bank account as you eat and sleep.
You can do whatever you want, and you set the rules.
That's the reality that many successful affiliate marketers live.
It's an awesome and rewarding lifestyle.
Even if you pursue it on the side of a career, it can bring in some impressive money to help pay the bills or for investing.
Businesses are continually spending more and more on affiliate marketing, meaning that there's never been a better time to get into it.
That's why today I'm going to show you how to begin affiliate marketing and earn your first $1,000.
Follow along. 🙂
What is affiliate marketing?
First, let's define affiliate marketing.
It is a business model in which you promote another brand's products through special links, banners, and ads.
You receive a commission for every customer you refer. This can be in the form of a sale, download, or lead information.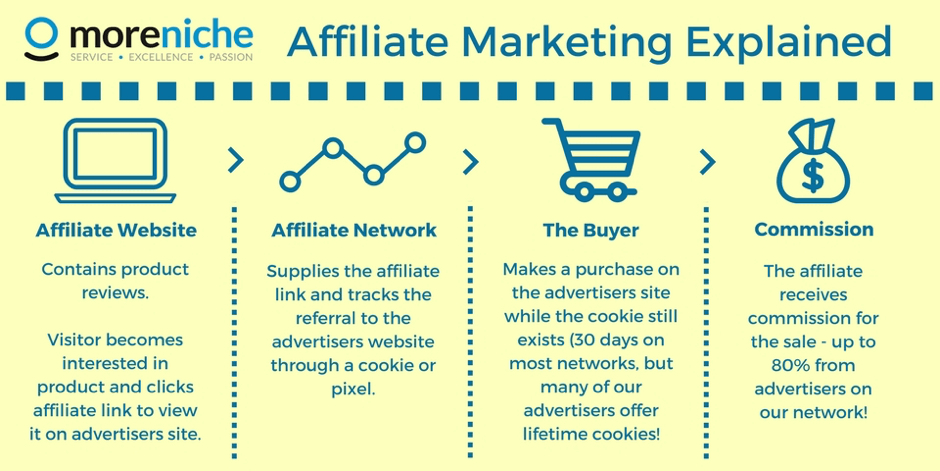 You don't have to worry about a lot of the standard tasks that a normal business has.
Inventory management, customer service, fulfillment, etc., aren't your responsibility as an affiliate marketer.
Referring customers is your only duty.
This is what makes it such a relaxing and rewarding business model.
You get to kick back with your feet back as the money rolls in.
Is affiliate marketing worth it?
Can you make good money as an affiliate marketer? Hell yeah!
It requires you to be patient and disciplined, however.
Don't expect to earn money instantly or anytime soon.
When you begin content marketing and doing SEO, it can take months to see any results.
This is why I recommend affiliate marketing as a side hustle at first. If you aren't generating any passive income right now, it isn't a wise choice to go full-time on it.
But the sky is the limit.
Look at an affiliate marketer like Pat Flynn. That man makes over $2 million per year!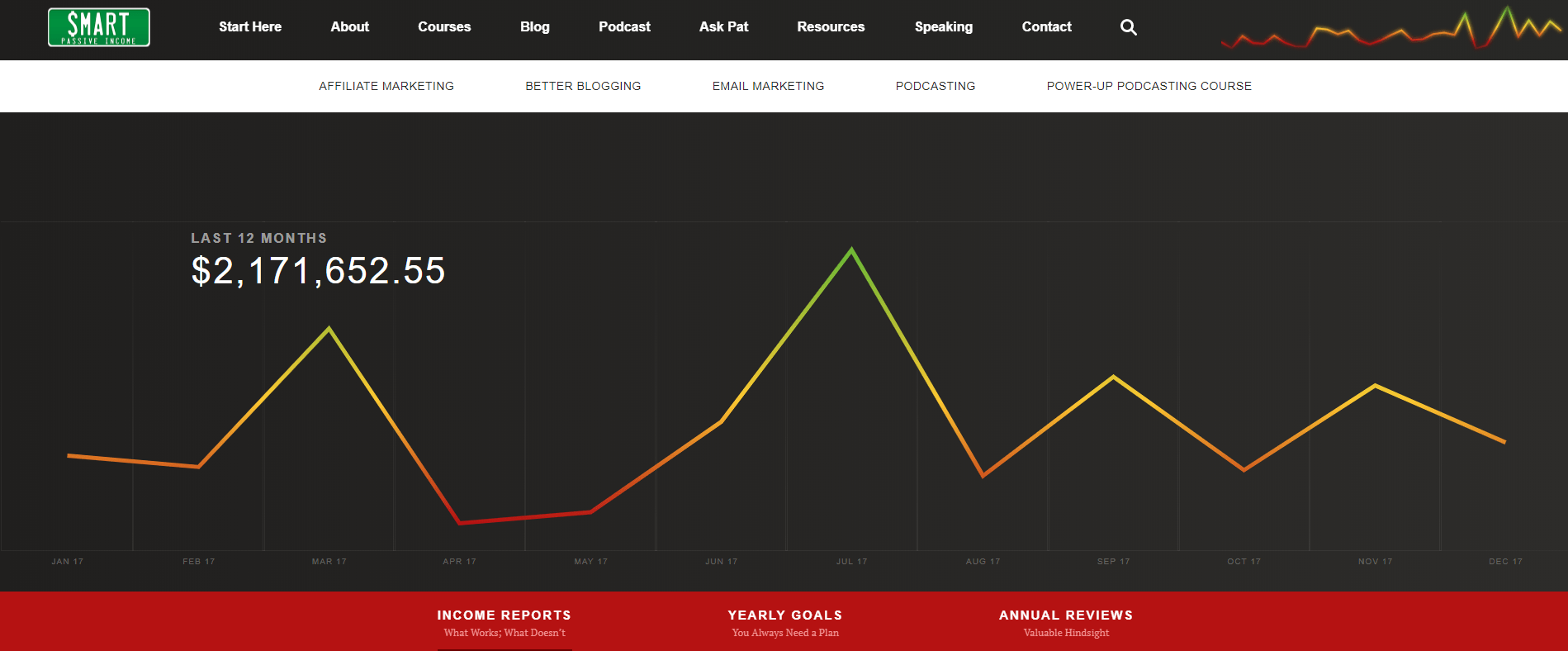 What would you do with that kind of money?
When you consider the potential earnings of affiliate marketing and the lifestyle that it brings, it's definitely worth it.
Affiliate marketing guide
Now let's get into the fun stuff: learning affiliate marketing.
I'm going to guide you through the four steps needed to create an affiliate marketing business.
Step 1: Affiliate marketing niche research
The first step is to decide on what niche you'd like to enter.
This is the most important step because choosing the wrong niche can result in lacklustre results that demotivate you and waste time.
These are the characteristics of a successful niche:
Little competition: You want to be a big fish in a small pond, not a small fish in a big pond. The reality is you probably won't fair well in a general niche like credit cards or weight loss because it's dominated by huge media companies. You need to narrow down a small market that doesn't have many competitors.
Earning potential: Remember that you are earning commissions. If you refer a sale for $10, and the commission rate is 8%, you're only getting $0.80. However, if the product was $1,000, you'd get $80!
Problem present: People read content and visit websites to solve problems. Is there a clear issue you can help people with? If not, it may not be the best affiliate niche.
Interest: Some entrepreneurs love creating businesses, but some need a passion for what they're doing. This is why I suggest you choose a niche about something you're genuinely interested in to make the process more enjoyable.
Brainstorm some ideas based on these principles. Write down ANYTHING that comes to your mind.
Then, narrow it down further. For example, if you thought about men's tennis, you could niche it down by writing:
Men's beginner tennis rackets
Women's wide tennis shoes
Tennis for short people
Once you have an idea, head over to Google Trends to perform some market research.
This is a free tool that gives you insight into how niches are trending.
Type in a keyword in the search bar to begin.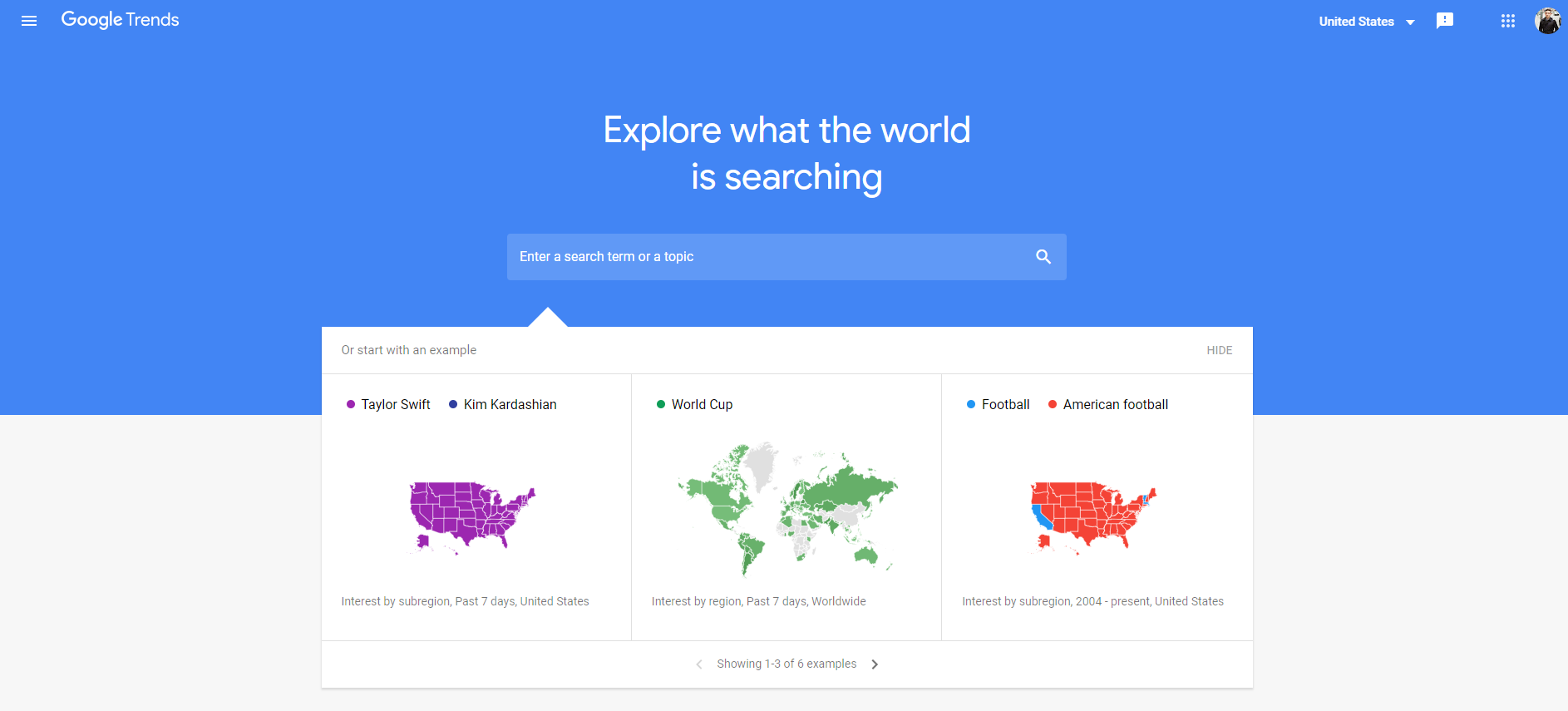 The first chart Google will display is the interest over time.
This is useful to gauge the general interest of the niche and to see if it is seasonal.
Some markets will have higher traffic in certain months and lower in others.
I'd recommend building affiliate businesses around niches that thrive all year round.

Below is the interest by region. Use this to get a deeper insight into the demographics that are involved in the niche.
You may notice that a certain country or region is most interested than others.

Related topics and searches are at the bottom of the page after this.
Use these for content ideas and understanding what users in the niche are passionate about.

Another priceless resource for discovering niche ideas is Amazon's best seller categories.
I enjoy using it to find trending products to create websites around.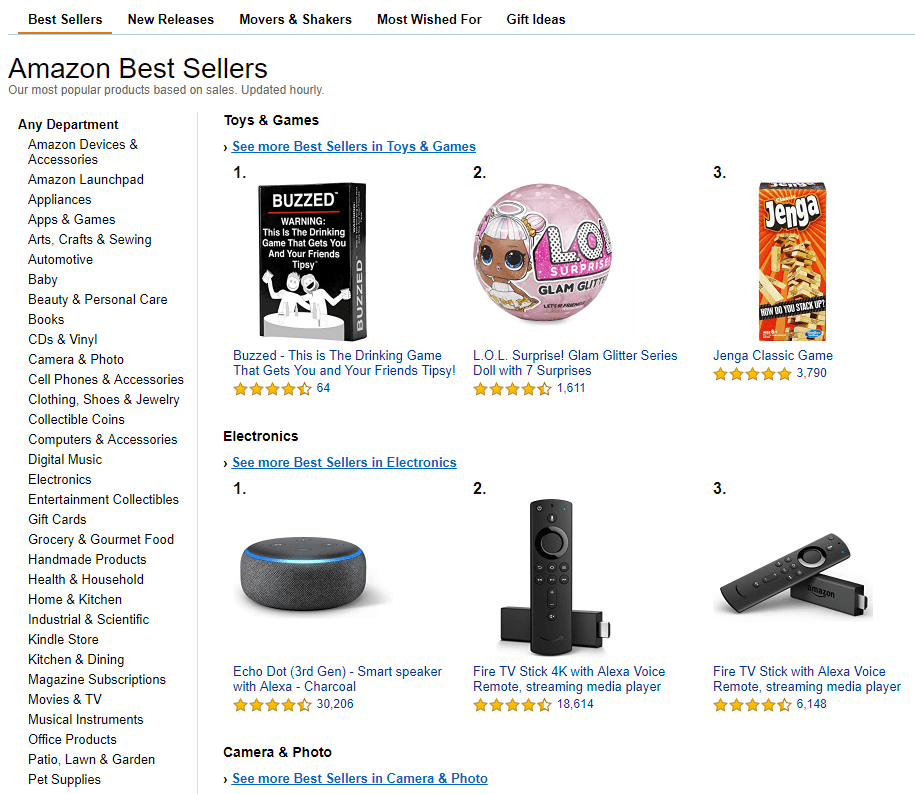 Browse through the various categories to begin collecting ideas. Let's look at electronics, for example.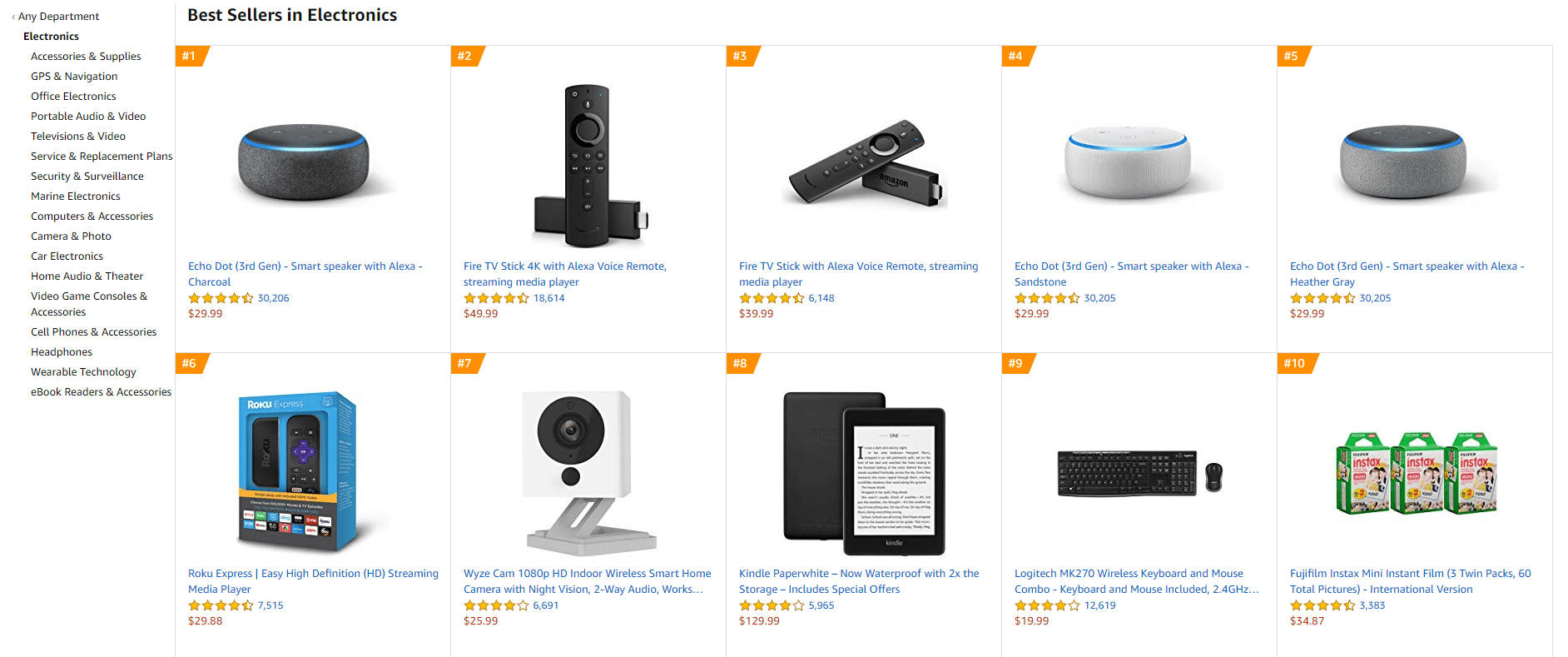 It looks like smart tech is performing well, along with webcams and media systems.
You could potentially make an affiliate website about the best home smart tech based on these findings.
Another tool for niche research you should try is Product Hunt. They congregate the latest products, apps, and businesses for consumers and entrepreneurs to find.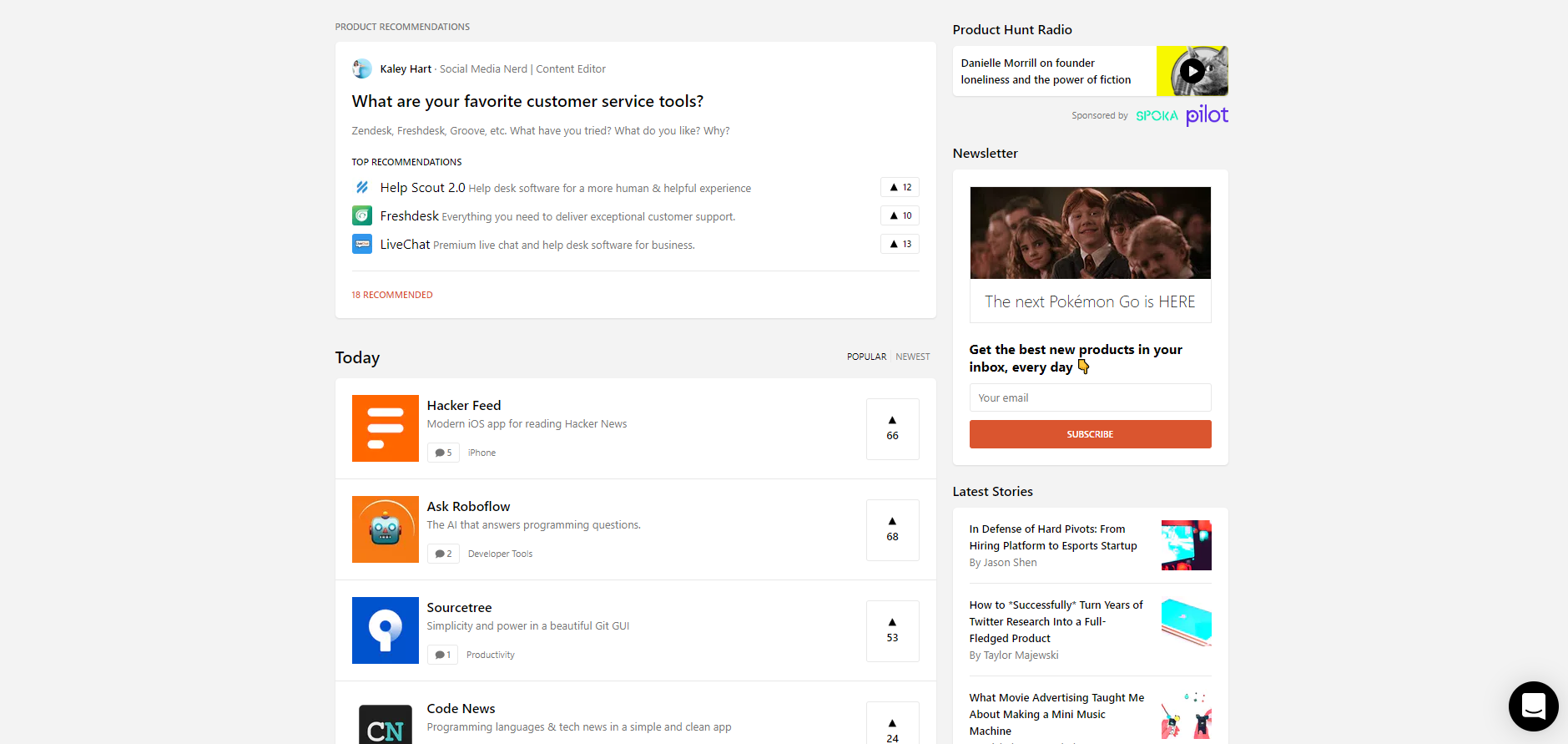 Scroll through and take a look at anything that interests you.
Use the featured businesses as inspiration for what to make an affiliate website about.
Once you've decided on a niche to enter, it's time to create your site!
Step 2: Creating an affiliate website
The first step in getting a website up and running is through purchasing web hosting.
These are services that will host your website on their server for a small fee.
I use a variety of web hosts right now, but I've always had a great time with HostGator or Bluehost.
They have a plethora of different plans to choose from based on your budget and goals, and they also have excellent customer service.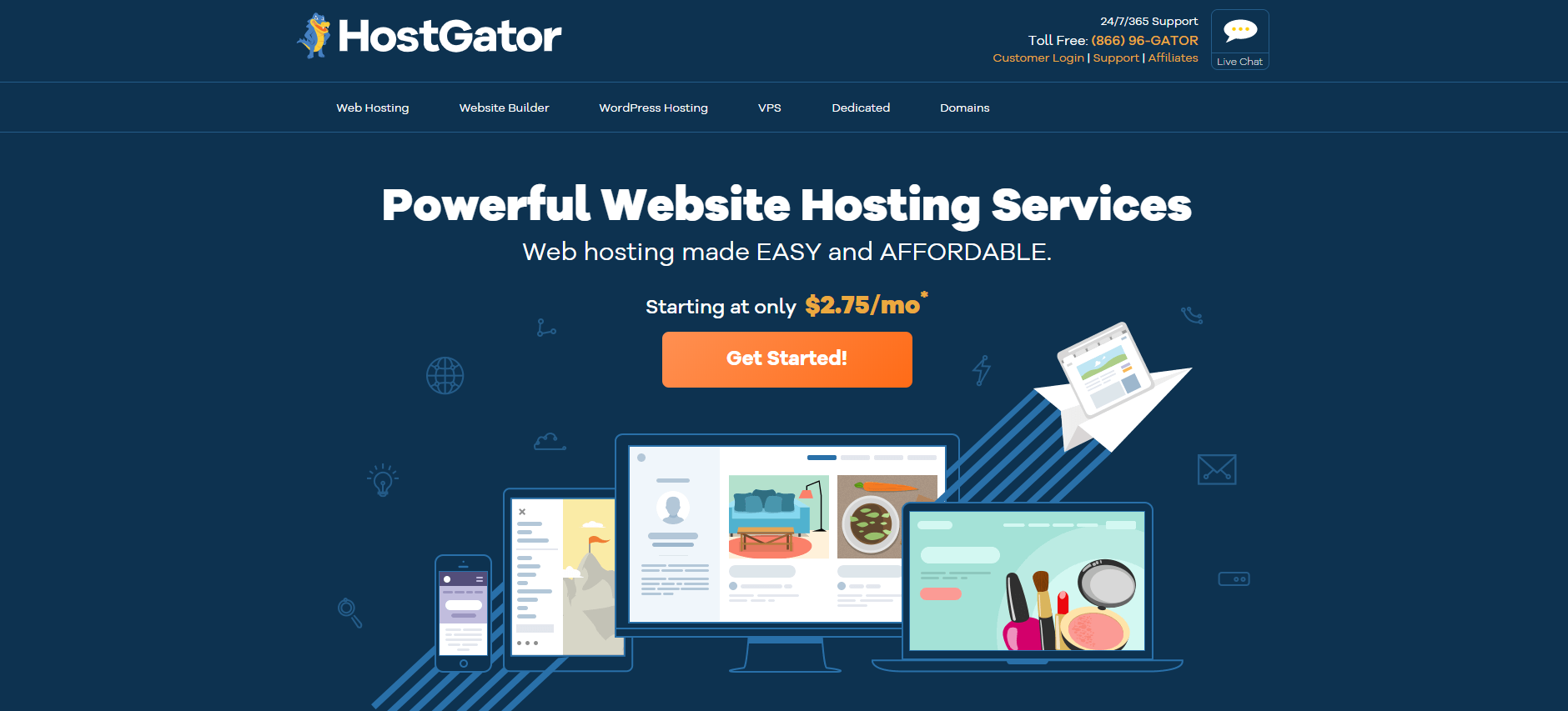 Since we will be using WordPress as our content management system, I suggest buying WordPress hosting.
They are optimized for the CMS, while offering great speed and security.
You can see their current plans below.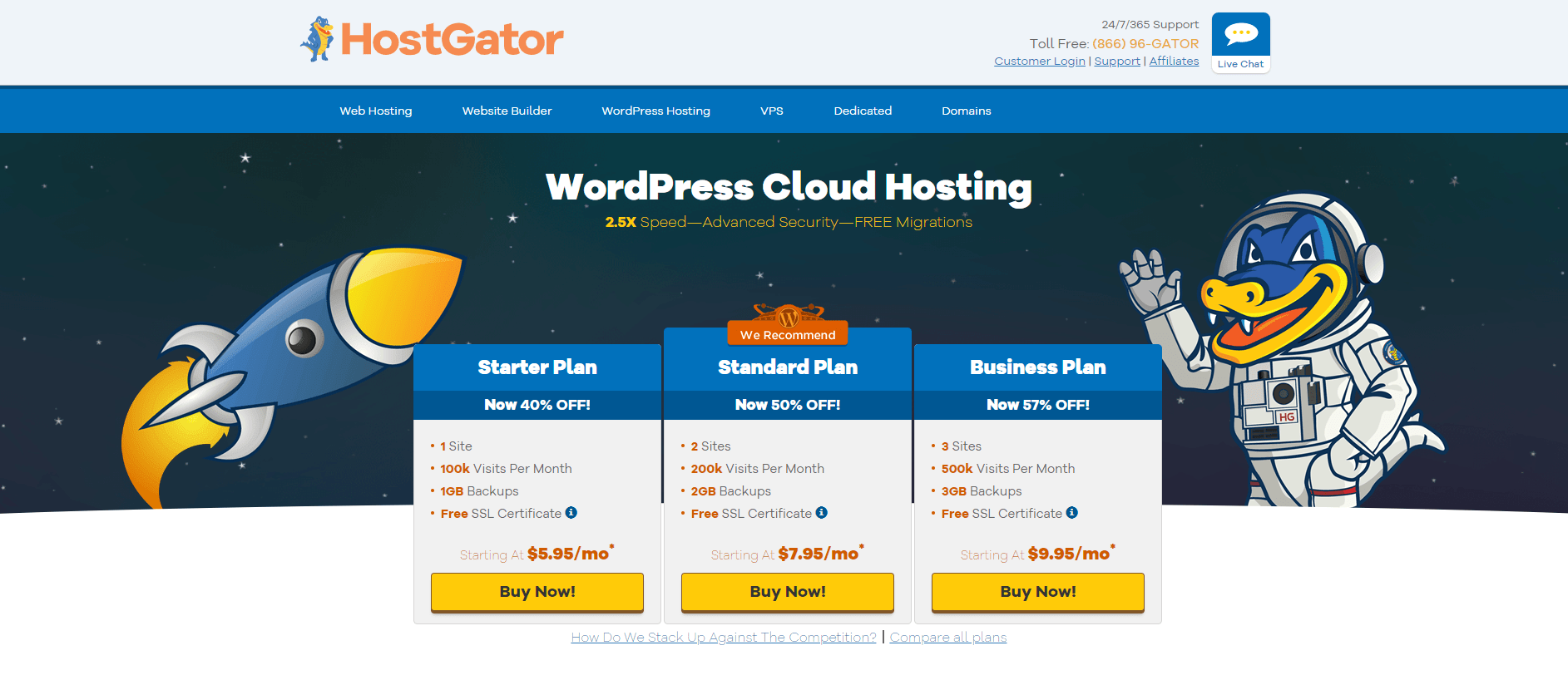 Click the "Buy Now!" button on whichever package is suitable for your budget.
Remember that you can always upgrade, so there's no rush to jump to the most expensive one.
You will need to choose your domain name after this. Enter an idea, and it will let you know if it's available.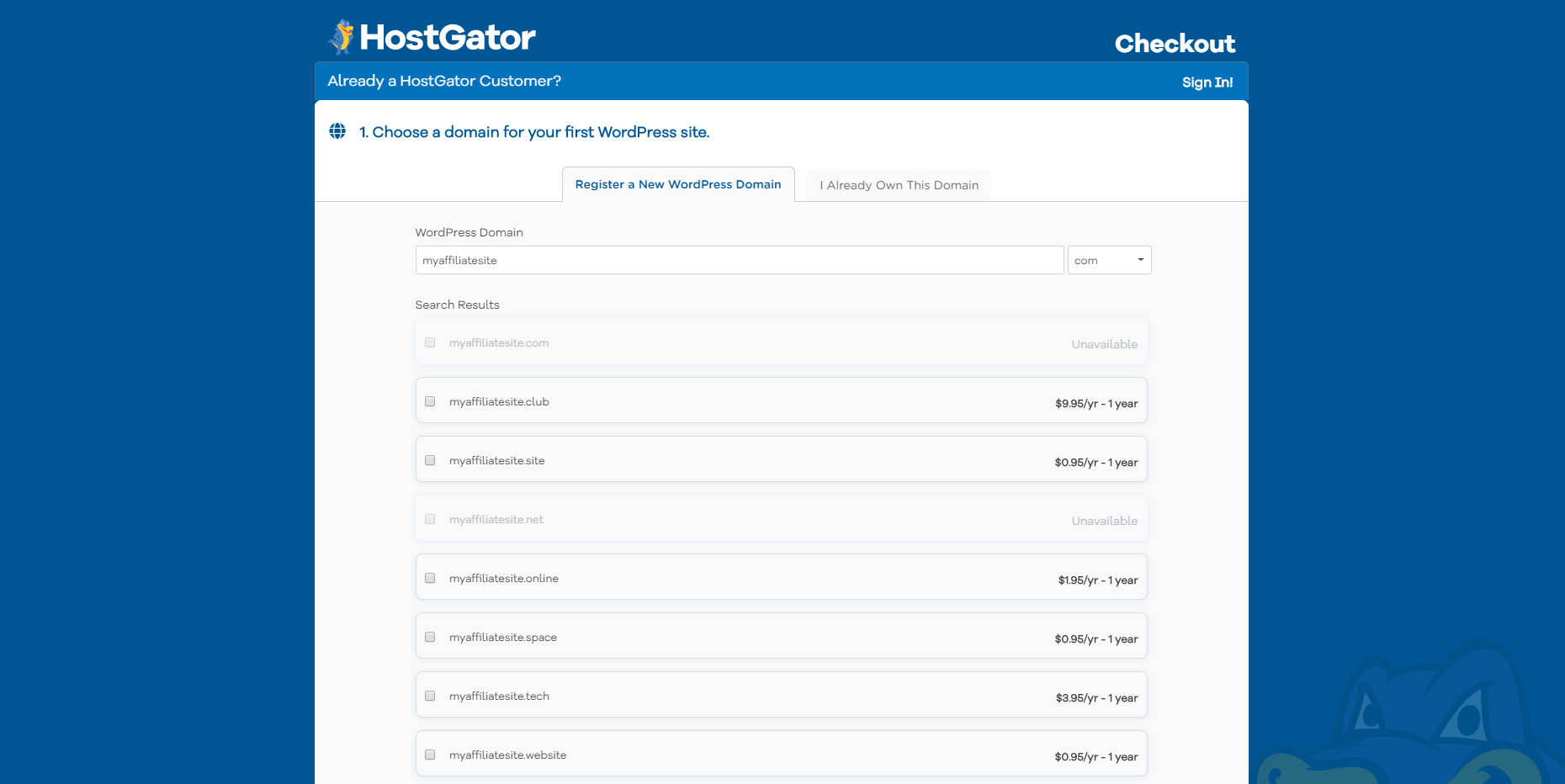 There's a lot of debate about what makes up a good domain name.
I suggest not spending too much time here.
A domain name, however, should be short and memorable if possible. You can also either make it branded like Microsoft.com or keyword-specific like Bestmensrazors.com.
Domains will typically cost $15/year, and you should always opt for a ".com" extension since it's trusted universally. Get one from Bluehost.
Besides that, all you need to do is fill out your billing information, and you'll have your hosting account login emailed to you.
Once you log in, you'll be in the cPanel dashboard. This is where you will need to install WordPress.
Browse through the dashboard to find the WordPress installation feature.

Clicking this will bring you to a page on which you need to choose your domain. Leave the directory blank.

Give your blog a title, and fill out the other fields. The password will be automatically generated after you hit "Install."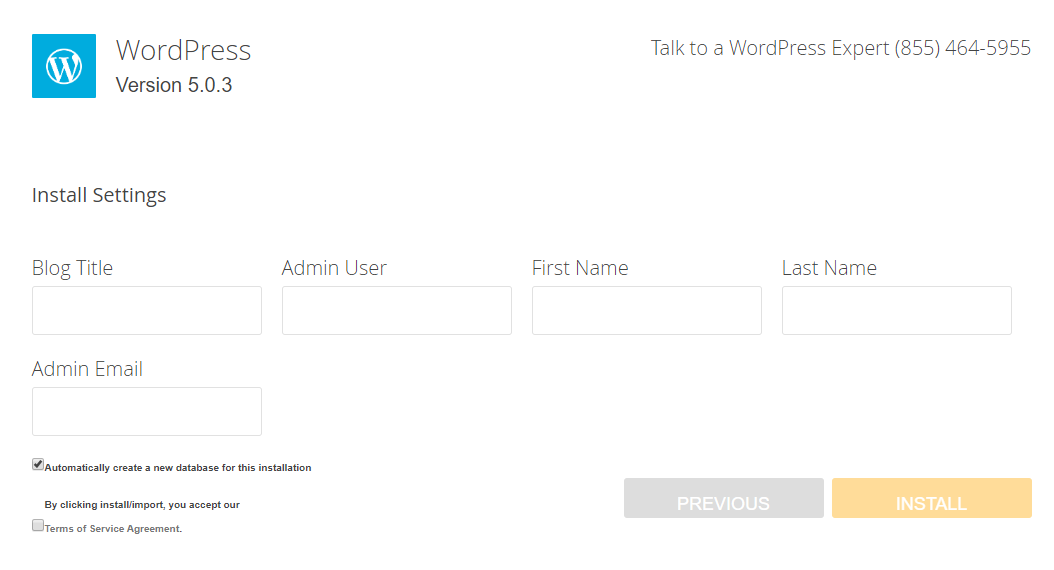 Your WordPress admin dashboard can be accessed by appending "/wp-admin" to the end of your URL like so:
www.example.com/wp-admin
Once you log in, you'll see something like below.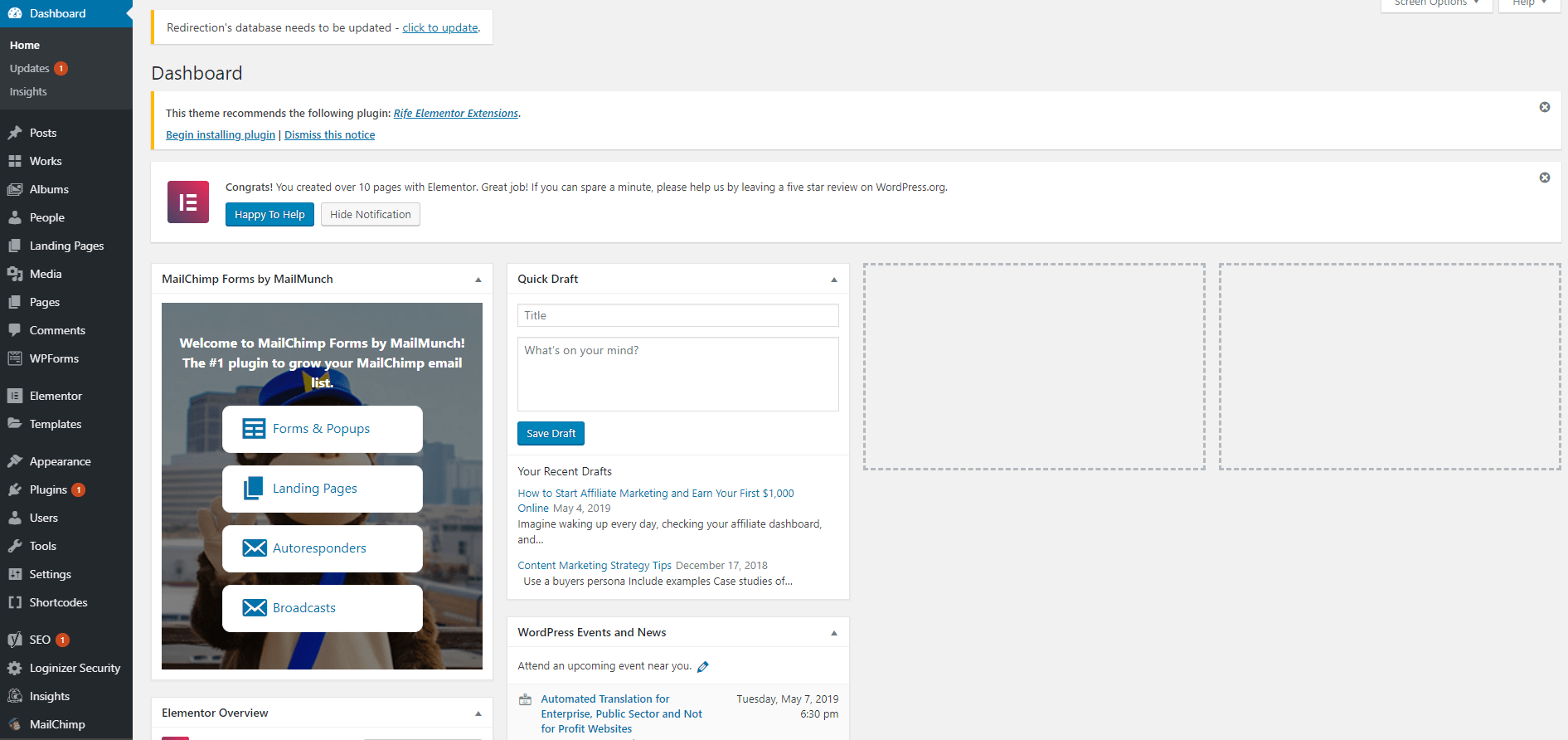 Granted, I have plugins installed, so it will look less congested on your screen.
There are a few tasks you need to do now, which are:
Installing a theme: Click "Appearance" and "Theme." Browse through the various themes WordPress offers and install one. I suggest investing in a paid theme from a marketplace like ThemeForest now or later.
Installing plugins: Yoast, Smush, WP Optimize, Page Speed Ninja, and Google Analytics by MonsterInsights are some recommended plugins to install via the "Plugins" tab.
Pages: Click "Pages" and "Add New." page, contact, and blog page. Contact form plugins can be integrated into your contact page to add professional forms. Set your blog under "Appearance" and "Customize" as well.
Once you've done all of this, you can move on to the next step.
Step 3: Join an affiliate program
Affiliate programs are very easy to find and join.
I suggest all beginners join Amazon's program because it's free to join and start earning money.
Click the "Join Now for Free" button to begin the signup process.
It will ask you for basic information, such as your website URL, how you plan to generate traffic and more.
After you've registered, you will have free reign over their affiliate dashboard.
The homepage displays a chart of your earnings, and more displays can be found on the right.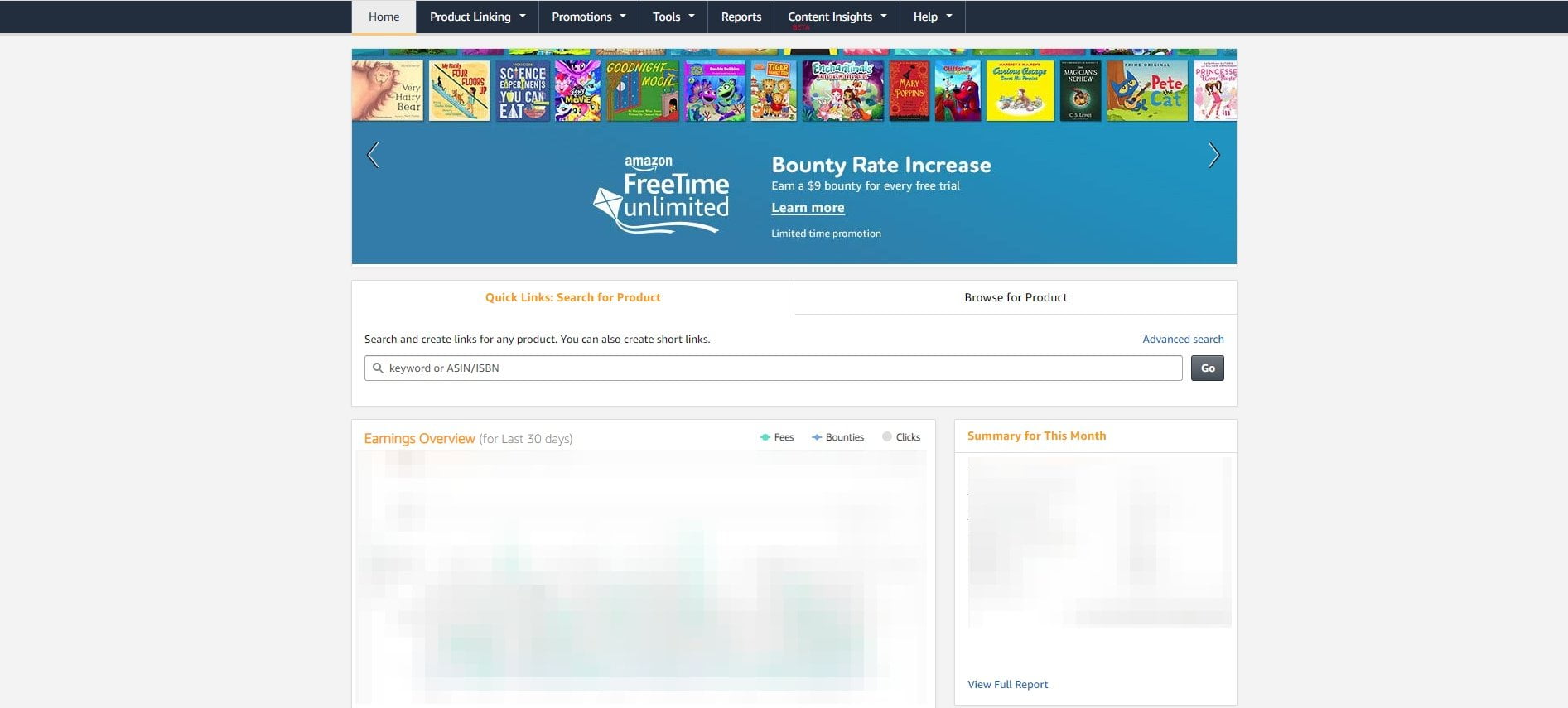 There are various tabs to find product links, payment reports, and more along the top navigation.
Affiliate programs, in general, are rather straightforward, so I don't want to take too much of your time here.
If you can join Amazon, great.
If not, search Google for a niche-related keyword followed by "become an affiliate" or "affiliate program" and follow the application instructions.
This brings me to my next point.
Step 4: Writing affiliate content
The bread and butter of an affiliate marketing business is great content.
There are different styles of content you can create, including:
Guides: These are informational blog posts that answer questions, lead users step-by-step through instructions, and provide knowledge.
Reviews: Product and service reviews are great because they can include plenty of affiliate links, and users are often interested in purchasing what's being reviewed.
Comparisons: Reviewing two products head to head can make great content that is useful and easily earns commissions.
Lists: "Top 10 best 3D printers" is an example of a list article. These help conveniently organize products for users, and you can add an affiliate link to every product you mention.
It's wise to have a healthy blend of these types of content. I wouldn't suggest only doing one unless that's what your website is about.
Nerdwallet is a good example of a website that mainly focuses on reviews and comparisons.

Placing affiliate links is obviously a very important part of being an affiliate marketer.
Depending on the program you've joined, you will be able to add text, images, and banner links.
Don't add too many, or the content can appear disingenuous. Only add them where it makes sense.
Continuing with Nerdwallet, they add affiliate links via buttons, images, and text. Make it as natural as possible like this: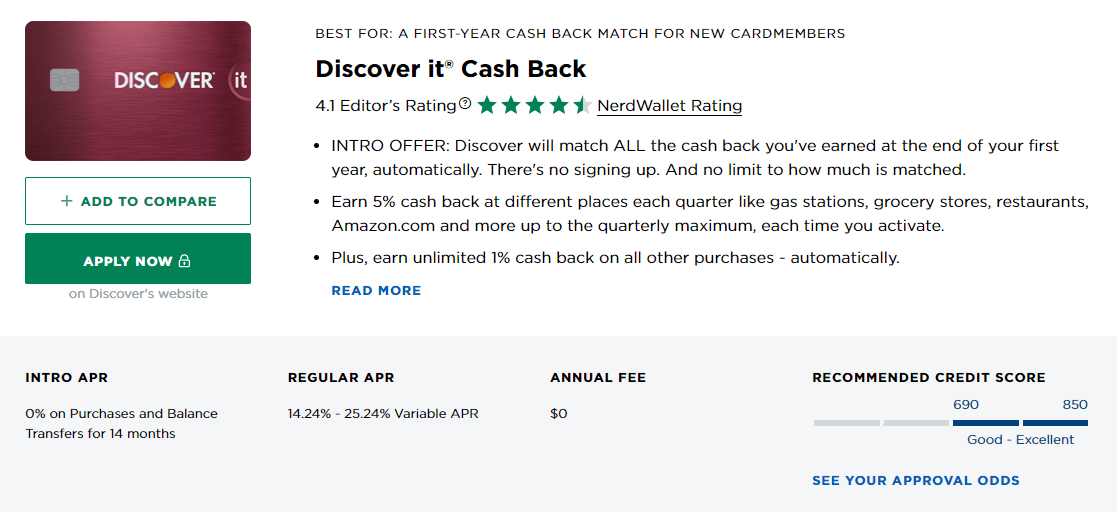 It's also critical that you perform keyword research before you write every piece of content.
Targeting keywords allow you to rank for very specific search terms and drive organic traffic, which ultimately converts into money.
Use a free tool like Ubersuggest to begin getting keyword ideas. Type in a term related to the piece of content you're writing about, and save several of them.
You will want to add these search terms to specific areas of your posts, such as:
The title
The URL
Within the body
As header tags
As alt text of images
File names for media
The meta description
Wrapping up how to do affiliate marketing
Creating an affiliate marketing business is easier than ever.
With some planning and elbow grease, you'll be earning in no time.
Begin by using tools like Google Trends to find suitable niches.
Create a website, register a domain, and use a web host like Bluehost to get your site live afterwards.
Focus on publishing high-quality content that helps the reader, answers their questions, and ties in affiliate links accordingly.
I also suggest learning the fundamentals of digital marketing to help speed up the success of your business. Here are some good resources: