It's tough to stay organized while keeping your pipeline full and consistently generating leads.
There's so much contact information, follow ups, and data to juggle that it's easy to get lost in the mix.
I've been there myself.
Then I began investing in a CRM, and everything changed.
Suddenly I was able to run sales campaigns, manage leads, save money, and automate these processes from a single website.
Heck, 53% of companies agree that customer retention cost is the most crucial metric to measure, and a CRM will help you lower it.
That's why I want to share my personal list of the best CRM software.
But before I do that, let's cover our fundamentals first.
What is a CRM?
A CRM is a customer relationship management software.
It is a tool that helps businesses manage all of their contacts and customer relationships from one location.
Say goodbye to several email accounts and spreadsheets.
There are many benefits of using a CRM, including:
Generate new clients: Being able to manage leads, keep them happy, and build better relationships can easily result in paying customers.
Automation: Streamline your workflow and save time by automating followups, reminders, and other tasks.
Grow your business: The bottom line benefit of any CRM is that it's going to get you new customers and ultimately increase revenue.
Integrations: CRM software often integrates with other email marketing, social media marketing, and SEO tools you use to make life easier.
Organization: All of your contacts will be neatly organized into different segments, lists, and filters will help you find specific groups of leads.
CRMs are for businesses of any caliber. There are CRMs for small businesses, enterprises, Ma' and Pa' shops, and everything else.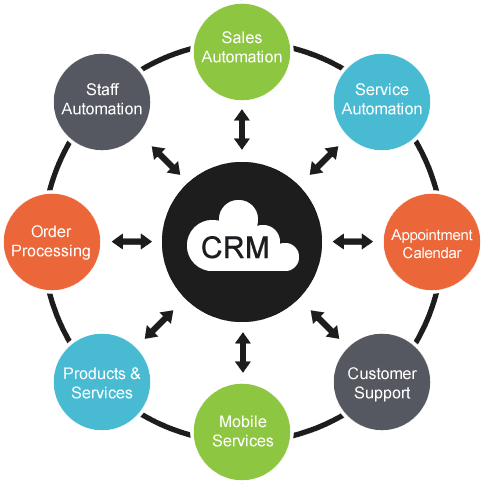 It can be used for recruiting employees, marketing, generating leads, customer service, and many other practices.
Is a CRM software?
Yes, a CRM is technically software.
However, it's more accurately a SaaS product or software as a service.
This means that it isn't software you download onto your computer but rather a web app you log into.
You will pay a monthly subscription versus a one-time fee, and many different users can log into the same account with separate information.
HubSpot is one of the best CRMs that I personally use and recommend.
Is a CRM worth it?
Remember that a CRM is a tool and will only benefit you as well as you use it.
This means that you need to have proper strategies and procedures in place to maximize their effectiveness.
If you acquire a CRM, and you don't have good sales processes in place, don't expect to be swimming in more leads than you can handle.
On the flip side, those with clear goals, tactics, and documentation will find a CRM to be a godsend in many cases.
Let's presume that you pay $100/month for a CRM subscription, but it results in four to five figures of customers every month.
It's fair that say that it has a good ROI.
Check out this review of HubSpot by a happy customer. It sums up the benefits of using a CRM perfectly and what you can look forward to.
With that being said, let's jump into my recommended CRMs!
Top 5 best CRMs
These are some of the best CRMs to keep your customer information more organized.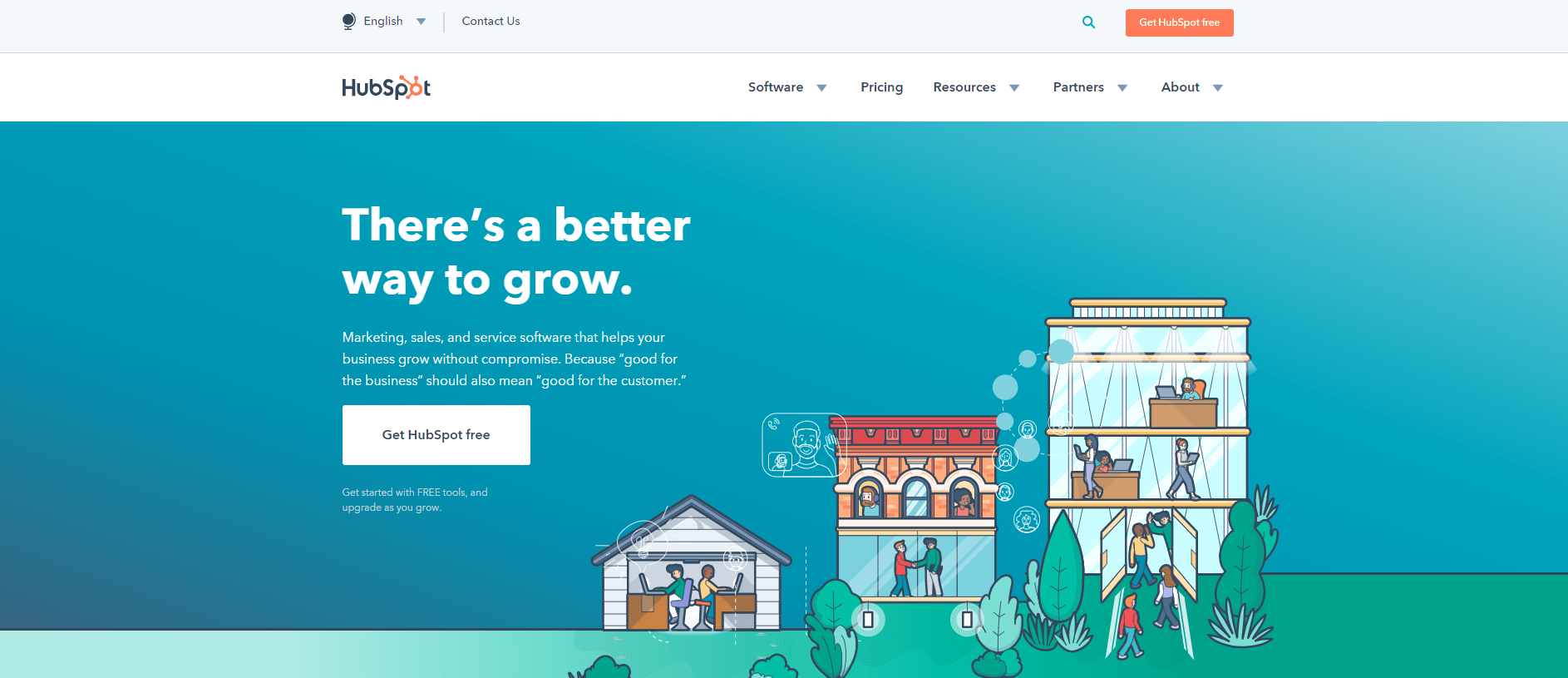 I'm a bit biased because I use HubSpot, but out of all of the CRMs I've tried, it's easily #1.
They have everything you need to start filling your pipeline, create new landing pages, and more.
Here are the three packages they currently offer and what they do.
Marketing Hub
The marketing package from HubSpot is all above, improving your funnel and generating revenue via new leads.
One of the best features of this plan is the ability to create landing pages, blog posts, email templates, and more through their drag-and-drop system.
This means that you don't have to outsource web design or similar services, reducing costs and keeping results rolling in.
You're also able to split tests more easily, integrate forms into landing pages instantly, and enable live chat for further user interaction.
The Marketing Hub will also give you SEO suggestions, a social media publishing tool for content, and copy ideas based on customer behavior.
Customization is a great component of this package, as you can tailor each lead's path individually, as well. This allows you to increase conversion rates by personalizing their experiences.
Lastly, HubSpot has in-depth reports you can use to monitor progress, find trends, and identify new opportunities.
Sales Hub
The sales package has one goal: save time and energy in every stage of your funnel, while acquiring more customers.
One of the best features of the Sales Hub is the ability to create sequences. These are automated follow-ups that you create rules for, such as following up after X days or based on specific behaviors.
You can also create email templates that are able to be sent out at a mass scale for cold emailing campaigns.
Similarly, these templates can be shared and edited by your team to keep productivity and an all-time high across the whole company.
Notifications are instantly sent to you once a lead opens an email, replies, opts out, or takes another action. You can quickly jump on opportunities and not miss any golden tickets because of this.
Service Hub
Customer service is everything.
In fact, 60% of consumers have stopped doing business with a brand after a poor customer service experience.
Little do you may know that tools can help boost your customer service and satisfaction.
That's exactly what the Service Hub plan does.
HubSpot has features like live chat, optimized forms, Facebook messenger integration, and more that integrate into the platform.
All of your customer communication is organized in one place and at your fingertips. This allows businesses like yours to respond more readily to customers and help them.
A.K.A, you'll give them a better experience and keep them coming back.
Service Hub has a help desk built into it, too. Chats, emails, and messages can be converted into tickets that are tracked and sent to different team members.
You're getting one of the most powerful customer service suites available, and the results will speak for themselves.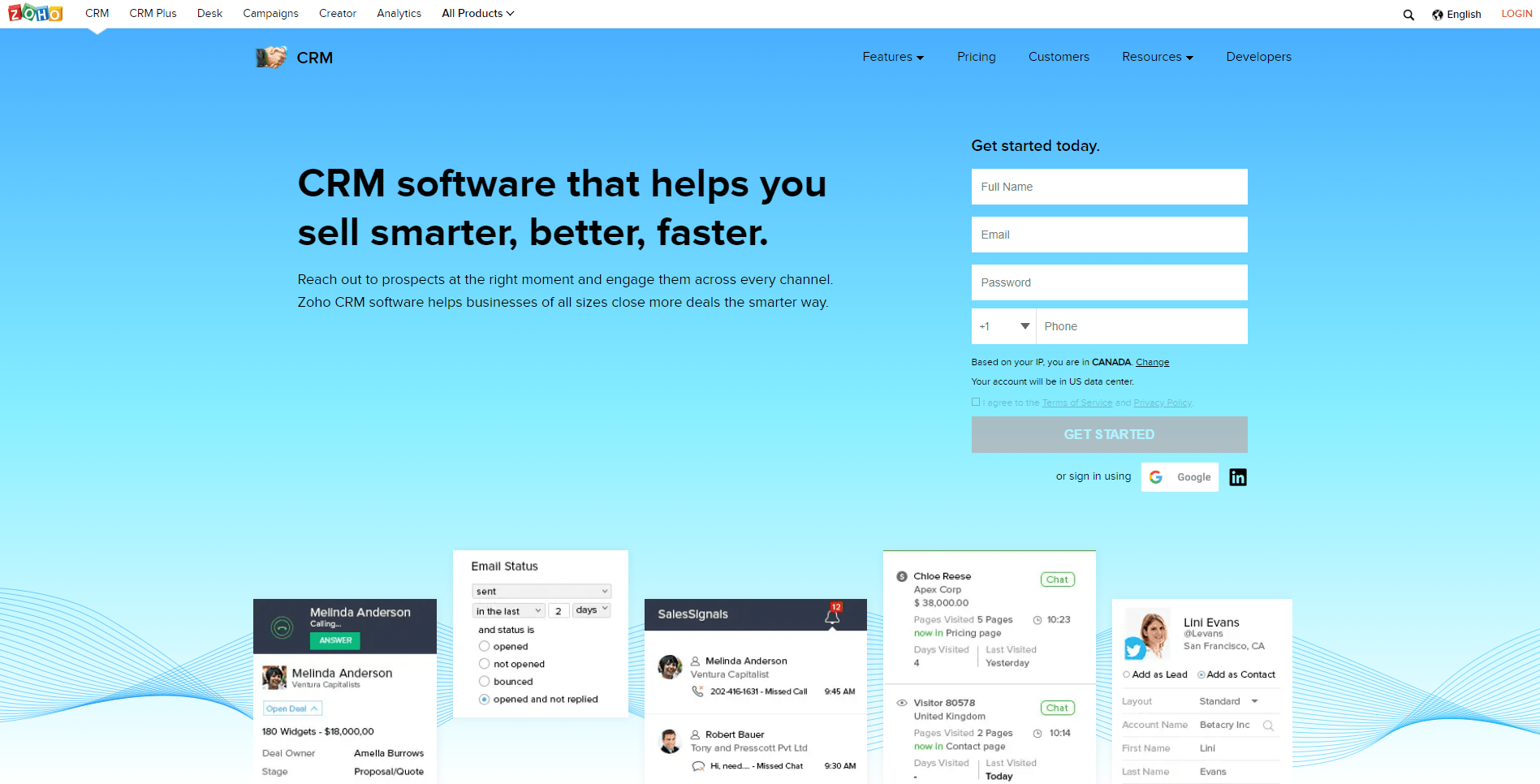 Zoho is a software company that offers heaps of products to increase the performance of your business.
One of these products is Zoho CRM, which is one of the most feature-rich CRMs on the market. Here are some of the main benefits of using their platform.
Marketing automation
Zoho's multi-channel CRM enables business owners to connect with customers via several channels at once.
You probably have many different social media accounts, live chats, and other points of contact set up, right?
Wouldn't it be nice to organize all of those from one platform? That's exactly what you can do with Zoho.
Furthermore, Zoho boasts the next level of Zia artificial intelligence. It gathers information on your business activities, so you can make smarter decisions.
Zia Voice works like Apple's Siri or Amazon's Alexa, where you can ask her questions and use commands to speed up processes. For example, you can tell Zia to add new records to your lists or ask for the phone number of a specific lead without needing to go through the database yourself.
Zia also helps predict the chances of leads converting into paying customers, identifies new trends, and suggests changes to improve campaigns.
Sales automation
Zoho's sales automation will allow your team to close more deals while saving time.
Advanced pipeline management improves companies' ability to target the right leads, nurture relationships, and identify buyers' persona.
Macros can be made to automatically perform various tasks in specific orders, saving your team time with repetitive actions, furthermore.

Zapier is an interesting service. It's not a CRM exactly, but it integrates with practically every CRM on the market and other apps.
It helps your business create Zaps, which are connections between different software, ultimately allowing you to get more function out of what you have.
Here are more details to explain what I mean.
Creating Zaps
Zapier's overall interface and dashboard are very easy to navigate. Users can create new Zaps with the click of a button from the dash.
Zaps work by first selecting a trigger element. This is the event that needs to occur before anything is executed. They have built-in actions when you connect an app — let's say Gmail, for example — to make the process as smooth as silk.
Once you have chosen the app and trigger event, such as receiving a calendar invite, you pick the action event.
In that case, you could connect to Google Calendar, and have Zapier automatically book an appointment.
This is a realistic example, but the sky is the limit! You can be creative and use Zaps to improve your CRM productivity.
Some examples are:
Automatically schedule calendar events.
Send thank you cards to loyal clients.
Import other lists of leads automatically from spreadsheets or other tools.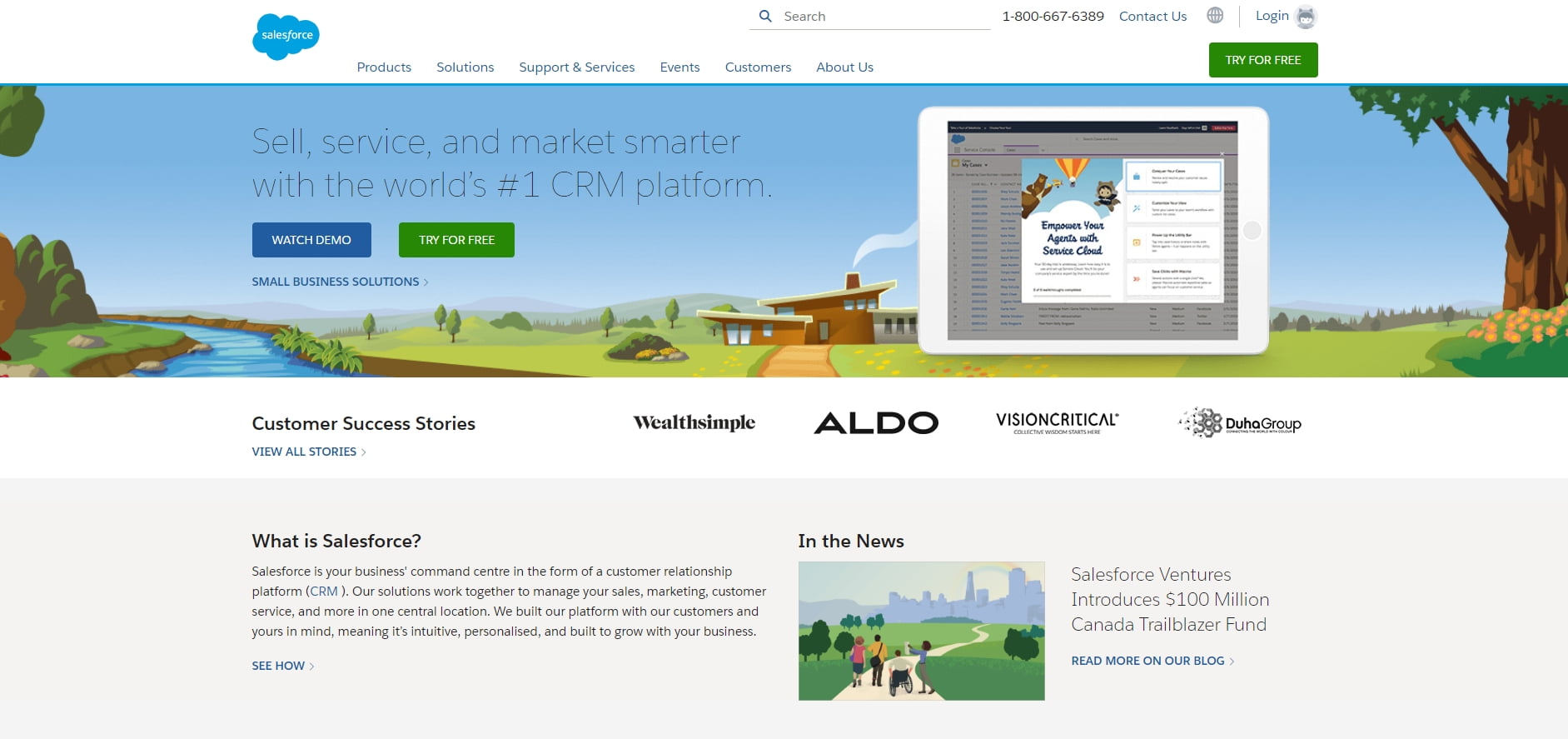 More than 150,000 companies use Salesforce to scale their businesses.
They are one of the most used and popular CRMs available.
Interestingly Salesforce is not a one-stop-shop. They offer CRM solutions built for different industries, markets, and individual businesses.
This means that you get a solution that is tailored to your goals and customers. Here are the main products they offer.
Sales
Just like their name suggests, Salesforce can help any team in generating more pipeline, close deals, and improve workflow.
Quotes, contracts, and proposals can all be sent directly from Salesforce, saving you time and energy from having to use other tools.
Predictive scoring and intelligent automation help businesses forecast and make more accurate predictions thanks to the built-in Salesforce AI.
Service
Many people don't realize that their customer service is half o their product. Salesforce will enhance the customer experience through omnichannel connectivity, live chat, and messaging.
Marketing
Salesforce is built to improve the marketing you do via mobile, email, social media, and other channels.
You will also have access to Marketing Cloud, which is the world's best customer journey customizer.
All of the small tasks you do every day can be automated with visual charts and paths.
Commerce
Do you sell physical or digital products? Then Salesforce is for you.
Improve how many customers you convert through personalized shopping experiences, mobile-optimized content, and more.
Proper checkout flow, abandoned cart recovery, and payment accelerators all help reduce how many customers slip through your fingers, as well.
Wrapping up the best CRMs
CRMs are amazing for filling your pipeline, saving time, and making lead generation a piece of cake.
Every business, whether you're a sole proprietor or enterprise, needs to consider picking up a CRM.
The four I covered today, HubSpot, Zoho, Zapier, and Salesforce, are some of the best and include free plans or demos.
Which CRM have you enjoyed the most?