New house sales have been climbing ever since the 2008 economic collapse.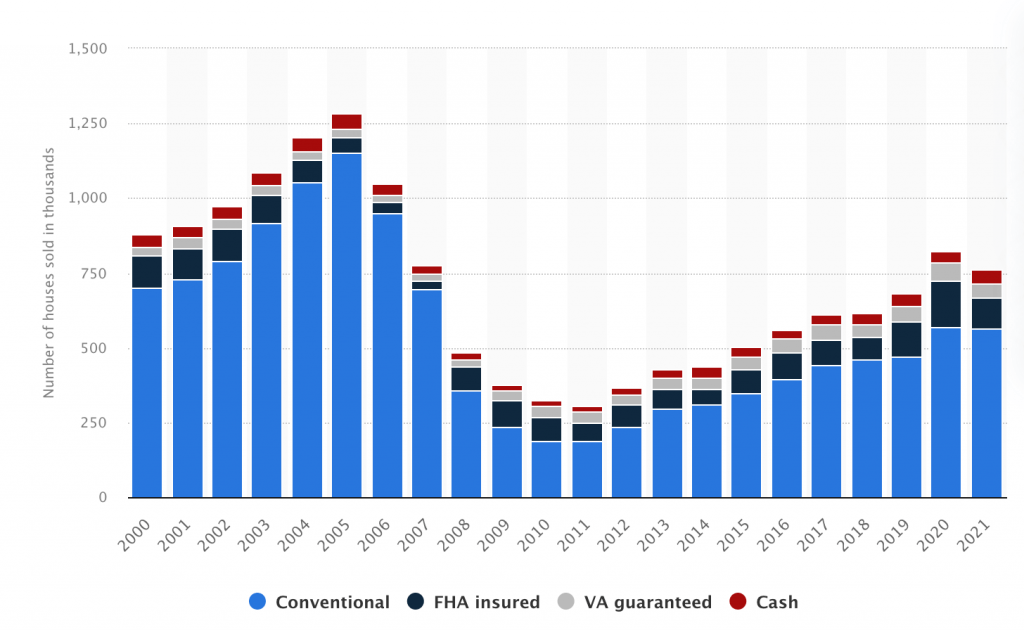 They were just below 250,000 in 2009 but were nearly 500,000 in 2018.
What does this mean for you as a mortgage professional?
That are more mortgage leads than ever waiting to get scooped up.
You simply have to market yourself correctly and position your right to get them all.
That's why today I'm going to teach you how to use simple strategies to begin generating leads for mortgages.
Feel free to double down on a single tactic using Pareto's principle or use several to maximize your results.
1. Mortgage broker SEO
Search engine optimization is the practice of finetuning your website and pages to be more readily found through search engines.
The result?
More traffic and leads for your business.
Who wouldn't want that?
You'd be surprised how many companies neglect SEO and miss out on tons of leads over time.
Don't be one of them. Here's how to begin.
Research keywords for your website
Keywords are phrases and words that users enter into search engines like Google to find information.
By targeting very specific search terms, you are able to place your mortgage business in front of the perfect audience.
I suggest installing the free Chrome extension called Keywords Everywhere or getting a free seven day trial of SEMrush.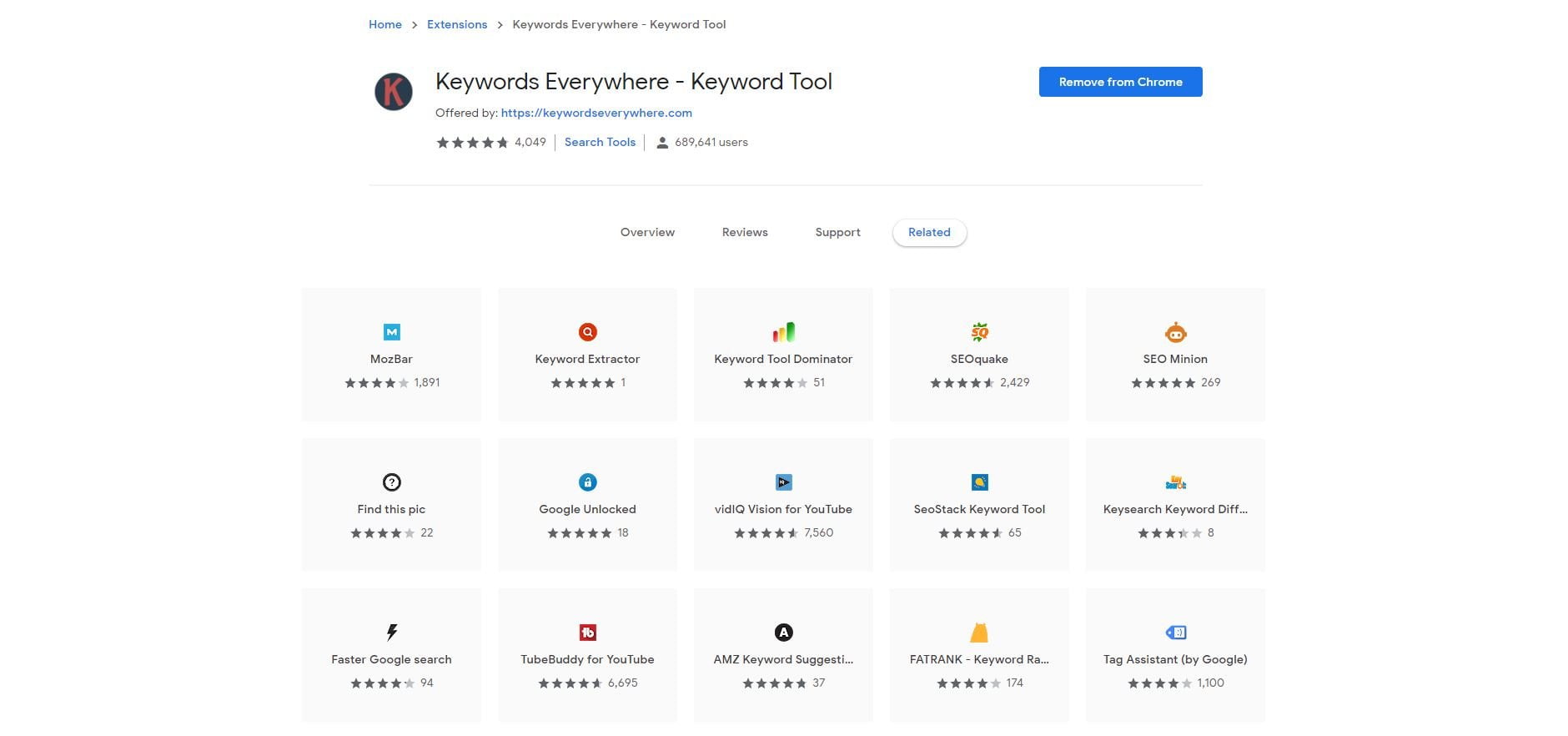 It integrates with Google, Google Analytics, Moz, YouTube, Amazon, and 15 total platforms to give you keyword ideas.
Let's say that you are a mortgage broker from Toronto. Google search a phrase like "Toronto mortgage broker" and take a look at the sidebar.
It displays heaps of search term ideas along with their volume, CPC, and competition level.
I recommend that you target a blend of low, medium, and high-competition keywords.
The low volume and competition phrases will be easy to rank for. The more competitive ones have the potential to drive massive traffic and lead but take a bit longer.
You should also check out my SEO copywriting course to learn about writing content that ranks on the first page of Google.
Place the keywords strategically
Once you have a list of keywords that you would like to target, it's time to begin using them!
Keyword placement is pretty simple.
The first place you want to enter search terms is the title tag and URL of your web pages.
Look at this broker, for example.

"Toronto mortgage brokers" and "Toronto mortgage agents" is used in the title, while the URL includes "mortgage-brokers-Toronto."
This signals to Google what the page is about and helps them rank higher.
The general idea of keywords is that it assists both users and search engine algorithms in understanding what your business pertains to.
Secondly, place keywords in the meta description of your pages and content.
Here's the deal. Adding keywords into meta descriptions doesn't directly affect rankings, but it does indirectly.
As you can see from the above Toronto broker example, the keyword "Toronto mortgage broker" is highlighted in bold in the meta description.
This has been proven to increase click-through rate, which means that you'll have more prospects visiting your website.
Additionally, Google's algorithm pays attention to user experience-based metrics like click-through rates to determine which search results are the most popular.
If you get more clicks, you rank higher. Simple as that.
The third area to place keywords is in the body of pages.
You want keywords to flow naturally with content, and you don't want to overuse them, either.
Ratehub effortlessly uses targeted keywords on its pages that most users wouldn't even notice unless they had SEO knowledge.
Since great content and search engine optimization go hand in hand, that's the next strategy I'd like to talk about.
But make sure to read my on-page SEO guide first.
When another website links to yours, it's called a backlink.
Think of it as a voting system.
The more websites that link to you, the more popular Google thinks you are and ranks you higher.
Simple, right?
Back in the early to mid-2000s when Google was like the wild wild west, marketers could get away with spamming low-quality links to rank on the first page.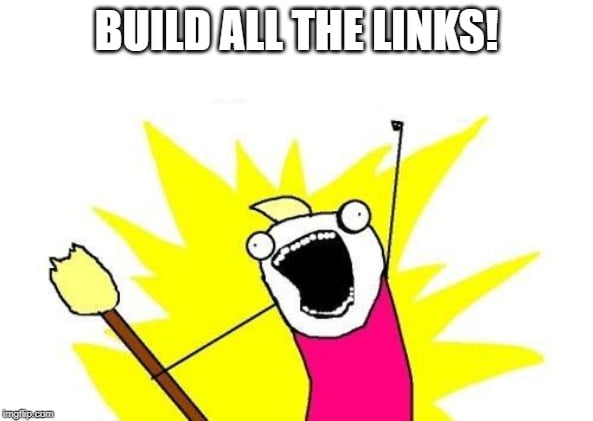 Not anymore.
Google's algorithm is smarter than all of NASA's scientists combined. That means you need to focus on quality over quantity.
This is also why I recommend mortgage brokers invest in guest posting.
It's a great way to build links, generate referral traffic, and improve brand awareness in one swoop.
Guest posting is when you post an article on another website that isn't yours.
Many publications have a contribution or guest author section that outlines things like:
How to send them a pitch.
Writing guidelines to follow.
What topics they accept.
You can normally find guest author information in the footer of a website like this one: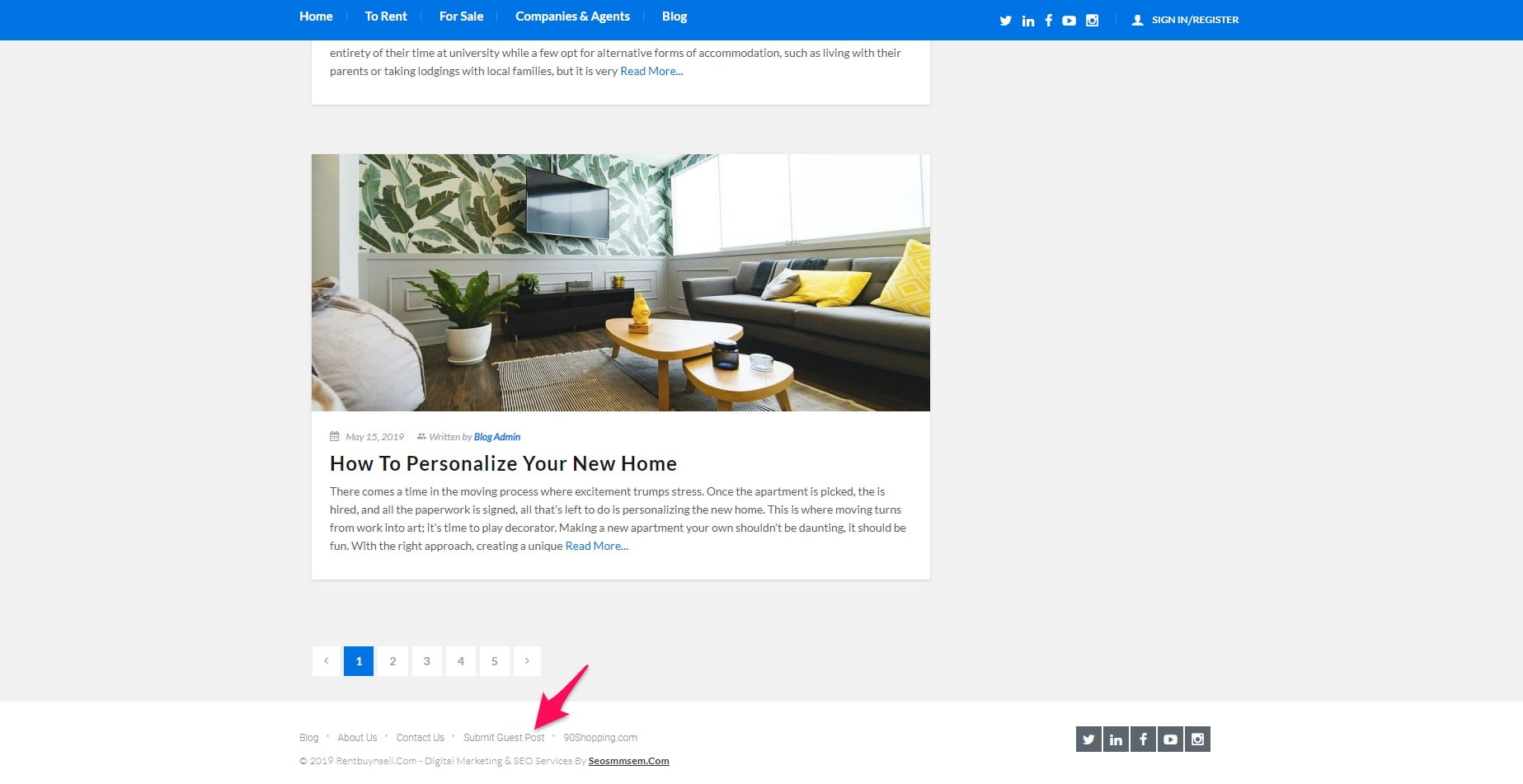 I also suggest that you read my backlink building guide to learn more staple strategies.
2. Mortgage broker content marketing
Offering free value through content is another mandatory practice for every business.
In fact, high quality content remains one of the largest determining factors of your rankings in search engines.
These are the three steps you need to take to begin generating mortgage leads through content.
Craft a buyers persona
Who are you targeting? Who is your ideal client?
You need to have a clear picture of who you would like to have as a customer before building any content.
This is what we call a buyers persona.
Every piece of content you produce will be created with this group of individuals in mind.
You see, what happens is that businesses will publish random content with no clear direction or audience, and it leads to no results.
This also means a loss of time and money.
Let's skip that.
Here's an example of what a buyer's persona looks like.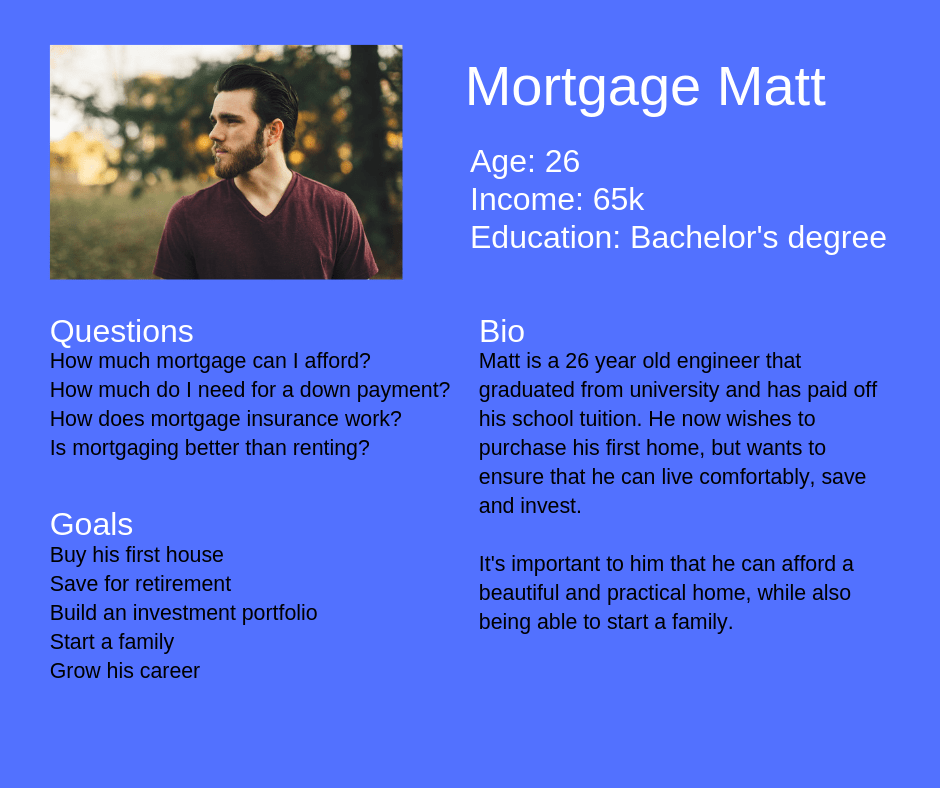 It should include demographics, strengths, weaknesses, goals, a biography, and any other basic information.
The premise is that you write content that's geared towards this audience and no one else to attract quality mortgage leads.
Write content that's helpful
You'll notice that the buyer's persona example I used above that it includes some general questions the ideal client would ask.
These are very important because it allows us to create content around those topics.
As a result, you provide useful insight, solve their problems, and ultimately earn their trust.
I recommend that you make the content as practical as possible.
This means guiding them step by step through instructions, using real-life examples, citing studies, and backing up points with data.
Read my article on content marketing case studies to see how successful companies do this first-hand.
Distribute it
You can have the greatest content in the world, but you need to get it in front of people for it to generate leads.
That's why the first thing you should do after publishing is to promote it on social media.
LinkedIn, Twitter, and Facebook are staple networks to be active on.
There are over 3 billion active social media users worldwide, and 90% of them use these networks to interact with brands like yours.
Over time you will gather more followers and increase engagement by regularly sharing content.
This will lead to more website visits, which brings me to my next point.
3. Mortgage broker email marketing
It's not enough to have a steady flow of traffic to your website. You also need a way to capture them, or they'll slip through your fingers.
How do you ask?
Through an email newsletter.
Email marketing generates $40 for every $1 spent.
Yep, that's right. A 40x ROI.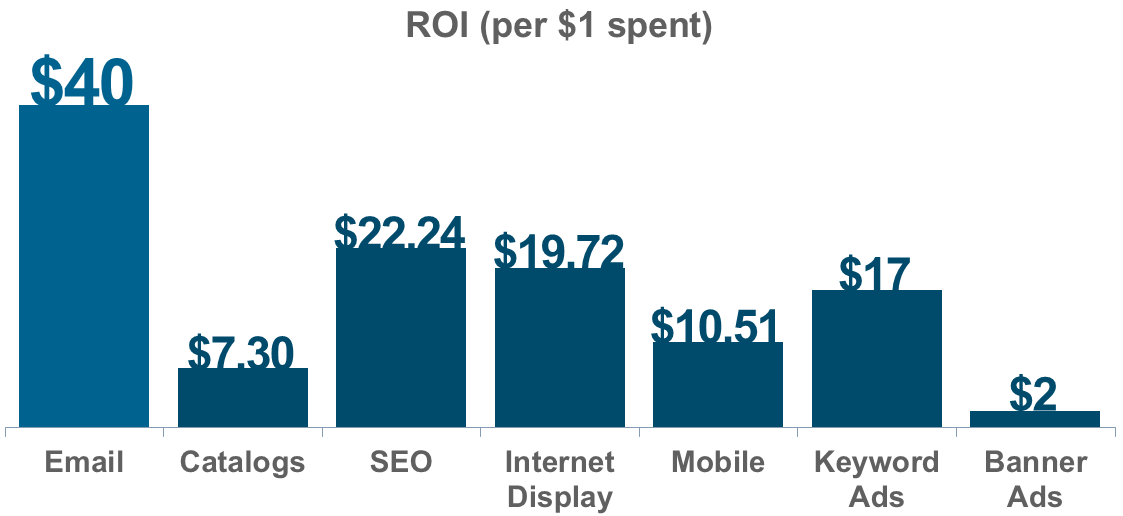 And starting an email newsletter is easier than ever.
You can take advantage of free email marketing tools like MoonMail to begin sending out newsletters and generating mortgage leads.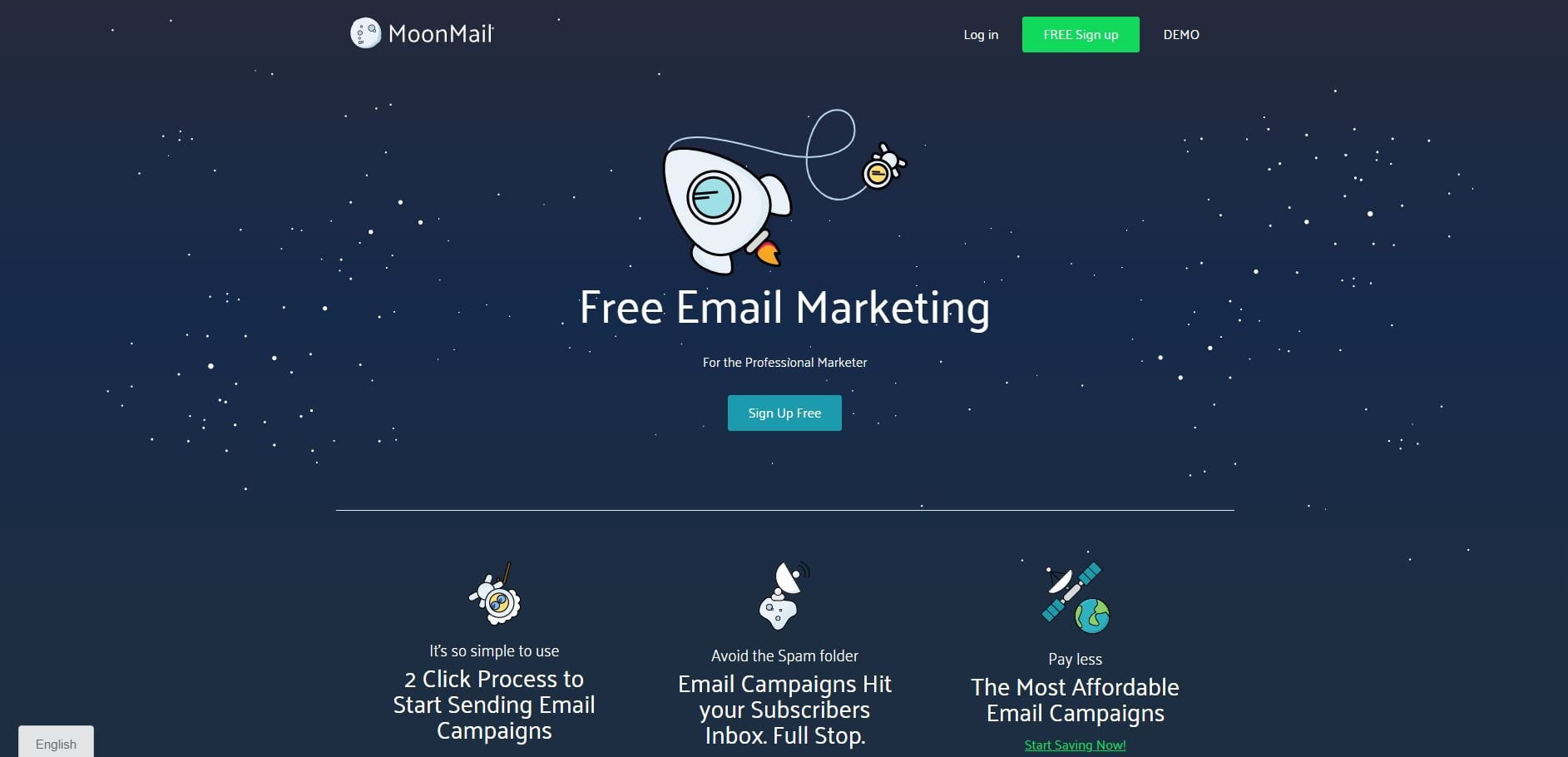 Remember that you need to use marketing tactics like these wisely.
Nobody wants to receive constant spam.
That means 80% of your newsletters need to offer promotions, discounts, your latest blog posts, and other value.
The remaining 20% can be used to promote your products and services.
Add a popup, sidebar, or footer form to your website, and connect it to the email marketing software of your choice.
This will allow you to collect emails, which you can then contact. I suggest sending out a weekly newsletter to stay consistent but feel free to create your own schedule.
Offering a lead magnet is also very effective for increasing subscribers.
If you want to learn more about these processes, watch this free email nurture webinar or grab free landing page templates here.
4. Network with real estate professionals
Many mortgage companies, whether their brokers, lenders or offer another service, get their leads through referrals.
They network with other businesses and get sent referrals because they do a great job or have a partnership sent up.
Obviously, you don't want to work with other direct competitors, but consider networking with:
Appraisers
Real estate agents
Leasing managers
Loan officers
Community development managers
Foreclosure specialists
Mortgage credit analysts
Property managers
All of these individuals have connections you can leverage to get mortgage leads for your company.
That's why you need to start visiting local real estate networking events. This will lead to so many opportunities that you wouldn't believe it.
It's like they say: it's not what you know; it's who you know.
You can find events on Meetup.com by typing in your area and looking for a real estate-related search term.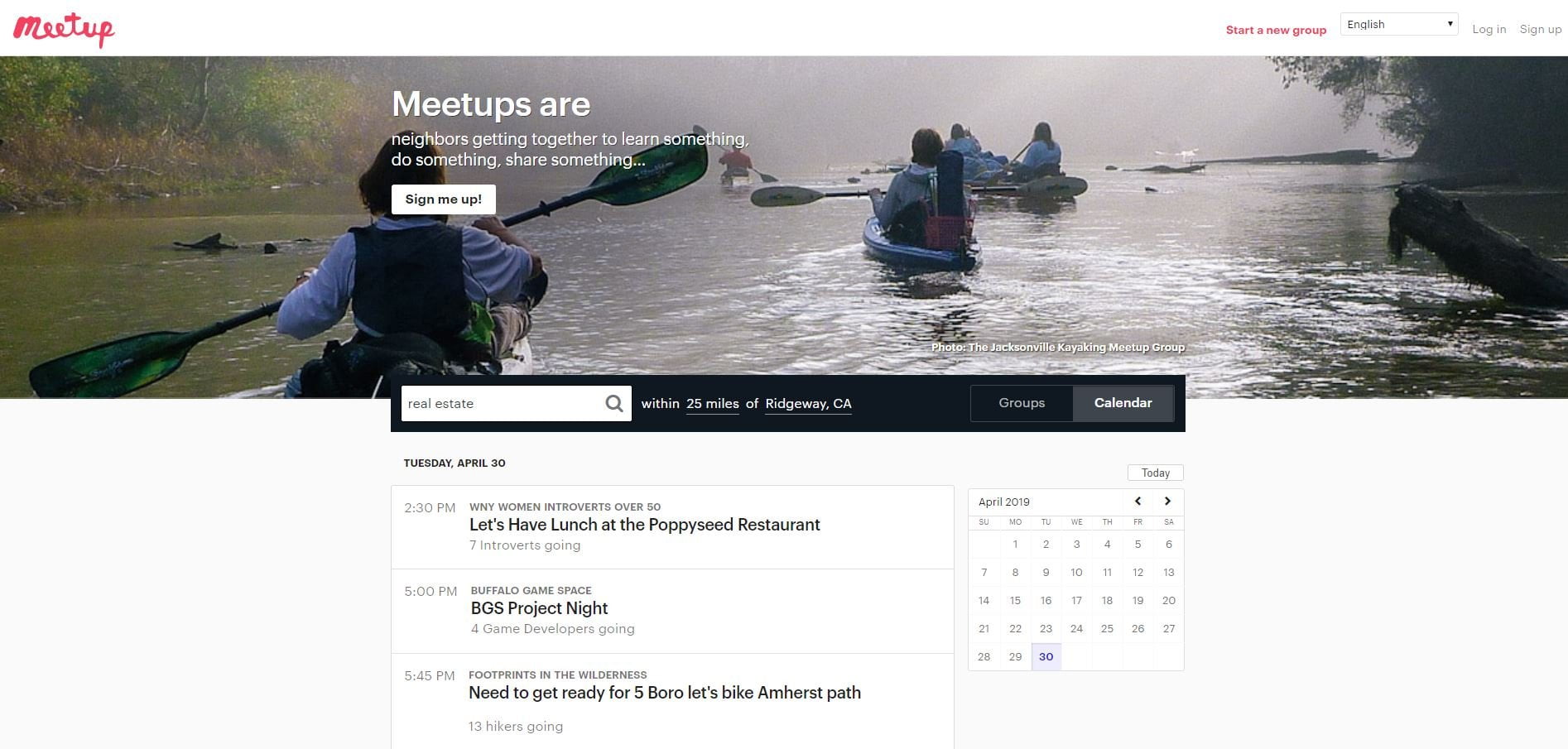 Depending on where you live will determine how many events are available.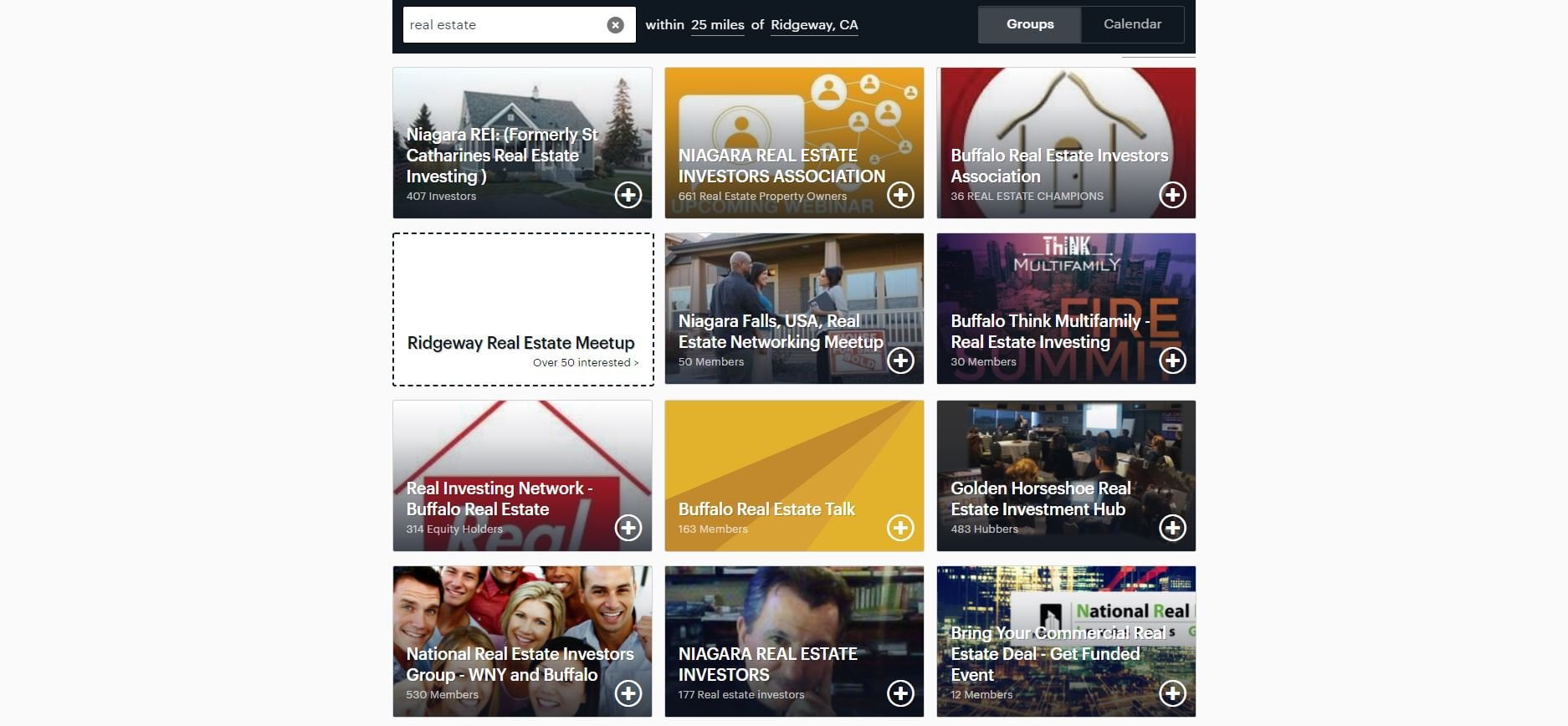 Those living in larger cities will have no shortage of groups to join.
If you're in a small town like mine, there are still events to attend, but they are slightly more scarce. In this case, make sure you're on the ball about attending what's available.
Make sure that you also have business cards available and dress sharp. You want to give a great first impression.
I guarantee that if you do this on a regular basis, eventually, you will have great connections in the local real estate industry that can easily result in leads.
5. Invest in billboard advertisements
If you have a bigger budget, billboards can be a serious powerhouse for acquiring mortgage leads.
I live in a smaller town, and I noticed that some of the biggest players in real estate here invest heavily in billboards.
$7.7 billion was spent on billboard advertising in the United States in 2017, and that number is only going up.
Do you know why?
Because it works, and damn well at that.
Going this route will cost you some hefty fees, but it can be exactly what takes your mortgage career to the next level.
How much you spend will also depend on where you get a billboard placed, the traffic, and where you live in general.
6. Take advantage of PPC
One of the most cost-effective forms of advertisements is pay-per click campaigns.
This includes Facebook, Google, and Instagram ads, among other platforms.
PPC is often very affordable, especially when compared to other forms of marketing like billboards.
I would suggest getting started with Google ads if you're interested in generating mortgage leads because many prospects will be searching for a broker, lender, etc., through a search engine.
Sign up for a free account here.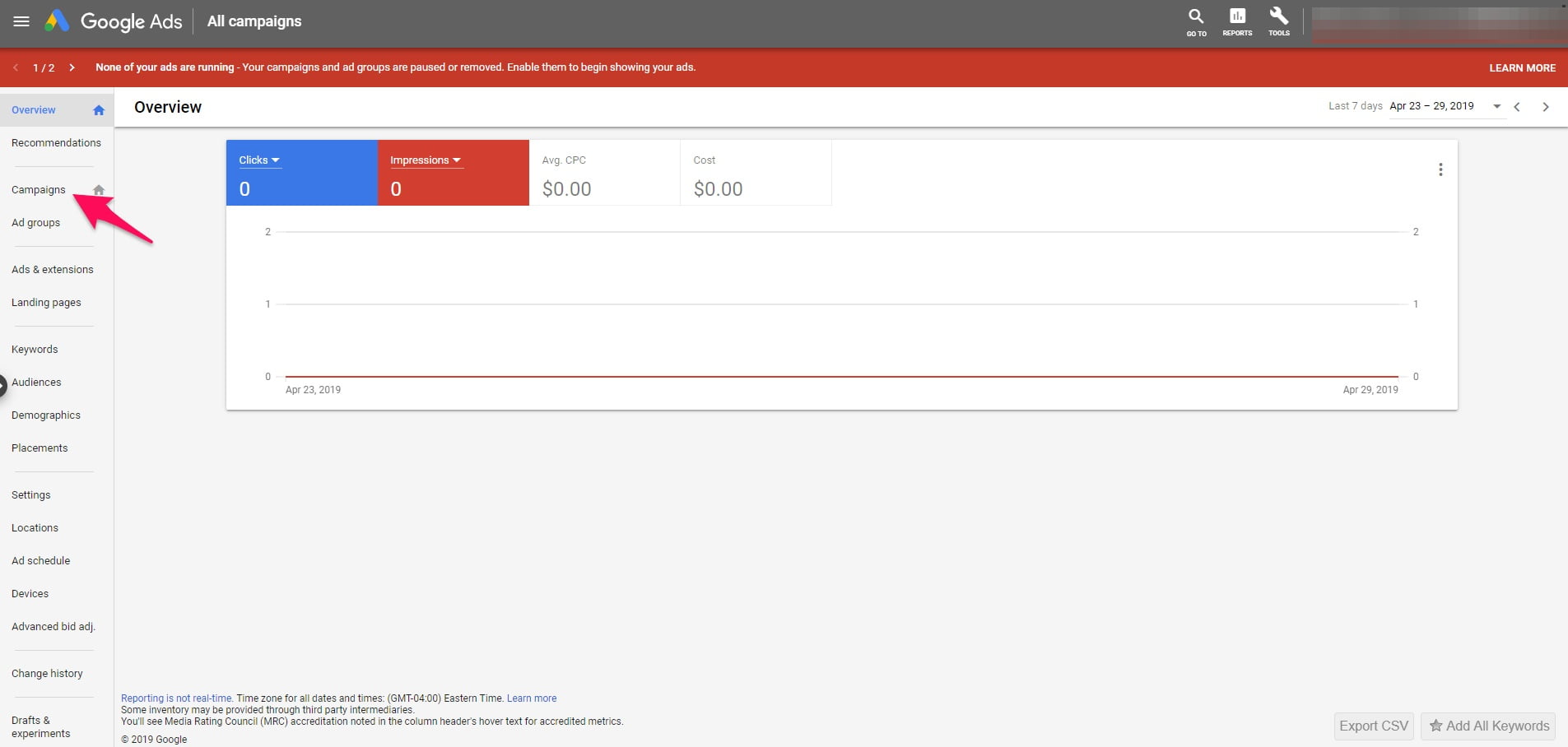 Click the "Campaigns" tab from the left sidebar once you're logged in.

Hit the blue plus button and select "New campaign" from the dropdown menu that appears.

You will then be required to choose what type of campaign you'd like to create and the goal.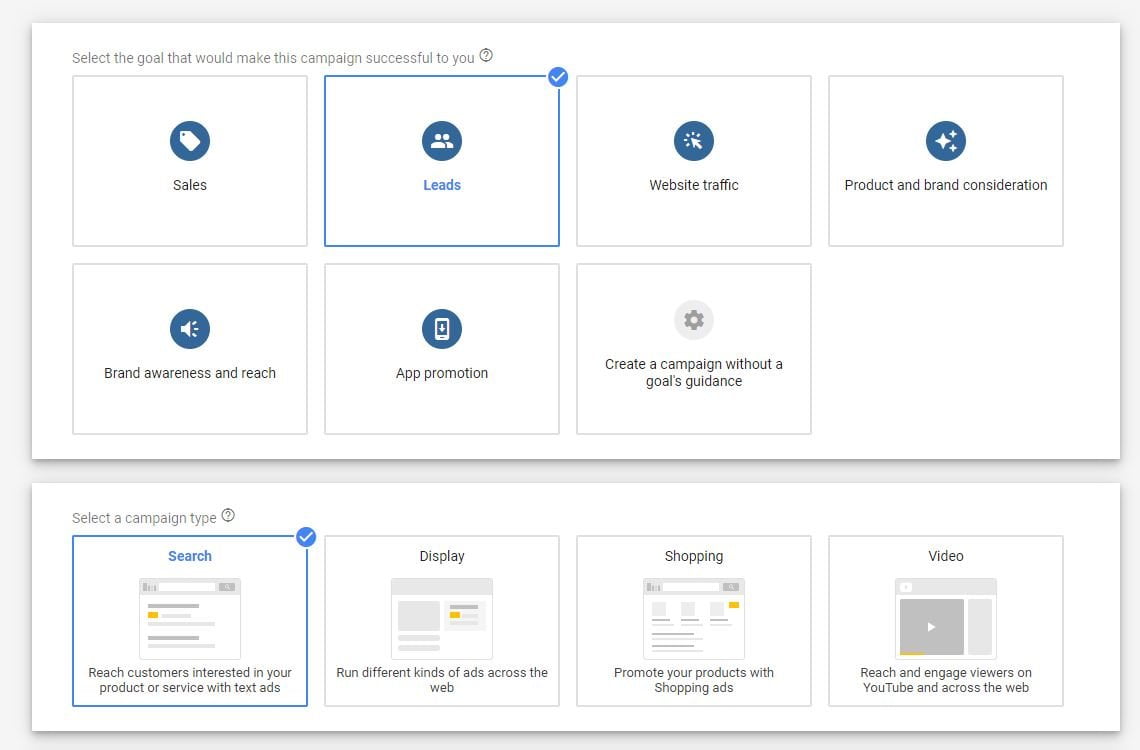 Give your campaign an appropriate name, and choose which networks to display ads on.
The first option will not only place ads on Google, but their search partners, which further expands reach.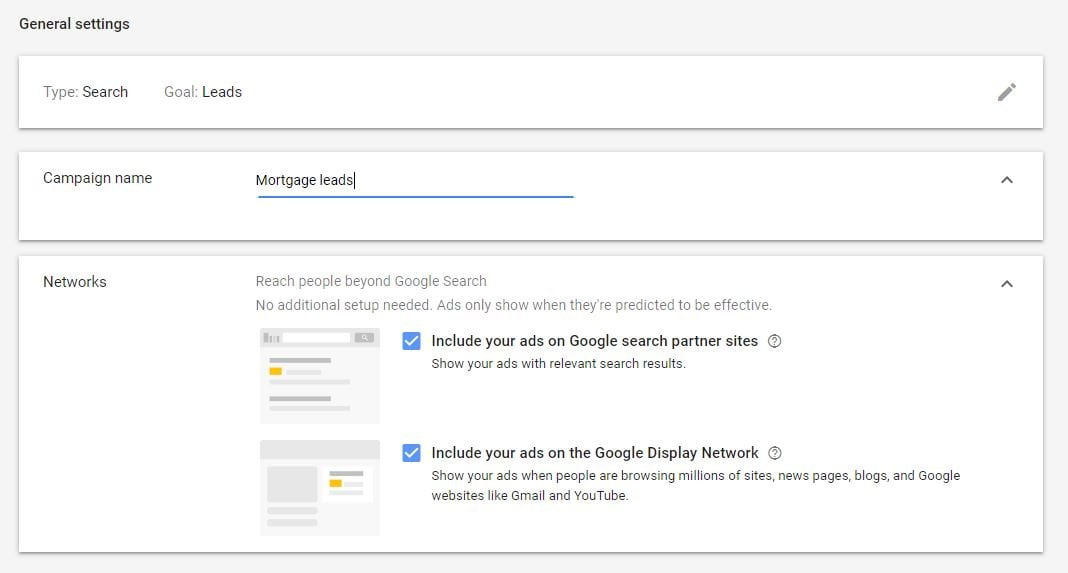 Choose the location, language, and pre-defined audiences to target in the next section.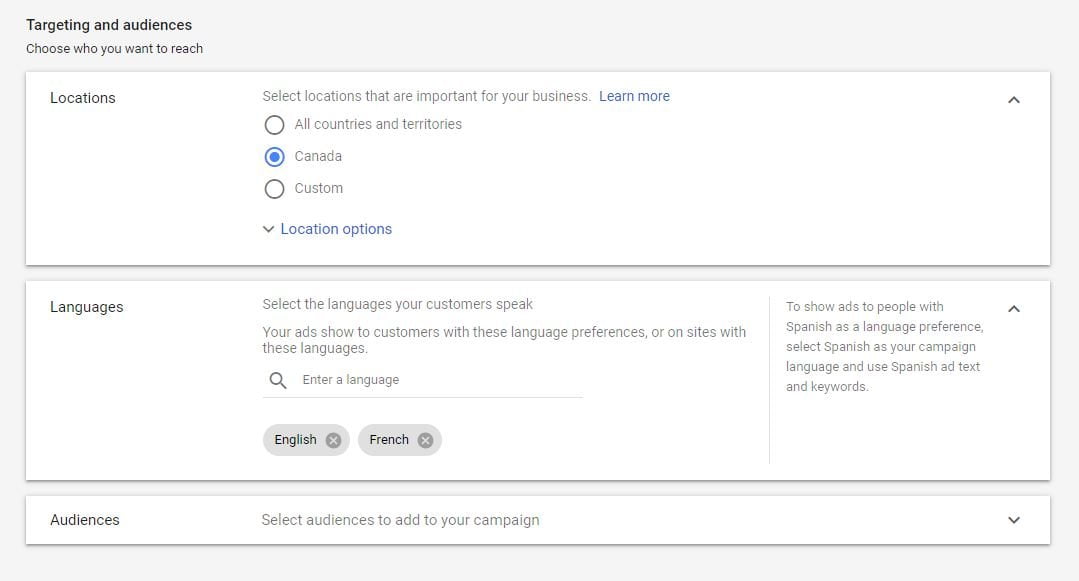 Below this, you can set your daily budget. Start small, and as you optimize your campaign and become familiar with the platform, you can invest more.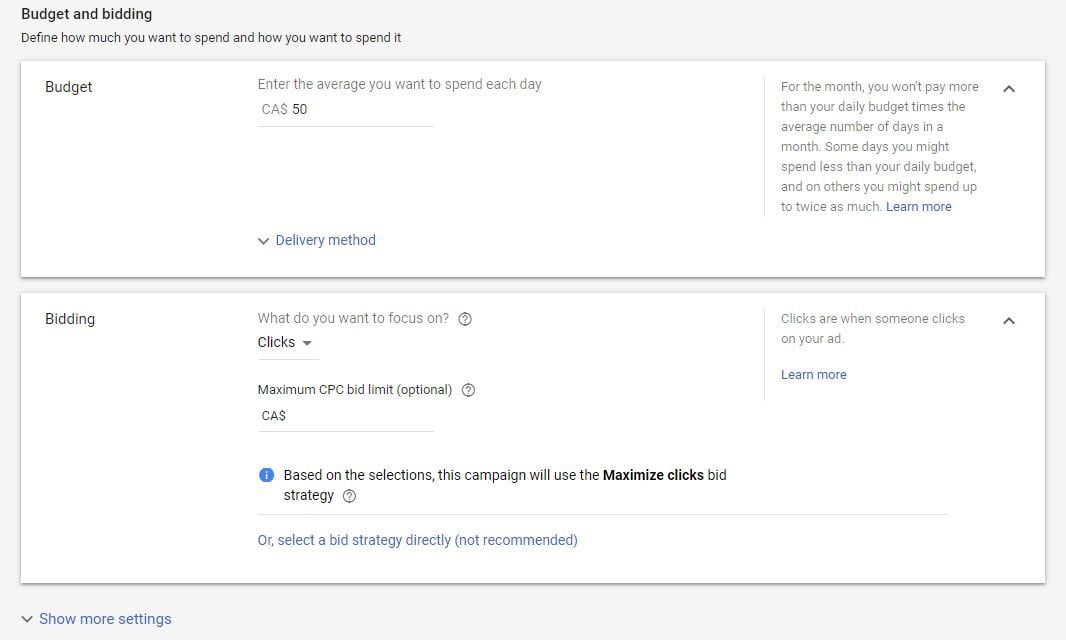 The next step is to create your first ad group. This is a group of ads that have a similar structure.
For example, you might test several ads for first time home buyers and have another group for a different offering.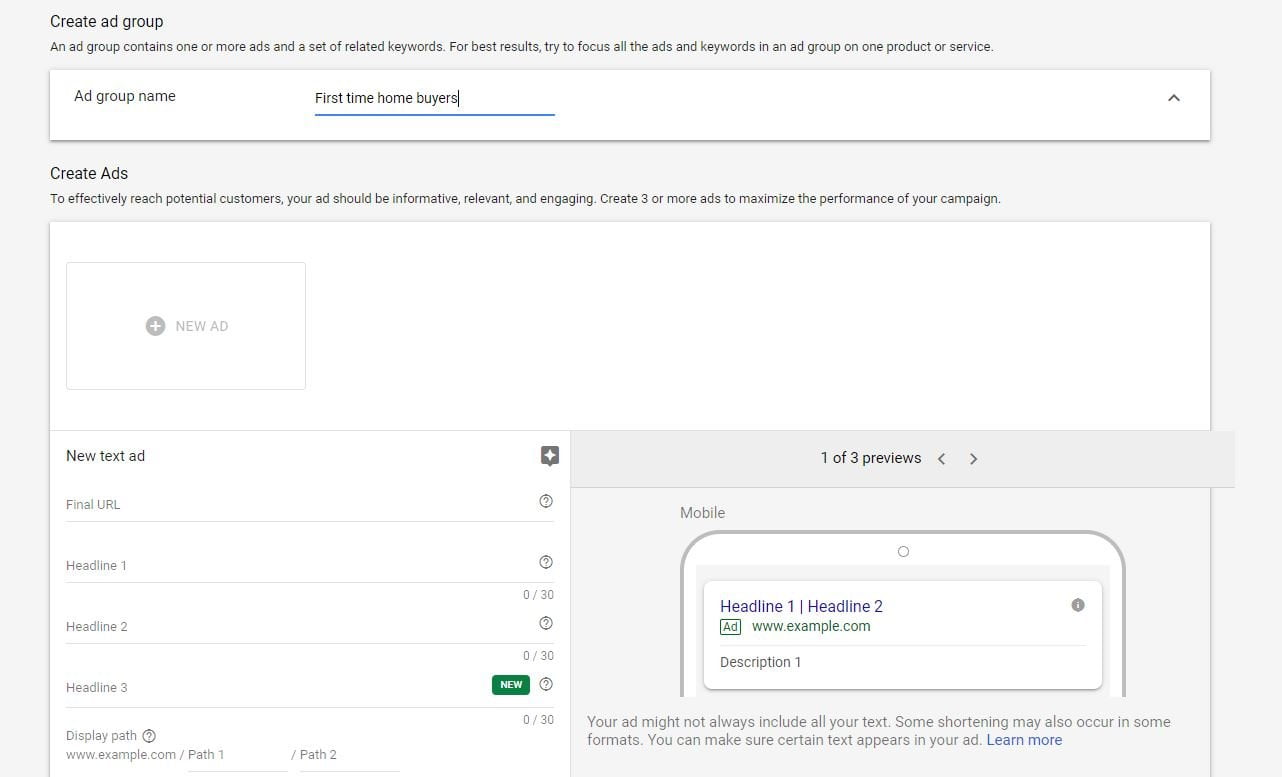 The final URL of an ad is where the user will be directed when they click it. I recommend this being deeper into the sales funnel, which helps convert users into leads.
"Headline 1," "Headline 2," and "Headline 3" are the top pieces of text that should quickly explain your value proposition and grab the user's attention.
The description can then elaborate on what you're advertising.
Write copy that speaks to the buyer's persona's questions, needs, and values for the best results.
The final step is to add keywords that your ad will be displayed when users search for them.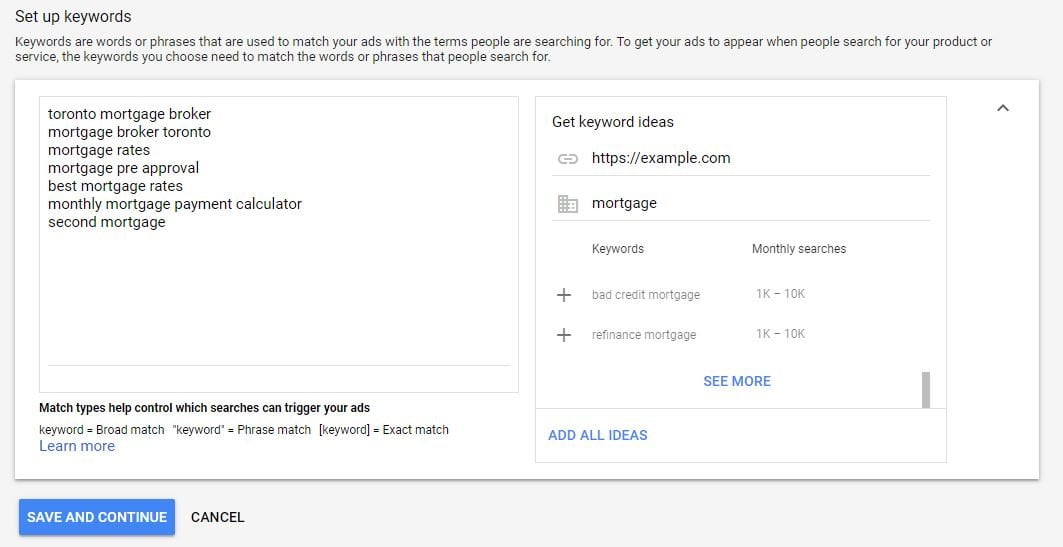 Suggestions appear in the right box when you enter a related term.
Move onto the review page, where you can confirm your campaign. Google will take a quick look to ensure everything abides by their terms of service and alert you when it begins to run.
For those that run Facebook ads, check out this Facebook ad lookbook for inspiration and examples.
Wrapping up mortgage lead generation strategies
Getting clients in the mortgage industry can be daunting.
There's lots of competition, but there are definite ways to perpetrate yourself and stand out.
The first approach is improving the SEO of your website. This will increase organic traffic, search presence, and brand awareness. It's easily one of the best ways to get mortgage leads in the long term.
Additionally, mortgage companies need to produce content on a regular basis to become thought leaders and authority.
Your website should also include an email newsletter signup. Use this is as a way to build relationships and stay in touch with leads.
Nothing beats face-to-face networking, either. You never know what referrals or opportunities you might come across, so begin attending events on a regular basis.
Those with larger benefits should consider investing in billboards, as they are very effective for generating leads and having a constant stream of clients.
Lastly, PPC is another efficient form of advertising to pool money into. Google is great, but don't shy away from Facebook or other platforms, either.
Stop waiting around! Now that you understand how lead generation for mortgage brokers works, put what you learned into action.
You can also learn more about lead generation and marketing in my online courses.