Most marketers: Backlinks are the only thing that matters!
Me: On-page SEO is the only thing that matters.
Let me explain why I believe this.
I run roughly ten different websites currently and have grown many more throughout my career as an entrepreneur.
I've outranked huge publications and websites with little to no links for competitive search terms.
How was this possible?
Through great on-page SEO.
Sure, Google does look at backlinks as a ranking factor and a huge one at that.
But more importantly, search engines want to display useful content that keeps the user satisfied and coming back for more.
If your on-page is cleaned up perfectly, Google will easily understand what your website is about, boosting your rankings.
Furthermore, great content decreases the bounce rate, increases click-through rate, improves the average time spent on the page, and promotes social sharing.
All of these are also factors Google looks at.
See where I'm going with this?
According to Google, there are 200 ranking factors with 50 variations each.
That's 10,000 in total!
If you only focus on one, which is backlinks, you're missing out on 9,999 other ways to rank.
That's why today I'm going to go through the SEO blueprint I apply to every website and piece of content to make it rank on the first page.
High quality content
Content is king.
You've heard it before.
But are you practicing it?
There are many elements that make up high quality content that will generate organic traffic, build trust, and make your brand into an authority.
Here are the main ones.
Up that word count, baby
Word count is subjective but very important nonetheless.
It's no coincidence that all of the biggest players in the digital space produce 3,000 word articles and beyond.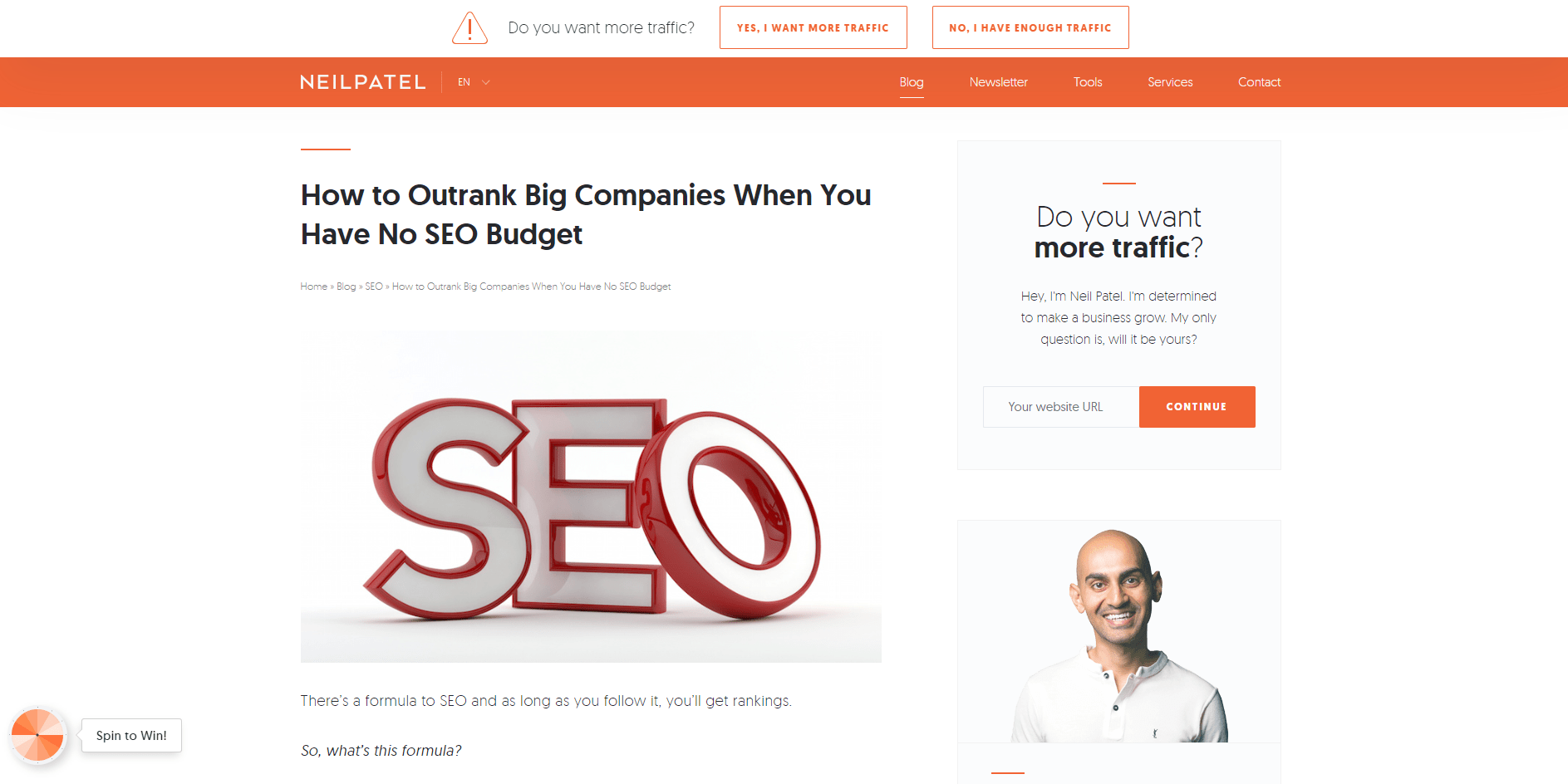 Heck, I've seen 10,000 word blog posts before.
You don't have to go that crazy, but if you're in a competitive industry, then there will be more of an obligation to produce long form content.
It's been found that articles in the 1,000 to 2,000 word range tend to get the most social shares, as well.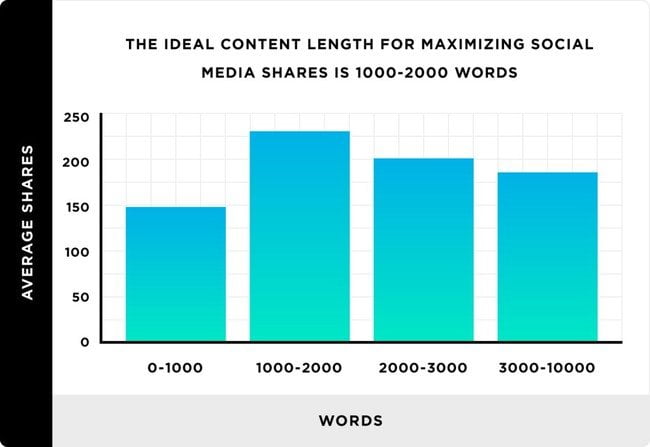 This is most likely because longer content provides increased amounts of value, entertainment, and resources.
Hence, people will be more enticed to share it with friends because it's genuinely useful.
The reality is that you can't fit that much value in a 500 word article.
News and weather sites are some of the few exceptions, but I would suggest never going under 1,000.
When you write more words, you're also able to rank for more keywords and drive higher levels of traffic.
Check out this case study from WebpageFX on a dental client they had.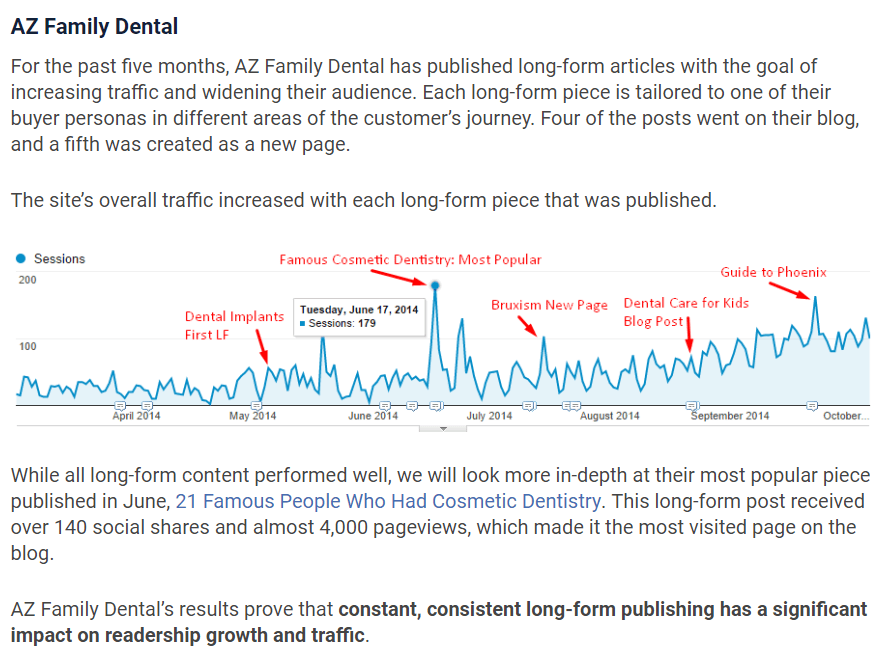 They produced long-form content that was tailored towards an exact audience in the customer's journey, and there was a direct impact on traffic when each article was published.
Their best-performing piece received over 140 social shares and 4,000 pageviews. Don't you want that?
Make it practical and actionable
Most of the time, users are after learning something.
Yeah, they want some entertainment sprinkled in, but ultimately they want to solve a problem or have a question answered.
Make that the goal of every piece of content you write: to educate and entertain.
How do you do this, though?
One of the first ways to include step-by-step instructions in every article you publish.
Look at this article on how to build an e-commerce store by Matthew Woodward, for example.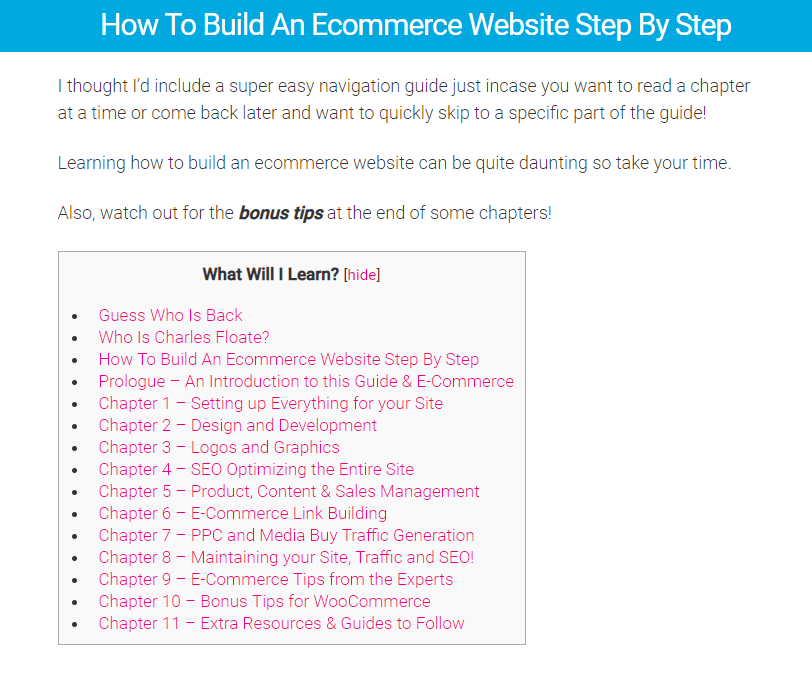 It guides the reader through setting up a store, designing it, adding products, and everything else imaginable.
A.K.A it's practical as hell.
The user isn't going to wonder, "Hmm, I wonder what I should do next" because it's clearly laid out in front of them.
Besides this, I'm a huge fan of citing statistics and data. You'll notice in this article that there's no shortage of case studies, charts, and other third-party information.
It adds more depth and clarity and boosts the quality tenfold.
Another way to make content more actionable is by mentioning tools the reader can use to make whatever process you're speaking about easier.
Page titles and URLs
The page title and URL of any web page are important for both SEO and user experience.
It helps these parties have a deeper understanding of what the content of a page contains.
This results in better rankings and click-through rates when these elements are optimized.
The title tag of a web page is the title displayed on the tab of a browser.

The URL is the address for your website or individual page.

Here are some tips for writing better title tags and URLs:
Always include keywords: Placing keywords in the title tag will help improve rankings for that specific search term. Avoid stuffing keywords, however.
Keep it short and sweet: You don't want to make reading a title tag difficult, so keep it roughly 60 characters as a rule of thumb.
Use numbers: It's been proven that readers enjoy list-style articles that include numbers in the title. This is because the user knows exactly what to expect before they visit your site.
Include power words: Power words are terms and phrases that bring out emotions in the reader. Think "Best," "Ultimate," "New," etc.
Meta descriptions
The meta description is the short blurb that appears under a search engine result.

It's used to elaborate on what the page is about and is a crucial component of good on-page SEO.
Note that including keywords won't directly help you rank for them, but indirectly.
You'll notice that in the above example that there are several bold words, which are what I originally searched on Google.
By including targeted search terms in the meta description, you're able to attract more attention to your listing and potentially increase clicks.
Google's algorithm pays attention to metrics like click-through rate, so ensure that you include one of your main keywords when writing a description.
This brings me to my next point, which is always writing your own meta description.
Do not by any means use the auto-generated text because it sucks!
I love HubSpot, but I have to call them out here:
Granted, this was back in 2014, so I forgive them, but you can see that the meta description isn't optimized.
Take 30 seconds every time you write a blog post to clean up the description to avoid confusion and hurting SEO performance.
Headers and formatting
Formatting your content properly will ensure that the reader has an easy time digesting the article while also keeping them on your website longer.
This means that your average time spent on the page will go up, and there's a better chance they'll navigate to other sections of your site.
The first step is to use header tags, including H1, H2, and H3.
Take a look at the article you're reading right now.
It's broken up into different sections via header tags and helps make the article simpler to consume.
Your main points can either be written under H1 or H2 tags. H3 and further tags like H4 can be used for sub-points.
Next, I suggest taking advantage of bullet points and lists to summarize information quickly.
It's also a good idea to take advantage of bold, italicized, and underlined sentences.
You can use those formatting options to emphasize words or points you make.
Similarly, the font size and typography you use are very important. Content shouldn't make people squint.
Letter spacing and font height are other details you can optimize to make content well formatted.
The overall idea is that you make the reading experience as smooth and convenient as possible through these tiny features.
Images and media
Visuals are a big component of successful content.
They've been proven to create an emotional connection with readers and make a long-lasting impression on them.
Using images also makes content much more entertaining to read.
Imagine reading a 2,000 word article that was a pure wall of text.
No thanks!
But if it included infographics, gifs, charts, and other visuals, it'd be a lot more fun to finish.
Images and other media can also be leveraged for SEO improvements.
One of the main ways this is achievable is through alt text.
This is an abbreviation for alternative text, which is the text that is displayed when an image can't load, or a visually impaired user has software reading to them.
You can right-click any image while using Google Chrome, hit "Inspect," and see the alt text.
Search engines scan images to determine what they are about, and this small description adds to what we call topical relevancy.
This is the relevance of the various aspects that make up content as a whole.
If your alt text is blank or randomly generated, it will confuse the algorithm and hurt rankings.
Edit the alt text to accurately describe the image, and include keywords if possible.
Similarly, always rename files in the same manner before uploading them to your website.
Internal and external linking
Linking to internal and external resources is very important for on-page SEO.
Internal linking allows you to pass link juice from older pages to new ones and vice versa.
These links also encourage users to continue visiting other sections of your website.
Search engine spiders will have an easier time crawling new parts of your site, too.
External links, on the other hand, serve as extra resources for readers. Ensure that you only link to relevant and authoritative publications.
Switch up the anchor text you use, as well. It shouldn't always be a keyword or a certain amount of words.
Mobile friendly pages
Did you know that 75% of mobile users are more likely to revisit a mobile-friendly website again?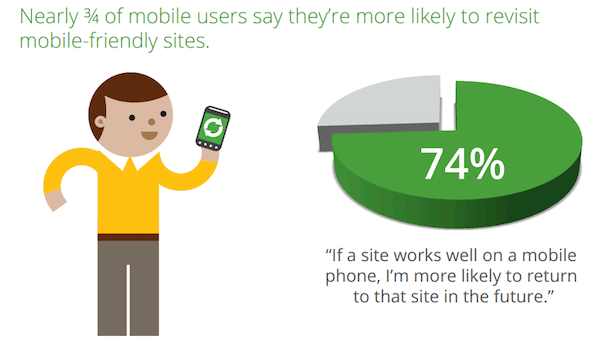 More and more people are browsing the internet and shopping from their smartphones, which means it's critical to be mobile-optimized.
Now here's the thing.
Most businesses won't have to worry about this.
Themes and templates on major platforms like WordPress and Shopify are mobile-optimized out of the box.
However, I suggest that you give Google's mobile friendly testing tool a shot.
Begin by entering the URL of your website or a specific page, then click the "Test URL" button.

Let Google analyze it, and then the results will be displayed.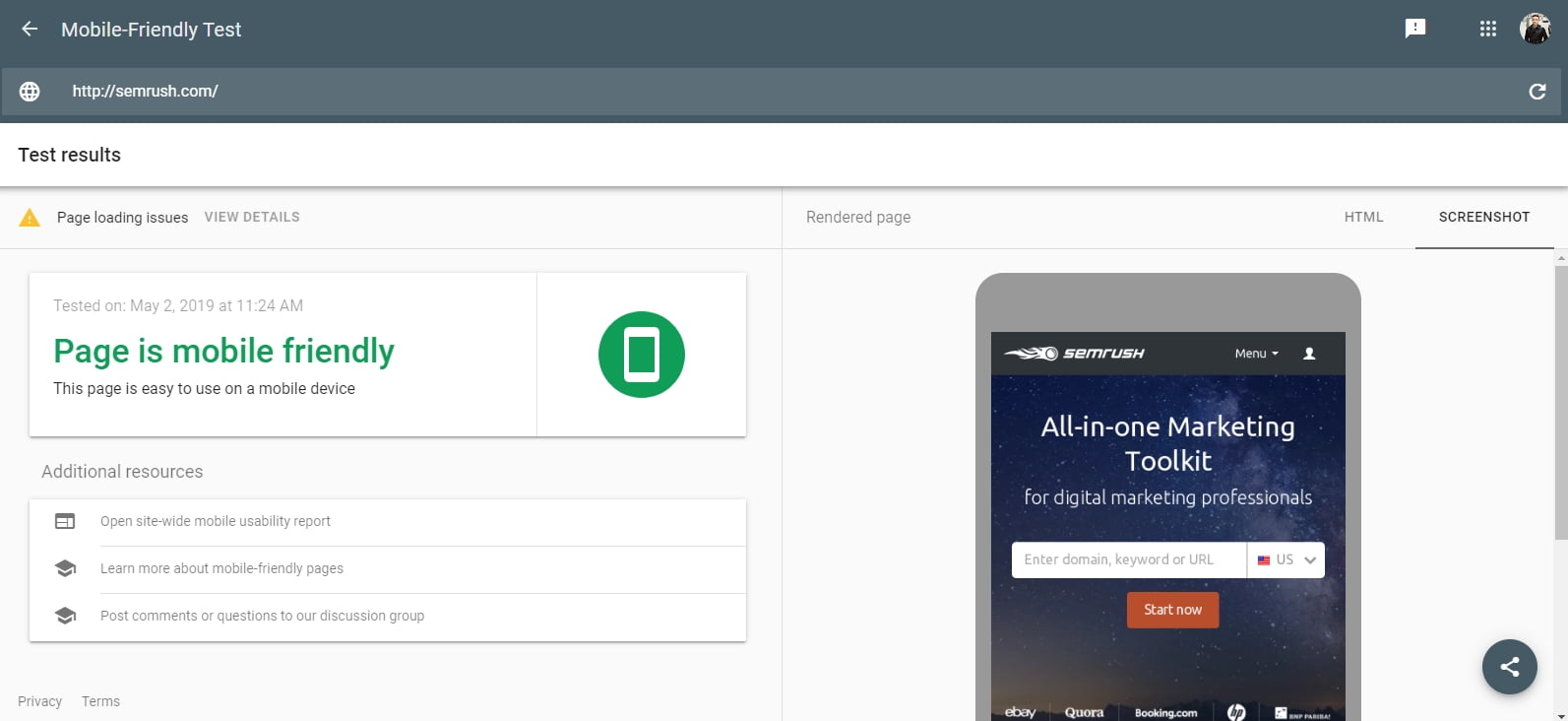 If everything is good, you will see a green notification that the page is mobile-friendly.
You can dig deeper into aspects for optimization by clicking the "Page loading issues" button on the top left.

Fix these issues, and you will see an improvement in both Google's grading and your SEO performance.
You can also use SEMrush to audit websites and improve their SEO.
Page speed
The longer it takes a page to load, the more users will bounce from your site.
Longer page speed also makes it more difficult for search engine spiders to crawl pages.
As loading time goes from one second to ten, the bounce rate increases by 123%!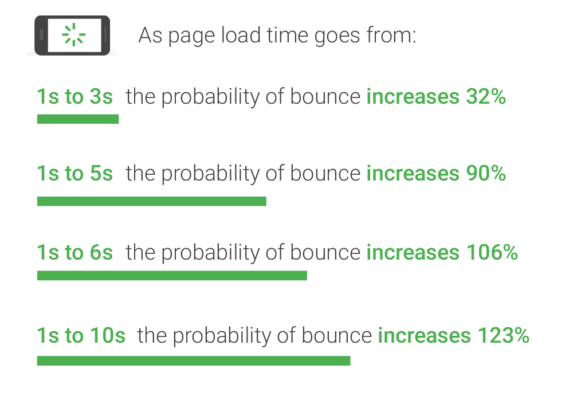 So, how do you increase page speed?
Similar to how we tested our website for mobile friendliness, there are tools like GTmetrix to measure page speed.
Enter your URL on the homepage and click "Analyze."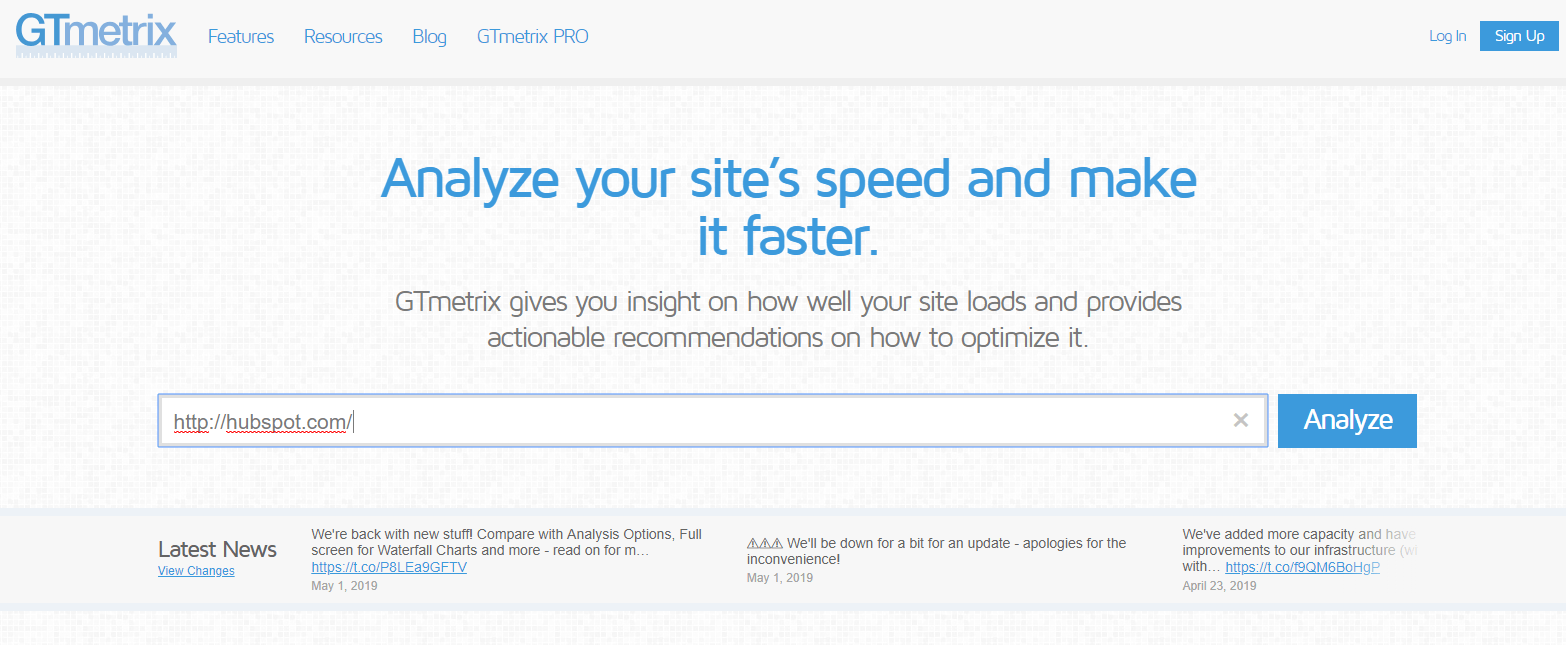 I hope you're not faint of heart because it will absolutely rip your website apart.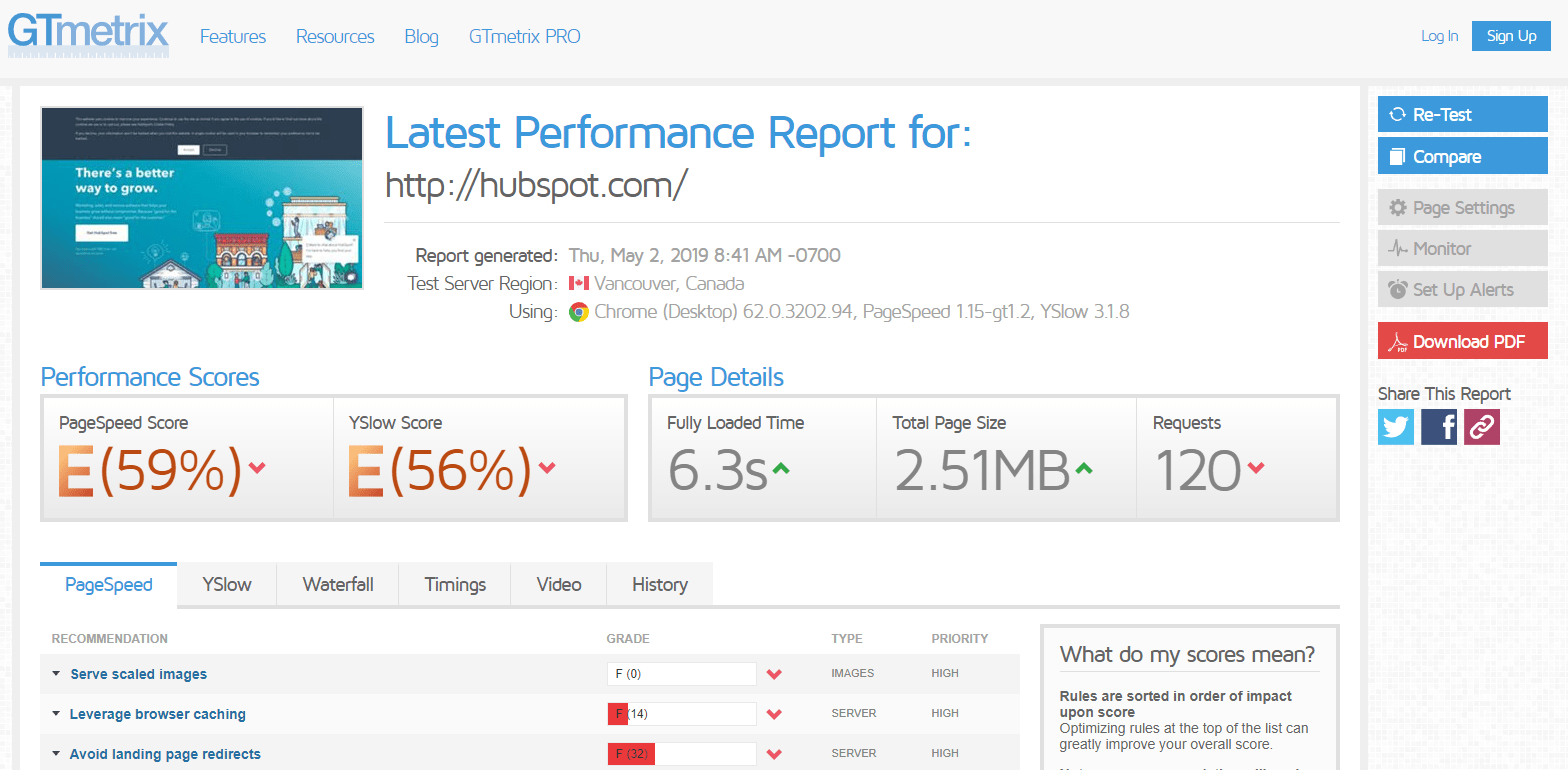 On the left, you will find page speed scores.
Load time, page size, and total requests can be seen on the right.
Below this, you will find a list of everything that can be fixed in order of importance to speed up your site.
Some of them are simple, such as optimizing image file sizes or minifying CSS.
Others might require deeper technical sophistication.
You can get some quick wins by fixing the basic issues and then optimizing the others over time.
Final thoughts about on-page SEO
On-page SEO doesn't have to be rocket science.
It's all about having a blueprint that you can follow every time you write a piece of content.
It all begins with producing high-quality content. Focus on long form, practical, and well researched posts.
Clean up the titles, URLs, and meta descriptions, too. It only takes 30 seconds and can make a world of difference.
Additionally, format content with header tags, lists, and strategic font manipulation.
Include images, videos, and other visuals to add entertainment while also leveraging them to improve SEO.
Lastly, test both the mobile-friendliness and speed of your site to determine if there are any improvements you can make.
If you want to take your organic rankings to the next level, check out my SEO copywriting course.