Thinking about starting your own consulting business?
You're in the right place.
Today you're going to learn if consulting is worth it, how to create your own consultancy from scratch, and ways to land your first client.
The management consulting industry has seen consistent growth in the past five years, and it's only going up.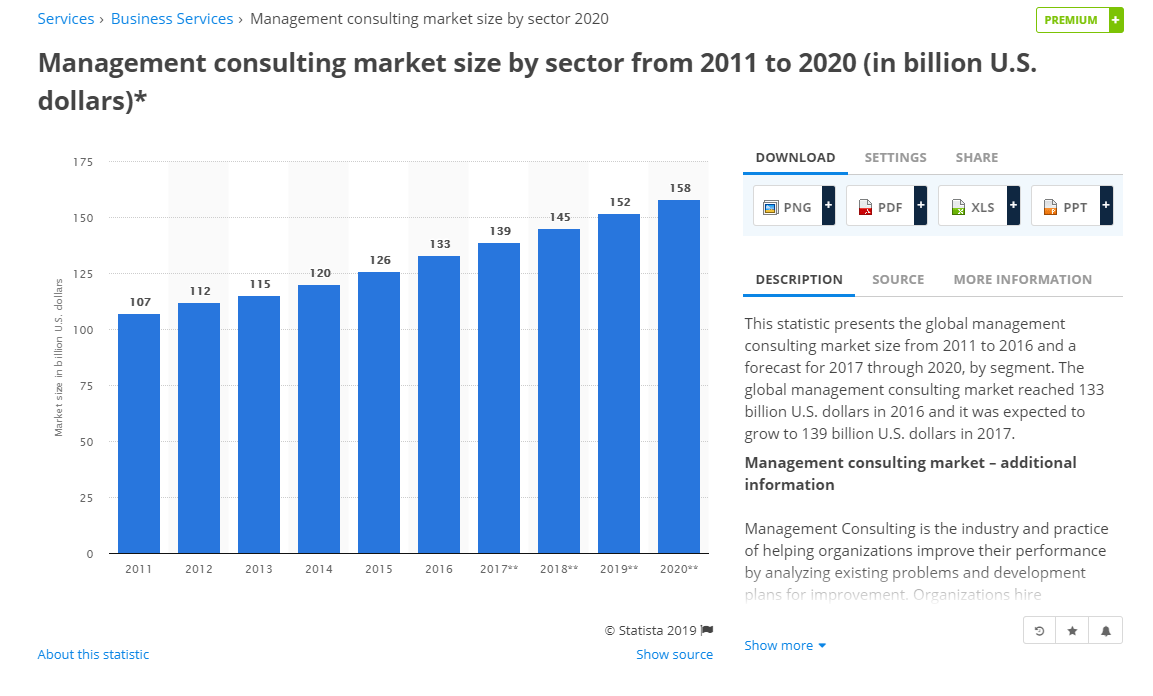 This means that there is a growing opportunity for you to create a successful consulting business yourself.
There is no shortage of clients that are willing to pay you big bucks for guidance and knowledge.
However, you have to do it right.
You can't jump into it without a plan.
That's how you end up demotivated and with a lack of results.
Follow the below steps, and you will have a successful consultancy.
What is consulting?
Google defines consulting as:
The business of giving expert advice to other professionals, typically in financial and business matters.
Many people get stuck on the definition, but I wouldn't worry too much about it.
Understand that the basis is that you will use your expertise to help businesses make the right decisions, and it often involves tangible efforts, too.
What I mean by this is that you won't just be charging $500 for a one-hour phone call but also developing content, helping with marketing, etc.
Sure, a lot of consulting is speaking to the client, but often they will need you to perform tasks, as well.
There are also many forms of consulting.
Here are some of the main ones:
Management consulting: An industry that focuses on helping businesses improve their overall performance through solving existing problems and developing future plans. This is an "overall" consulting where you'd help with strategy, operations, finances, HR, IT, and practically every department.
Strategy consulting: A type of consulting in which you help clients specifically develop strategies for marketing, advertising, and other areas they need assistance with.
Financial advising: Helping businesses manage their accounting, improve cost savings, and optimize their spending for various budgets.
Risk and compliance: There are so many different laws, regulations, and practices that every business needs to follow legally. It's practically different for every industry, which is why some clients require an expert like yourself to help them reduce risk and analyze compliance programs.
Human resources: Hiring and managing people can be the most difficult part of any company. Being an HR consultant means helping clients with training, documentation, employee benefits, and similar tasks.
Operations: Order fulfillment, warehousing, supply chain management, and other back-end duties are examples of operational activities. Businesses are always interested in learning how to optimize these areas for more efficient systems.
Is consulting worth it?
As a consultant, you will be your own boss, set your hours, and work where you want.
It's a very independent and rewarding lifestyle.
Consultants also make very good money.
According to Consulting.com, the average consulting project falls in the $500-2,000 range.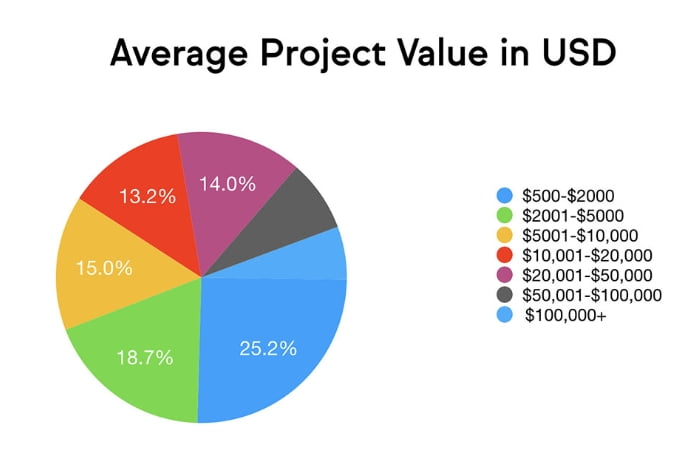 Presuming you charged these amounts, you could generate $8,000/month with four $2,000/month clients.
That's not taking into consideration you will eventually have clients that generate five figures or more alone.
Like any business, however, there can be a fair amount of stress and hours that come along with it.
You need to be ready to take risks, make sacrifices, and be patient.
If this sounds like you, then follow along as I guide you through starting a consultancy.
Starting a consulting business
Decide on your area of expertise
The first step before anything is deciding on your niche.
As I mentioned previously, there are many different areas of focus you can choose from.
You can go even deeper and choose a specific skill like SEO consulting or E-commerce consulting, for example.
Assess your greatest talents and interests. What could you endlessly consult someone about while leading them in a better direction?
Set up the foundation
With your niche decided, it's time to get the foundation set for your consulting business.
Get a professional email
269 billion emails are sent every single day.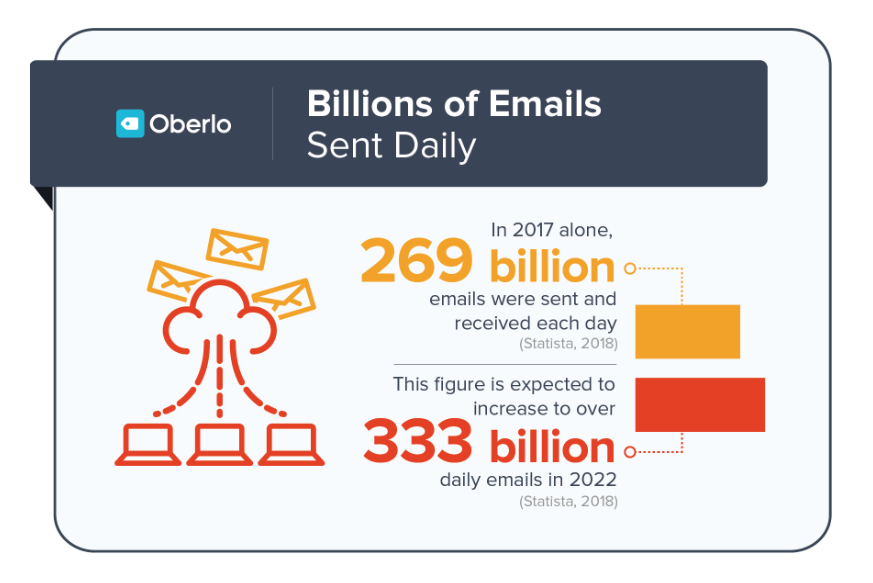 It's the most used form of communication in business, so it's crucial that you take time to optimize your email account.
Imagine you received an email pitch from a random Gmail account. It doesn't look very professional, does it?
That's why you need to invest in a custom email address like carmine@carminemastropierro.com, for example.
You can buy one for as little as $5/month with a tool like Zoho.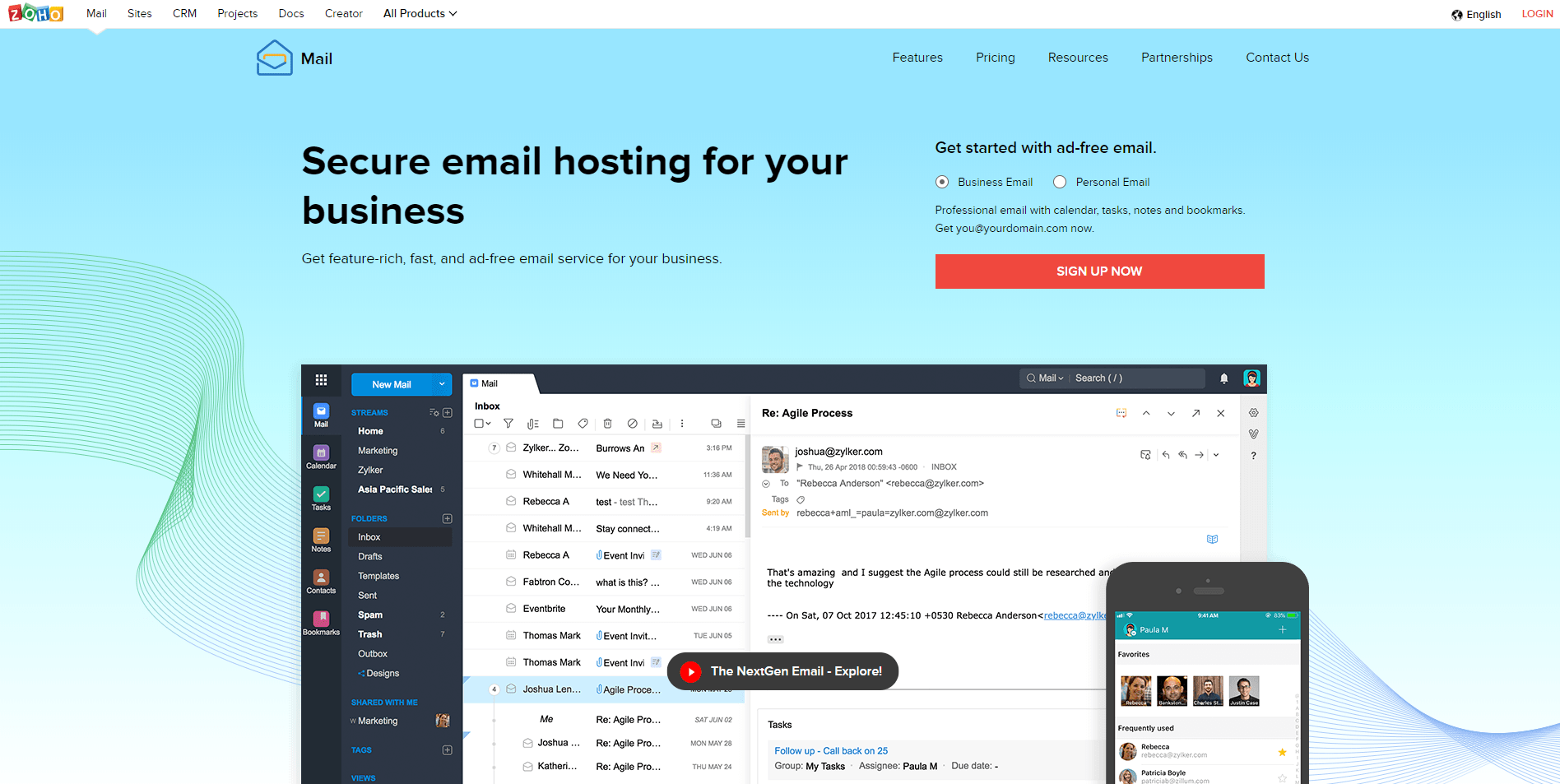 Ensure that the "Business Email" option is selected and click "Sign Up Now."
They have very affordable plans starting at just $1/month.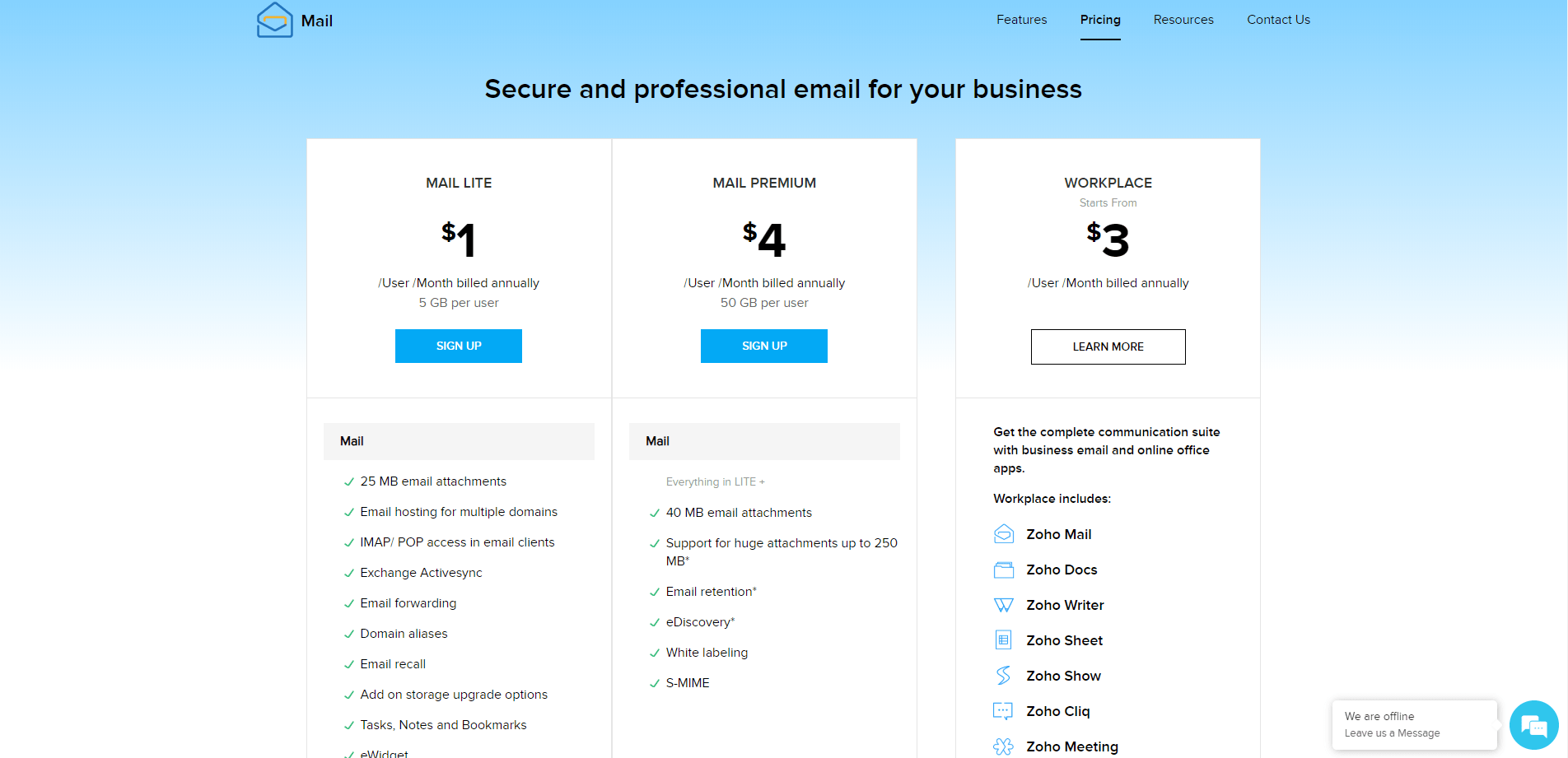 Enter a domain name idea into the search bar, and click "Buy a new domain for my business" on the following page. (Unless you already have one)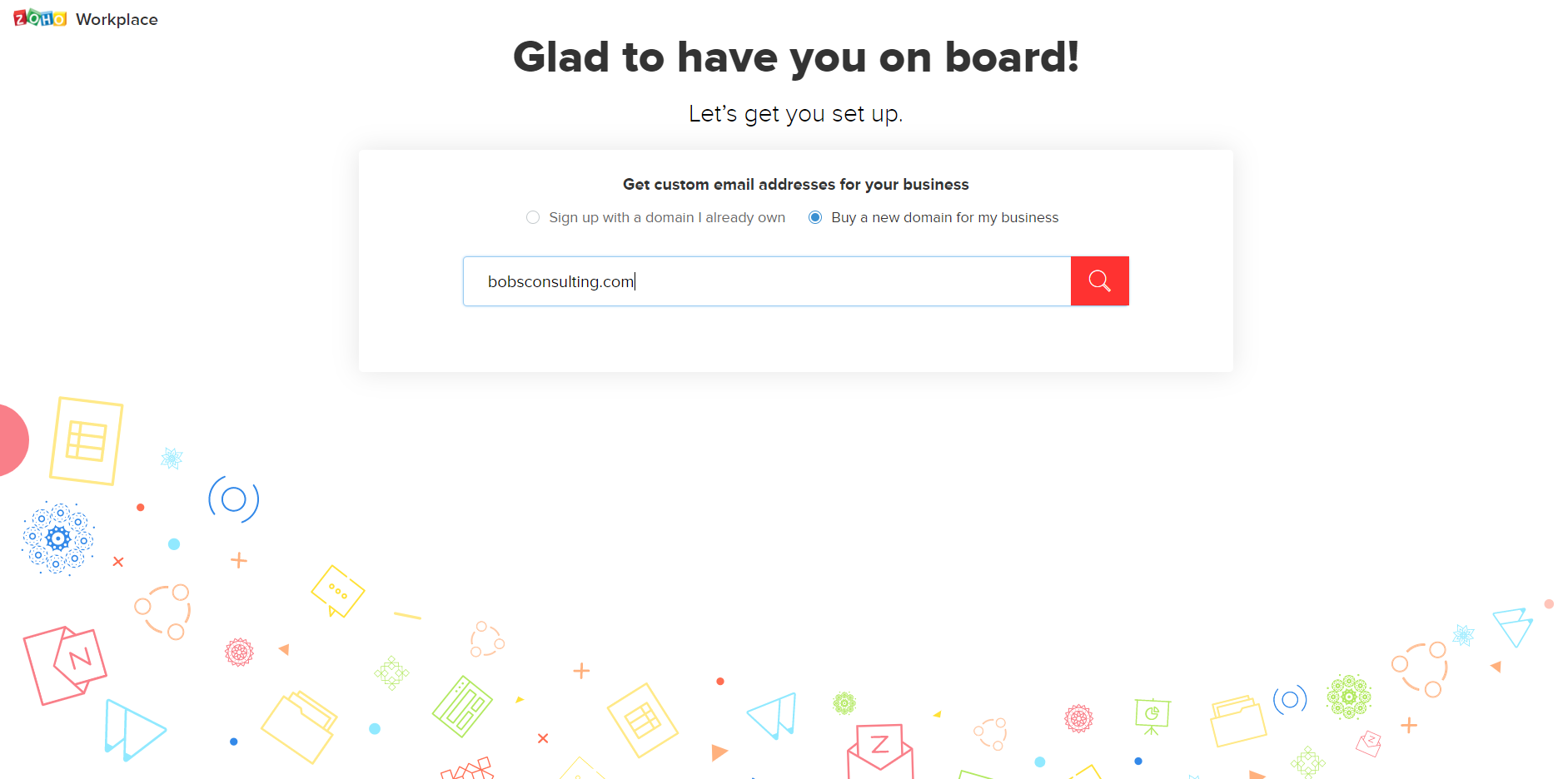 Domains are very cheap, too.
They often only cost $15/year!
Zoho will let you know if the domain you entered is available, but if not, there will be many suggestions.
I recommend that you get the extension ".com" because it's universally understood and trusted.
Having a consultancy followed by ".online" or ".club" would look awkward.
Register your account once you've found a suitable domain, and you'll have a professional email to wow your clients with 🙂
There are over seven billion beautiful humans on earth.
And more than two billion of them have social media accounts.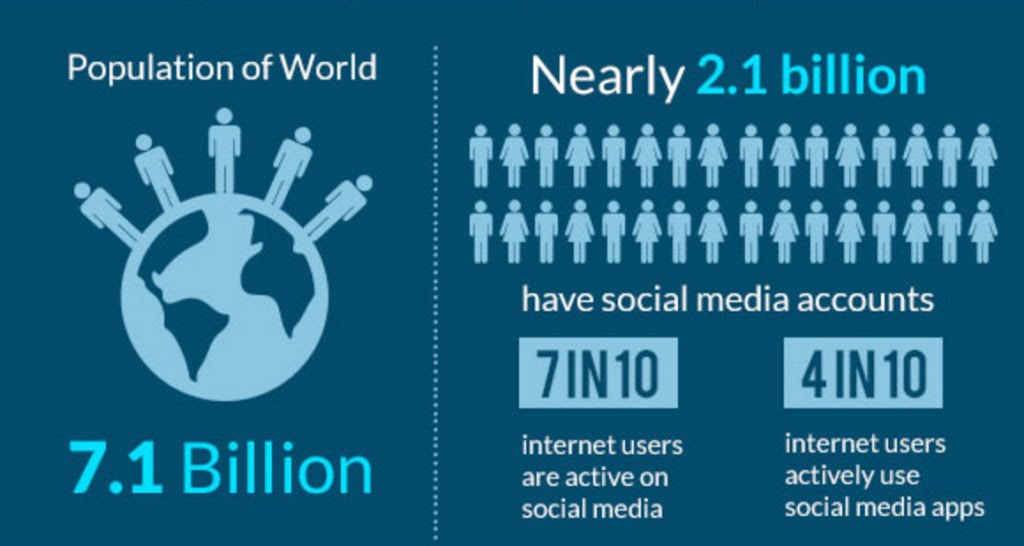 You'd be crazy not to execute social media marketing in today's world.
This is why after you've registered a custom email, you need to set up social media accounts.
Let's begin with LinkedIn. Sign up for a free account and take the time to create a professional profile.
Here's an example.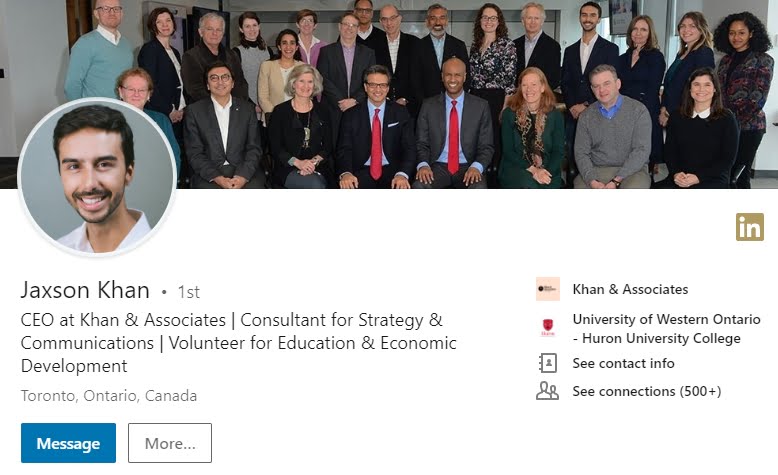 This is the CEO of a consultancy in Toronto, Ontario, and an excellent example of how to make an impressive LinkedIn account.
He has a high-quality display picture and a cover photo that shows him with his associates.
The tagline of the profile quickly summarizes everything he currently does, as well.
Jaxson elaborates thoroughly on his various experience and exactly what the companies that he ran.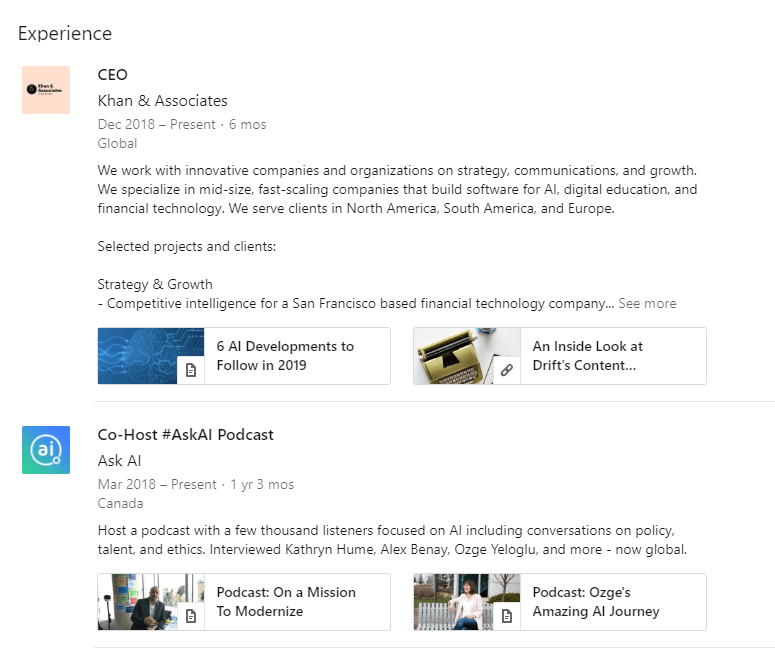 The rest of his profile, including recommendations, accomplishments, and endorsements, are all filled out.
Anyone that visits his page will immediately get a great first impression.
Imagine that a potential client landed on your account. Would they want to work with you? That's how you should think.
It's also important that you connect with other relevant industry professionals. Engage with their content, and they will return the favor.
You can have up to 30,0000 LinkedIn connections, so I suggest that you connect with new users every single day.
Regularly post articles, news, and your opinions, as well. Your social media accounts need to be active and not look like a barren desert.
You can also join groups on LinkedIn, which gives you further reach. Share content you publish with these communities and promote your consulting services on occasion, too.
Next, let's sign up for Twitter.
You should use the same profile picture and details across all social accounts. This keeps your branding consistent.
And, oh boy, do humans like their consistency.
In social psychology, there's something called cognitive consistency.
It is the behavior in that humans like their thoughts, actions, and beliefs to be aligned, and expect the same in other people.
By strategically keeping social network accounts looking similar, you please a primal part of everyone's brain.
Remember our friend Jaxson from LinkedIn? It's not a coincidence that his Twitter account is a mirror image.
Include a link to your website, which I'll be touching on next, and follow other users to begin building an audience.
Lastly, you need a Facebook page.
You can create one by clicking the "Pages" button on the left sidebar under "Explore."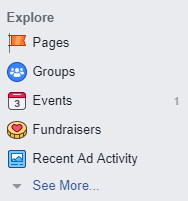 Click "Create Page" in the following section.

Choose the first "Business or Brand" option afterward.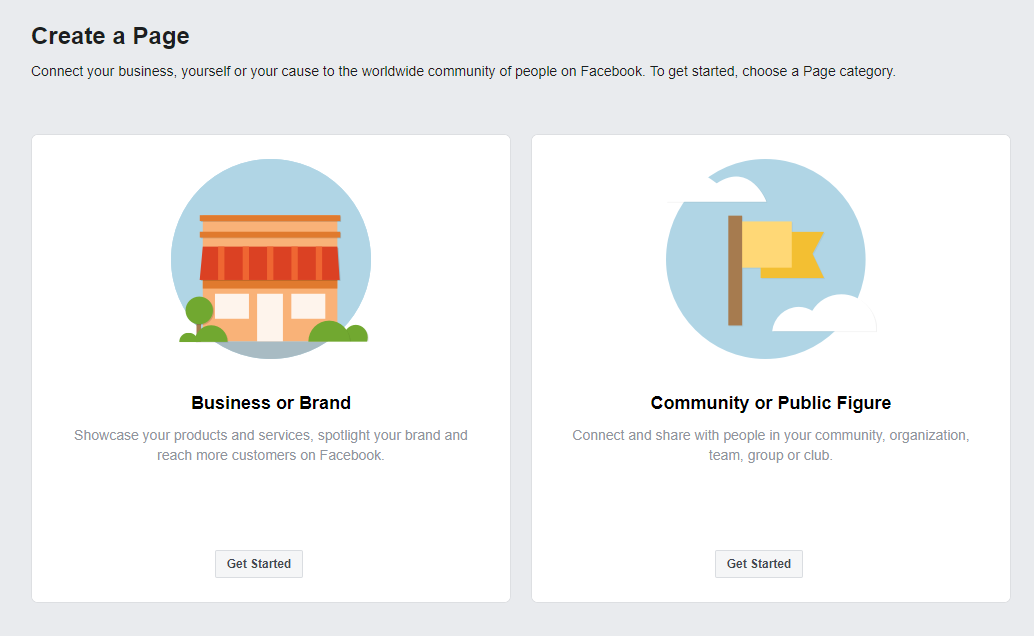 Give your Facebook page a suitable name, and choose an appropriate category.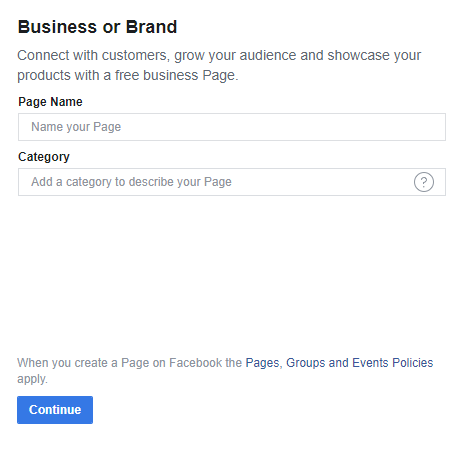 You will then need to upload a profile picture and cover photo.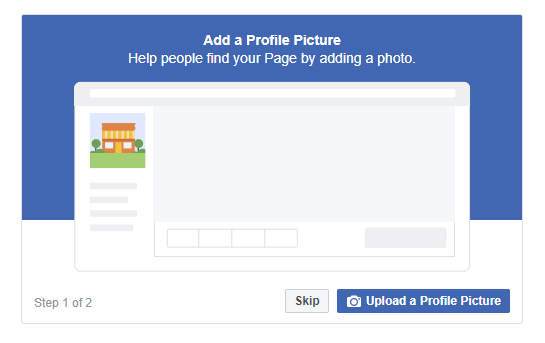 After you've completed this step, your page will be live 🙂
Set up a basic website
Creating a website these days literally takes a couple of minutes.
Even your grandma can get one up and running, so you have no excuses.
The first step is to get web hosting. I suggest using an affordable option like Bluehost or Kinsta.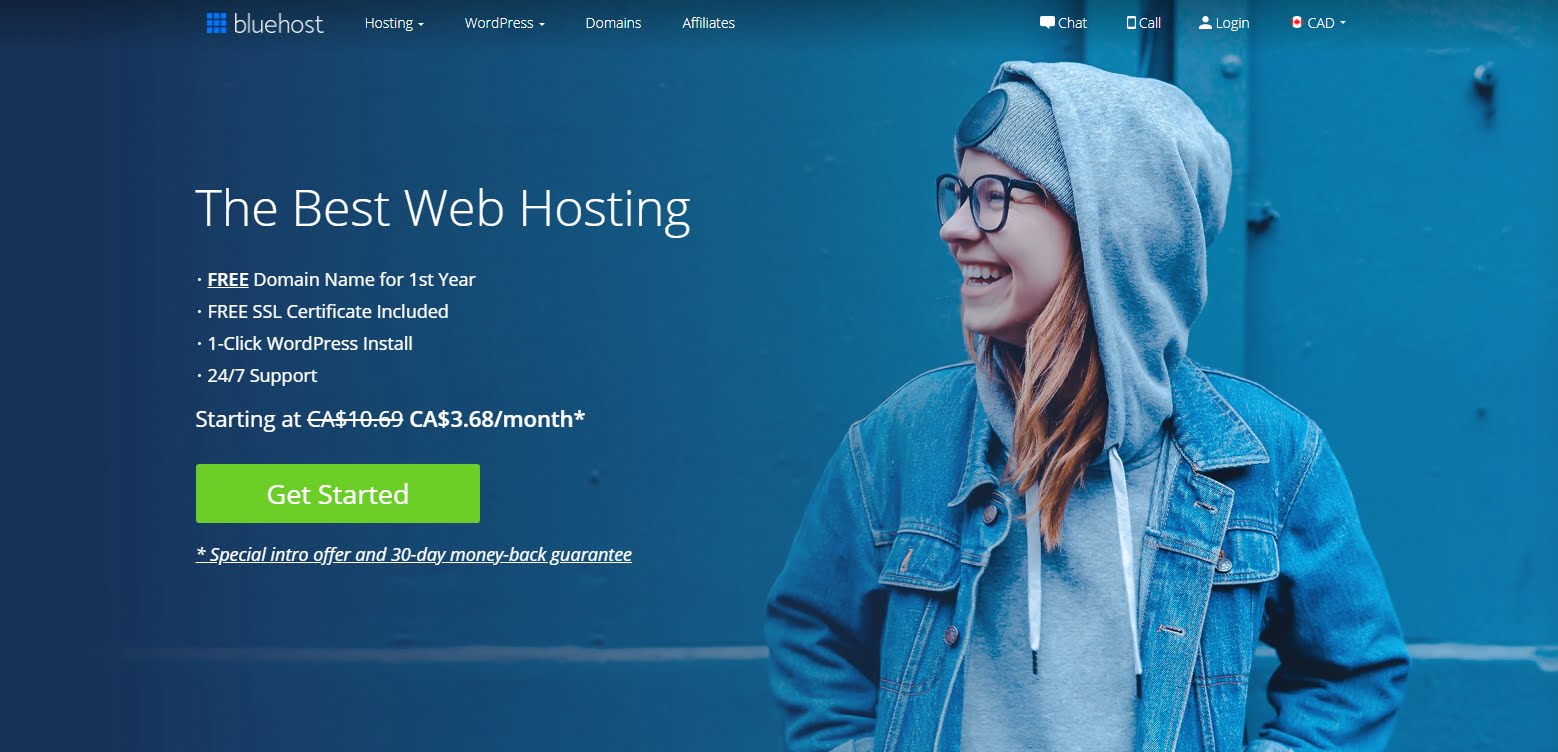 There are shared, VPS, dedicated, and WordPress packages depending on what you want.
Shared hosting is the cheapest, and dedicated is the most expensive and powerful.
If you're just beginning, you can always begin with an entry plan and upgrade later.
Most modern hosting services also use a platform called cPanel, where you can install WordPress once you're logged in.

WordPress is the world's most used content management system and gives you all of the resources to grow a consultancy.
You can create a services page, grow a blog, and more all in one central location.
I recommend going through WPbeginner's WordPress guide to learn the basics.
Begin networking
One in four people doesn't network.
Don't be one of them!
It's not a surprise that there are tons of successful entrepreneurs, and they do little to no advertising.
Do you know how they get clients?
Networking, word of mouth, and referrals.
I met a gentleman at the gym the other night, and he told me about his father's six-figure per month company that was built completely through networking.
How nuts is that?
There are platforms like Eventbrite that make networking a breeze, too.
Just plug in your town name, and filter it by "Networking."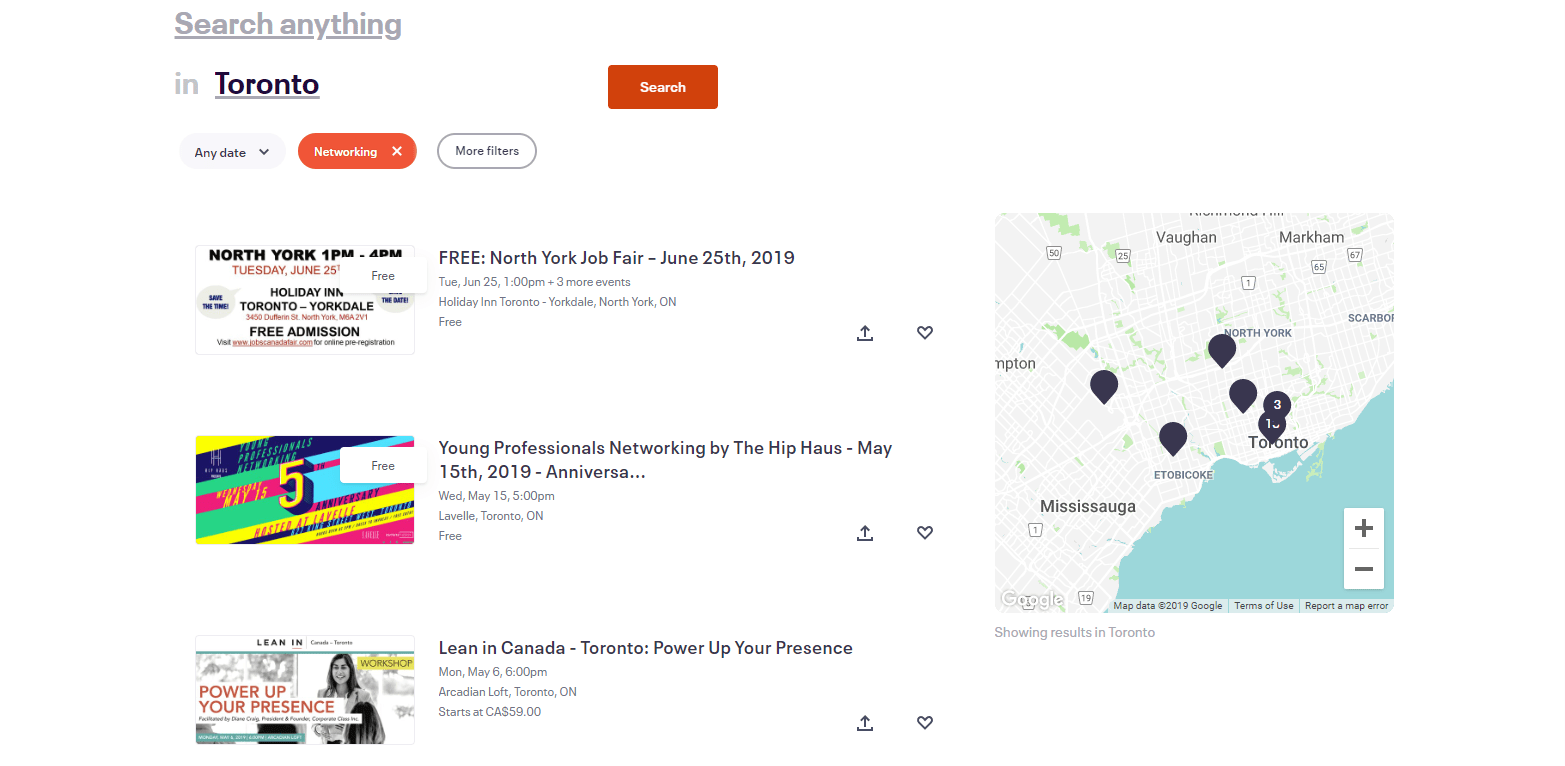 Imagine how many connections you'd make if you went to a single networking event every month, let alone several.
Here are some tips to get the most out of networking as a consultant:
Dress the part: Don't show up in sweatpants unless you want to be laughed at. Instead, wear a nicely tailored suit or business casual clothing like khakis and a dress shirt.
Practice body language: Chest up, shoulders back, and hips forward. Learn to hold eye contact and smile more often. You'll be surprised how much more people will want to interact with you when you do these things.
Business cards: Never show up empty-handed. Print business cards with a service like Vistaprint and hand them out when asked. Don't be the guy that spams business cards. It makes you look disingenuous and won't help your brand.
Cold call local businesses
So many people dread cold calling.
I don't blame them.
It's only dreadful because they do it incorrectly.
Cold calling can land you so many clients you won't know what to do if you perform it correctly.
91% of all customer interactions happen over the phone, so you don't want to avoid it. You'll miss out on one of the best opportunities to pitch your consulting services and win leads over.
Still not convinced? Look at x27 Marketing, for example.
They used a cold calling system that landed them six Fortune 500 clients in six days!
How did they do it?
Firstly, by having a solid business in place, to begin with. You want to ensure that you're comfortable with marketing and pitching and have all of the fundamental sales skills down pat.
Secondly, they use the sniping technique versus the shotgun approach.
A lot of consultants mass pitch prospects in the hope that they land a few paying customers. It's one big spray like a shotgun.
x27, however, hyper targets companies that they know they would work well with.
They then research the company inside and out to learn about its strengths, and weakness, and to come up with a great pitch.
Then it's all about finding the correct person in the company to speak with. This is usually a marketing director.
Once you've completed these steps, you need to practice an elevator pitch and continually follow up.
Eventually, you will close clients on a regular basis through cold calling.
Final thoughts on starting a consulting business
Creating a consulting business is a great way to create your first business.
You can go full-time on it or pursue it alongside a 9-5.
It all begins with first deciding what you'd like to consult about.
This can be overarching industries like management or strategic consulting or based on a very specific skill like SEO.
Then you need to get all of your bases covered. Register a custom email, set up your social accounts, and create a website.
Begin attending networking events, cold calling local businesses, and soon enough, you'll be racking in the dough.
Enroll in my online courses to learn how to get high-paying clients and more.