Wondering how to increase conversion rates for your e-commerce store?
Then keep reading.
I'm going to show you how to raise your conversion rate with some simple techniques.
As of the last quarter of 2016, the global e-commerce market had an average conversion rate of 4.14%.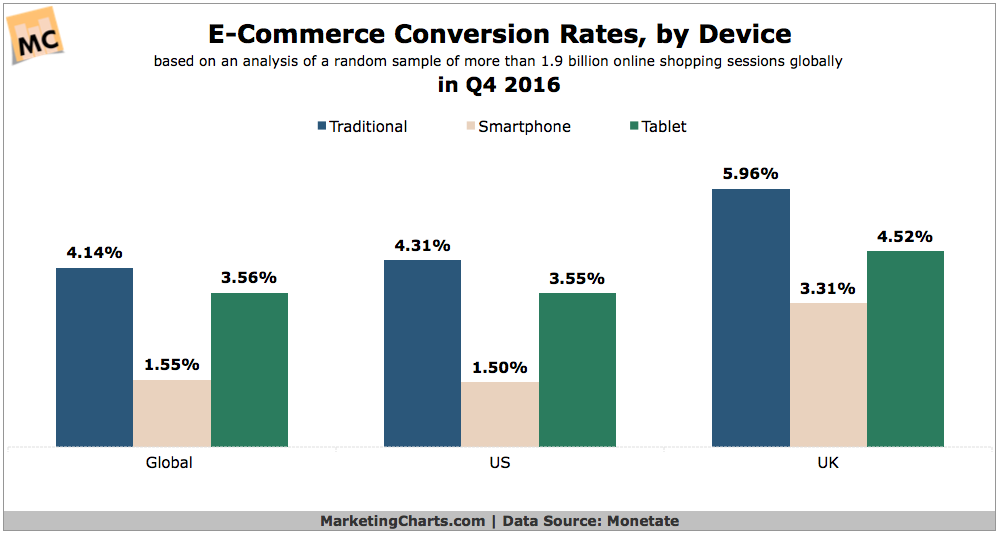 How does yours compare? Is it higher? lower?
If it's below the average, then the strategies ahead will give it a great boost. Heck, even if it's higher, I'm confident you'll be able to raise it even more.
Ready to make more sales? Then let's get into it!
E-commerce Conversion Rate Optimization – Ultimate Guide
E-commerce copywriting
Every word has an emotion behind it. If you use the right ones, customers will be more likely to buy from you.
That's a good way to sum up copywriting.
But, it's an art and science that you have to master.
Improving the copy of your product pages and other areas of your store could increase sales by double digits. Yes, double.
Look at GamesForLanguage. They offer games that teach users how to learn various languages. They tested their main button call to action and the results are unbelievable.
This was the original page.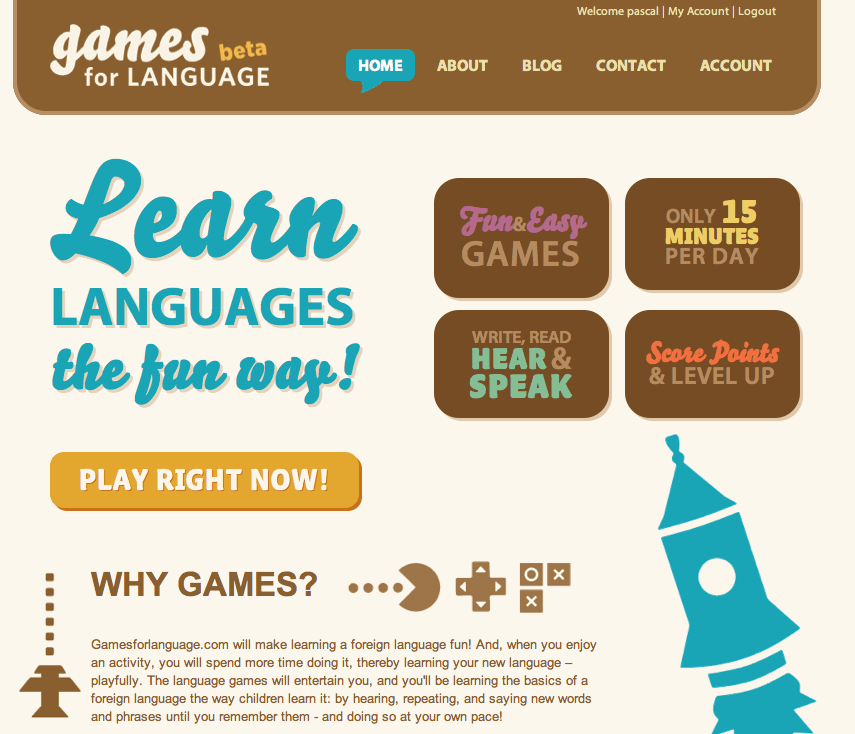 And this was the new copy.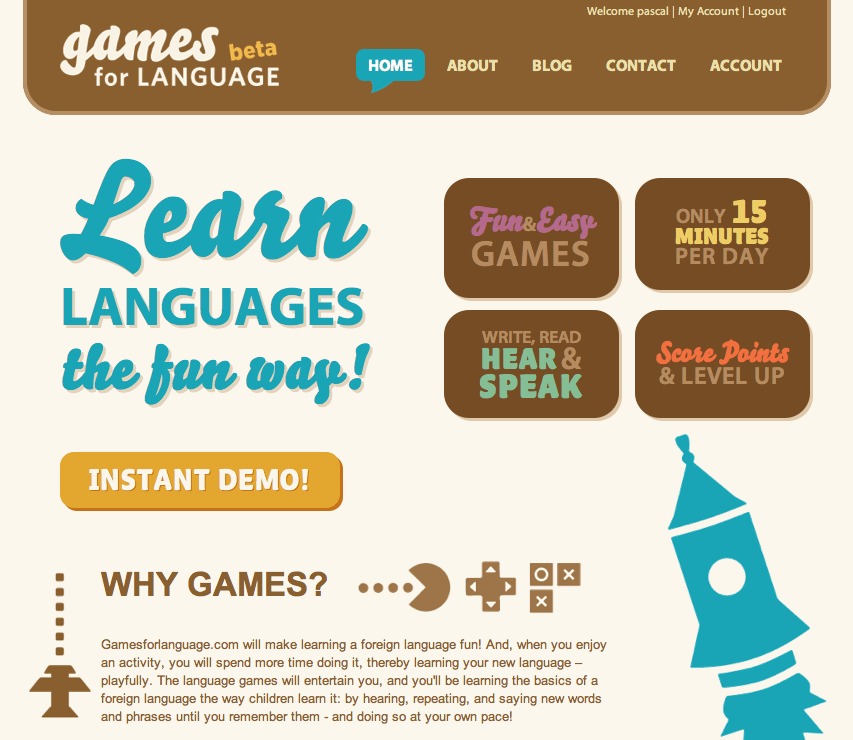 They changed two words and do you know how much conversions increased by? 83.4%!
That's the beauty of conversion optimization. Small tweaks can make massive changes in results.
Granted, they aren't an e-commerce website, but it doesn't matter. The rule still applies. Imagine how many more sales you could be making by bettering and testing your copywriting.
Let's get into the meat and potatoes of copywriting strategies.
Features versus benefits
When writing product descriptions, ensure that you speak about the benefits that the product has to offer.
This might sound obvious, but you'd be surprised how many stores make this mistake. And it's costing them customers.
So, what do I mean by benefits?
Benefits are the emotional or lifestyle gains that someone would get from purchasing your product. Imagine that you sell clothing, which is a common e-commerce market.
The benefits of apparel would be confidence, higher self esteem,  and an improved image. The features are the material, sizing, and colors. See the difference?
Features are obvious and have to be stated, but customers want to know what's in it for them. So, let them know! My tip would be to try to tie emotional appeal into it.
The purchasing process is heavily influenced by emotion, that's why confidence or self esteem as I mentioned works so well. What emotions do your customers feel by using your product?
Look at Nike for example, they implement benefits into their product descriptions.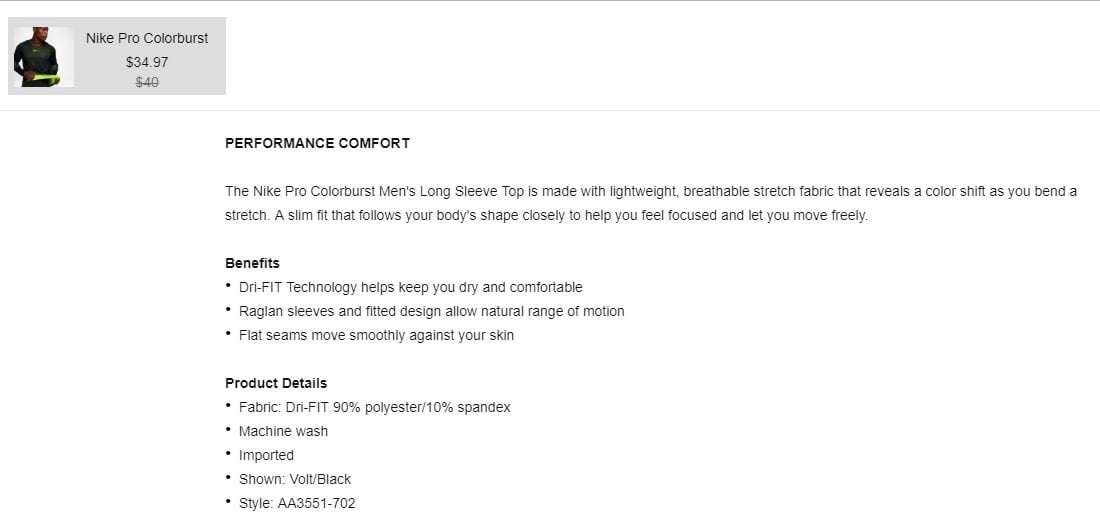 Customers will be comfortable, dry, and get better performance while wearing this compression shirt during exercise. Below, the features are stated.
Calls to action
Keep reading if you want to learn how about CRO.
Do you know what I just used?
A call to action.
And they are very important for your e-commerce store. They are simply a phrase or statement that tells the customer to take action. It makes the purchasing process less passive and entices them to buy.
The software company 37signals is the perfect example. Originally, their call to action button had the text "Free trial" and "Sign-up for a free trial."
It didn't bring them much results.
So, they changed it to the following.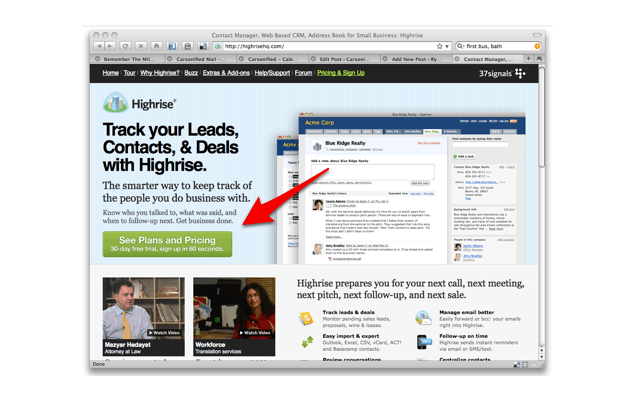 Their signups increased by 200%. Not too shabby 🙂
One of the first places to test a call to action is the add-to-cart button. Normally, it may be something like:
"Add to cart"
"Add to bag"
Variations I would recommend trying include:
Calls to action can also be used for opt-ins. Do you offer a newsletter? Email marketing is a powerful technique for growing e-commerce sales so you should be.
Add a call to action on the opt-in form to make users want to sign up, like:
"Subscribe now"
"Sign up today"
Make your product exclusive
Everyone likes to feel special and unique.
Look at brands like Louis Vuttion or BMW. They've mastered this idea in their branding and products.
They make their customers feel like they are in a clubhouse that only the elite can join. This is a timeless copywriting strategy that can easily spike ecommerce conversion rates.
Rolls Royce nails this with their sales copy for the Ghost model, too.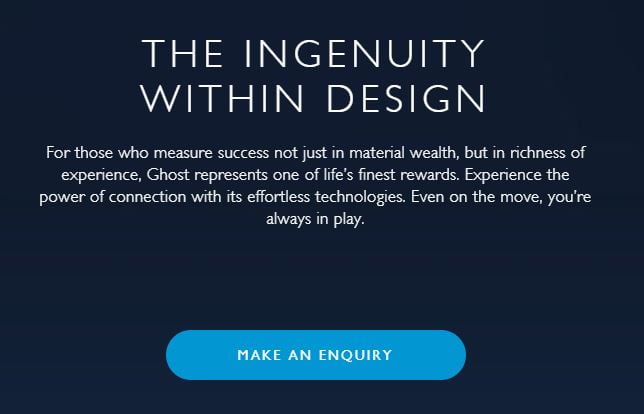 The car is reserved only for the wealthiest and most successful people. It's a measure of one's accomplishments and tastes. Amazing example of copywriting, huh?
Sure, the car looks awesome and has top notch performance, but Rolls Royce definitely knows how to add the feeling of exclusivity into the writing.
Use discount codes
Do you know why customers tend to abandon their carts? Here are many of the reasons.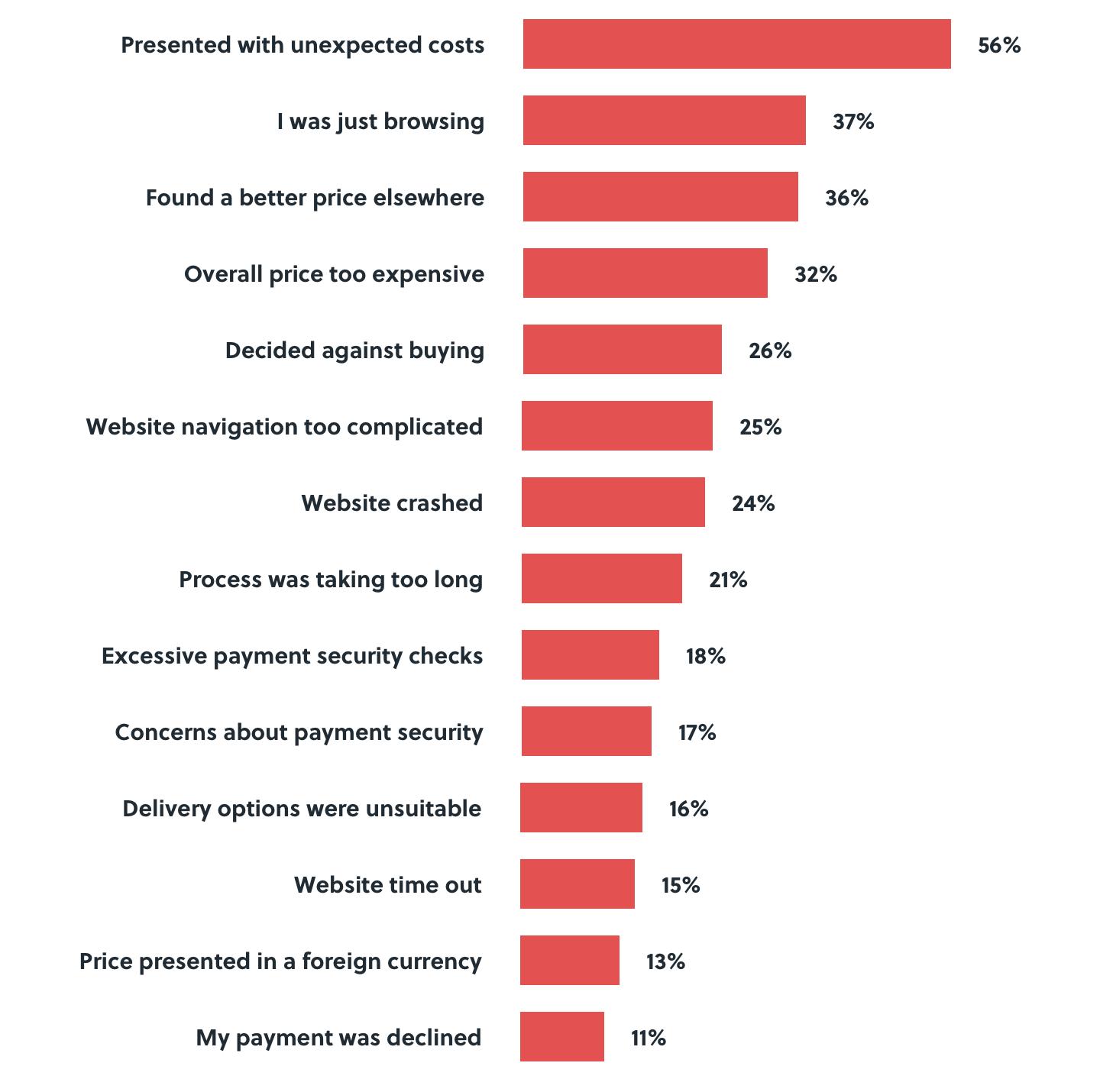 Overall, pricing plays a huge role in why people are leaving your e-commerce store for another. Besides lowering the prices of your products, you can offer a discount code.
They don't have to be anything drastic either, 5% or 10% is more than enough.
I remember when I ran a few different e-commerce businesses and offering coupons was one of the biggest game changers for me. It was the heart of my conversion rate marketing, and customers loved it!
Don't worry about losing that little bit of profit from a discount, you'll make up for it in more sales.
An optimal place to promote a discount code is in the header, look how Comfortable Clothing Inc did it.

It's in plain sight and with a bright color, so customers eyes will be drawn to it.
Next, the cart page itself is an effective page to promote discounts. Black Point Lobster used a discount calculator to entice customers to add more products to their cart for savings.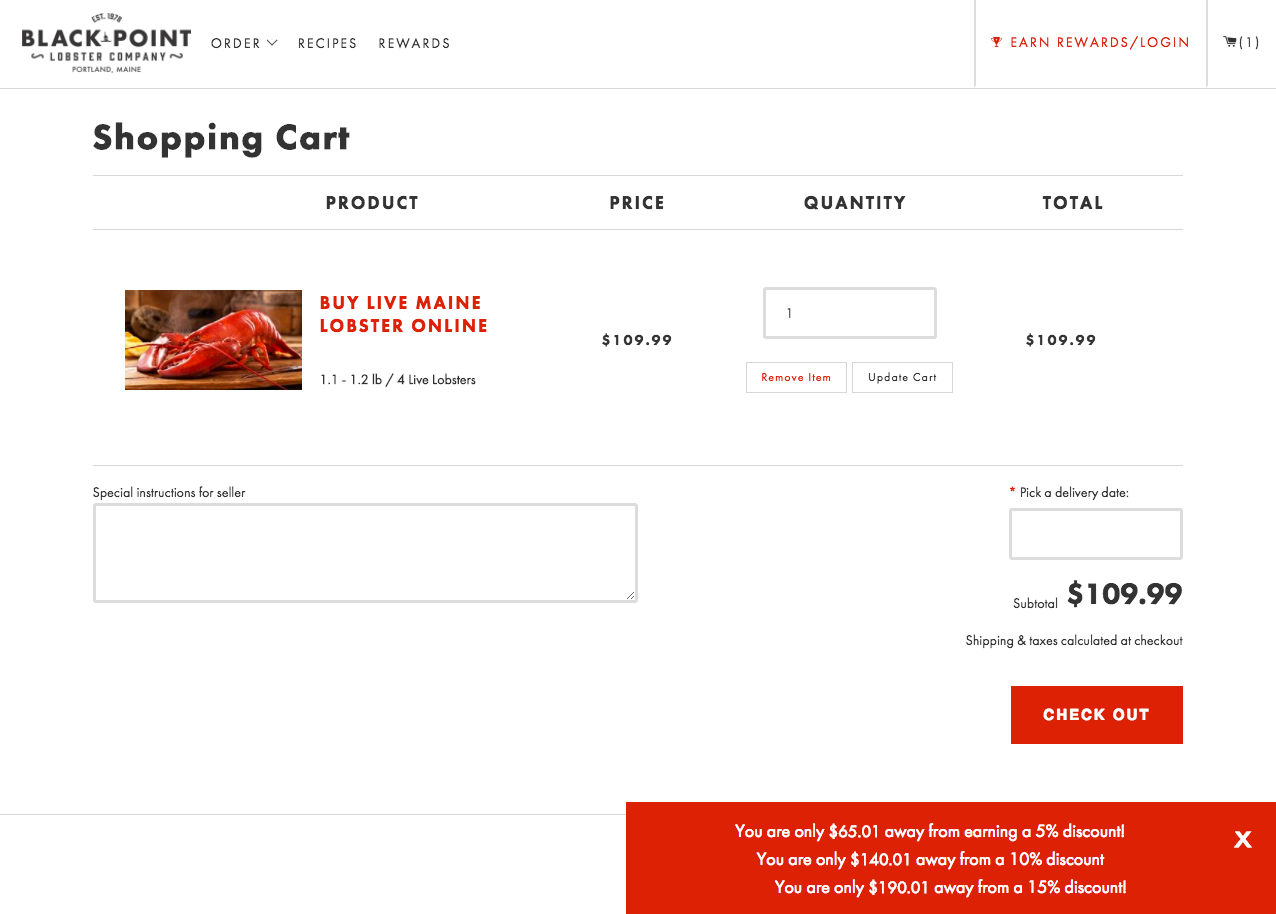 Seeing as 65% of shoppers say that a discount code makes or breaks their decision to buy, you'll definitely want to make one right away.
Offer free shipping
The #1 reason why customers abandon cart is because of unexpected costs. And guess what that tends to be. Shipping, of course.
Imagine you're shopping on a new online store. You love the products. You love the prices. Everything seems great. The last time you were this happy was in 7th grade.
Then you get to the checkout page.
The shipping calculator says that you need to pay an extra $35 to get your order. Blah!
We've all been there, so let's avoid that experience for our own customers. How? With free shipping.
58% of e-commerce orders in 2014 included free shipping and this number is only going up. Match this approach so you don't get beat by the competition.
And check these stats out.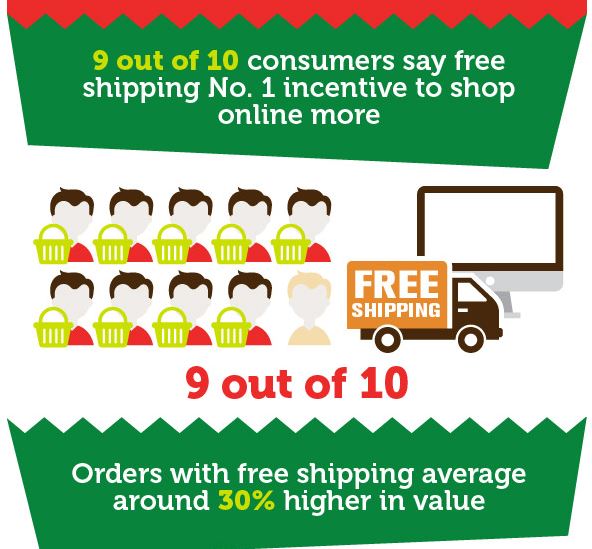 Not only are customers more likely to buy from you if you offer free shipping, they will purchase more items, too. This means more customers and higher revenue. Don't you want that?
Have you ever shopped online and saw a notification that said you get free shipping if you add a certain amount to the cart? That's a classic way to increase the average order cart value.
Shopify and many other e-commerce platforms make this easy to do so it's worthwhile to test.
Abandoned cart strategy
The average abandoned cart rate is 69%. Ouch.
That's a lot of revenue you are missing out on. Want to reduce how many customers churn and generate more sales?
Then you need an abandoned cart strategy. If you were lucky enough to choose Shopify to host your e-commerce store, you'll be happy to know they have a built-in system for this.
Shopify Nation elegantly shows us how in the following steps.
Step #1 – Enable abandoned cart in the checkout settings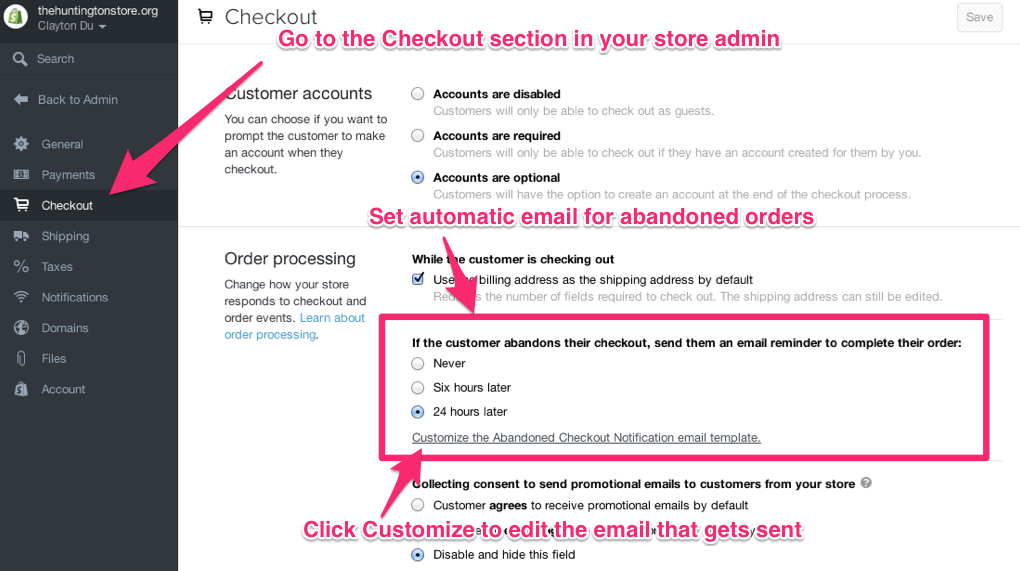 Step #2 – Customize the email templates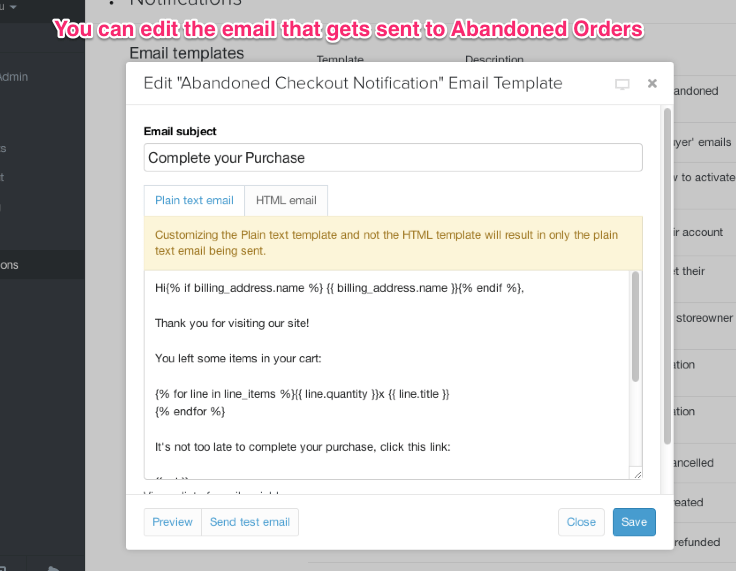 Step #3 – Send out abandoned cart emails to old customers

Not everyone uses Shopify, many store owners take advantage of Woocommerce and WordPress. I used it myself for many different online businesses. I highly recommend it.
Unfortunately Woocommerce doesn't offer abandoned cart recovery built-in, you just have to install a small plugin.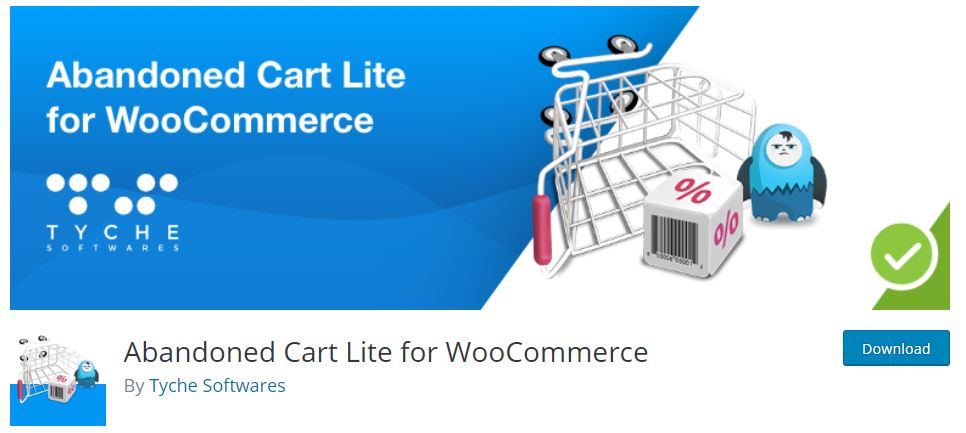 Abandoned cart lite allows you to manage all of your abandoned orders, automate recovery emails, and earn more sales.

Overall, abandoned cart recovery is one of the best e-commerce optimization methods.
Tweak the sales funnel
The sales funnel consists of the product page, cart page, and checkout page. The goal of any e-commerce business is to make every step as easy as possible for customers.
There's a rule of thumb that customers should be able to reach checkout within 3 or 4 clicks.
So, how do we optimize the sales funnel? By beginning with the product page.
Product page optimization
If there's one business we can all learn something from, it's Amazon. They pull in billions so you can bet your butt that they put a lot of effort into the sales funnel.
Let's take a look at their product page.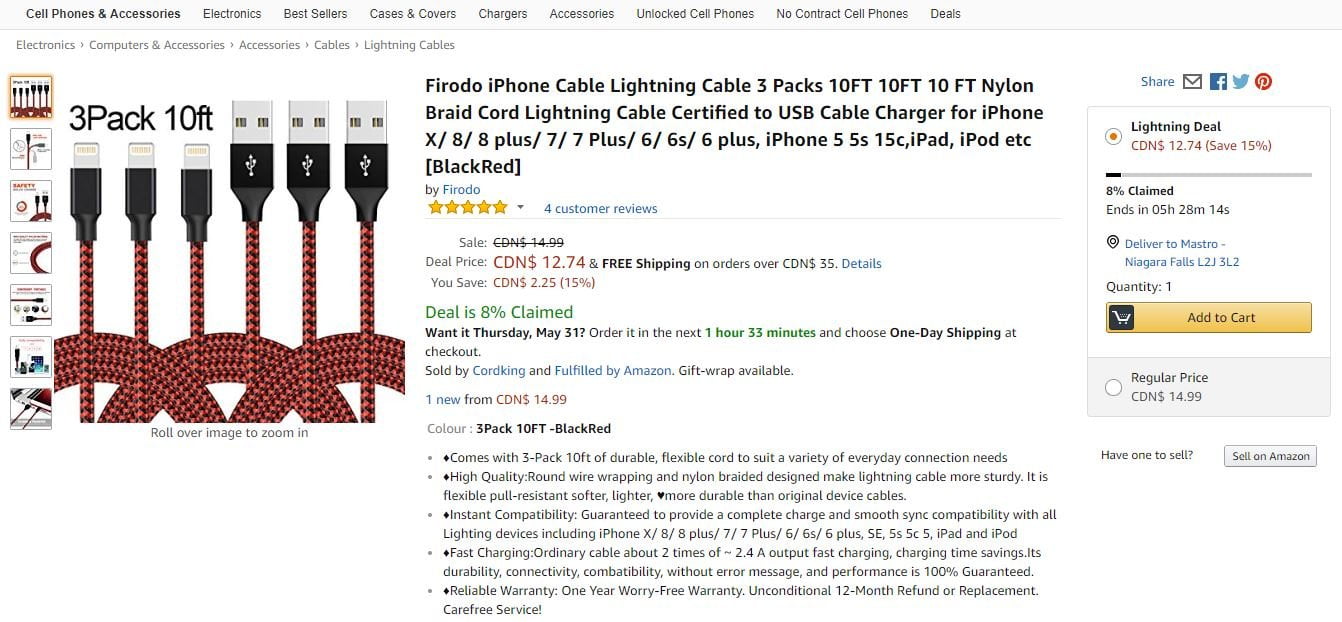 Here's a few things you can replicate to increase conversion rates:
High quality product photos: A great selection of images that are high resolution, display multiple angles, and can be zoomed in on.
Thorough product descriptions: Don't hold back any information about the product. Include the features and benefits as I taught you earlier in this article. Keep it organized and simple to read.
Clear add-to-cart button: The color contrasts with the page and is easy to see. It clearly states the quantity that's being added, too.
Pricing: The original price is shown with a slash with the new sales price enlarged.
Optimizing the cart page
After a customer has added a product to the cart, where would they go next? The cart page.
Continuing off of the Amazon example, we can learn a thing or two from them.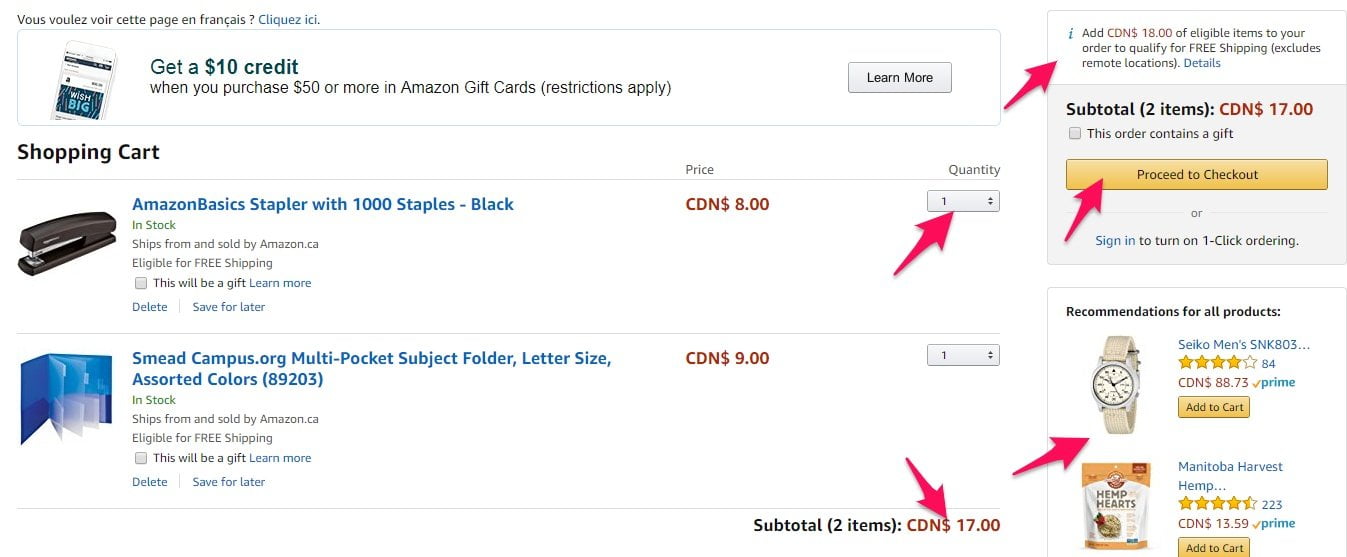 The subtotal is clearly displayed in red so we know exactly how much we are paying before shipping. It also says how many items we are ordering. The quantity can be changed directly from this page, too.
There are recommended products on the sidebar which serve as an up-sell. Above the easily noticeable checkout button, there is a free shipping promotion.
Checkout page
The final frontier.
The last step before you have some cold hard cash in your pocket.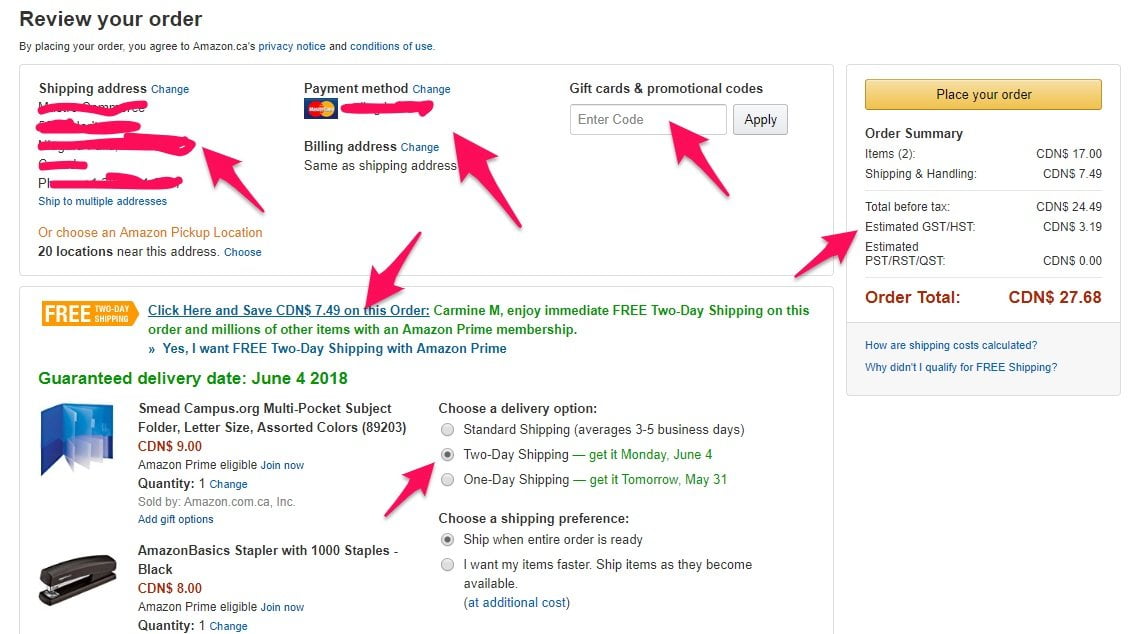 Some optimization practices you can learn from Amazon's checkout are:
Saved payment and shipping methods which make purchasing quicker and convenient.
A coupon code entry in case a customer didn't enter one earlier
Extra promotions as upsells
Shipping methods with time estimates
A total including tax and shipping
Drive targeted traffic with SEO
If you drive low quality traffic to your store, you wont convert any customers. This is because they aren't your ideal demographic.
You can get the right customers landing on your website by taking advantage of targeted keywords.
Think about it.
You're not changing the look or feel of your store, just who is visiting it. That alone can increase conversion rates.
Sign up for Google Adwords so you have access to their in-depth keyword research tool.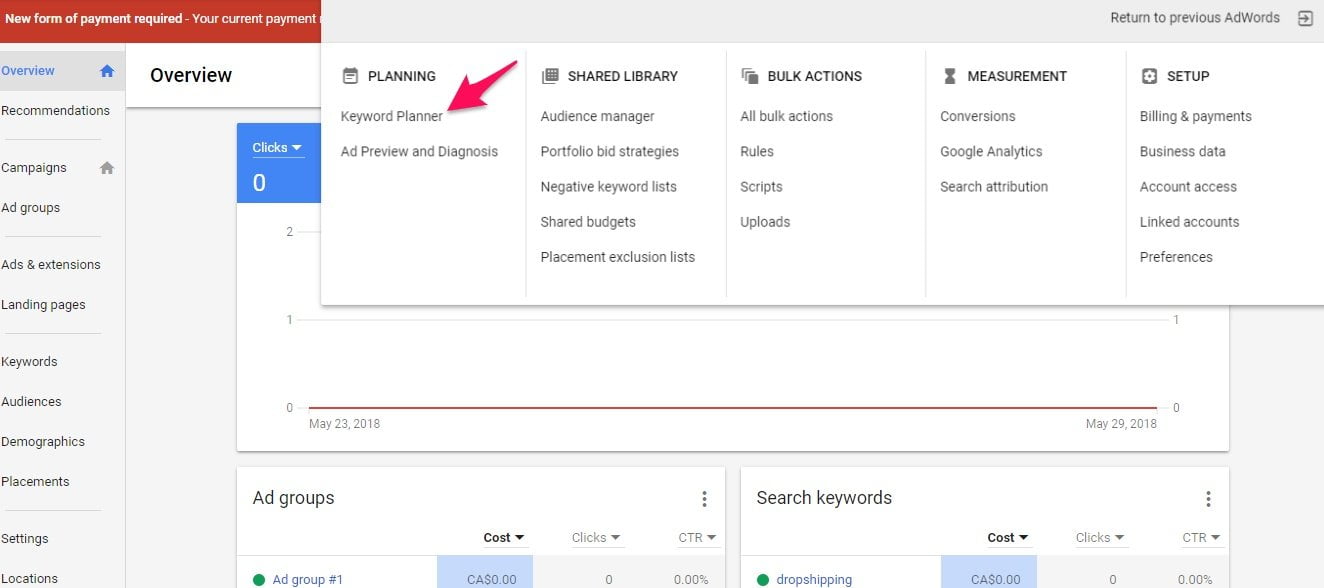 I prefer using the old version of the keyword planner, which if you scroll down, appears at the bottom of the page.
Either way, you'll want to research keywords for:
Your individual products
The store itself
Blog posts
Let me explain.
Imagine you sell men's suede shoes, you first type that into the keyword planner.

Google then displays related keywords with their respective search volume.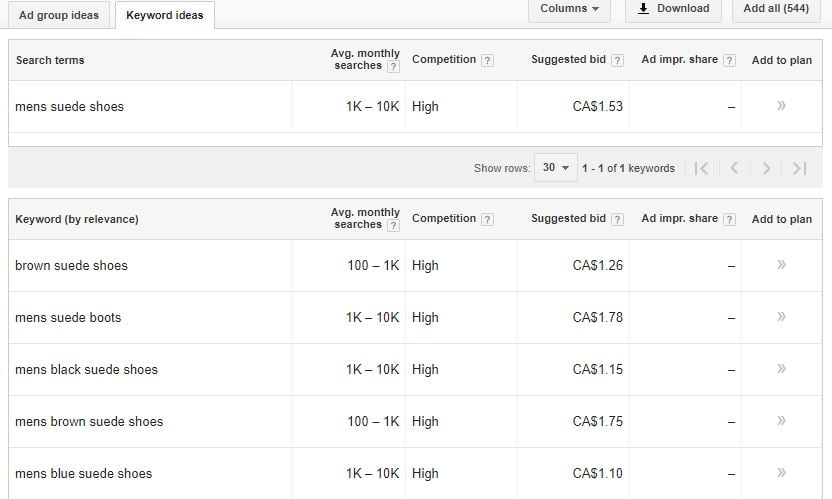 Create an excel sheet or document to collect ones that you can use. They should accurately describe the products you sell so it attracts the right customer.
The best part about keywords like this is that they have high buying temperature. If someone is searching for mens suede shoes, they are probably interested in owning a pair.
This is what we call the buying life cycle.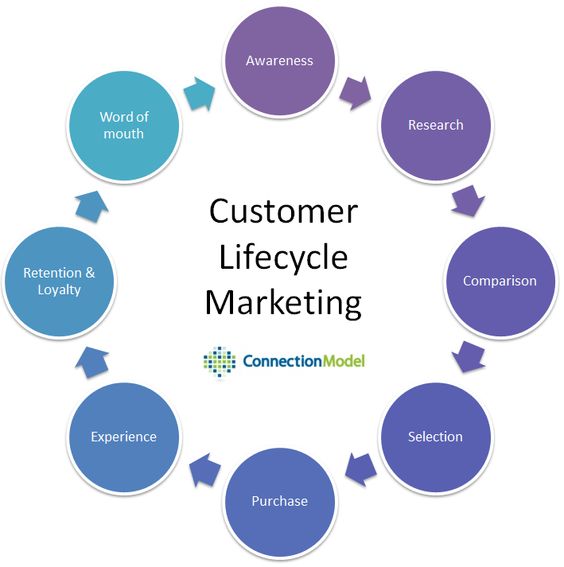 You could argue that keywords like these place the customer in the research phase, which would be very true. But in my experience, I have found that they convert very well.
Once you have a list of keywords, you might think "What do I do with them?"
The next step is to place them naturally in your product page descriptions, titles, and URLs. Over time, you will rank higher for these search terms, organically bringing in likely customers.
So, what did I mean earlier by researching keywords for your store itself? Simple. A keyword or two related to what you sell like "Men's online shoe store"
Phrases like these can be placed on your about page or as the title tag of the website.
Lastly, every blog post you write needs to be centered around a main keyword and secondary ones as well. You are posting on your stores blog, right?
Inbound marketing by far has the best ROI out of any strategy right now.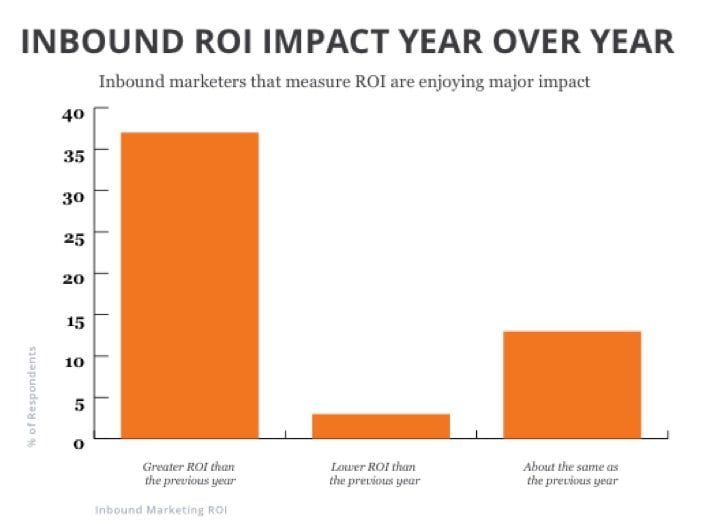 Regular articles provides free value to your customers and shows that you care. It helps build trust and authority within your market as well.
If you want to learn how to build backlinks to further grow your store, check out my guide.
Use a heatmap
It'd be nice if we could see exactly where users are looking on our website to minimize distractions and capitalize on the best performing aspects.
If only there was a tool to help us.
Oh wait, there is! And it's called a heatmap.

It is a visual representation of where users are placing their mouses, with the brighter colors displaying the most active places.
Standard analytics tools like Google Analytics are great, but these goes a step deeper that they can't. You can understand how customers are engaging with pages, buttons, navigation, and more.
For Shopify users, I'd recommend trying the Hindsight app.

It provides you with a heatmap which records every users journey. The app tracks clicks, mouse movement, and scrolls. Priced at $19/month, it's pretty reasonable too.
But, how do you use a heatmap to increase conversion rates? Many, many ways would be the answer. These are some ideas to play around with:
Popular products: Do you notice that certain products get the most clicks and mouse overs? Test promoting these items more and you might generate more sales by doing so.
No scrolling: Are users scrolling very little? This could mean that they aren't interested enough to continue. Analyze the pages copywriting or what elements are displayed first. Customers may respond better to seeing products instantly instead of a banner ad for example. This will entice them to scroll down and go deeper through the sales funnel.
Add-to-cart button: As you begin to collect heatmap data, pay attention to the add-to-cart button. If not many users are clicking it, try changing the color, placement, or text.
Conclusion
You don't always have to get more traffic to generate more revenue. Instead, it's wiser to increase the conversion rate of existing traffic.
Begin by improving copywriting on your product pages. Use calls to action, exclusivity, and benefits to push customers to buy.
Most customers won't purchase unless there is a coupon available and with today's platforms, it's easier than ever to create them. Whether it's 5%, 10%, or more, ensure that you have a discount code available.
What's better than a discount code? A discount code and free shipping. E-commerce stores can offer flat free shipping or make it available for customers that reach a certain cart total.
As not every cart actually makes it through checkout, store owners need an abandoned cart recovery strategy. Plugins, apps, and built-in functionality will take care of this.
The three most important pages of an e-commerce business are the product, cart, and checkout pages. Take the time to analyze these individually and improve the user experience. In turn, it will increase conversion rates.
You can have all of the traffic in the world, but if it's not targeted, it won't convert. Get your SEO into good shape with proper keywords so you have the best possible candidates browsing your products.
Lastly, use a heatmap to discover the best and worst performing parts of your online store.
What's your favorite approach to increasing e-commerce conversion rates?