Leads from search engines have a 14.6% closing rate versus 1.7% from outbound sources.
What does that mean?
That you need to clean up your SEO to generate higher-quality leads.
So many businesses today don't give any love to their SEO, and it hurts their performance.
Don't be one of them.
You can have the best possible campaigns and teams besides your search engine marketing, but everyone can use some assistance.
That's where SEO tools come into play.
They help marketers like you analyze their website, backlink profile, snoop on competitors, and perform better in the SERPs.
Don't you want more organic traffic, high-quality links, and customers knocking on your door?
Give some of the following tools for SEO a shot if so!
1. SEMrush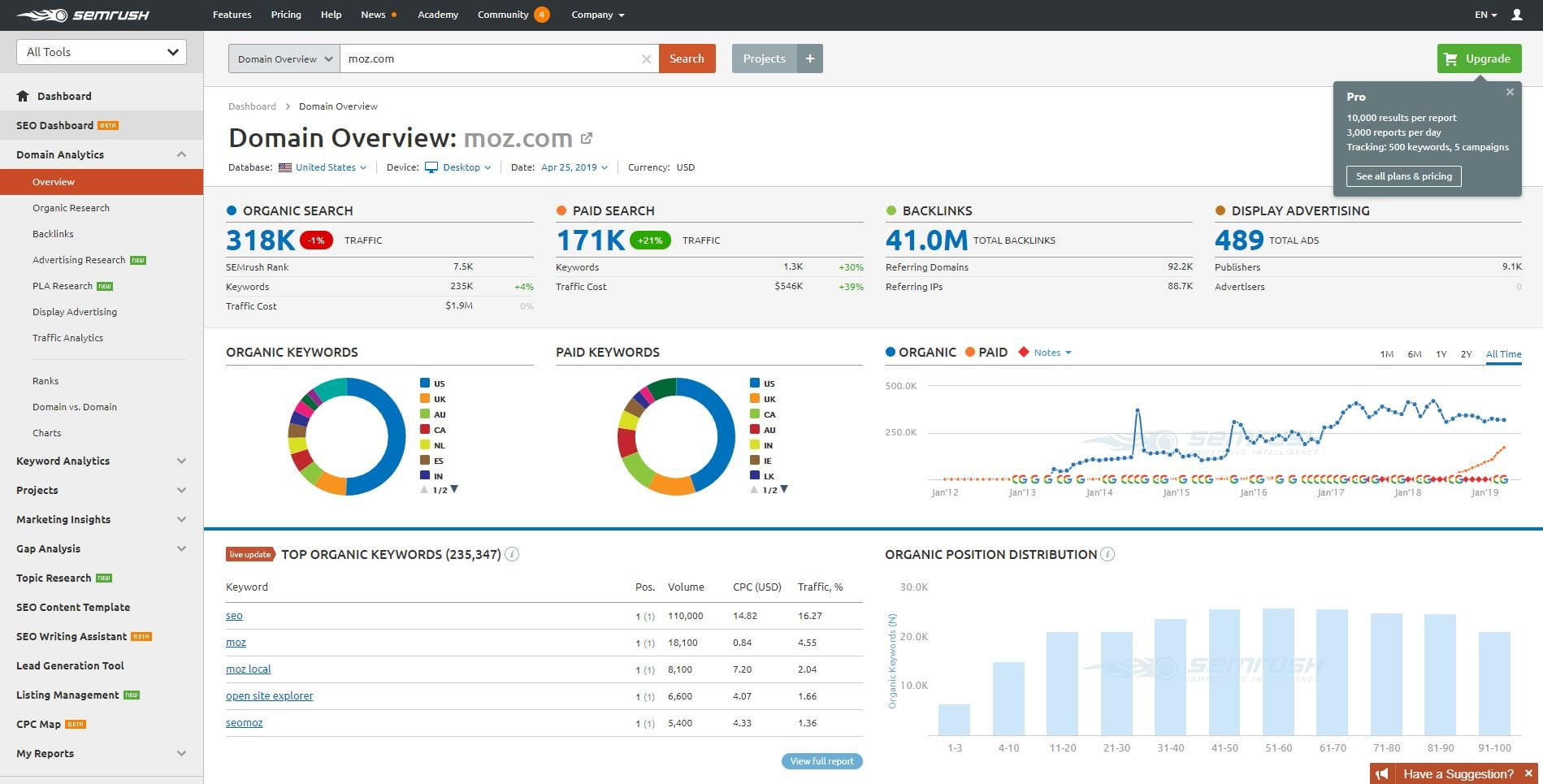 SEMrush is easily one of the best free SEO tools, which comes with a paid option that helps you analyze organic traffic, links, paid ad campaigns, keywords, and more.
It's an all-around SEO tool that will help you optimize search performance while keeping tabs on every important metric under the sun.
Here's a breakdown of some of the main features of SEMrush that you'll enjoy.
Organic research
Finding profitable keywords, observing changes, and analyzing competitors are routine tasks for any marketer.
This is why SEMrush has a competitive intelligence section that dives deep into competitors' keywords, rankings, and stats. It can help you uncover new keyword ideas, find chinks in their armor, and ultimately outrank them.
Keyword rankings are also broken down into desktop and mobile search versions, and they can be compared to one another. For example, you can contrast their search volume, CPC, trends, and more.
Perhaps one of the most convenient yet simplest functions of SEMrush is watching your position change. They are updated very often, giving you a heads-up of any good or bad changes.
Backlinks
Building links is often the most difficult activity for search engine marketers.
There are so many different strategies to choose from, and setting up a system can be complex.
Say goodbye to that.
SEMrush allows you to check any incoming links for URLs and domains, whether it's your site or a competitor.
You will gain access to anchor text, referring domains, link weight, and more.
Use this to find broken backlink opportunities, websites you can guest post on, and which links are improving your performance the most.
I'd also suggest reading my guide on how to build backlinks for in-depth strategies on building high-quality links.
Traffic analytics
Where is your traffic coming from? Which traffic source is netting the most results? These questions are more can be answered through the SEMrush traffic analytics feature.
You can look forward to the following:
Studying the traffic of any website on the internet.
Finding new traffic sources to grow your business with.
Discover which regions of the world drive the most traffic to your site.
Learning desktop versus mobile traffic ratios.
Engagement metrics like bounce rate, average visit duration, and more.
2. Ahrefs
The king of SEO tools.
If I were to say that there's one SEO tool that every marketer needs to invest in, it's Ahrefs.
It's easily one of the most powerful and useful SEM tools on the market, and it has many features that you can't get anywhere else. Let's look at some of them.
The site explorer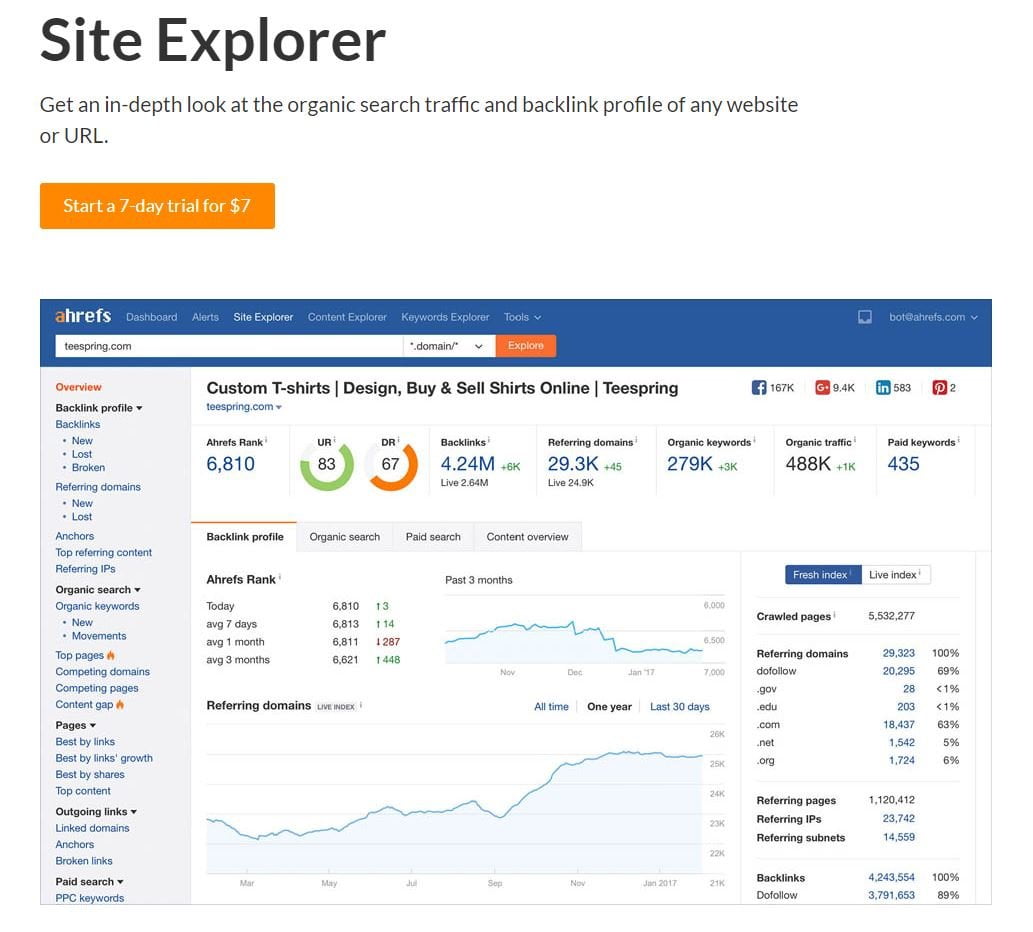 The site explorer function of Ahrefs combines three tools into one. It allows you to research organic traffic, paid traffic, and backlinks all in one central location.
You will be able to uncover which keywords and pages are driving the most traffic to any site on the internet while also breaking down their backlink profile.
Since many of you reading this probably invest in PPC, you'll be happy to hear that Ahrefs enables you to view ads, landing pages, and more of competitors. Use this to improve your own paid campaigns.
If you happen to use Facebook ads for your business, don't miss out on my Facebook ad copywriting guide, as well.
Keyword explorer
The Ahrefs keyword explorer tool will help you find thousands of keyword suggestions so that you never cease to have great content ideas. They have a database of more than 3 billion different search phrases, and it's regularly updated.
Their database also supports over 100 countries. Most tools only support US search results because that's what the majority use, but Ahrefs took the liberty to include most other countries if you target keywords for different regions.
After using Ahrefs myself in the past, I can attest that their metrics, like search volume, are very accurate. They use numbers from Google's Keyword Planner and model them against clickstream data to get further precision.
I also really enjoyed the keyword difficulty score, which allows businesses to find low-hanging fruit, competitive terms, and a nice blend of difficulties overall.
An interesting metric they include for keywords is clicks. Sure, volume is important. However, how many people actually click through? This will help you target keywords that generate traffic versus empty rankings.
3. Majestic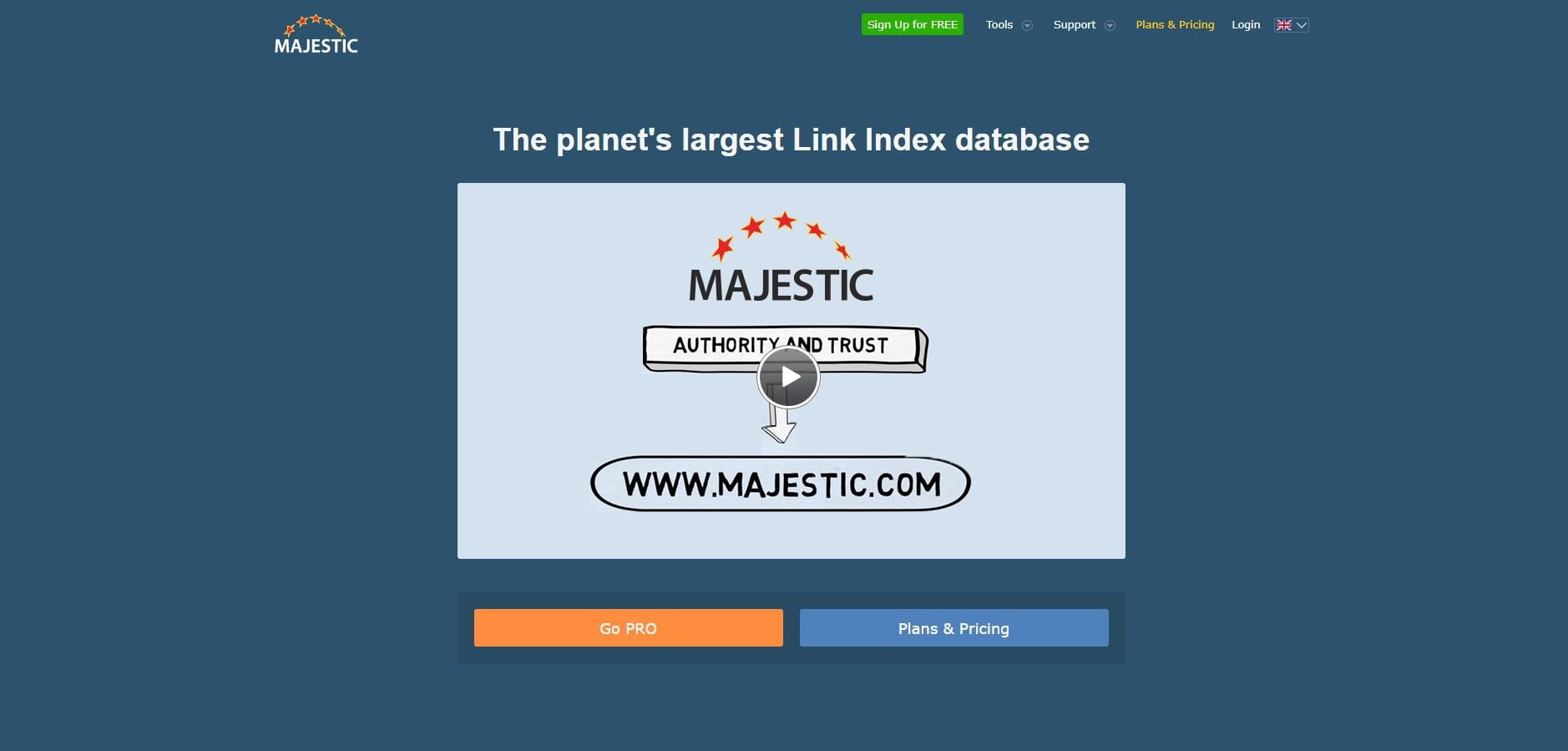 Majestic current has three plans that you can choose from:
Lite: $49.99/month
Pro: $99.99/month
API: $399.99/month
Each of these plans comes with increasingly powerful features and limits. Some of the things that make Majestic a good SEO tool include the following:
Fresh index: You will gain access to one of the largest and freshest SEO databases in history. This ensures that you get more accurate and relevant data than competitors.
Campaigns: Track individual websites you own via different campaigns to stay organized and on track to success.
Site explorer: Their most popular feature. This allows marketers to scan any website for backlinks, traffic analytics, and more.
Trust flow/Topical trust flow: Track these unique Majestic metrics that you won't find anywhere else.
Referring domains/IPs: Find which domains and IP addresses make up the backlink profile of any website to replicate their footprint.
4. Serpstat

Serpstat is a great free SEO tool that helps you keep tabs on organic traffic, backlinks, keywords, and other important data.
On that note, make sure to read my previous post on building links through HARO. It's an untapped method you don't want to miss.
There are paid plans you can eventually upgrade to. However, I've found the free version more than enough for casual needs.
Type in the URL of your website or a competitor's on the homepage and click "Search."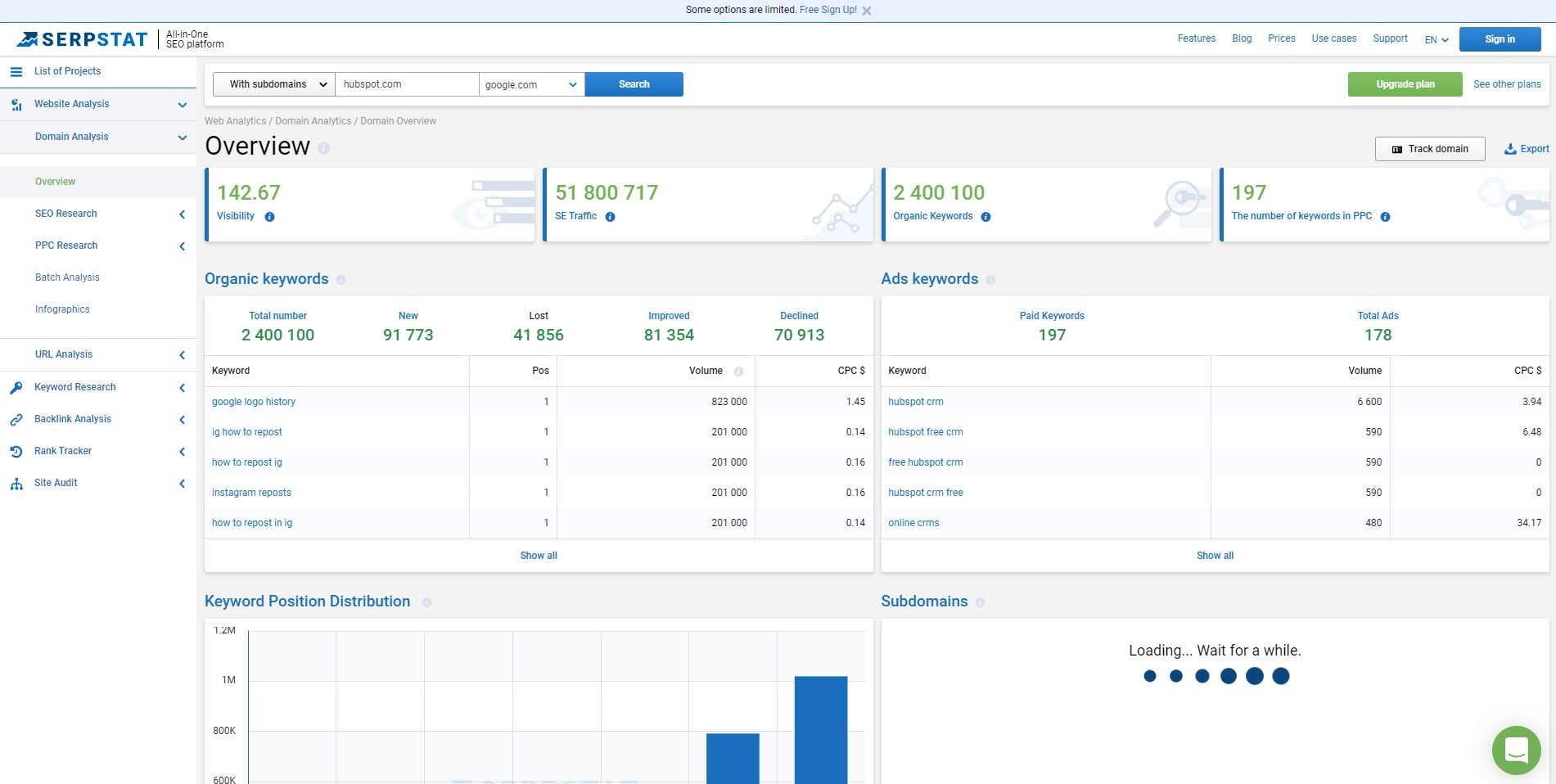 The overview section at the top displays numbers for visibility, traffic, keywords, and search terms for PPC.
Below this is a breakdown of the best-performing keywords, their position, and search volume. The PPC keywords are in a chart to the right of this.
Scrolling down, you will find a distribution chart of keyword rankings. This shows how many positions you have in different areas, such as first, second, third, and beyond.
Subdomains can be found on the right, which is nice to see if your competitors have created other blogs or properties.
The visuals are easy to digest, and I especially enjoy the trend graphs. These give you an idea of your performance over a long period of time, and whether or not you've been making steady progress.
If you wish to upgrade, they currently offer the following plans:
Plan A: $19/month
Plan B: $69/month
Plan C: $149/month
Plan D: $299/month
5. Keywordtool.io
Here's another great free tool for SEO.
Keyword Tool, as the name suggests, is a web app that helps marketers find new search term ideas.
I've always enjoyed using a few different tools at once to maximize how much data I can play with, and Keyword Tool has always made their way into my marketing efforts.
The cool thing about this app is that you can search for Google, YouTube, Bing, Amazon, eBay, Google Play Store, Instagram, and Twitter terms.
You can use this tool by entering a keyword, selecting which platform to target, and clicking the search button.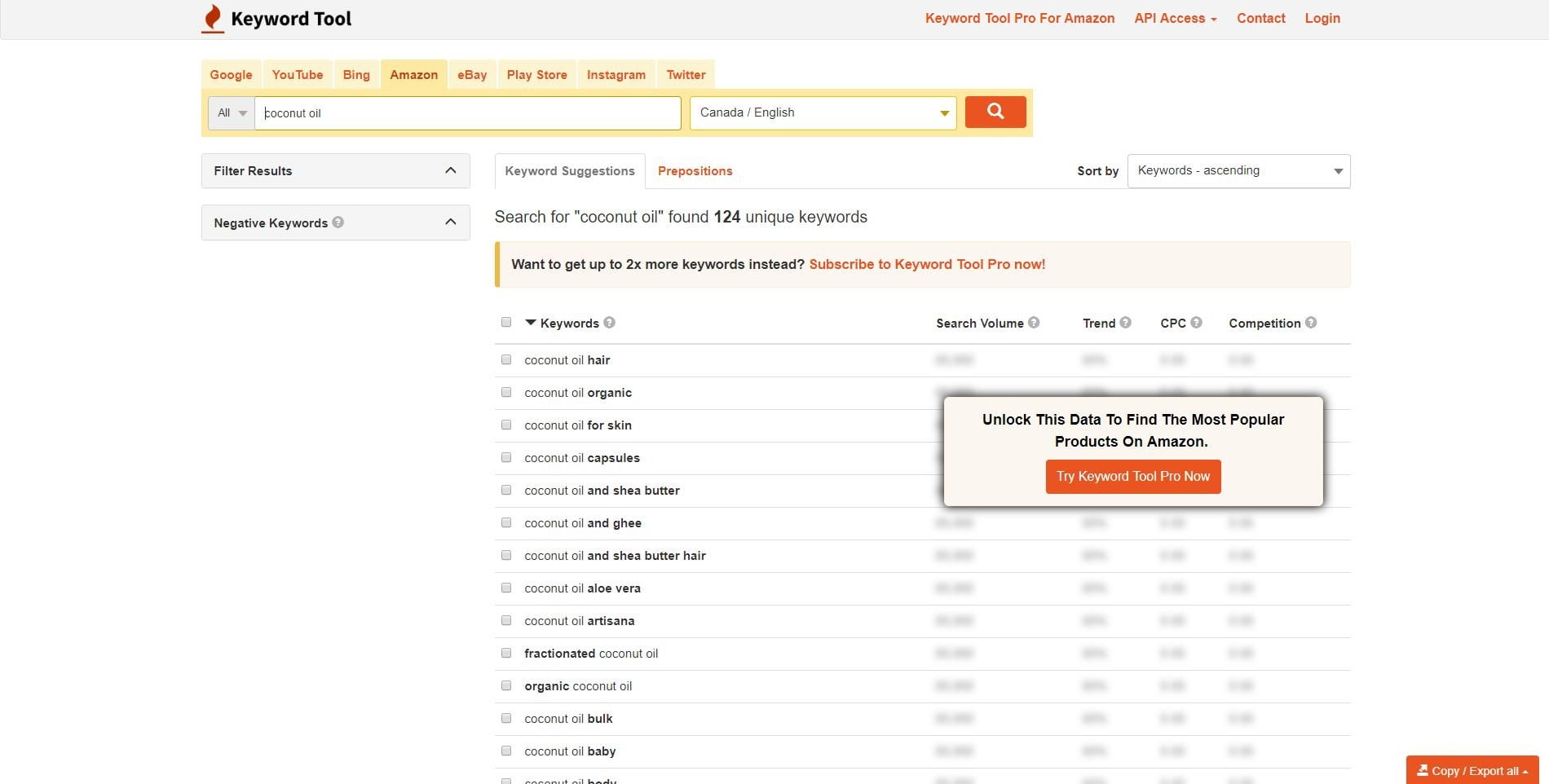 It's great for inspiration, but you will need to upgrade to a paid plan if you wish to view search volume, trend, and other metrics.
You could always take phrases you find in this tool and plug it into another if you don't wish to upgrade.
6. Ubersuggest

I've done an in-depth review on Ubersuggest if you wish to read it. It covers all of the features and quirks, but I'd like to mention it briefly in this list.
Ubersuggest is an SEO analysis tool that was acquired by Neil Patel, and it has since received many upgrades.
It has features that you often only find in paid software and overall offers:
Domain overview: Gain insight into the search performance of any domain, including total traffic, keywords, and backlinks.
Top pages: Find the top-performing pages of competitors, so you can create similar content.
Keyword suggestions: Get fresh keyword and content ideas on the fly.
7. Pagespeed insights

Google is too kind to us marketers. They give us heaps of data and tools to play completely for free.
One such is Google's Pagespeed Insights.
This tool allows you to diagnose any page speed-related problems on your website and fix them.
Page speed is directly associated with user experience and SEO performance, which is why it's on today's list.
In fact, Google announced that page speed is a direct ranking factor, and they've put more emphasis on it over time.
Type in the URL of your website and hit "Analyze."
It will list any speed-related issues it found, along with a score.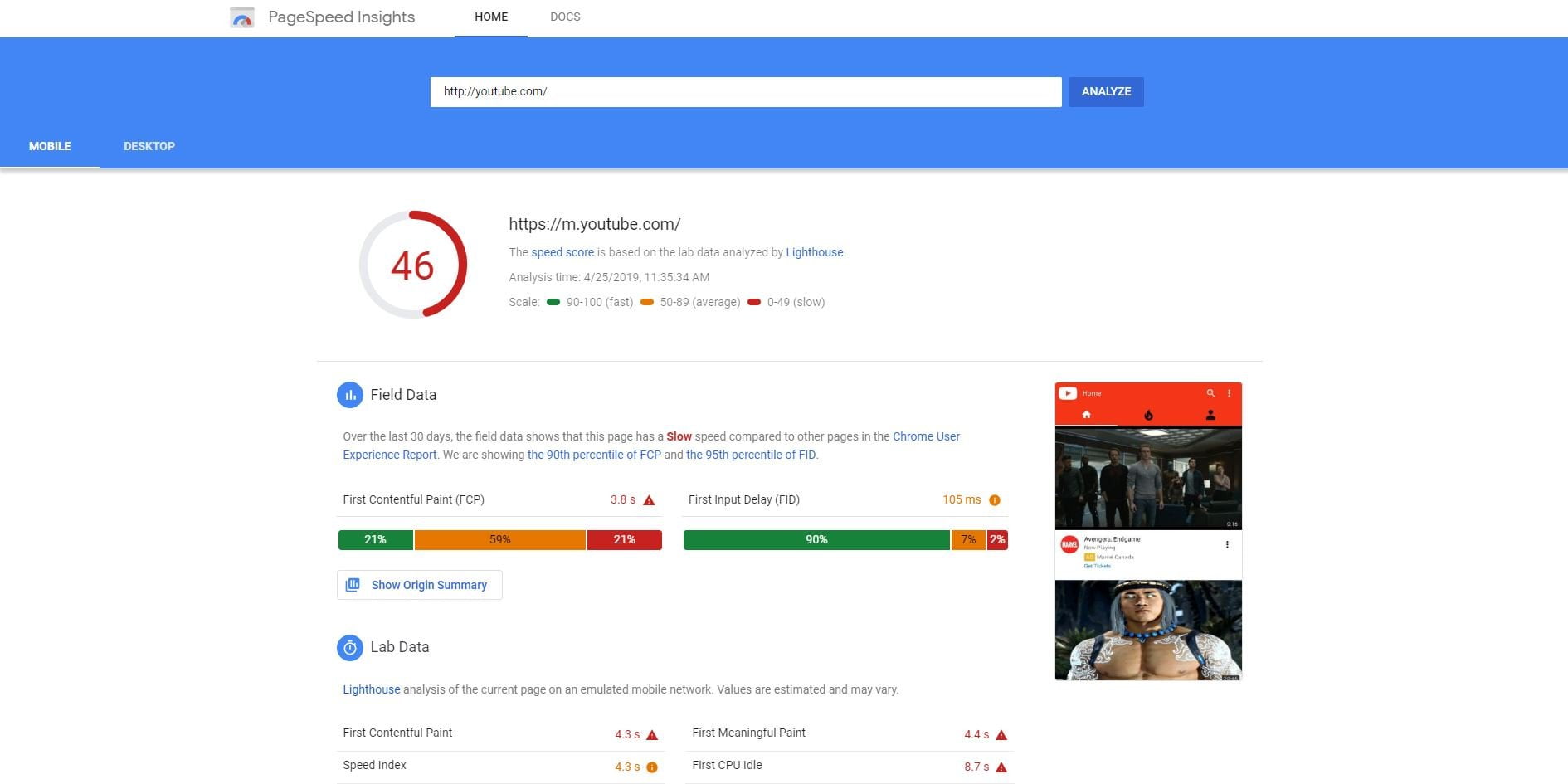 You can raise this score by solving the problems it uncovers. Depending on the exact discoveries, apps and plugins can fix many hiccups.
If you're on WordPress, you can use a plugin like Pagespeed Ninja, for example.
This can minify CSS/HTML/Javascript, cache pages, and more, which ultimately speeds up your site.
8. Screaming Frog
This is a fantastic alternative to Ahrefs and other monthly subscription SEO software. You only pay an annual license fee to use Screaming Frog, and it does just as much, if not more, of what you'd expect from other services.
Some of the many things you can do with this software include:
Find broken links: Run any URL through the software and filter by error codes like 404. This can help you find broken links to fix on your own site or to use as a part of a broken backlink building strategy.
Analyze page data: Narrow down meta descriptions and title tags that need optimization.
Find duplicate content: Duplicated pages and posts can send a bad signal to search engines and hurt your rankings. Discover if you have any duplicated content with this feature to get a quick win with your SEO.
Integration: Imagine being able to instantly plug-in data from other tools like Moz, Ahrefs, and Majestic right into Screaming Frog. Well, you can! Simply enter your API keys, and you can import all of your data from these external sources, giving you more information to work with.
I believe the pricing is very fair, as it's only £149.00 for the yearly license. If you paid $100/month for other tools, that racks up to $1,200 per year! Screaming Frog's pricing is clearly a huge area you need to consider.
9. Moz
I don't know about you, but when I think SEO, I think Moz. While Rand Fishkin has moved onto new ventures, Moz remains the go-to authority for SEO information and one of the most useful tools in the industry.
Currently, Moz offers its Moz Pro and Moz Local products. You'll appreciate that they offer a free 30-day trial, which seldom is available among these types of services. Here's what to expect from both of these tools.
Moz Pro features
Use the keyword explorer to determine what keywords are being used to find your website, which new phrases can boost traffic, and get all of the metrics you need.
The rank tracking feature will ensure that you know how your SEO efforts are paying off with exact rankings of individual search phrases. Not like your position? No problem. Improve that page or content with the other areas of your Moz toolbelt, and you'll fly ahead of competitors.
Next, the site crawler digs through your web properties to find little issues that you may not have known existed otherwise. As you know, SEO is composed of little wins and tweaks that build up your brand into an authority. The site crawler function will help you achieve that.
Lastly, the link explorer helps users keep track of their domain authority, page authority, inbound links, outbound links, and overall backlink profile. Links are one of the most important ranking factors, so monitoring them is crucial.
Final thoughts on the best SEO tools
Good SEO tools are mandatory for any business trying to rank on the first page of Google.
It's common to watch your traffic and rankings struggle as you implement a new SEO plan.
Using the correct SEO tools like the ones I outlined today will help you get past these typical SEO obstacles, outrank competitors, and see new levels of traffic coming in.
Some of the main ways to use these tools include monitoring rankings, keyword research, and analyzing competitors for content ideas.
Enroll in my SEO copywriting course to learn how to write content and copy that ranks #1 on Google.