It seems like nowadays that you don't need any kind of plan to get a business up and running.
There are so many entrepreneurs that start companies with an idea in their head, launch a website, and begin selling.
Sure, it works for some people.
But it doesn't for most.
That's why you need to write a business plan before you launch any organization.
Palo Alto conducted a survey in which they asked their customers whether or not a business plan helped the success of their business. Here's what they found: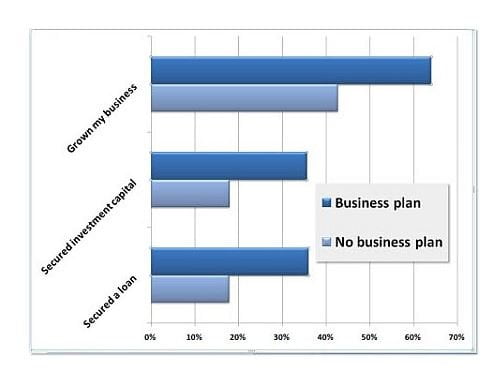 There were 2,877 people in total in the survey. Out of the 995 that used a business plan, 36% secured a loan, 36% secured investment capital, and 64% have grown their company.
1,556 had not completed a business plan, which resulted in only 18% securing a loan, 18% securing capital, and 43% growing their businesses.
That means the number of businesses that secured loans and capital doubled when they used a business plan!
21% more businesses also became successful by having a documented plan.
If this doesn't kick you into gear, I don't know what will.
That's why ahead I am going to show you how to write business plans, the components, formatting, and all of the fundamentals.
What is a business plan?
Don't worry. It's not a stupid question.
A business plan is, as you could presume, a plan that outlines the strategies, goals, and background of a new business.
It is often used to guide the founders toward success and objectives or to receive funding.
Investors will want to see that entrepreneurs interested in receiving a loan or capital have a clear vision and road map toward success.
The best part about business plans is that they are not the same for every company.
Some can get away with just a few pages, while another might need 50. It depends on the goals of the entrepreneur and why the plan is being made.
I recommend using a tool like Jasper to help you write faster and better.
Next, let's look at the main business plan components and how you should be writing them.
Components of a business plan
Executive summary
The executive summary is a high-level overview of the business, its goals, and its target market.
One of the first things to cover in your executive summary is who you are. Where is your business located? What is its name? How can you be contacted?
Next, describe the product or service that you offer and what problem it is solving. Be brief about what you offer, as you will be elaborating further in the plan.
It's very important that you describe the issue it is resolving for customers, even if its seems minuscule.
Additionally, this means that you must clearly define your target audience. Touch on the general demographics, wants, and needs of the customers you're trying to help.
After this, entrepreneurs should speak about the purpose of the business plan. As I mentioned previously, it could be to raise capital, receive a loan, or achieve any other large-scale goal.
The executive summary also needs to have a section that details the size, scale, and finances of the company. Think revenue, number of employees, number of locations, and other key statistics.
A company overview
It's very important for investors and lenders to understand who is running the company, along with their background and experience.
This is what the company overview section of a business plan is.
It describes the history of the organization, its team, location, legal structure, and mission. It is often one of the shortest parts of a business plan, so don't take too much time here if it's not needed.
Imagine that people have never heard of your business before while writing the overview. Don't skimp out on any details, and include all of the meat and potatoes.
Products and services
Here is where you will describe the product or service you are offering in full detail.
Entrepreneurs will need to take the time to explain the product at a birds-eye level. What is it, what does it do, and why do people care?
Then, dive deeper into every component, beginning with the manufacturing. Are you producing it domestically? Do you have factories and warehouses, or are you outsourcing these steps?
Another very important but small element is the unique value proposition.
What makes your product different from others, and why do customers want it?
Dive deep into the materials, pricing, margins, and anything you can think of related to what you sell.
Marketing plan
You can have the best product and team in the world, but if you don't get in front of the right audience, you won't make any sales.
This is why the next section of your business plan is the marketing plan.
It will detail how you expect to market your business and target the correct buyers.
Begin by detailing a buyer's persona. This is a generalization of your ideal customer. You should have enough information via primary and secondary sources to get an accurate representation of them.
Explain their demographics, such as location, gender, income, occupation, and education level. It's also wise to elaborate on what issues their experiencing, what they value, and how your company aligns with that.
I recommend intertwining a story into the marketing plan to better demonstrate your grasp of the business environment you're entering. For example, if you were selling web design services to local businesses, you could speak about the number of small businesses without any digital presence, and use a testimonial of a successful client.
Entrepreneurs will also need to list all of the different strategies they plan to use, such as social media, email, content, SEO, PPC, tradeshows, etc.
Milestones and goals
If you have no goals, you'll wander in a random direction.
Business plans require a section that outlines the major goals and milestones that the company wishes to achieve.
Milestones may include reaching a certain amount of revenue, releasing a new product, or hiring a specific amount of employees.
Goals are more broad, such as achieving a 25% market share or expanding to 20 locations.
Perhaps most importantly, ensure that there is a clear plan of action for each goal. It's nice to have an end vision, but steps are required to get there.
Detail exactly how you expect to get these achievements and how long you believe it will take.
Finances
It's safe to say that financials are important when it comes to a business. This is why you will need to spend a fair amount of time perfecting financial reports and forecasts in your business plan.
Make sure to include the following documents:
Balance sheet
A profit and loss statement
A sales forecast
Break-even analysis
Business plan format
With the sections of a business plan out of the way, let's talk about how to format a business plan properly.
How long should a business plan be?
There isn't necessarily a set amount of pages a business plan needs to be. Depending on who you're writing the plan for, you may want to consult with them to see if they have any requirements.
For example, some lenders may request for a business plan to be 35 pages.
If there are no requirements, I would also consider producing a lean business plan. This sums up all of the major components of your company in an easily digestible manner.
Here's a lean business plan template from LeanStack that you can try for yourself.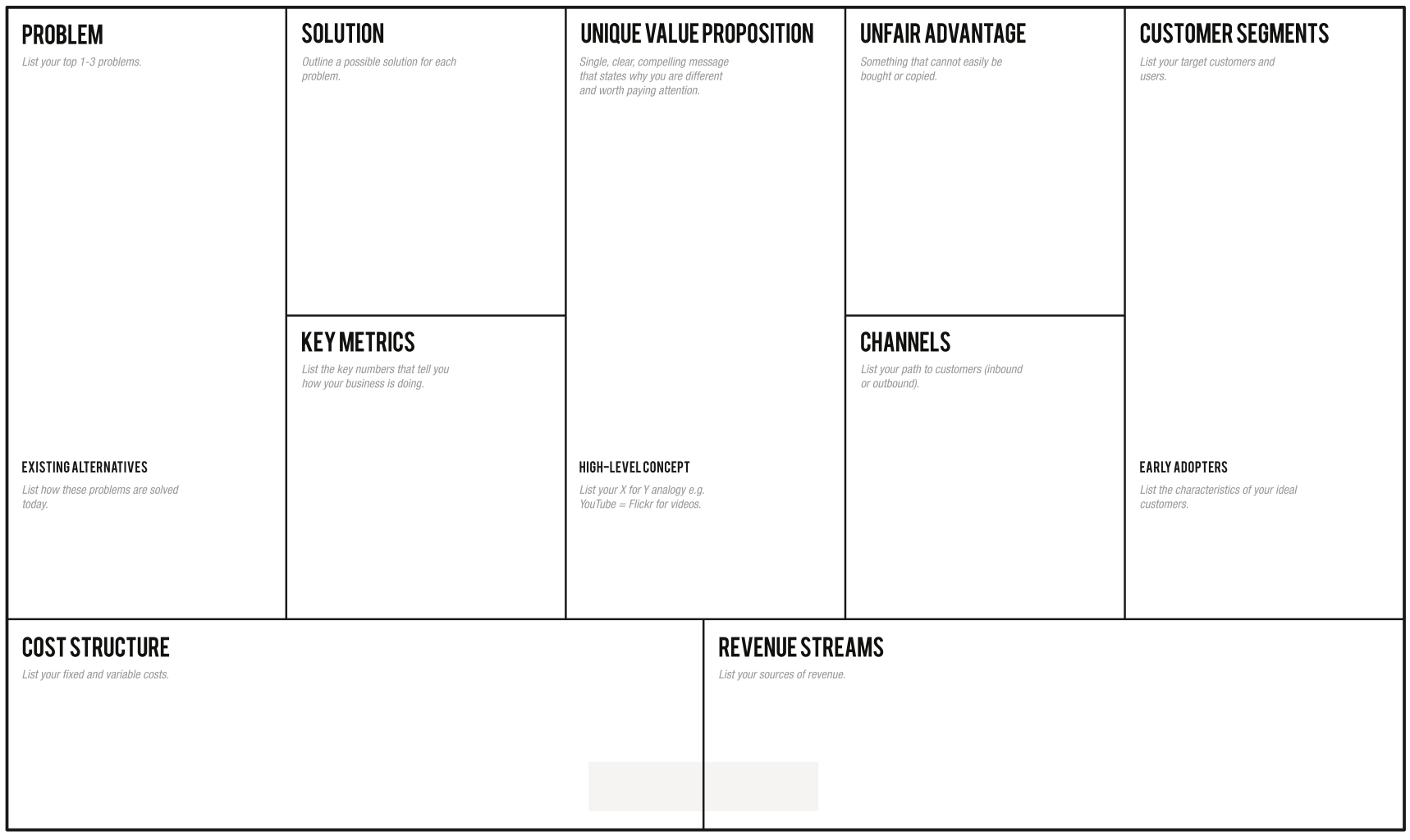 Writing a business plan
If you decide to create a traditional business plan, there are several steps you will need to take to ensure it comes out perfectly.
I've laid these steps out below for you to follow.
Step 1: Creating the business plan outline
It's crucial for workflow efficiency that you always create an outline for anything you're writing.
It doesn't matter if it's a business plan, blog post, or grant.
Fleshing out a skeleton of the material before you begin writing will ensure that the process is smooth.
Otherwise, you will feel disorganized and hit writer's block very quickly.
Trust me. I've been there many times, and I want you to avoid that misery.
A business plan outline will look something like this:
Cover page
Table of contents
Introduction
Executive summary
Company overview
Product overview
Marketing strategies
Goals and objectives
Finances
Appendix
Write all of the sections you wish to include in a Word doc or whichever tool you'll be using.
Once you have done this, it is time to begin collecting resources to be included in each section, which brings me to my next point.
Step 2: Conducting primary and secondary research
Business plans need to be backed by data, numbers, and statistics if you want a lender or investor to take you seriously.
It's recommended that you have information on the market you're entering, the country's economy, and the consumers within it.
This kind of information can be found via market and industry reports. They are freely available online if you search for keywords plus "market report PDF" on Google.
I quickly found a very detailed e-commerce market report, for example.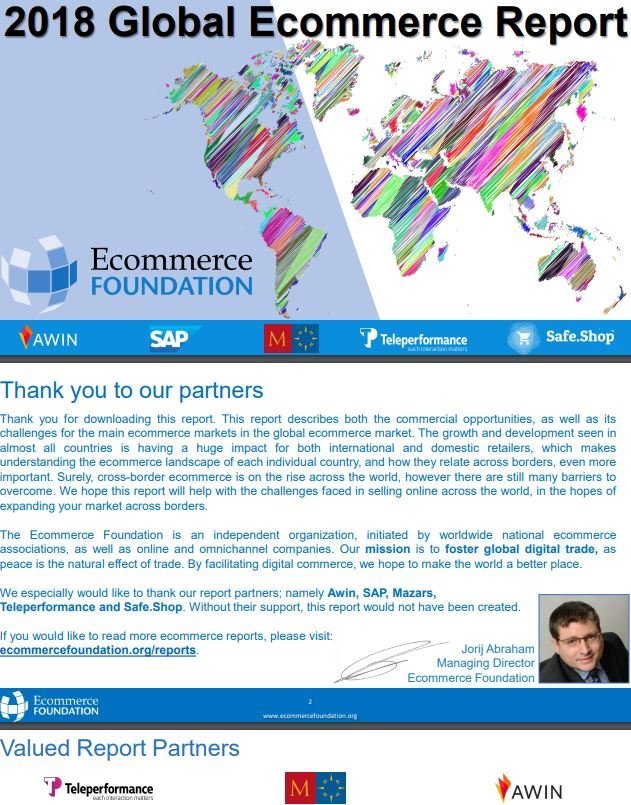 It contains data on e-commerce trends, opportunities, and behaviours that would be priceless for a relevant business plan.
Secondly, I recommend entrepreneurs conduct research through government websites. They often will give you access to accurate data on various industries.
Once again, I came across a great resource within seconds of Googling "Small business statistics USA" from SBA.gov.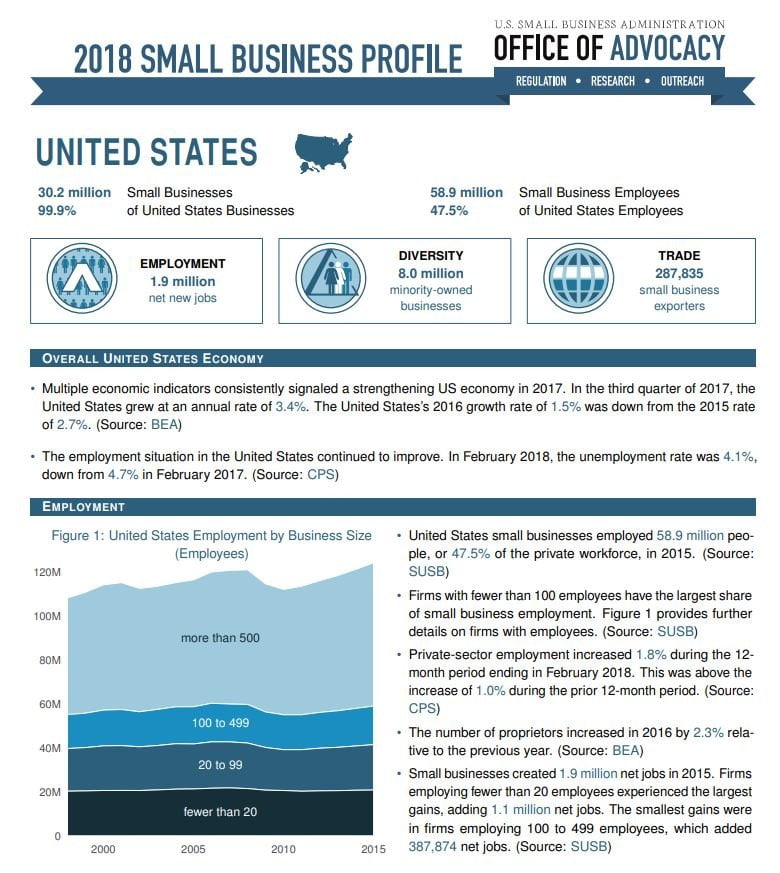 This kind of information is what we call secondary data. It was collected by another party, and we can reference it in our plan to back up points and statements.
However, primary data is also necessary to make a business plan bulletproof.
Questionnaires, focus groups, and surveys are common ways companies conduct primary research.
After you've compiled enough research, it's time for the fun part: writing!
Step 3: Writing and organization
Business plans are formal and professional. They are also never written in the first perspective, so avoid words like "Our," "We," and "I." Keep the overall presentation, vocabulary, and structure executive.
Write your business plan one section at a time, as well. As tempting as it can be to jump around, you may feel yourself become disorganized and confused.
Don't get too hung up on any one area, either.
If you've hit an obstacle, move on to the next part, but record that section so you can return to it later.
Remember that you are simply writing the first draft of the business plan right now. There will be many things to fix and tweak in the next step I am going to speak about.
Step 4: Editing and proofreading
Once you have finished the first round of your business plan, it is now time to edit and proofread it for clarity and flow.
Revisit every section from the very beginning, as you very well may come across spelling or grammar mistakes.
Fix these while also editing the overall wording to flow better.
I suggest using the free tool Grammarly. Sign up for an account and click the "New" button on the dashboard.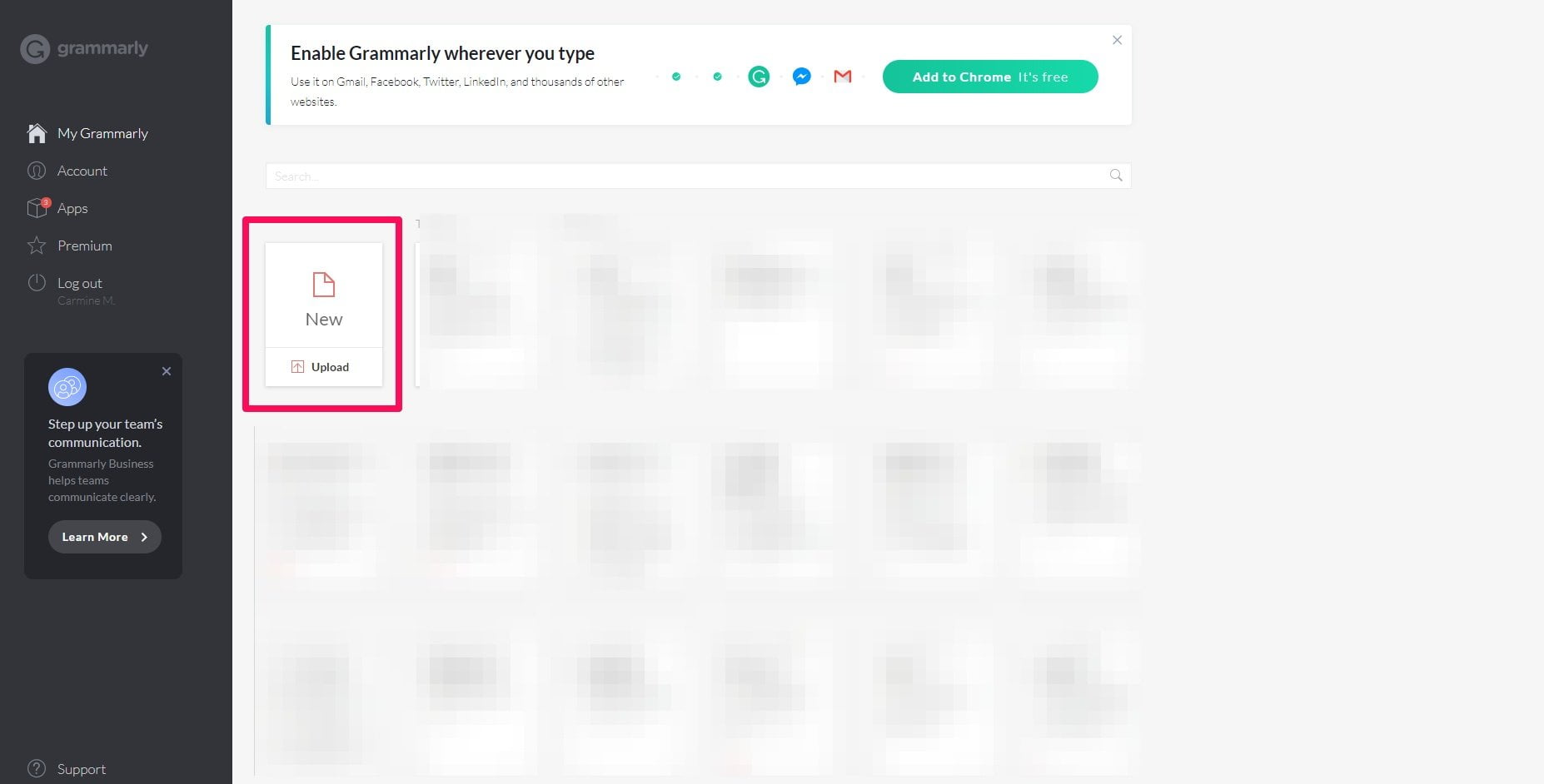 Paste in a section of your business plan, and it will notify you of any mistakes to improve.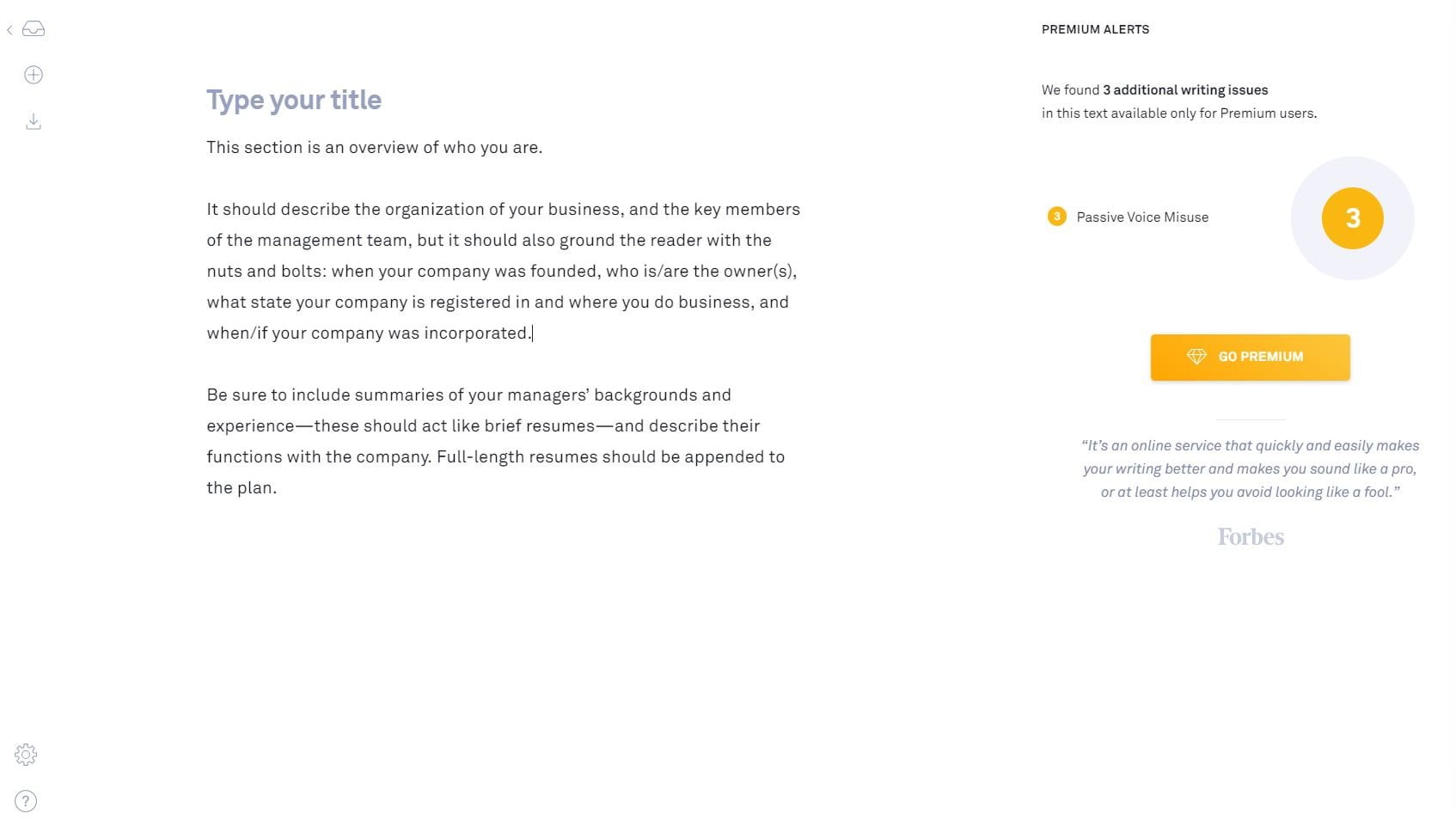 Repeat this until your business plan is done, and satisfies your standards.
Final thoughts on business plan writing
Business plans help entrepreneurs stay on track and be organized.
They are also required to receive loans and funding.
Either way, entrepreneurs need to take the time to outline their plans, and conduct research before diving in head first.
Some business plans take days, and others take weeks or months. Be patient and go at your own pace.
After you've finished writing it, ensure that you spend a healthy amount of time editing and proofreading before sending it off, too.
If you follow the steps I laid out today, you can look forward to having a business plan that solidifies your future success.