92% of B2B marketers use LinkedIn as their primary social media channel for marketing.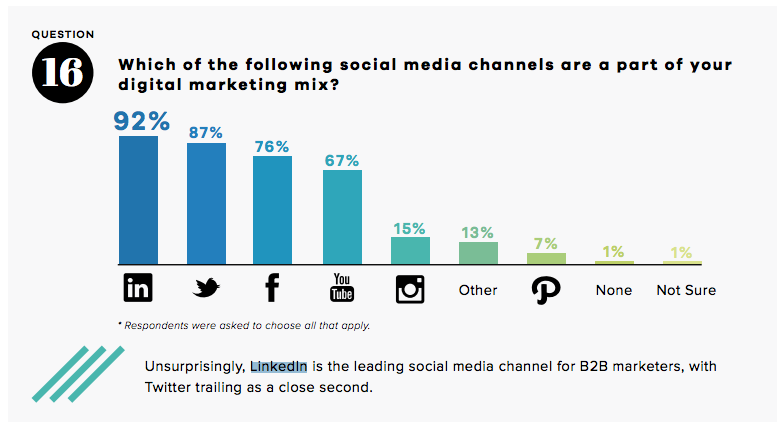 It make sense, too.
LinkedIn is a giant community of professionals in all industries.
It's a priceless tool to generate leads, grow brand awareness, and connect with powerful individuals.
However, do you find yourself struggling to create a meaningful LinkedIn strategy that produces results?
I've been there myself.
Nowadays I find leads constantly reaching out, and all of the strategies I use are laid out ahead.
Keep reading to learn evergreen LinkedIn copywriting and marketing strategies that will maximize the ROI of this social platform.
Optimize your profile for search
The simplest and easiest way to start getting the results you want from LinkedIn is to optimize your profile.
You want to clean it up for both users that land on your profile and LinkedIn's algorithm.
Optimizing it will help you land more clients and opportunities, while search engine optimization will get more people there to begin with.
After all, it's easy to think that the only search engine is Google.
That couldn't be further from the truth.
Every social network has an internal search engine you can game to increase visibility.
Here's how.
(Get my free SEO course while you're at it!)
Use a high quality photo
A picture says a thousand words.
Look at it like branding.
If you have a high-quality picture of yourself, it shows that you're willing to invest in your image, and that says something good about you.
Check out Rand Fishkin, for example: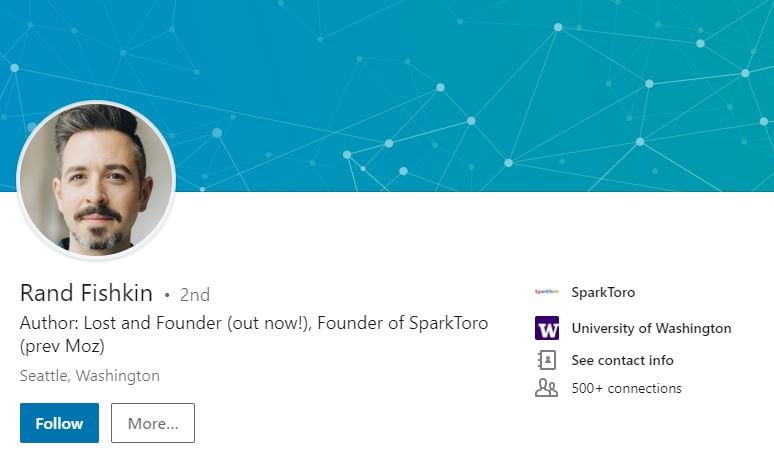 His profile is very simple and includes a high resolution portrait.
Consider your LinkedIn profile like a landing page. You want every element to be perfect, and lead effortlessly into the next section.
If you have a picture of you four tequila shots in, it probably won't do much.
Write an exciting LinkedIn description
The small blurb under your profile picture and current position is very important. It's one of the most important parts of LinkedIn copywriting.
It allows you to summarize your skills and experience, while also showcasing your personality.
Use it as an opportunity to sell people on what you do.

Continuing off of Rand's profile, his description neatly describes his experience as an entrepreneur.
Note how he touches not only what SparkToro is, but what it does, too.
Those interested in a service like what he offers will be more inclined to check it out.
At the end he also makes a funny remark that he spends his spare time eating pasta.
I'm Italian, so I can relate. 🙂
All in all, focus on the benefits of what you do and offer.
Can you drive revenue? Increase conversions? Organize teams? Think about it from an employer or client's perspective and speak in their language
Don't be afraid to mix in some humor and talk about what you do on the weekends. People love connecting with people.
Go into detail about your work history
The experience section of your profile will explain to users how you got to where you are today.
Consider it like a history book of your experience as an entrepreneur or professional.
Don't make the common mistake of simply listing the positions and leaving it at that.
You want to explain exactly what you did at each company and what you helped achieve.
Once again, look at Rand's.
He dives in deeper about exactly what he did at Moz, including the early days, when he raised funding, the day he stepped down, etc.
I suggest that you focus on mentioning the results you've generated at the positions you've held because that's what people are after…
RESULTS!
They don't care that you worked at Joe's Analytics as the VP of Marketing for five years.
But, did you generate $1 million in revenue every year through new social media strategies?
They want to hear about that!
Use industry jargon and go into as much detail about how you helped each company. This will connect with your ideal audience.
Get some recommendations
Referrals are king.
There's nothing more powerful than social proof in today's world.
Consumers are four times more likely to make a purchase when it's recommended by a friend, hence why LinkedIn recommendations are so powerful.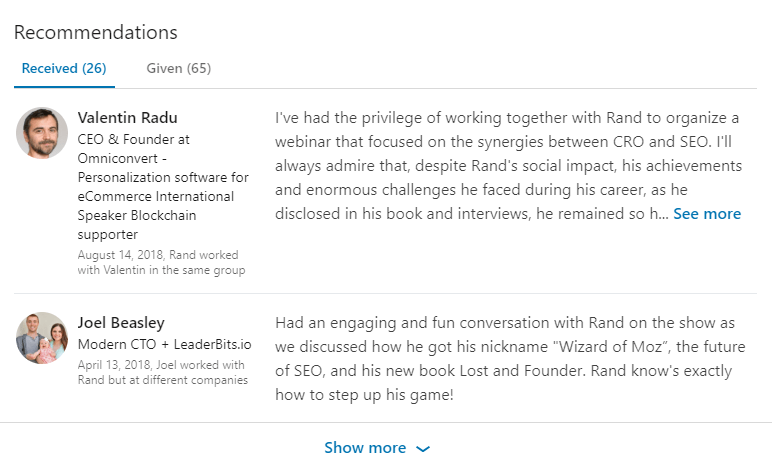 Recommendations are placed near the bottom of your profile, and include a statement from another user about their experience working with you.
It's like any other review or testimonial you can get online.
You can begin getting recommendations by navigating to your profile and clicking the "Add profile section" button.

Select the "Additional Information" option and then "Request a Recommendation."

You will need to select an individual to send the request to, your relationship with them, and the company you worked at.
This will prompt a message box where you can use the default pitch or craft your own.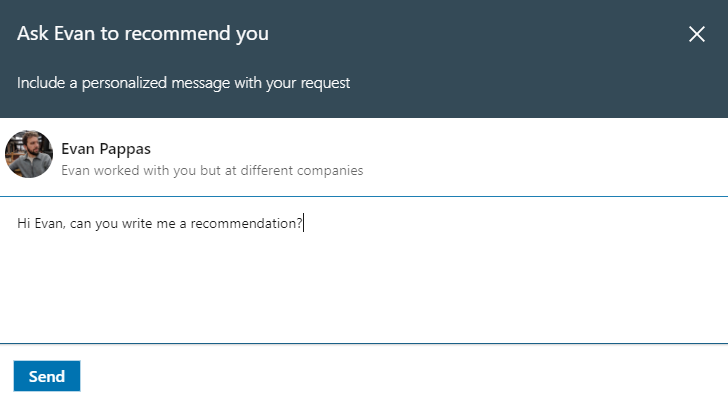 I suggest sending these requests to people you've worked with. Friends, family, and colleagues are grea too.
Ask them to go into as much detail as possible about how you helped them and the results you created.
If you've read my blog even a couple of times, you know that I drill content marketing into everyone's head.
It helps build trust with other people, establishes you as a thought leader, and generates up to three times more leads than outbound.
This is why you need to be publishing content on LinkedIn.
You have two options to do so.
Either you share a piece of content you've already published, which is what I usually do, or you write a whole new piece of content through LinkedIn Publishing.

If you've already created content, click the "Start a post" button and paste in the URL.
This will generate a preview window. Use a call to action and a few hashtags every time you do this to increase click through and how many users you reach.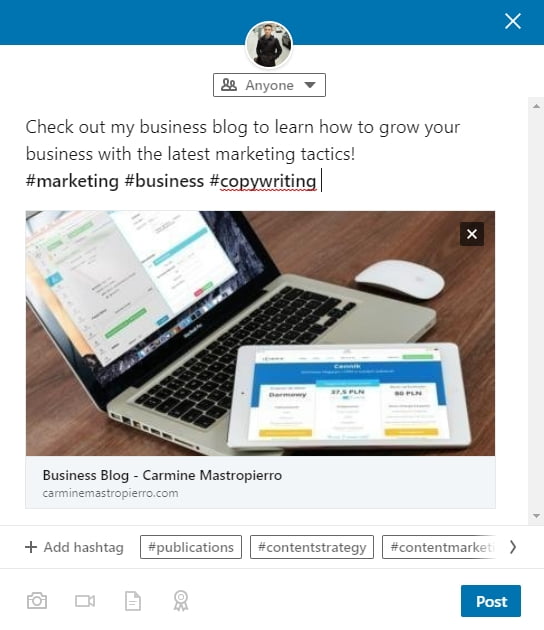 The second route is to click the "Write an article on LinkedIn" option, and you'll be directed to LinkedIn's CMS.
Here you can add a featured image, title, and the body of the article.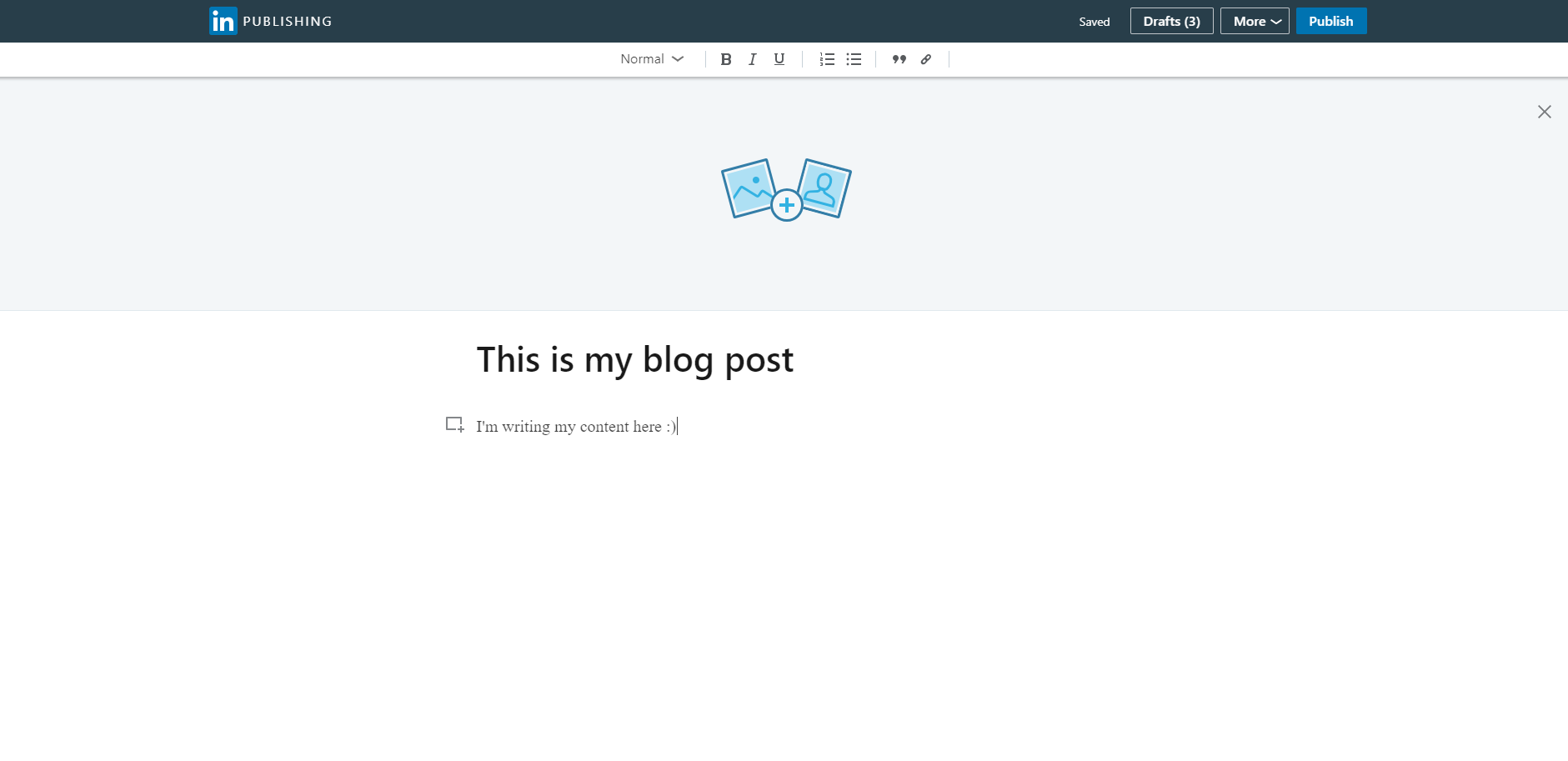 Click the "Publish" button on the top right once you're finished.
How do you write a good blog post on LinkedIn?
Firstly, consider topics that your target audience would care about. Think of:
What questions they have.
What pain points or problems they experience.
What interests and goals they have.
You can also use a tool like Answer The Public to get quick ideas.
Plug in a keyword and click search.
Get my free content marketing course to learn more.
Take advantage of LinkedIn groups
Imagine being able to share content and engage with up to hundreds of thousands of people at once.
That's possible with LinkedIn groups.
These are communities that share a common goal or interest, and they're completely free to join.
Begin by clicking the "Work" tab on the top right of LinkedIn.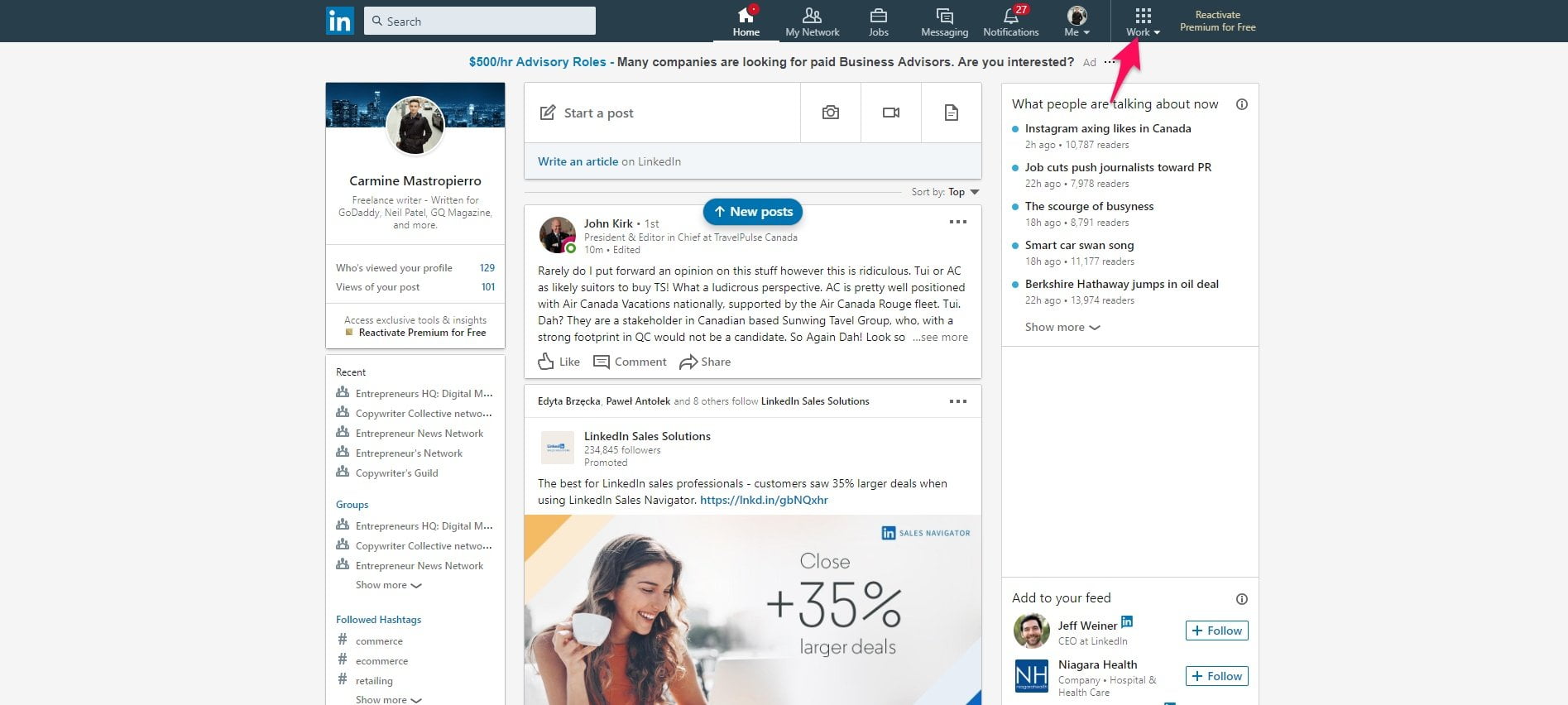 This will prompt the LinkedIn Products window where you can select "Groups."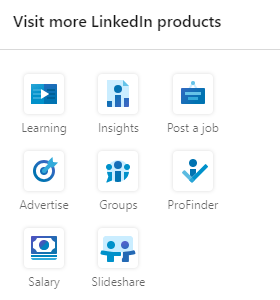 Here you will find a tab for all of the current groups you're apart of, and the requests you 've sent.
If you're new to LinkedIn Groups, you need to join some first!
Use the search bar to find relevant groups by entering industry related keywords.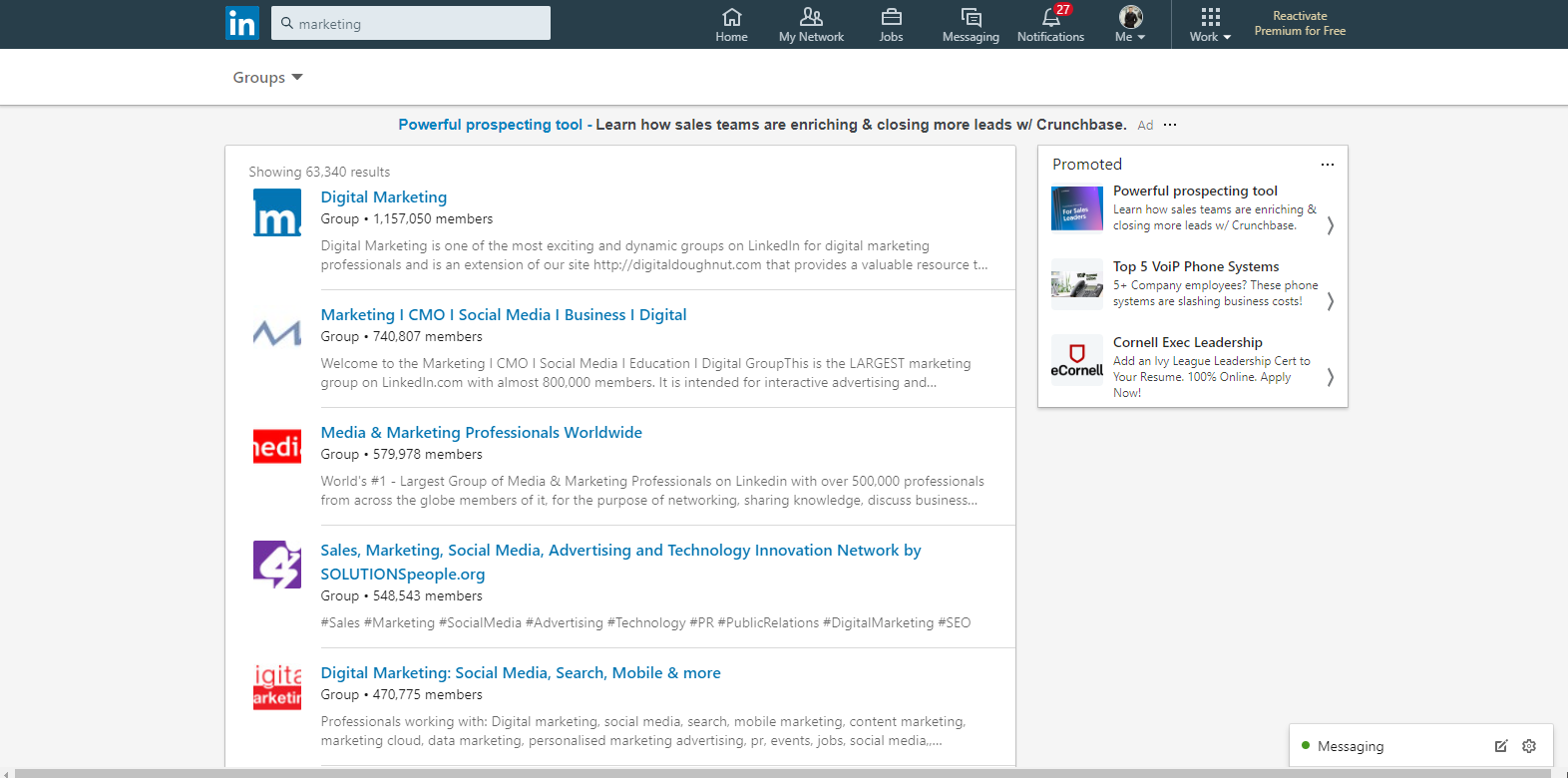 Click any group that seems interesting, and select the "Request to join" button.
Once you're accepted, always following these rules to get the most out of groups:
Join in on and start conversations. People use social media to be social, and engagement is key for building trust.
Share high quality content, and make sure to respond to comments.
Like and share other user's content.
Create a company page and optimize its copy
Not only can you have a personal LinkedIn profile, but you can also create a company page.
It is an excellent place to write effective LinkedIn copywriting.
This gives you twice the potential to reach prospects and increase brand awareness.
You can begin creating one for free by clicking the "Work" tab on the top right, and selecting "Create a Company Page" at the bottom of the new window that prompts.
On the next page, select between the small business, medium to large business, showcase, and educational institution options.

You will then need to enter all of the basic information about your company, including the name, URL, and industry.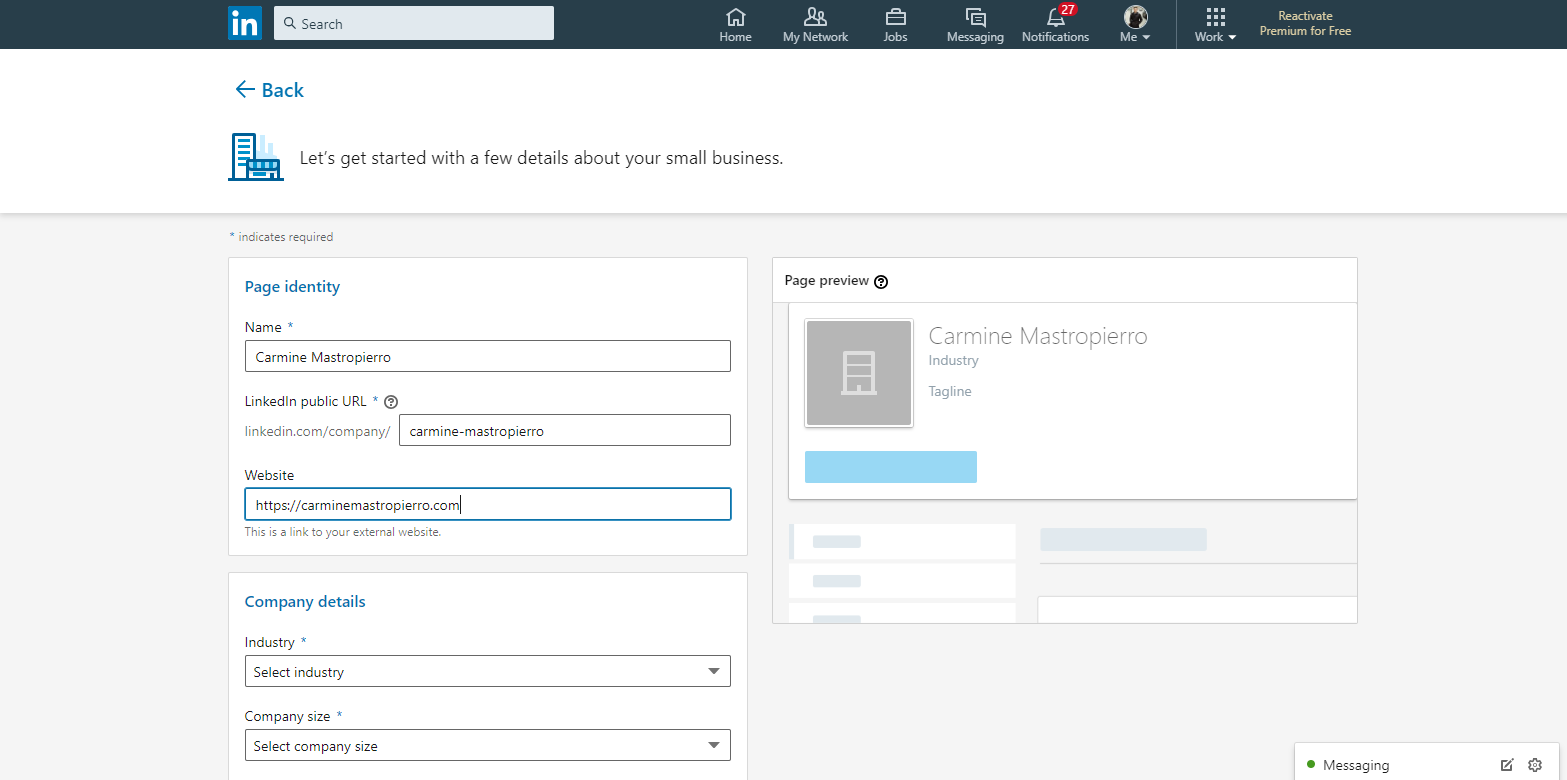 Once you're satisfied, click the blue "Create Page" button afterwards to publish your page.
I recommend investing into a high quality logo that will improve your brand image and build loyalty.
Think about something like the Nike swoosh. Everyone knows what it is, and you instantly attribute athletics and fashion to it.
That's the goal of a logo: let it sum up your value proposition and get stuck in people's heads.
Use the following specs for your profile picture to get the best results:
300 x 300 dimensions
No more than 8MB
PNG file type
Square shape
If you wish to add a profile banner, all of the same specs apply except that you want the dimensions to be 1536 x 768.
Nike is a great example of how a company page should look.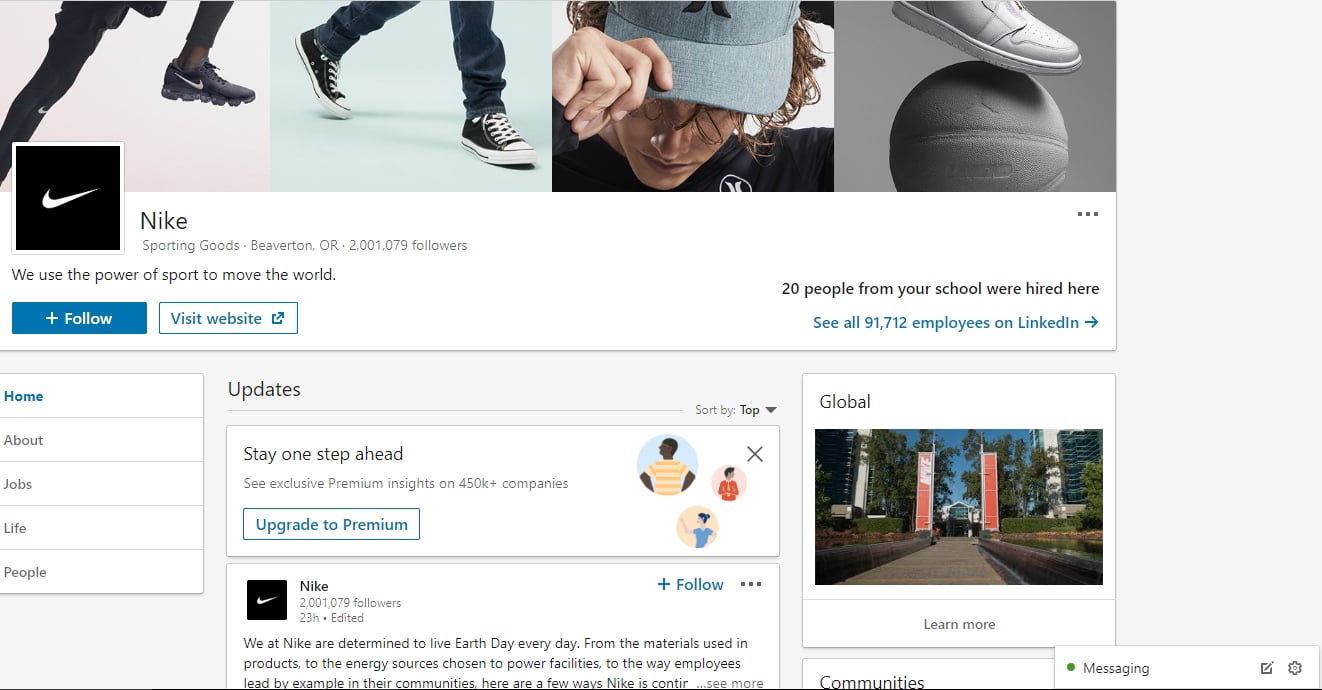 Since you want to get found by as many people as possible, it's crucial that you write a great about section which includes keywords, too.
Keywords are specific phrases that users would enter to look for a company like yours.
By placing them strategically throughout your profile, you will experience a higher amount of organic traffic to the page.
Spy on the competition
Why do all of the hard work when your competitors are doing it for you?
Breaking down competitions strategies and branding can help improve your own.
Search for a competitor on LinkedIn, and visit their company page.
Let's use HP as an example.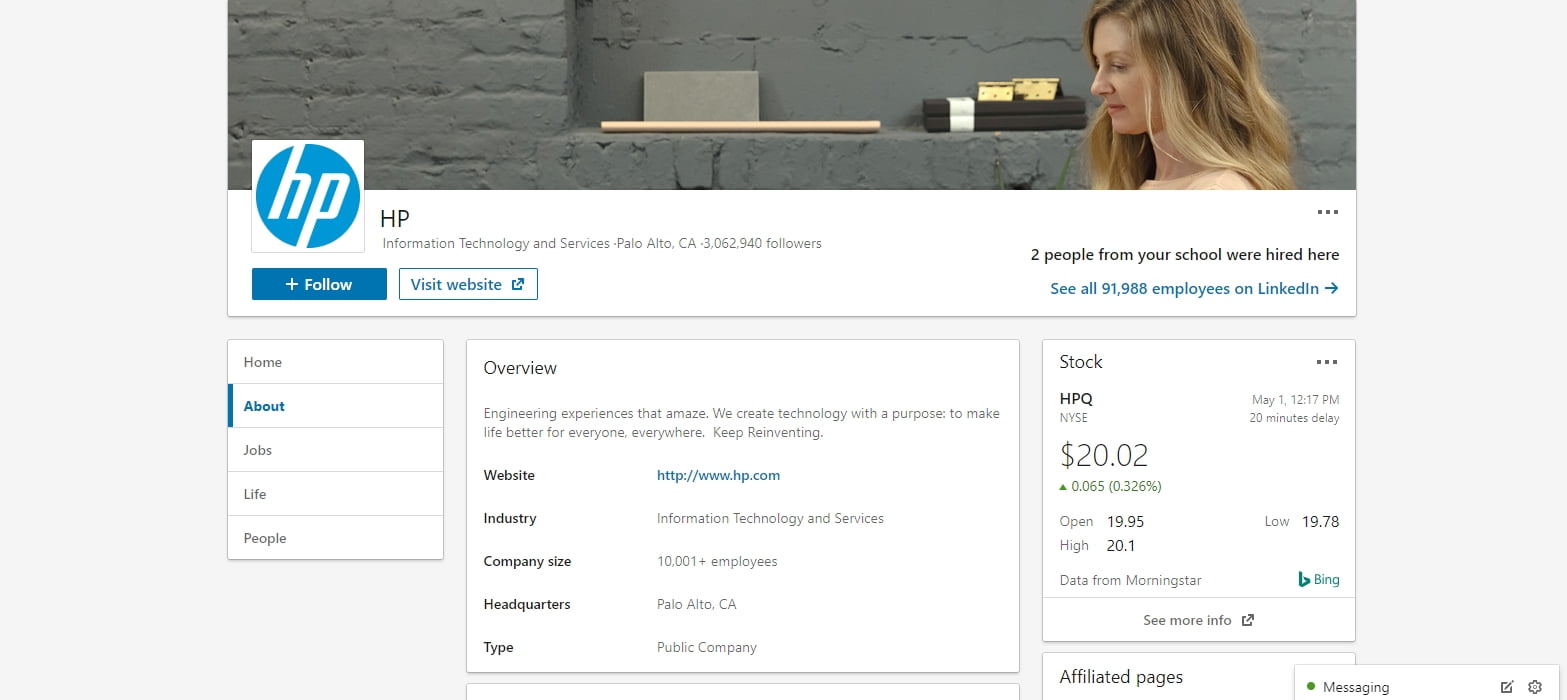 The first place to analyze is their about page. Do you notice any copywriting techniques they use in their overview?
This could storytelling, elaborating on product features, mentioning big client names, etc.
You want to extract these little details, and integrate them into your own page.
Another important area is the life page.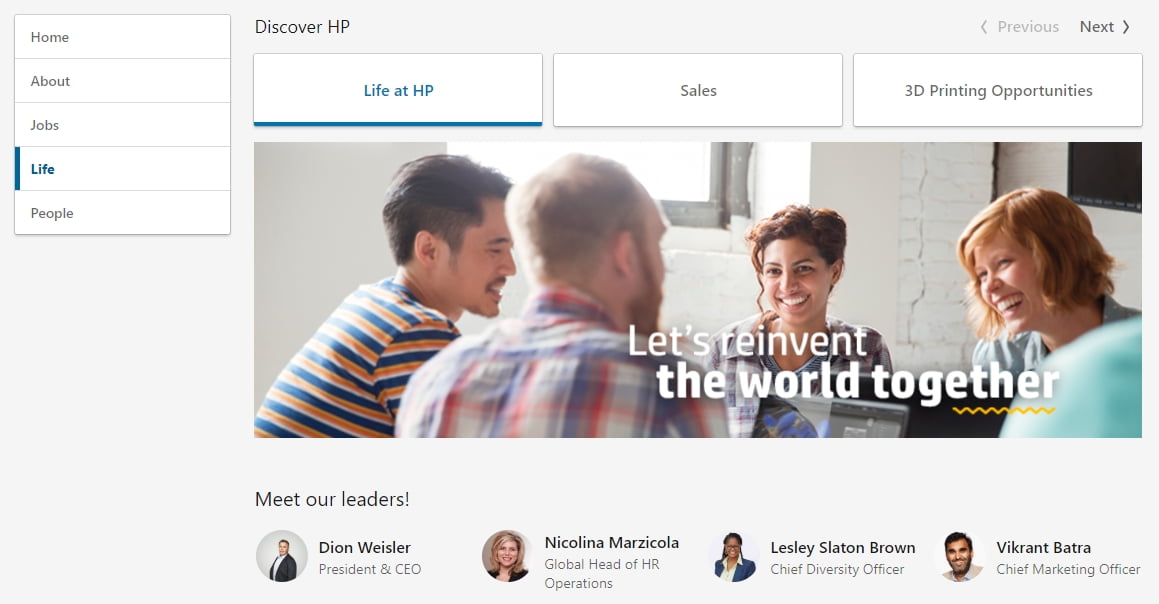 Here is where you can show the people and culture that makes up your company.
This is crucial to have because it promotes transparency, holds you accountable, and builds trust.
Take a look at your competitor.
Do they speak about their values? Do they include photos and videos of their office?
Use their page as a template to improve your own.
Don't be afraid to cold pitch
LinkedIn has a convenient messaging system that is great for cold pitching.
You can skip past a lot of the standard lead gen hurdles, such as finding prospects and contact information because their profile is easily accessible.
That's why I recommend trying to pitch on LinkedIn, and the first step is determining what types of companies you wish to pitch.
Then you can move onto finding the decision makers. These are the gatekeepers in charge of what you're offering.
For example, I offer copywriting and content writing services, so it makes sense to message VP's of marketing, CMOs, etc.
Once you find prospects, try out this LinkedIn cold message template:
Hey Mike,

I'd love to connect with you. I found Mike's Consulting through the Inc 5000 list, and saw that you have several web apps you use for inbound marketing.

I'm the founder of TechBug, a web app development firm that has worked with Pepsi, Apple, and Dell.

Does Mike's Consulting need any help producing apps at the moment?

Warm regards,

John
The most successful sales processes involve plenty of followups, as well.
Make sure to follow up on a regular basis if you don't get a response.
Follow up messages can include asking them for a good time to chat, providing useful resources, or asking if you're speaking with the correct person.
Let's wrap up these LinkedIn copywriting and marketing strategies
LinkedIn is an awesome platform for both B2C and B2C marketing.
However, you have to use proven strategies if you want to get the most out of the networks.
This begins with putting effort into making an impressive profile. Upload a good picture, write an exciting description, and request some recommendations from previous clients.
The next step is to consistently share content you produce. This can be articles, videos, podcasts, or any other material.
Use hashtags to further expand your reach, as well.
Similarly, join plenty of LinkedIn groups, and become active in them. This will help build relationships and give you an audience to share content with.
Besides your profile page, it's also wise to make a company page. These are known to get better views than regular profiles, so it can help generate more leads.
Make sure to keep an eye out on your competitors to see how they use LinkedIn for marketing. This can help you come up with new ideas and strategies.
And lastly, use LinkedIn's messaging system like you would with any CRM for cold emailing. Find decision makers and pitch them your services.
Need a LinkedIn copywriter to help you out? Contact me for a free consultation to talk about growing your profile with LinkedIn.