The Fintech industry has seen tremendous growth in the past decade.
There are more and more opportunities to grow a financial tech company to soaring heights and reap the rewards with investments and customers at an all time high.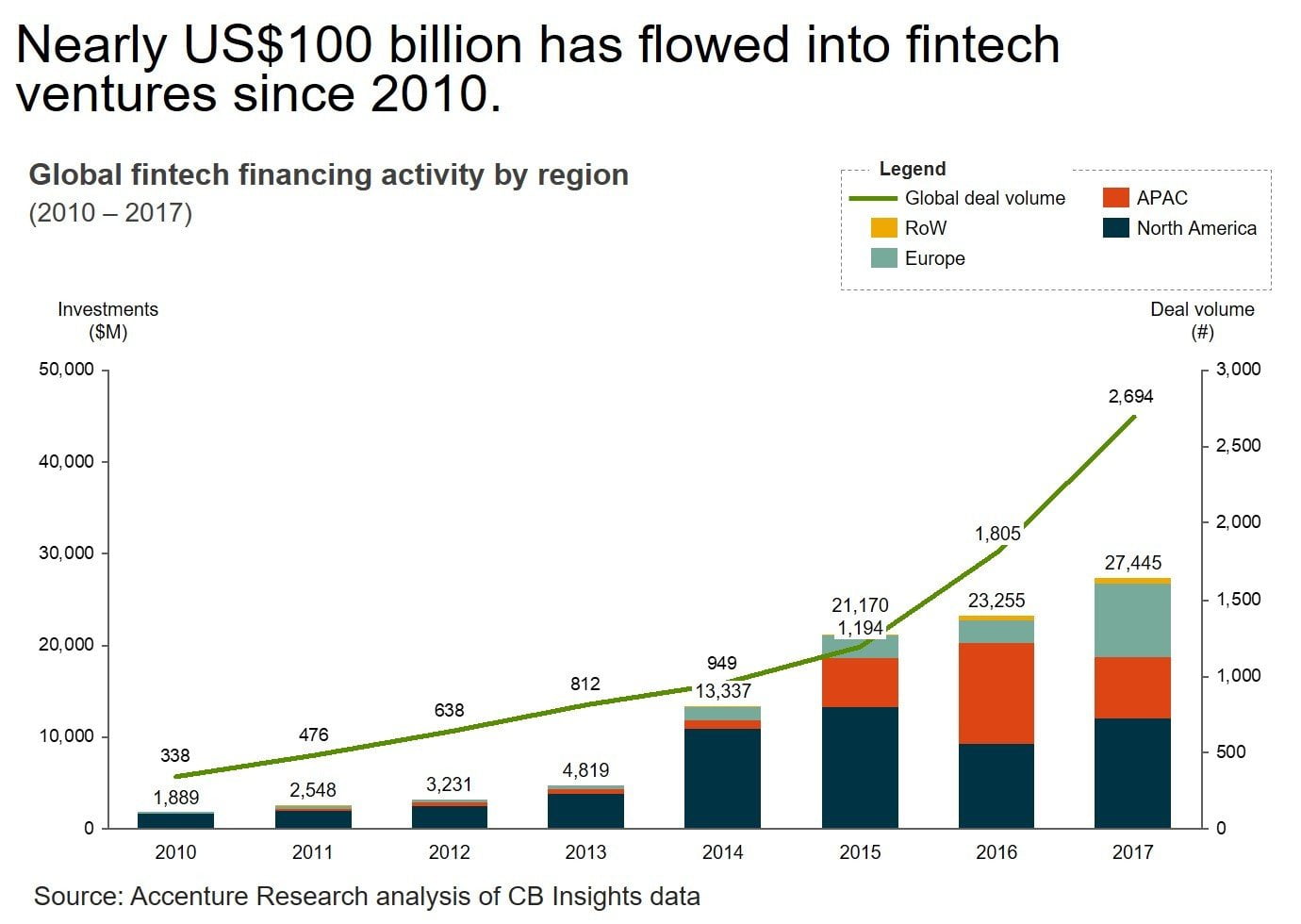 But, you have to do it right.
Fintech companies need to use effective strategies if they want to beat the competition and increase revenue.
Today's article is going to teach you fundamental fintech marketing tactics that you can begin applying today.
Let's get into it.
Fintech content marketing
Businesses that actively blog have 434% more indexed pages on Google compared to those who don't.
Don't you want that kind of free exposure?
Producing content on a regular basis will attract customers to your business without lifting a finger.
Heck, I've had some HUGE clients reach out to me because they read my blog and enjoyed my style of writing.
Writing about a specific niche, financial tech in this case, allows you to show off your expertise and knowledge.
Here are the three steps to creating an effective content marketing plan.
Step 1: Decide on format, publishing schedule, and plan ahead
The first step is to determine what kind of content you want to publish.
It isn't black and white in terms of what's best, so choose between:
Blog posts
Case studies
White papers
Videos
Podcast episodes
Slideshows
Social media content
There should be one style of content that acts as the root of your strategy.
For me it's blog posts. I start by writing an article and re-purpose it into other pieces of content later.
54% of consumers wish to see more video content from brands, so you may want to begin there if writing isn't your strong point.
It's also important that you establish a publishing schedule.
How often would you like to be putting out content?
Once per day? Once per week?
Choose a schedule that works for your business, team size, and budget.
This creates a consistent flow that customers can get used to, making them regulars on your website or another platform.
Once you have decided on these two elements, move onto the next step.
Step 2: Start creating!
I really believe in the Seth Godin quote "Make something everyday."
While I strive to put out a 2,000 word article every day that teaches my readers how to be better marketers, some times it can't happen.
I might have to publish 1,500 or 1,000 words perhaps.
And that's okay.
The goal of content is to provide free value and help people. Don't get too hung up on arbitrary numbers and metrics.
Depending on the type of content you produce will dictate exactly how you approach creating it.
However, I recommend that every Fintech company use a tool like this content idea generator for topics.
Something you'll quickly realize in content marketing is that coming up with subjects can make you pull your hair out.
Begin by entering a keyword into the first field and completing the captcha.

This will take you to the following page with content ideas.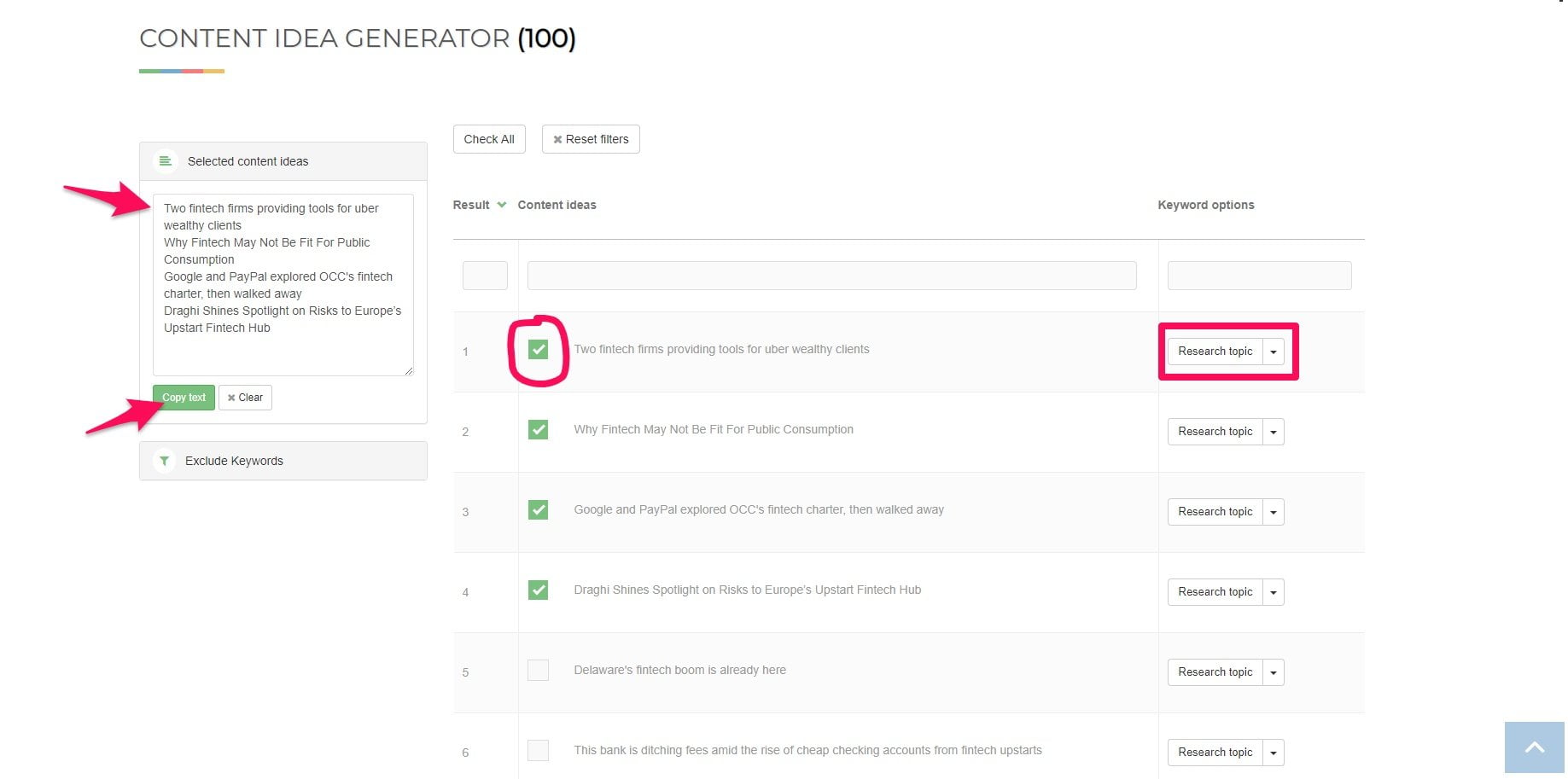 Check the checkbox next to topics that interest you and they will be moved to the left box.
Click the green button to copy and paste them to another location.
Alternatively you can hit the "Research topic" to investigate into the subject further.
Since there are individual strategies and guidelines for every style of content you can make, I'd like to give you some universal tips:
Make content practical: Include instructions, tools, resources, and studies in your content to make it actionable. Reduce fluff as much as you can, and avoid leaving the reader hanging.
Add some personality: It doesn't matter who your audience is. A conversational and friendly tone works universally well for every industry. Don't be afraid to crack jokes, use memes, or add gifs like I do, either.
Long form is in: From blog posts to videos, longer content performs the best right now in search engines. Long form content offers more value and information, so spend time beefing up articles, videos, etc.
Kill distractions: Turn off your phone, block Facebook, and take a deep breath. Give yourself an allotted amount of time to complete a piece of content, and give it all of your focus.
Use templates: As you begin producing content, you will find that you use a familiar flow, voice, and techniques. Organize these into a template that you and your team can use over and over again.
Map out each piece of content: Plan out the major points, sub-points, and details of each content before you create it. This will improve workflow and productivity because you won't have to think of everything on the go.
Step 3: Promote that bad boy!
Build it and they will come.
Eh, not really.
As nice as it would be to publish content and have a floodgate of users come in, you need to promote it for proper exposure.
I suggest by promoting content all over social media. Make sure your company has a business page set up on Facebook, Twitter, LinkedIn, and other networks.
In fact, a majority of adults in the United States actively use Facebook, YouTube, and other social media platforms.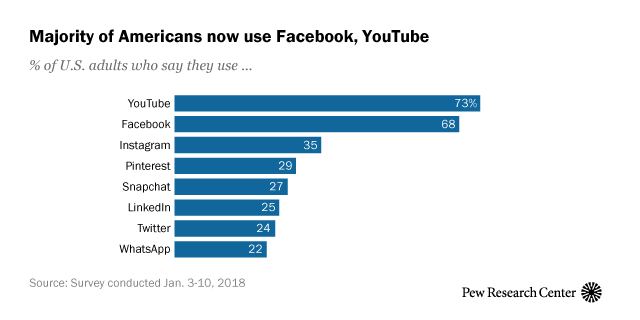 You'd be crazy not to do social media marketing, but more on that later 🙂
And after social media is email.
Every business needs to begin building an email list, and let me tell you why…
You don't own any platform you use.
Technically you could get kicked off of all of your social networks, other accounts, and have nothing left.
Obviously unless you'd have to break terms of service or do something silly to have that happen, but hear me out.
Platforms can also make changes that your not in charge of, such as increasing costs, reducing engagement, etc.
Look at Facebook, for example.
Out of nowhere they decreased organic reach, hurting companies like Starbucks that had millions of followers.
They couldn't reach the audience they built.
However if you have an email list, you will have that spreadsheet forever, and it's transferable to any email marketing software.
I'll be teaching you more about how to do this yourself later in today's article.
Let's move onto the next essential Fintech marketing strategy.
Fintech SEO
Every company needs to optimize for search engines. It's a non negotiable.
The best part about on-page SEO is that once you do it, it's mostly set-and-forget.
There are some techniques you will have to apply to each piece of content you produce, but laying the foundation for your website as a whole can be done fairly quickly.
Here's how.
Get your page speed right
Google announced that page speed will play a role in mobile search rankings as of January 2018.
Do you know how fast your website loads?
If not, head over to GTmetrix and enter the URL of your website.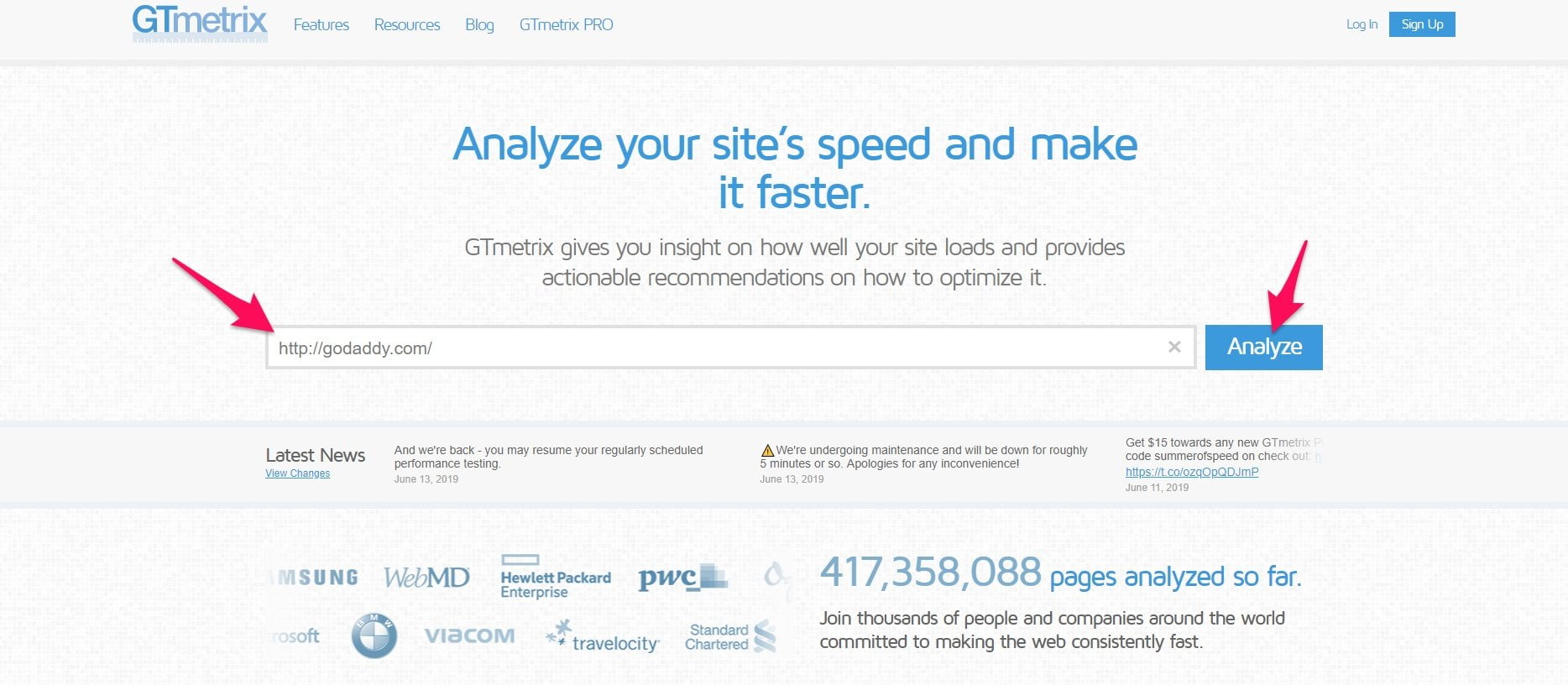 It will analyze it and display the results on the following page.
The performance scores consist of PageSpeed and YSlow. Next to this are page details like time to fully load, requests, and page file size.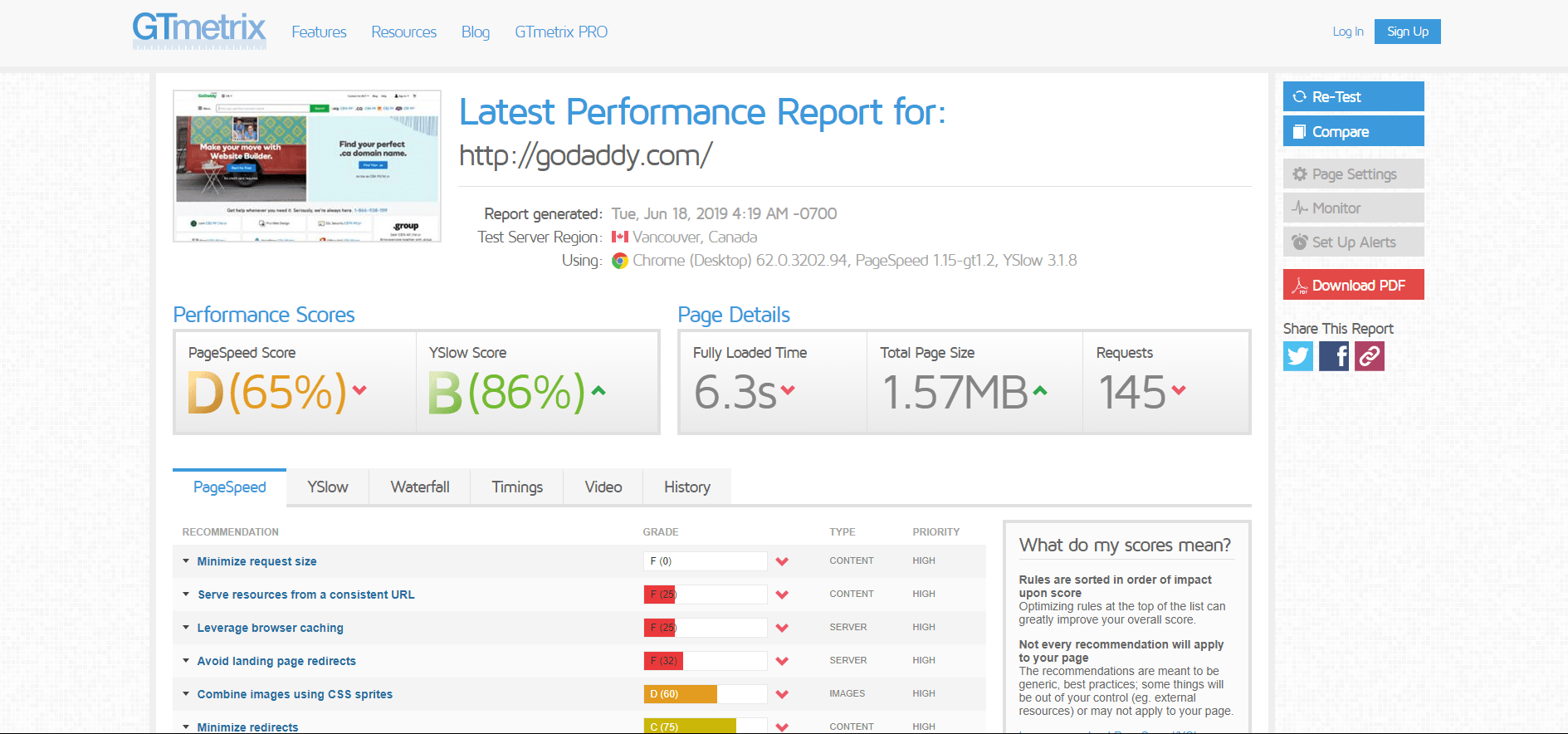 Note that the average PageSpeed and YSlow scores are 72% and 70%, so use those as benchmarks.
Most importantly, the section underneath the scoring tells you exactly why you scored the way you did.
Fix these problems, and you are guaranteed to see an improvement in website speed.
You might be thinking "Why does page speed matter?" and I'll tell you why.
Google ultimately wants the best experience for their users, and if your website sucks, it isn't going to make the cut.
The title tag of a website explains to search engine crawlers what your page is about.
This helps them index and filter your content.
You don't need to go deep into website code to edit title tags, either.
You can use a plugin like Yoast to effortlessly edit these elements of a web page.
If I scroll down in WordPress as I write this, there's a section to edit the title and meta description.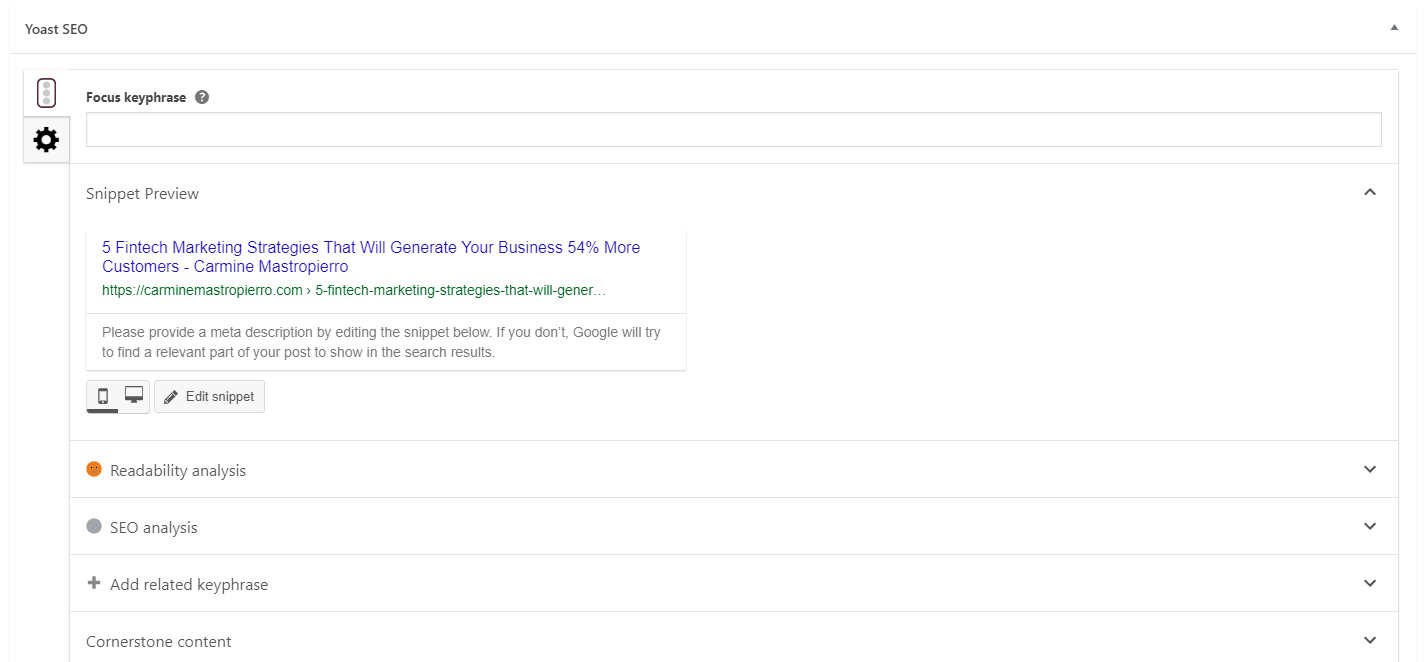 Title tags should preferably include a keyword that you're targeting.
Use a tool like Ubersuggest to find search terms to center pages and content around.
This will help you rank for them, increasing organic traffic.
Meta descriptions should also have keywords in them, but not for the same reason.
They won't help you rank directly, but rather indirectly.
This is because keywords are bold in meta descriptions, and can help increase the click-through rate of your listing.
If I search for "gtmetrix," notice how that term is bold in this meta description:

Complete an audit checklist
The amount of things that go into good on-page SEO would keep us hear for months talking about it.
That's why I recommend you check out Chase Reiner's SEO audit template.
It's completely free and will guide you through perfecting a website's search engine optimization.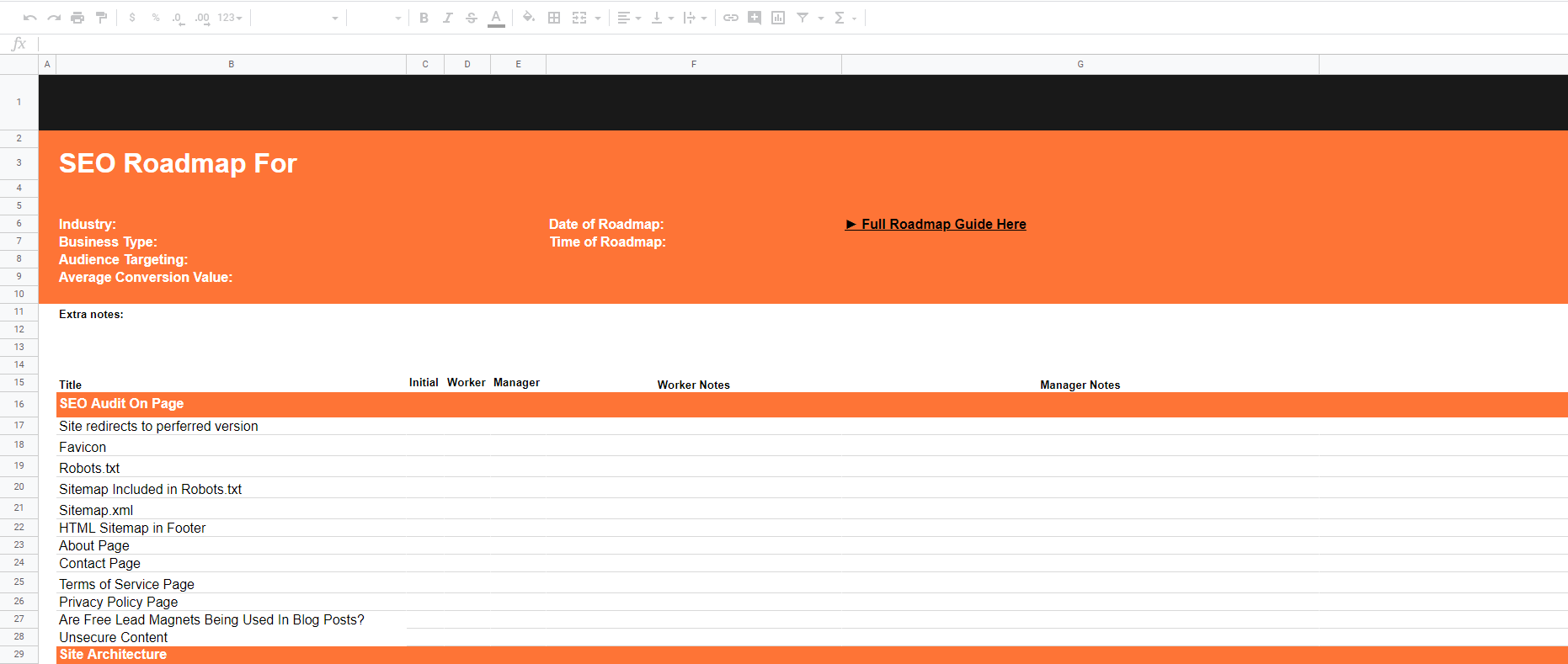 If you don't know what certain terms like Gzip compression mean, simply research it and you'll quickly find a way to implement it.
Frankly with so many tools available these days, you can fix a lot of issues in the click of a button.
For example, SEO plugins for WordPress will include caching, JS/HTML minimizing, schema markup, and more.
Fintech email marketing
Emails have an average open rate of 22.85% and click-through rate of 3.71% across all industries.
On the flip side, social media engagement is 0.58% on Facebook, Instagram, and Twitter.
You need both, but email marketing remains as one of the most effective channels to reach an audience.
Here's how to grow your fintech company through email.
Step 1: Pick your poison
There is no shortage of email marketing tools out there for you to use.
I personally use Mailchimp, but I suggest testing a few to determine what suits your needs the best.
And I'll be frank with you…
They mostly all do the same thing.
As long as you can create forms, popups, add lead magnets, and ultimately grow a list, you're go to go.
Here are some to consider:
Connect your email and create a list with whichever tool you choose.
You can then move onto the next step.
Step 2: Integrate forms and a lead magnet
Once you have chosen a software, the next step is to add forms to your website so users can opt in.
These can be placed in the footer, side bar, other locations, or in the form of a popup window.
Make sure to follow these newsletter form best practices, too:
Simple: Forms should have a simple design and require basic information. The more complex you make it, the less likely users will be to fill it out.
Off an incentive: Create a free e-book, white paper, or other resource to offer in exchange for signing up.
Use a call to action: Add a statement like "Sign up now" to promote users taking action.
Add social proof: Display how many subscribers you have to prove that you are a trustworthy business.
Consider split testing these elements over time to determine if you can increase how many users subscribe.
Some times a small change in text or design can make a huge difference.
Remember that people are signing up to your newsletter for the latest news.
That doesn't mean you can spam them with products and promotions.
Always focus on the 80/20 rule, meaning that 80% of your newsletters are value oriented.
Blog posts, videos, stories, discounts, etc are all forms of value you can send to subscribers.
The remaining 20% of the time you can use to promote products and services.
This will ensure that you keep users happy and don't churn them by being too sales-like.
Furthermore, 34% of people will unsubscribe after the first 30 days and this increases to 44% within the first year.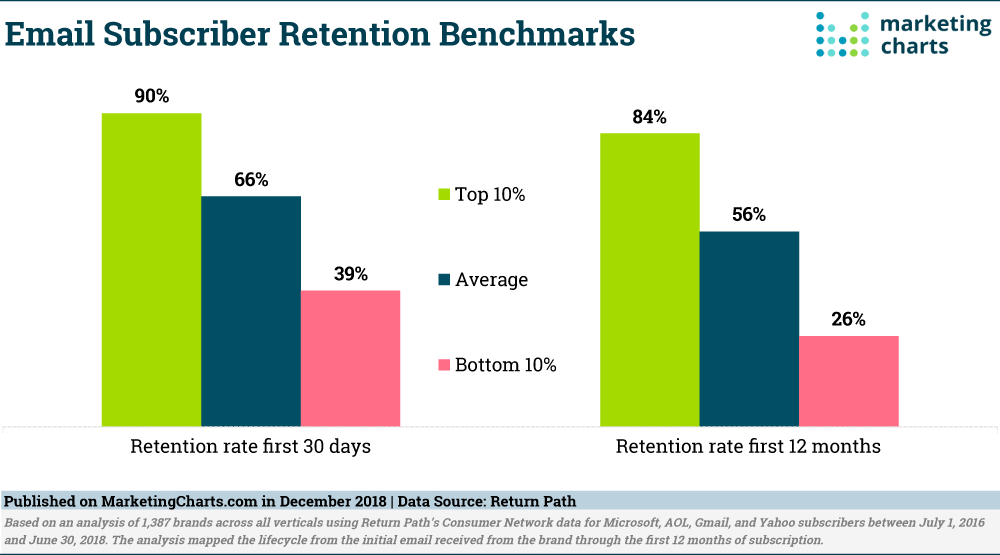 This is why it's of upmost importance that you treat subscribers kindly and respect their inbox.
Wrapping up fintech marketing
The fintech industry is exploding.
Don't be one of the companies that's stuck in the stone age with old marketing tactics.
Apply the following takeaways to increase your traffic, revenue, and leads.
Key takeaways
Use content marketing to grow the authority of your business. Establish a regular publishing schedule and routine for the best results.
Optimize your web pages and content for search engines. Page speed, title tags, meta descriptions, and other little elements add up to increase rankings.
Use an email marketing software to build a list of subscribers you can use to promote content and services.