Using a CRM will save you time, money, and energy by optimizing different processes in your business.
They can be used to generate high quality leads, nurture relationships with customers, and keep all of your company's contacts organized.
It doesn't matter if you're a one man team or a have 50+ employees, a CRM is going to be essential once you hit a certain point.
In fact, 91% of businesses with 10+ employees use a CRM.
You won't be able to manage outbound sales and customer relations by yourself, which is where this type of software comes in to save the day.
I've experimented with quite a few different CRM's, but recently I've switched over to AgileCRM.
I'm really impressed so far, and I think I'll be sticking with them for a very long time.
That's why today I'm doing an honest and simple AgileCRM review from the eyes of an entrepreneur scaling his company.
Enjoy 🙂
What is AgileCRM? (And how to get started)
AgileCRM is a customer relationship management software that allows you to sell and market like a Fortune 500 company.
It gives you all of the tools and features needed to grow relationships, acquire clients, and more.
The business was founded back in 2013 by Manohar Chapalamadugu, and they now have over 290 team members.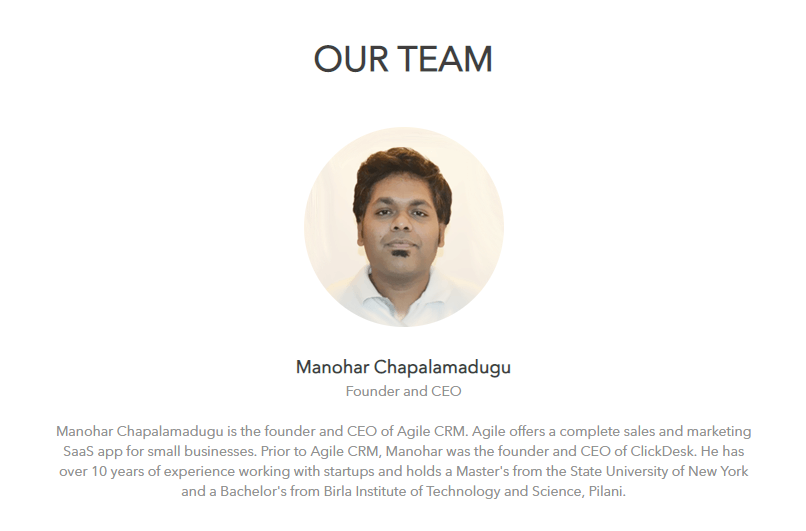 You can sign up for an account by clicking the blue "Get Started" button on the top right of their website.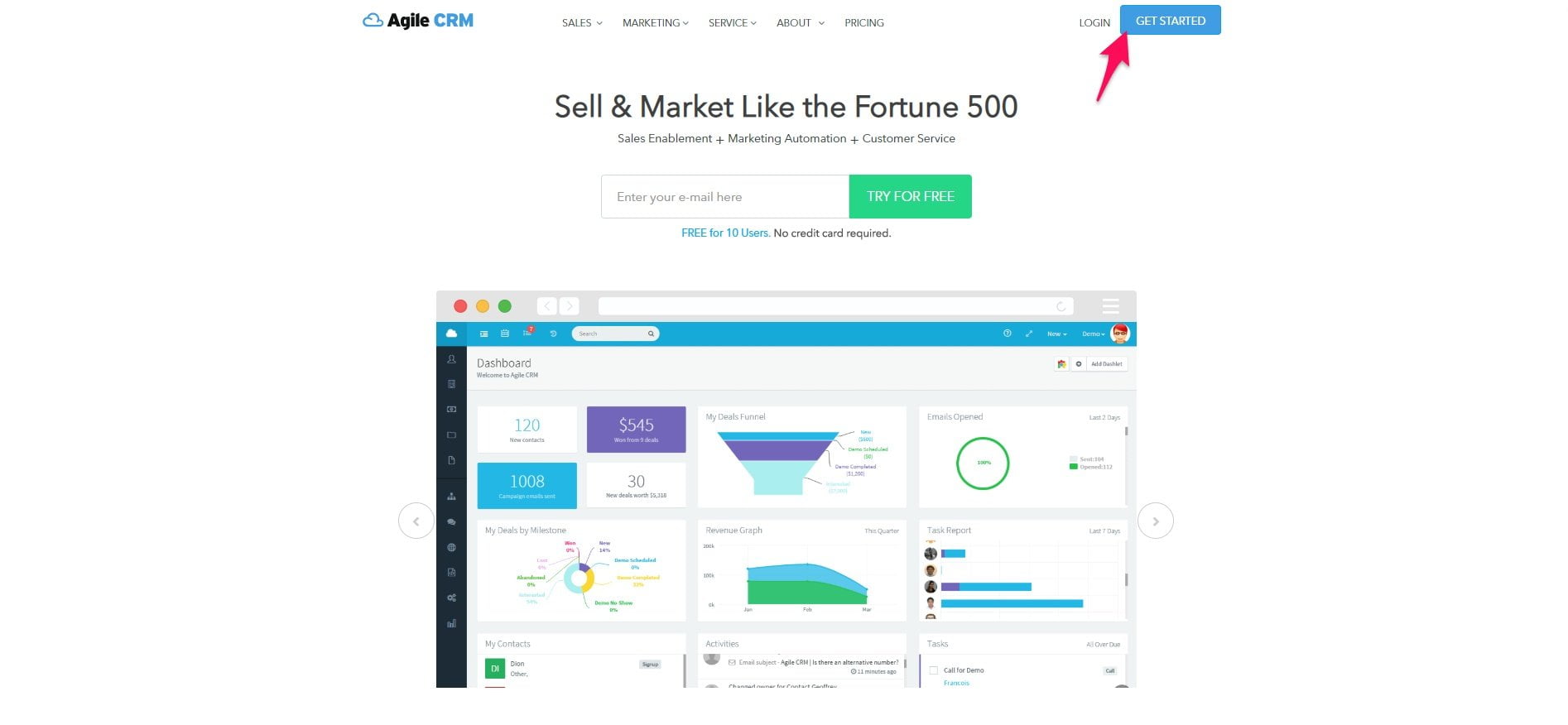 Enter a custom domain name, your full name, email address, and set a secure password.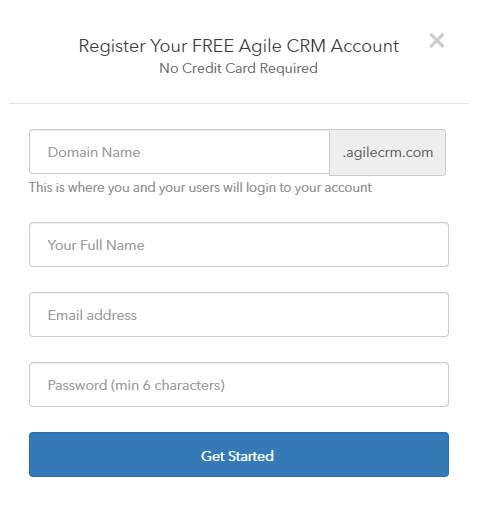 You will be launched directly into the platform once you sign up.
This is a nice break from platforms that require you to enter credit card information, hop on a phone call, etc.
You should see a dashboard like this: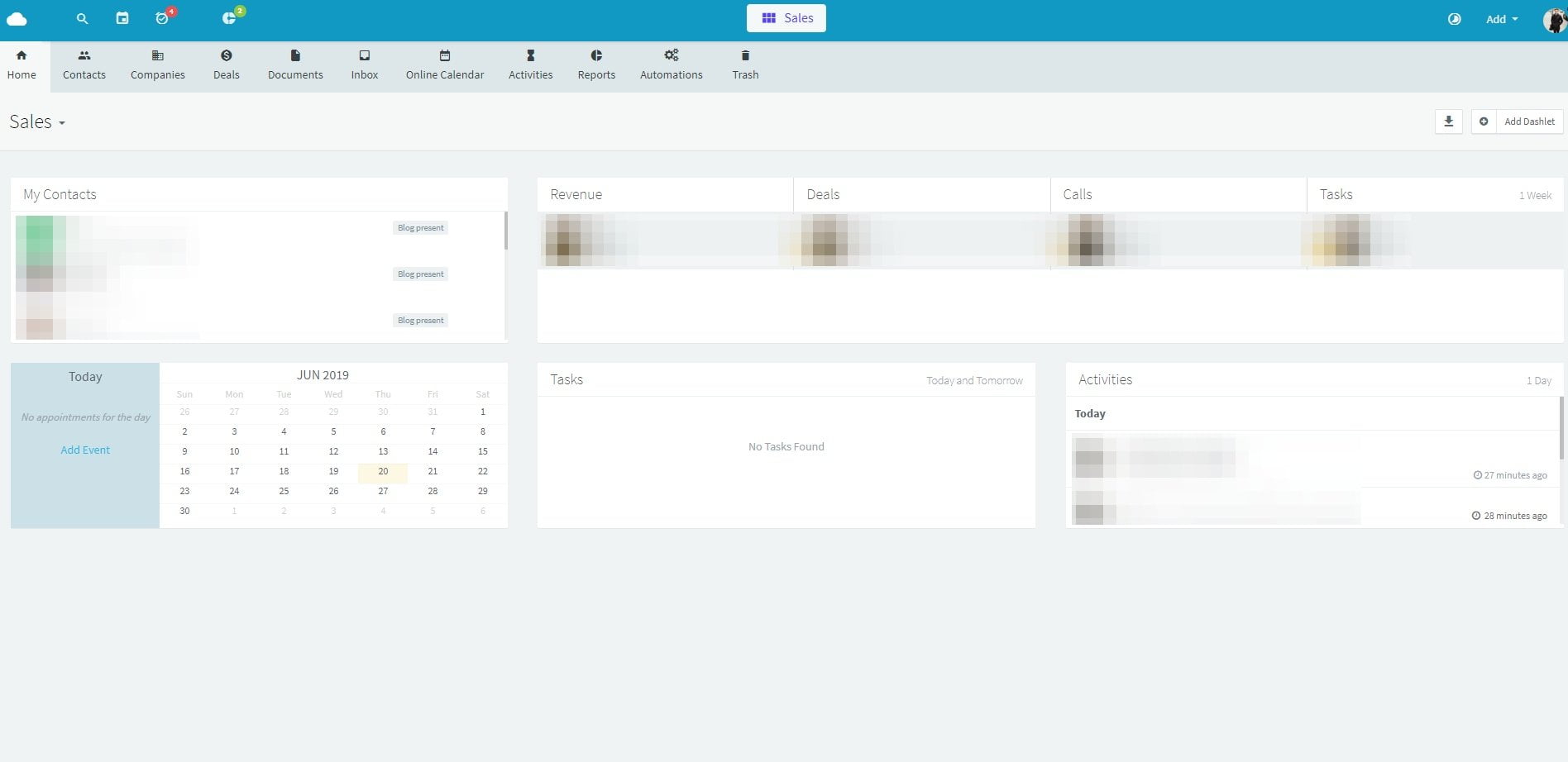 The top navigation is where you will find your contacts, automation campaigns, reports, and other important pages.
I was very impressed by the simple UI and how easy it is to use this CRM compared to others I've tried.
It's straight forward and you'll become a master at using it very quickly.
By default the dashboard displays your contacts, calendar, tasks, activities, and sales metrics.
Click "Add Dashlet" in the top right to begin customizing your dash.

Here you can extra graphs, charts, and data to improve your workflow.
Next, head over to the "Contacts" tab to begin adding contacts to your database.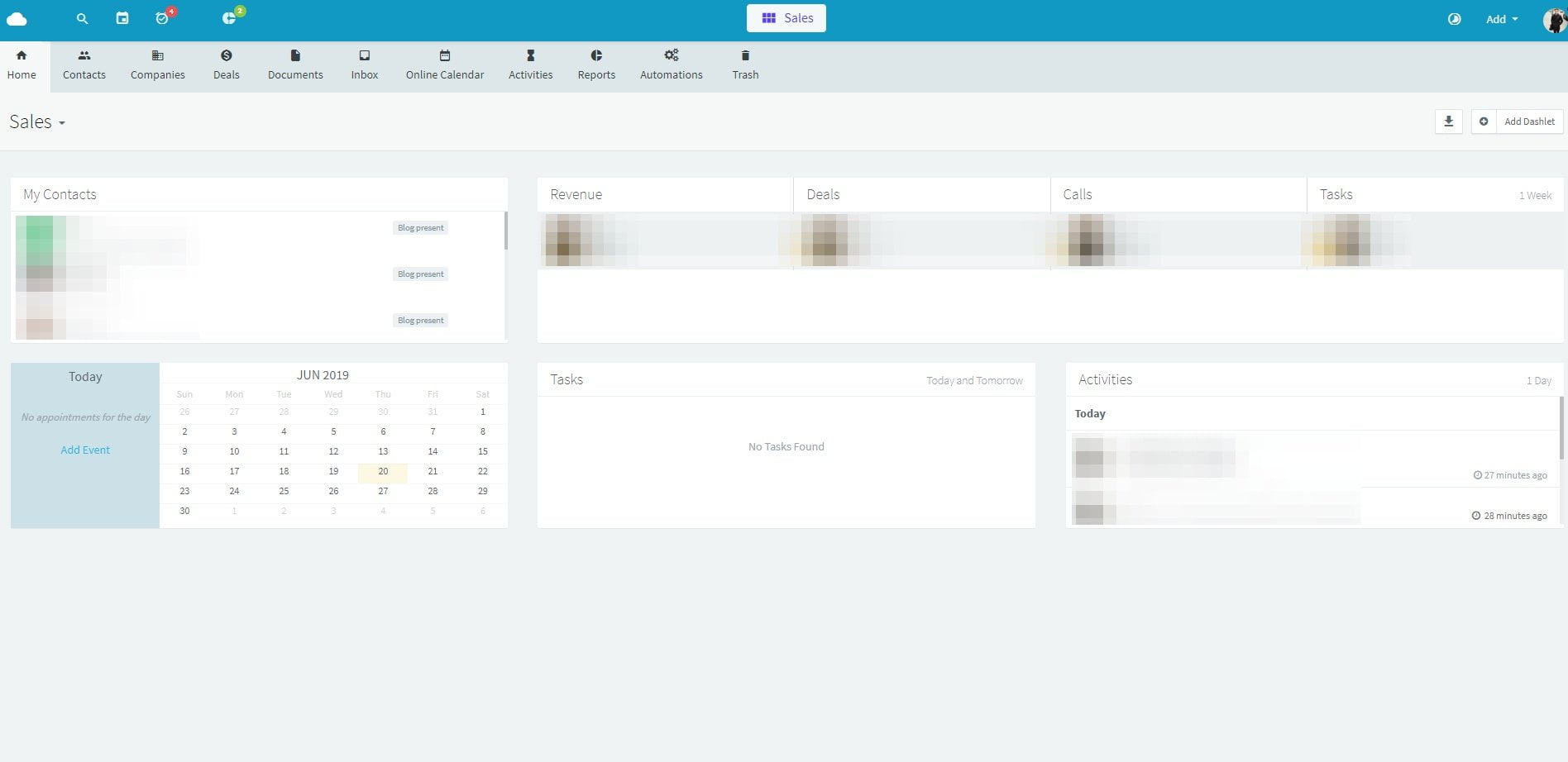 Click "Add Contact" from the top right, then enter the information manually or import a file.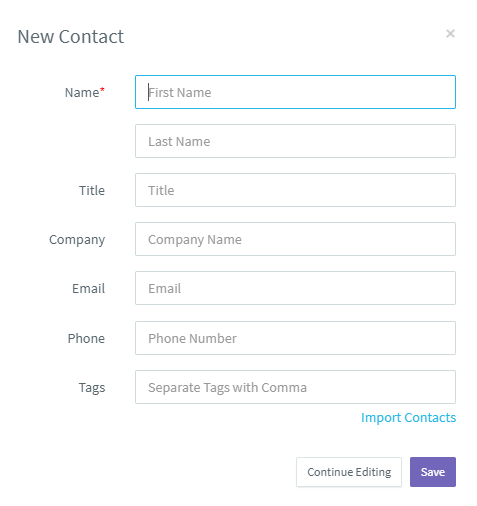 I find that the importing feature is very fast, as well.
You can download a sample CSV file to see how they organize columns and which mergers to use.
I really enjoy the convenience of bulk editing contacts, too.
For example, you can select the checkbox next to specific prospects and appoint tags to them for improving organization.
Overall the software is built to save you time and make life easier as a marketer or sales team.
Lastly, let's head over to the automation tab. This is where the real magic happens.
Click the "Go" button on any automation event trigger that you want to start your campaign with. (You can always change it later, don't worry)

This will take you to their drag-and-drop automation builder.
Drag any trigger or action from the left sidebar out onto the blank template.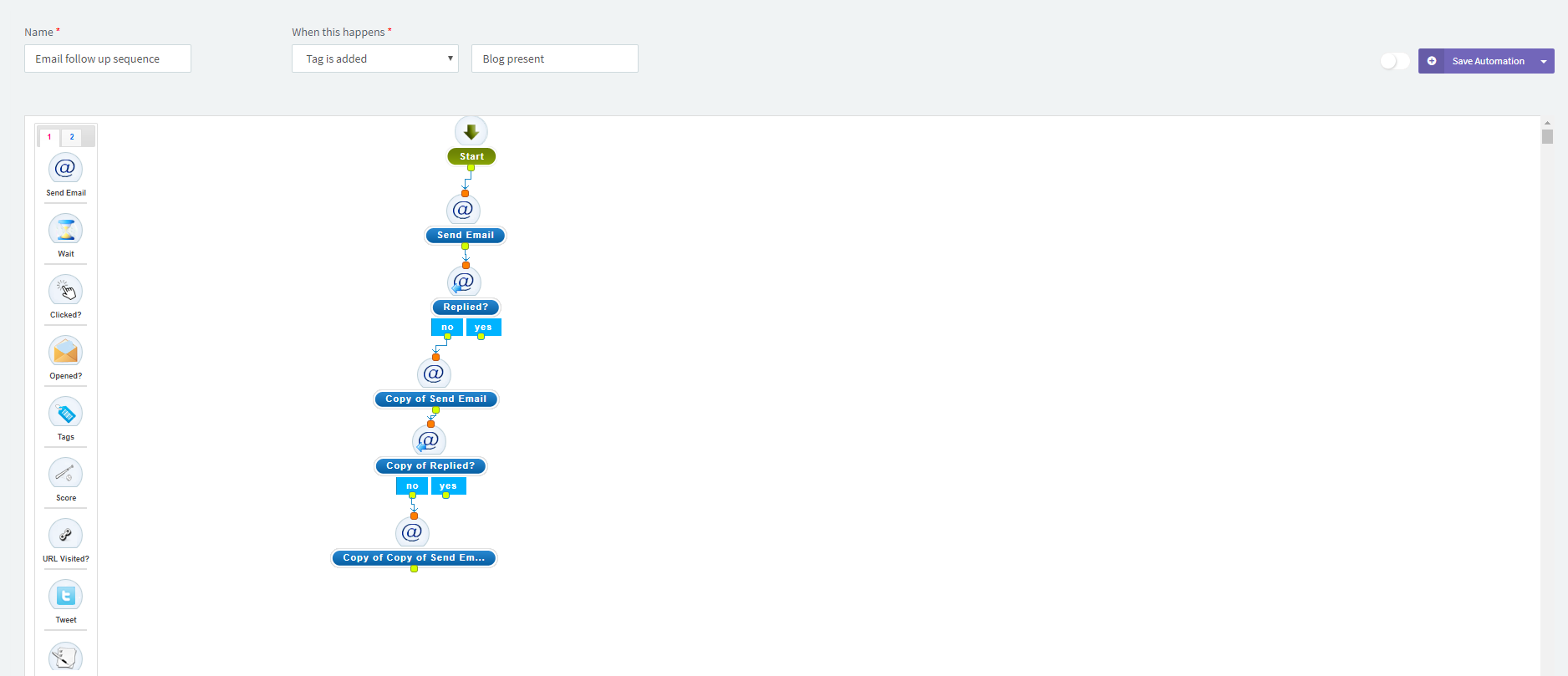 A campaign name and trigger can be set at the top, as well.
Double click anything you drag out to edit its individual settings.
You are able to add up to five nodes with the free version of AgileCRM, which many of you may find is enough.
Let's talk a little about how much AgileCRM is next.
AgileCRM pricing
Here are the current plans for AgileCRM as the time of this article: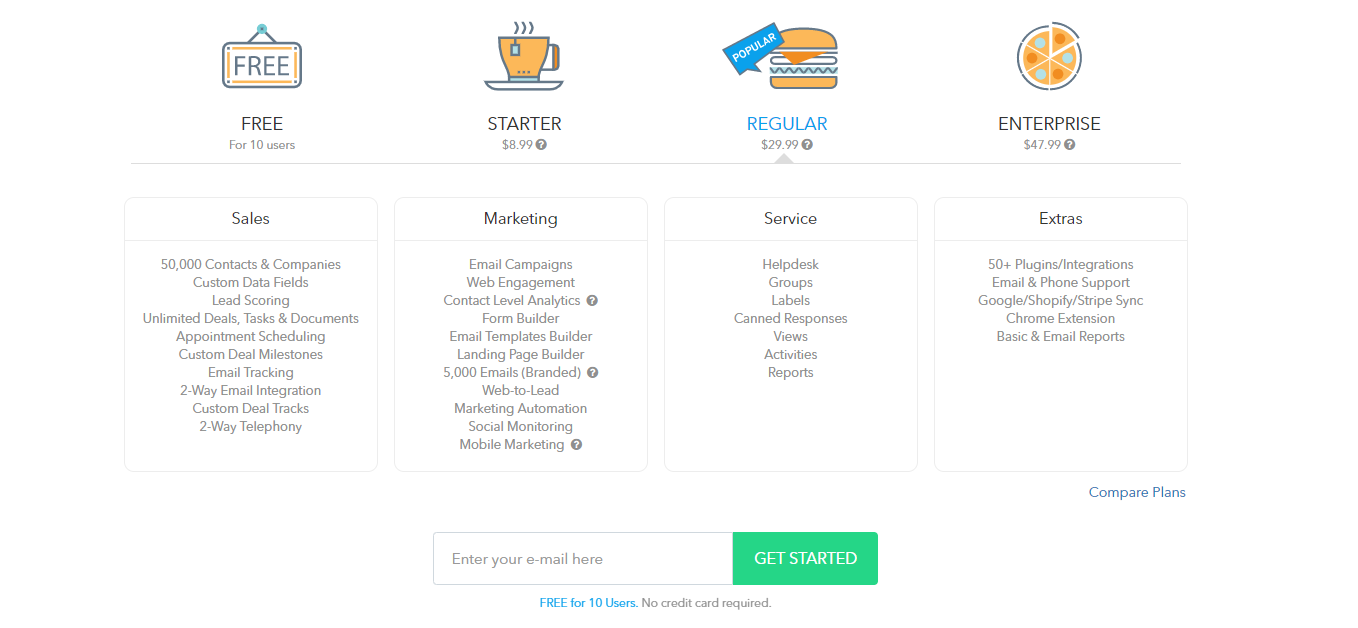 The free plan allows you to add up to 50,000 contacts, score leads, automate processes, and have up to ten users.
Even if you require more power than that, it's wise to try it out to see if it's right for your company before investing into one of the paid plans.
And that's where things get even better.
You don't need to dish out $100+ per month like other CRM's, as their starter plan is only $8.99/month.
The regular package is $29.99/month, and enterprise is only $47.99/month!
It goes without saying that AgileCRM has the best pricing around for this type of service.
Let's touch on the features of their CRM a bit more next.
AgileCRM features
Email marketing
Do you use email marketing for lead generation or driving sales? If so, you'll love AgileCRM's built-in email tools.
You can send out professional and customized emails with their prepackaged templates.
This will save you time from having to manually design emails, and you can merge contact data directly into them, as well.
Personalization is huge right now in marketing.
Nobody wants to feel like they're just another number in an email list.
AgileCRM will add personality and sincerity to email campaigns thanks to their merger attributes like first name, company name, etc.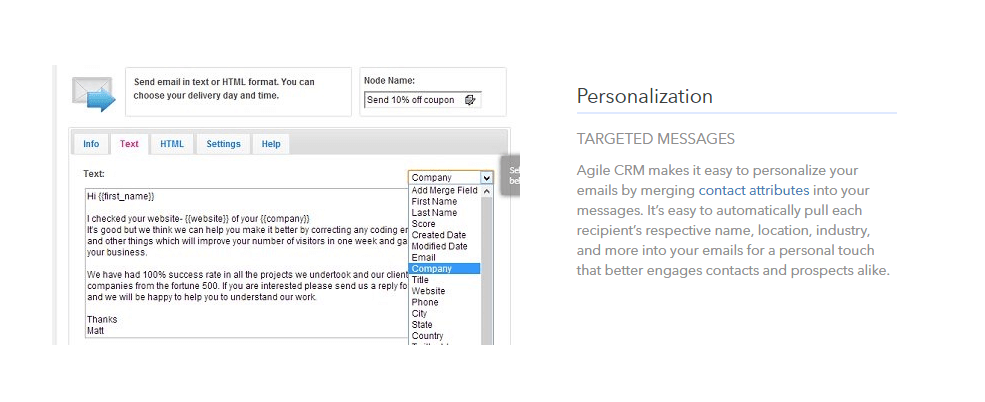 Seeing as 75% of consumers are more likely to buy from brands that personalize messages and recommendations, you could effectively drive more sales thanks to this feature.
Other email marketing features include:
A/B split testing to find the most optimal subject lines, messages, etc.
Reports and analytics for deeper insight into campaigns.
Lead scoring to discover which companies or prospects are most likely to convert.
Landing page builder
Landing pages are ideal if you sell products, services, or need to capture the information of users.
However, designing them is a whole other ball game.
The user experience and marketing knowledge that's needed to optimize landing pages can years to accumulate.
This is exactly why most businesses opt for landing page builders like the one AgileCRM offers.
You will gain access to a library of free templates that are built for different needs like customer retention and Google Ads campaigns.
Web forms can be directly integrated to improve lead generation, and a built-in code editor allows you to make customized changes.
Live chat
AgileCRM's live chat software allows you to have conversations with customers, have several agents handling tickets, and boost the customer service experience you offer.
You will get email notifications when a new chat is active so you never miss out on conversations even if you're away from your computer.
This is nice because you can stay in touch with customers from your phone and other mobile devices.
Backend data and reports also allow you to optimize live chat and discover what strategies are working or under-performing.
My experience so far
I'd like to give you some further background information about myself.
I was using HubSpot, which is amazing by the way, for the past 6+ months purely for lead generation.
I would curate lists of prospects from databases and with tools, then plug them into HubSpot.
My main focus was cold email campaigns, so I would manually send out emails and follow ups.
I have a really good system down pat, but I was doing everything manually.
While I was getting plenty of clients from my outbound efforts, I knew I needed to work smarter, not harder.
The HubSpot plan I originally looked at was $50/month, which isn't too bad.
However, I decided to look around to see if I could find alternatives because the main feature I needed was automation.
That's when I came across AgileCRM.
I can honestly say it's the best CRM in terms of prices and features. I'm not affiliated with them in any way, and this article doesn't have any affiliate links.
I'm just a marketer like you, and this tool has really helped me out so I wanted to talk about it.