For every $1 you spend on email marketing, you can expect to generate $38 in return.
But if you want those kind of results, you'll need a great tool to help you manage campaigns and automate some of the process.
That's where Mailchimp comes in.
I've been using it this tool for several years now, so I'm going to be giving it an honest review.
This is based on my personal experience, online reviews, and objectively what Mailchimp has to offer for businesses.
Let's dive in!
Mailchimp pricing
Price is a big component of whether you choose a tool or not as a marketer.
You don't want to break the bank and you want your moneys worth.
It's only fair.
So, let's take a look at how much Mailchimp is.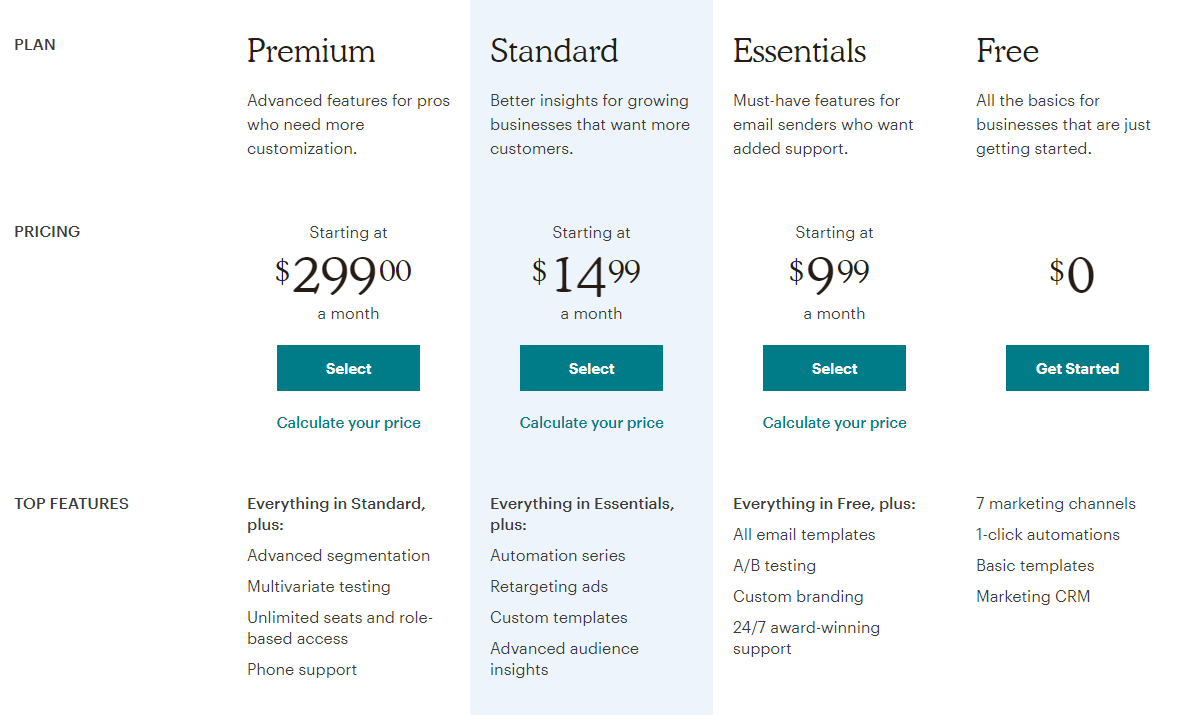 Unlike some email marketing tools, Mailchimp offers a free plan that gives you basic templates, their marketing CRM, automation features, and seven different channels to reach customers through.
This means that you can try Mailchimp risk free to see if it's right for your business.
Their second plan, Essentials, is priced at $9.99/month, and gives the additional features of custom branding, 24/7 support, access to all email templates, and A/B testing.
Mailchimp's third plan, Standard, can be purchased for $14.99/month. This offers everything in the Essentials plan along with re-targeting ads, automation series, custom templates, and advanced analytics.
Lastly there is the Premium plan for agencies and larger companies that need a ton of power behind their email marketing campaigns.
It's priced at $299/month, but includes features like:
200,000+ contacts
Advanced segmentation
Multivariate testing
Unlimited users and access settings
Phone support
Overall Mailchimp has very fair pricing.
Depending on how large your email list is and the exact features you need, you're sure to be satisfied with one of their packages.
Let's move onto the main features of their service now.
Mailchimp features
Mailchimp organizes their features into the following categories.
Audience
Segmenting and understanding your audience is crucial for successful email marketing.
This is why Mailchimp has powerful audience marketing tools built into their platform, such as:
Segmenting

Not every subscriber is going to engage with a newsletter or email in the same way.
So, if you want to maximize click through rate, open rates, and other important KPIs, segments need to be made.
These are simply different groups of subscribers that are organized based on demographics or behaviors.
Mailchimp is equipped with pre-built segments that are ready to use of the box.
These include repeat customers and inactive subscribers, allowing you to quickly message different groups of users individually.
If you have the Premium plan, you will also gain access to advanced segmentation which offers more conditions to divide subscribers.
Tags
Very similar to segmenting is the tagging feature in Mailchimp.
This enables you to add small comments to individual users and groups like "social media influencers" or "repeat customers."
It's small but handy feature to keep you organized.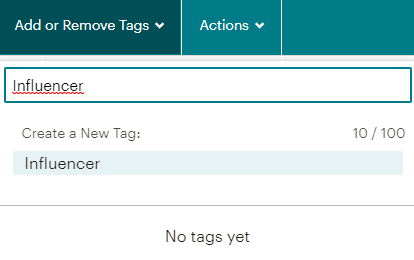 To create a tag, you click the "Add or Remove Tags" button while on your subscribers list and give it a name.
It will then be saved to apply to other users if you wish.
Brand
Mailchimp helps businesses make their unique brand shine through emails and marketing campaigns.
This way you stand out from the crowd and subscribers feel a better connection with your company.
Here are some of the main branded related features you'll love about Mailchimp.
The Content Studio
Content Studio is Mailchimp's very own content management system that will store all of your media and files on one location.
You will be able to easily navigate through to find videos, pictures, and other media you need for campaigns on the fly.
If you run an e-commerce store, Mailchimp extracts all of your product photos to easily use in emails, as well.
Additionally, you can upload a logo and it will be used for future campaigns across all channels.
It's very important to keep consistent branding, as users will feel familiar and comfortable with your business.
If you have a team of people working on email marketing, you'll be pleased to hear the several users can work on a campaign at once in real time, as well.
Templates to make your life easier
No coding.
No design experience required.
Mailchimp gives you professional and optimized templates that work right out of the box.
You don't have to spend hours designing content because most of the hard work is done for you.
They can be customized to suit the goal of any campaign, whether it's welcoming subscribers, promoting new products, or telling a story.
Campaigns
Do you run marketing campaigns through several channels, and not just email?
Wouldn't it be nice to manage those one from location and integrate them together?
Here's how Mailchimp achieves that and more.
Email
The main channel Mailchimp will help you communicate with customers through is email.
You can create a variety of different email opt-in forms, including popups and sidebars.
Emails can be designed instantly with their user-friendly drag-and-drop system paired with templates.
Drip campaigns can be made to save you time, as well.
Along with their analytics system, you can gradually test, refine, and optimize email marketing strategies with real-time data.
Social media
Social networks are the new television.
Don't believe me? Just look at how fast the global social media user base has grown year over year: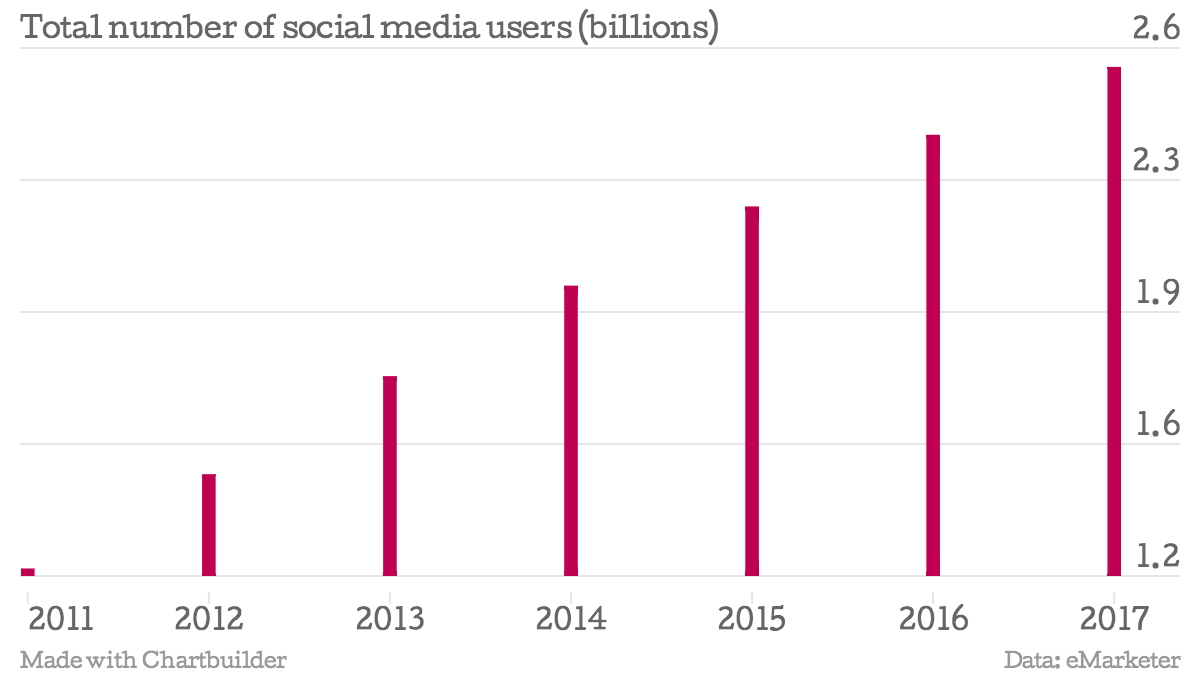 Not using social media marketing in today's age is practically a crime.
This brings me to my next point about Mailchimp's social media capabilities.
You can create social media posts on Mailchimp and post them directly to networks in the click of a button.
Reporting displays how followers are engaging with content, giving you a better idea of what they like to see.
Boost good performing Instagram or Facebook posts, and integrate products directly into social media content to drive sales if you're an e-commerce business.
Digital ads
Do you run PPC campaigns like Facebook, Google, or Instagram ads?
If so, you'll benefit from Mailchimp's ability to help you re-target users to boost revenue, reach new people, and bring back customers.
You can look forward to growing more relevant email lists while targeting higher quality people in pay per click campaigns.
Mailchimp alternatives
Maybe Mailchimp isn't for you. That's okay!
There are plenty of alternatives to their platform that might be up your alley, so let's talk about a few of them to see if they spark your interest.
OptinMonster
OptinMonster isn't just an email marketing platform, but a conversion optimization toolkit.
They give you all of the tools you need to boost traffic and revenue in one central location. This also saves you from having to purchase several different pieces of software or services.
And what do you get with OptinMonster? Here are some of the main features:
Drag and drop builder: Create professional and optimized landing pages, opt-in forms, and popups in minutes. You don't need to know how to code, saving you plenty of time and energy.
Multi-step campaigns: Launch multi-step campaigns that give users more options. These are proven to increase conversion rates up to 18%!
Triggers: Take advantage of a variety of campaign triggers like scroll distance, exit intent, timed, and others.
Targeting: Onsite retargeting, recovering users who have AdBlock, geolocation targeting, and more allow you to laser in on specific groups of customers.
Integrations: OptinMonster seamlessly integrates into any major platform like Shopify and WordPress. It's very easy to set up and connect to any website, as well.
Constant Contact
Constant Contact is a well-rounded email marketing automation software that also helps you manage e-commerce and social media processes.
Here's a few of their main features that stood out to me while I researched them for this article:
E-commerce email marketing: If you run an e-commerce business, you NEED to be collecting emails. These help you market towards users that haven't converted and also reach previous customers have checked out. These different kinds of audiences need to be spoken to in different ways, and Constant Contact will help you generate more sales with their e-commerce email integration.
CRM: Constant Contact has a refined and simple-to-use customer relationship management system built into the software. This helps managing your contacts, updating files, and related tasks easier than ever. In fact, 98% of emails sent using their service reach inboxes!
Mobile marketing: Mobile devices are the go-to way to view anything on the internet. This is precisely why you'll gain access to the Constant Contact mobile app to complete your email marketing on the go!
ActiveCampaign
ActiveCampaign is a full blown marketing automation service that will take care of your email, sales, and messaging tasks.
They also offer machine learning to constantly enhance your campaigns and fix issues you may have not have noticed otherwise.
Let's take a look at some of the main benefits of using their platform.
Messaging tools: Staying in touch and being able to have conversations with customers helps you build relationships and trust. You can add SMS marketing, live chat, and personalized emails to your campaigns to achieve this.
Machine learning: How much data do you see or handle on a daily basis? Think about all of the analytics and dashboards you view to get what I mean. Now imagine having a tool that told you what to do with it. Active Campaign will help you find the best time to send emails, the highest quality subscribers, and other key metrics thanks to their machine learning system.
CRM: Why juggle a few tools when you can combine them? ActiveCampaign has an advanced CRM businesses can use to launch email campaigns, follow up, manage contacts, and more.
Is Mailchimp free?
Yes, as I discussed earlier in the pricing section of this article, Mailchimp does offer a free plan you can use to begin email marketing and getting a feel for the software.
This also creates the opportunity to test the platform before investing any money.
Is Mailchimp GDPR compliant?
Yes, Mailchimp is indeed GDPR compliant. Unless you've been living under a rock, you should know by now that Europe passed a law called General Data Protection Regulation.
This law regulates how companies collect and use their customer's data. Even if you're not in Europe, the law applies to you if you have European contacts within your lists.
With that being said, Mailchimp offers the following features related to GDPR:
GDPR compliant form templates that say consistent with your brand and message.
Data requests like opt-ins and opt-outs are automatically sent to you via notifications, allowing you to take action quickly. Subscribers who opt out of your list remain anonymous but their data stays so you can still measure performance.
Security features like two-step authentication, privacy policies, and more keeps the Mailchimp platform itself safe and reliant.
Is Mailchimp a CRM?
While Mailchimp started out as an email marketing tool, it has evolved into a fully-fledged customer relationship management software.
This means you can use it to cultivate relationships with customers, drive sales over the long term, and stay on people's radar. It's also excellent for following up and keeping your pipeline full.
You will be able to do things like:
Organize all of your leads in one location to improve workflow and productivity.
Create segments and filters to narrow down different audiences.
Analyze patterns and trends through the Mailchimp dashboard.
Set up campaigns that are tailored to your audience's needs.
Is Mailchimp good? What the reviews say
My experience with Mailchimp is flawless, but I'm just one guy. Let's look at what other reviews have to say about Mailchimp's performance.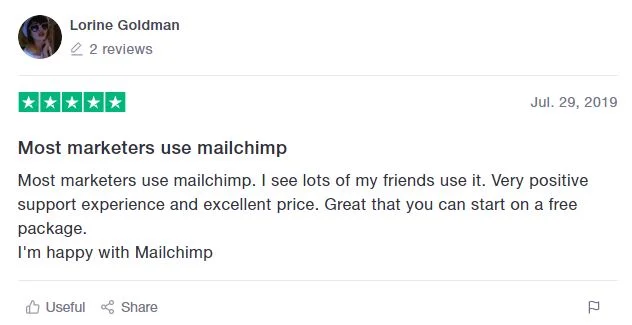 This first Trustpilot review has nothing but good things to say about Mailchimp. Their positiive include good pricing, customer support, and a note on the free plan.
However, not all honey is sweet.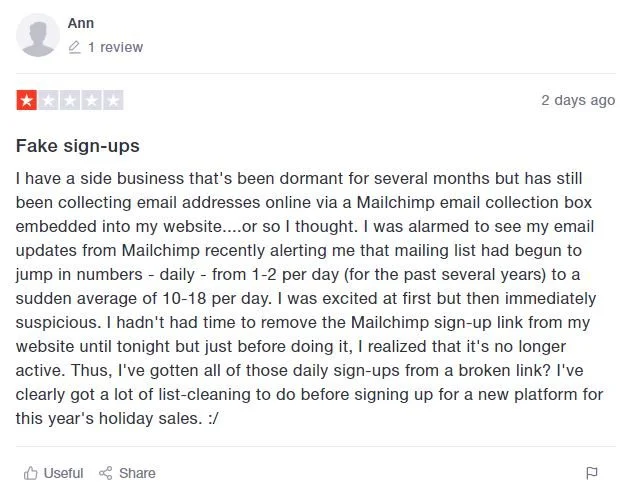 This review had other things to say. Apparently, Ann was very excited to see that an old list was gaining a lot of activity but later found out the signup link was broken. Thus, the subscribers weren't getting implemented into any list.
Truthfully, I think it's her fault. A bit of due diligence could have avoided that.
Like any other bad review, you always have to remember that if you follow terms of service and know what you're doing, most bad situations will be avoided.
Bottom line on my Mailchimp review
You can't go wrong with Mailchimp, especially since they have a free plan to try out before investing any money.
The free package is more than enough for beginners and casual bloggers.
However, once your email list starts to grow and you need more features like A/B split testing, you have to upgrade.
Their paid plans are very reasonable and go much more beyond email marketing.
You can integrate PPC, landing pages, social media, and other channels all together to enhance many strategies at once.
Along with segmenting, analytics, and other nifty tools you gain access to, Mailchimp is a full stack email marketing tool I highly recommend.