AI tools are taking the internet by storm. And, if you don't understand how to leverage them, you will miss out on some serious money, opportunities, and growth.
In fact, the global artificial intelligence software market is valued at $70.94 billion!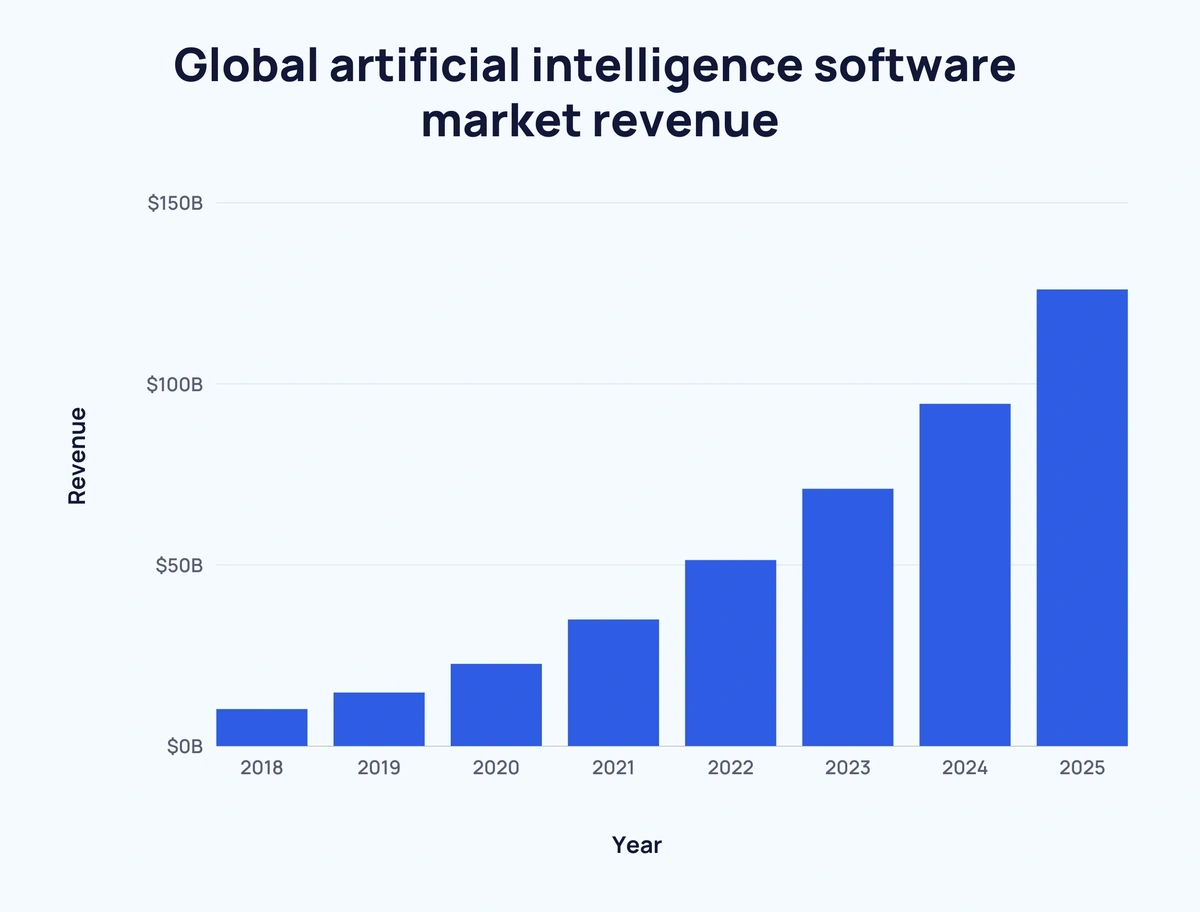 With that being said, two popular artificial intelligence tools are ChatGPT and Jasper. But, how do they differ? Who should use them? What are its features and benefits?
Continue reading this blog post on ChatGPT vs Jasper to learn!
What is Jasper.ai?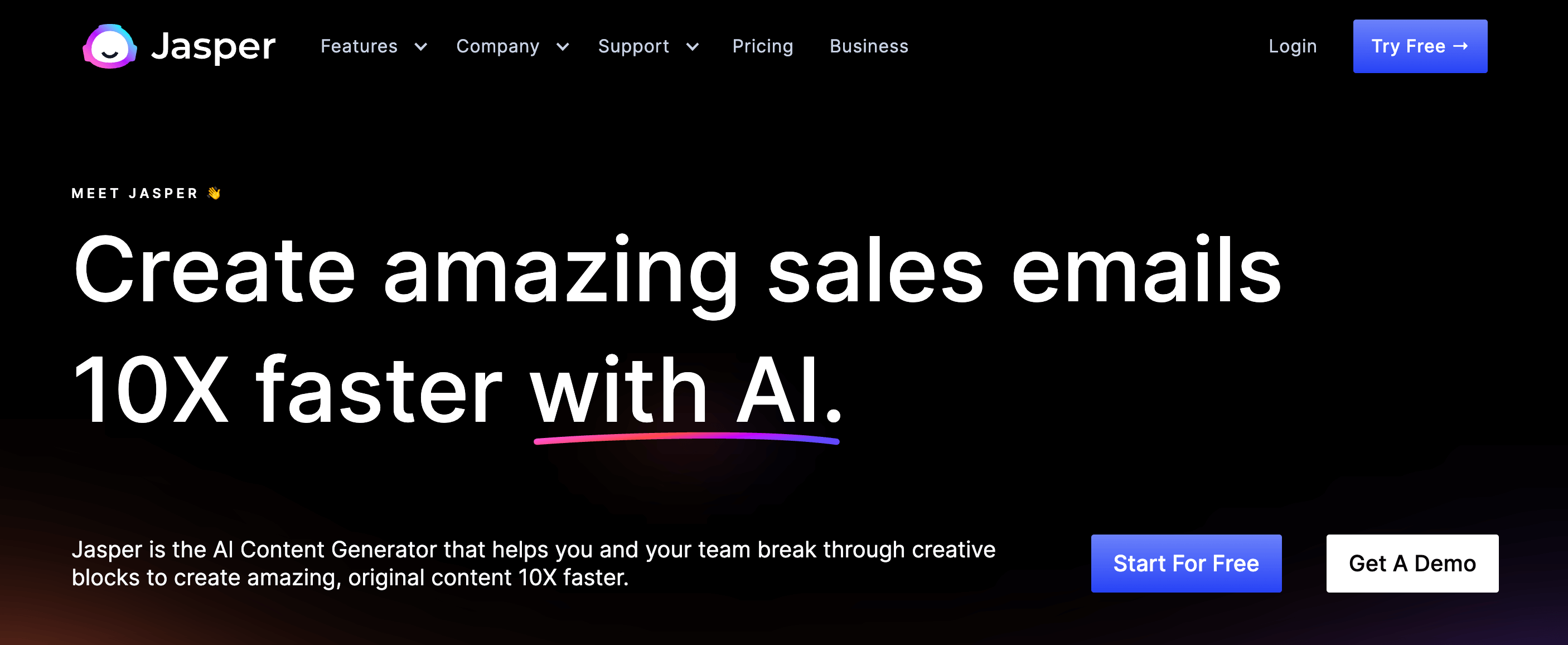 Jasper.ai is an AI platform that uses natural language processing (NLP) to help businesses automate marketing, copywriting, and other similar tasks. The company was founded on January 11, 2021, by Dave Rogenmoser and John Philip Morgan in Austin, Texas.
It's is a cloud-based platform that offers businesses an AI-powered copywriting assistant (named Jasper) to help them create content quickly and efficiently. I use it all of the time to generate ideas, craft engaging headlines, write effective emails, and more, all without needing to manually input any text or data!
Does Jasper Use GPT-3?
Yes, Jasper.ai does use GPT-3 technology; a combination of natural language processing and artificial intelligence. The platform is designed to help businesses automate the content creation process by using its AI assistant to generate ideas, create engaging copy, craft effective headlines, and more. This allows businesses to save time and money while still producing high-quality content.
Here's a great article on what GPT-3 is and how it works.
Jasper features

Jasper.ai is loaded with features to help you be a better marketer and copywriter. While it's just the tip of the iceberg, here are a few:
Automated copywriting: Jasper.ai's AI platform makes it easier for businesses to generate content ideas, headlines, scripts, emails, and more.
Search engine optimization: Jasper integrates with Surfer SEO to help you effortlessly optimize content for search engines and increase your organic visibility.
Generate ideas: Jasper.ai also offers an idea generator so that users can quickly come up with creative ideas and outlines for their content.
Artwork: The platform now allows you to generate artwork that can be used for social media, ads, and more.
Chrome extension: Take Jasper wherever you go on the internet with its free Google Chrome extension.
26 languages: Write content in 26 different languages including English, Japanese, Spanish, and Portuguese.
Explore all of Jasper's features directly on its website.
Who Should Use Jasper?
For businesses looking for a cost-effective solution to quickly create content without writing it by hand, Jasper.ai is the ideal solution. You will have dozens of templates to use for blog posts, advertisements, scripts, and more. Any business that produces content and copy on a regular basis needs Jasper.
How Much Does Jasper Cost?
Jasper.ai offers two pricing plans starting at $49/month when billed annually, which makes it an affordable option for small businesses and startups. This includes 50,000 word credits. The more words you generate each month, the more your monthly cost will increase, however. There is also a Business plan with custom pricing if you need more than 5 users, custom templates, and admin features.
Now, let's move on to the other main competitor in this Jasper vs ChatGPT comparison!
What is ChatGPT?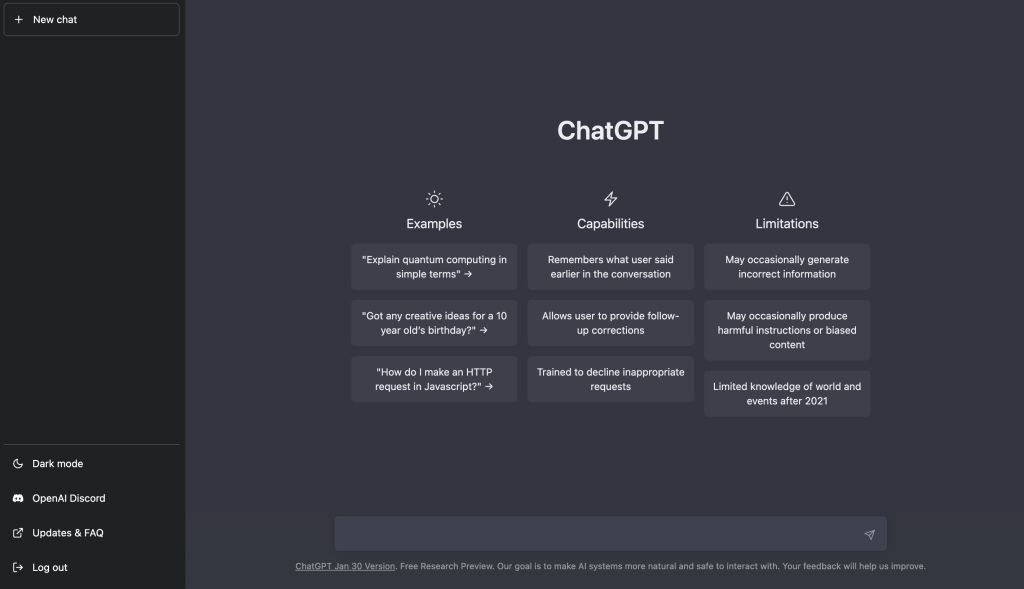 ChatGPT is an open-source chatbot framework powered by GPT-3 natural language processing technology from OpenAI. The framework was developed by Adam Geitgey during the 2020 quarantine period and has since gained a lot of traction in the developer community as it provides developers with an extensible template for creating custom chatbots with minimal effort.
Unlike Jasper.ai, which focuses on providing automated copywriting and marketing solutions, ChatGPT is more focused on being a conversational chatbot. It can help you research topics, create content, and come up with fresh ideas. It's very simple to use which is both a pro and a con at the moment.
ChatGPT Features
Open source platform: ChatGPT is open source, meaning developers have full access to the code and can customize it as much as they want. There are tons of software being built off of the back of ChatGPT nowadays.
Create code in seconds: Spin up code for websites, apps, and software without needing to write it yourself. This is something Jasper can't do!
Write content automatically: Write content for social media, blogs, and more similar to Jasper.
Get ideas for new projects: Ask ChatGPT to create content calendars, keywords, titles, outlines, or topics when you need to brainstorm.
It's easy to see that ChatGPT isn't as robust as its competitor, but it's still useful and should be in your arsenal.
How Much Does ChatGPT Cost?
ChatGPT is a free AI tool that can be used by anyone with a computer and an internet connection. However, they recently announced that there will be a $20 paid version available as well. This will give customers preferred access (it goes down sometimes), faster response times, and new features as they are launched. Keep an eye out for this!
Who Should Use ChatGPT?
ChatGPT is perfect for everybody. It doesn't matter if you're an entrepreneur, professional, or student, the platform can help you. Use it to come up with ideas, generate code, automate tasks, and do anything else you can imagine.
How is ChatGPT Different from Jasper?
Jasper focuses more on marketing and business applications. Take a look at their templates for example. You can see there are templates for YouTube, Instagram, blogging, and ads. This makes it ideal for freelancers, professionals, and business owners. Anyone involved in content creation and digital marketing can benefit from using Jasper.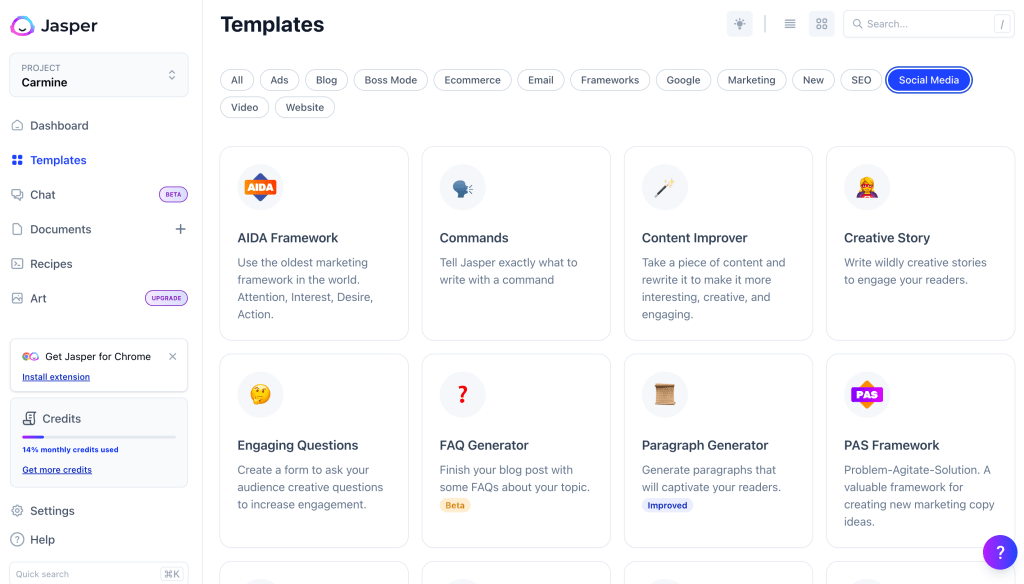 Wrapping Up ChatGPT vs Jasper
You need to know how to use AI tools if you want to keep up with modern technology and business trends. Otherwise, you will find behind other people or businesses that are more tech-savvy.
In particular, we're talking about ChatGPT vs Jasper. Here are the main differences between the two platforms so you can make a decision:
ChatGPT is currently free but has more limitations compared to Jasper.
Jasper has a free plan but will cost you monthly after it's finished.
Jasper includes templates for SEO, blogging, social media marketing, advertising, and more. It's overall much more robust.
ChatGPT may have a paid version in the future with more features and uses.
ChatGPT is ideal for professionals, students, business owners, and can be used for coming up with ideas.
If you want to see the power of AI writing yourself, try Jasper today.