Copywriting is an essential part of any online marketing strategy. However, creating high-quality content can be difficult, especially if you're not a natural writer.
That's where AI copywriting tools come in.
Jasper.ai is one such tool that has been gaining popularity lately.
I've been using it every day for over a year so I'm going to give my honest
In this article, we will take a closer look at Jasper.ai and its features, as well as compare it to other AI copywriting tools like Conversion.ai and Jarvis.ai
What is Jasper.ai? (Previously Conversion.ai)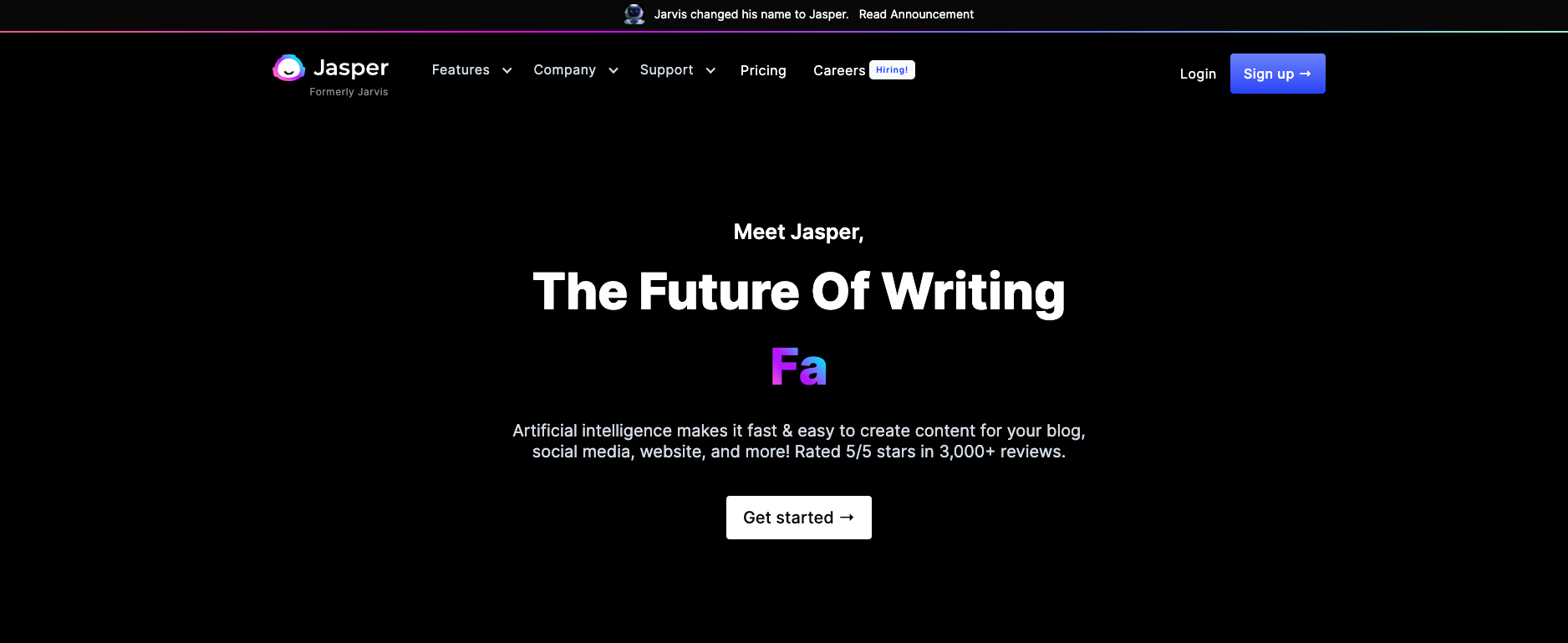 Jasper.ai is an AI copywriting tool that helps you create content faster and easier.
It's AI-powered writing assistant will help you improve the quality of your writing while also saving you time.
Jasper.ai is constantly learning and improving its capabilities, which means that it gets better at helping you write your content.
It will help you write:
Blog posts.
Google Ads.
Facebook Ads.
And so much more!
Why is Jarvis now Jasper?
You see…
Jasper had a slight boo-boo by naming itself "Jarvis" in the past.
Why?
Because while it seemed like a cool homage to Ironman, Marvel wasn't too pleased about it.
They end up getting a cease and desist as you can see directly on the Jasper website that explains it in further detail.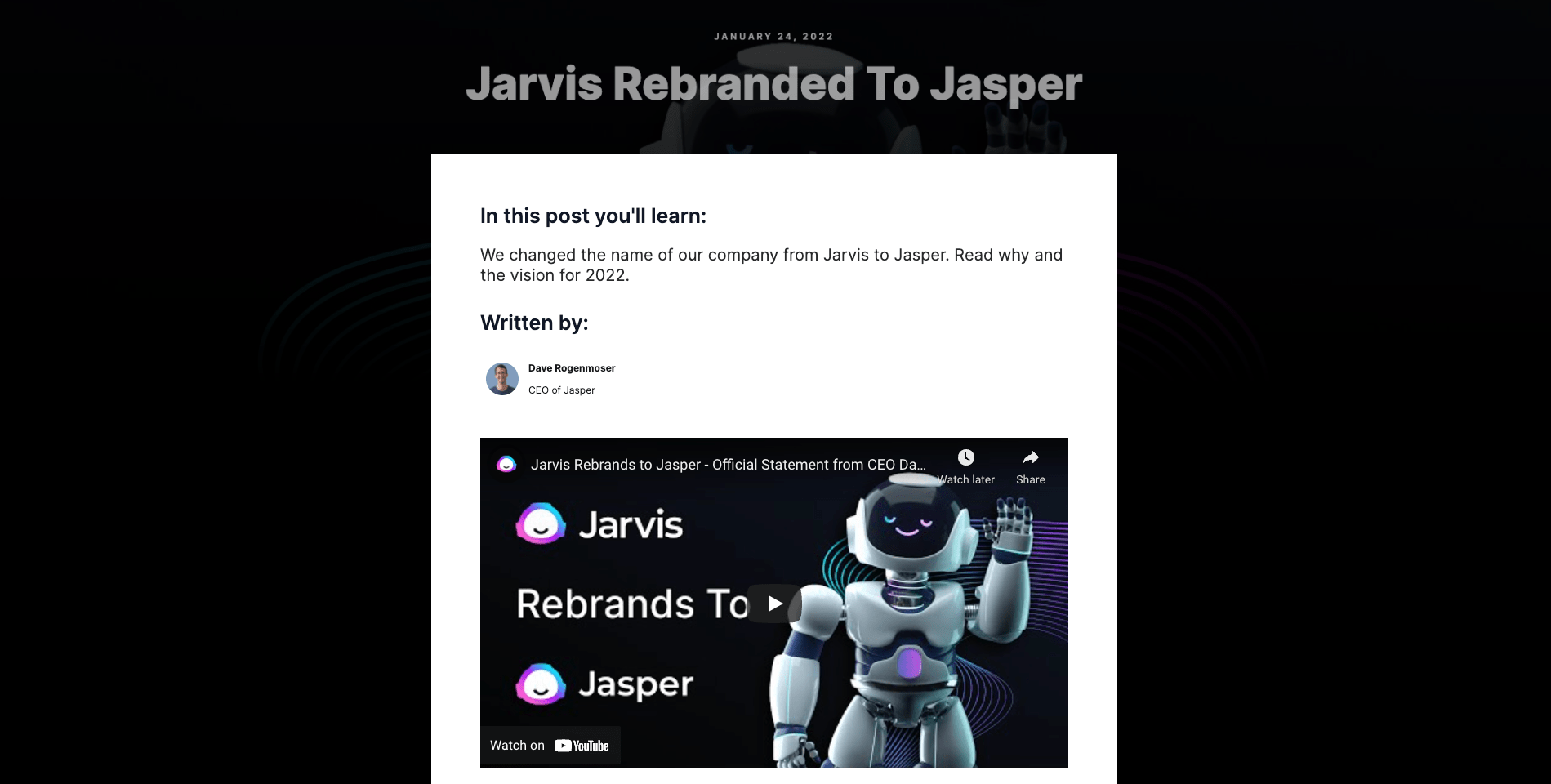 No big deal really. Although, it did confuse me to see it renamed from Conversion.ai to Jarvis.ai and now Jasper overnight.
That brings me to my next point.
Jasper.ai features

What does Jasper have to offer as an AI copywriting tool?
A lot, actually.
Let me explain.
Starter and Boss Mode plans
If you're a beginner, Jasper offers a "Starter" mode.
In Starter mode, you get access to basic features like:
You also get access to Jasper's library of over 100 million images.
However, if you're looking for more advanced features, Jasper also offers a "Boss Mode."
Boss Mode gives you access to everything in Starter Mode plus:
Advanced keyword research.
AI-generated copywriting templates.
A content calendar.
Enhanced commands.
And more!
Boss Mode is ideal for businesses or individuals who are serious about their content marketing strategy and want to take their game to the next level.
Recipes
One of Jasper's coolest features is its "recipes."
Recipes are basically AI-generated content templates that you can use to create high-quality content quickly and easily.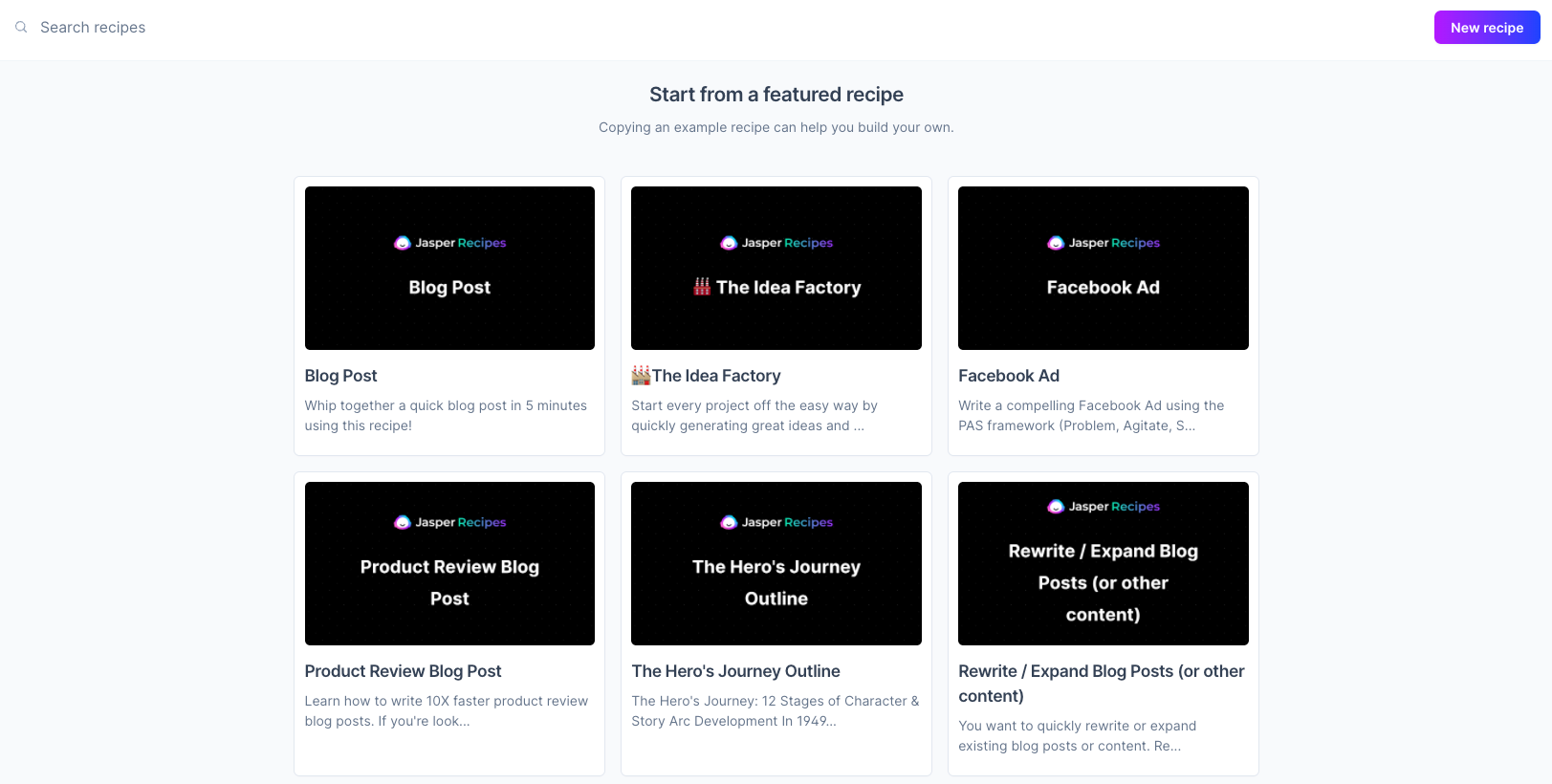 There are a variety of recipes to choose from, including:
Blog posts.
Product descriptions.
Headlines
Outlines.
Google Ads.
Etc.
Best of all, you can customize the recipes to fit your own needs and preferences. So if you don't like one of Jasper's recipes, no problem! You can simply change it around until it's just right for you.
And, I have to say…
One of the most important parts of copywriting is using templates and formulas. (Think of AIDA or PAS for instance.)
I've been copywriting for 10+ years, having written for Dan Lok, Neil Patel, and other big names.
I don't mean that in a braggadocios way, but rather that I've been around the block and what I say has merit.
The recipes that Jasper offers are incredible. I find myself using them every single day and it's completely changed how I write.
25+ languages
Another Jasper feature that I love is its multi-language support.
Jasper currently supports over 25 languages, including English, French, Spanish, German, Italian, Japanese and more.
This makes Jasper perfect for businesses or individuals who want to target a global audience.
After all, if you're growing a business (especially one that writes content), eventually you will need to translate that content.
And, Jasper makes it easy as pie.
Surfer SEO integration
Jasper also integrates with Surfer SEO, which is a popular SEO tool.
Surfer SEO is an AI-powered tool that helps you optimize your content for better rankings in Google.
It's used by some of the biggest brands in the world So Jasper's integration with Surfer SEO is a big deal!
If you're serious about your organic presence and want to get the most out of Jasper, I recommend using Jasper with Surfer SEO.
It will help you write content that ranks higher on Google and ultimately drives traffic and conversions.
There's tons of other nifty features when you integrate them together like:
An SEO score so you know how your content compares to competitors.
Keyword research and suggestions.
A robust content editor that allows you to add links, images, and other media.
A $1 deal for Surfer SEO when purchased through Jasper.
Listen to Surfer SEO's Founder on the official Jasper YouTube channel to learn more:
Enterprise Sales
When you're using an AI copywriting tool or any software for that matter, you want good support, right?
You might have questions or comments along the way and it's nice when someone is there to help.
Jasper offers enterprise sales for those who want the highest level of support and service.
If you're a big company or have a lot of employees who will be using Jasper, this is the option for you.
You'll get:
Dedicated account manager.
Custom training and onboarding.
Priority customer support.
Of course, with enterprise sales comes a higher price tag. But, in my opinion, it's worth it if you're going to be using Jasper on a large scale.
How much does Jasper.ai cost?
The cool thing about Jasper is that it scales with you.
There are two plans, Starter and Boss Mode.
Starter begins at $29/month and Boss Mode begins at $99/month.
But, depending on how many words you generate will change what you are billed.
You can use the calculator directly on the website to get an estimate.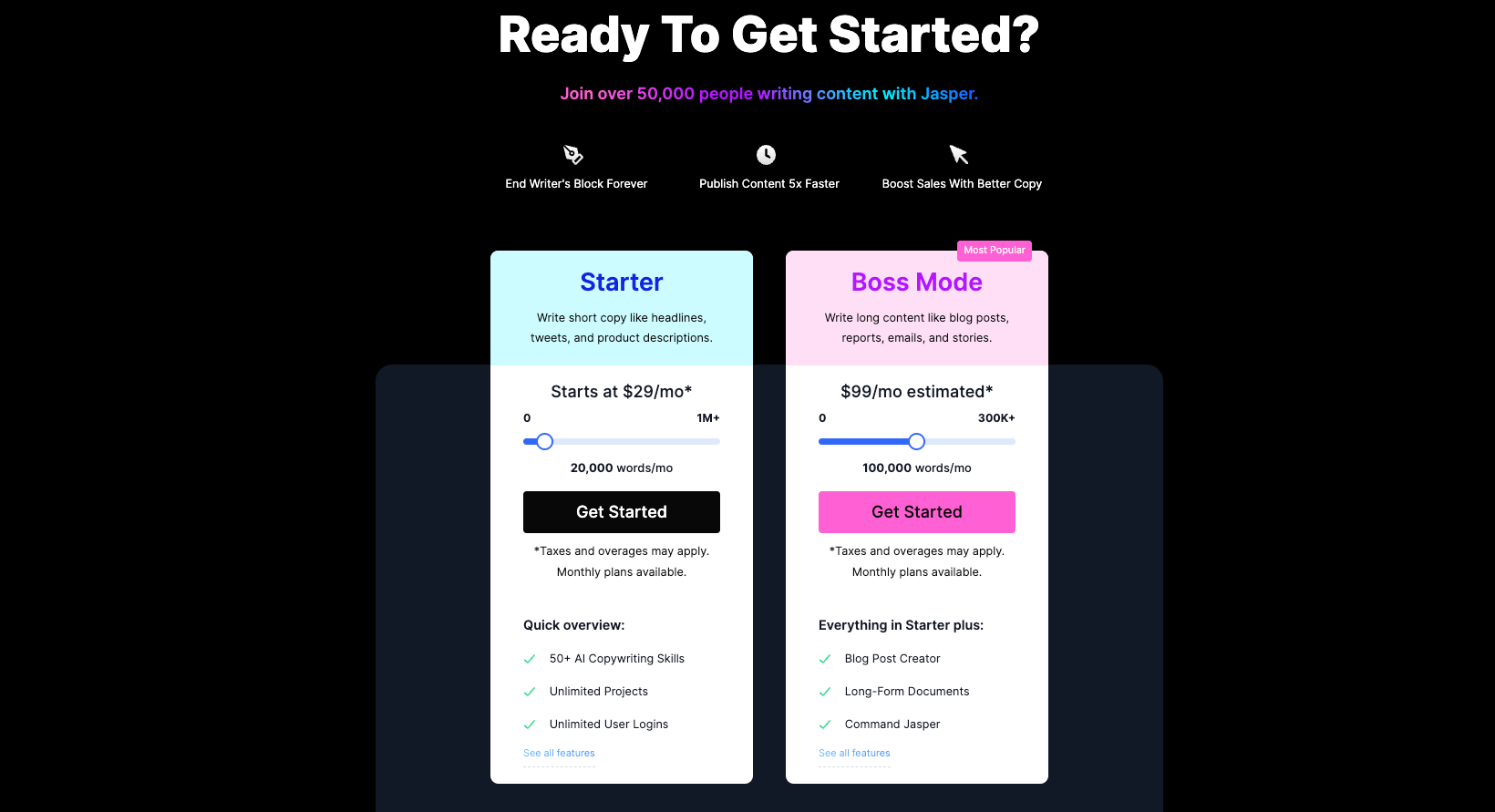 It's more affordable compared to some other tools and frankly, it's just bang-for-your-buck.
So, what's the catch?
There's no such thing as a perfect software or product.
Jasper is pretty damn close but there's always room for improvement.
For example, sometimes I find that the AI will repeats itself which can be annoying.
Granted, if you continue typing after you've generated content, it helps Jasper head in the right direction.
Also, there's a specific syntax you have to learn like adding two hashtags before headers or three asterisks to ignore any content above it.
They're simple, but it's different.
Frankly I have to nitpick Jasper because it's so great.
There are no major flaws or drawbacks to it.
Jasper.ai alternatives
Hey, maybe Jasper isn't for you or you're keeping your options open.
That's okay.
Here are some alternatives to consider.
Copy.ai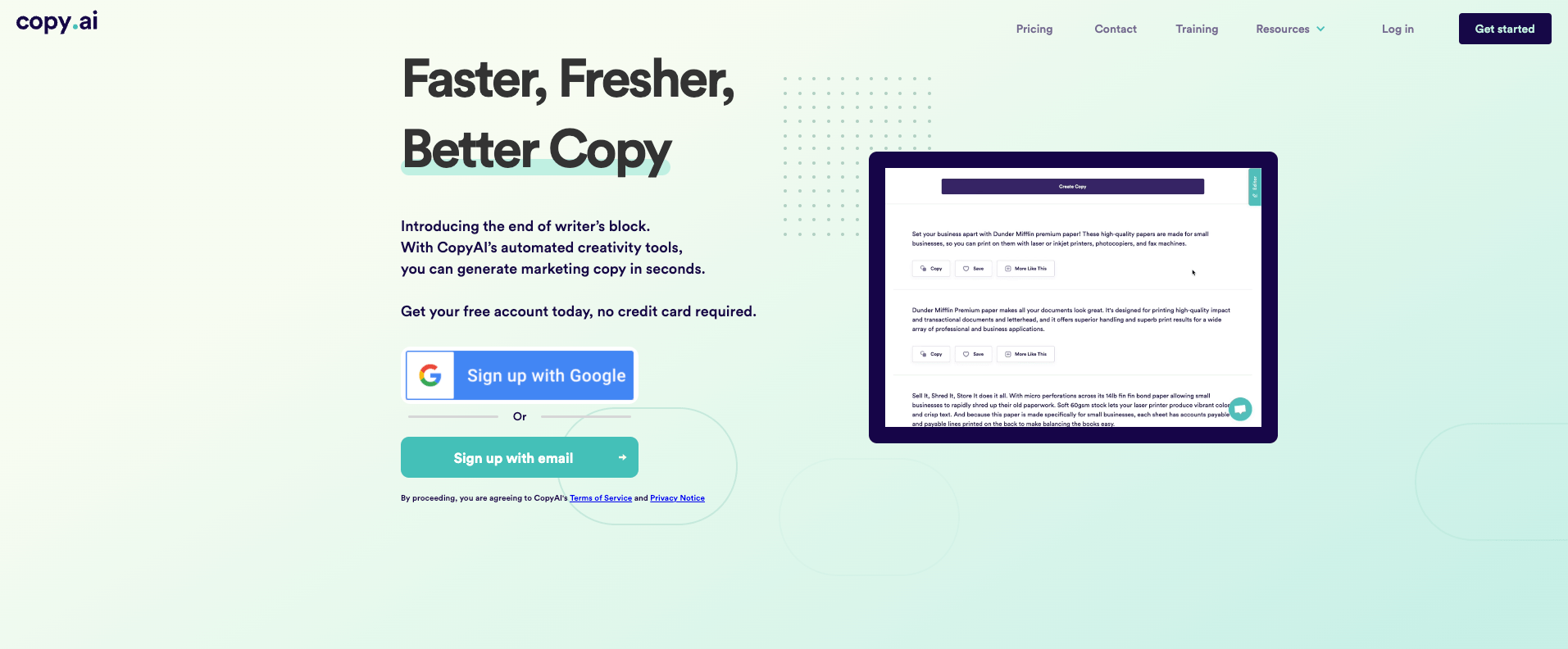 Copy.ai is Jasper's main competitor and it has a lot of the same features.
The pricing is also very comparable with Copy.ai starting at $35/month when billed annually or $49/month when billed monthly.
Not to mention they have a free plan to get the ball rolling!
But, what I like about Jasper more is its multi-language support and Surfer SEO integration.
If those are important to you, then Jasper would be the better option since Copy.ai doesn't have extensive SEO or blog post creation capabilities.
But, Copy.ai does have a great interface and it's easy to use.
Other than that, both tools are pretty similar in terms of capabilities and price point.
Anyword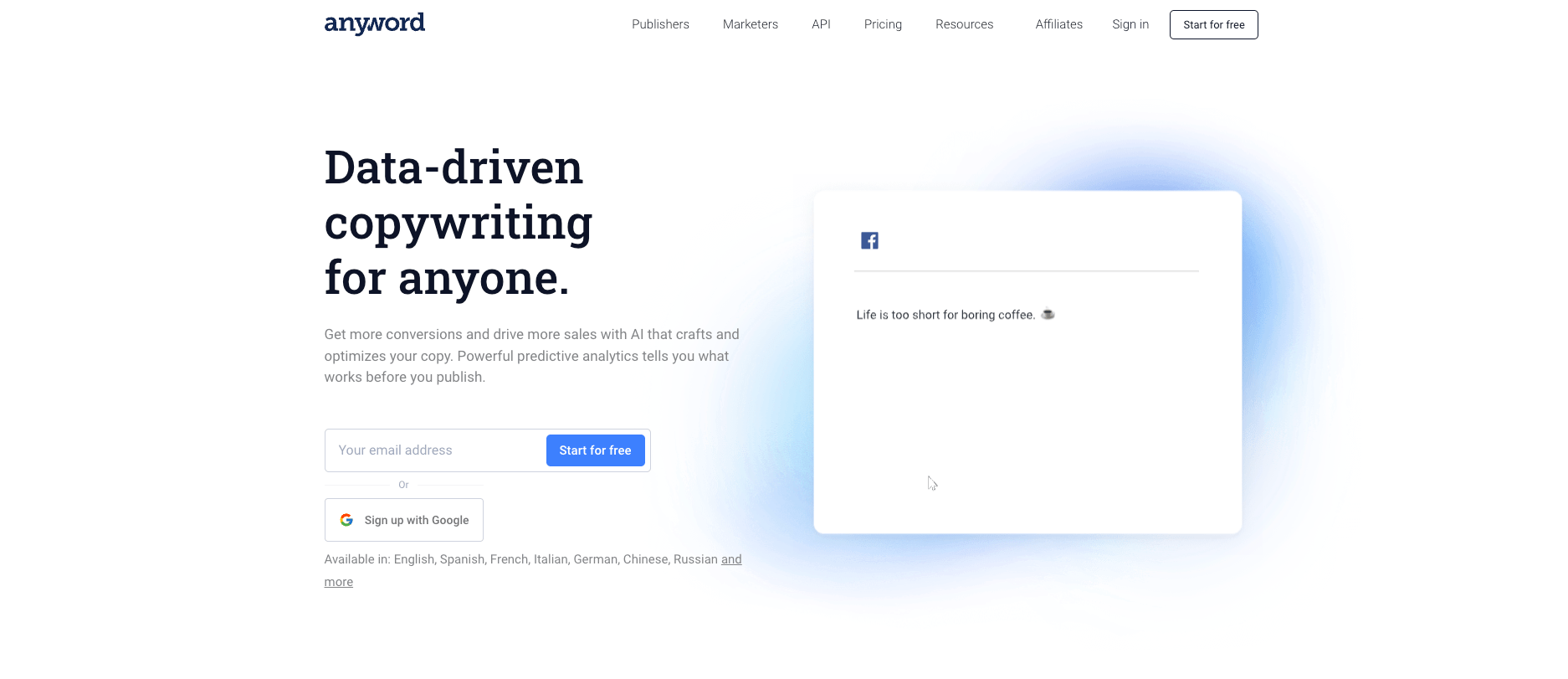 Anyword is a lesser-known AI copywriting tool but it's worth mentioning because it's very powerful.
It will help you write landing pages, Google Ads, social media content, long-form blog content, and mode.
You can get started for free with Anyword and the paid plans start at $79/month (Data-Driven Basic) making it a more expensive option.
Data-Driven Unlimited is a whopping $239/month and Enterprise is $999/month.
It's equipped with technology called predictive scoring which helps you make better decisions as you generate and write copy.
It includes a sleek UI, quick generations, and the average quality of content it produces is very high.
Copysmith.ai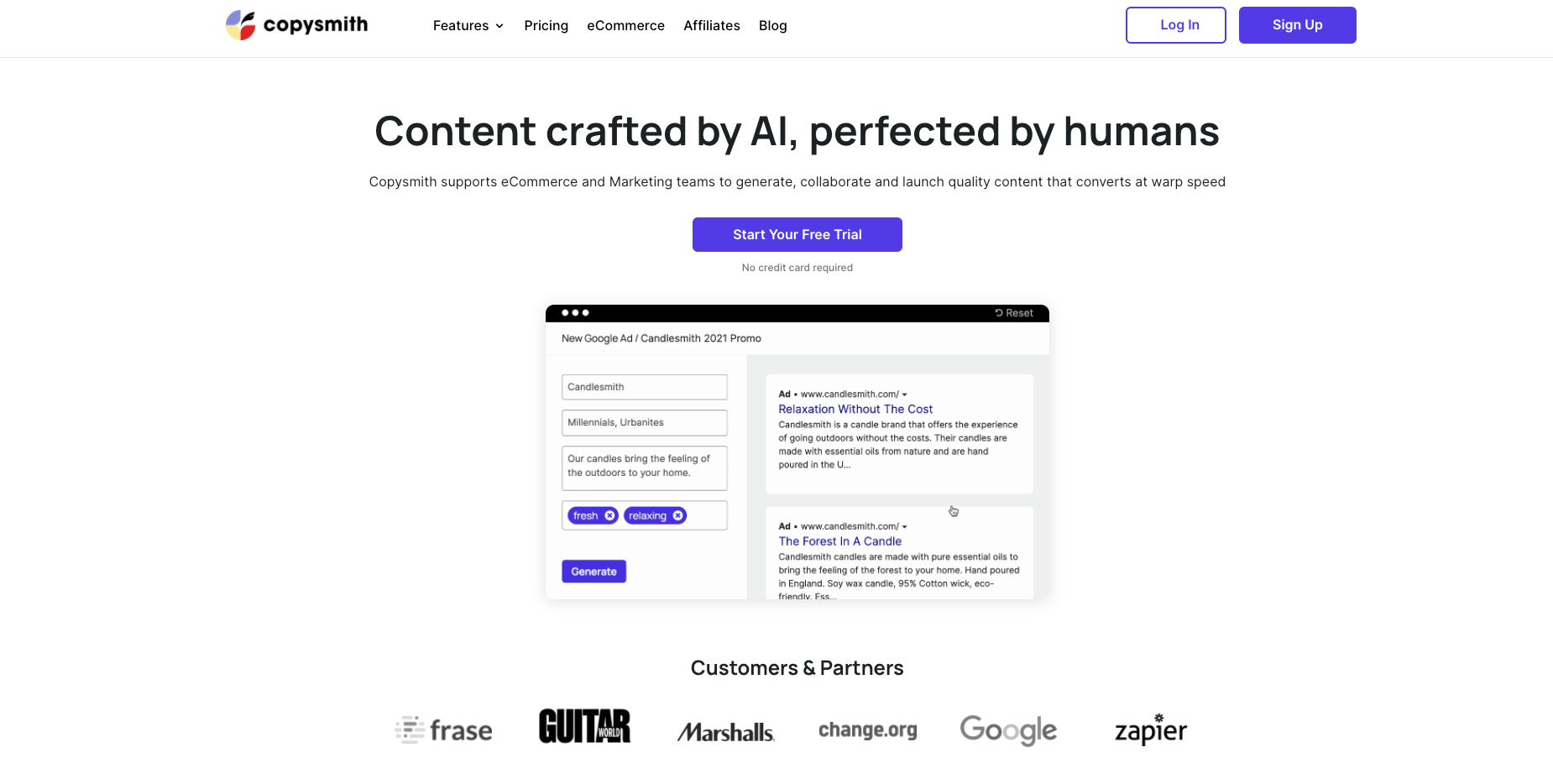 Copysmith is a very affordable AI copywriting tool that's great for small businesses.
You can get started for as little as $16/month and the paid plans range up to $50/month. There are also custom quotes for enterprises.
What I really like about Copysmith is its content optimization features.
It will help you tweak your headlines, meta descriptions, and more so your content performs better on search engines.
Plus, it has an easy-to-use interface with quick generations times.
The only downside is that it has less templates than other tools and the generations tend to be slower.
But, overall, Copysmith is a great tool for those who want quality content without breaking the bank and want an introduction to AI writing tools.
ContentBot.ai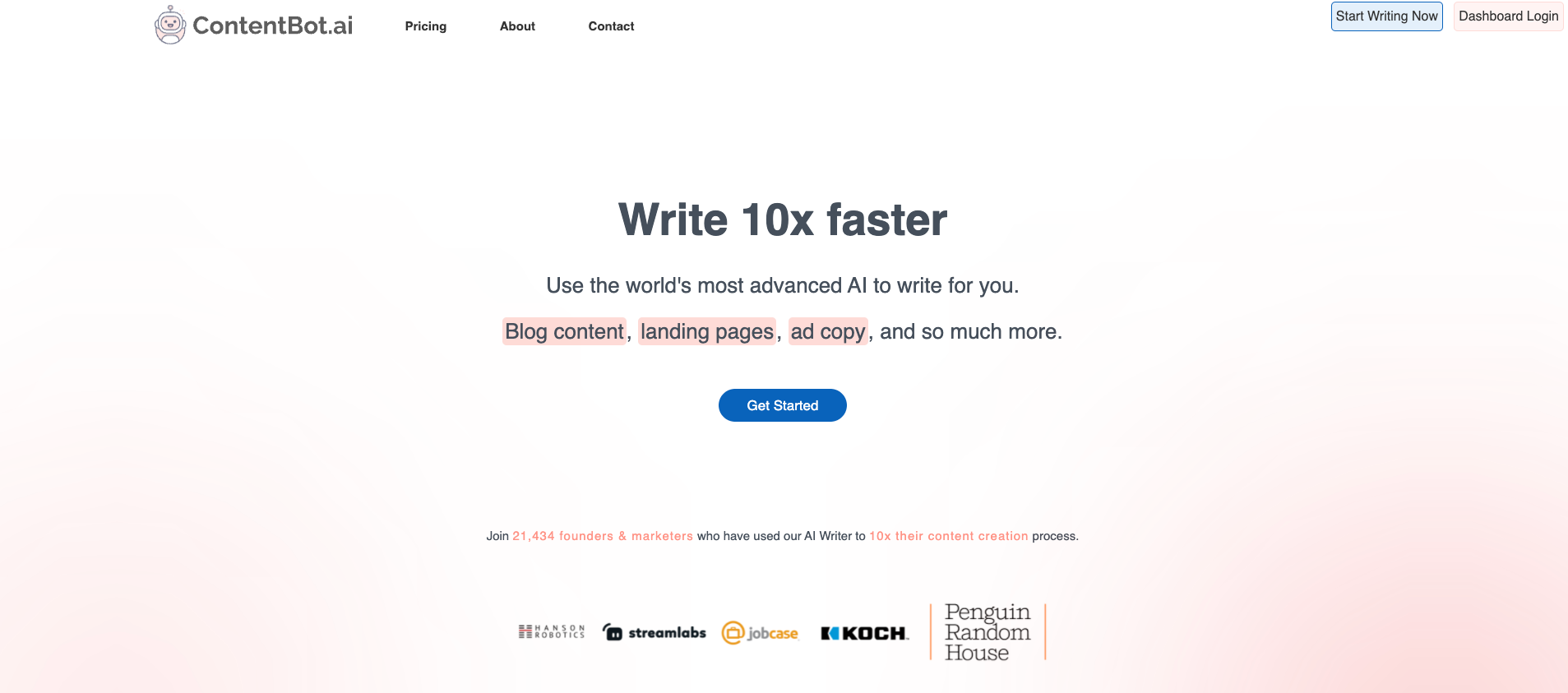 ContentBot.ai is a great AI copywriting tool for those who want to write more content without doing all the work themselves.
It's equipped with tons of templates, a user-friendly interface, and quick generation times.
Furthermore, it will help you brainstorm topic ideas, write outlines, expand bullet points, and rewrite sentences.
So, you get a lot more than just a writing tool.
However, you still get a long-form blog generator, specific your audience, add SEO keywords, and more.
There are four plans you can choose from as well:
Prepaid: $1 for 1,000 words.
Starter: $29/month.
Premium: $59/month.
Premium+: $99/month.
Its pricing is normal compared to its competitors.
Concluding my Jasper.ai review
All in all, Jasper.ai is an incredible AI copywriting tool with tons of features and benefits.
No matter if you're a copywriter yourself, run a business, or manage writers, tools like these are absolutely priceless.
I couldn't imagine writing without it nowadays.
And if you're looking to write better content, rank higher on Google, or target a global audience, Jasper is the tool for you!
For more information or to purchase Jasper.ai, visit here.