Did you know that email retains customers almost 20% more than social media?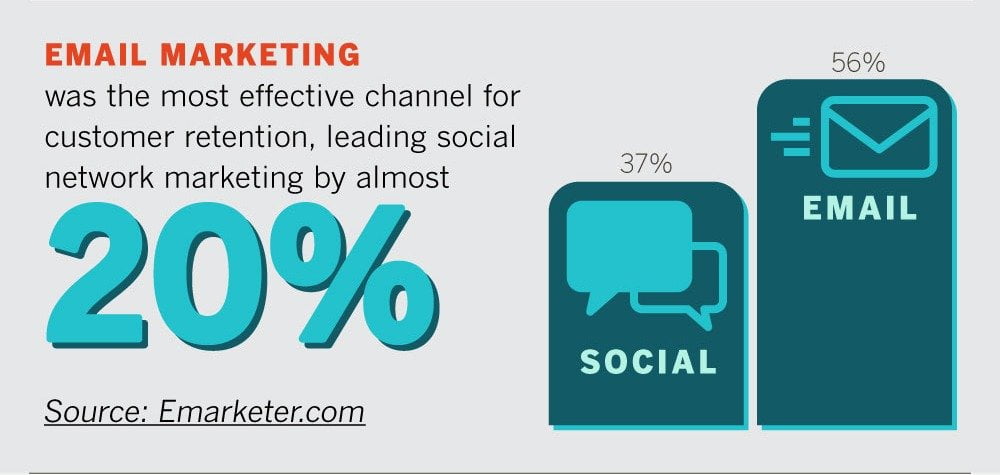 If you want to reduce churn rate, and keep more of your customers in the long term, you need to invest in email marketing.
Although it is decades old, it is still the most powerful and convenient way to reach people and generate sales.
However, email marketing takes planning, organization, and strategy to get the results you're after.
… Which is why using an email marketing platform will save you a lot of headaches while improving campaign performance.
With that being said, here are some of the best email marketing software you can get your hands on.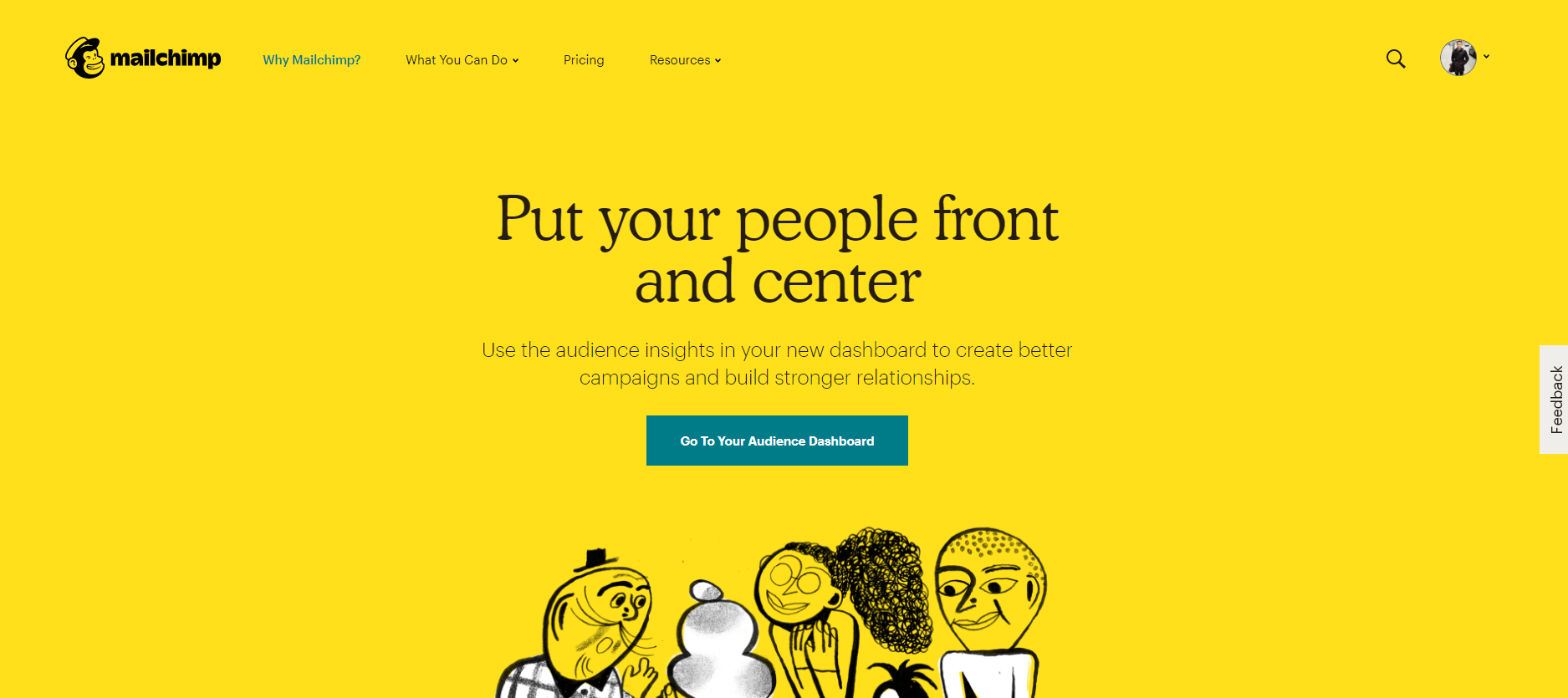 I've used Mailchimp since day one, and I can only say good things about them.
They are email marketing services that empower you to create professional campaigns, grow huge lists, automate workflow, and optimize little details.
Create campaigns for a variety of platforms
The cool thing about Mailchimp is that it isn't built just for email marketing.
You can also use it to create Facebook, Instagram, and Google ads that will seamlessly integrate into campaigns.
They offer a plethora of templates and an easy-to-use building system for emails, forms, and the alike.
Their landing page builder is also great if you're trying to funnel users to a squeeze page for collecting information.
Another unique feature is postcards. These bring your brand to life for as little as 75 cents and can be sent anywhere in the world.
Imagine the reaction a customer would have when they open the mail and see you sent a real piece of mail to them.
It's an easy and cheap way to build relationships and stand out from competitors.
There are more integrations than you can count
What's better than one marketing tool?
Several!
Mailchimp is capable of integrating with your favorite tools or platforms like Zapier, ShopSync, WordPress, 3dcart, Base CRM, and more.
This is amazing because it allows you to further increase your productivity and what you get out of different tools you've invested in.
For example, you can connect Mailchimp directly to your Shopify store to effortlessly add forms, and popups, and grow an email list.
Integrations happen at the click of a button, too.
Kick your feet up with automation
Wouldn't it be nice if your email marketing tool did all of the hard work for you?
Well, that's exactly what Mailchimp can help you with.
There are plenty of automation features you can take advantage of, such as:
Welcome messages: Instantly send a welcome email or lead magnet to a subscriber after they sign up.
Drip campaigns: Schedule emails ahead of time, saving you countless hours and energy.
RSS to email: Send subscribers your latest blog posts instantly via connecting an RSS feed to Mailchimp.
Abandoned carts: Do you run an e-commerce business? Mailchimp will empower you to recover abandoned carts to regain lost sales.
Product recommendations: Automatically recommend subscribers' products, and boost your revenue.
Follow-ups: Automate follow-up messages when a subscriber takes a certain action like purchasing from you.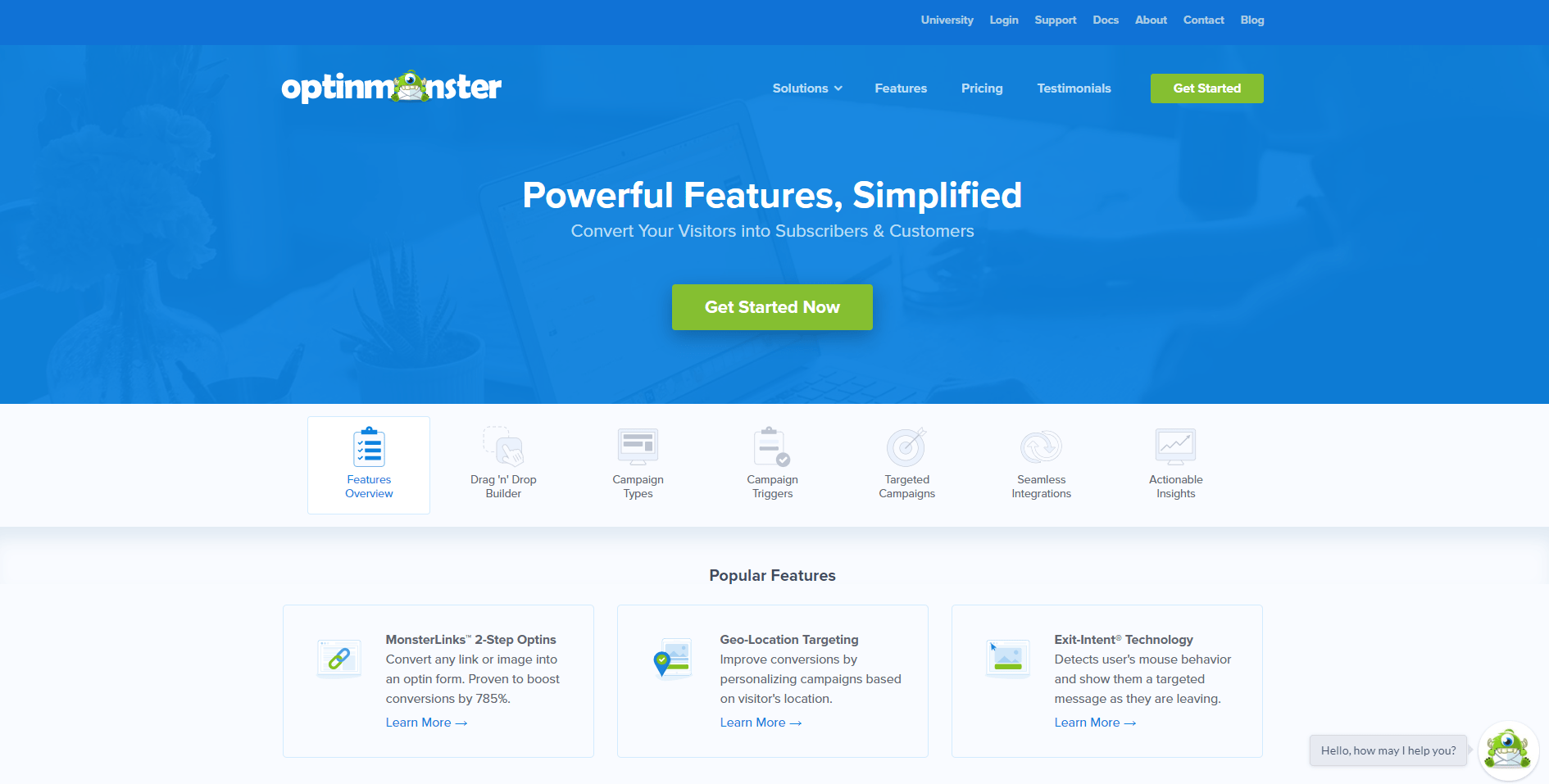 Over 700,000 marketers use OptinMonster to improve their email marketing performance and ROI.
On their website, they state the main goal of their business is to "build powerful enterprise-level technology to help businesses grow their customer base and revenue."
Here's a bit more of what you can expect from their email marketing services.
Drag and drop building
Who wants to spend countless hours coding and fixing bugs?
Nobody!
That's why OptinMonster has an intuitive drag-and-drop building system for creating everything email marketing related.
Use their professional-looking templates to save time, or customize your own from scratch.
Multi-step forms can be made to improve conversion rates and segment subscribers based on their input, as well.
All of the popups from OptinMonster are optimized for mobile, which is huge.
48.23% of emails are opened on smartphones, so you'll experience poor results if they're not tailored to smaller screens.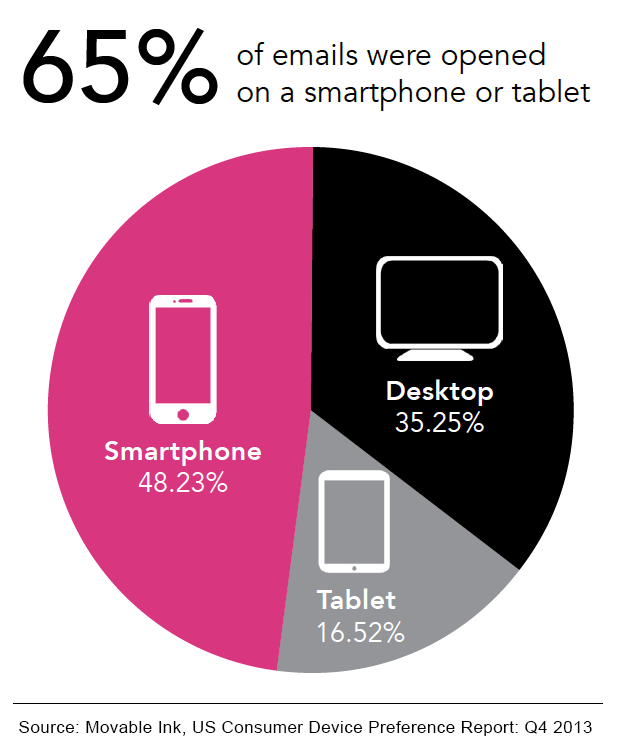 OptinMonster also offers their MonsterEffects, which are dozens of unique animations you can use to bring campaigns to life.
Use different triggers to begin campaigns
Every user's behavior is a bit different.
That's why relying on a single campaign trigger isn't always the best thing to do.
OptinMonster has many different triggers you can use to start campaigns, such as:
Exit intent: Recover users before they leave your website.
Scroll trigger: Show campaigns after users have scrolled a certain amount down a page.
Two-step opt-ins: Convert forms into multiple steps.
Inactivity: Remind users to stay active on your website and collect their email at the same time.
Timed display: Only show campaigns at specific times to maximize performance.
Scheduling: Run campaigns at certain hours or days.
Enjoy various types of campaigns
Using only a single type of campaign can get boring, and you never know what style subscribers will respond to best.
That's why split testing and experimenting in email marketing are key.
However, a lot of tools out there don't offer much outside of standard forms and emails.
With OptinMonster, you can look forward to campaign types like:
Lightbox popups
Fullscreen welcome mats
Slide-in scroll boxes
Floating bars
Countdown times
Sidebar forms
Inline forms
Content locking
Coupon wheels
All of these will add much more variety and depth to email marketing campaigns, while improving the user experience of your website.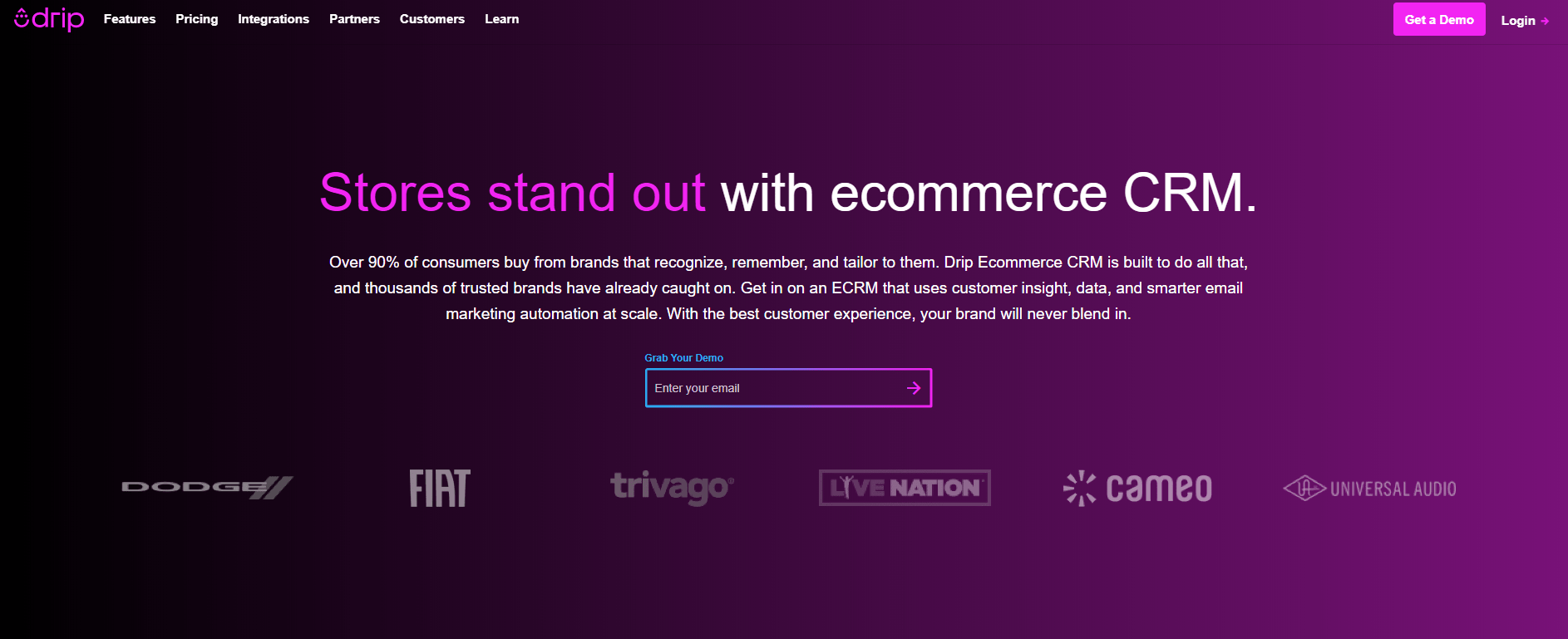 Drip helps you connect and engage better with customers.
Some of the biggest companies in the world, like Fiat, Dodge, and Trivago, use them to make better business decisions and improve email marketing campaigns.
A really cool part of Drip is that every plan includes every feature, so you're not going to miss out if you don't want to spend a lot of money at first.
Here are some of the main features of Drip.
Automate your marketing
You will gain access to a variety of automation tools, such as Drip's email builder, workflow processes, multi-channel integration, and more.
This ultimately helps you improve the performance of campaigns, reaching a larger audience and converting subscribers into paying customers.
Track every detail
You can have the best campaigns in the world, but you still need to track their data.
Drip has a reporting system that displays every step customers take in the buyer's journey, allowing you to optimize your sales funnel.
Users can also create custom events, tags, and fields to customize campaigns further.
By segmenting subscribers, you're able to personalize messages, promotions, and more to make sure they align perfectly with different demographics.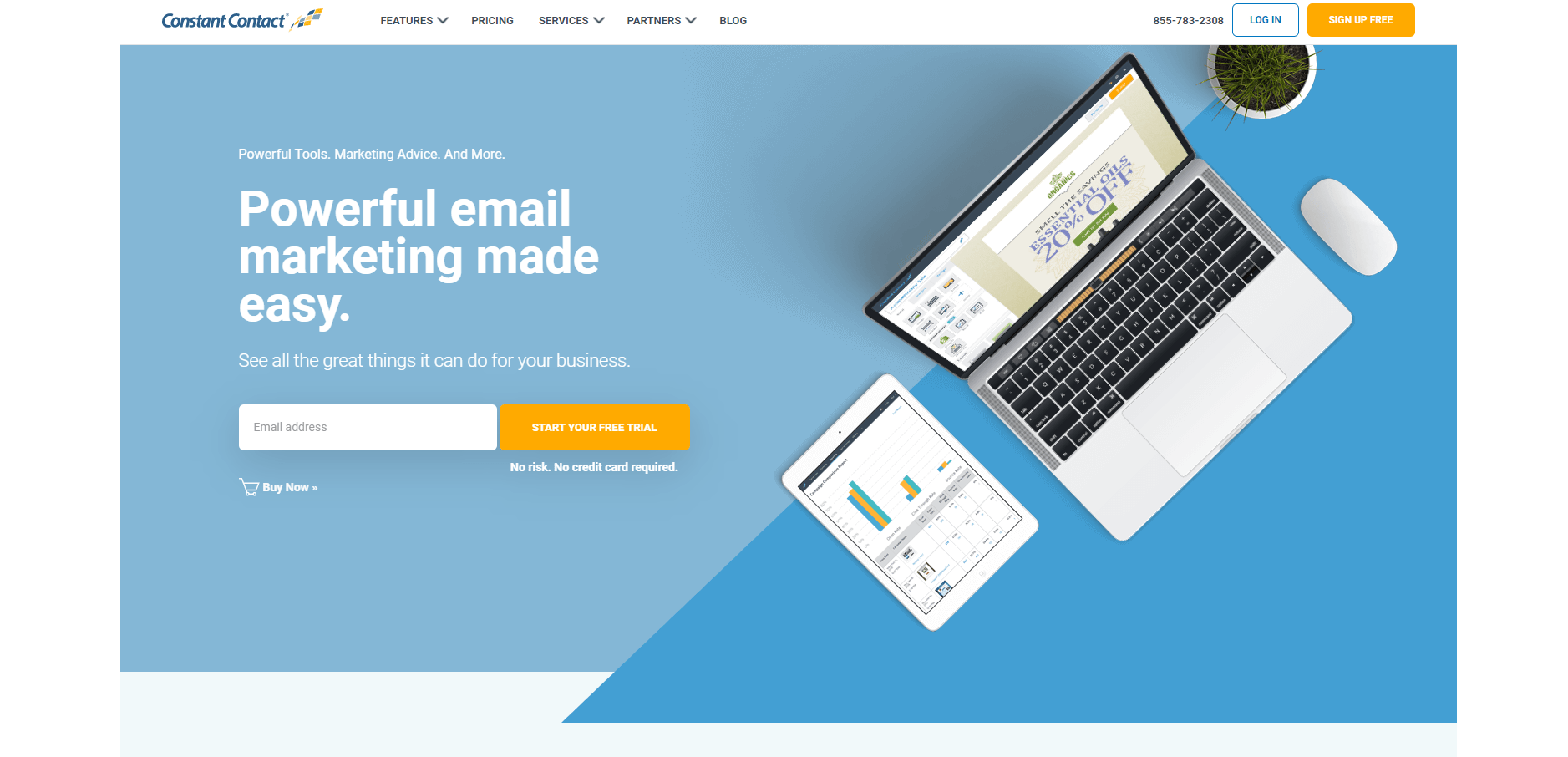 Constant Contact has the goal of helping users like you acquire customers through email marketing, Facebook, and other channels.
They aren't just an email marketing platform but also help with e-commerce and social media marketing, too.
This means that anyone can use their email services, but e-commerce companies or businesses that rely on social networks will benefit even more.
Here's how.
Competitive email marketing tools
Constant Contact's editing system uses a drag-and-drop builder to quickly customize campaigns and emails.
The result is a professional and responsive campaign that will generate the results you're interested in.
There are also automation features like welcome messages, triggers, segments, and follow-ups to get the most bang for your buck.
Constant Contact also feels like a CRM with its built-in contact management system.
Upload lists of leads from other tools like Salesforce or Excel, and get real-time updates on bounces, unsubscribes, etc.
All of your email performance is also tracked in real-time, so you can analyze the following:
Bounce rate
Conversion rate
Open rate
Click through
More
E-commerce integration
Do you sell products online? Then you need to make sure your email marketing is in good shape if you want to maximize revenue.
Constant Contact syncs and connects in a flash with most e-commerce platforms.
You can add your products with the click of a button to emails, allowing you to easily promote new items or categories.
Integrate signup forms on your store, and automate campaigns to make your life easier, as well.
Wrapping up the best email marketing tools
Email marketing is here to stay. Make sure you're not one of the businesses forgetting to take advantage of its power.
I'd suggest picking up one of the tools I covered today to automate and scale your email marketing campaigns.
Other notable email platforms you should check out are: