Business is all about keeping up with the times.
Gone are the days where you need to code every website from scratch.
That means no more debugging, broken code, and buying Tylenol for migraines.
Page builders are here to save the day.
These allow companies and developers to quickly build and launch professionally customized websites in a fraction of the time.
However, there are lots of them.
Two of the best on the market (that I've used myself) are Elementor and Avada.
If you're on the fence about which one to choose, I'm going to help you out today.
I'll be making an honest comparison ahead based on my experience and with other customers.
Let's dive in!
Elementor vs Avada overview
| | | |
| --- | --- | --- |
| | Elementor | Avada |
| Starting price | $49/month | $60 |
| Free plan | Yes | No |
| Frontend/backend | Yes | Backend only |
| Modules | 80+ | 70+ |
| Templates | 300+ | 65+ |
| Whitelabeling | Yes | Yes |
| Support | Great | Great |
| Ease of use | High | Low |
| Clean code | Yes | Yes |
| Integrations | 20+ | 14+ |
| Popups/forms | Yes | Yes |
| Community | Active | Semi-active |
Elementor
Elementor is the most popular page builder plugin for WordPress. It's used by over four million people, including myself!
The website you're browsing right now uses Elementor.
I'm very pleased with it, and I can't imagine using another plugin to build websites.
It's simple, fast, responsive, and easy to use.
Avada has a steeper learning curve, took longer to achieve the same results, and felt clunky.
Elementor has 86 reviews on Trustpilot, scoring a 4/5 star rating.

Take this 5/5 star review for instance: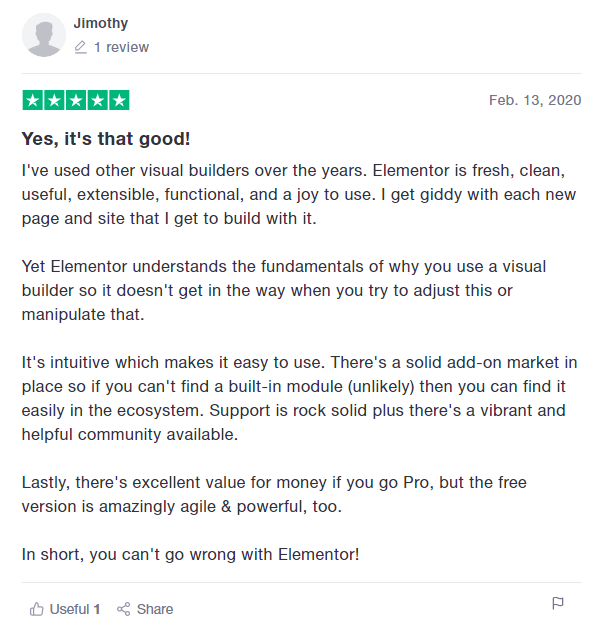 The customer mentions that Elementor is fresh and clean. They're excited to create new pages because it's the best page builder they've used.
Note that they also mention the add-on market where you can buy modules to add extra functions and capabilities in the snap of a finger.
However, I won't be biased. Here's a negative review I found: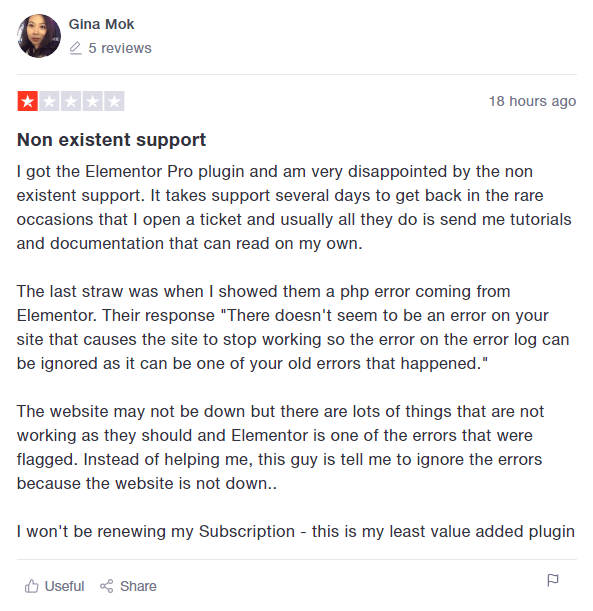 This customer commented on lacking support and long wait times for unhelpful answers.
Let's get into the nitty-gritty of Elementor's features next with that out of the way.
Elementor features
These are some of the main features you can look forward to using every day when you buy Elementor.
Frontend and backend builder
Elementor offers both a frontend and backend builder depending on your needs.
The frontend is the most popular and looks like this: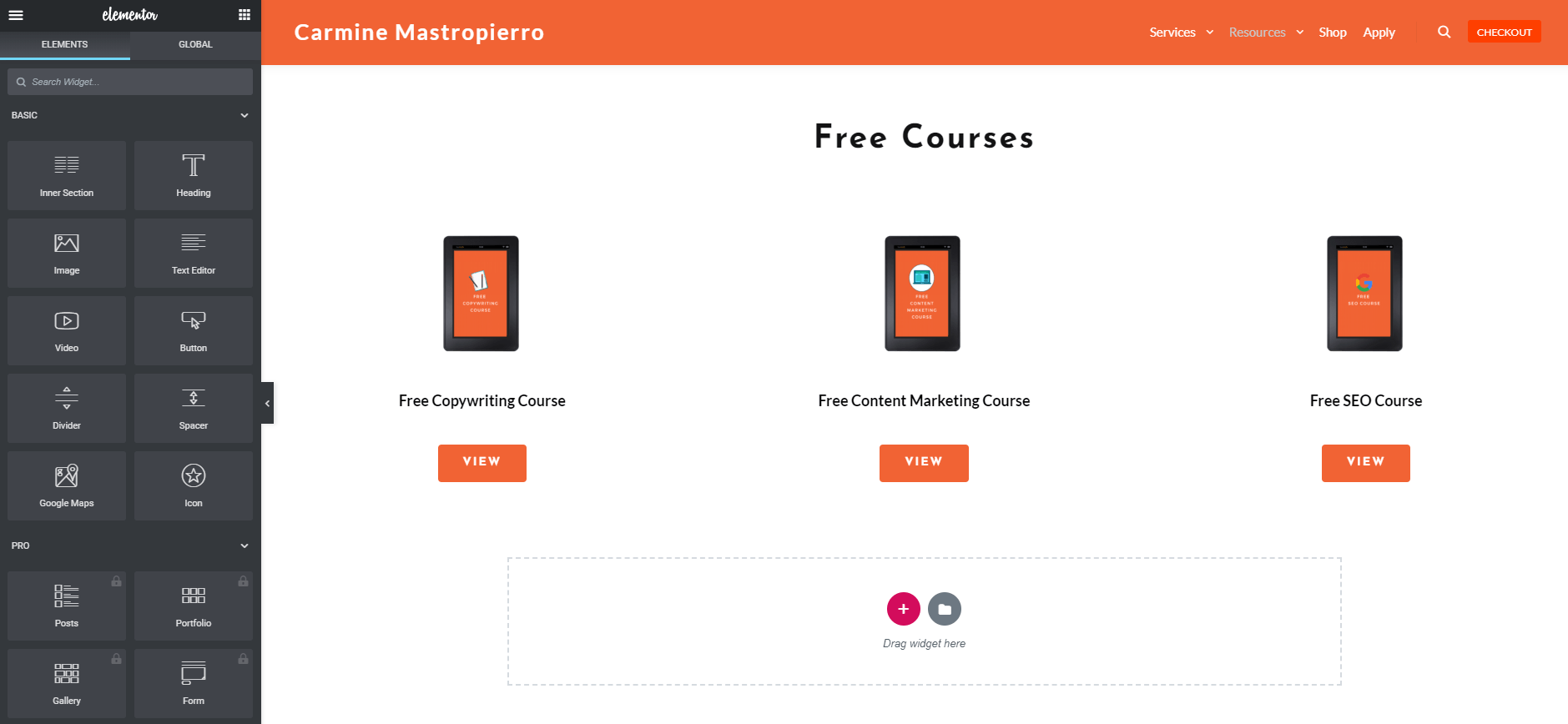 The center is where you will see a live preview of the changes you are making.
Click any section to edit the individual module or click the plus button to add a new section.
The left sidebar contains elements, global settings, and options for the individual element you are changing.
It's fast, responsive, and seamless.
There's nothing confusing about it at all.
This makes the design process much faster.
Lately, I've been building new pages (like my free courses above), and it's SO quick.
I come up with an idea, make a wireframe, and next, I know, it's live!
Oh, and any changes you make on the different preview sections apply to that version only.
So if you want to tidy up mobile and not affect desktop, that's possible. Cool, huh?
Keep in mind that Elementor does not offer a backend editor if that's your preference. Avada does, however.
Mountains of themes and modules
What would a page builder be without themes and modules?
Heck, that's what makes it such a time-saving asset to begin with!
And, Elementor has no shortage of either.
Firstly, Elementor themes are essentially pre-built websites.
They're professional, beautiful, and optimized right out of the box. Check them out here.
You simply have to change the text, logo, and other elements to make it yours. (Or a client's.)
This is a template for an online course website for illustration: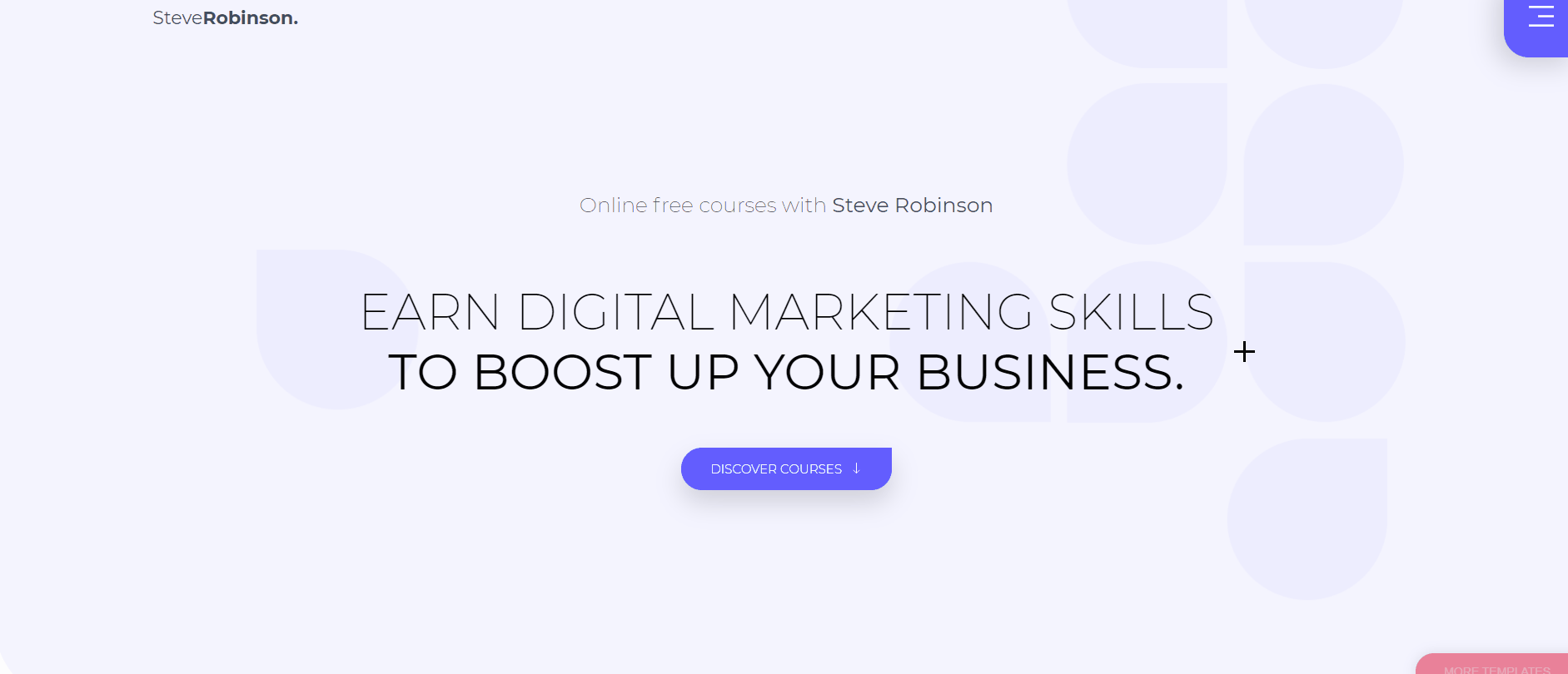 There are templates for every industry and type of website.
Secondly, Elementor features over 80 different modules. These add text, function, and features to a website.
Some examples include:
Text
Headers
Columns
Images
Videos
Dividers
Pricing tables
Icons
Forms
Overall, it has much more capabilities than Avada. You can be far more creative and robust with Elementor.
Marketing made easy
What's the point of a website?
Normally it generates traffic, leads, sales, or other KPIs, right?
That means you have to maximize the marketing potential of the website.
That's where Elementor comes into the picture.
They offer a multitude of marketing gizmos, such as:
Landing pages: Create effective landing pages that help you collect users' information for remarketing and nurturing.
Forms: Create forms directly in the live Elementor editor for any need. (I.e. an email newsletter or contact form.)
Testimonials: Showcase satisfied customers to increase conversation rates.
Countdowns: Add a countdown timer to an offer to create a sense of urgency and scarcity.
Rating stars: Add social proof to a product or service by displaying its rating.
Calls to action: Entice website users to take action and get further into a funnel with CTAs and apps.
Popups: Use Elementor's popup builder to create high-converting popups.
Learn more about Elementor's marketing features here.
Elementor customer support
You're bound to run into some obstacles when using a new tool.
It's only natural.
While you could spend hours straining your eyes on Google, luckily, there's support to help you out!
In particular, Elementor has positive and helpful customer service accessible through its Pro support.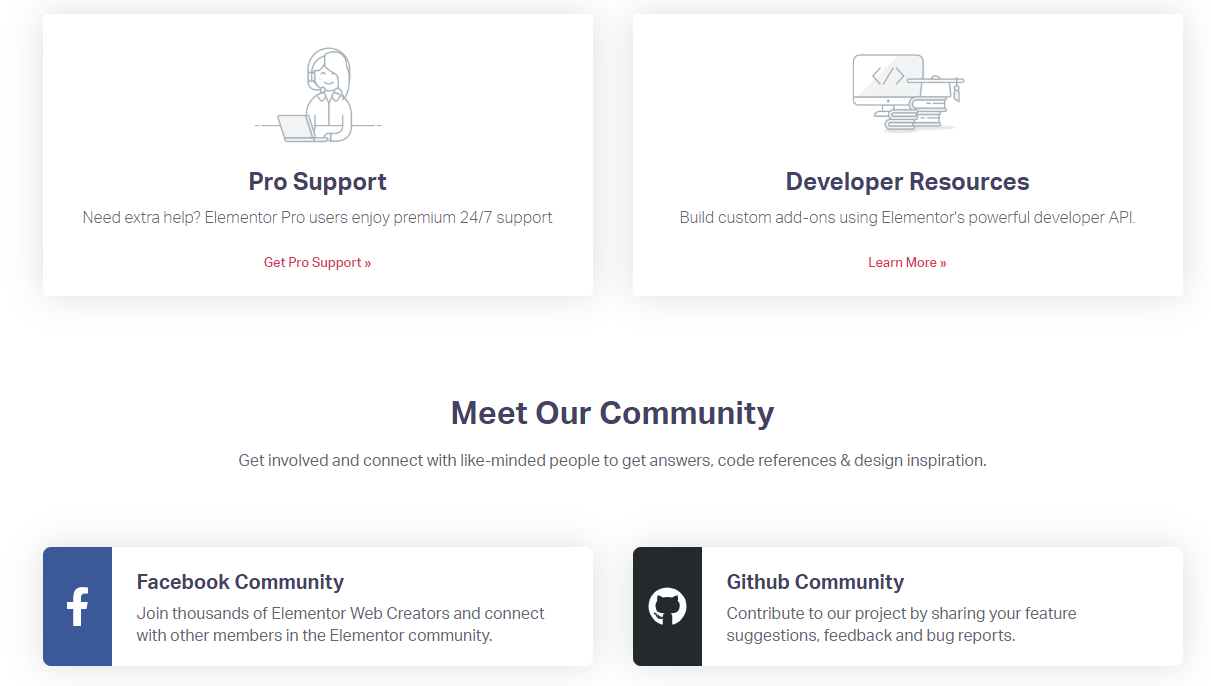 You gain access to 24/7 ticket support for any question or problem you run into.
Additionally, there are video tutorials, a knowledge base, articles, and an FAQ page to guide you through other processes.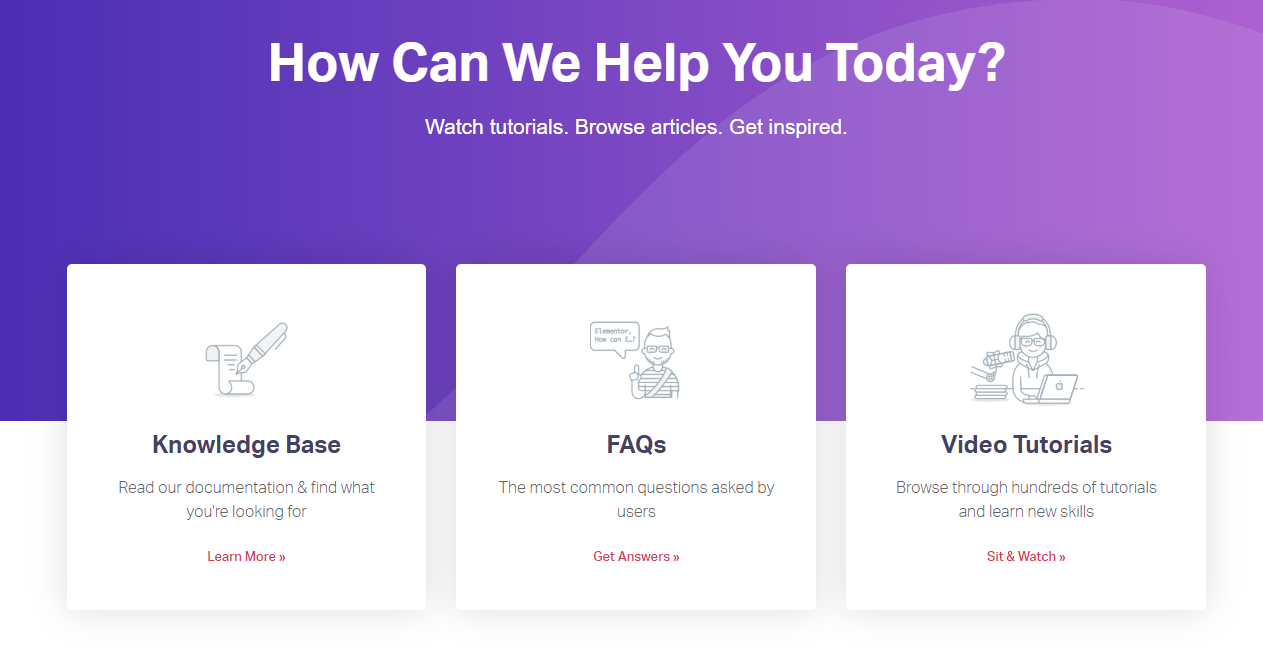 Don't forget to engage with Elementor's very active community to get helpful responses from other customers.
Elementor pricing plans
Okay. Next, let me explain how Elementor's pricing work.
Firstly, there's a free version that you should try to get a feel for the page builder before investing. Try it today.
This ensures that it's right for you.
These are the following paid licenses if you wish to upgrade later: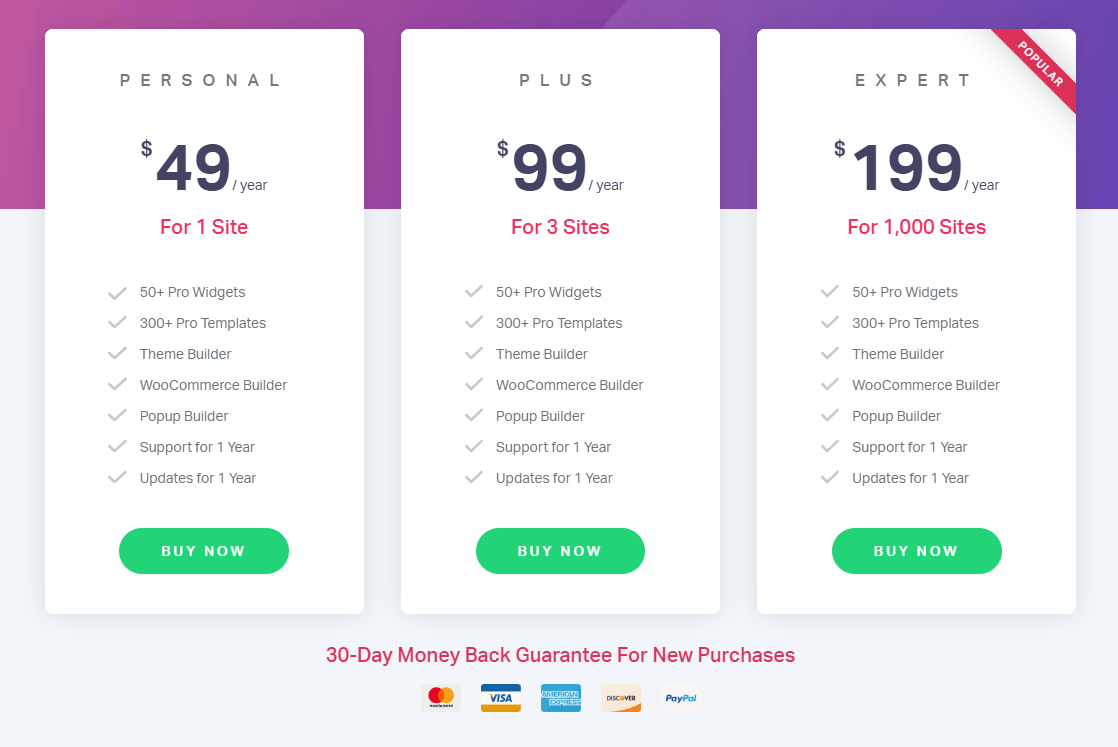 The first plan, priced at $49/year, is applicable for one website. This is ideal for anyone that wants to use Elementor on a blog, for instance.
The Plus plan, priced at $99/year, is usable on three websites. Purchase this if you manage several web assets.
And lastly, Expert allows you to use Elementor on 1,000 websites, making it great for agencies and developers.
You will have to continue to renew your subscription every year, but it is still reasonably priced for what you receive.
Every plan also comes with one year of support.
Elementor pros and cons
Elementor advantages
A free version is available to test the page builder.
300+ robust templates for any industry or use.
80+ elements for adding function, features, and designs.
Great ease of use and beginner friendly.
Custom footer and header designs.
A multitude of marketing features.
Elementor disadvantages
Have to continually renew annual subscription.
You need to upgrade to access many great parts of Elementor.
Some users report styling bugs in the live editor.
Avada
Phew. That's a lot to take in.
Next, let's talk about Elementor's competitor Avada.
They are an award-winning theme, being included in lists like:
Best Drag-and-Drop WordPress Themes 2020.
Best WordPress Resume Themes 2020.
Best Interior WordPress Design Themes For Your Project 2020.
Best Business WordPress Themes for Agency, Startups & Entrepreneurs 2020.
Best Consulting WordPress Themes 2020.
And much more!
And, that's the main thing to keep in mind: it's a theme. Not a page builder.
It includes the Fusion Builder plugin that you're interested in.
Frankly, from my experience, it's a little bit more difficult to use than Elementor but still offers responsive designs and multiple layouts.
I would personally choose Elementor, but Avada may be more suitable for you, so let's get into its features.
Avada features
These are some of the best features and what makes Avada a great purchase for businesses and web designers.
Live theme builder
Avada has a powerful new feature known as the Avada Theme Builder.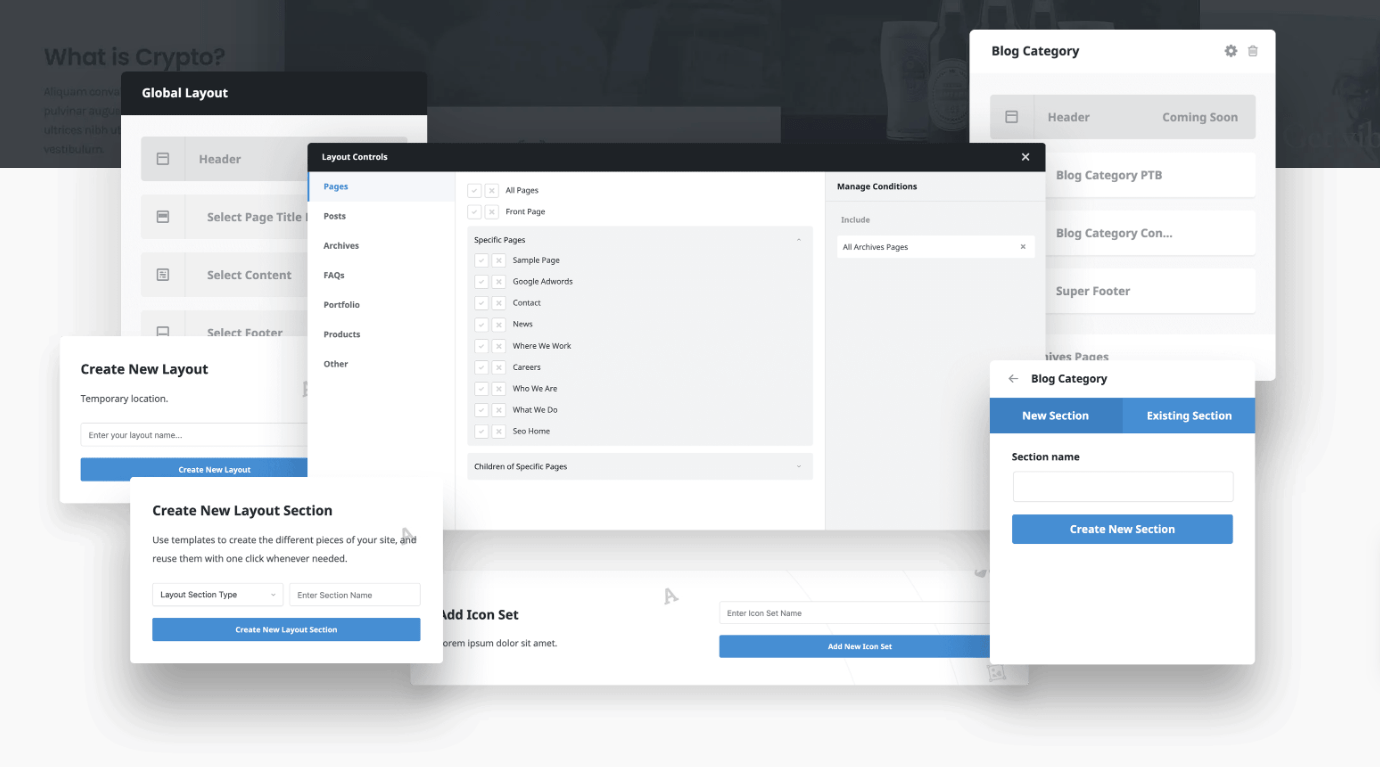 This empowers users to create dynamic and custom layouts for their Avada WordPress website.
These include custom footers, single posts, archives, search results, headers, title bars, portfolios, and more.
You can continue to reuse these themes to save time in the future, as well.
Unfortunately, this still doesn't beat Elementor in my opinion.
Firstly, its competitor does the exact same thing with its library and template ability.
Secondly, you don't have a live editor like Elementor.
That brings me to my next point.
Global site controls
This is one feature that I enjoyed very much with Avada.
The Fusion Theme Options acts as a global control system for your entire website.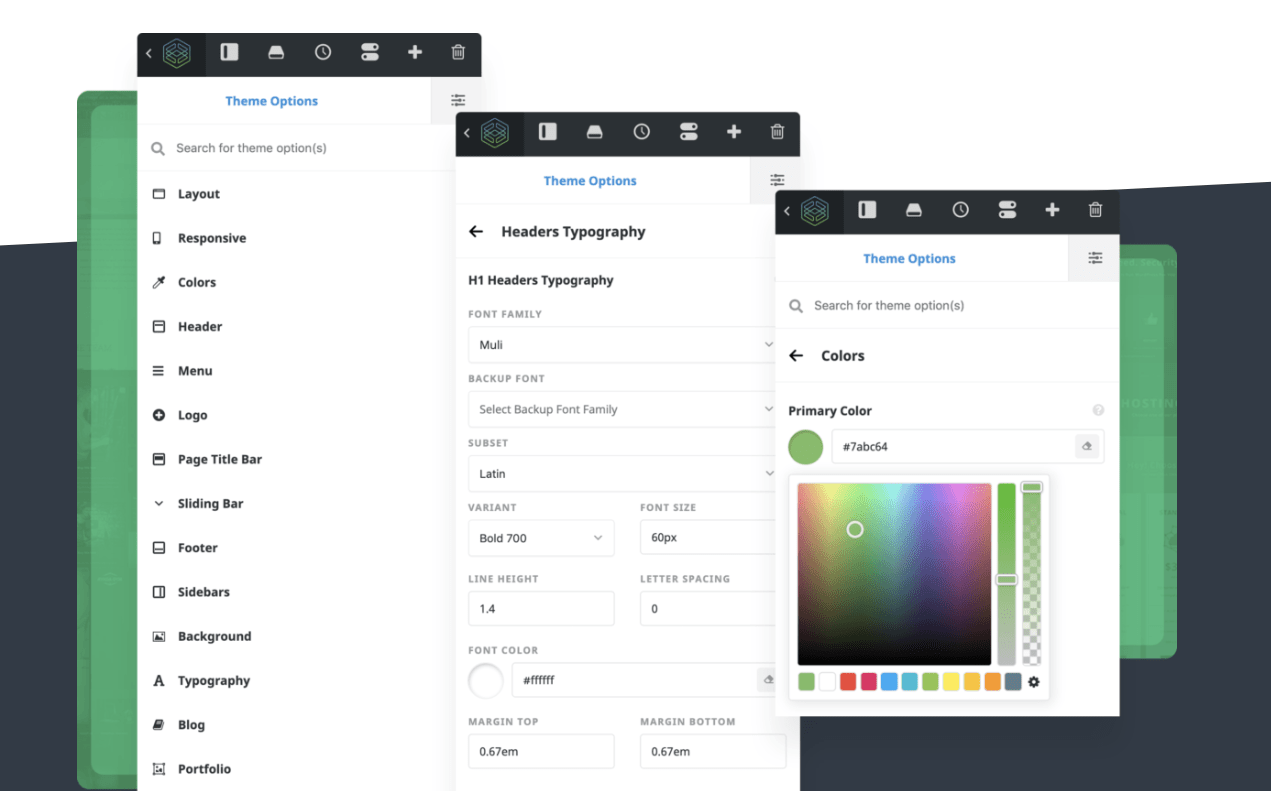 You can change the settings for everything from layout to colours and widgets in one location.
Think of it like the regular WordPress customizer but on steroids. 💪
This makes it very easy to instantly change the font, typography, and other aspects across an entire website without having to drill down into every single page.
WooCommerce integration
Do you use WooCommerce to sell products online?
Then you're going to love this next part.
Avada has flawless WooCommerce integration. There are also several different online shop demos you can import to have a professional online store instantly.
Additionally, WooCommerce receives its own Fusion Theme Options panel for customization, each product gains access to Fusion Page Options, and product pages can be customized with Fusion Builder.
Learn more about this feature in Avada's video here:
Avada customer support
It's very important to have timely customer service when using a theme or page builder, as I discussed earlier with Elementor.
This helps you overcome problems, learn the tool, and not wait around for projects to be finished.
Firstly, Avada offers in-depth documentation for both the theme itself and Fusion Builder.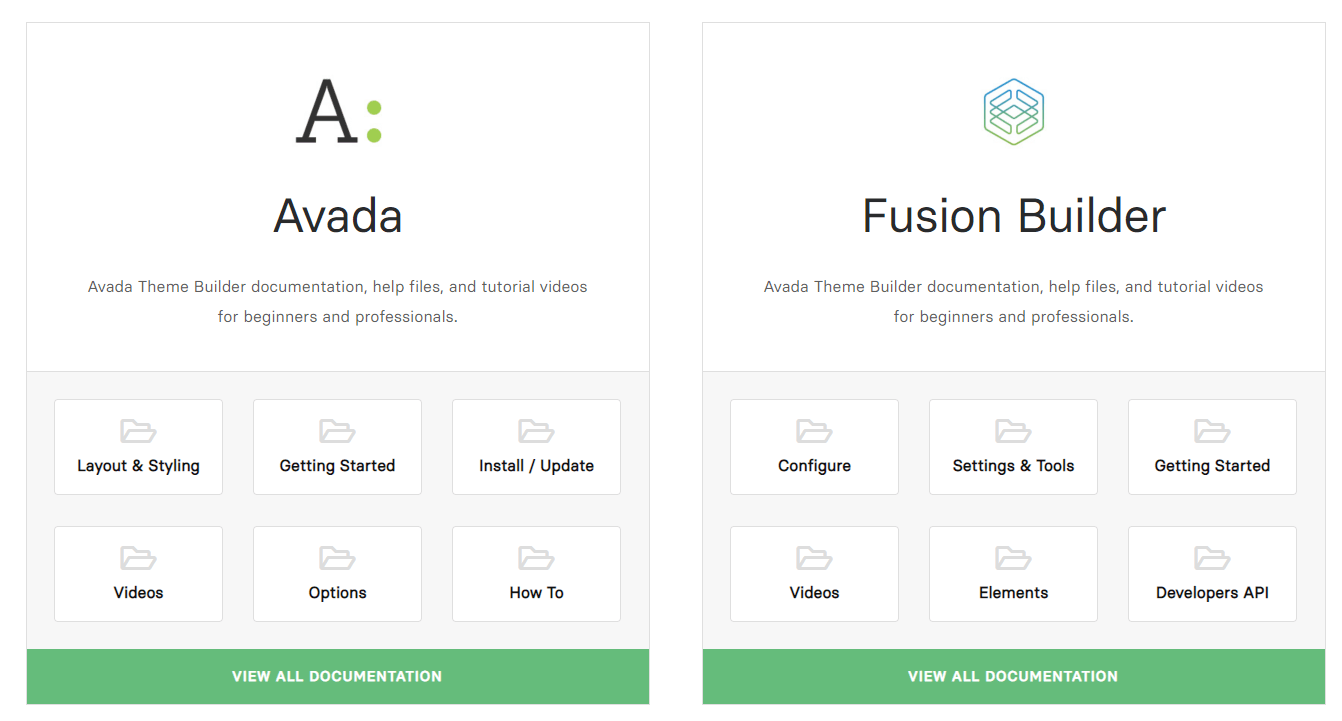 They're also full HD video guides and tutorials to help you use Avada to its fullest potential.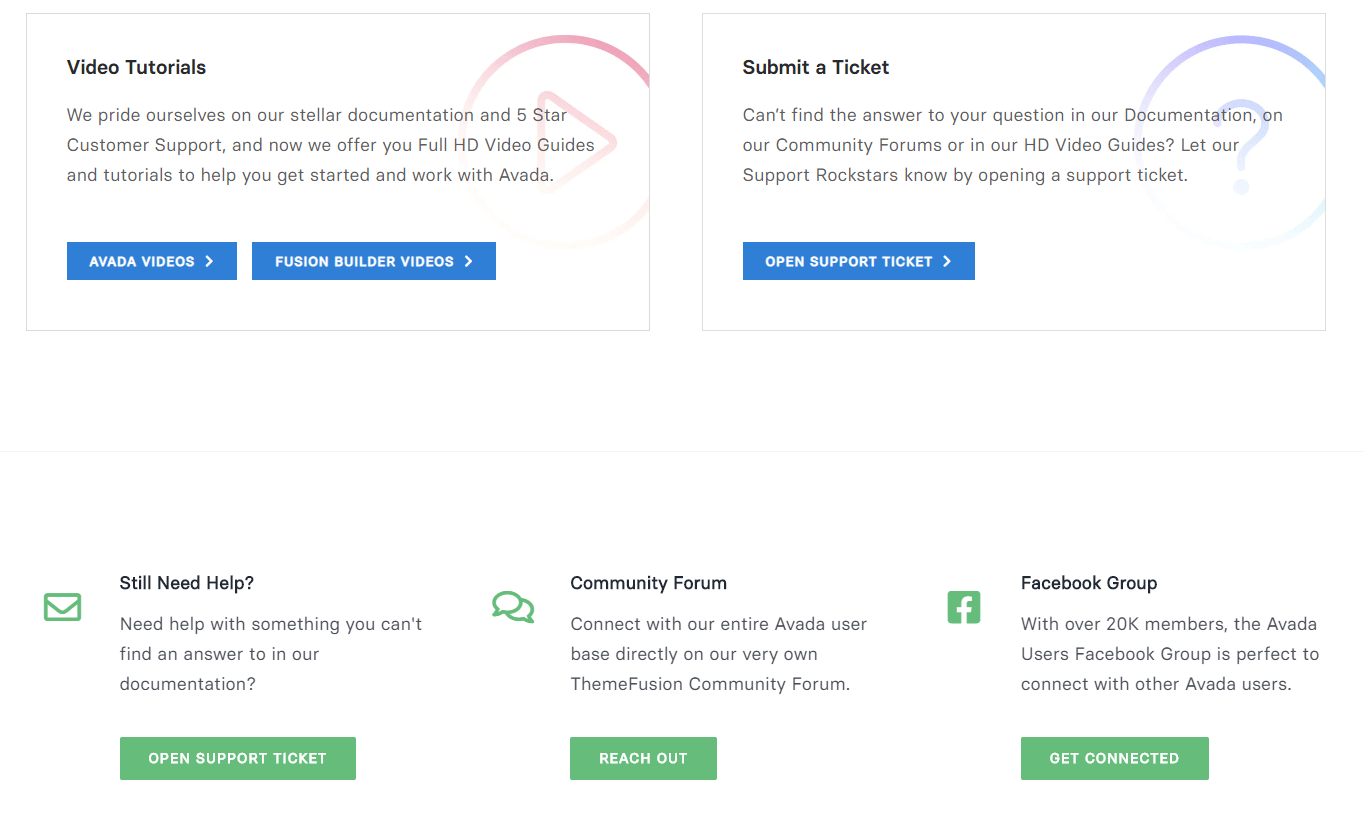 Can't find an answer? Use their ticket system to talk to a representative for expert help.
Lastly, the community forum and Facebook group are great resources to connect with Avada users.
Avada pricing plans
Here's the really good news about Avada: the regular license is only $60.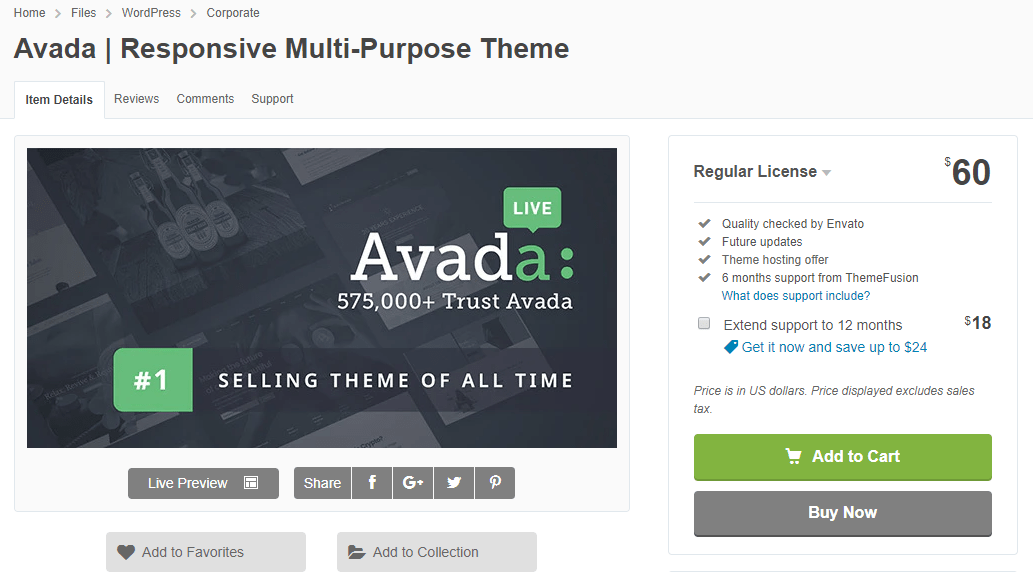 That means it's much more affordable than Elementor as you buy it once and you're done.
Nonetheless, the extended license comes in at a whopping $2,950!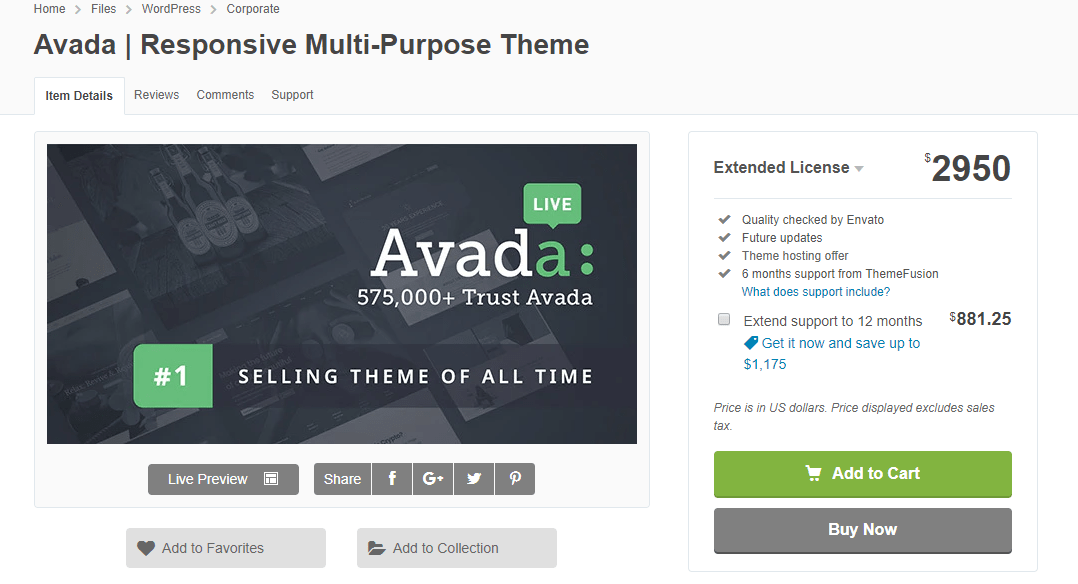 That means if you're a blogger or run a single website, Avada and Fusion Builder bundled may be the best option.
Agencies and those that want to use Avada on other websites than their own will find Elementor more beneficial.
Avada pros and cons
Avada advantages
300+ robust templates for any industry or use.
85+ pre-built website templates.
Comprehensive global options.
One time fee versus Elementor's annual renewal.
Avada advantages
Very expensive extended license.
Steeper learning curve.
Less intuitive and powerful visual builder than Elementor.
Final verdict of Elementor vs Avada
Using a page builder plugin on WordPress is practically mandatory these days.
Otherwise, you'll be coding every site and page from scratch.
And, we all know how much time that takes. 👎
You could be lessening your workload and headaches by using something like Elementor or Avada.
Elementor is simpler to use, better for agencies/freelancers, and offers better templates and modules.
Avada is ideal for bloggers or those with a single website. The regular license is also cheaper compared to Elementor's annual fee.
Check out my other Elementor articles if you enjoyed this one: