This isn't the year 2000 anymore.
You don't have to code every website from scratch.
In fact, here's a statement that may offend some…
You should never code a website manually.
Do you know why?
Because there are page builder tools that save hours of time, headaches, and energy.
They speed up projects, keep clients happy, and drive more money into your pocket.
Oppositely, you can keep getting stressed over lines of code not working.
Don't want to do that?
Then keep reading to see my comparison of the page builders Elementor and Beaver Builder.
Elementor vs Beaver Builder Overview
| | | |
| --- | --- | --- |
| | Elementor | Beaver Builder |
| Starting price | $49 | $99 |
| Free version | Yes | Yes |
| Frontend/backend | Both | Both |
| Modules | 80+ | 31+ |
| Templates | 300+ | 50+ |
| Whitelabeling | Yes | Yes |
| Support | Yes | Lacking |
| Ease of use | High | High |
| Clean code | Yes | Yes |
| Integrations | 20+ | 20+ |
| Developer friendly | Yes | Yes |
| Popups/forms | Yes | No |
| Community | Very active | Inactive |
Elementor features
Let's start by getting into the nitty-gritty of what Elementor offers to aid your web development process.
Front and end back development
Sometimes it's nice to develop everything in real-time with a drag-and-drop system.
Other times, you might opt to design a website wireframe in the backend.
Does this sound familiar?
Great, because Elementor offers both.
I use Elementor on the very website you're browsing right now. 🙂
Upon editing a page, you will be greeted with an interface that looks like this: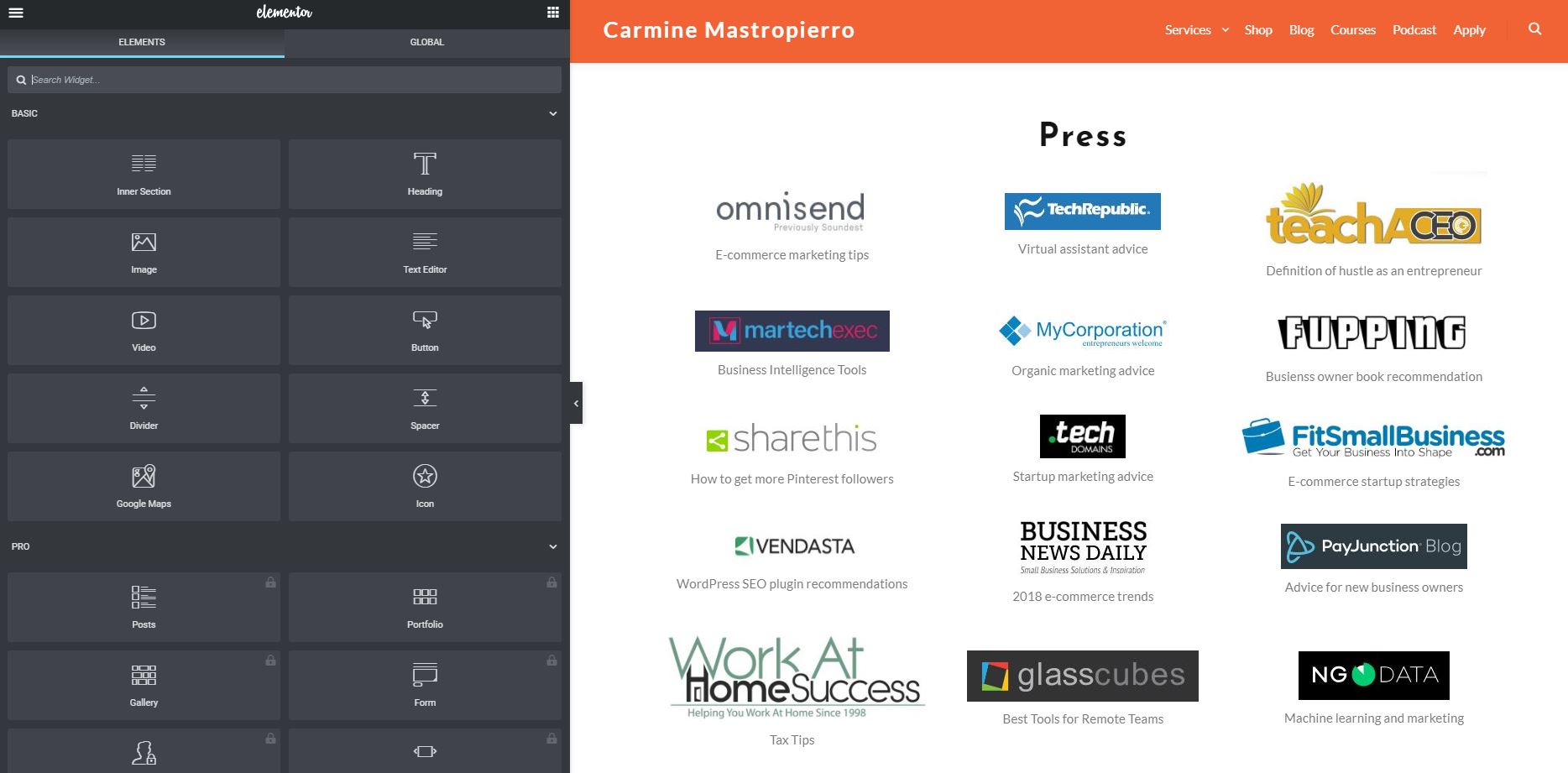 This is very similar to Beaver Builder, as you will see later.
All of the modules and settings are found on the left, while the WordPress page remains completely customizable on the right.
Elements can be added in one of two ways:
Dragging them from the left onto the screen.
Clicking the plus button, choosing a structure, and adding a widget.

You can edit the settings for every widget from the left, as well.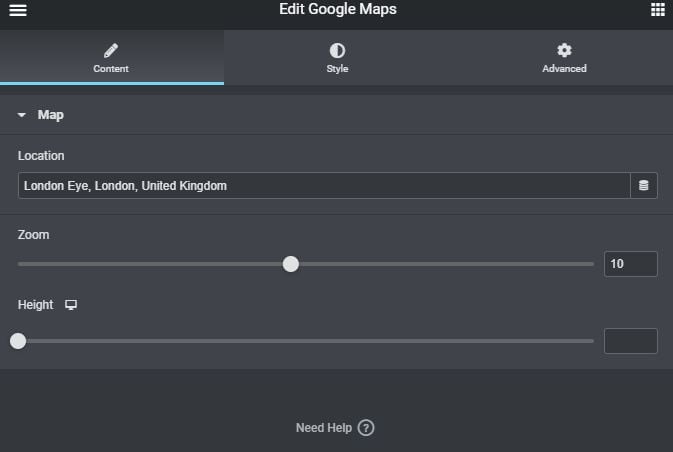 There are general settings that change for every module.
However, "Style" settings include text, colour, font, background, and similar design options.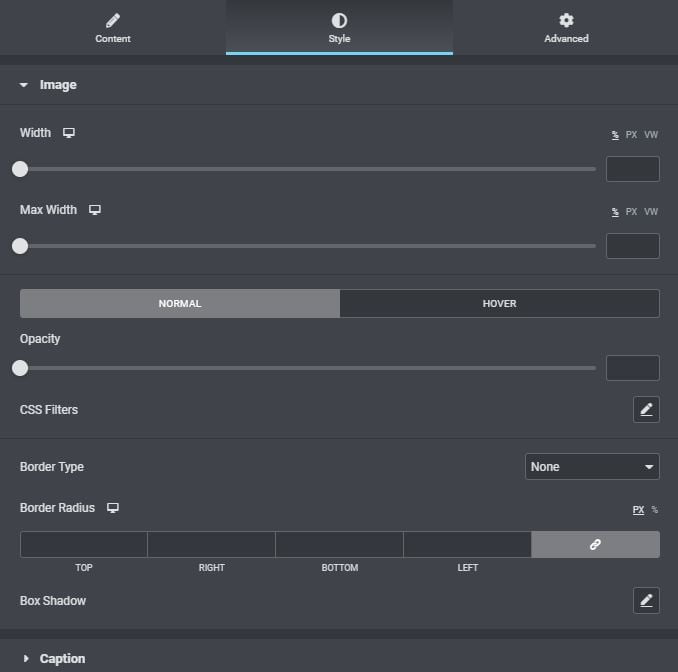 The "Advanced" tab has options for padding, margins, motion effects, positioning, and more.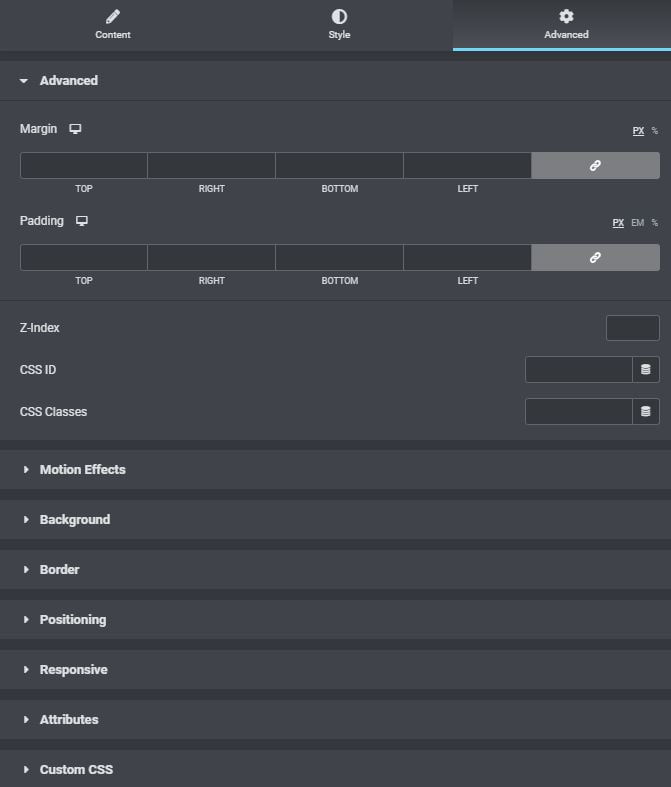 It's very easy to navigate, and it's self-explanatory. I personally have had no issue using Elementor.
It's also fast, and the preview option works great.
That brings me to my next point.
80+ practical modules
Who wants to manually add images, maps, buttons, pricing tables, and other things?
Nobody!
That is precisely why there are over 80 incredibly practical Elementor modules to add to your website.
All of these add extra functions to websites, including:
Share buttons
Testimonials
Calls to action
Forms
Etc.
However, the free version of Elementor only comes equipped with about 20.
Get the Pro version here, and you'll gain access to widgets like this: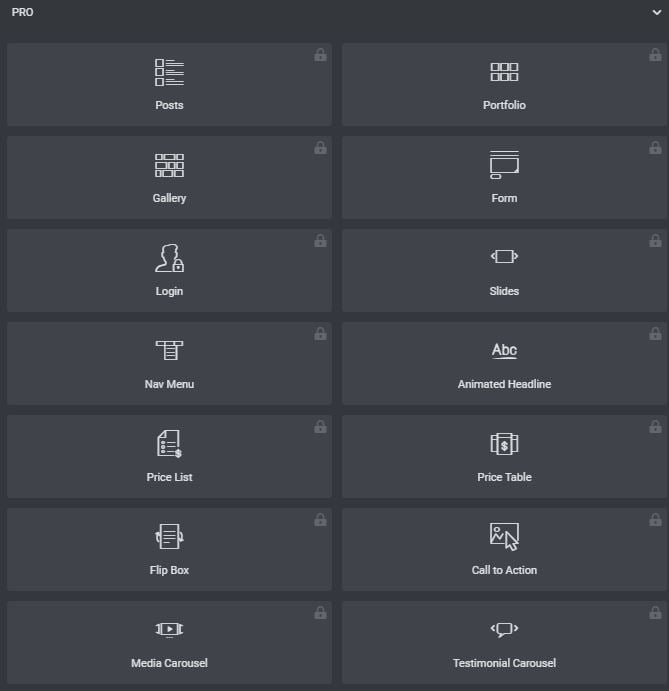 Elementor is broken down into sections, columns, and widgets to get more precise.
A section is an area in which you place columns and widgets. Think of it as its own canvas.
Then, a column is second in the hierarchy, which contains the widgets themselves.
Here is an example:

This is taken from my press page, where there is a section consisting of three columns.
Each column has an image and text widget that displays publications I've been featured on.
300+ templates to choose from
Imagine having to design every website from scratch.
Not only does that require mountains of time, but you also have to be insanely creative to brainstorm the designs and layout.
Or, you skip all those shenanigans and use one of Elementor's 300 web design templates.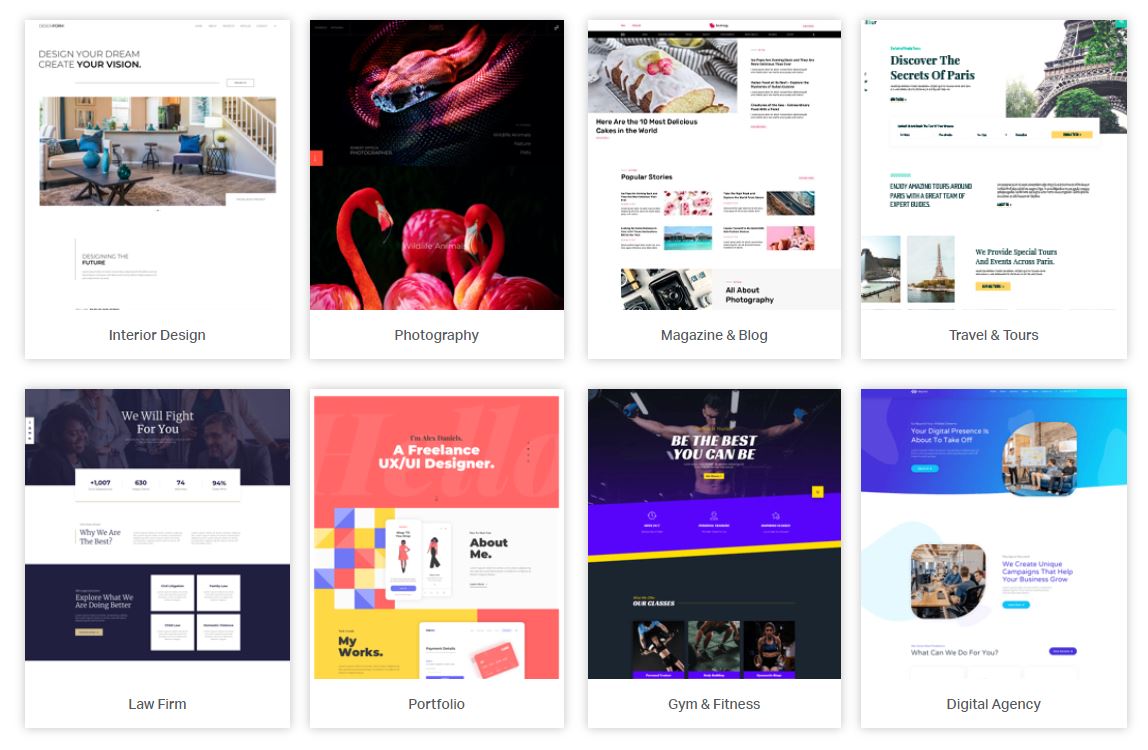 These are pre-built themes that you can customize to suit your business or a client's.
They're themes for any purpose imaginable: law firms, marketing agencies, photography, magazines, blogs, etc.
The best part?
You can import them with the click of a button with Elementor's library feature.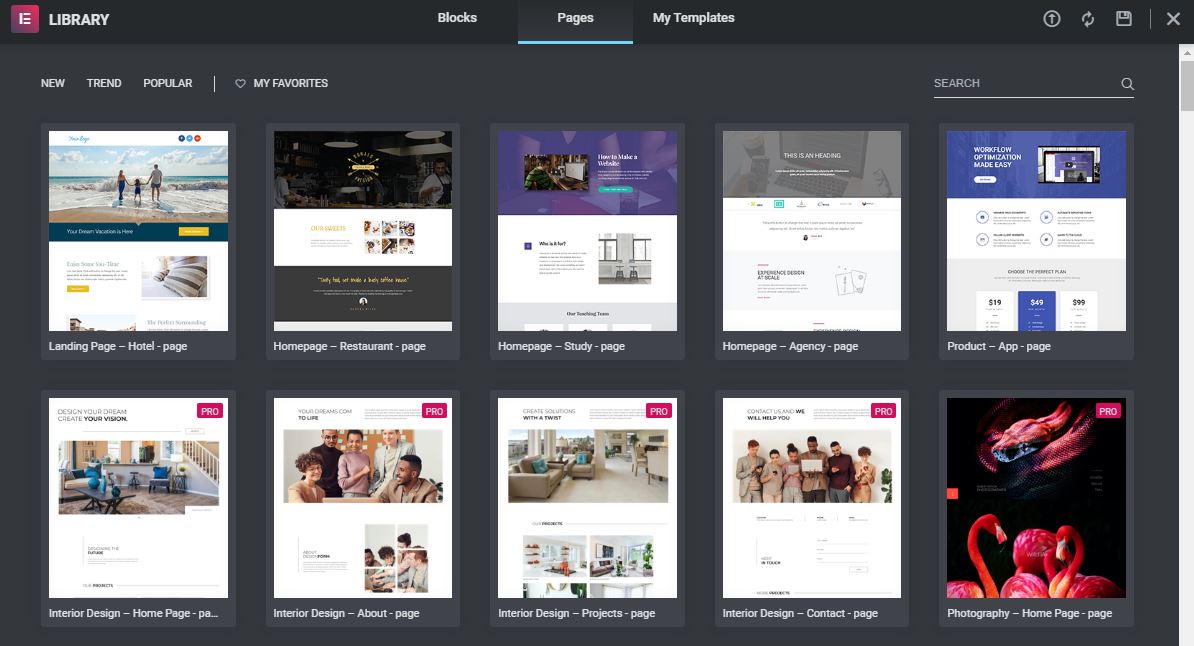 Block templates are sections like forms, calls to action, and similar.
Page templates, on the other hand, are completely fleshed-out pages you can edit.
Active community and support
I don't know about you, but I love communities that offer feedback and help when you need it.
It makes a product more enjoyable and intimate.
Elementor has a very active and passionate community all over the internet.
They have several different groups you can become a part of, including:
The developers community.
Official Elementor meetups. (Time to geek out!)
The Elementor translation community.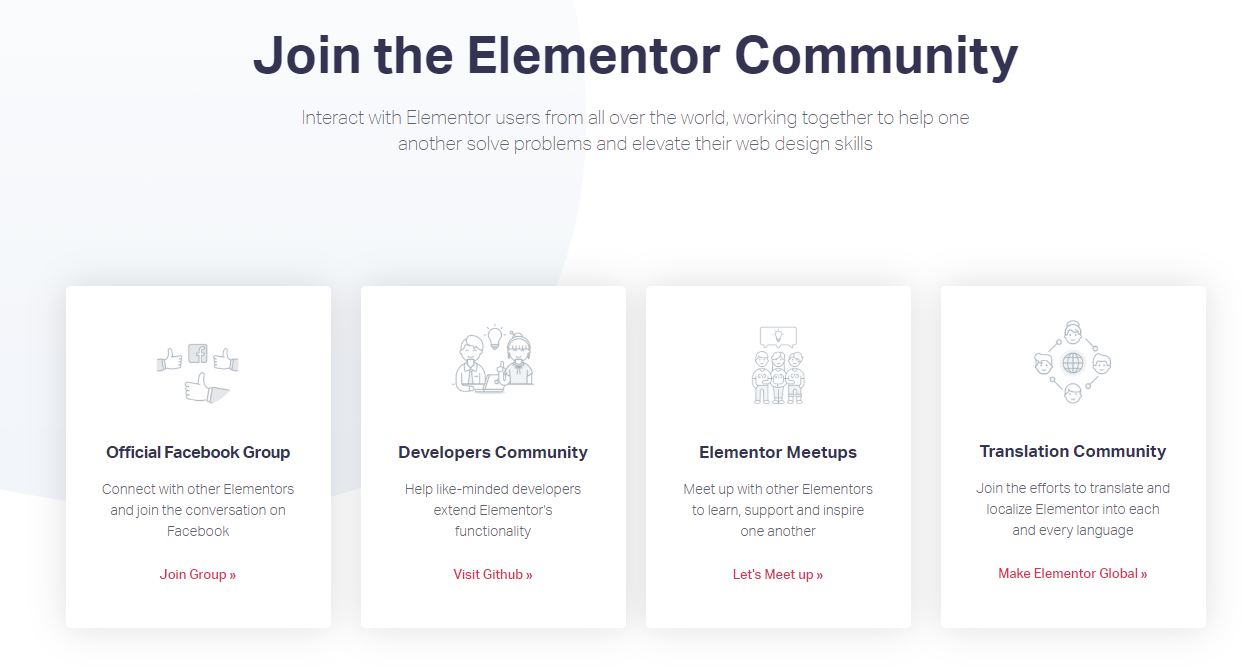 All of these continue to make Elementor a better product and connect entrepreneurs.
Moreover, sometimes you get stuck or experience a bug.
That's why Elementor offers a variety of support options, such as a knowledge base, a help center, and 24/7 premium support for Elementor Pro users.
Elementor pros and cons
Okay. Let's talk about the pros and cons of Elementor before we move on to its pricing.
Elementor advantages
A powerful free version is available.
There are over 300 templates to use.
80+ widgets that add function and aesthetics.
Easy to use and straight-forward UI.
Create custom headers and footers.
Post type layouts.
Elementor disadvantages
No lifetime license available.
Doesn't inherit styles from current theme.
Styling bugs can happen with text, font, and other elements.
Elementor pricing
You can begin using Elementor completely for free. Granted, it has some limitations.
If you want to invest in an annual plan, they offer these three packages: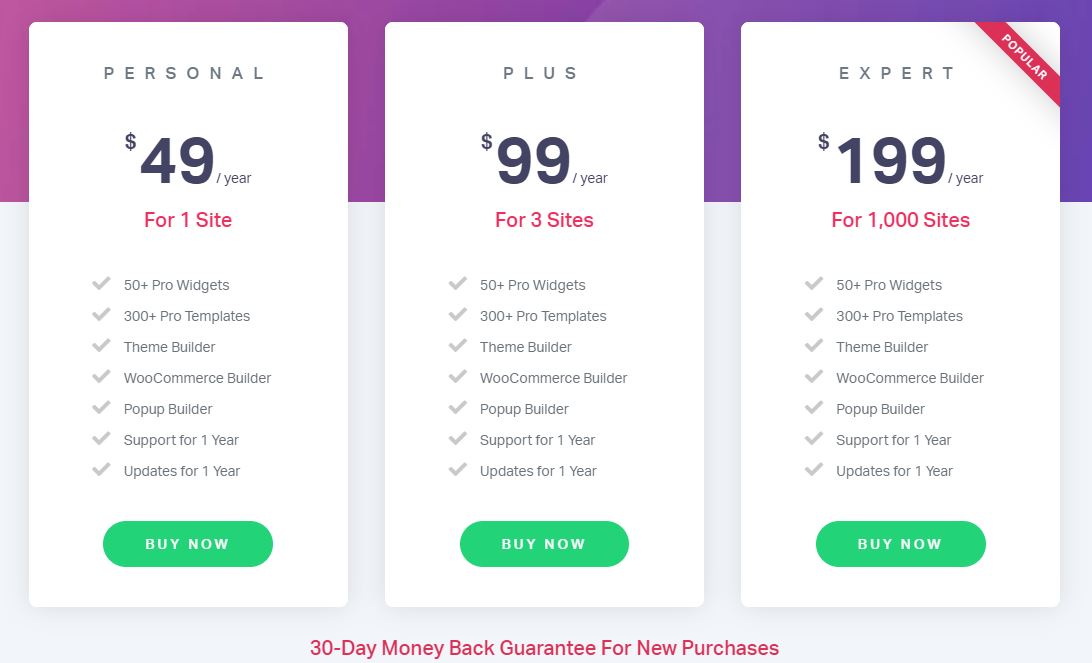 Personal ($49/year): 50+ Pro widgets, 300+ Pro templates, WooCommerce Builder, popup builder, and support/updates for one year. Usable for one website.
Plus ($99/year): All of the previous features for three websites.
Expert ($199/year): All of the previous features for 1,000 websites.
If you're using Elementor for a personal website, you'll find that the Personal or Plus plan is perfect.
$49/year is equivalent to roughly $4/month or $8/month for the Plus plan.
The Expert package is ideal for web design agencies that need to apply Elementor to numerous different projects.
There's also a 30-day money-back guarantee, so you can't lose anything by trying it.
Next up, let's look at Elementor's competitor Beaver Builder!
Beaver Builder features
These are the main features that you can look forward to when using Beaver Builder compared to Elementor.
WordPress customizer on steroids
Remember when you first tried to design a WordPress site and the hiccups you had to go through learning the customizer?
Me, too.
Many of us abandoned this feature and began relying on themes. But, Beaver Builder helps us get back to our roots by completely revamping the WordPress customizer.
Here's what it looks like:
Those who enjoy the standard WordPress workflow will appreciate this feature.
However, they also have a visual page builder like Elementor.
You click to edit any individual module, and the tabs feel very similar to its competitor.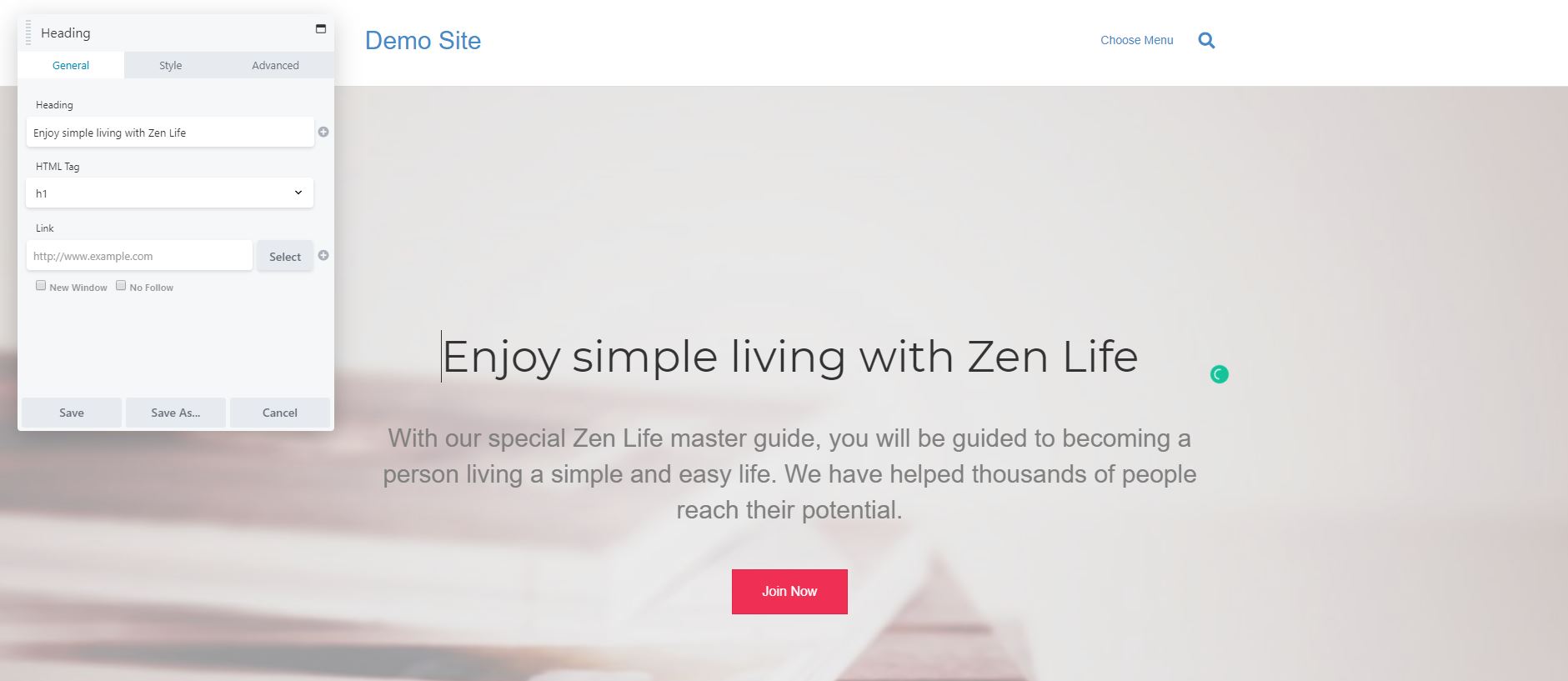 Although, the "Advanced" tab has fewer options.
It's fast, responsive, and smooth nonetheless.
Click the plus button at the top of the page, and you will be able to add any module by dragging it onto the screen.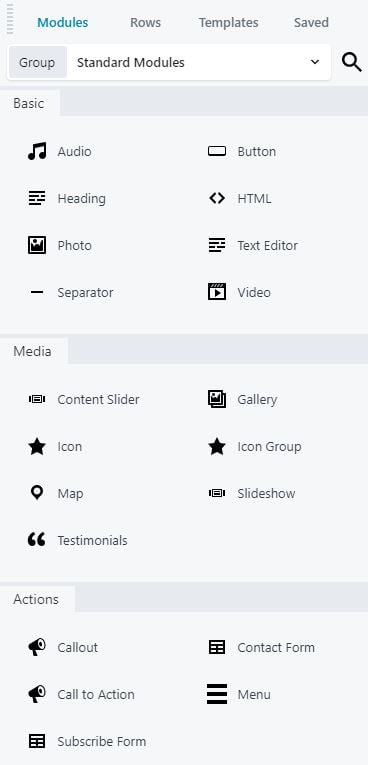 I also really like that you can adjust the width of columns by dragging the side.
Keep in mind it has significantly fewer widgets, though.
That brings me to my next point.
Framework theme + templates
You and your clients have many different needs.
Landing pages, content pages, blogs; you name it.
Wouldn't it be convenient if there were templates for all of these types of pages?
Well, there is. 🙂
Beaver Builder includes a large portfolio of templates you can use directly from the visual builder.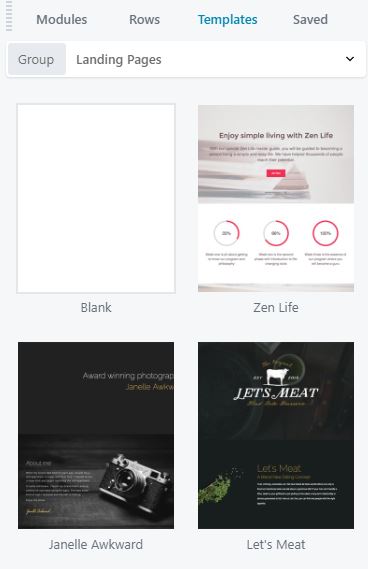 Custom designs can be saved as templates to use later, just like Elementor, too.
Nonetheless, Elementor offers more templates and a greater variety.
Community forum
Beaver Builder has a community forum used to discuss announcements, ask for help, request features and more.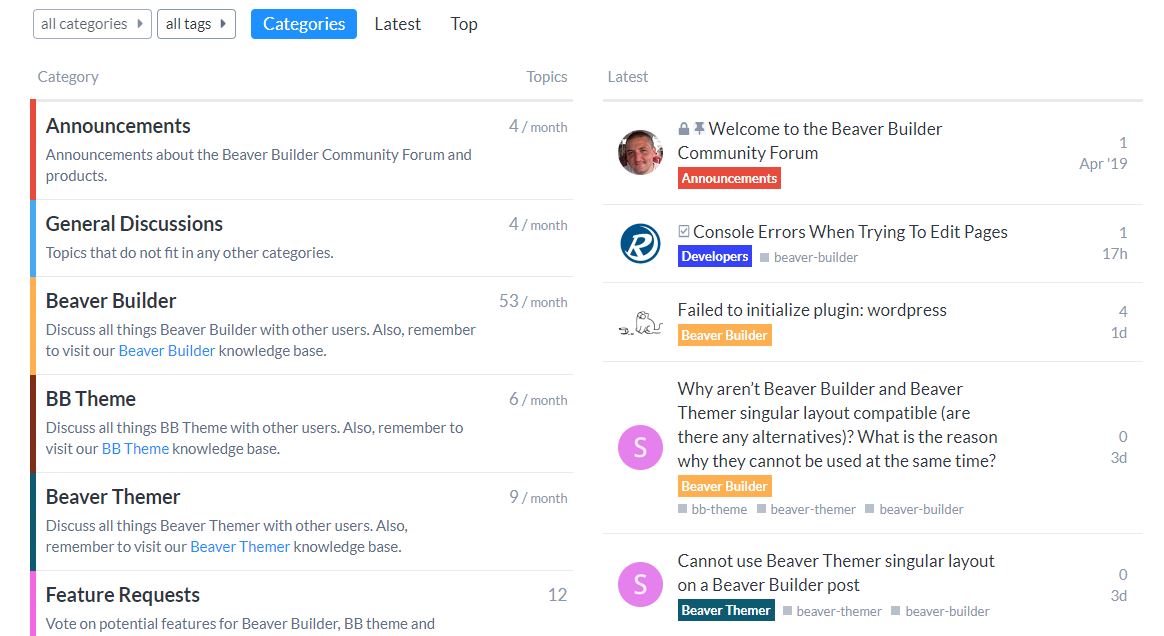 It isn't incredibly active, as some categories only have a few topics per month.
Elementor wins in this area again because they have a big Facebook group and other communities, as I detailed earlier.
Beaver Builder pros and cons
Now that you understand what to expect with both tools, here are the pros and cons of using Beaver Builder:
Beaver Builder advantages
Fast visual page builder.
White label option with certain plans.
Professional and responsive templates and widgets.
Enhances the existing WordPress customizer.
Unlimited websites with the most basic plan.
Beaver Builder disadvantages
Less templates then Elementor.
Slower support.
Smaller community than Elementor.
No form builder.
You have to buy addons for extra features.
More expensive compared to Elementor's plans.
Beaver Builder pricing
These are the available plans for Beaver Builder: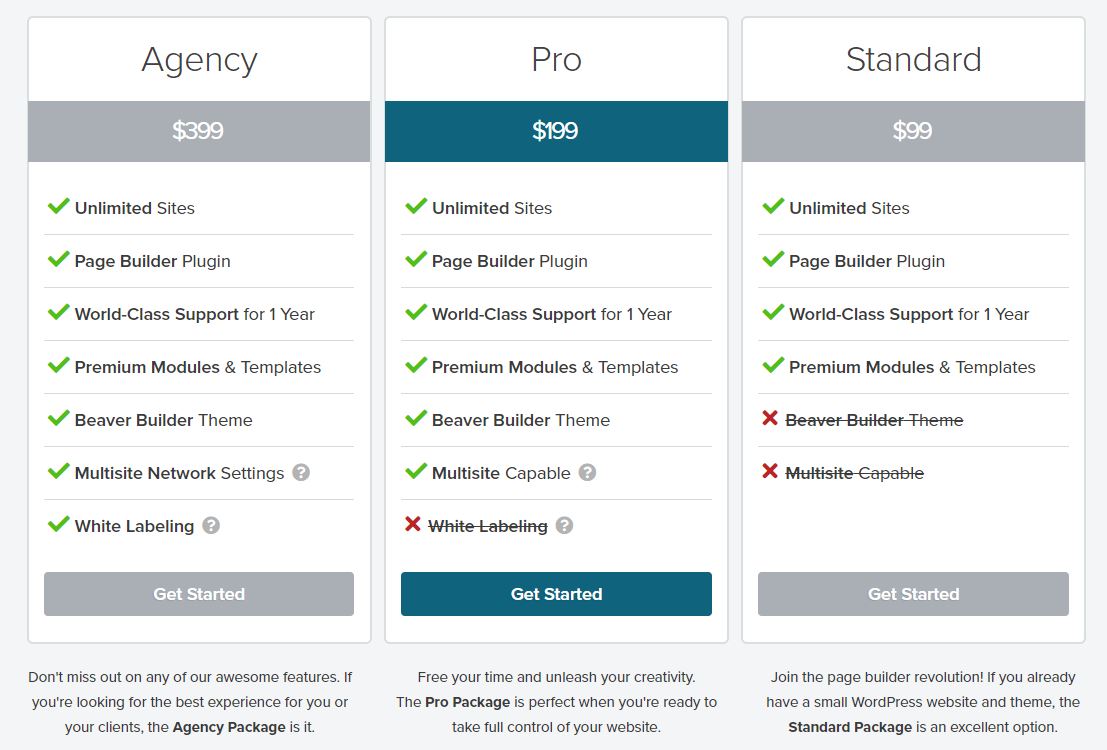 Standard ($99/month): Unlimited sites, Page Builder plugins, one year of support, and premium modules/templates.
Pro ($199/month): Standard features plus Beaver Builder time and Multisite installation.
Agency ($399/month): Pro features plus multisite network and white labelling.
Overall, it's more expensive than Elementor, although you receive unlimited sites with each plan.
Summing up Beaver Builder vs Elementor
Designing a website shouldn't be gruelling and exhausting.
Sure, it requires skill, talent, and execution, don't get me wrong.
However, you can greatly improve your workflow with a good page builder tool like Elementor or Beaver Builder.
Elementor offers over 300+ templates, 80+ modules, and its free version is wickedly powerful. It's also more affordable than Beaver Builder.
You also gain access to impeccable support and a large community to network with.
Its competitor offers a lightning-fast visual builder (both back and front end), an enhanced WordPress customizer, and a dedicated theme with the Pro plan.
I suggest that businesses with less budget opt for Elementor and agencies invest in Beaver Builder.
Or, try both of their free versions and see the difference firsthand. 🙂