Struggling to get insurance leads?
You're in the right place.
I'll be teaching you how to generate leads for an insurance business to ensure your pipeline is always full.
It doesn't matter what insurance niche you're in, either.
All of the strategies you will learn ahead are evergreen and apply to every industry.
Let's take the health insurance sector as an example.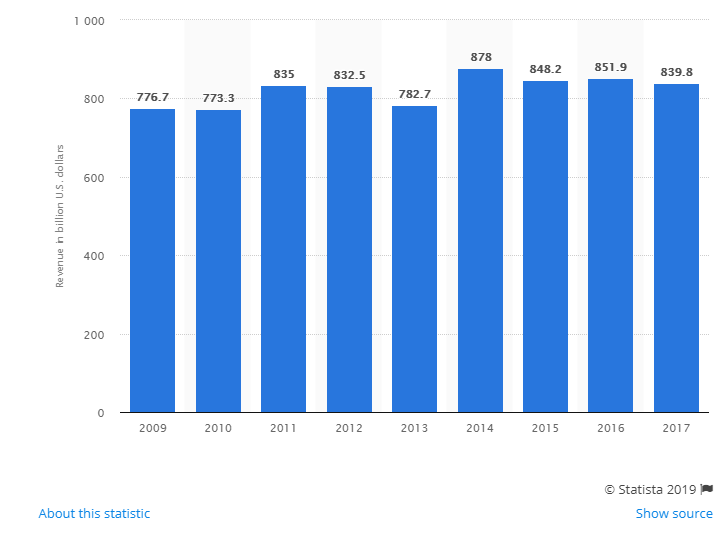 It grew approximately $64 billion from 2009 to 2017, which means more opportunities are available for you to generate leads.
But you have to have the right strategies in place if you want to crush it in the insurance space.
A lot of companies rely on referrals or getting their leads from external sources, which reduces control.
You always want to be fully responsible for how you acquire insurance leads because it allows you to scale your business easier and generate more revenue.
So without further ado, give these lead generation strategies a shot and enjoy getting nonstop clients!
Use live chat to capture visitors
42% of consumers prefer live chat over any other method of contact.
It's convenient, quick, and simple.
They don't have to sit on the phone listening to elevator music or wait for an email reply.
Live chats can also be automated and built into lead generation funnels to convert users into paying customers.
Here's how to pull this off.
Step 1: Install a live chat system on your website
Depending on which platform your website is hosted on, you will be able to install a live chat plugin or app.
I'm on WordPress, for example. There are heaps of live chat plugins like Tawk.To that are completely for free.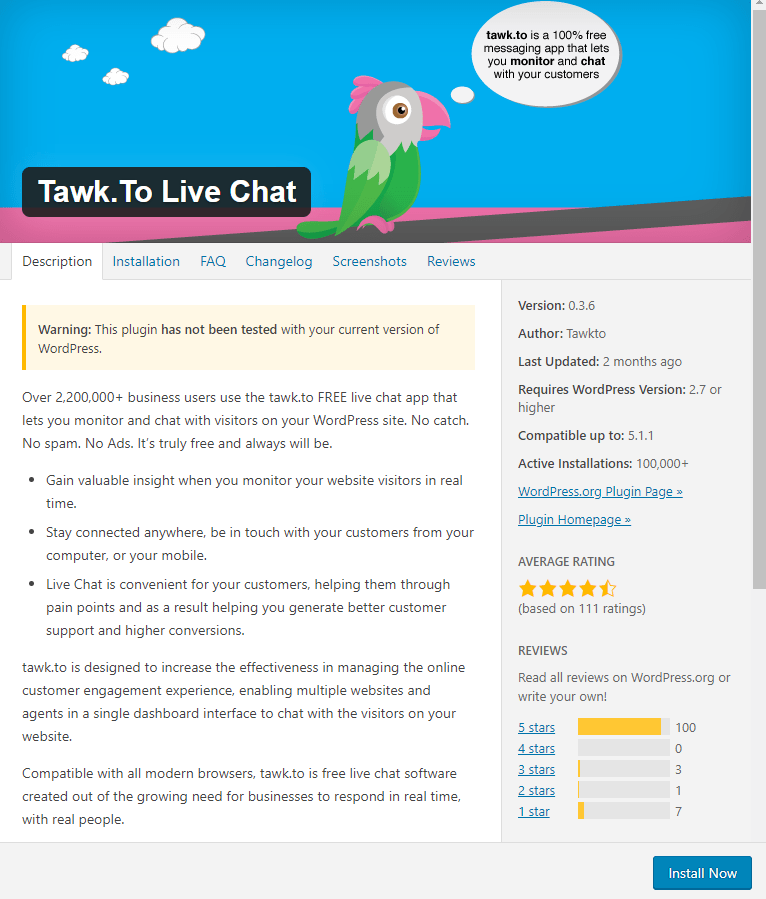 Presuming you're on WordPress as well, click the "Install Now" button and "Activate" afterward.
Step 2: Create a welcome message
When users land on your website, there should be a live chat prompt that begins the interaction.
You can create a welcome message by visiting the Tawk.To the dashboard, click the settings button on the left sidebar and select "Add Trigger."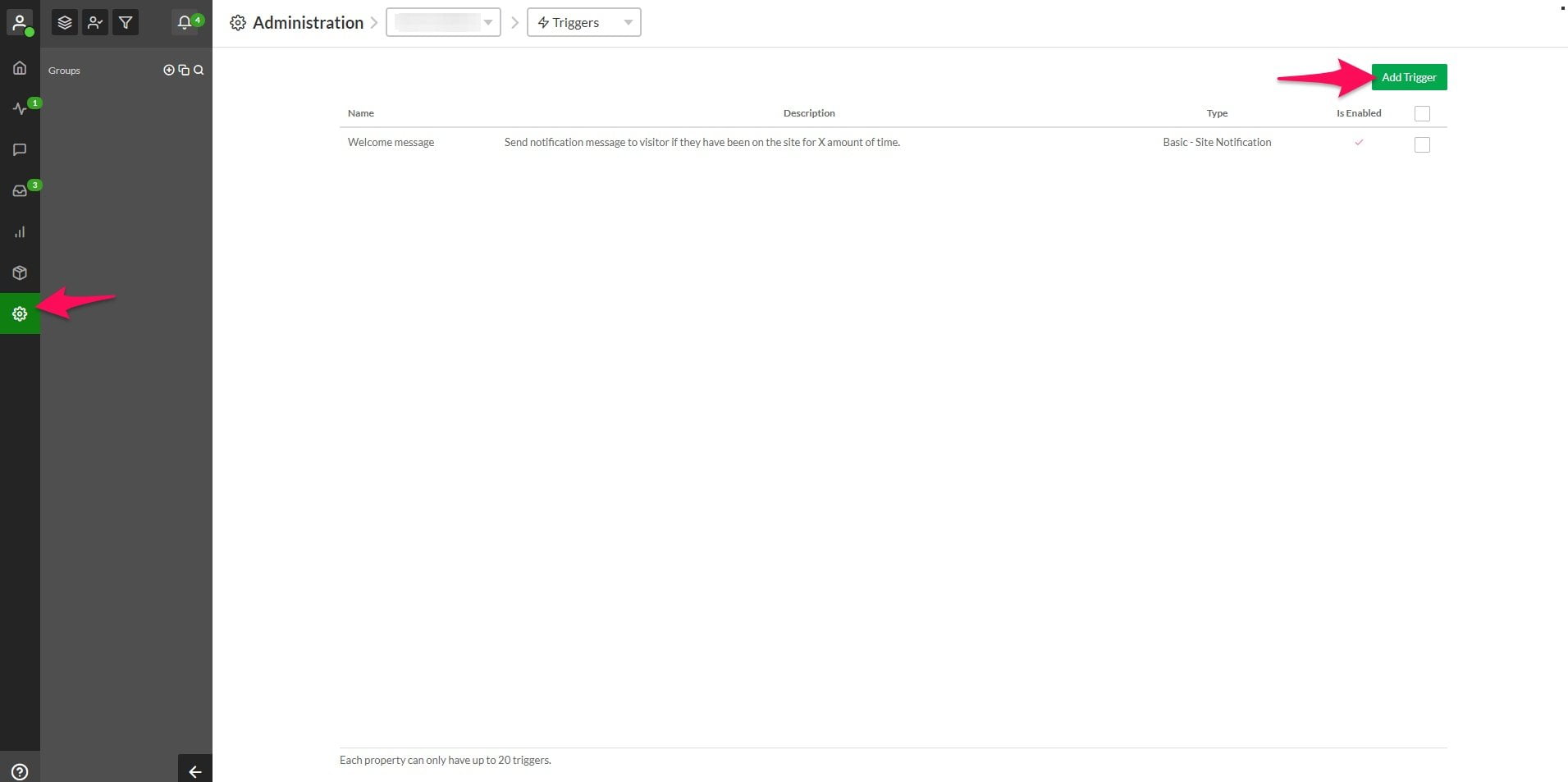 Set a name, delay, URL, and appointed agent for the trigger.
Craft a welcome message that entices a conversation, such as asking a question or making a relevant statement.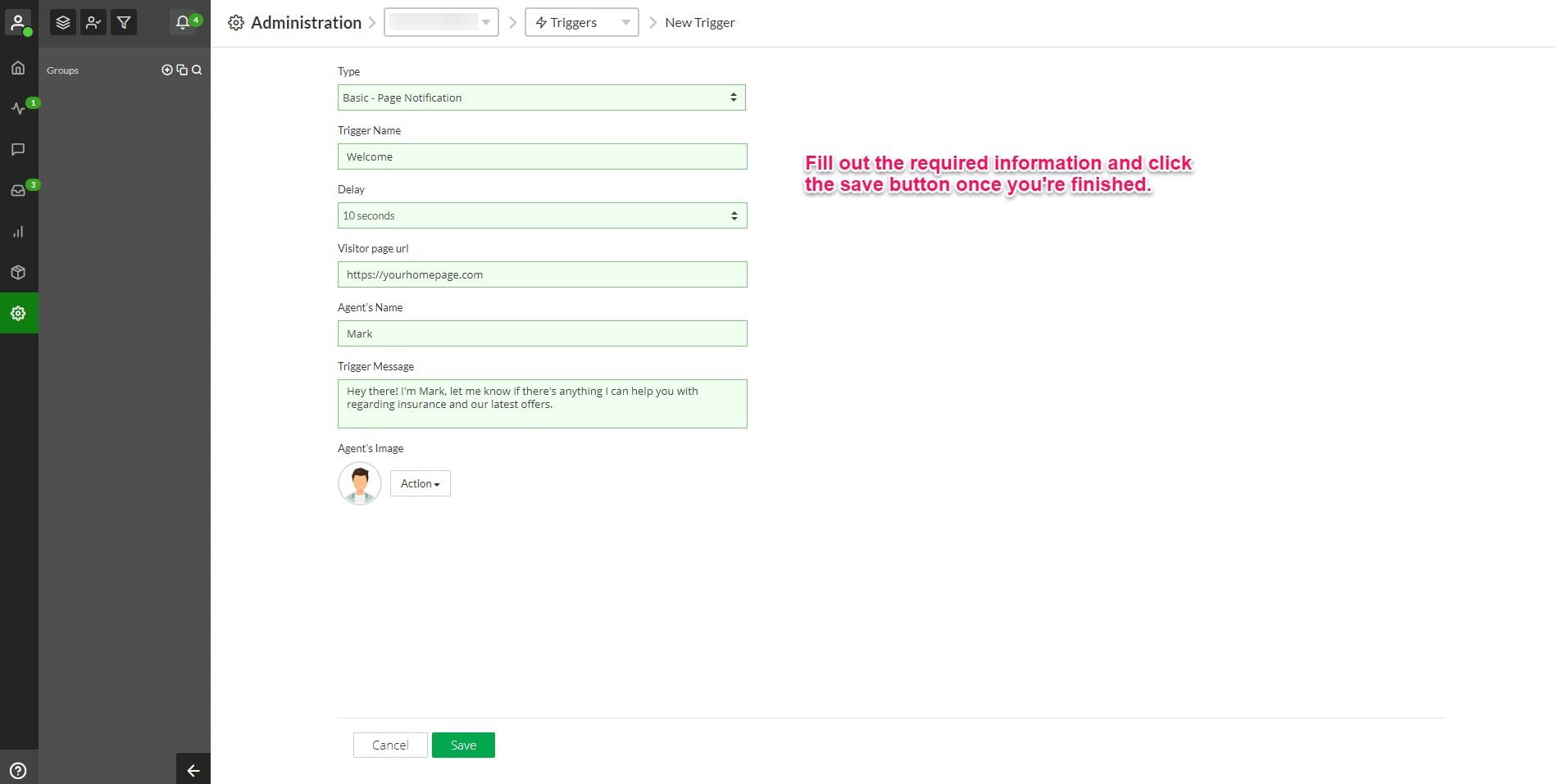 Step 3: Download the mobile app
Most live chat services, including Tawk.To, have a mobile app you can download to stay constantly connected to new conversations.
You will receive a notification every time someone interacts with your live chat, so you can respond ASAP.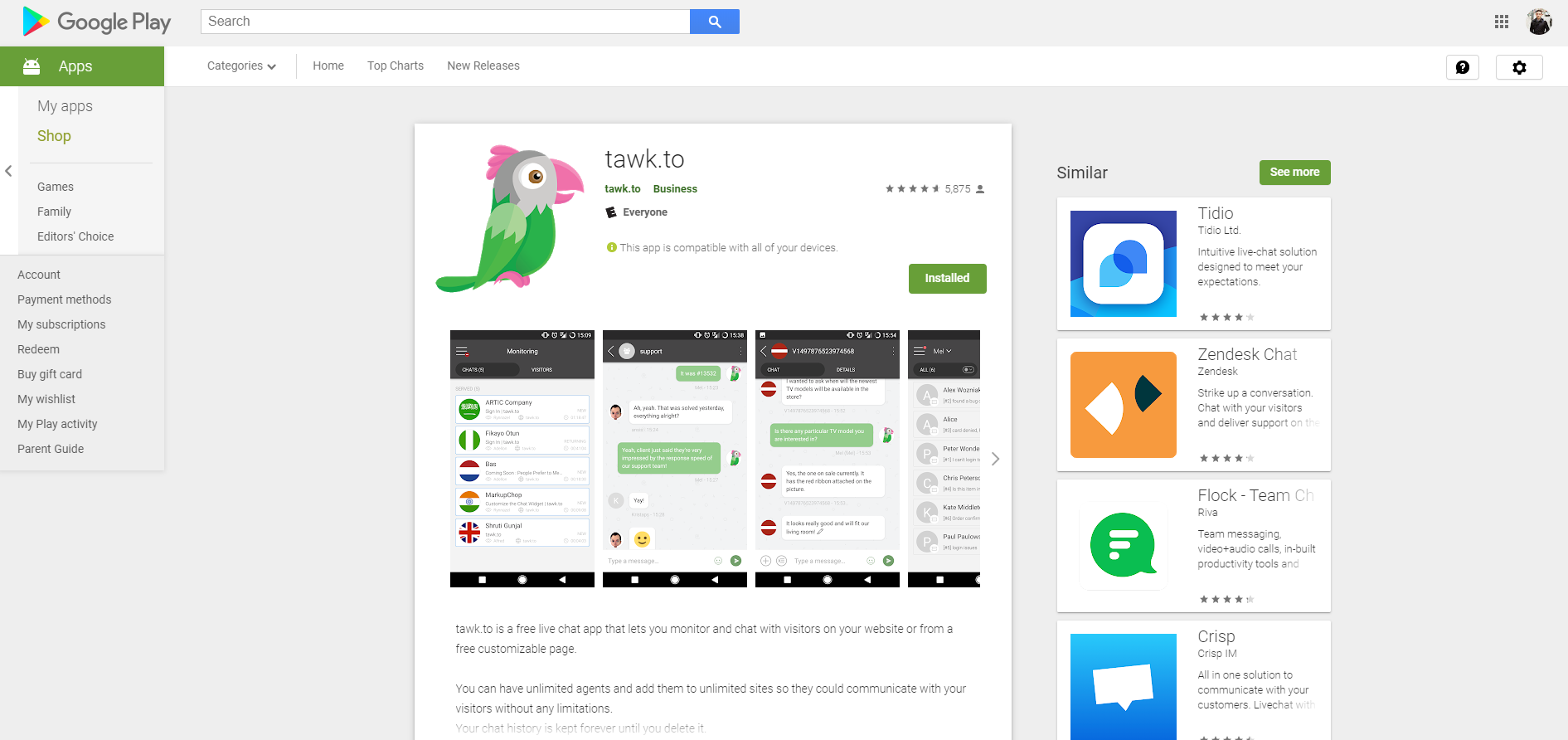 Step 4: Have a process in place
Live chat is an insanely effective tool for generating leads, but you have to use it correctly.
You can't just let it sit there and expect people to hand over their credit cards.
Instead, you need to have a thorough lead generation process in place.
A basic funnel may look something like this:
You answer any questions that users have.
Afterward, you offer a lead magnet, such as a free e-book, whitepaper, case study, or consultation, depending on the user's interest level.
You collect their information and regularly follow up until you close a deal.
I also recommend reading my guide on lead magnets to learn more about this approach.
Build up an email list
Did you know that 54% of marketers agree that email is the most effective and least difficult advertising channel?

Furthermore, 89% of marketers agree that it's their primary method for generating leads.
My question to you is this: what's your email marketing strategy right now?
For those that heard crickets, it's time to change that.
Email marketing is easy to automate and set up in a way that generates your insurance business leads while you sleep.
Here's how.
Step 1: Choose an email marketing service
There is no shortage of email marketing tools for you to choose from.
They will help you collect emails via forms, send professional-looking campaigns, and ultimately get you, insurance customers.
OptionMonster is one such tool I'd recommend to achieve all of these things.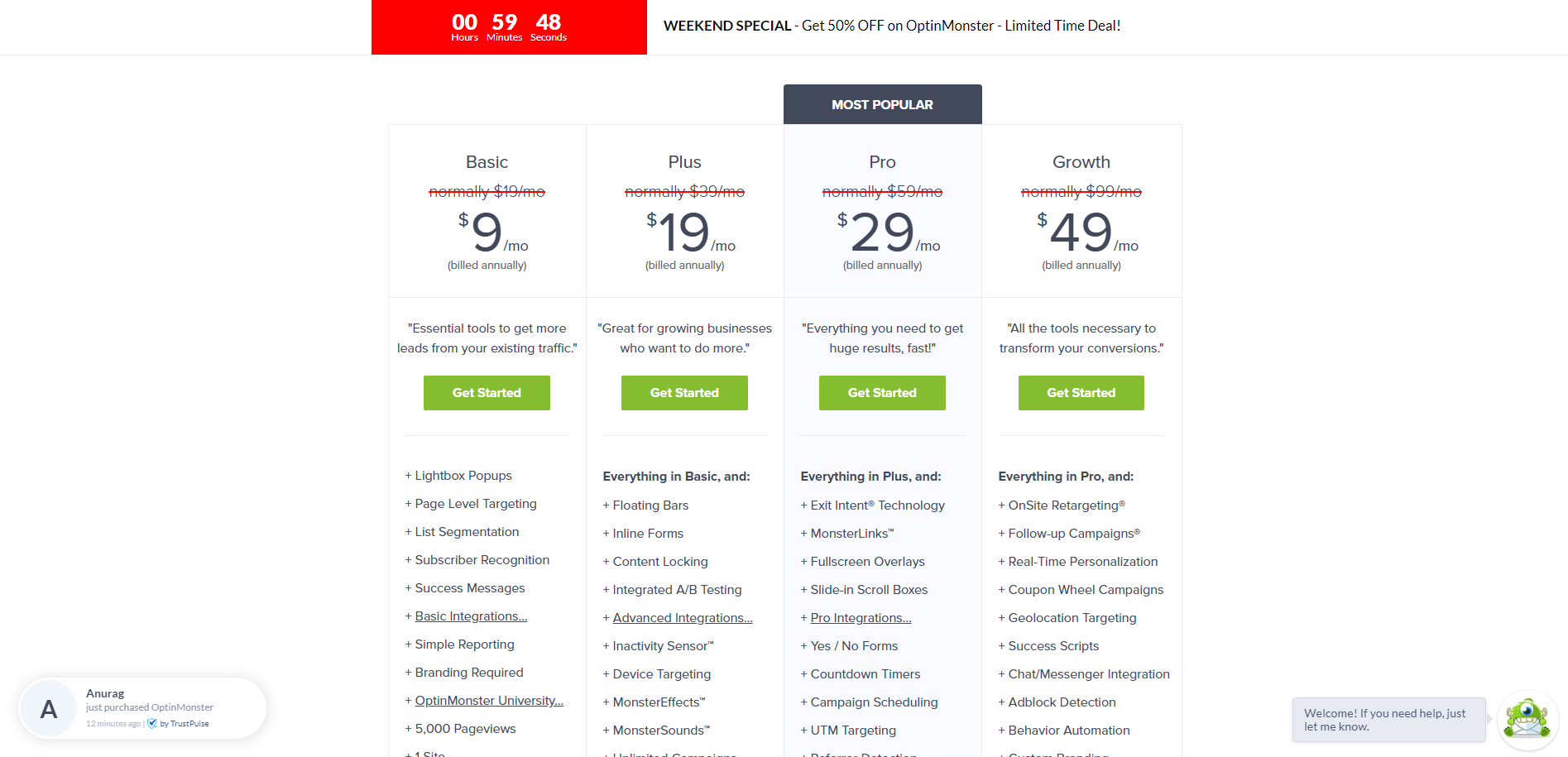 As you can see, their plans offer further amounts of technology, features, and website limits the more you spend.
You can always start with a basic plan and upgrade when you require more resources.
Step 2: Create an opt-in form
You will need to create a form for users to sign up with if you wish to collect their information.
Look at GoDaddy.

They include a simple form and call to action in the footer of their website.
It doesn't have to be fancy or outside of the box.
Often simplicity converts the best.
You can also include a form in the sidebar of your website, as a top bar notification, or in the middle of content.
Step 3: Offer a lead magnet
Why should people give their personal information to you?
What's in it for them?
To increase how many people sign up for your newsletter, I suggest offering free value in the form of:
Email marketing tools will allow you to attach these types of magnets to emails, and they can be fully automated.
Once a user signs up, the item will be automatically sent to their inbox.
BrightEdge does this with their whitepapers.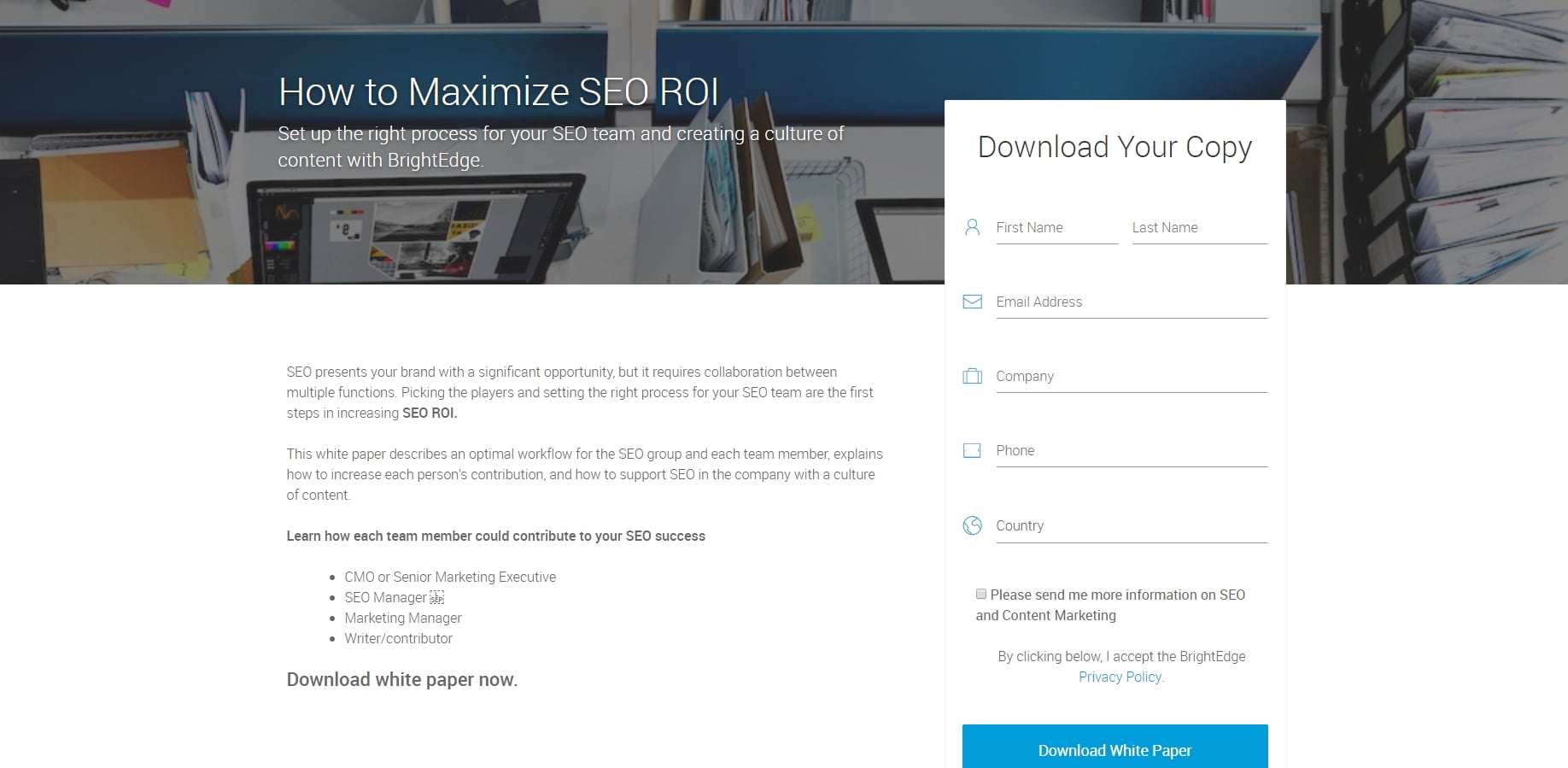 Interested users have to enter their personal information to download the paper.
As a rule of thumb, I suggest asking for as little info as possible to speed up the forming process and prevent resistance.
Step 4: Pitch your services, albeit gently
Remember, people signed up for your newsletter to get updates, news, and information.
Not to get advertised.
I suggest using Pareto's principle, which is the philosophy that 80% of the results come from 20% of the actions we take.
In the case of email marketing, keep 80% of your newsletters full of free value, and the remaining 20% can pitch your insurance products.
I like to send out my latest blog posts a majority of the time and pitch my services or products very rarely.
This has kept my email list intact, and I experience very little churn because of it.
Host a seminar
Seminars and all forms of public speaking are incredible ways to build thought leadership and authority.
Don't worry if you're not the savviest public speaker, either. I'll give you some tips to maximize your performance on stage.
Step 1: Determine the seminar topic
You want to attract insurance leads, right?
Then it only makes sense to host a seminar that answers questions and relates to an insurance topic.
This will ensure that only relevant people attend the event.
I recommend using the free tool Content Row to get ideas.
Simply type in the word "insurance" or a similar phrase, and click "Get Headlines."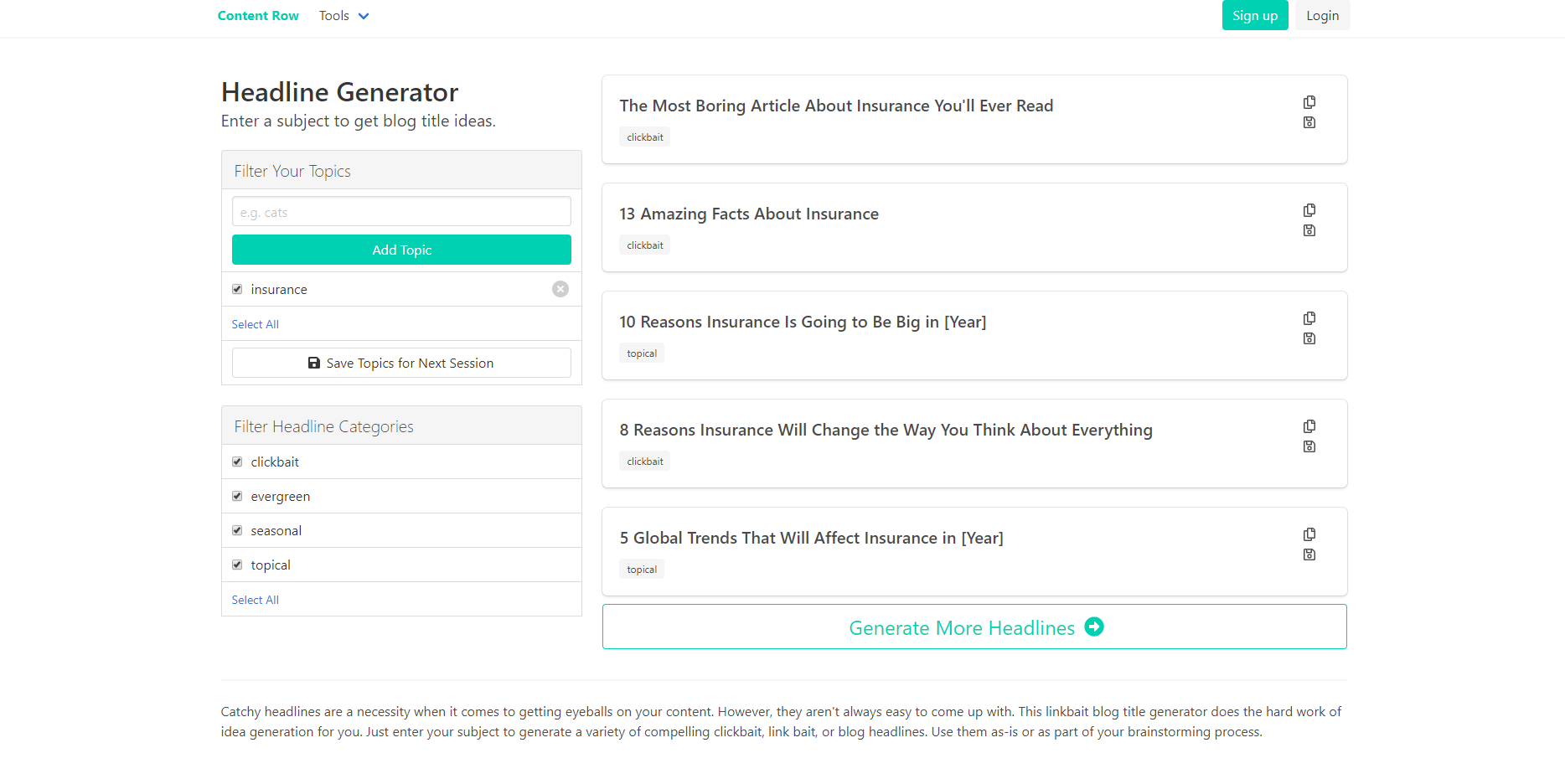 Step 2: Flesh out the seminar material
With a topic in mind, it's now time to break down how you will present the seminar.
Brainstorm different sub-topics you can speak about. For example, if you were doing a seminar on the benefits of having life insurance, you might cover:
You don't have to spend money out of pocket for health expenses.
It improves the quality of life.
It offers peace of mind.
Each section should be practical and useful.
You want the audience to walk away knowing what to do next, and if you can tie it into your insurance products, that's even better!
Step 3: Organize and promote the seminar
You will need a location to host the seminar, such as a banquet hall.
A quick Google search will net some halls available for rent that you can contact.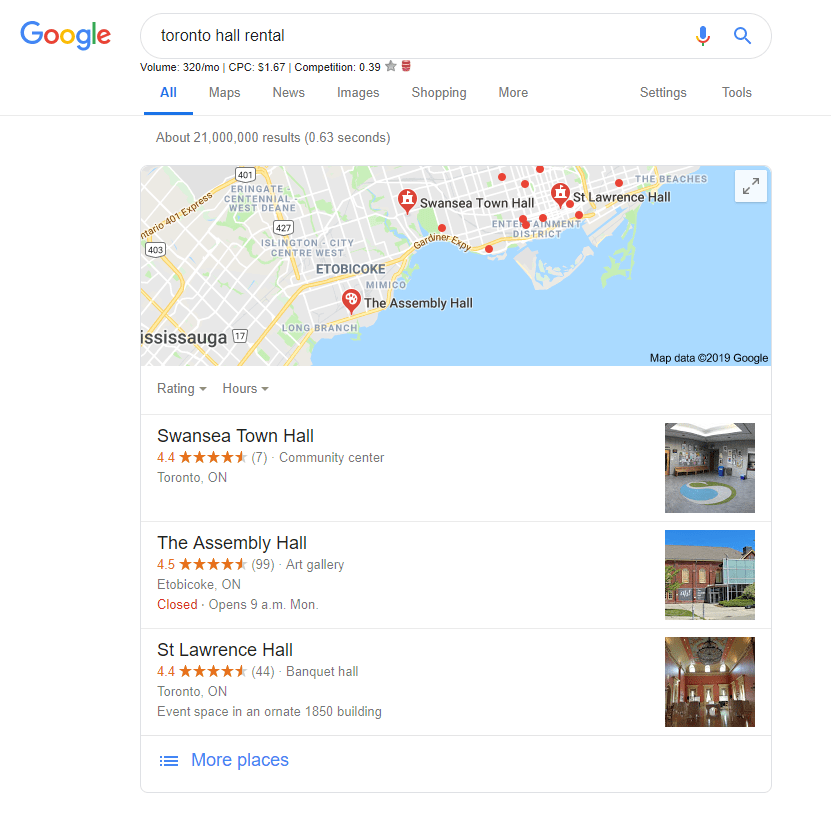 Once you have a date and location decided, you need to focus on promotion to get people to attend the seminar.
Begin by announcing it on your social media accounts. You should already be active on networks like LinkedIn, Facebook, and Twitter.
Make sure to use industry and local hashtags to gain more attention.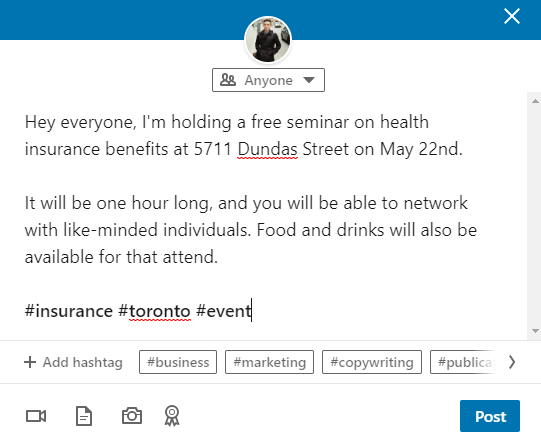 Tell everyone you know about the event, and give yourself a good amount of time to maximize how many people show up.
Create a company blog (but don't blog about your company)
How many times do you see a company blog, and all of the content is about them?
Don't worry if you're making this mistake.
A blog should be created with the goal of generating inbound leads by educating and entertaining prospects.
Talking about all of your acquisitions and similar things isn't going to do that. It's also not going to bring any organic traffic.
Look at Intact's insurance blog as an example:
They provide thoughtful articles on topics related to insurance that their leads will find interesting.
Here's how to pull this off yourself.
Step 1: Create an insurance buyer persona
Don't shoot in the dark. A.K.A make sure you have a clear audience when writing blog posts.
A buyer persona is an imaginary customer profile you can refer to when performing marketing and advertising to ensure you're speaking to the right person.
Here's an example of what one looks like: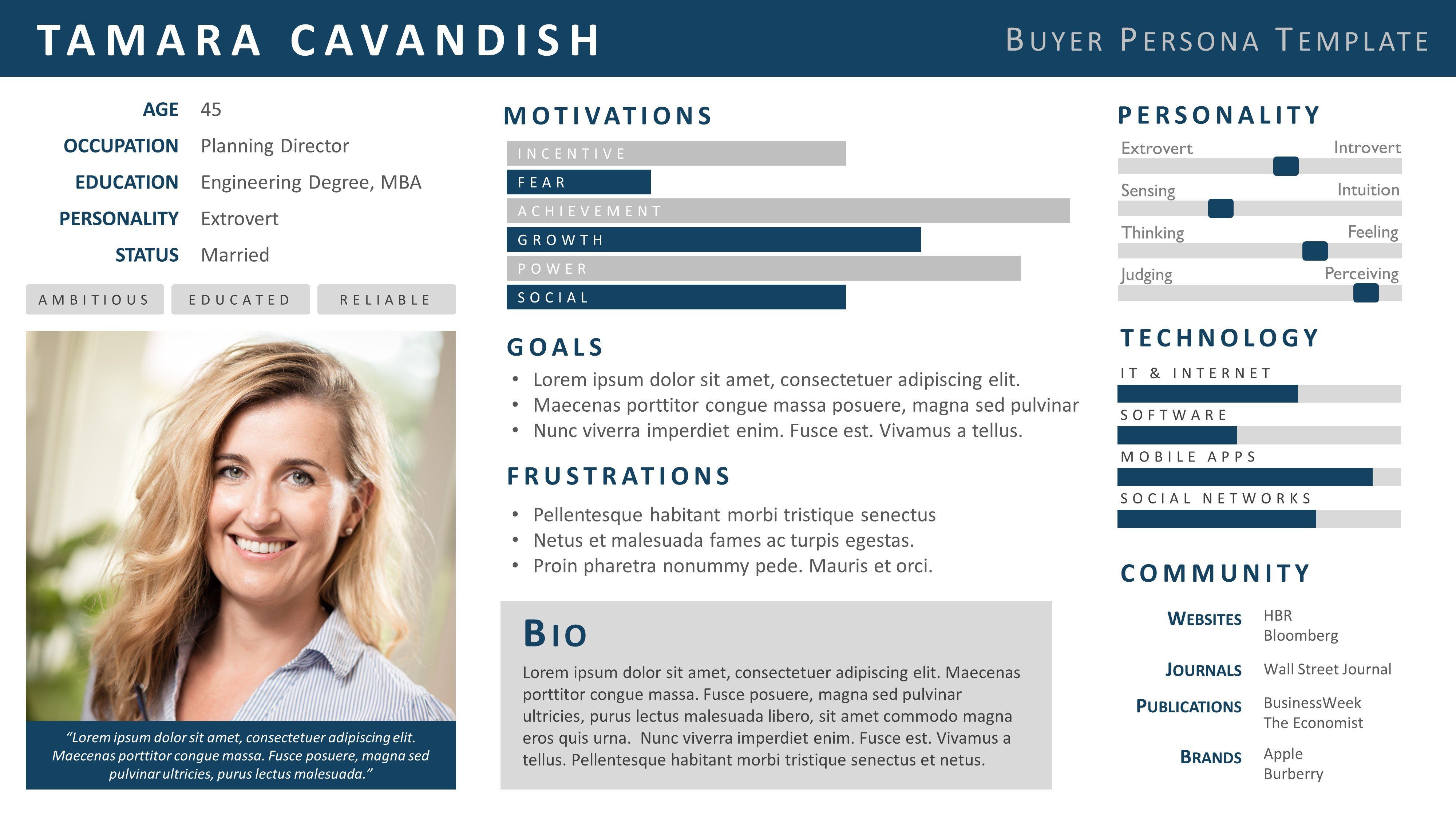 Some of the most important areas of a buyer persona are:
Demographics
Psychographics
Goals
Questions
Problems
Understanding who your audience is and what they're struggling with will allow you to tailor content precisely toward them.
Furthermore, did you know that 70% of companies that miss revenue goals don't have a clear persona?
Don't be one of them.
Ultimately your content attracts the highest quality users who can convert into leads.
A buyer persona can be optimized and refined over time, too. I suggest using tools like Google Analytics to improve it while sending out questionnaires and speaking with customers for more in-depth feedback.
That brings me to my next point.
Step 2: Research topics your persona would care about
Once you know your target audience like the back of your hand, it's time to start brainstorming!
Use the information you gathered to answer the following questions:
What problems do my customers have on a regular basis?
What questions do my customers commonly ask?
What topics are my customers interested in learning about?
Answering these will help you come up with blog post ideas.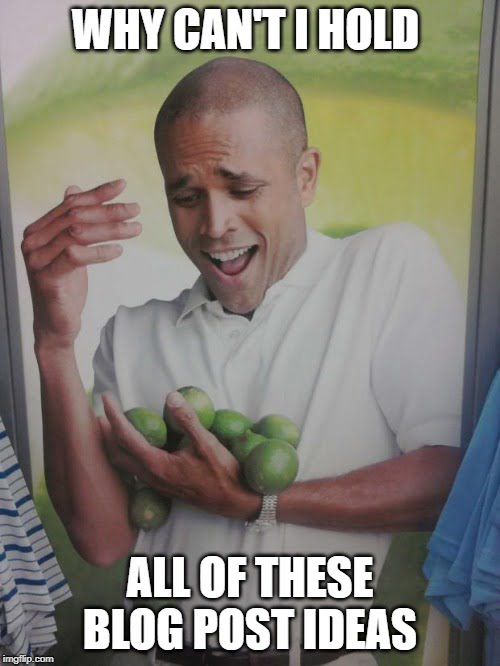 But, the human brain is a little slow. Let's use a tool like this content idea generator from SEO Review Tools.
Begin by entering a keyword, completing the captcha, and clicking the "Perform check" button.

This will take you to the results page with ideas.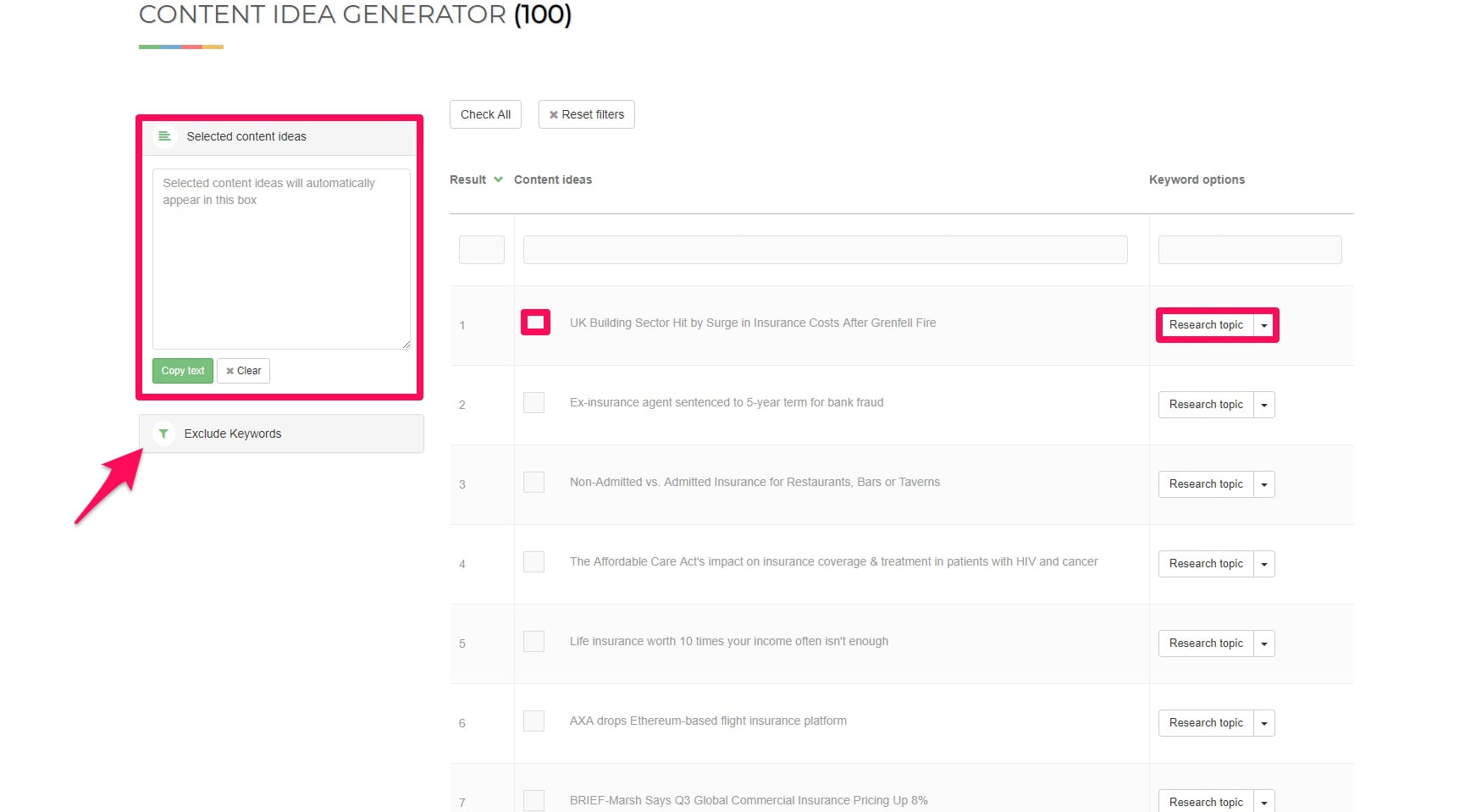 Clicking an idea will bring it to the left box, where you can copy it for storing it elsewhere.
Feel free to add negative keywords to remove topics that aren't of interest.
Furthermore, click the "Research topic" button to learn more about it.
Now here's the thing, though…
You never want to copy other websites' content but rather be unique.
Always brainstorm a way to add a twist to any topic.
This is what's commonly called a slant or angle in copywriting.
Let's say that you're writing content on different types of insurance. You can diversify each post by angling it to:
5 Things

Beginners

Need to Know About

Appraisal

Insurance

Ontario

Motorcycle

Insurance Explained in 5 Minutes
Why

Every Person Under 25

Should Have

Health

Insurance
Note how the audience is called out in the headline, along with the type of insurance.
Always try to dig one or two levels deeper like this to make your content stand out.
Step 3: Create long form and SEO-rich blog posts
Buyer persona ✔
C️ontent topics ✔
What's next?
Producing the content!
As much as I'd love to say that you could write 500 word articles and call it a day, it's far from the truth.
As I spoke about in my article on the best blog post length, studies have shown the #1 result on Google ranges from 1,890 to 2,450 words long.
A.K.A long-form content is the king right now.
Writing 2,000 words can give you flashbacks of chugging coffee while doing a college essay, but it doesn't have to be so daunting.
I suggest that you take the following steps:
Create an outline for the article. Map out the major points and sub-points you'd like to cover before writing. This prevents writer's block.
Research SEO keywords beforehand to include in the article, so you don't have to do it during writing.
Focus on writing the heart of the content and edit it later. Writing and editing take two different mindsets and processes, so it can be messy to intertwine them.
Kill any distractions like your phone, television, or social media.
Take a break to grab coffee, go for a walk, or get fresh air to reset the brain.
You may also like my podcast episode on overcoming writer's block on that note:
Final thoughts on getting insurance leads
Acquiring insurance leads doesn't have to be tough.
You simply need to execute effective strategies like I've outlined today.
I'd suggest beginning with implementing live chat onto your website and building a basic funnel.
This will help capture users that come to your website and build relationships with them.
Similarly, begin collecting emails with your choice of software. You can share content, updates, and eventually pitch products to subscribers.
Don't neglect networking and public speaking, either. It's an incredible way to grow word of mouth and improve your local reputation.
Blogging about insurance topics is an effective way to generate inbound leads as you pursue other channels.
Lastly, holding a seminar will instantly make your brand appear authoritative and allows you to connect with leads face-to-face.