The food industry is booming. Naturally, to keep up with the competition, you need effective marketing and advertising.
That's where copywriting comes into the picture. It's the engine of your marketing efforts, and without it, you won't get as many customers as you want.
But, how do you write copy for the food and beverage industry?
What does great advertising look like?
Ahead, we'll look at food copywriting examples that you can learn from to grow your business.
1. Graze Snack Boxes
The first food copywriting example is from the brand Graze which offers subscription snack services.
This advertisement starts with the headline and subhead, "The Easy & Exciting Way to Snack Better. Whole, tasty snacks delivered to your door."
Tasty snacks delivered to your door in a new and exciting way is the benefit. We could also argue it's a value proposition because few brands do this service.
The main offer, however, is a free box that includes four snack samples.
Graze uses a call to action and graphics to lead readers through the process of visiting the website, entering a code, and getting a free box. They make it appear as simple as possible.
Note how the creative clearly shows the product, and they position it as "exclusive" to Graze.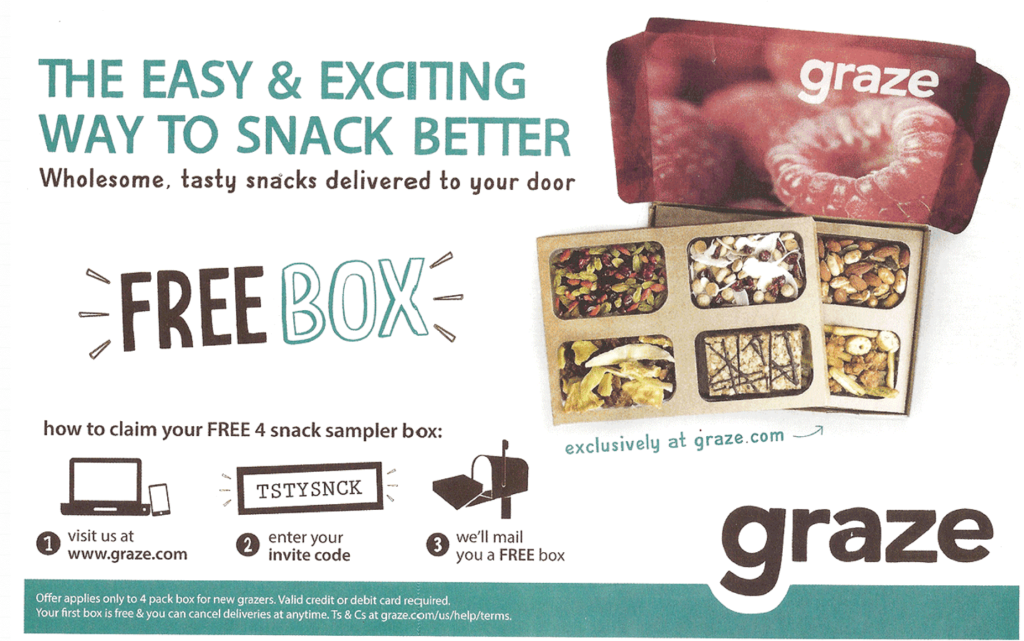 Here's another ad they ran for the same offer. It's good to test variations to see what performs better.
This leads with "Try Your 1st Graze Box," which helps readers immediately know the offer and value they are receiving.
"Free" is also highlighted and bolded to catch people's attention.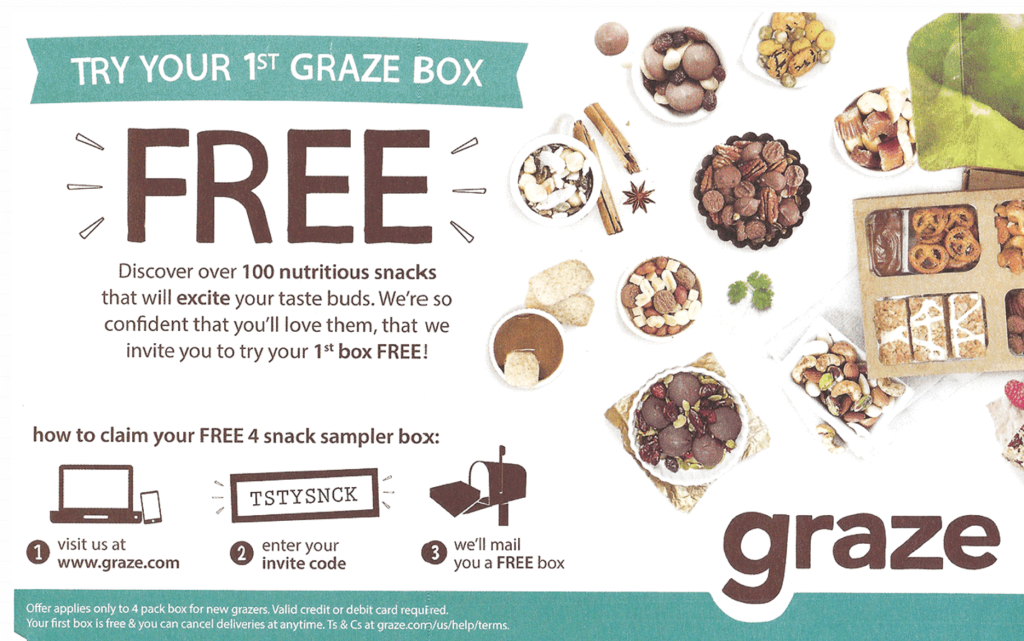 They then present a feature, "100 nutritious snacks," and the benefit that they will excite your taste buds.
They're so confident in their product, Graze provides the 1st box for free which also gets the customer into their funnel.
Similar to the first ad, there's a call to action for signing up with the steps outlined in a simple manner.
Finally, we see examples of the snacks that show the product and get potential customers more interested. They keep their brand elements and colours consistent, as well.
2. Magic Spoon Email Opt-In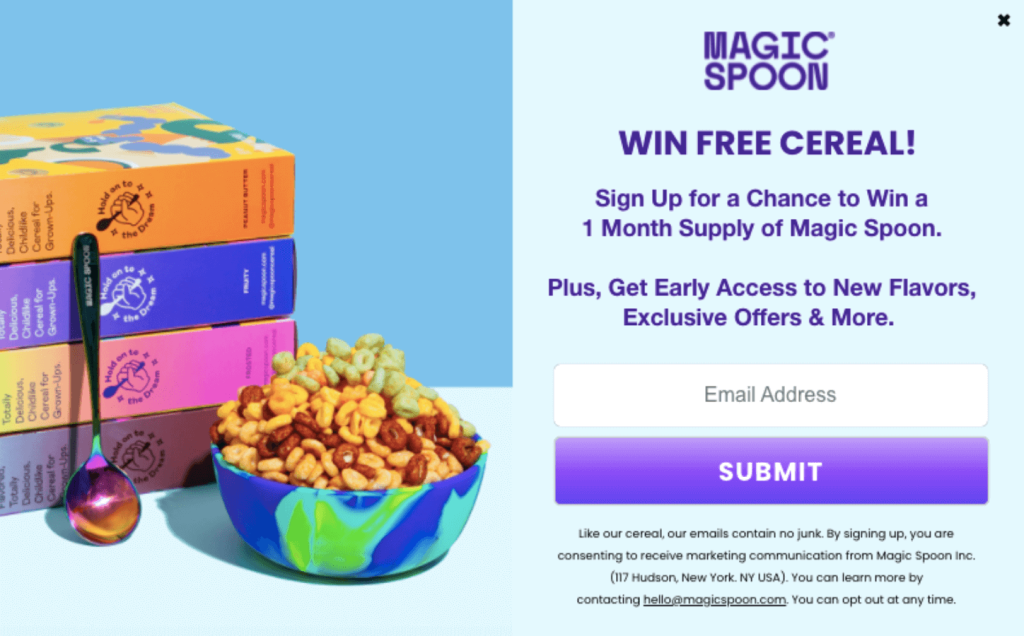 This is an email opt-in popup from the food brand Magic Spoon.
The headline is straightforward and provides the benefit of winning free cereal.
Next, a call to action tells the reader to sign up for a chance to win a one-month supply of their product, Magic Spoon.
Plus, they get early access to new flavors, exclusive offers, and more.
These are bits of sales copy that persuade the reader to enter their email address.
The brand would then send offers and emails over the long-term to convert these subscribers into paying customers.
3. Hello Fresh
I'm sure you've heard of Hello Fresh. They have some great food copywriting examples you can learn from, like this postcard ad.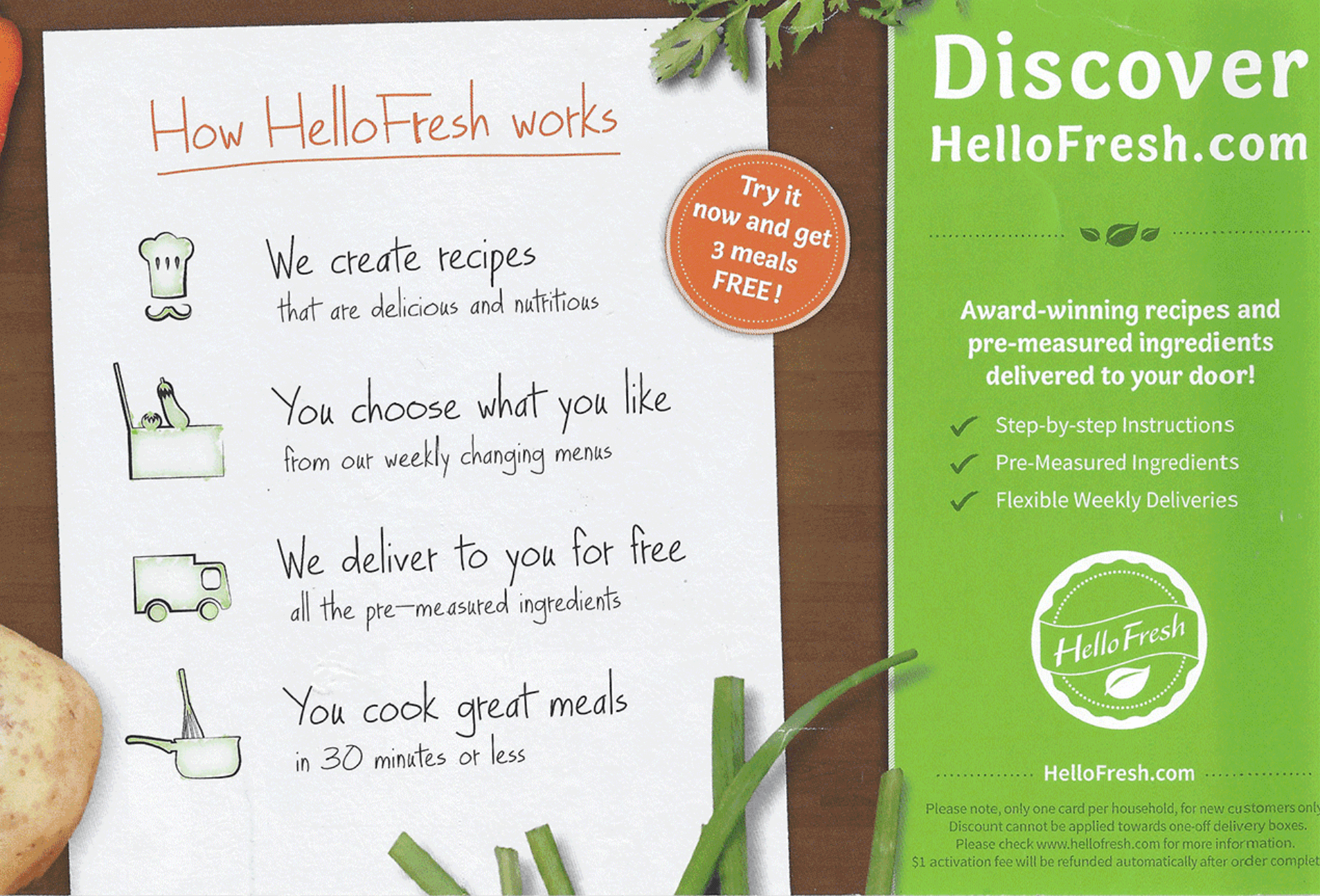 It leads with "How Hello Fresh Works," explaining the process of how they create recipes, you choose the ones you like, and get them delivered to your door.
Hello Fresh builds social proof and trust by stating they have "Award-winning recipes."
Plus, mentioning "pre-measured ingredients" provides the benefit of convenience. It's all about saving time for the customer.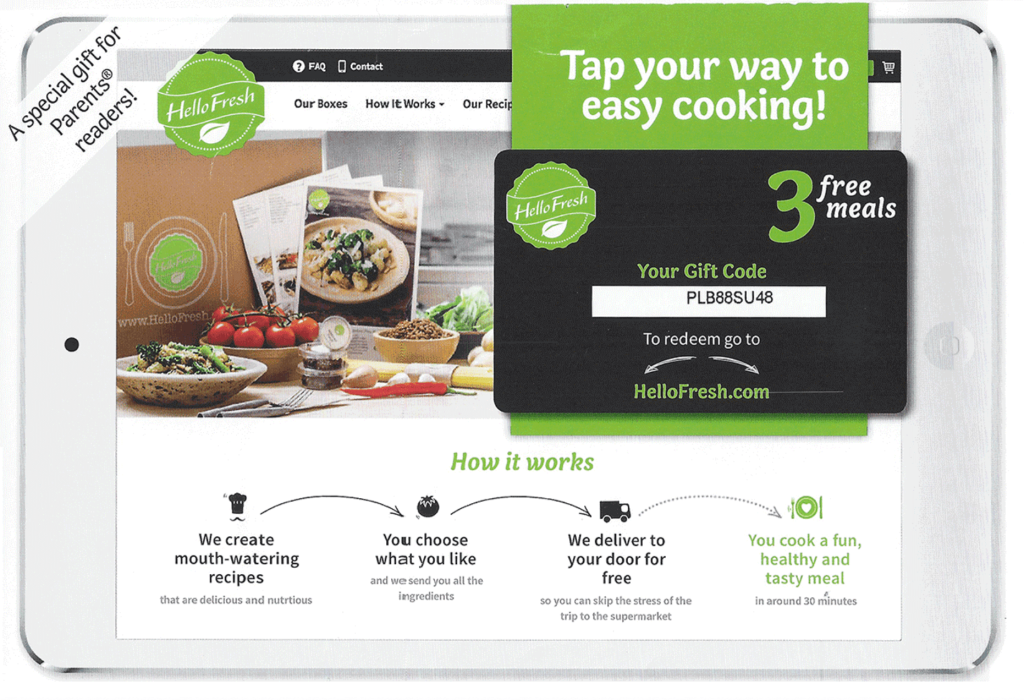 Next, it tells readers to "Tap your way to easy cooking" and provides a gift code for three free meals. They also give the website link, reducing as much friction for customers as possible.
The "How it works" section is important because some people might not know Hello Fresh and their business model.
The four steps are easily explained and reduce customer friction and objections.
4. Eclipse Food Email Opt-In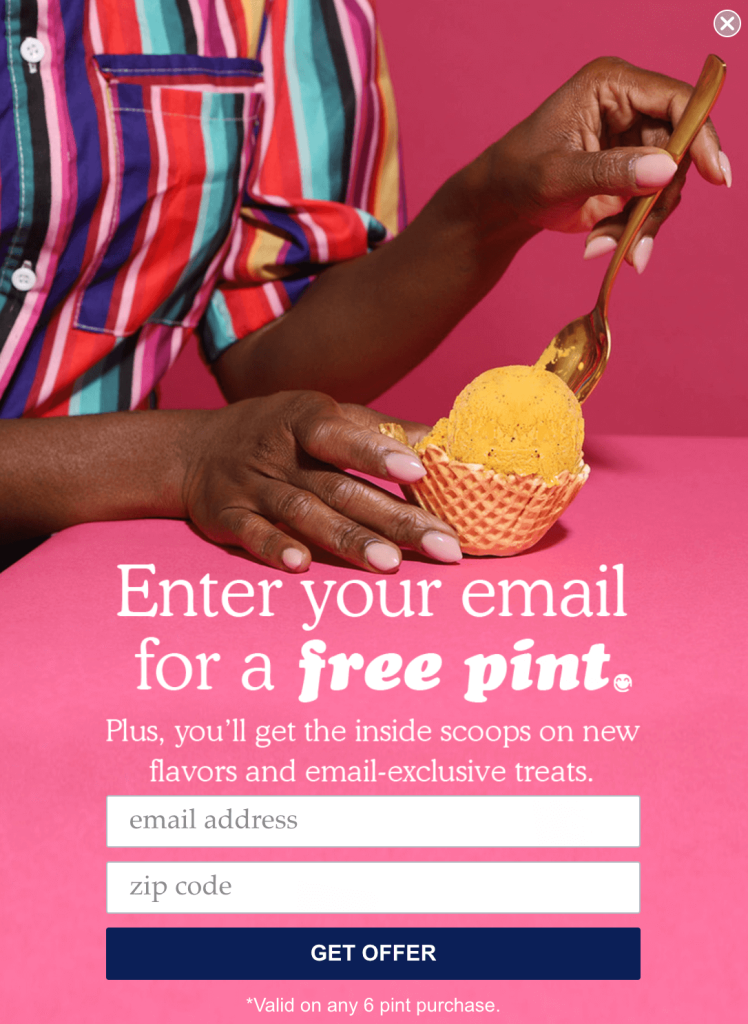 This is another email opt-in I wanted to cover from Eclipse Foods. It's extremely important to incorporate email marketing into your business to nurture leads into customers.
Similar to the other one we looked at, it leads with the benefit and offer of entering your email for a free pint of ice cream. This is what we call a lead magnet, a free offer that attracts leads.
They also gain access to exclusive content and updates that subscribers will hear about first.
Consider what you could offer your customers for free, include that as an email opt-in, and start scaling up your subscribers list.
5. McDonald's Education Marketing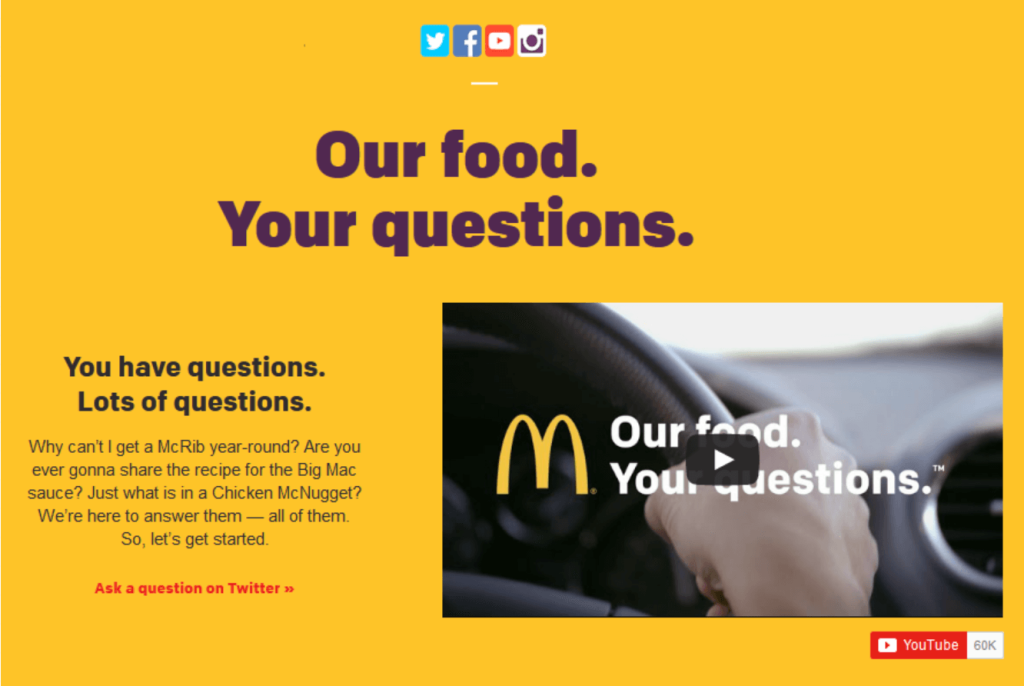 Advertising doesn't always have to be about selling and driving new revenue.
In this example from McDonald's, they focus on education and information to retain and attract new customers.
McDonald's has faced many rumours and attention for its food quality, sourcing, employee treatment, and so on.
What better way to clear those topics than to let people openly ask questions?
This campaign they ran allowed the public to ask whatever they wanted to know about McDonald's.
It showed transparency and trust, which goes a long way when building a brand.
Final Thoughts on Today's Food Copywriting Examples
Copywriting for the food industry requires practice, skill, and patience. Naturally, it's good to look at copywriting examples to speed up the process.
We looked at several examples of food copywriting today, so here are the main takeaways:
Use email marketing and lead magnets to build a subscriber list that you can nurture into paying customers.
Explain the process of how your business works.
Use social proof and trust signals to build authority.
Communicate the benefits of what your food business does. Delicious recipes at your doorstep? No non-sense ingredients? Let it be known.
Educate customers and provide helpful information that would move them along the sales process.
Give away a free product if you know that it will help your brand acquire a customer with a good lifetime value.
Want to learn more about copywriting? Explore my online courses that include critique and coaching from myself.