Imagine the following…
You're in your pajamas and you just wrote some copy before taking a lunch break.
You work from home making a great living and don't have to go to a boring cubicle all day.
That can be a reality with remote copywriting jobs.
More and more people are working from home these days and it's becoming the norm for companies to be completely remote.
That means there are more remote careers available than ever!
In fact, 85% of remote workers chose to do so because it offers a more free and flexible lifestyle.
Many people imagine that you have to be a business owner to work from home and live that king of lifestyle, but it's not true.
If you ever dreamt about working from home and not having to wear a stupid suit while at an office all day, keep reading.
Because today I'm going to show you how to land the copywriting career of your dreams in a few simple steps.
What are copywriting jobs?
Copywriting is the skill of writing business material like advertisements, articles, whitepapers, case studies, and other pieces of content.
Normally sales copy is written to generate sales or leads for a company.
A copywriter holds a lot of responsibility for the success of projects and campaigns, so it can be a stressful but extremely fun career.
The daily tasks of a copywriter include:
Working with other departments to produce more accurate copy and learn more about upcoming products, promotions, etc.
Testing headlines, calls to action, and other elements.
Collecting resources like market reports, testimonials, memos, and other documents to study.
Interviewing industry figures for quotes or to learn more about a particular market.
Source or create graphics, images, and illustrations. They may work with a design team within the company they're working for during this process.
Promoting and distributing copy.
Measure copywriting campaigns to ensure they are reaching KPIs.
Depending on the exact position and projects you'll work on, copywriters will also require the following skills:
Understanding fundamental copywriting strategies that entice action and emotional responses.
Search engine optimization which is normally used for blog posts, web pages, and similar digital content.
Social media marketing in cases where you will need to promote the content you produce for a company.
Email marketing for producing newsletters and sending them out if required.
Conversion rate optimization which helps you write copy that generates better results.
Time management and organization to hit deadlines and keep a consistent workflow.
Communication to keep team members and employers up to date on progress.
If you believe you'd make a great copywriter, keep reading because I'm going to cover how to get copywriting jobs from home next!
How to get remote copywriting jobs
These are effective approaches for landing copywriting jobs.
I've used them myself in the past and I know mountains of writers that make a great living using these strategies.
Check out all of the major job boards and filter by remote positions
All of the regular job boards you can visit for careers have freelance, contact, and remote filters that will help you find work-at-home positions.
Let's look at Indeed as an example. Click the "Upload your resume" button to sign up for an account.
Enter a keyword like "copywriter" into the search field along with your location after you've registered to find writing jobs.

You can then choose between various filters on the left sidebar like "Freelance."

Typically freelance and contract jobs will have remote working conditions or they can be requested.
Additionally, some job boards will literally have a remote filter to find you copywriting positions that can be done from anywhere in the world or country.
Your resume plays a HUGE role in whether or not you'll be considered which is why I recommend using a free tool like VisualCV to build a professional resume in minutes.
Register for an account by clicking the signup button on the top right.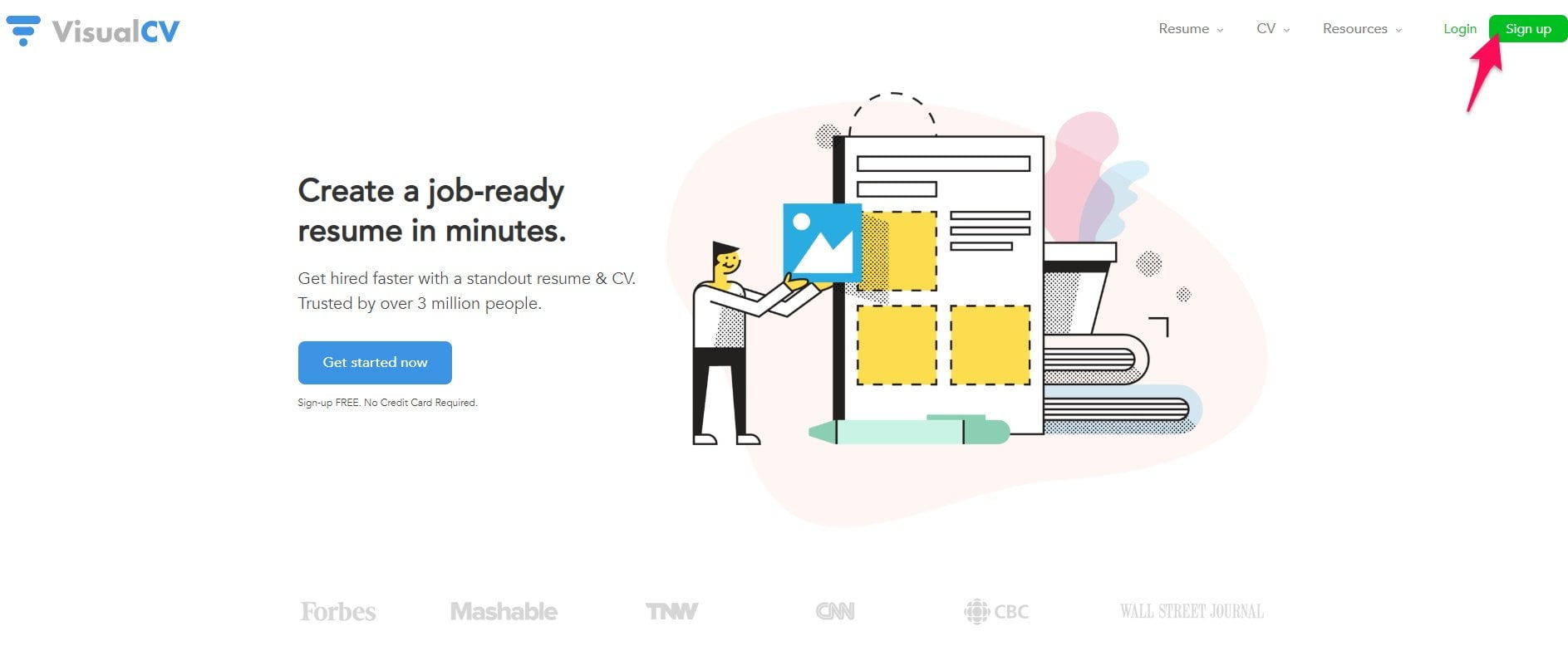 Click the "CV/Resume" option on your dashboard to begin creating a professional resume.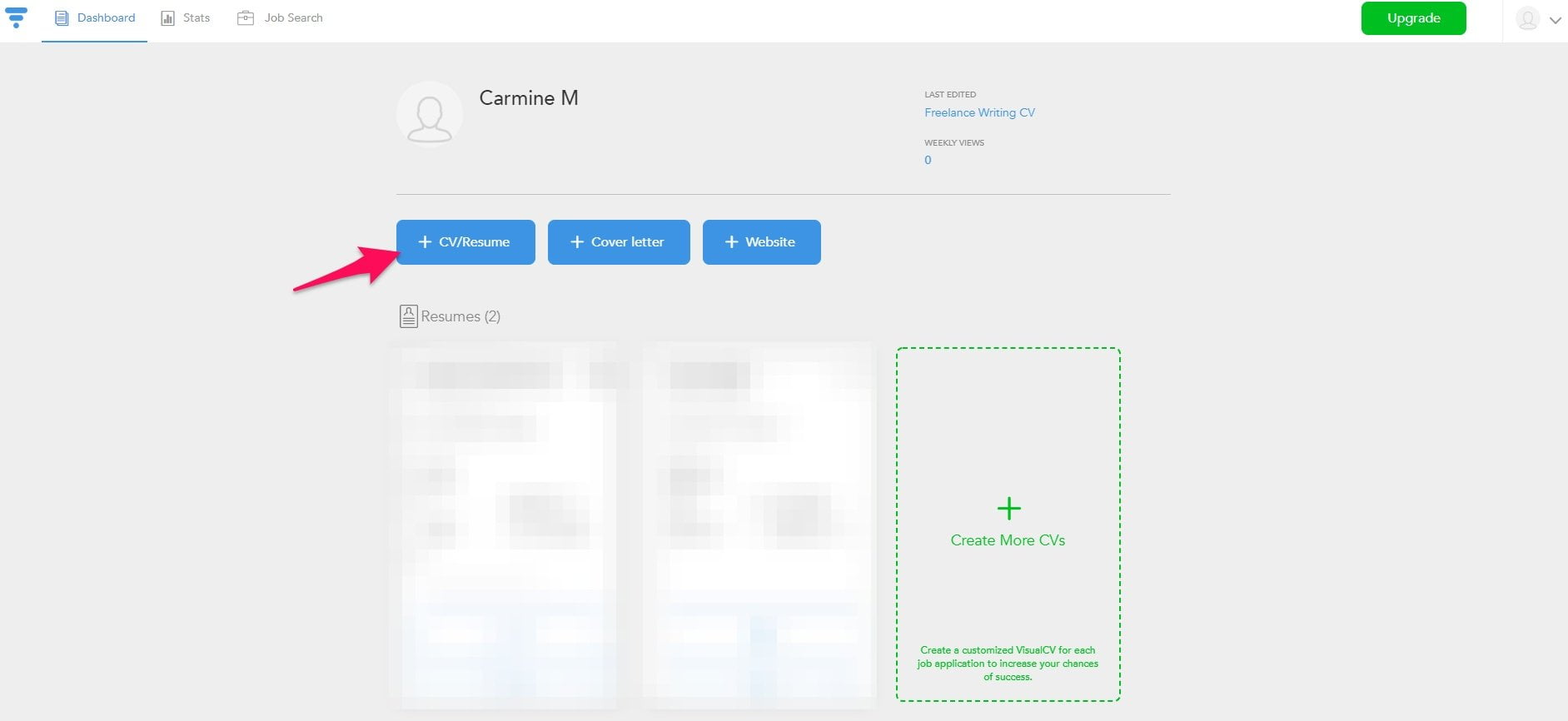 Choose between one of their free templates on the following popup.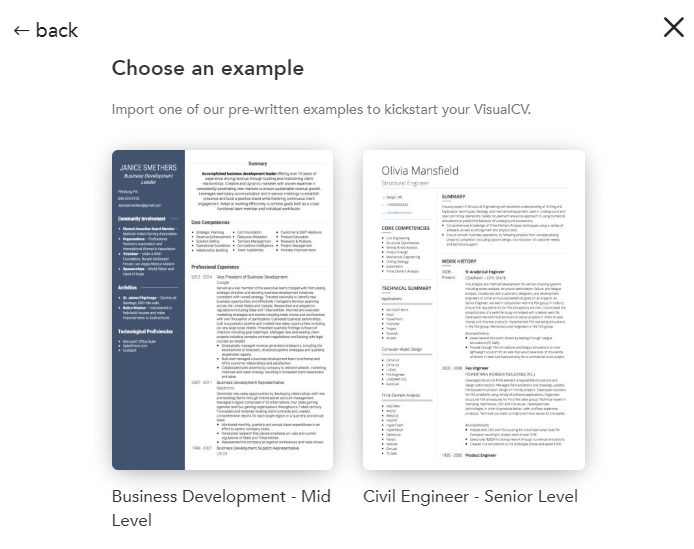 You can then customize the resume with text, images, and other elements.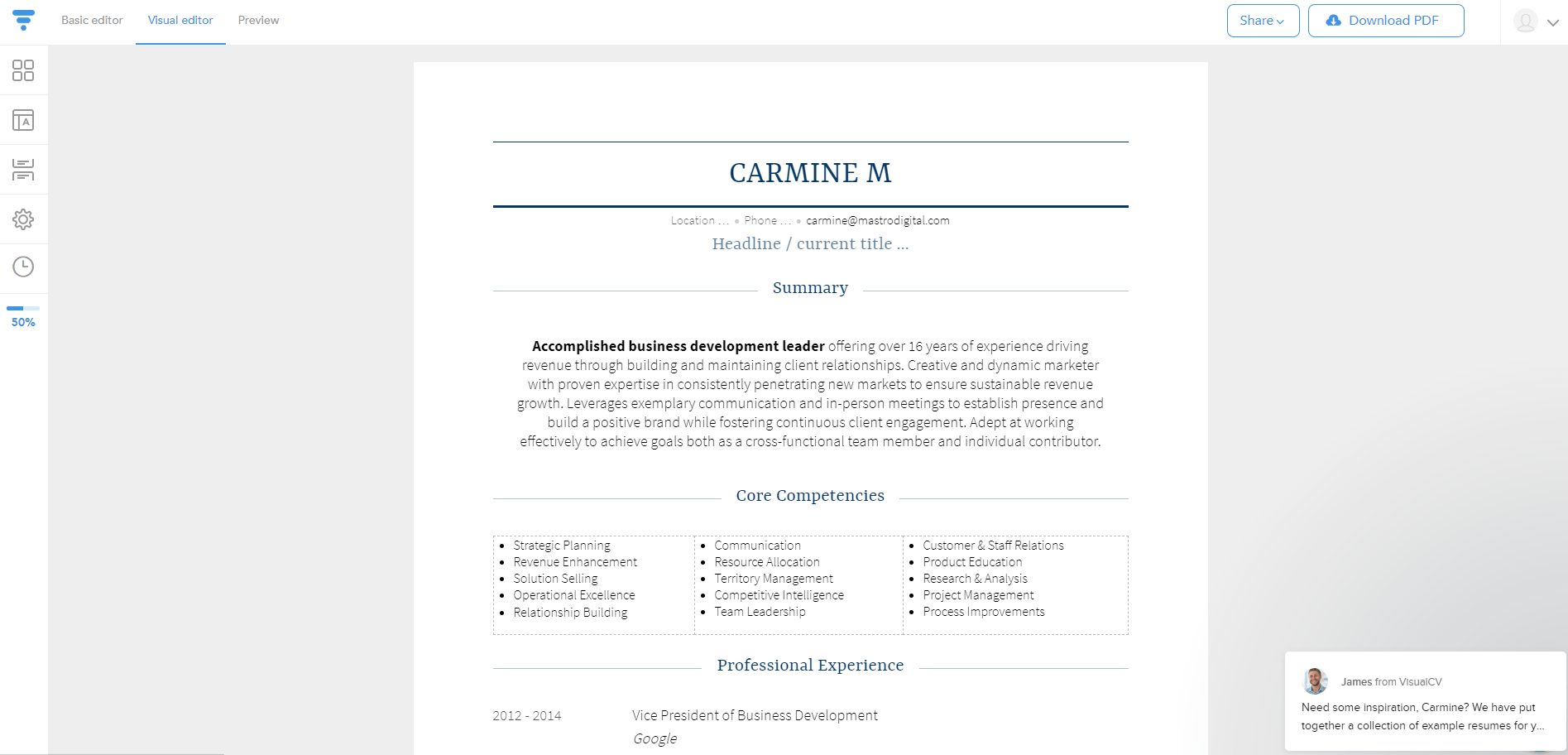 This will be useful not only for writing job boards but what I'm going to show you next, too.
Apply for copywriting jobs on Angel List
Angel List is a startup database that's amazing for both lead generation and finding remote work.
I've got heaps of clients by pitching the companies on Angel List and proposing that I offer them my services instead of taking on a full-time position.
However, they have an entire section of their platform dedicated to available jobs in these startups.
First, make sure you've signed up for a free account from the homepage before clicking the "Jobs" page.
Then, enter a keyword like "copywriting" or "writing" and choose the remote filter.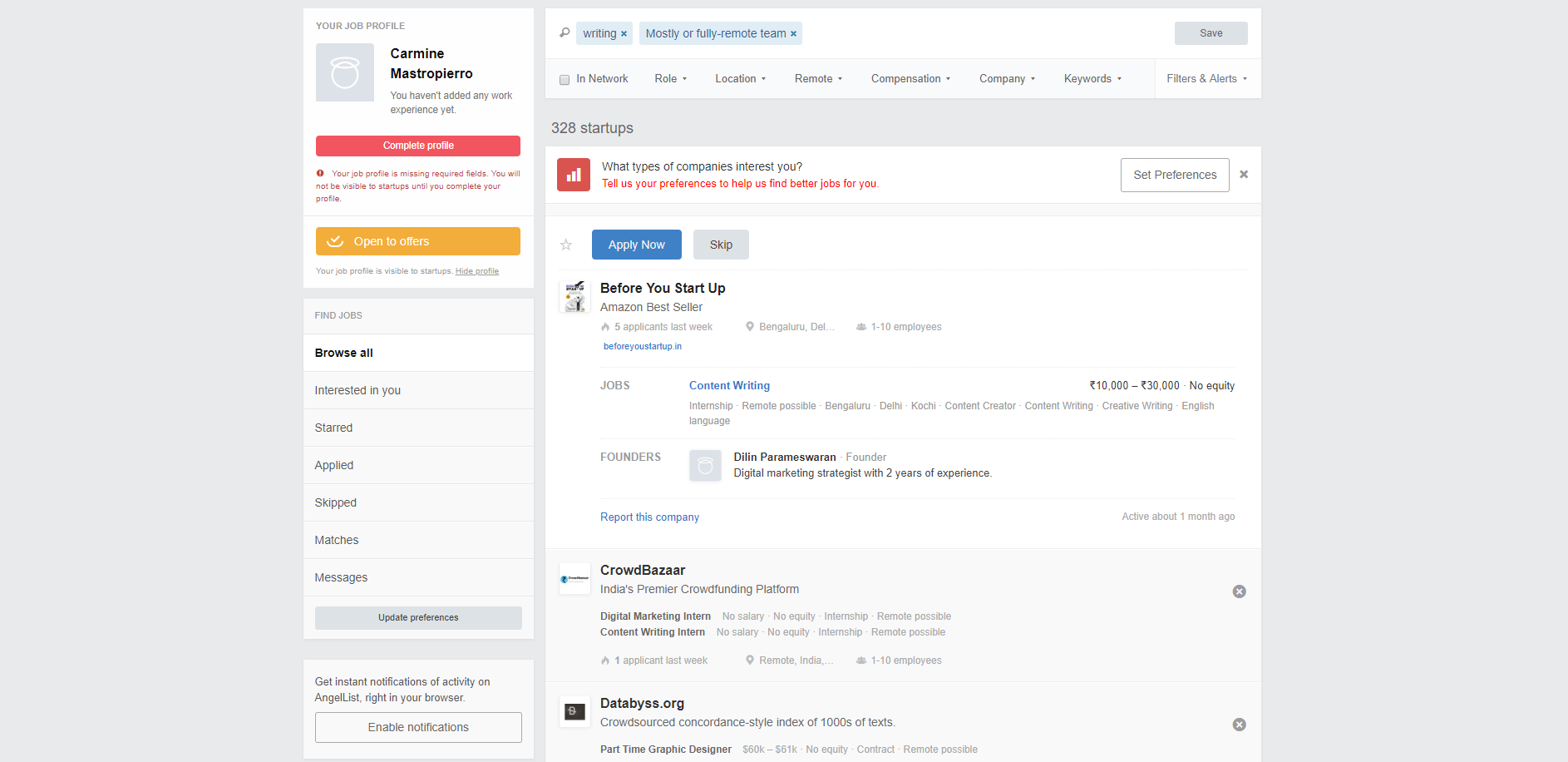 Click the blue "Apply Now" button and it will open a popup box where you can enter a message and apply for the position.
Ensure that you've polished off your profile with experience and the resume you made earlier to make any company itch to work with you.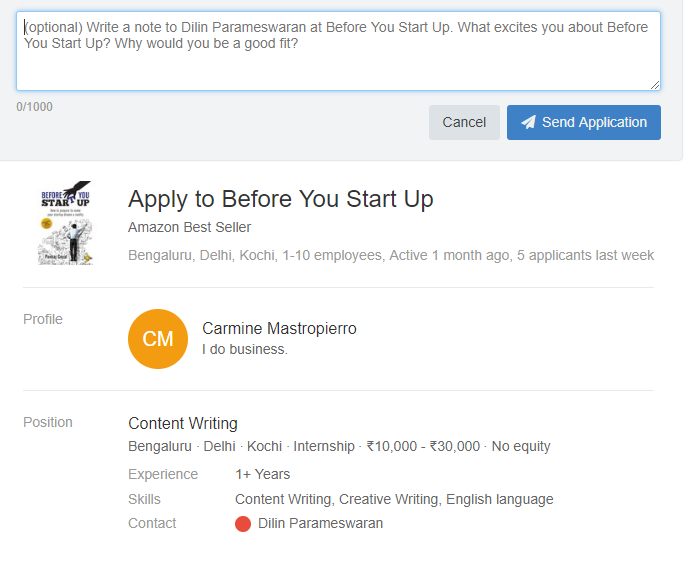 Start blogging and creating a name for yourself
I've been offered nearly a dozen full time copywriting positions without applying for any jobs in the past year.
The highest paying position started at $70,000 salary!
Do you know how I did it?
Blogging.
Yep, you read that right.
While I work for myself and offer content writing services to my clients, I get the occasional job offer from companies that want to hire me full time.
I really appreciate the offer, but it's not what I'm interested in.
However, I know that a lot of you writers reading this article today are.
Creating a blog allows you to show off your writing skills, display a portfolio, and puts you on the map compared to other writers that are more invisible on the internet than a ghost.
The key is to blog about topics that will bring the correct audience to your website, as well.
That's why my blog mostly touches on content marketing, copywriting, related subjects like SEO.
It's also a big reason why relevant high paying leads reach out to me on a regular basis.
But don't take my word for it. Listen to this interview with six figure copywriters Aaron Orendorff and Jacob McMillen on building a freelance copywriting career through blogging.
See what LinkedIn has to offer
LinkedIn is a fantastic platform for finding copywriting jobs.
You can see what opportunities are available by navigating to the jobs page and entering a search term related to writing.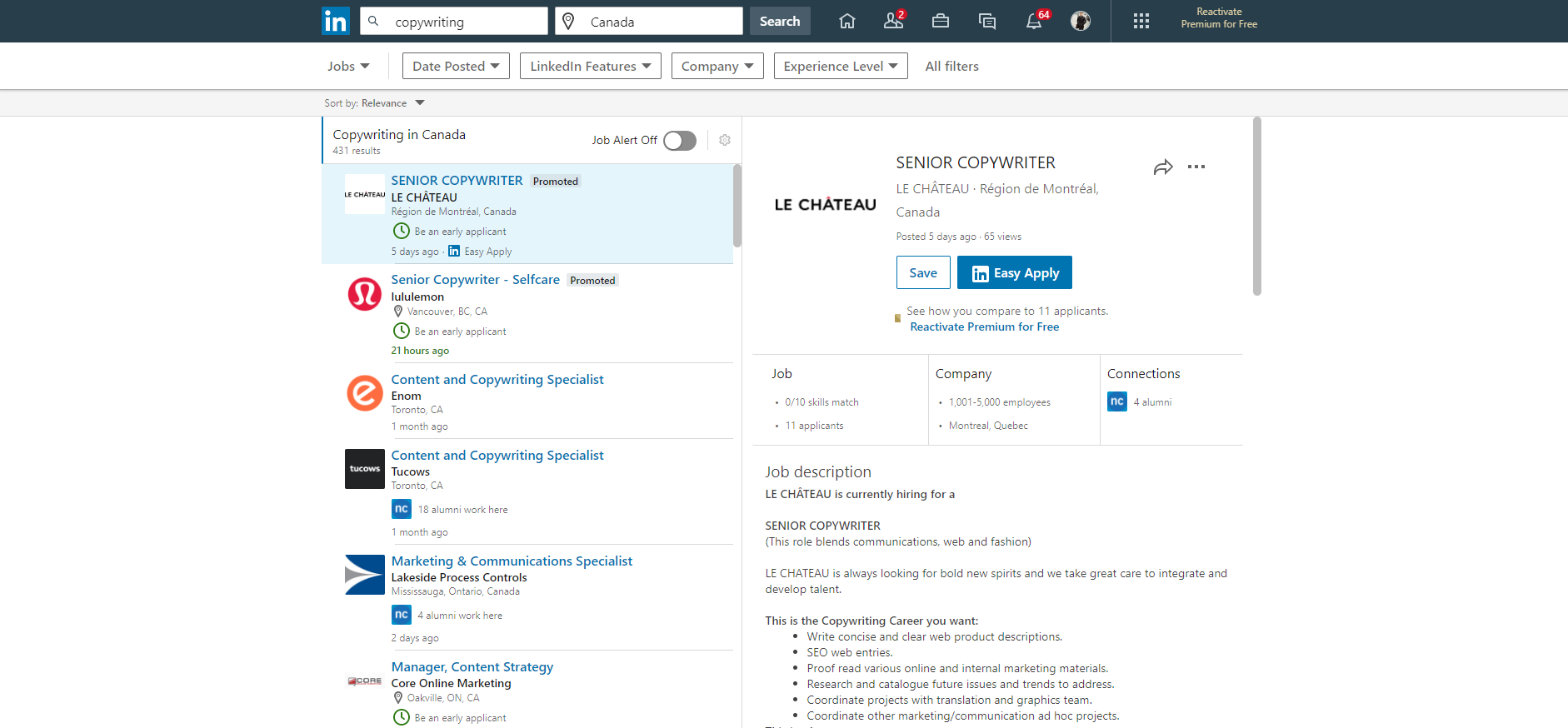 You can filter from the top menu by date posted, LinkedIn features, company, and experience level.
There are 431 potential copywriting positions you could apply for at the time of this article!
Click the blue "Easy Apply" button on any jobs that interest you.
You will be prompted to choose an email, phone number, and resume in a popup window.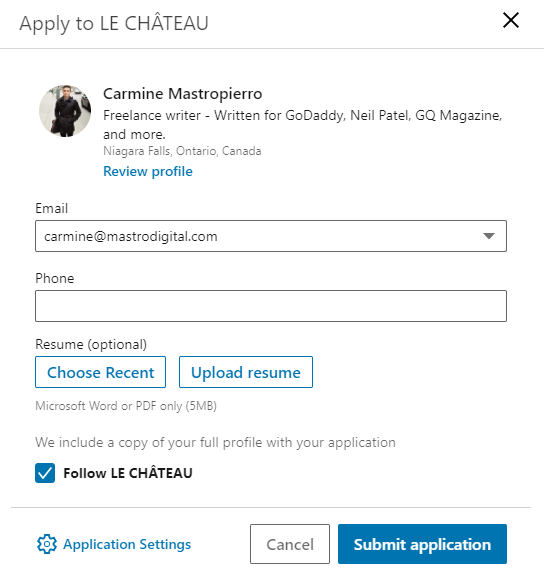 Click "Submit application" and kick back while you wait for them to give you a response.
Final thoughts on getting copywriting jobs
Copywriting is a very rewarding and fun career, especially when you can pursue it from the comfort of your own home.
A typical day of a copywriter involves writing copy, researching, editing, and working with other departments to manage campaigns.
Besides a base salary or hourly pay, copywriters can also receive profit share and bonuses for their performance.
The first place I'd suggest looking for remote copywriting jobs is regular job sites with the correct filters. Most will have freelance, contract, and remote options you can use to find appropriate positions.
Next, websites like Angel List can help you find writing careers in startups which also commonly offer equity.
I personally know people who purposely work in new startups every few years to build massive amounts of wealth purely through equity.
I've also recommended that writers create their own personal website, too. It doesn't have to be overly fancy or optimized.
WordPress, Wix, Weebly, and other website builder tools will have you up and running within a matter of minutes.
Create a portfolio, contact, about, and blog page to set the foundation.
Lastly, check out LinkedIn because they usually have hundreds of available copywriting jobs you can apply for.
And stop waiting around! Start using the tips I shared with you today to land the copywriting career of your dreams 🙂
Please follow and like us: