Nike brought in $46.7 billion dollars in 2022. Not too bad, right?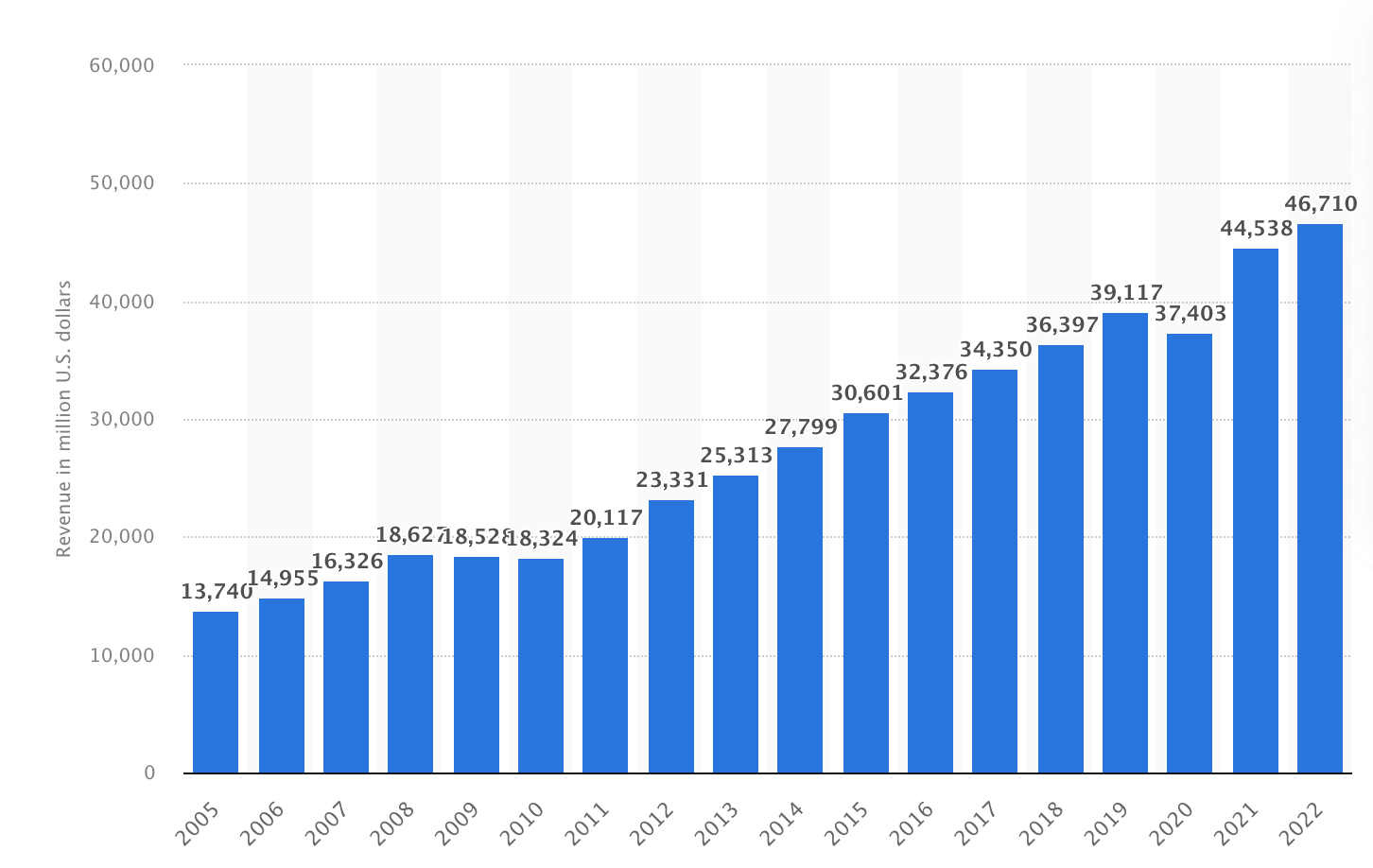 With a company of that size, you need some serious marketing and advertising to acquire and retain customers. As a marketer, you can learn a lot from Nike that will improve your own marketing campaigns and strategies.
In this blog post, I will break down Nike marketing examples and breakdown the takeaways you can apply in your business or career.
Let's just do it!
1. Nike FC Presents the Footballverse
Unless you've been living under a rock, you know that the metaverse and virtual reality are becoming huge. Nike is great at keeping up with trends, so it should be no surprise they came up with this creative commercial for their new Footballverse. This is a virtual reality world where you can learn more about the soccer club, Nike K.C., and purchase products.
Some takeaways from this advertisement include:
Leverage influencers and celebrities to build authority and reach more customers.
Align with technology and consumer trends like the metaverse.
Don't be afraid to be creative in your marketing and advertising. This isn't a regular ad for shoes.
Create something that will be buzzworthy.
2. Nike's Exit-Intent Website Popup
Email marketing is essential for any brand and online business. It can be a massive driver in revenue and is a great channel for nurturing relationships with customers. Nike knows this. Hence why there is an exit-intent popup that alerts you to subscribe to their newsletter when you try to leave the website.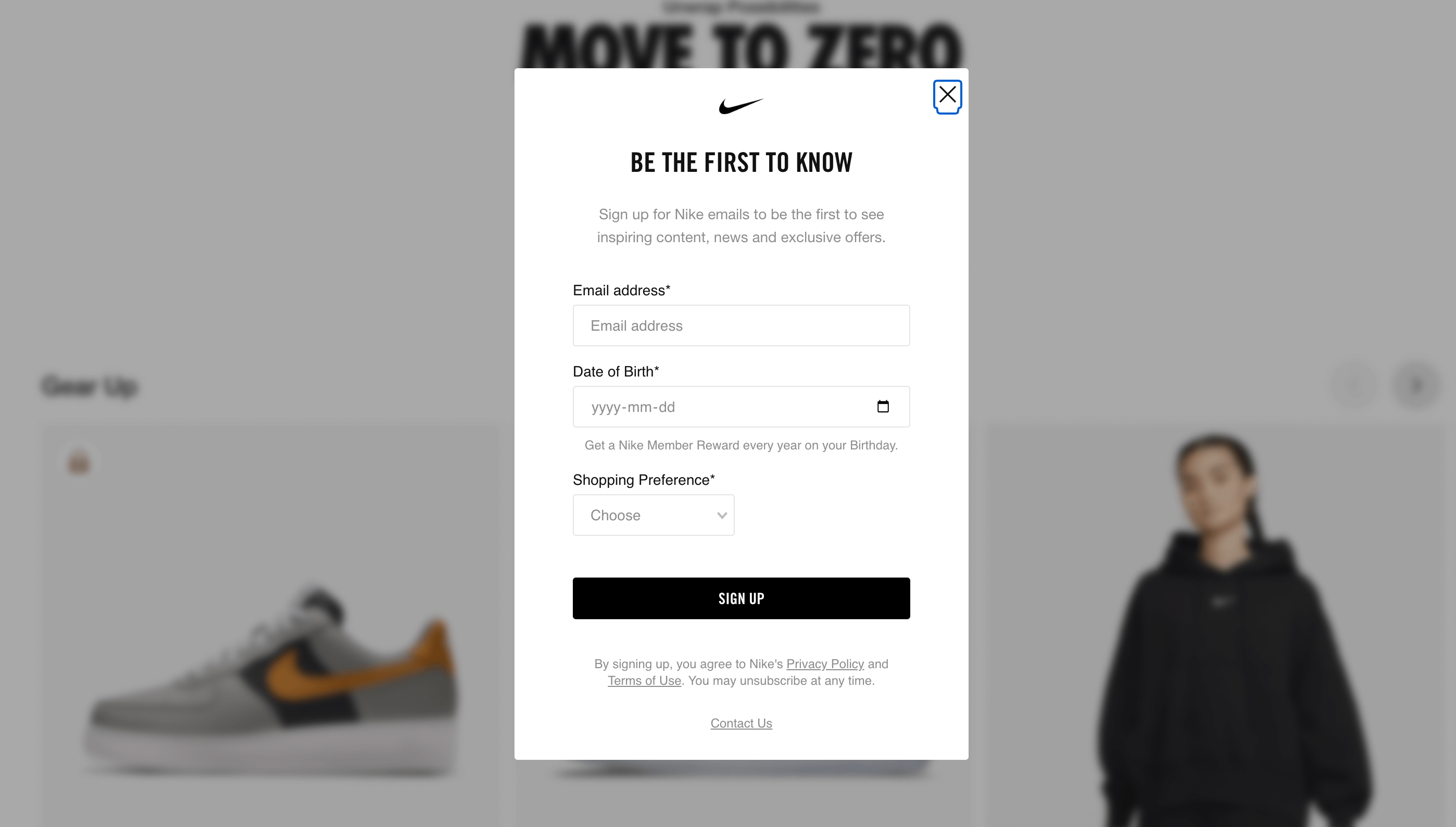 The popup uses a call to action to sign up for their newsletter and be the first to know about inspiring content, news, and exclusive offers. This grows Nike's email list and gives it an extra channel to drive sales and traffic.
You can use ConvertKit to create emails like Nike's that drive revenue.
3. Nike Football – Winner Stays
This is another amazing commercial from Nike that received a lot of positive attention and responses. It uses famous soccer players like Cristiano Ronaldo and Zlatan Ibrahimović to get viewers engaged and excited. The commercial shows them playing with regular teens which allows the average customer to imagine themselves in the ad. It also connects with the emotional element of sports and how it feels to play when you're very passionate. Nike finishes off the commercial with the branded tagline, "Risk Everything."
4. User-Generated Content on Social Media
Here's something you might not know: 93% of customers believe user-generated content is very helpful when making a purchasing decision. This is because it acts as social proof. It's content from a happy customer that shows you that the product is worthwhile.
Nike leverages user-generated content by creating hashtags related to its products and campaigns, which exposes its brand to more people. For illustration, you can find millions of posts with various Nike-related hashtags, especially on Instagram, like this one: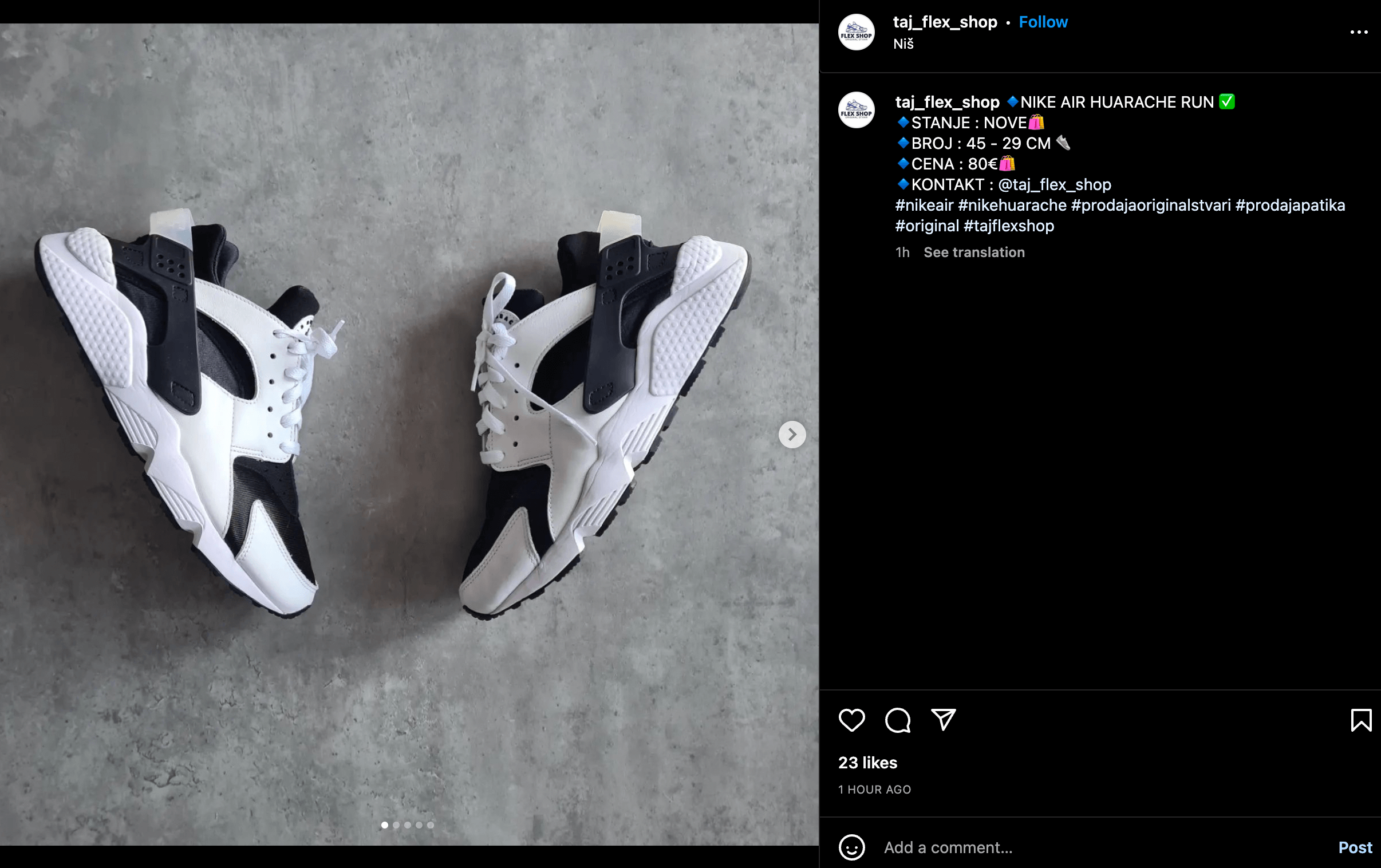 If you sell physical products, consider implementing branded campaigns and user-generated content into your marketing. It can generate more revenue and loyal customers. It works for digital products and services too, but physical ones the most.
5. Nike: Find Your Greatness
This is an inspiring and emotional example of Nike's marketing. It's a commercial that shows people from all walks of life pursuing greatness in different areas like running, basketball, and weightlifting. It communicates that everybody has the potential to be great and achieve their goals.
Note that not once do they pitch a product. Nike does a lot of creative marketing like this that builds a deeper relationship with its customers. I recommend building more of these campaigns into your overall strategy. It's easy to get focused on driving sales, and neglecting building loyalty and connections that can pay off more in the long term.
6. Constantly Innovating and Pushing The Envelope
A big value proposition of Nike is the fact they are constantly producing new and interesting products for its customers. In particular, I love their sneakers and the technology they implement into them that stands out from competitors.
Look at this shoe, the Nike Air Max Pre-Day, for example.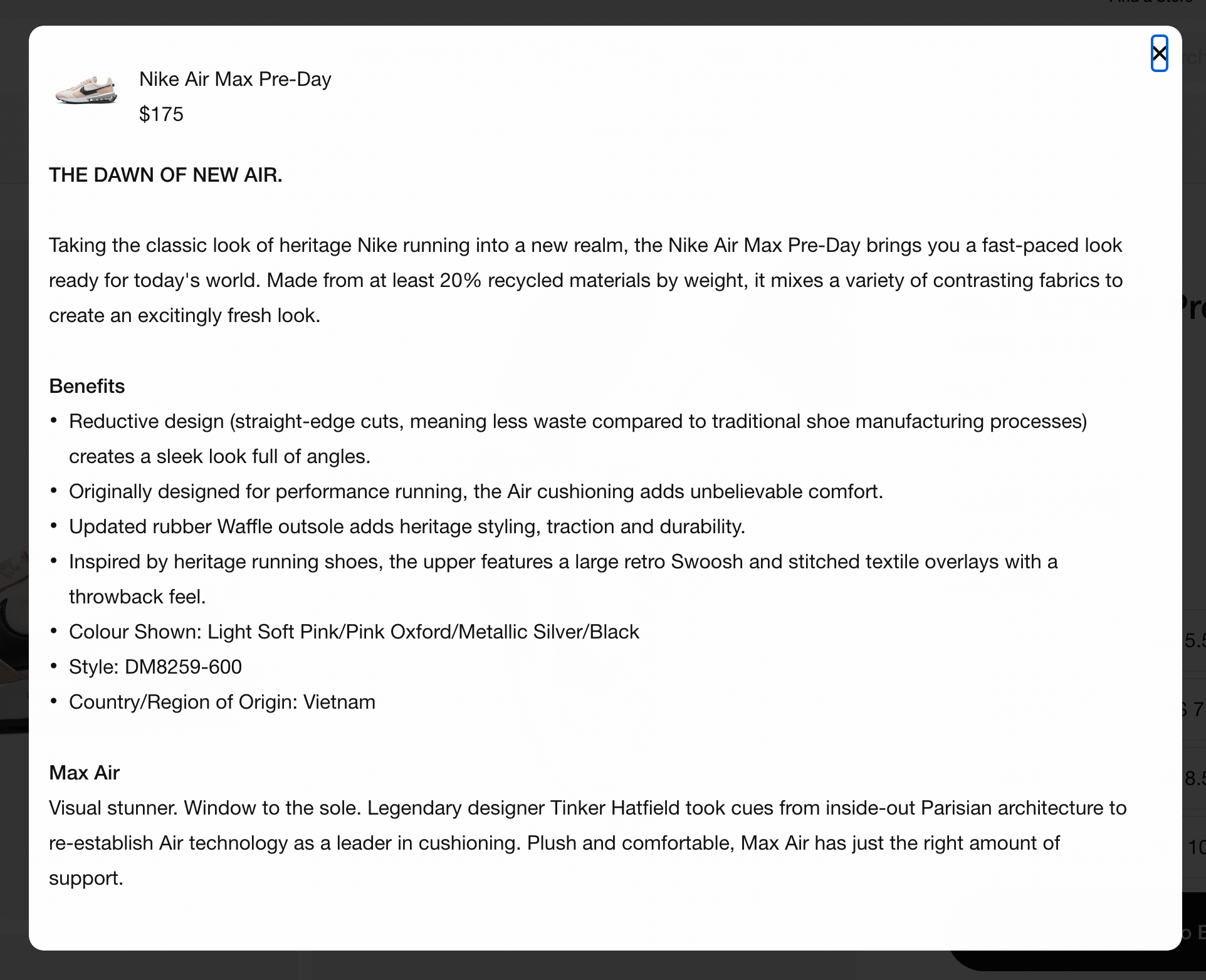 A few things to note from this product and its sale copy are:
"Updated rubber Waffle outsole" is a unique material that makes the shoe stand out.
"Made from at least 20% recycled materials." This communicates that the brand is eco-friendly and conscience of its carbon footprint, which can connect with its audience's values.
"Air cushioning adds unbelievable comfort" is both a benefit for the customer and communicates a unique technology within the product.
You'll notice these same trends in most of their products. They always tend to include different types of cushioning or materials that are unique to Nike and translate to a benefit for the consumer.
Try using Jasper.ai if you need help writing product descriptions that convert like crazy.
7. Resonating With Nike's Target Audience
Despite what you might think, Nike isn't a clothing brand. It's a lifestyle company. Everything from their advertisements to products and messaging is about being active, fit, healthy, and overcoming obstacles. They sell products that help you get there. I.e., shoes, fitness trackers, workout clothes, and so on. Just take a look back at all of the marketing examples I covered today and you'll understand this.
It's also the reason they produce so much content around the stories of customers and athletes that you can read here.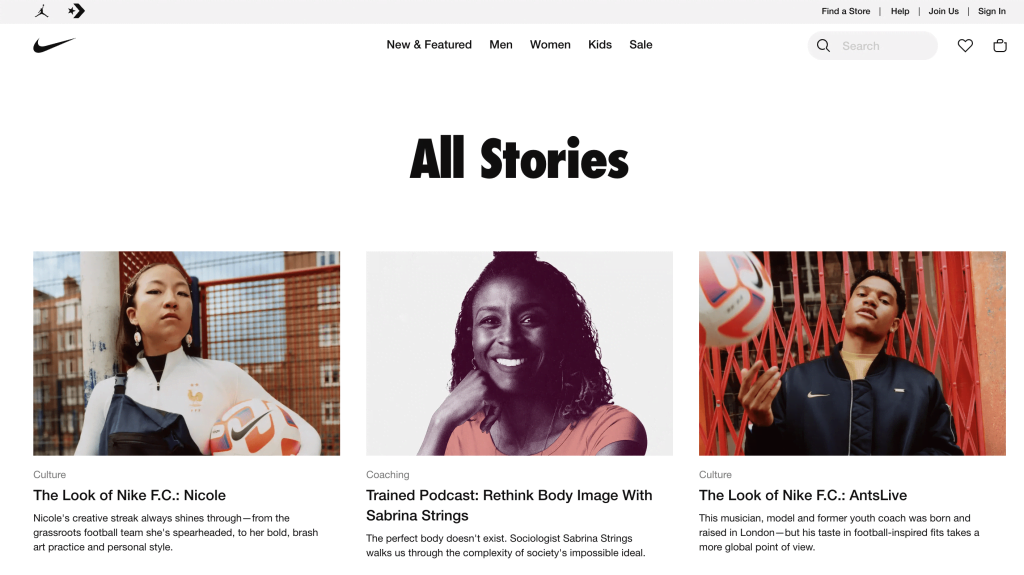 What can you learn from all of this? Firstly, it's aligning your brand with a larger purpose and mission. Document this and reference it every time you're creating marketing campaigns. This will ensure that your brand is consistent across all channels over the long term. It also connects with customers who have the same values.
Secondly, showing customer success stories, testimonials, etc., are great assets to nurture your audience and show you care about them. You can publish these in written, video, or audio format. Share them through your website, social media, and email list to make the biggest impact.
Summing up Nike marketing examples
Nike is a multi-billion dollar company. Naturally, there are tons of marketing secrets we can learn from them and apply to our own businesses or careers. Based on the Nike marketing examples I broke down today, here are takeaways you can use in your own marketing efforts:
Leverage influence marketing and user generated content.
Use email marketing, and automation, and build an email list.
Keep up to date with technology and consumer trends.
Mix creative campaigns into your marketing plan.
Create buzzworthy content that can go viral.
Have a clear mission statement and align it with your brand.
Tap into your customer's emotions with effective sales copy and visuals.
Want to learn more about marketing and get mentorship? Explore my online courses.