Every blogger has experienced this: sitting in front of a computer with a blank white screen waiting for an idea to pop up.
It's dreadful, isn't it?
You could spend an hour before you begin writing, but there is a way to fix this problem.
It involves coming up with content ideas before you begin writing.
But, how does one do that?
Simple.
I've outlined some effective and easy strategies ahead that you can begin using today to come up with blog post topics.
Use my blog idea generator to supplement what you learn in this article too.
Enjoy skipping writer's block 🙂
1. Play alphabet soup
I originally heard this term coined by the internet marketing duo Income School on YouTube.
They tell their students that if they want to come up with content ideas, play the game of alphabet soup with Google.
And no, this isn't what your mom used to make you for lunch when you were nine years old.
Alphabet soup can be played on any search engine. That means Google, Yahoo, YouTube, Amazon, and others are all fair game.
Here's how to do it:
Step 1: Type in a keyword
Begin by entering a keyword related to your industry, business, or a blog subject.

Step 2: Append a letter after it
Letter by letter, add a character of the alphabet after your search term to let the auto-suggestion window pop up.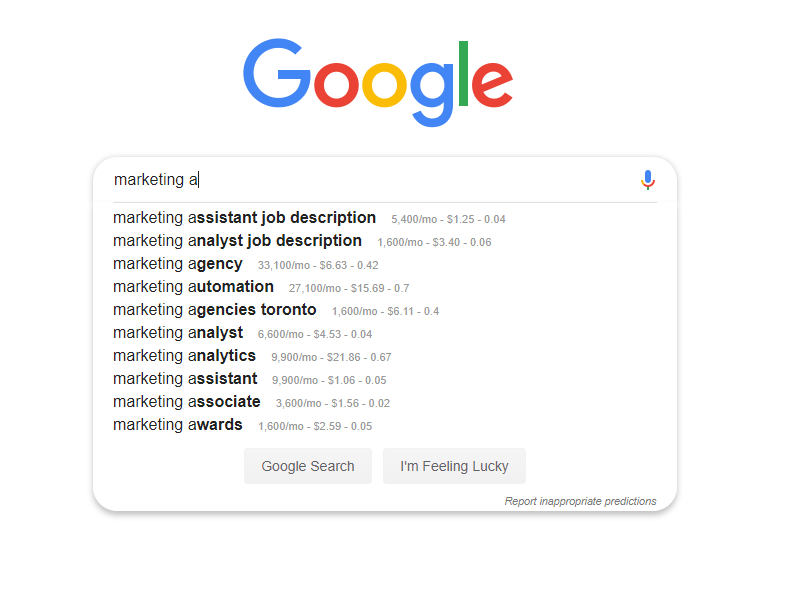 As you can see, it will give you ten different suggestions that serve as great inspiration for blog posts: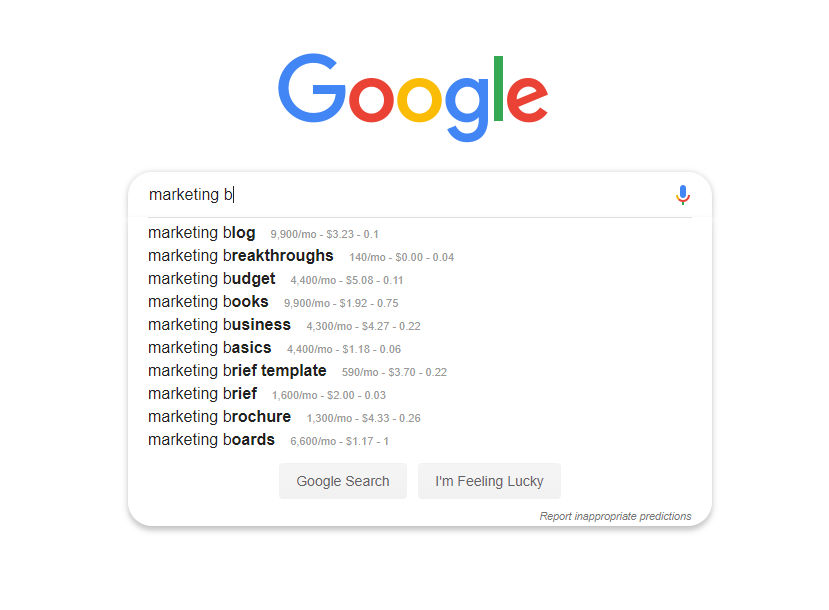 Seeing as Google serves approximately two trillion searches every year and that number is only going up, this strategy will be more and more effective every time you use it.
Continue through the alphabet while performing the next step.
Step 3: Organize the results
You're bound to generate a mountain of ideas with the alphabet soup game.
That's why you need to organize all of the blog post ideas you come up with or they'll be lost in the void.
Here's what I like to do…
I'll make a new spreadsheet on Google Drive, and plug in my ideas into different rows.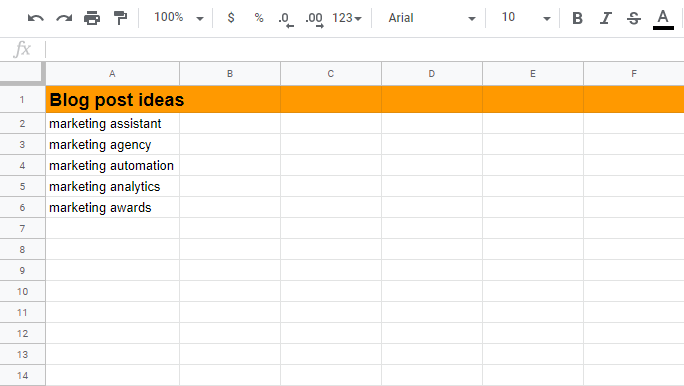 These are rather vague, of course.
You will need to perform further research into these results, which brings me to my next point.
2. Use a keyword research tool for inspiration
I love using SEO keyword research tools for coming up with blog topics for two reasons:
It helps me find search terms to center content around.
It will indirectly give me inspiration for blog posts.
Let me show you with a free Google Chrome extension called Keywords Everywhere.
If you don't already have it, make sure to go download it today.
You're missing out big time if you don't have it.
It extracts data from different search engines and gives you keyword ideas that you may have not found otherwise.
You'll notice that in the screenshots of Google I used previously that there were search metrics in the auto-suggestion list.
That's thanks to the extension 🙂
Once it's installed, visit Google and type in a topic idea.
Instead of looking at the auto suggestions, pay attention to the right sidebar.
Keywords Everywhere will display two lists:
Related keywords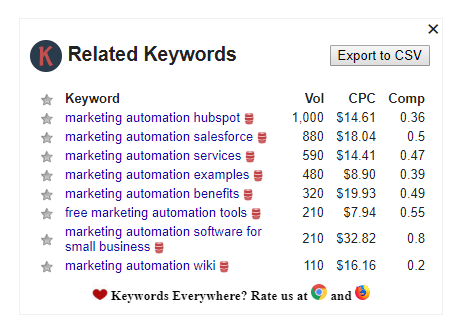 These are search terms that are related to what you entered.
If I was trying to come up with a blog post idea around automation, I could write about:
The benefits of marketing automation
The best marketing automation tools
Examples and case studies of marketing automation
Salesforce vs Hubspot's marketing automation features
Etc
Note that you can export the results as a CSV file by clicking the "Export to CSV" button.
Related searches
The related keywords we just looked at are suggestions made by the extension itself based on what you searched.
However, we can get deep into the heads of users by checking out the "People Also Search For" list.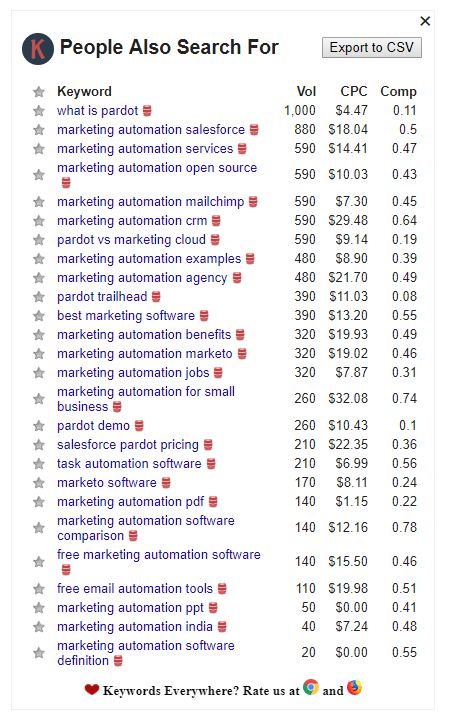 These are searches that users also looked up which are directly related to the original term you entered.
Going down the rabbit hole is easy with this strategy.
Be careful not to spend too much time coming up with blog ideas now!
3. Create a swipe file
Every copywriter has a swipe file.
Do you?
For those that don't know what a swipe file is, it's simply a file that contains other company's headlines, copy, and content.
Any time you're beating your head against the keyboard because you don't what to write about, you browse the swipe file and all peace is restored to the world.
Here's how to make one:
Step 1: Set up the spreadsheet
I like using Google Drive, but feel free to use whatever spreadsheet software is up your alley.
It can be as simple as this: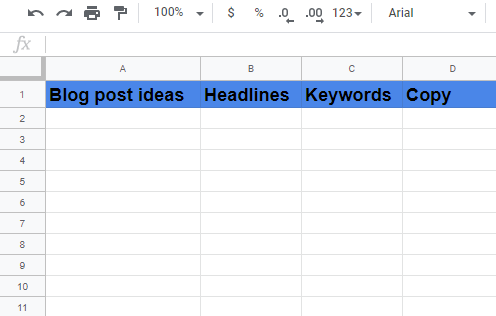 Include columns for anything that you are interested in swiping from competitors.
In general, blog post ideas, headlines, search terms, and sales copy are good to begin with.
Step 2: Start snooping on competitors
Head over to Google and enter the following:
Keyword + "blog"
Keyword + "resources"
Keyword + "news"
This will help you quickly find competitors that are blogging and publishing content.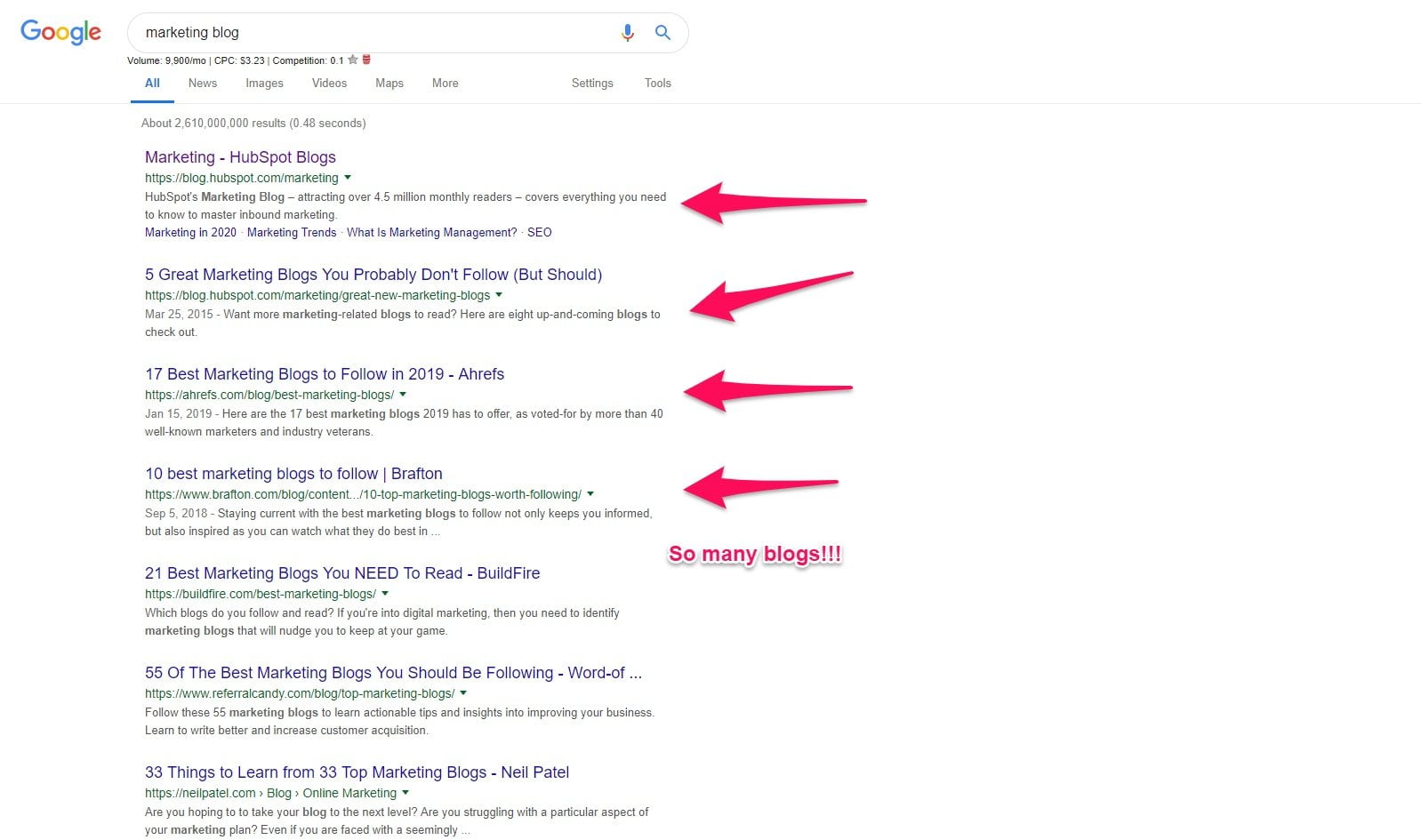 Copy and paste the URLs to their blogs into the swipe file.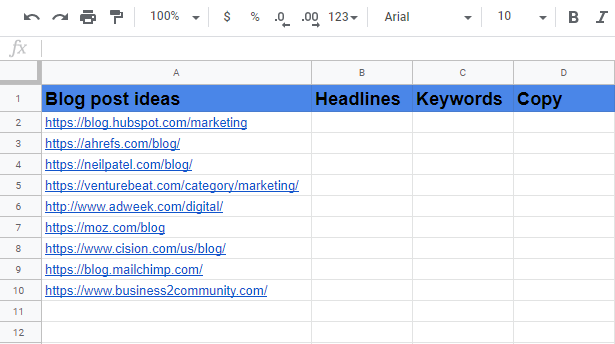 Once you have a dozen or so, you can start using this bad boy!
Step 3: Browse their blogs when you need ideas
Remember, guys.
Swipe files aren't for stealing and copying.
They're for getting inspiration to craft your own unique content and copy.
Don't yank their headlines and blog post topics word for word unless you want Google to hit you with a hammer.
Let's say that I wanted to browse Mailchimp's blogs for brain food.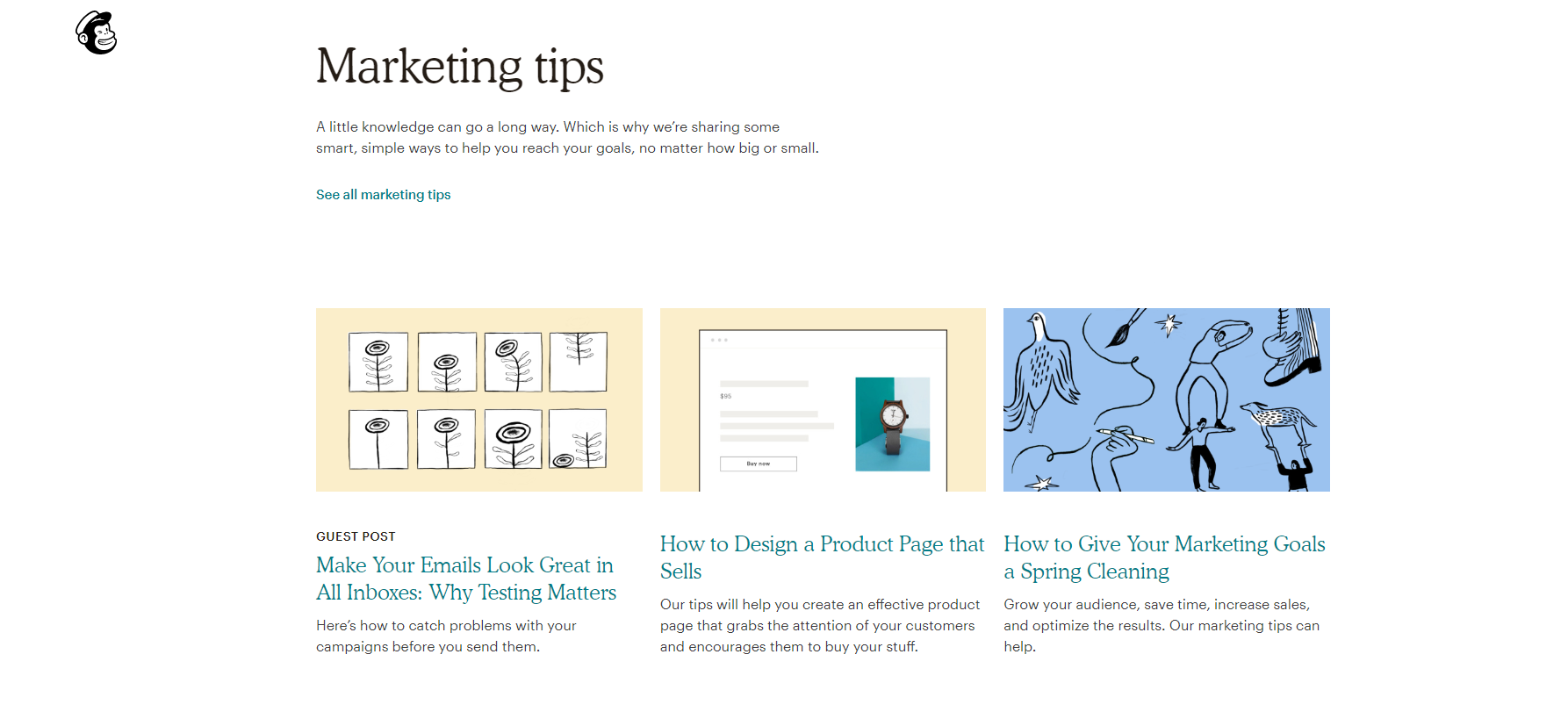 See that article on designing product pages? Without even reading the inner content, I could use that as an idea to make an article on:
10 ways to increase conversion rates of product pages
8 examples of high conversion rate product pages
See what I mean?
You want to use a swipe file to enhance your own creativity, and to ultimately publish a piece of content that's different than competitors.
This relates to what I'd like to talk about next.
4. Create sub-topics on your best performing posts
If you run a blog, you know that Pareto's principle is very real.
This is also known as the 80/20 rule.
In terms of blogging, it's common for 20% of published content to generate 80% of a website's traffic.
It might not be literally these numbers, but it's not rare for a few articles to hit home runs and do most of the leg work for attracting users.
This serves as an opportunity to craft similar content once you know what's doing the best on your blog.
Here's how.
Step 1: Install Google Analytics
If you haven't already, connect Google Analytics to your blog.
Those on WordPress like me can install a plugin like MonsterInsights.

They have an installation wizard that makes setting up Google Analytics easy as pie.
Make sure that you first create a property for your blog by navigating to the admin tab and clicking "Create Property."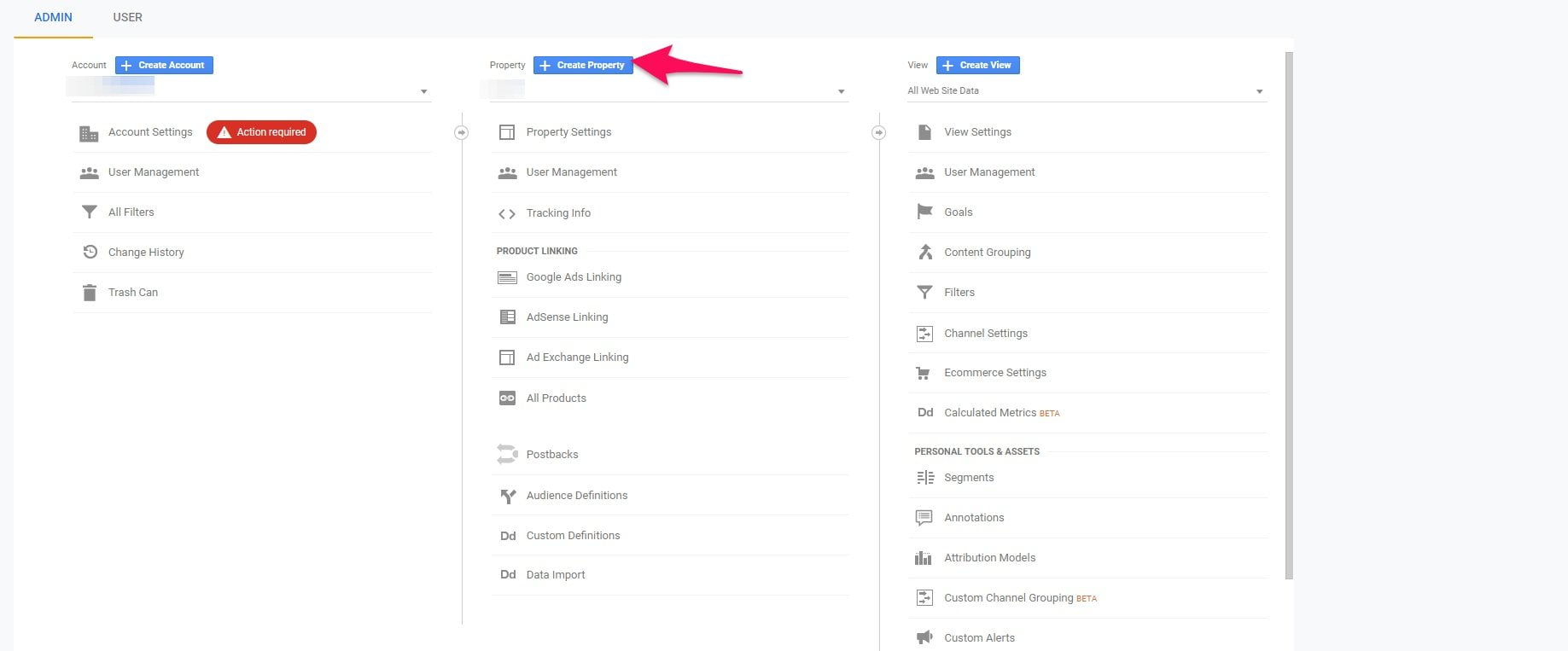 This will require you to enter the name, URL, and category of your website on the following page.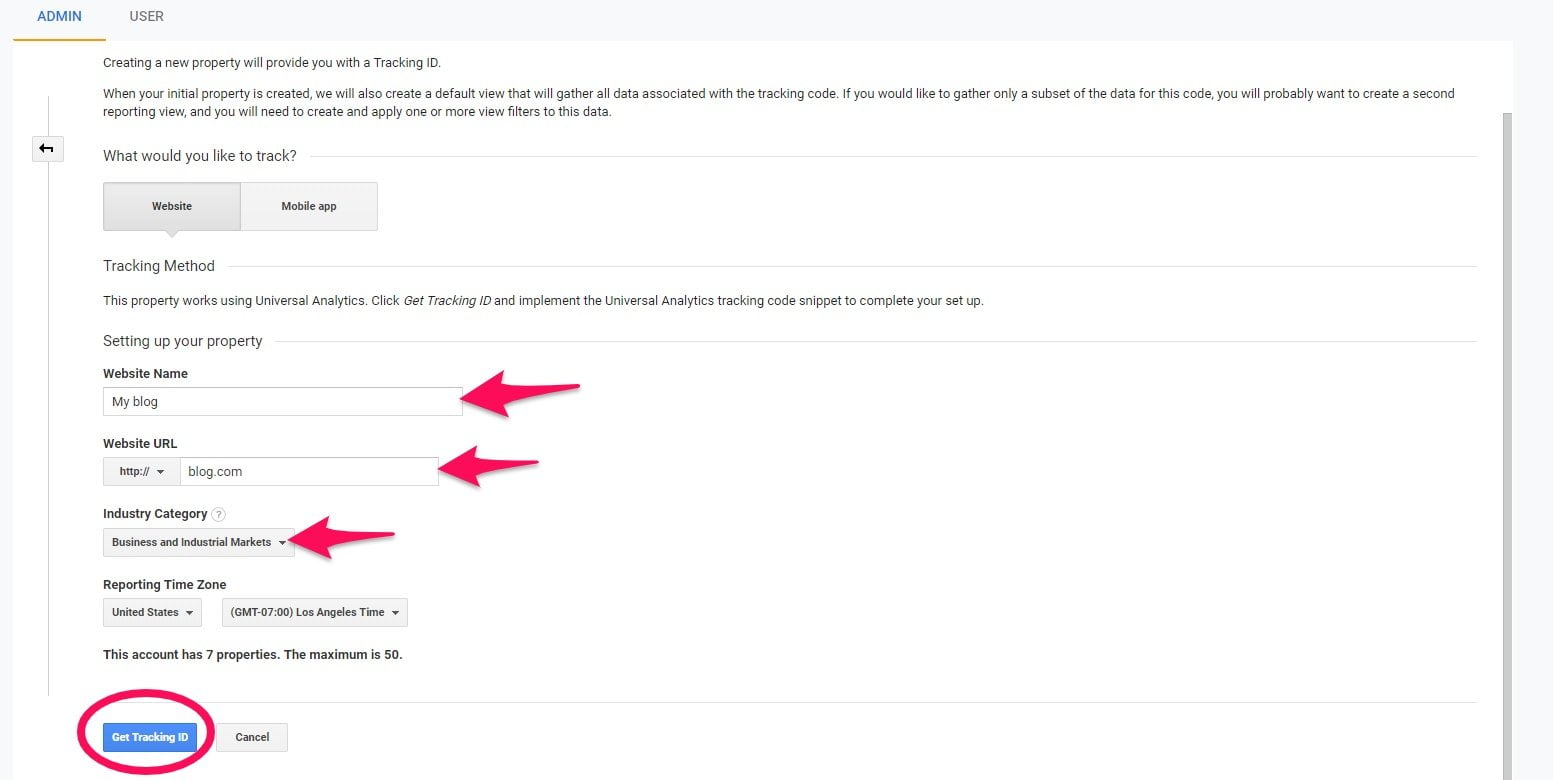 Click "Get Tracking ID" to finish. This ID can be manually pasted into MonsterInsights or you can get through the wizard setup, and it will pull it for you.
Step 2: Discover your most popular content
The sky is the limit with tools like Google Analytics.
Once it's installed, let's find out what content is doing the best on your blog.
You can do so by clicking the "Behavior" tab followed by "Site Content" and "All Pages."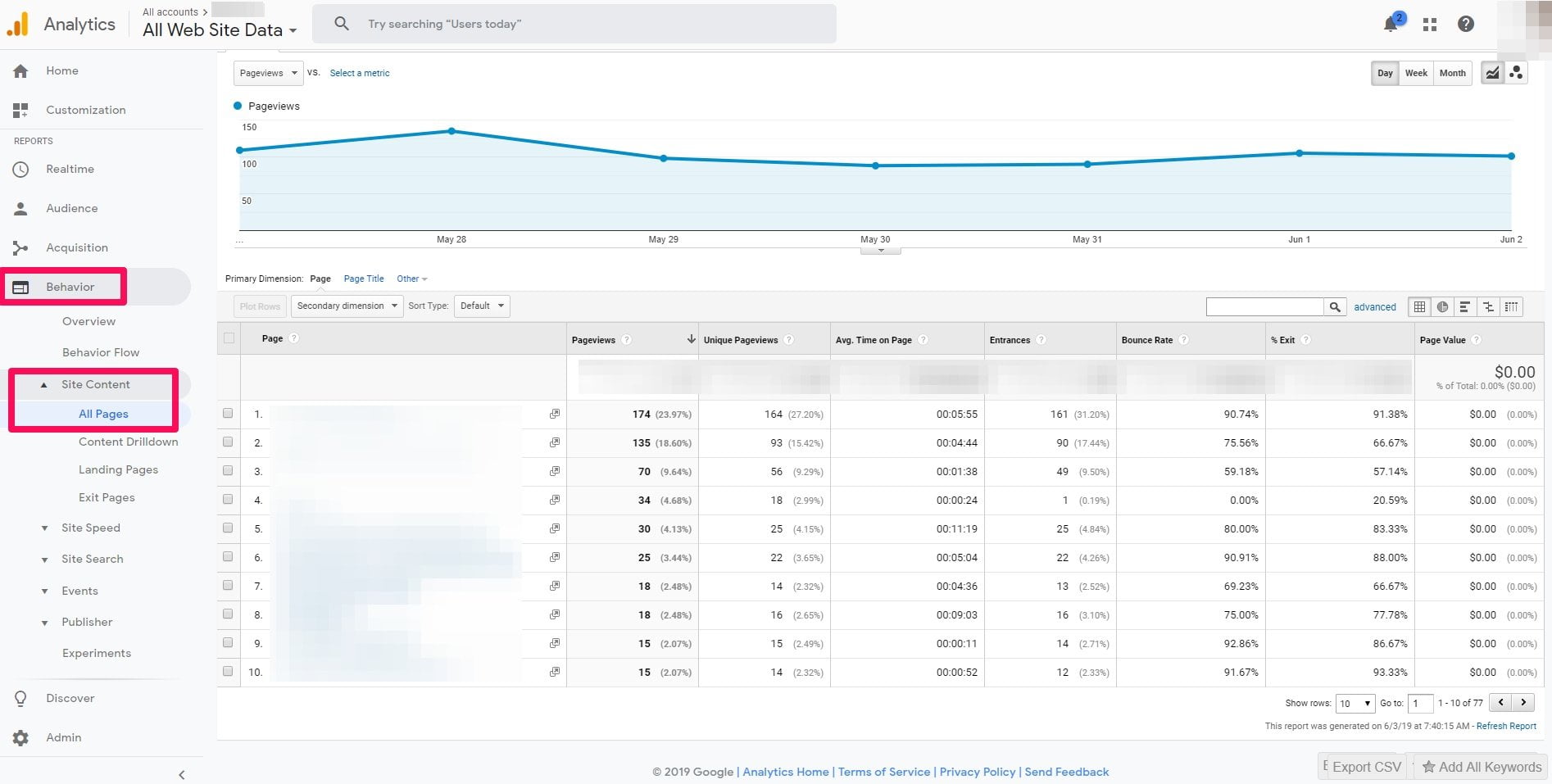 Here you will be able to see the best performing blog posts along with their average time spent on page, bounce rate, and other metrics.
Use this to analyze:
What topics your readers enjoy the most, so you can create similar content in the future.
What type of content your audience reads the most. Perhaps your case studies or tutorials get the most traffic, for example.
This brings us to step #3.
Step 3: Come up with fresh ideas
Let's say that your top three articles according to Google Analytics are:
The best dog food for big dogs
The best treats for small dogs
How to choose the best dog food in 2019
You could break down these topics into smaller ones for future content like:
Reviewing individual ingredients that are good for dogs
Comparing and reviewing specific dog food products
Blog posts on certain breeds of dogs
This is one of my favorite ways to produce content myself, but I'd like to share one last tactic for coming up with blog topics…
There's an amazing freemium tool called BuzzSumo that every blogger and content marketer needs to use.
It empowers you to find the most viral content in your niche, which ultimately allows you to figure out what topics are important at any given time.
Begin by entering in a keyword and clicking the "Go!" button.

BuzzSumo will display the most viral content for this search term based on social shares and backlinks.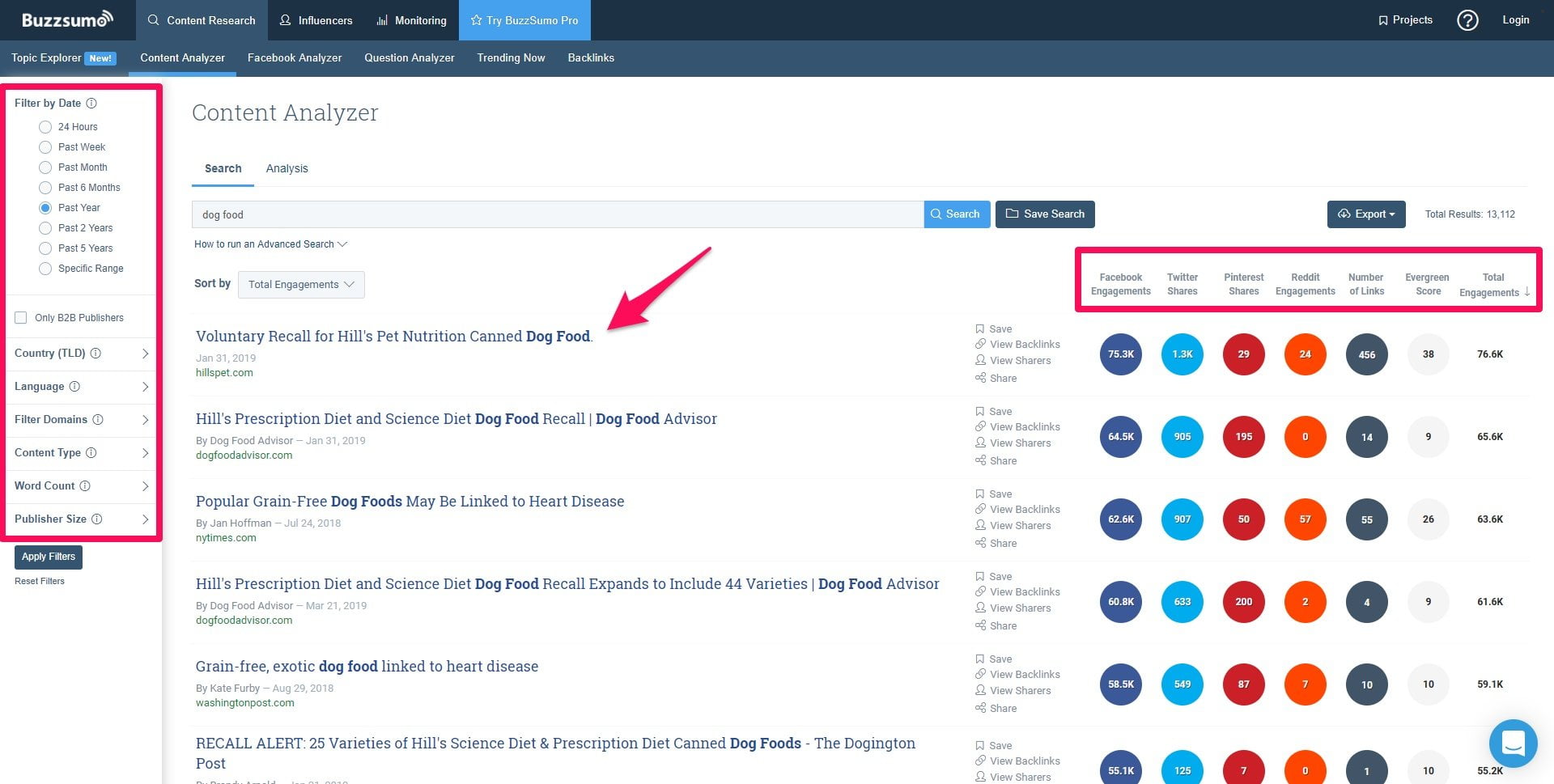 You can further filter the results from the left sidebar with options like date, country, publisher, and more.
This will require you to upgrade, however.
I find the free version to be more than enough if you use it casually.
You can see metrics like Facebook engagement and Twitter shares on the right.
Dead center is the actual piece of content itself, which you can visit by clicking the title.
I suggest that you use BuzzSumo for two things:
Coming up with new topic ideas like we did with our swipe file.
Analyzing what makes content go viral. Study their word count, tone, format, etc to replace their success.
6. Meet with your sales team to discuss common customer questions
Your customers know best.
And, at the end of the day, good blog posts ideas serve the reader.
That's why I suggest meeting with your sales team (who are interfacing with customers daily) to talk about what trends they see.
Do customers have linear problems?
Do they ask the same questions?
What do they ask about your product?
All of this primary data is a goldmine for blog posts.
You can form them into articles to attract the right audience and educate them on what they're searching for.
Bingo. 👌
7. Have a fireside chat
I'm a regular at a local mastermind and have mountains of entrepreneur friends.
We're constantly talking about goals, strategies, and getting each other's insights.
It's one of the best ways I've come up with cool blog post ideas as well.
As they say, two brains are better than one.
Reach out to people in your network and ask for their feedback on content.
What do they think would make an excellent article?
Where could existing content be improved?
Heck, you can simply make a post on social media and ask these questions.
8. Create cluster articles around pillar posts
This is one of the latest crazes in SEO and content marketing.
Why?
Because it works. Really damn well.
Here's a funny example using Star Trek (I was more of a Star Wars kinda guy):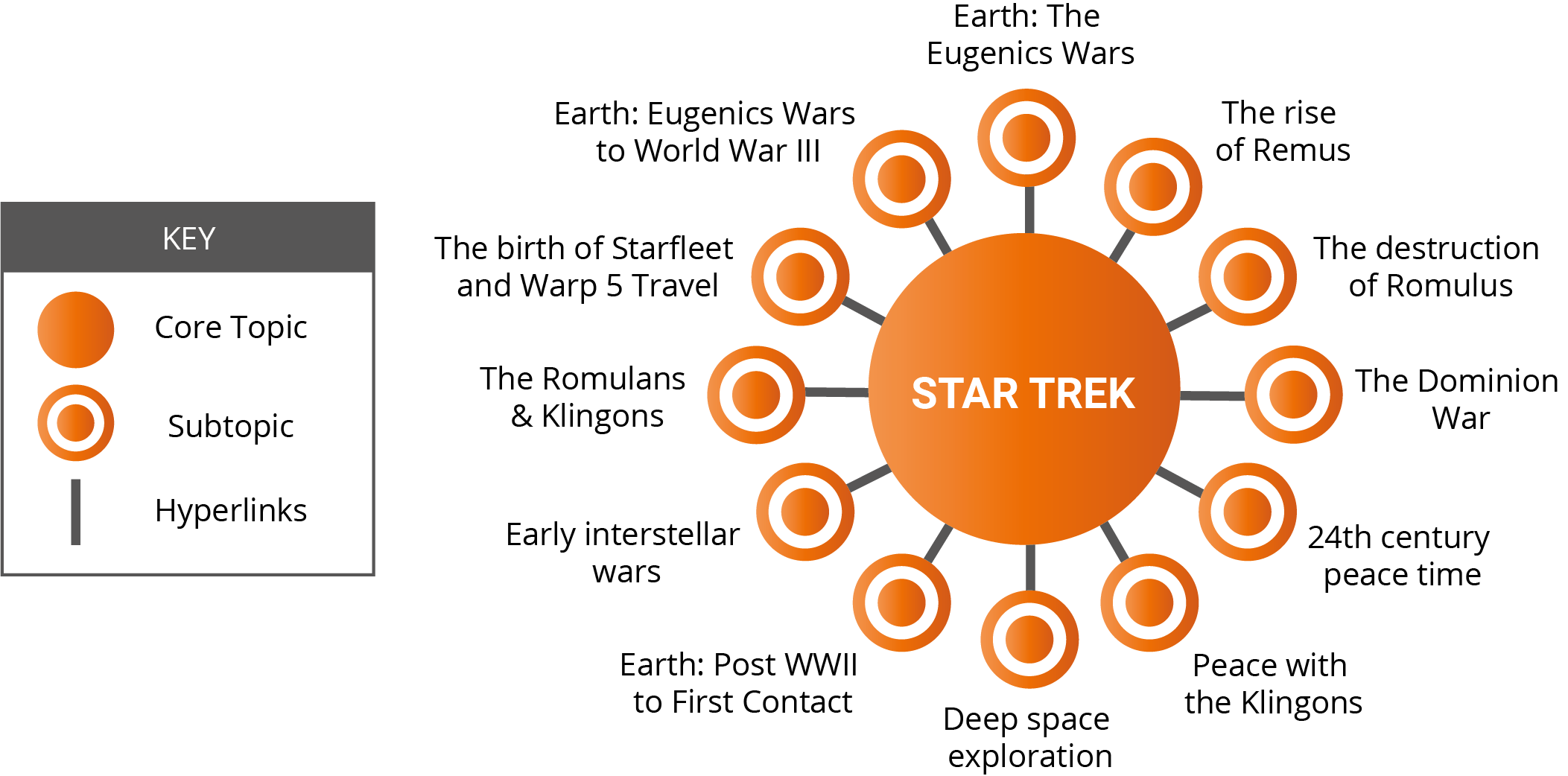 You have Star Trek as the pillar/core topic and then the sub-topics are particular races, events, and wars.
A pillar post in a long-form authoritative piece on a particular topic. Think of it as the end-all-be-all content.
If you don't have one, you'll have do that first.
Don't be surprised if it ranges anywhere from 3,000–10,000 words. They're huge.
Then, create clusters. These are micro-topics that build into the pillar article.
Niche down and talk about every little detail. This deeply educates readers and allows you to rank for low-hanging keywords.
Link the posts together to create a silo that feeds SEO juice to one another.
As one gains more authority, it passes it to the other.
…And the other.
…And another.
You get my point.
9. Go straight to the source and ask readers
Who would know what content is best for your blog better than your readers?
I recommend choosing a channel to speak with fans of your content to ask what topics they'd like to see next.
This might be a private Facebook group, email newsletter, or tool like Google Forms.
Ask questions like:
What was your favorite piece of content on my website? Why did you enjoy it?
What was your least favorite piece of content on my website? Why didn't you enjoy it?
What topics would you like to see more of on my website?
This will give you first-hand insight into your target audience's mind.
Watch this tutorial to learn more:
Google Trends is your friend
What if you could know the most raved-about topics in your space at the snap of a finger?
You can with a little something called Google Trends.
This is Google's tool that shows the interest over time for search terms along with related data.
Begin by typing in a keyword on the home page.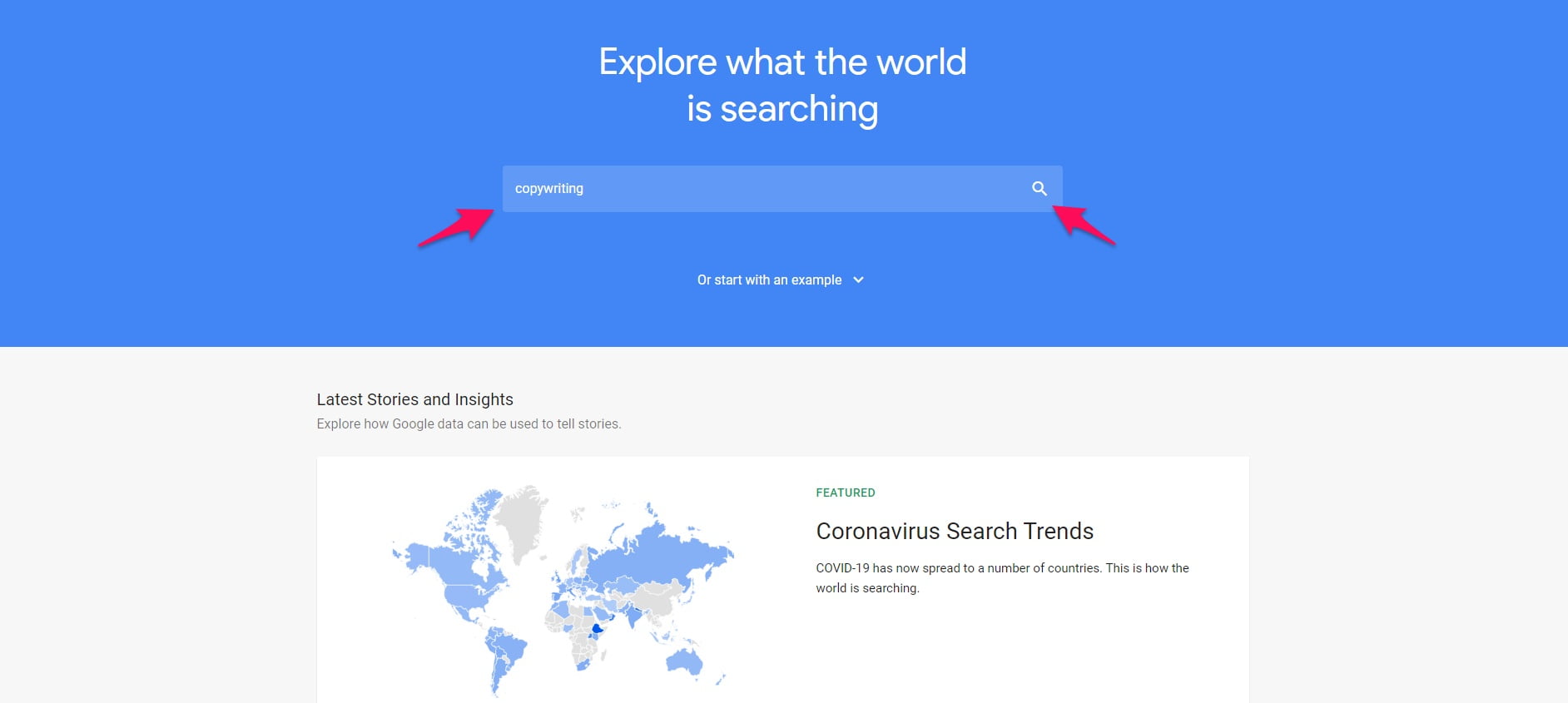 The next page will display the "Interest over time" chart that can be adjusted with filters.
Scroll down and navigate to the related queries and topics section.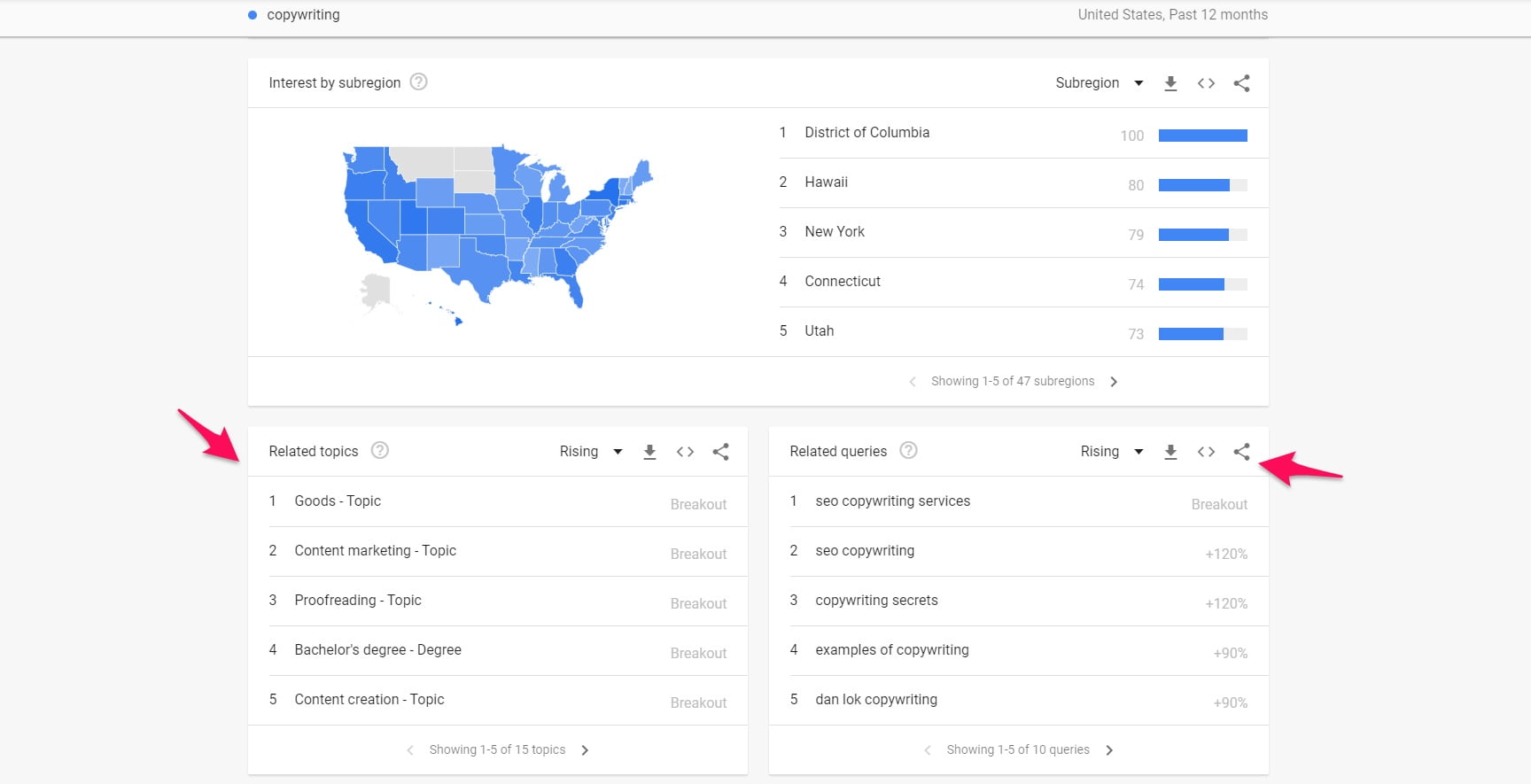 These will give you further inspiration for blog post ideas. Download them as a CSV to analyze further.
46 Blog post ideas for businesses
How-to guides and tutorials.
Team stories and profiles.
Transcribe YouTube videos or podcast episodes.
Highlight your industry.
Product or product features.
Company events.
A roundup of experts' advice.
Infographic and accompanying blog post.
Trends in your market.
The best tools for your industry.
Explain common terminology in your market.
A list of statistics and data other webmasters can use.
Elaborate on a customer case study, how they found you, and their success.
Product reviews and comparisons.
Guest posts from others in your space.
A customer success story and interview.
Must-have career skills in your field.
An ultimate guide (pillar article) on a high-level topic.
Common myths about your field.
Cluster articles that dive deep into niche topics.
Pros and cons of your field.
Connect content to recent events or a celebrity.
React to another company's blog post or news.
Share quotes from the best people in your industry.
Break down your company's work culture and why it's that way.
Discuss the best marketing and advertising strategies in your field.
Run a content or giveaway through your blog.
History of your business and how it grew to its size today.
Highlights from meetings or conferences.
Show life outside of work to create a personal connection with readers.
Highlight the success of a department and its recent accomplishments.
Answer the most frequently asked questions.
Create a list of people to follow on Twitter, Facebook, LinkedIn, etc.
Write a "biggest mistakes" post.
Reveal behind-the-scenes operations.
Curate a list of the best resources for your audience.
Review a book.
Do a sponsored post.
Product use cases.
Host a quiz on your blog.
Run an experiment and update readers on how it's progressing.
Be transparent about previous failures and how you overcame them.
Create seasonal posts that related to holidays.
Gated content that requires an upgrade.
Compare your product or service to another.
Offer cheatsheets or checklists.
Blog post idea worksheet
Here's a free blog post worksheet you can use to come up with ideas for your next article.
Print it out and fill out the worksheet or edit it online.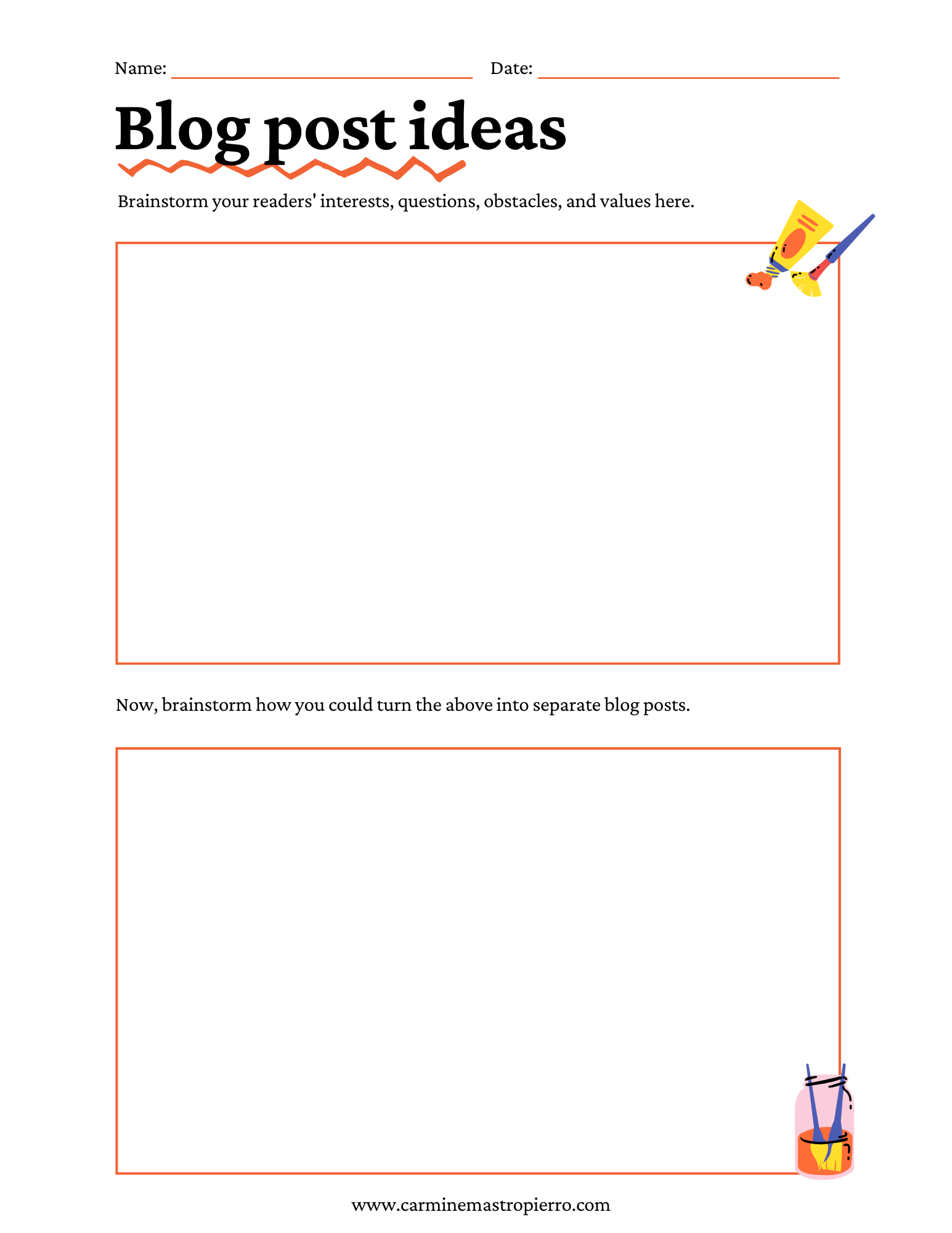 Wrapping up how to come up with blog post ideas
Coming up with new blog post ideas is one of the most difficult tasks as a content marketer.
I've sat at my computer for up to an hour writing and scraping ideas before finally settling on a topic.
But, I've learned my lesson.
You can learn from my mistakes and never struggle to get blog post inspiration with today's main takeaways.
Reach out to me if you need a content writer for hire as well.
Key takeaways
Play the alphabet soup game to get ideas from search engine auto suggestion results.
Use a keyword research tool like Keywords Everywhere to not only find SEO terms, but blog post ideas, too.
Create a swipe file of competitors blogs. Every time you need creative juice, get inspiration from the content they publish.
Use Google Analytics to discover what content performs the best on your blog, and create more of it.
Use a tool like BuzzSumo to find out what topics are going viral in your niche.