If you don't know Neville Medhora's website KopywritingKourse and his epic stick figures, you've been living under a rock.

Neville runs one of the largest—and best—copywriting websites on the internet.
He's an OG in the online copywriting scene.
KopywritingKourse also, as you could guess by its name, sells a course on copywriting and getting clients.
If you're new to copywriting or need to sharpen your skills, courses are a great investment. 💲
They save you months to years of time, research, and energy.
You get to learn from the best as well.
However, is the KopywritingKourse worth the money?
Will it advance your skills?
What are others saying about?
Keep reading my review to learn!
What is KopywritingKourse?
KopywritingKourse is a copywriting program created by Neville Medhora.
It offers unlimited copy critique, email critique, office hours, help with projects, and unlimited access to training material.
It will teach you:
How to use scripts and templates to write better.
How to train employees to be great writers.
How to implement what you learn in the course.
How to sell products and services through writing.
How to be a copywriter for a living.
How to use email autoresponders effectively.
The course is ideal for freelancers, CEO's, journalists, salespeople, marketers, and business owners.
After all, everyone within a business deal with sales copy in some way.
…Emails.
…Sales pages.
…Ads.
You get my point.
Overall, it's a training school for anyone that wants to learn the ropes of copywriting and join a community where you can meet other writers and get feedback.
Is KopywritingKourse legit?
Can you trust Neville with your hard-earned money? Yes.
I'll let all of the proof do the talking.
For example, look at this Reddit thread discussing Neville's course: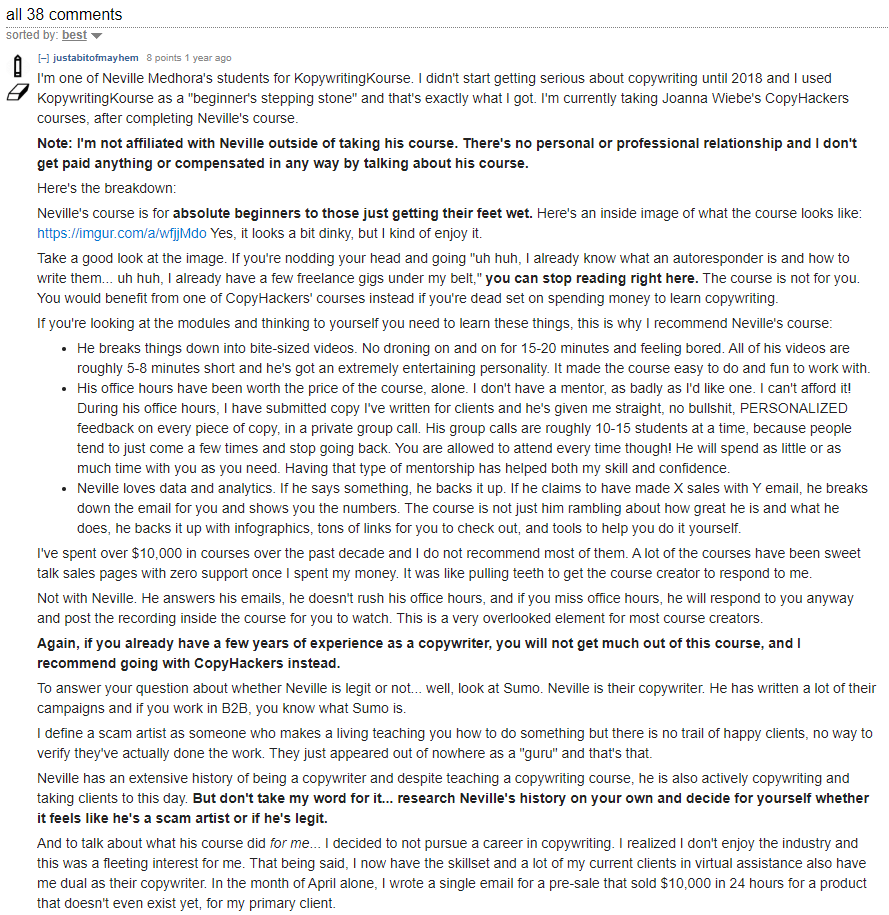 A user chimed in with their experience saying they've spent $10,000 on courses and KopywritingKourse was easily one of the best choices.
They also touch on upsides like:
Bite-sized videos make learning easier.
Neville has an entertaining personality which makes learning more fun.
Office hours are worth every penny alone as you can interface with Neville directly and get personalized feedback.
Everything in the course is backed up by data and analytics.
KopywritingKourse is also a massive website that Neville has been building for many years.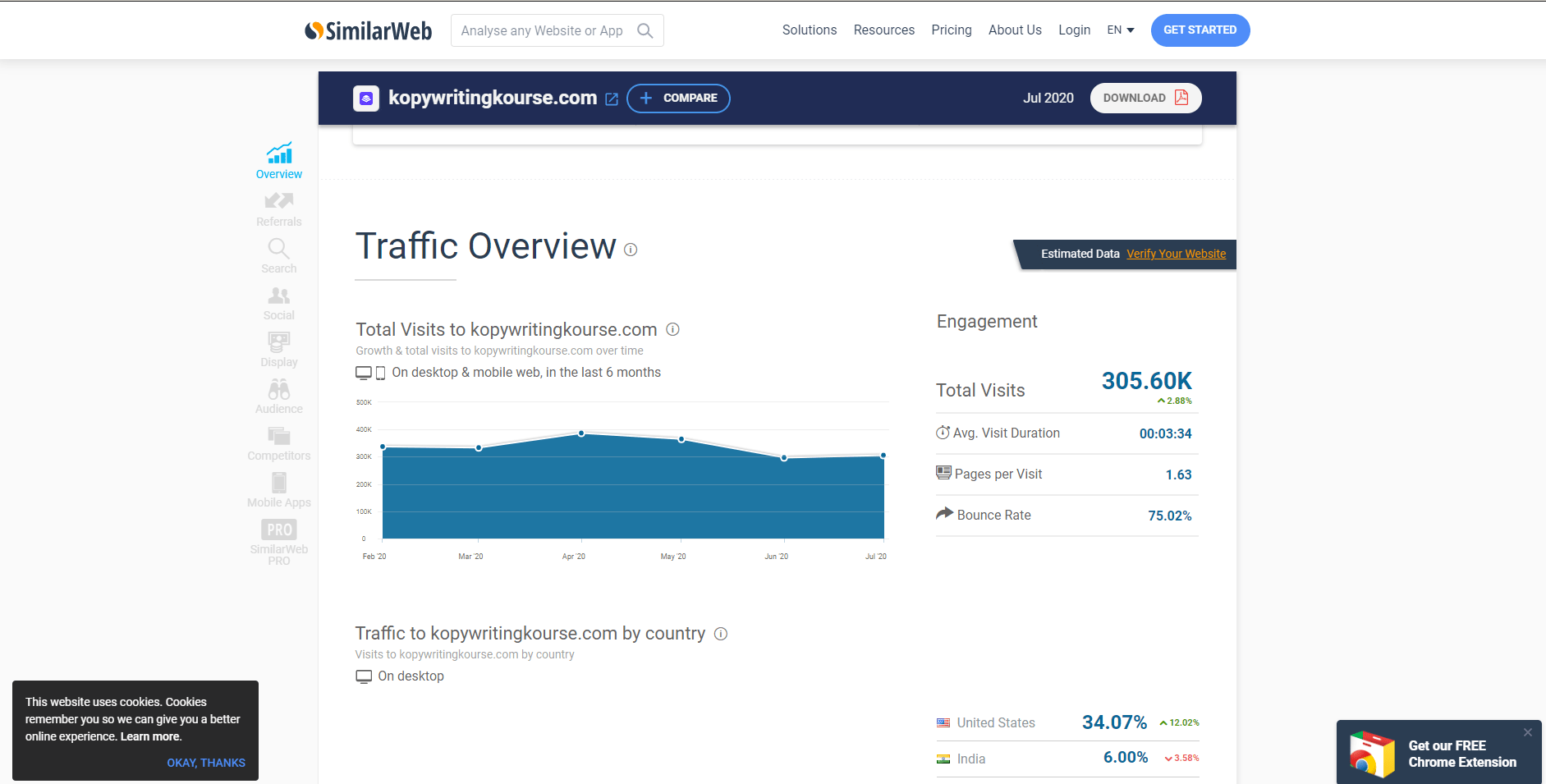 It gets hundreds of thousands of visitors, links from huge publications, and there is an endless well of resources on it.
The testimonials found on the course's sales page are worth their weight in gold.
Like, c'mon. You have people like Noah Kagan backing up Neville!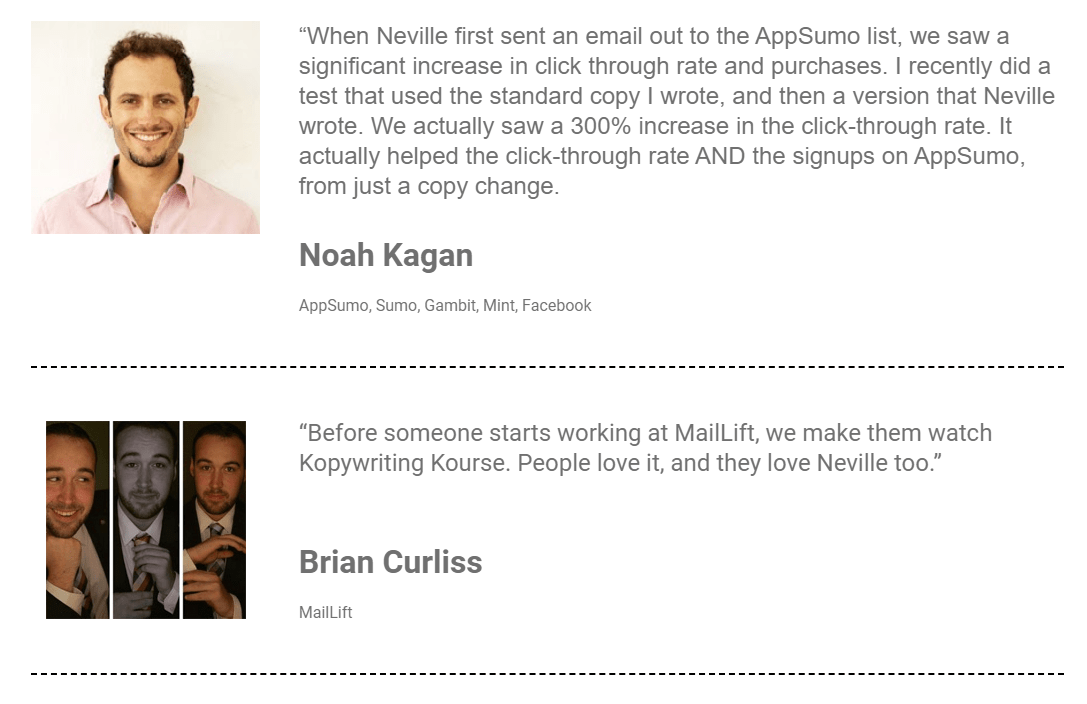 Not just that, but there are also reviews from students talking about how they are able to fund themselves with copywriting, get internships, and make a living.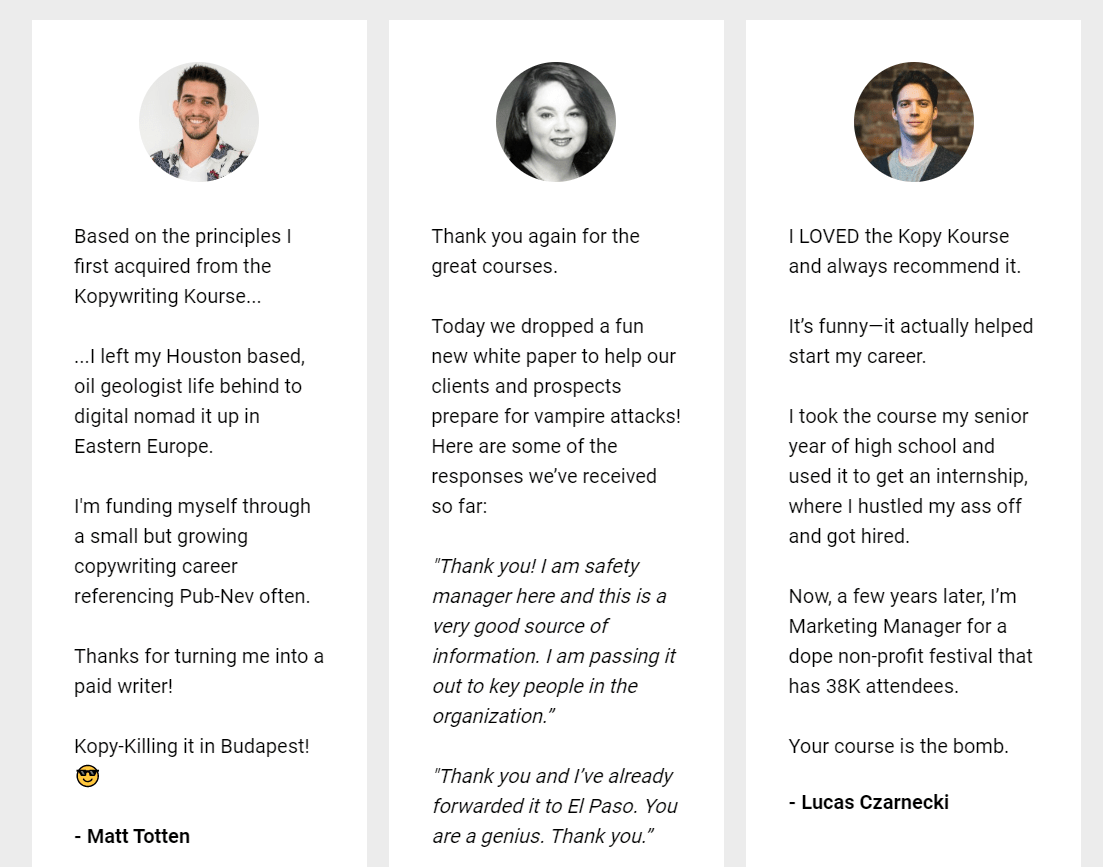 That brings me to my next point.
KopywritingKourse features
Time for the fun stuff.
Let's get into the meat and potatoes of what this course has to offer.
Get critique from Neville himself
One of the hallmarks of a good course is having a relationship with the instructor.
If someone is trying to sell you a course and expects you to learn everything on your own and kicks you into the lion's den, run for the hills.
That's not how you properly learn and it shows the instructor's true colors.
Not Neville though.
He has an intimate relationship with all of his students to ensure their success and progress.
Neville will personally critique your email pitches, client projects, and more so you know what you're doing right and wrong. No guessing.
Log your progress
Accountability is key when taking a course.
Otherwise, how do you know if you're getting better?
KopywritingKourse gives you the optional Progress Log feature that documents your improvement.
Since it's placed in the public members area, you can use other writers improvement as motivation, learn from them, and get others to push you harder.
The American Society of Training and Development found that you have a 65% of achieving a goal if someone holds you accountable. That number jumps to 95% if you have appointments to discuss the goal!
Get certified
KopywritingKourse is a big name in the online copywriting space.
The certification that you get after completing the course isn't a paperweight.
People use it as a reference on LinkedIn and their resumes.
It's proof that you completed a well-known course and have the ability to write sales copy that converts like crazy.
You can leverage it to get more clients or a copywriting job.
Join the active membership area
Here's how I like to think about online courses…
When you were in school, you would go to class, see your friends, ask the professor questions, stay after hours, and so forth.
It's a very interactive and grassroots experience.
Online courses need to be the same.
KopywritingKourse has an active members area where you can get help with copywriting projects, ask questions, and rub elbows with other copywriting professionals.
Get 12 courses in one
Here's a huge upside to investing in Neville's course: you get 12 in one.
Let me explain.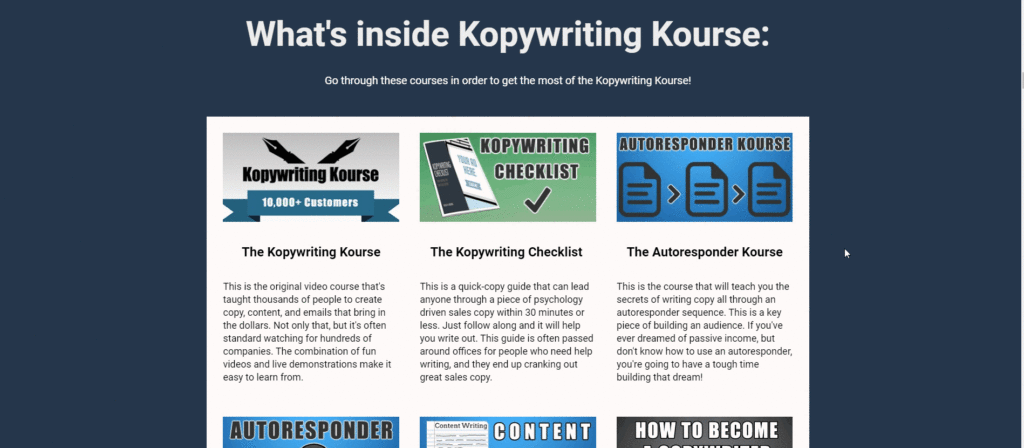 The first, The Kopywriting Kourse, is the original video course that has taught thousands of people how to write copy that turns into dollars.
The Kopywriting Checklist is a quick guide to copywriting that leads you through psychology-driven sales copy in 30 minutes. It's often passed around offices and between teams to improve everyone's skills at once within a business.
The Autoresponder Kourse teaches you the secret of writing email sequence copy. It's used to build passive income, generate leads, and achieve other goals through automation.
You also gain access to The Autoresponder Bank. This is a vault full of autoresponders that have been proven to work that you can use yourself. It can be difficult to start an autoresponder from scratch so this greatly speeds up the process.
Next, The Content Writing Course goes in-depth on how to create high-quality pieces of content that rank on the first page of Google and receive massive social shares.
For those interested in kickstarting their copywriting career, the Become a Copywriter Course will teach you how to get clients, charge premium rates, and get started out.
If you want to talk about inception, students also gain access to the Build a Course program. Yes … a course that teaches you how to build a course to generate income and educate others.
Moving on, the Email Writing Course breaks down how to write high-converting cold emails to get clients at the snap of a finger.
The Ad Platform Course teaches students how to properly use advertising platforms and write sales copy for each one individually.
Phew. We're almost done! The How to Make Images Course educates you on how to make effective images to support sales copy and graphic design skills.
The Website Tuneup Course helps you write home pages, about pages, sales pages, and more to ensure your website is converting the best it can.
Finally, there is the 25 Minute Crash Course. This, as you could guess, is a quick course to kickstart people's understanding of the power of copywriting.
Live office hours with Neville
Neville hosts live group coaching calls that happen every two weeks where you ask what you want, live.
You get to see what other students are asking which could relate to your interest and problems. You also get to see Neville help them rewrite content, copy, and approach problems.
There is a full recording archive if you miss office hours or want to go back and learn from previous group calls.
Do you know how much this would cost you otherwise?
$850/hour!
But get you it for free in the course. Not too shabby. 🙂
Other perks of the office hours include:
Live re-writes of sales copy.
Testing business models and ideas.
Re-doing pricing structures.
KopywritingKourse pricing
So, how much are all of these amazing features and benefits going to cost you?
KopywritingKourse has two subscriptions.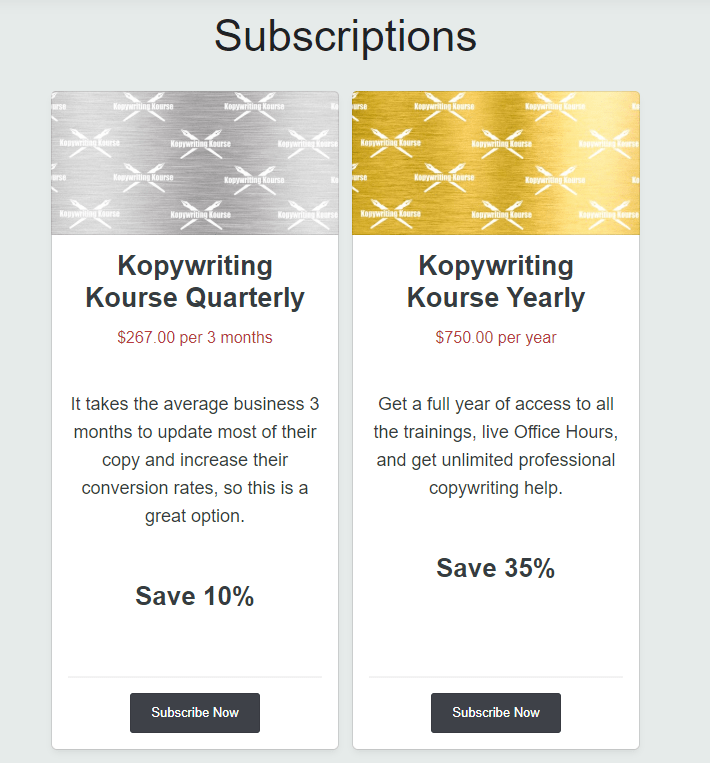 The first is billed $267 every three months. This totals $1,068.
The second option is to pay $750 upfront of an entire year's subscription. This is $318 cheaper than the first.
The first option is ideal for those that want to increase the performance and conversion rate of projects.
I suggest the second one for those interested in unlocking the full potential of Neville's course with office hours, deep dives into all training modules, and getting personal critique.
Final thoughts on KopywritingKourse
KopywritingKourse is a program lead by copywriter Neville Medhora.
It trains students on how to write effective sales copy and get high paying clients.
Because here's the truth: copywriting is tough.
You have to learn … experiment … get clients … lose clients. The process of becoming a profitable writer takes months if not years.
Unless you invest in a worthwhile program!
This course, in particular, includes live office hours with the instructor, personalized critique, and access to a members area to engage with other students.
There are two available pricing plans: $267 per three months or $750 per year.
This is priced fairly for the amount of value and resources you gain. It's also equivalent to a lot of the other courses out there.
If you're still on the edge, I recommend reading the testimonials on his sales page, watching his YouTube videos, and going through the site's resources to learn more.
What do you think of KopywritingKourse?