Are you interested in working online or finding freelancers to hire for projects?
Then you need to give PeoplePerHour a shot.
It's a great platform to earn a living online or hire freelancers for outsourcing.
In fact, 73% of freelancers get most of their work from marketplaces.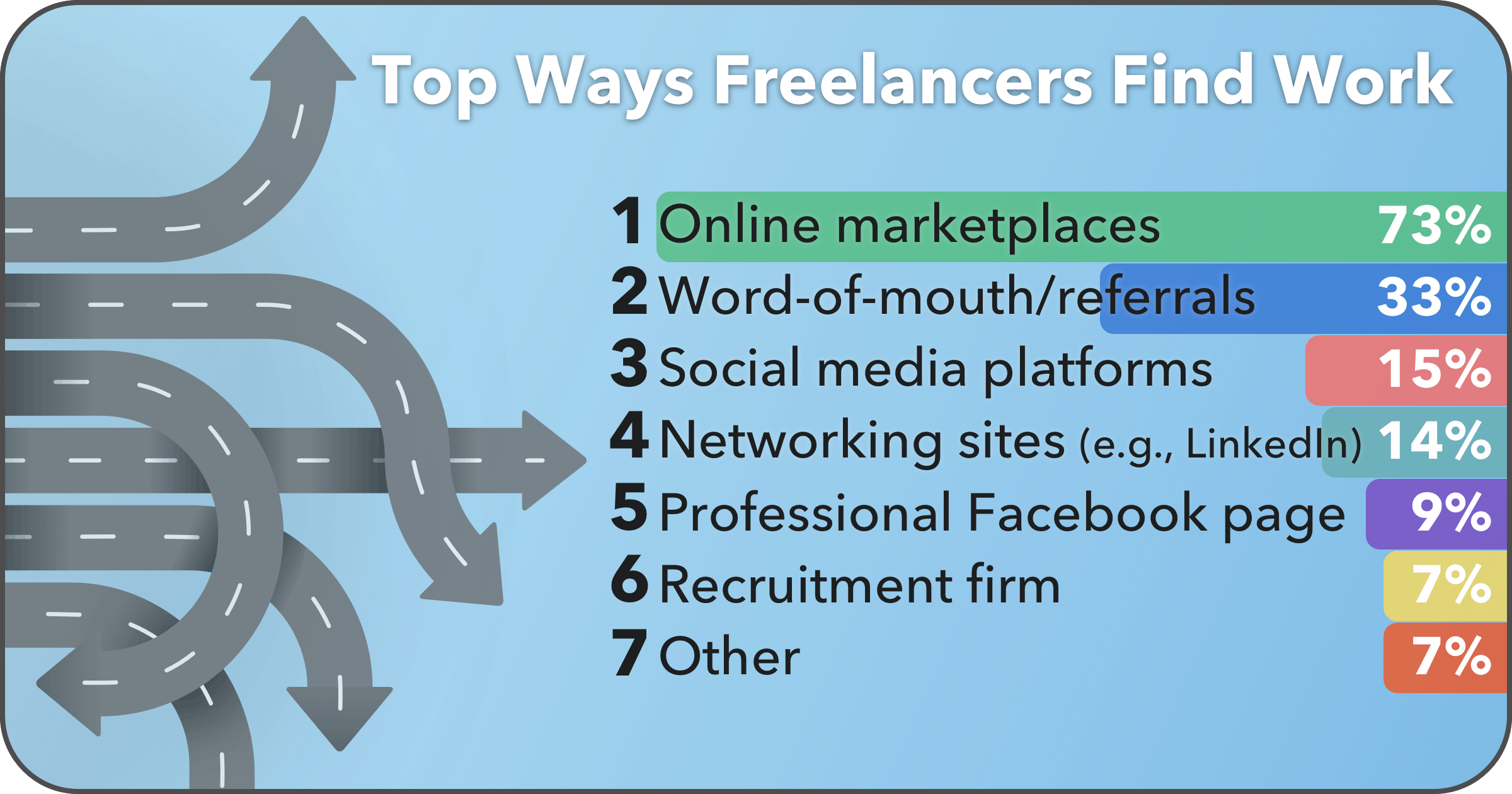 This means that you'll have no shortage of opportunities as a freelancer.
On the flip side, business owners will have plenty of candidates to choose from.
That's why I'm doing a PeoplePerHour review today. I'll be looking at their fees, and testimonials, and showing you how to use their platform.
Keep reading if you'd like to learn these things.
What is PeoplePerHour?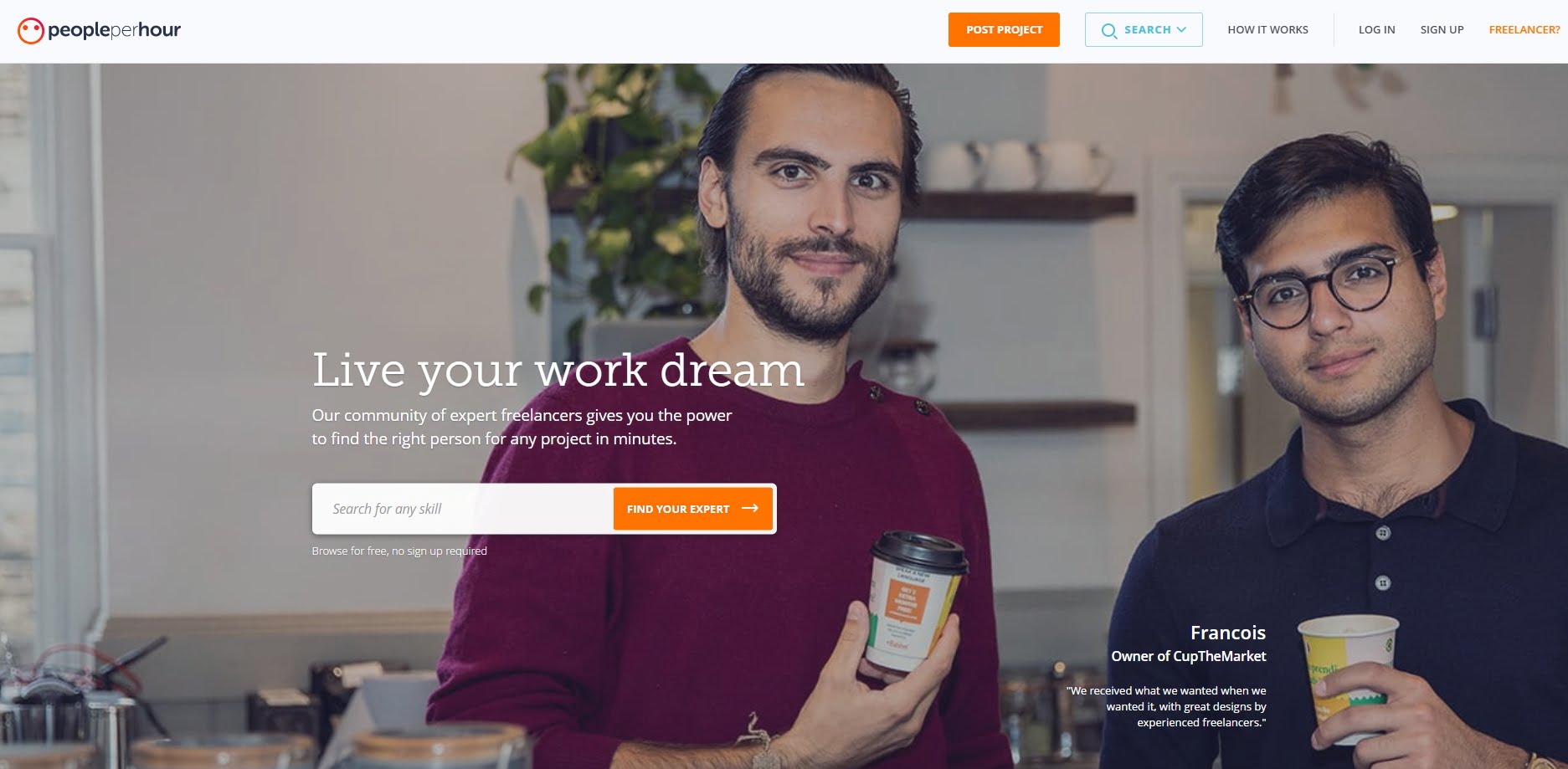 PeoplePerHour is a freelance marketplace that helps people like you make a living online.
I used marketplaces like these when I was a new freelancer back in the day, and it got me consistent work.
Whether you're trying to make this a full-time gig or earn a couple of bucks through college, this site will help you achieve your goals.
Alternatively, you can use their platform to find skilled individuals to complete tasks you need to be done.
I regularly outsource projects for my portfolio of businesses, and I'll always use a website like PeoplePerHour because of its convenience.
As a matter of fact, over 750,000 businesses trust PeoplePerHour, and 1.5 million freelancers use it regularly.
They're not a small fry in the freelance world by any means.
It doesn't matter what skills you have or are looking for, as there are jobs related to everything, including:
Web design
Graphic design
Programming
Freelance writing
Video editing
Data entry
Email marketing
Social media management
Personal assistance
Next, let's learn how to use their platform.
How to Use PeoplePerHour
Follow these steps to begin using PeoplePerHour's platform today.
Step 1: Sign Up for an Account
The first step is to click the "Sign up" button on the top right of PeoplePerHour's homepage.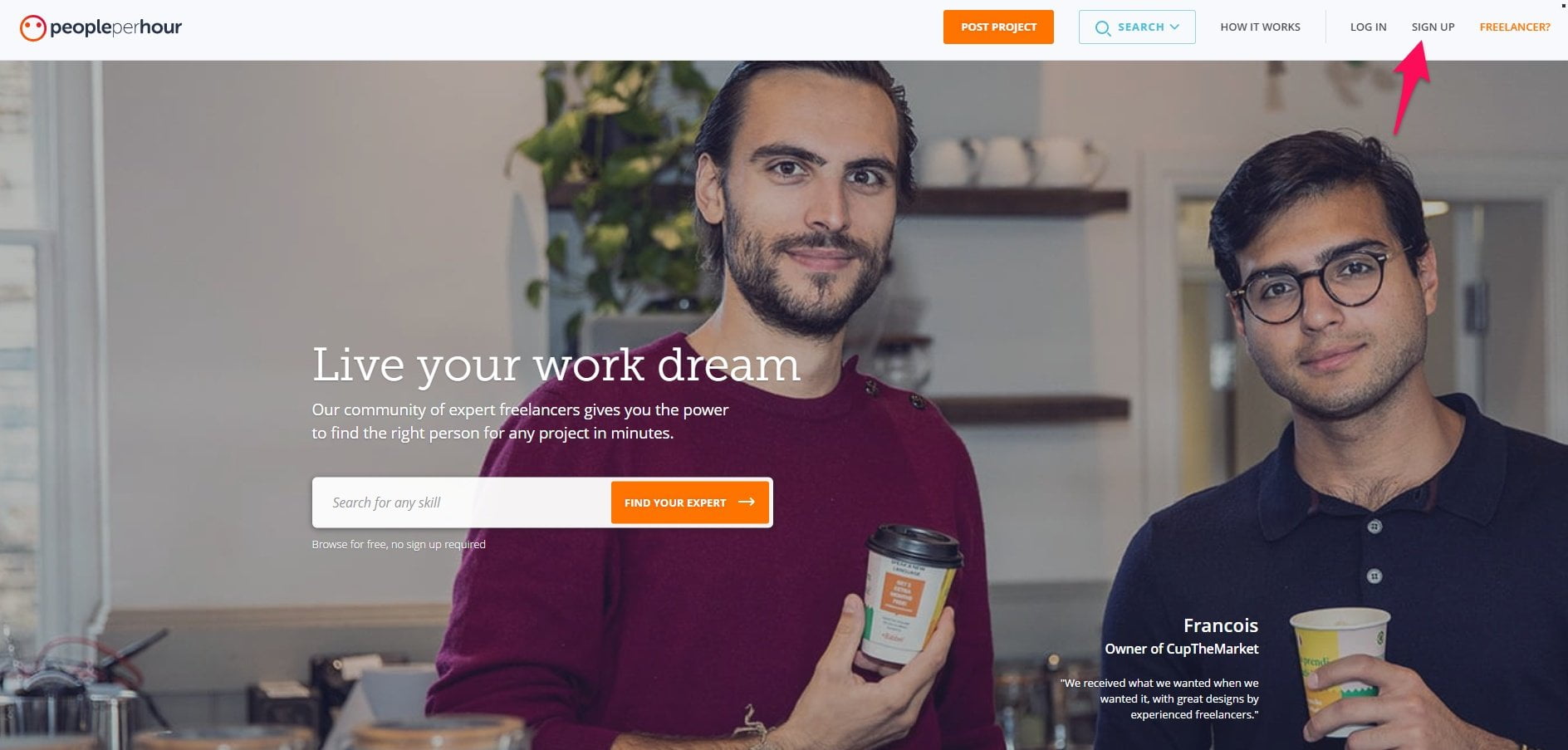 This will take you to the following page, where you need to either complete the registration form or register via Facebook.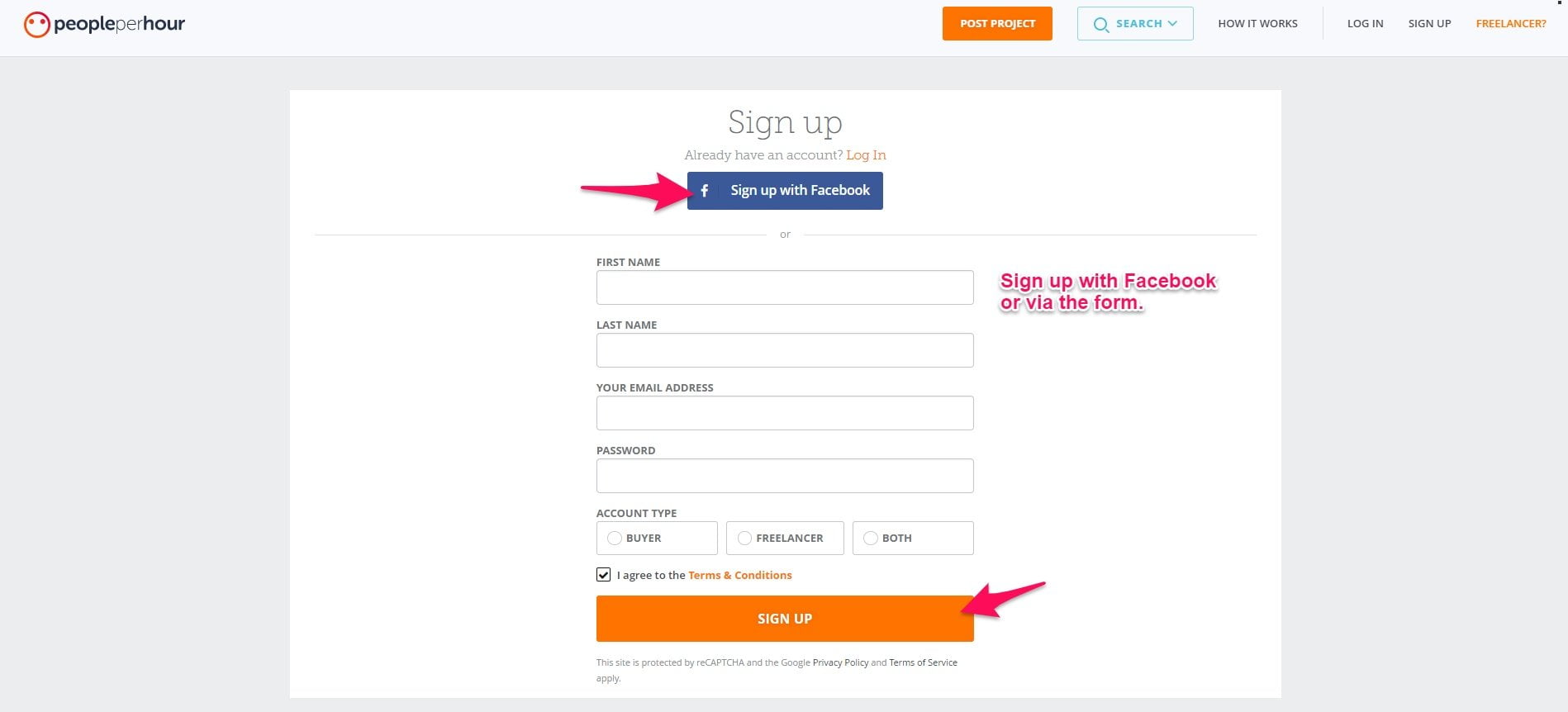 PeoplePerHour will then need to learn more about you. The first section is labeled "Tell Us About You."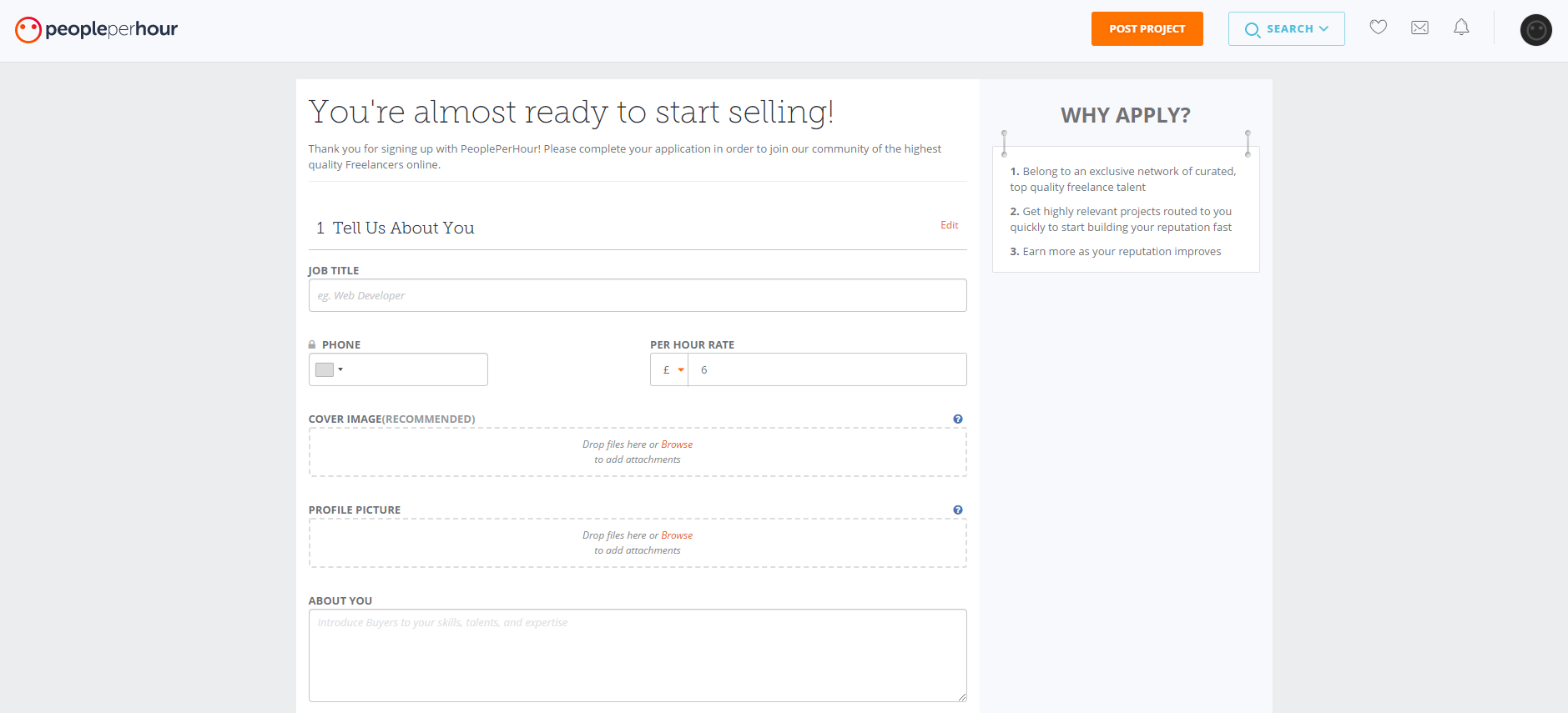 Begin by entering a job title but make it descriptive. For example, you could enter "Ruby on Rails and Django App Developer" versus only "App Developer."
The currency for the hourly rate field can be changed by clicking the currency icon and choosing another from the drop-down menu.
I'd also recommend uploading a high-quality cover image and profile picture.
Remember that your profile will act as the first impression to clients and new hires. You want to look professional and trustworthy.
An empty account that looks like no effort was put into it and will have people running for the hills.
The about section is where you can really make yourself stand out from the sea of other freelancers.
Sure, you need to talk about your experience, skills, and education. BUT… you also need to focus on how you will benefit clients.
Let's imagine you offer copywriting services like me. Instead of saying you write content for clients, talk about how you will increase their organic traffic, and search engine rankings, and generate leads via great copy.
That's why they're really after.
You should definitely include a portfolio as well. This allows you to show off your talent and clients can get an idea of what to expect when working with you.
The remaining application is straightforward. PeoplePerHour will ask you to select your skills, add references, and set your site preferences in the next sections.
This brings me to my next point.
Step 2: Send in Proposals to Gigs
You can begin looking for gigs to apply for by clicking the "Search" button on the top right and selecting the "Search projects" option.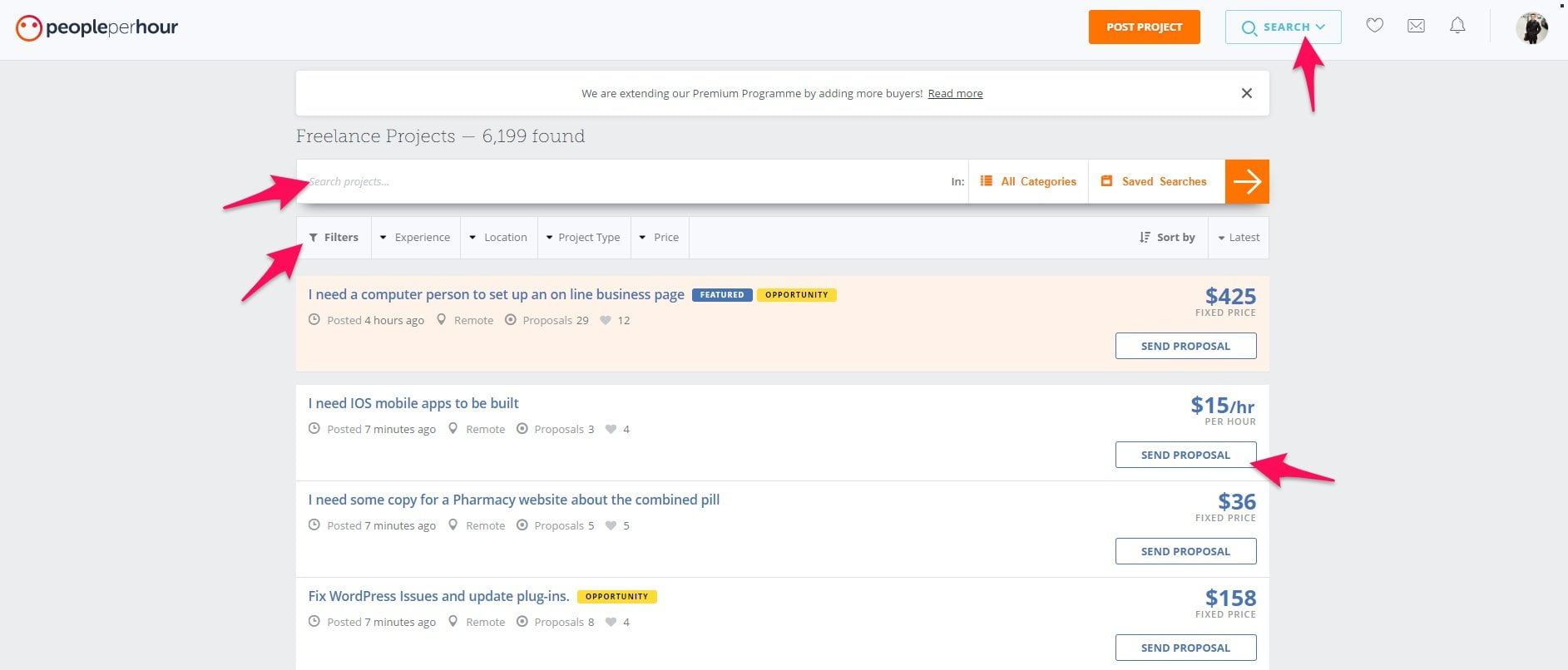 Here you will be able to filter results by keywords, project type, experience level, and more.
Click the "Send Proposal" button on any jobs that seem interesting.
Job pages will have a description of the task, payment amount, and other details.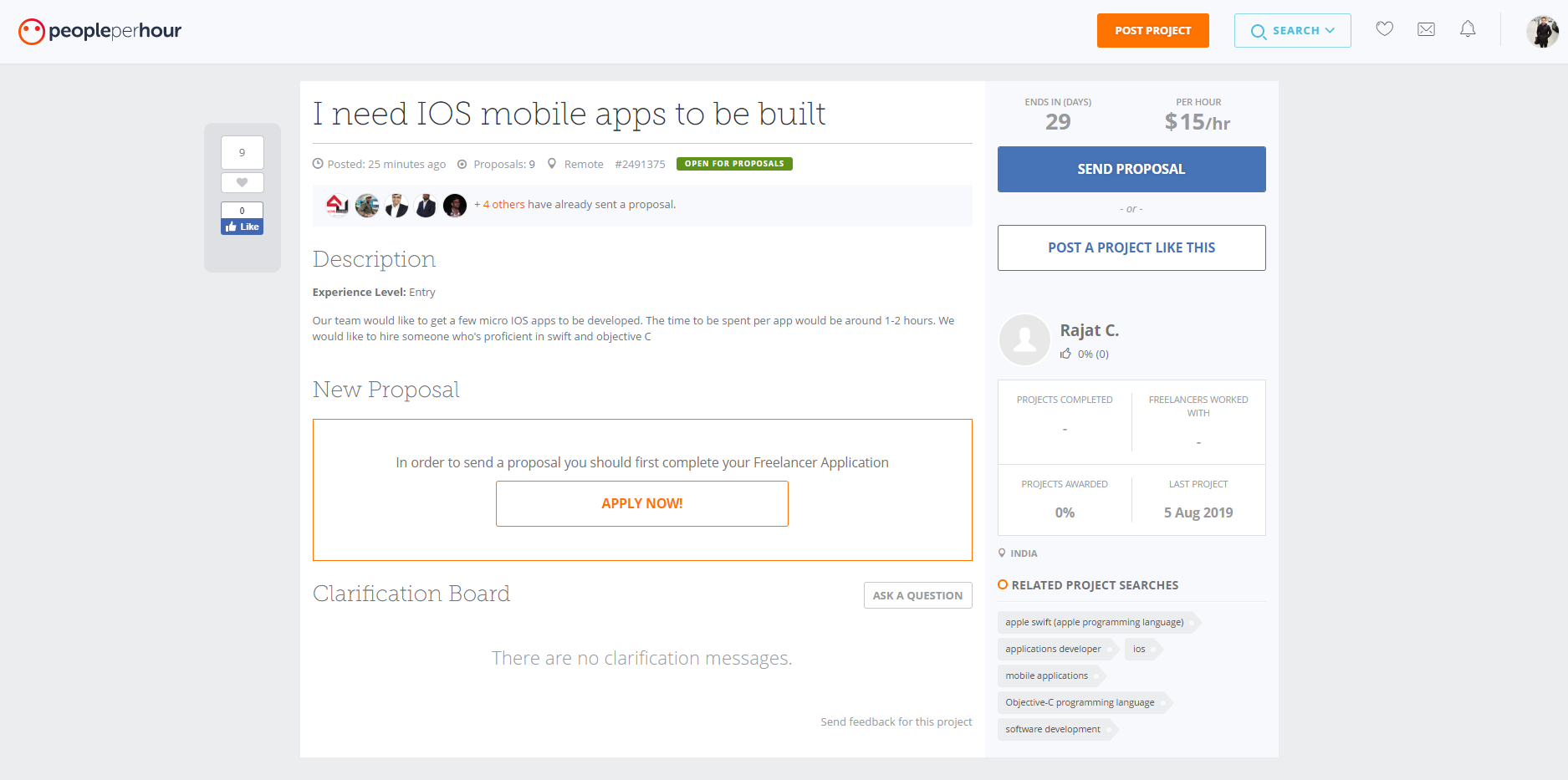 Hit the blue "Send Proposal" button on the right to send a project proposal to the client.
The most important part is the proposal details section because this is where you explain who you are and why they should work with you.
As I mentioned previously, it's crucial that you talk about how you will benefit the client and help them reach their goals.
They are going to receive heaps of proposals that frankly suck.
These proposals will consist of only talking about themselves and are often way too long and boring.
Keep your short and sweet instead. I recommend summing up your experience and what you'd like to propose within a paragraph if possible.
You will also need to add a description and payment details to your proposal.
Enjoy making money once you begin landing gigs with this approach 🙂
Step 3: Post a Job to Find Freelancers
Maybe you're not a freelancer, and instead, you're looking for freelancers. In that case, click the "Post Project" button to begin creating a job listing.

On the following page, you will need to enter the following information:
A title.
A category and subcategory.
A description.
Samples or helpful material for freelancers.
Work type.
Currency.
Budget.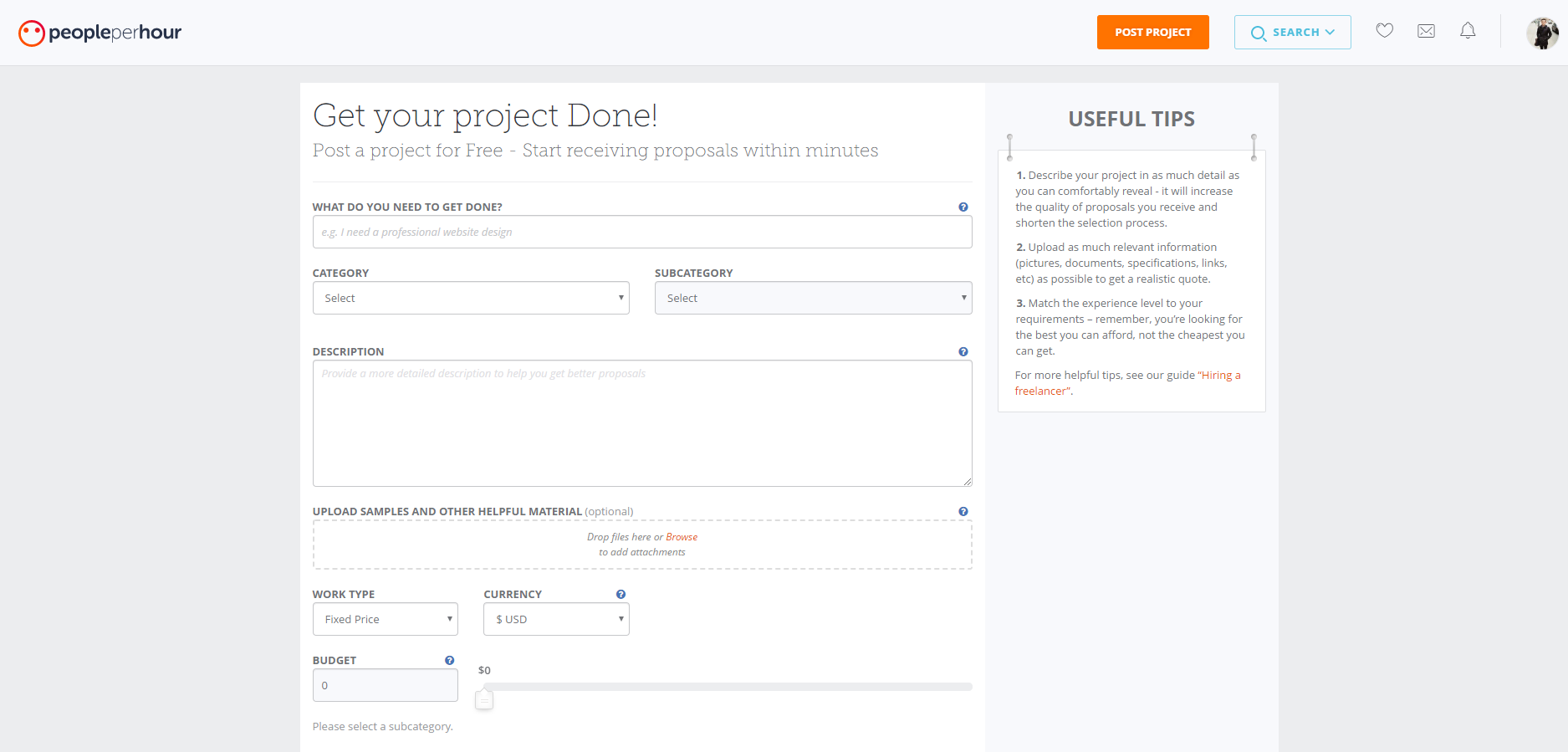 Click the "Post Project" button at the bottom of the page once you're satisfied with the listing for it to be published.
You will be notified when you receive proposals, and you can accept any that you find fitting.
This brings me to my next point.
PeoplePerHour Fees
All freelance platforms have small fees you need to be aware of because they can affect your budget and earnings.
According to PeoplePerHour's official website, these are the following fees for buyers: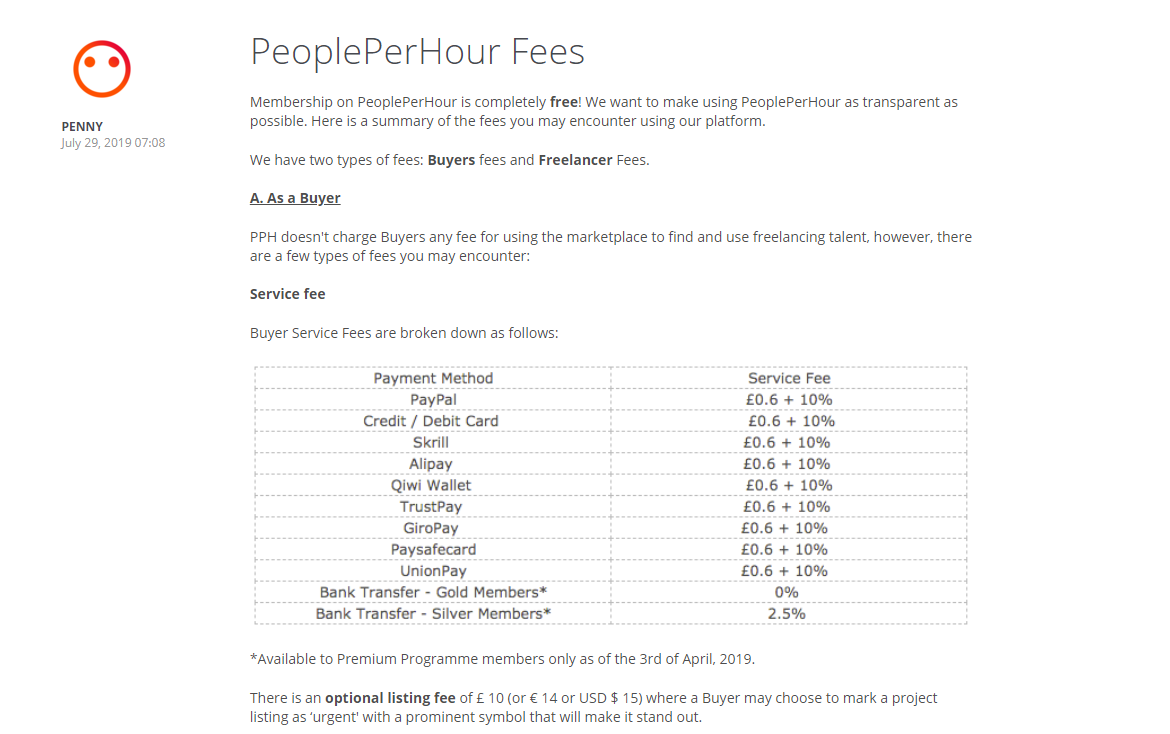 You won't receive any fees for hiring freelancers, but there is a service fee depending on how you pay them. These are standard credit card and merchant processing fees.
There is an additional charge if you create an urgent listing, however.
Furthermore, there are fees if you opt to get a non-disclosure agreement or feature a project.

These are various fees that freelancers will experience if they choose to use PeoplePerHour to earn money: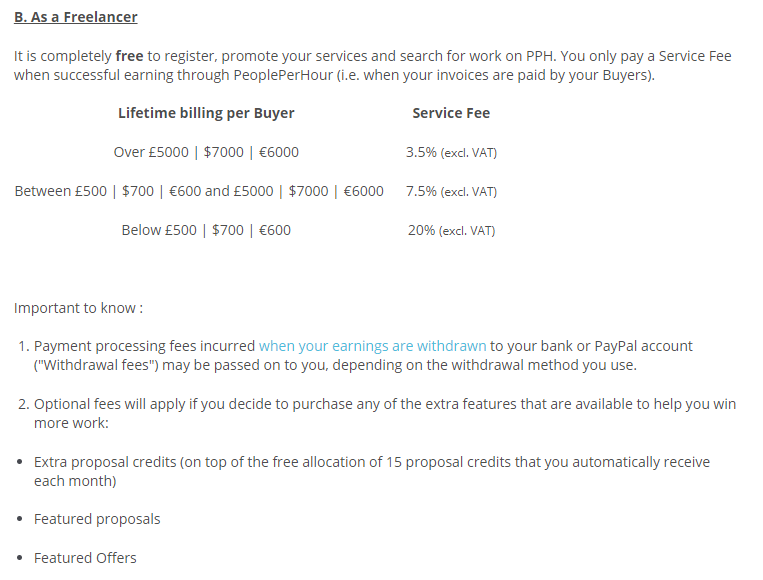 Earning below $700 will mean that there will be a 20% service fee which is quite a bit but not far from other platforms.
Between $700-$7,000 you will receive a 7.5% fee which is a big jump.
Lastly, there is only a 3.5% service fee when you earn $7,000+ from a client.
This rewards you for working longer and completing more projects with individual buyers.
Overall PeoplePerHour's fees are relatively standard among marketplaces.
Is PeoplePerHour Legit?
So far, everything looks good.
You know what PeoplePerHour is and how to use their platform. But can you trust them with your time and money? Let's find out.
Here are two reviews I found from Trustpilot.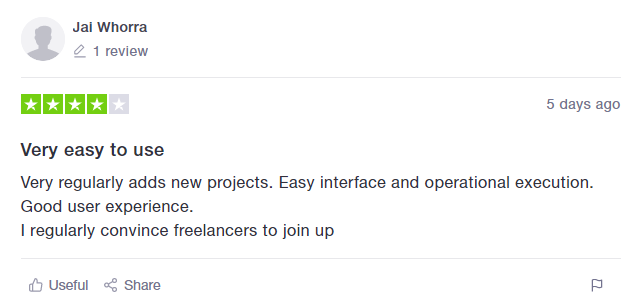 This first one is straight to the point. The user claims that PeoplePerHour has regular new projects, and an easy-to-use interface, and overall recommends them to all freelancers.
However, honey isn't always sweet.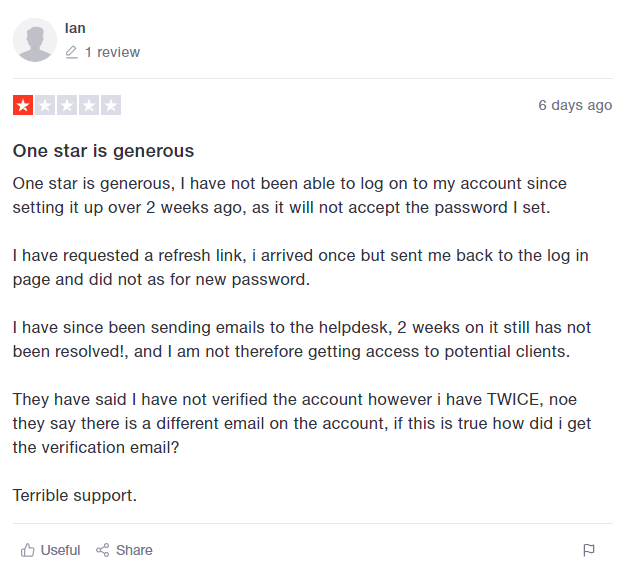 This negative testimonial talks about having trouble resetting passwords, not receiving help from customer service, and this experience interfering with client projects.
Keep in mind that if you follow the terms of service and do everything by the book you should have a smooth experience.
Seeing as this platform is massive and does have plenty of good reviews, I would argue that they are trustworthy and worth your time.
PeoplePerHour Alternatives
Hey, maybe PeoplePerHour isn't for you. That's cool. Here are some alternatives you can check out if you want to maximize how many gigs or freelancers you can find:
Why You Should Use Freelance Platforms to Hire
I recently paid $80 to have a blog idea generator tool made by a very nice gentleman in Dubai.
I didn't have to learn how to code or go through hours of errors to get things right. I simply found an experienced freelancer through a platform like PeoplePerHour and got the job done.
That's why I suggest using these platforms to hire: they're extremely convenient and affordable.
It doesn't matter if you need to outsource email, data entry, development, or other tasks; there are great freelancers available for everything.
The platforms take care of escrow payment, you choose who you'd like to work with, and security keeps both parties safe.
You can't beat the pricing, either. Many freelancers from around the world will work for cheap and do an incredible job. It makes writing off expenses easier, and you don't have to send out tax slips.
Why You Should Work on Freelance Platforms
If you're new to making money online or freelancing, platforms like PeoplePerHour are amazing.
You don't have to build your own website, cold email clients, or go to networking events.
You simply sign up, send in proposals, and get work!
It allows you to gain experience and build a portfolio without the hard work of building a real business.
I highly suggest freelancers start on these websites for these reasons and later move on to building their own platforms.
Wrapping Up This PeoplePerHour Review
Overall, PeoplePerHour is a great tool for anyone trying to earn money online or hire freelancers.
You can sign up for free and only get deducted small service fees when completing projects as a worker.
Buyers can list projects for no charge outside of the optional, urgent, featured, and NDA options.
Their website has a lot of mixed reviews, but it seems well-received in general, as well.
If you plan out every project and work with trustworthy users, you shouldn't run into any hiccups.
Learn more about making a living online with my online courses and coaching.