Do you sell on eBay?
Trying to figure out how to drive more sales?
Then you need to optimize your listings properly.
The reality is that there are hundreds of thousands of eBay listings which aren't optimized.
And they wonder why they don't get sales!
Sound familiar? Don't worry.
I'm going to be showing you how to optimize eBay listings to make more sales if you keep reading.
Writing eBay listing titles that draw clicks
What's one of the first things customers will see when browsing eBay?
The title of your listing.
This is why it's easily the most important piece of copy you will write when selling on eBay.
It's too easy to write a generic and boring title, hit the save button, and expect money to roll in.
It just isn't going to happen.
That's why you need to try out some of the following headline writing strategies to craft epic eBay listing titles.
What's the benefit of using the product?
I'll be elaborating more on how to use this strategy within an eBay description, but it's also incredible for titles.
While I'm sure the products you sell have awesome features, it's not why customers are truly interested in buying something.
They actually desire how the product will benefit them.
The benefit of any given product will depend on the exact item and the audience buying it.
Check out the title for this bed set, for example:

Why would someone want to purchase a new duvet and pillow set?
To stay comfortable.
That's precisely why "Ultra-Soft" is used in the title.
You don't have to ramble about all of the benefits of what you're selling as a couple of words can increase click-throughs and get users interested.
Here's another example except from a laptop listing:

Using "Portable Lightweight Laptop" appeals to students and professionals who need a computer they can carry on-the-go.
Anyone that works remotely or moves around knows who annoying lugging around a heavy laptop can be.
So, a lightweight design that's easy to carry is one of the main benefits of this ASUS model.
Take the time to research why your customers are buying from you and include relevant keywords that some up these reasons in listing titles.
Offer as much detail as possible
The title for your eBay listing is an excellent opportunity to let customers know product details before they click.
This will help attract more serious buyers as some users may click-through to read the description which you can summarize beforehand in the title.
Additionally, creating a detailed title is much more interesting and captivating.
Check out the title to this listing for a gaming PC to see what I mean:

They list the various specs of the computer in the title to give customers the precise information about the model.
This avoids users clicking through and not taking any action because they realize it wasn't the specs they wanted afterward.
Similarly, you can add detail like size, color, or material because users are regularly searching for those things.
Add brand names for SEO
Many people will search eBay for very specific brands that they enjoy.
This is why you want to ensure that the brand name of any products you sell are clearly stated in the title.
It doesn't matter if you're dropshipping, selling a proprietary product, or reselling thrift store items. All of these can include brand names.
Once you've written a great eBay listing title, it's time to move onto the description.
This brings me to my next point.
How to write eBay listing descriptions that are irresistible
Imagine being able to write descriptions so good that your customers would be drooling at the mouth waiting to buy…
That can be a reality.
You simply have to use the correct strategies to hook emotions, make your product stand out, and push customers along the sales funnel.
Here's how.
Benefits are more important than features
Features are the factual pieces of information about a product.
Think sizing, color, fabric, etc.
Customers need to know features so they can purchase the correct item, but it's not what inspires the purchase.
There are much deeper and primal desires that force people to buy things. These are the benefits.
Here's the description for an expensive pair of dress shoes. Can you spot the benefits?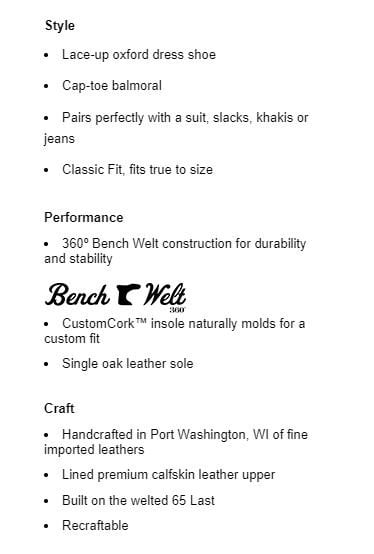 If you need some help, the main benefits include:
Being able to pair the shoes with a suit, slacks, khakis, or jeans.
An insole that naturally molds to your foot for a custom fit.
Recraftable which means customers can get the shoes easily fixed instead of replacing them.
While I would argue as a copywriter that there was plenty of room to elaborate, they did a good job and much better than the average listing.
Here's another example. This is the eBay description for a laptop: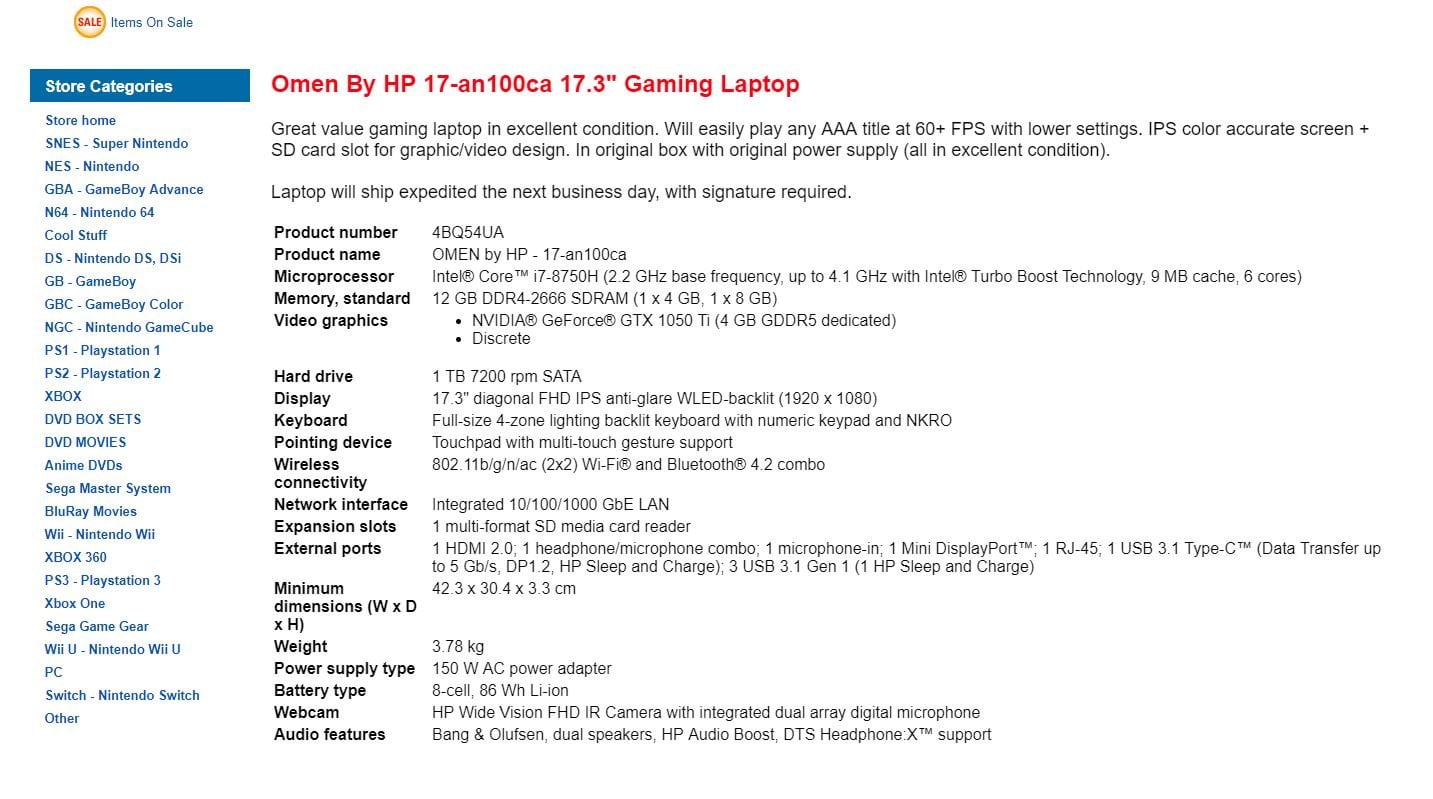 This used laptop can "easily play any AAA title at 60+ FPS" which appeals to gamers looking to play their favorite games smoothly.
If I wrote the description for this listing, I would've also touched on:
The battery life can last through long gaming sessions so you never get interrupted.
The backlit keyboard ensures that you can type, work, and game easily in the evening.
The large 17.3″ high definition screen makes any movie, video, or game more enjoyable.
See where I'm going with this?
You always want to elaborate on the experience a feature will give because that's what customers actually care about.
Use a call to action
People are lazy.
We like being told what to do whether we realize it or not.
This is because it takes thinking out of the equation and lets us move to the end result faster.
It is especially apparent in e-commerce and most forms of advertising.
Heck, there's even this amazing book on user experience I read one time called Don't Make Me Think.
The general principle is that you want to make your sales funnel, your eBay listing in this case, as brainless as possible for the user.
They shouldn't have to question anything or feel confused as that slows down the process of them adding to cart and reaching checkout.
This is also why a call to action is so effective.
These are phrases or words that tell customers to take the next step.
You can see this used on a banner within the following eBay listing:

"Shop Now" is a simple call to action that entices users to click through to see special offers.
You can use CTA's in this way or place it as text within the description. Some call to action ideas include:
Buy now
Order now
Add to cart
Don't wait
Get it before it's too late
Order while supply lasts
Change your life today
Final thoughts on eBay listing optimization
eBay is a great platform to expand an e-commerce business because you sell products on it for free.
However, you need to write excellent copy if you wish to drive serious sales.
It all begins with the title of your listings.
Focus on making them descriptive, benefit-oriented, and don't neglect brand names as it's effective for SEO.
Next, write descriptions which elaborate on the benefits of using a product while using a call to action for pushing users closer towards the sale.
What's your #1 tip for optimizing eBay listings?