Feel like you're stuck in between two rocks?
Can't decide on ClickFunnels vs Kajabi?
You don't want to make the wrong decision and have to change later.
You don't want to waste your hard-earned money or precious time.
Don't fret.
I'm going to help you out.
I'm comparing these two tools today to determine which is better and more suitable for whom.
Come along for the ride.
ClickFunnels vs Kajabi overview
| | | |
| --- | --- | --- |
| | ClickFunnels | Kajabi |
| Free trial | Yes | Yes |
| Starting price | $97/month | $119/month |
| Page builder | Yes | Yes |
| Course builder | No | Yes |
| Membership sites | Yes | Yes |
| Email automation | Yes | Yes |
| Templates | Yes | Yes |
| Drag-and-drop editor | Yes | Yes |
| Affiliate program | Yes | Yes |
| Users | Three | One |
| Domains | Nine | One |
What is ClickFunnels?
ClickFunnels is a marketing automation platform used to build profitable sales funnels.
It was founded by legendary marketer Russel Brunson.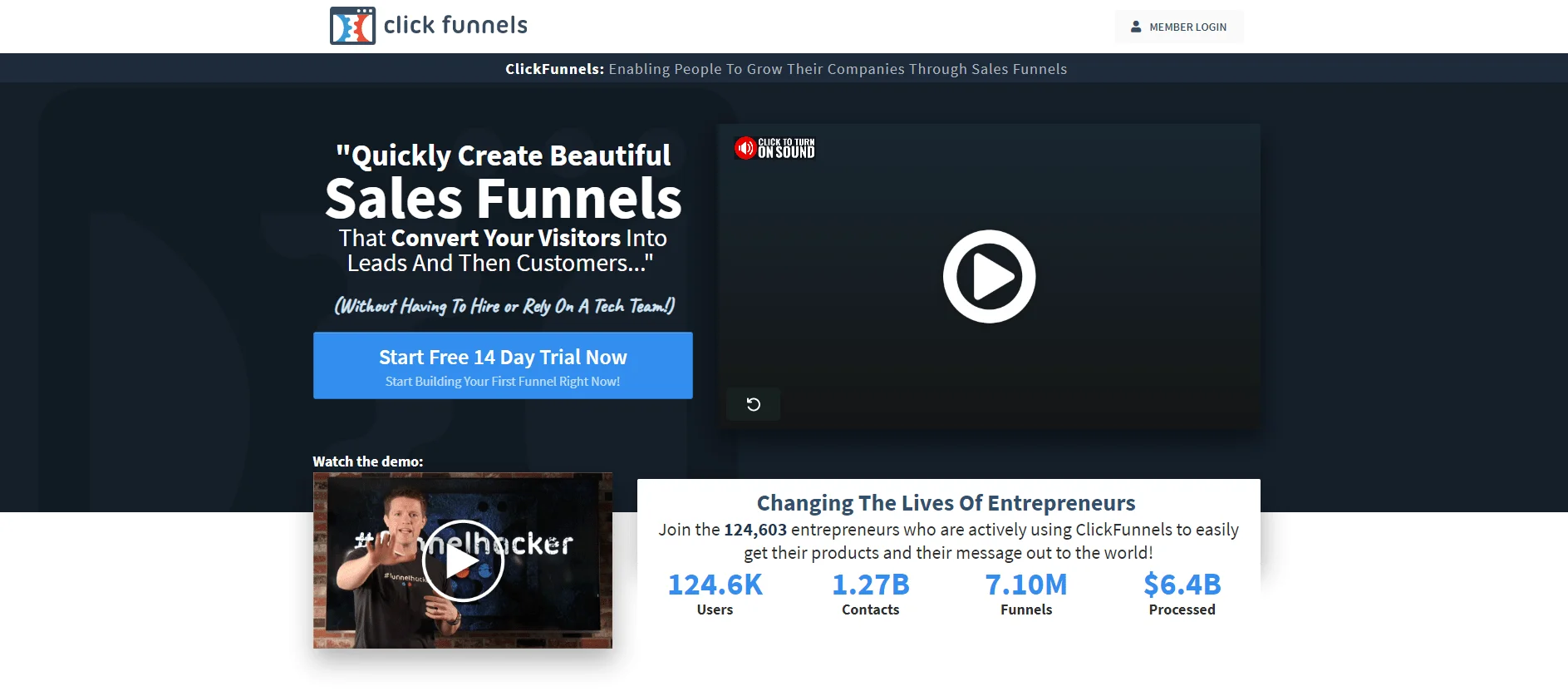 You can use it to sell digital products, physical products, or services. It's extremely versatile.
Kajabi, on the other hand, is only capable of selling online courses.
If you're trying to market physical products, digital products, or services, ClickFunnels will be more suitable.
The platform helps guide your visitors step-by-step through the entire sales process so they don't get confused or leave. (Which makes you lose sales.)
Help users get to the sales page, convert like crazy, and follow-up with downsells, upsells, cross-sells. The whole shebang.
Let's talk more about its features.
ClickFunnels features
These are the main features you will gain access to when using ClickFunnels.
Drag and drop funnel editor
Perhaps the greatest feature that ClickFunnels offers is the drag-and-drop page editor.
They designed a funnel editor that was simple to use and required little to no backend knowledge.
You simply pick a template, point and click, and drag and drop.
No coding. No developers. No teach team.
So many entrepreneurs have amazing ideas that would generate great income and change people's lives but they lack the technical skills to turn it into a reality.
ClickFunnels gives you high-converting templates that you can customize in the click of a button.
They are scientifically engineered to drive sales. 💰
There are sales pages, opt-in pages, landing pages, and more depending on your goal.
The drag-and-drop editor is made up of four building blocks: sections, rows, columns, and elements.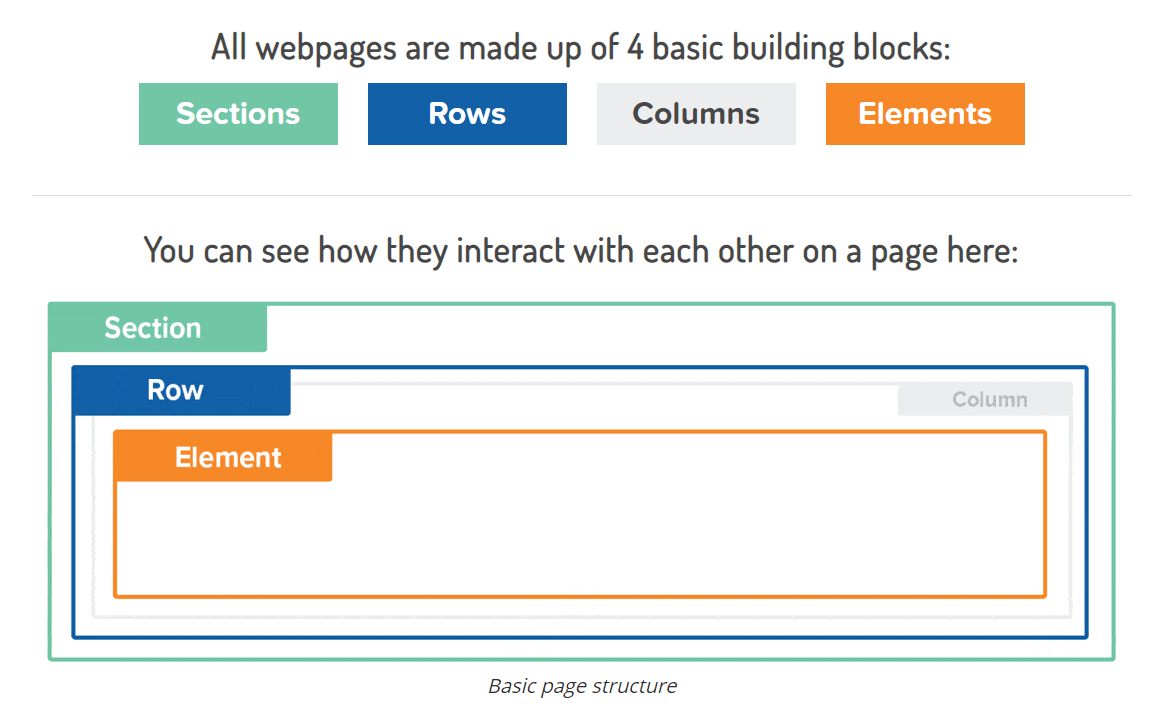 It reminds me a lot of Elementor or Visual Composer for WordPress.
Sections are the big base pieces that make up a page. Rows and columns are the inner blocks and content you place in a section.
Elements are the individual widgets, text, images, etc.
There are also advanced tools if you're a tech geek and want to take control of custom CSS, padding adjustment, colour adjustment, and other fine details.
It is much more refined and comprehensive than the page builder that comes with Kajabi.
Funnel templates
Not the most design and tech savvy person?
Don't sweat. 😅
ClickFunnels offers heaps of high-converting templates that you can use and customize.
Firstly, this saves you hours of times.
You don't have to design and code them yourself.
Nor do you have to hire an expensive tech team to create and manage them for you. ❌
You're in control!
These funnels can be used for anything: lead generation, promoting events, hosting webinars, running membership sites, selling products, and more.
There are also landing pages, thank you pages, and opt-in pages.
Add your sales copy, videos, images, links, and you're good to go. Creating revenue-driving funnels has never been so easy.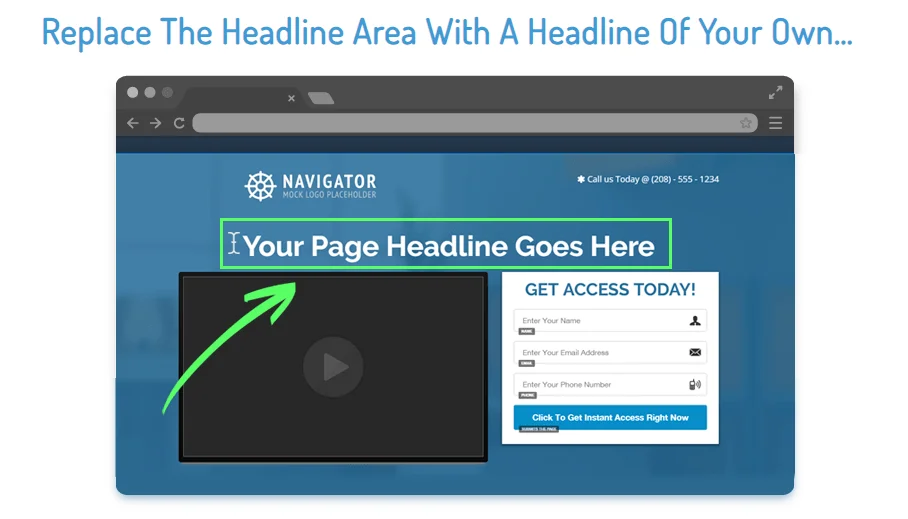 There are hundreds, if not thousands, of ClickFunnels templates when you include the marketplace you can get more designs from. This is more than what Kajabi has to offer.
Run affiliate programs
Interest in affiliate marketing has grown non-stop for the past 16 years.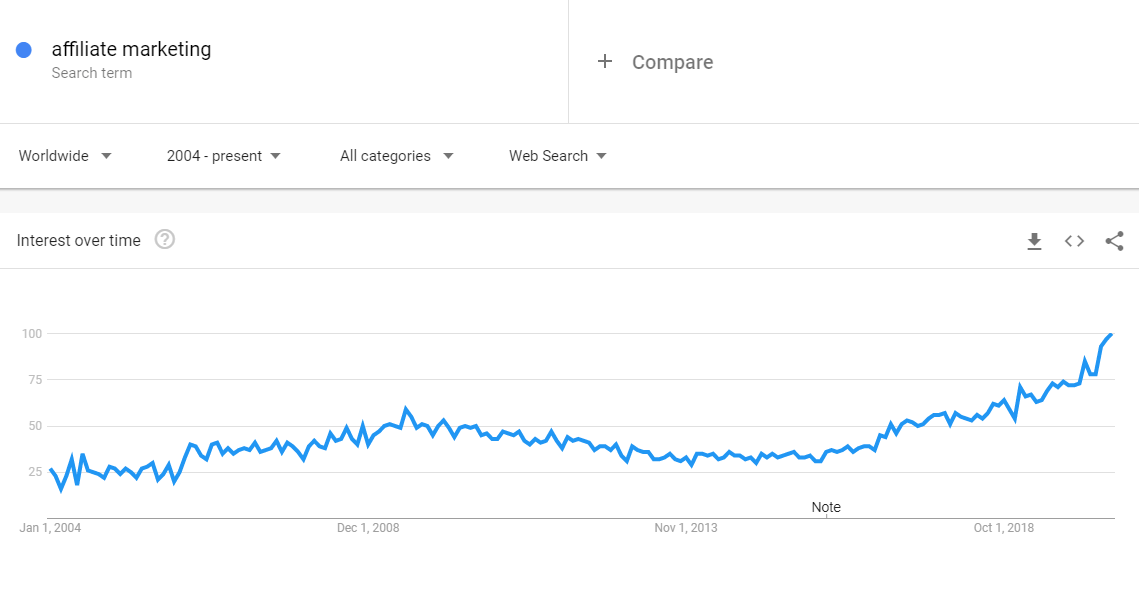 Don't get left behind.
It's one of the most amazing sources of passive income.
Imagine this…
Instead of droning away trying to get clients or customers, you earn passive income from sales that your affiliates earn.
They bring YOU customers.
No prospecting.
No hunting.
You also empower other people to earn a living online.
It's win-win!
ClickFunels includes its "Backpack" feature which allows you to instantly add an affiliate program to your funnel.
Make an army of people that promote your product and drive sales non-stop 24/7.
Imagine you're selling a $100 product. Sell ten per day and that's $1,000. Not bad, right?
Well, if you had ten affiliates and they sold ten units per day as well, that'd be $11,000 per day with no extra work or risk!
Now you're seeing what I'm talking about.

First, you decide how much you are going to pay affiliates with a commission plan. It could be 5% or 30% if you're generous for example.
The higher, the less you make but the more inspired people will be to drive high-quality traffic to your pages to generate sales.
You can do this inside of the "Commission Plans" tab of the Affiliate Management area.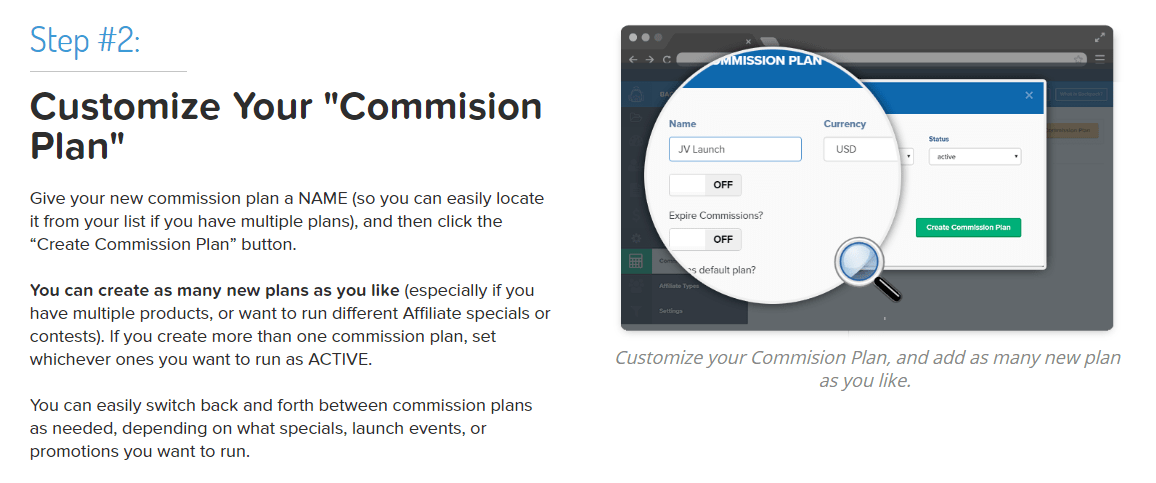 Give the plan a name and click the "Create Commission Plan" button.
Add affiliate types like regular affiliate, super affiliate, or JV partners. Categorize affiliates with these tags to pay them different commissions and offer unique incentives or creatives.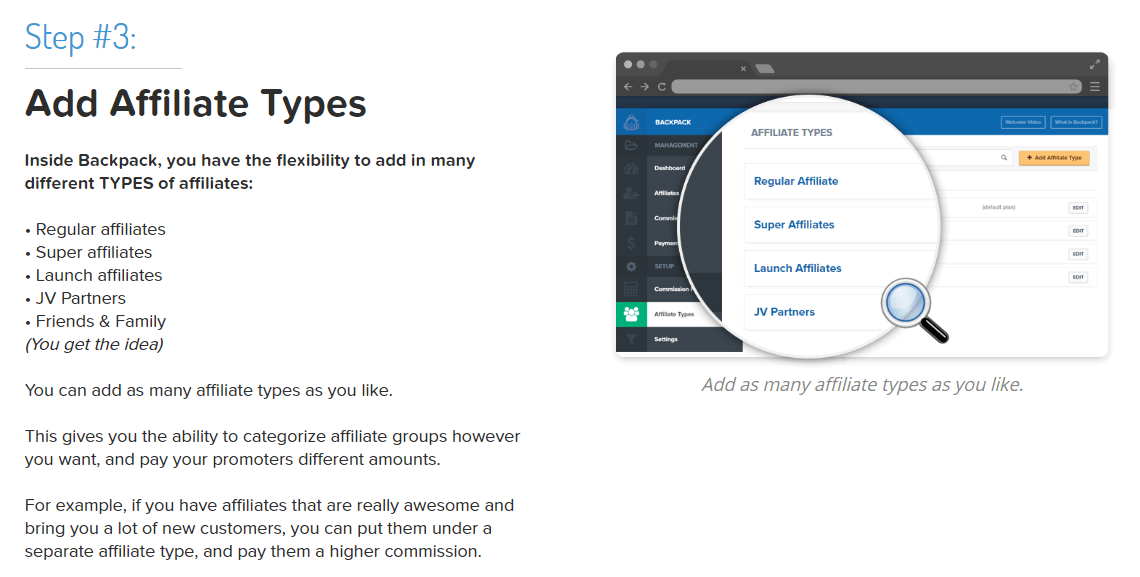 It doesn't stop there though … there's also two-tier affiliate programs.
If one affiliate generates a sales and you pay them a handsome 30% commission and that new customer promotes their own affiliate links and generates sales, the original affiliate gains ANOTHER commission.
It motivates affiliates. 💪
Affiliate team size explodes. 💥
And that means more money in your pocket.
So once the affiliate program is set up and ready, there are a couple of easy steps to implement it.
Firstly is by clicking "Add New Step" on the funnel page.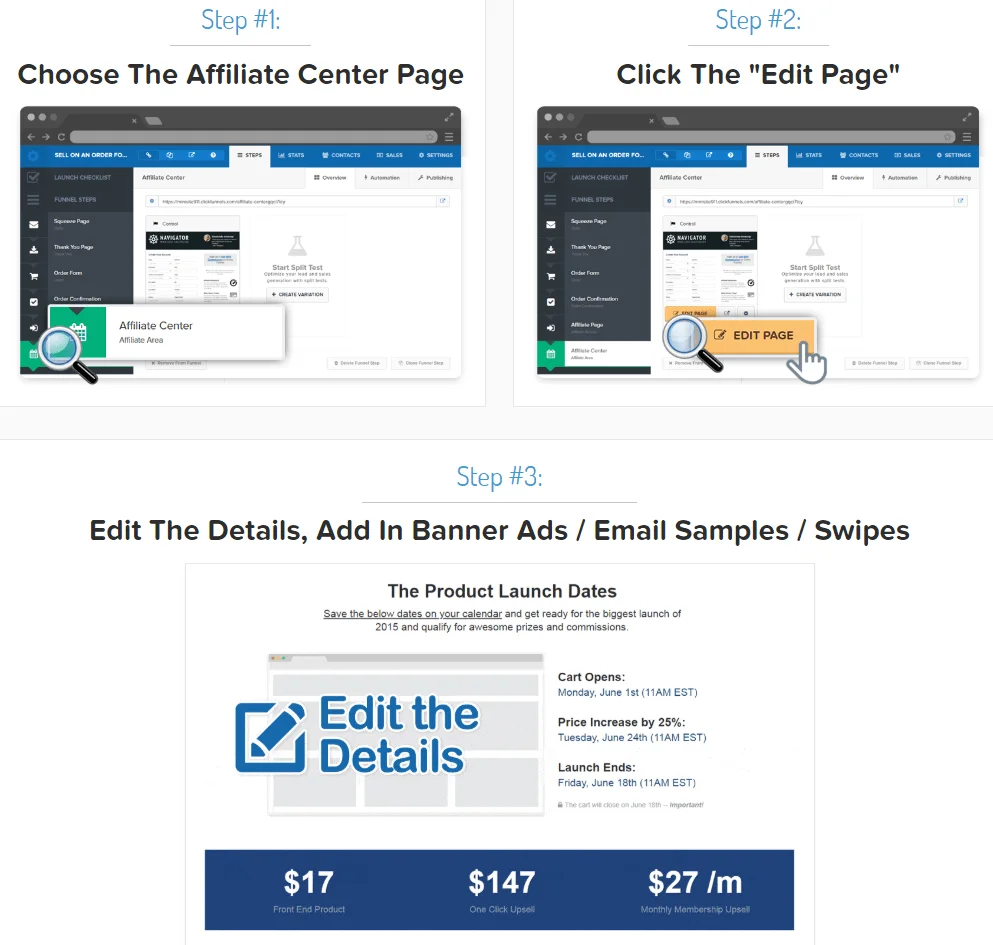 Add an affiliate access page.
Then, add information about your program and voila!
Now you can create an affiliate area page by adding a new step for banner ads, links, and tools.
I've used many different affiliate networks myself and ClickFunnels by far has the most streamlined and easiest model.
Follow-up funnels
Success is in the follow up.
Don't follow up and your pockets will be emptier than the Grand Canyon.
In fact, it's been proven that 80% of sales require five follow-ups.
ClickFunnels follow-up funnels are here to save the day.
The "second funnel" is your opportunity to send leads and customers the perfectly customized and timed message based on their emotions, demographics, and actions.
No more sending low-converting messages blasted out to everyone.
You see, the front funnel is the tip of the iceberg.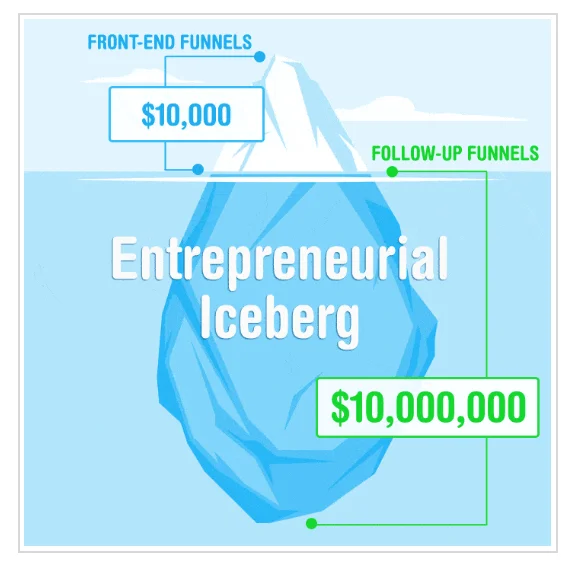 Yeah, you'll make some sales.
But you're missing out BIG TIME without a second funnel.
Here's how it works on ClickFunnels…
First your build a list. Simply click "Add New List" under the "Emal Lists" tab, give it a name, and save it.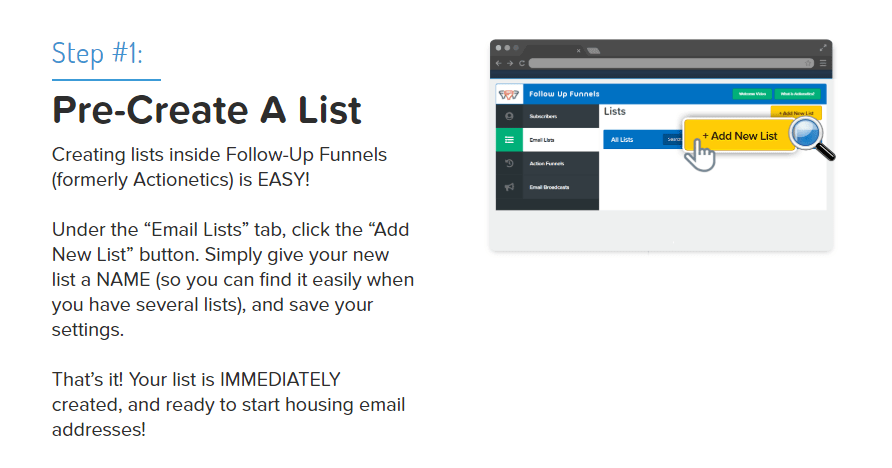 When you set up landing pages, order pages, and other pages you can create an automation to subscribe customers to this list.
Create a list for different audiences, segments, products; you name it.
Segment buyers vs non buyers.
…Action takers vs non action takers.
…Dog lovers vs cat lovers.
Okay, maybe not that last one. But you get my point.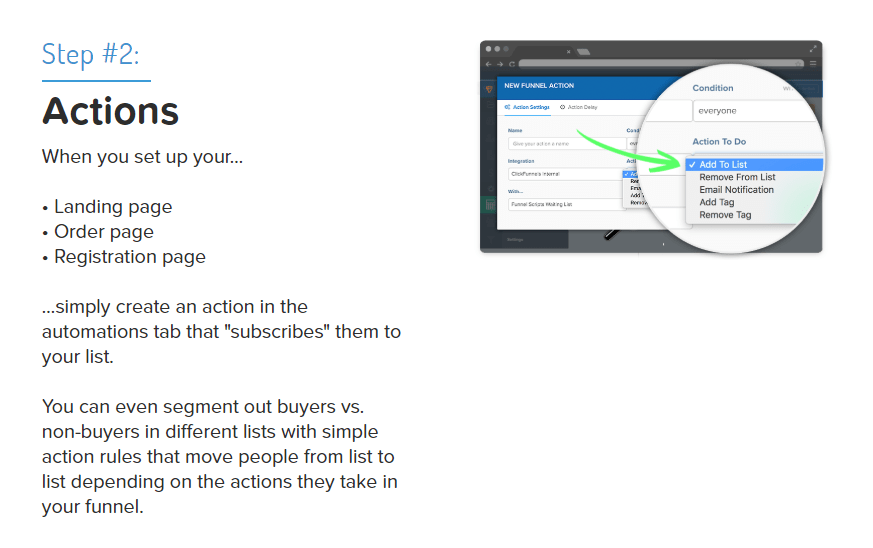 Create smart lists that segment users based on tiny details like where customers live, how much income they generate, how they landed on your page, and more.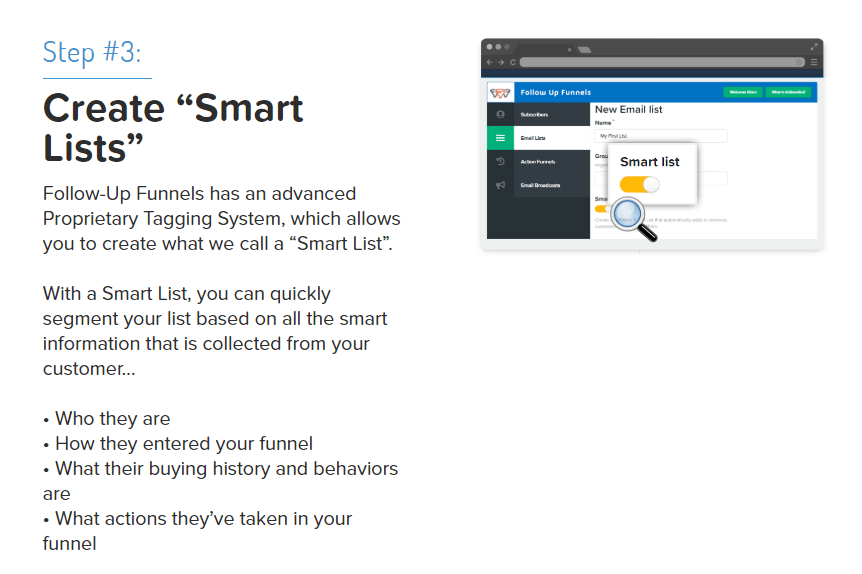 Understand WHO your customers are, how they behave, and what matters to them to deliver the highest converting copy and offer.
Creating a follow-up funnel is as easy as clicking the "Follow-Up Funnels" tab on your dashboard and adding a new one.
Select what type of message you want to send: email or text.
Click "Add New Step" to customize messages and schedule when to send it.
You now have a profit-driving follow up sales funnel that's all done for you!
Membership websites
Do you host a membership site? Or want to?
You're in luck.
ClickFunnels allows you to create membership sites for delivering private content and courses.
You can accept a variety of payment gateways like PayPal, Stripe, Apple Pay, and Recurly.
There are membership site templates to save you time from designing and coding a site from scratch.
But here's the thing…
Kajabi is much better for selling online courses. Heck, it's what it's made for.
ClickFunnels is trying to be the end-all-be-all for marketing but I'd stick to Kajabi for membership sites.
Unfortunately, there's no built-in video hosting as you get with other LMS platforms. So you must put your videos on YouTube for example and embed them.
You can barely track student progress as well.
How far are students getting in the course?
What's the completion rate?
You won't be getting this kind of data with ClickFunnels which is a big downside.
ClickFunnels pros and cons
ClickFunnels advantages
In-depth and comprehensive drag-and-drop page builder.
High-performing follow-up funnels that are easy to make.
Built-in affiliate program to drive more sales.
Massive community to be a part of.
ClickFunnels disadvantages
Membership site feature is lacking.
Can be expensive.
ClickFunnels pricing
Alright, you're probably thinking, "How much does ClickFunnels cost?" so I'll cover that next.
ClickFunnels has a few different pricing plans that you can choose from.
Firstly, there's a 14 day free trial that you should give a shot.

You can jump directly into the platform and use it with your own two hands.
Then the Standard plan starts at $97/month. This gives you 20 funnels, 100 page, one user, three payment gateways, and three domains. It does not include Backpack or Follow-up Funnels.
Platinum comes in at $297/month. You receive unlimited funnels/pages, three users, nine payment gateways/domains, Follow-up Funnels, Backpack, and affiliate program integration.
The Collective plan is billed at $1,497/month and includes everything in Platinum plus ten users, 27 payment gateways/domains, and unlimited FunnelFlix (training).
Kajabi also has a 14 day free trial and is cheaper as you'll see later in this article.
What is Kajabi?
Phew. That was a lot to take in. Let's dissect ClickFunnels competitor Kajabi now.
Kajabi has one focus just like ClickFunnel does, albeit different: create and sell online courses with funnels.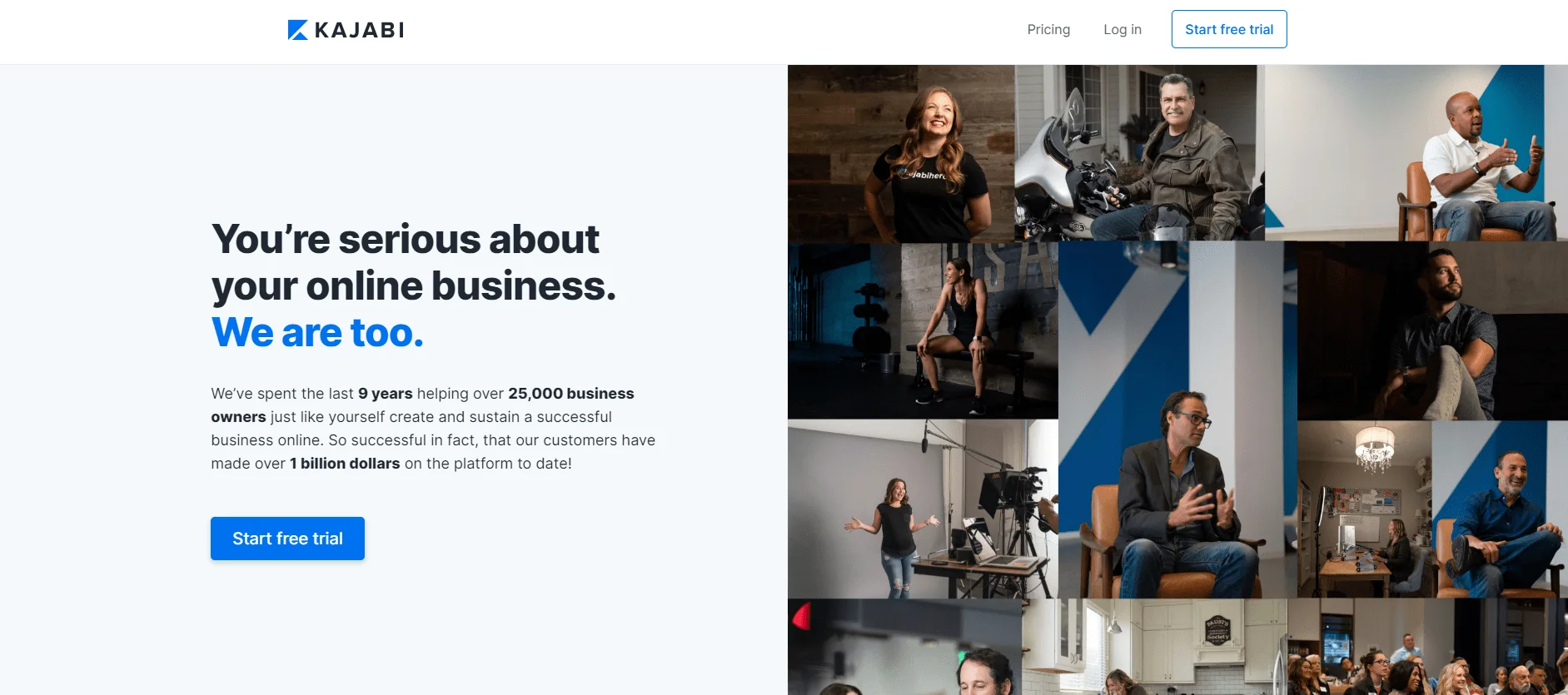 It isn't for services, physical products, or digital products. It's strictly a platform to sell online courses and educational content.
For course creators and educators, look no further.
Kajabi features
These are the main features that make Kajabi stand out compared to ClickFunnels:
Course builder
This is where Kajabi shines like a diamond. 💎
The platform specializes in a course building software that helps you build online courses, training, and mini-courses.
These can be used to generate sales or leads if you sell them or give them away for free.
There are "blueprints" (templates) that help you save time too.
Alternatively, you can build a curriculum from scratch if you plan out the modules, lessons, quizzes, and exercises.
You can sell courses as a one-time fee, monthly payment, or subscription model.
Content can also be dripped over a certain period of time to tease your audience and help them move at a certain pace.
ClickFunnels does not have this.
If you want to sell online courses, go with Kajabi.
Website builder
The website builder tool is similar to ClickFunnels.
It's robust, easy to use, and gives you all of the tools to make a high-converting web page.
There are also pre-built sections like opt-in forms, testimonials, and pricing tables to further speed up the process.
Add social cards, countdown timers, comment sections, and other elements to make your web page stand out and convert.
The templates are professional and a drag-and-drop editor enables you to quickly design high-performance sales pages.
Both tools are similar in usability and potential.
Pipelines
Kajabi named its email marketing feature Pipelines. Think of it like ClickFunnels "Follow-up Funnels".
It is a fully automated email marketing funnel that converts visitors to leads.
You can use prebuilt pipelines for reports, sales pages, offers, and more.
Better yet, create an automated funnel from scratch tailored to your exact campaign.
Create each pipeline step to initiate when users take a specific action like clicking a link or filling out a form.
Both ClickFunnels and Kajabi have equally good automation tools.
Kajabi pros and cons
Kajabi advantages
In-depth course builder.
Robust website builder.
More affordable.
Kajabi disadvantages
Can only be used for selling educational content.
Kajabi pricing
Kajabi is very transparent with its pricing.
I had to really dig around to find ClickFunnels pricing plans on the other hand.
Here are the available plans: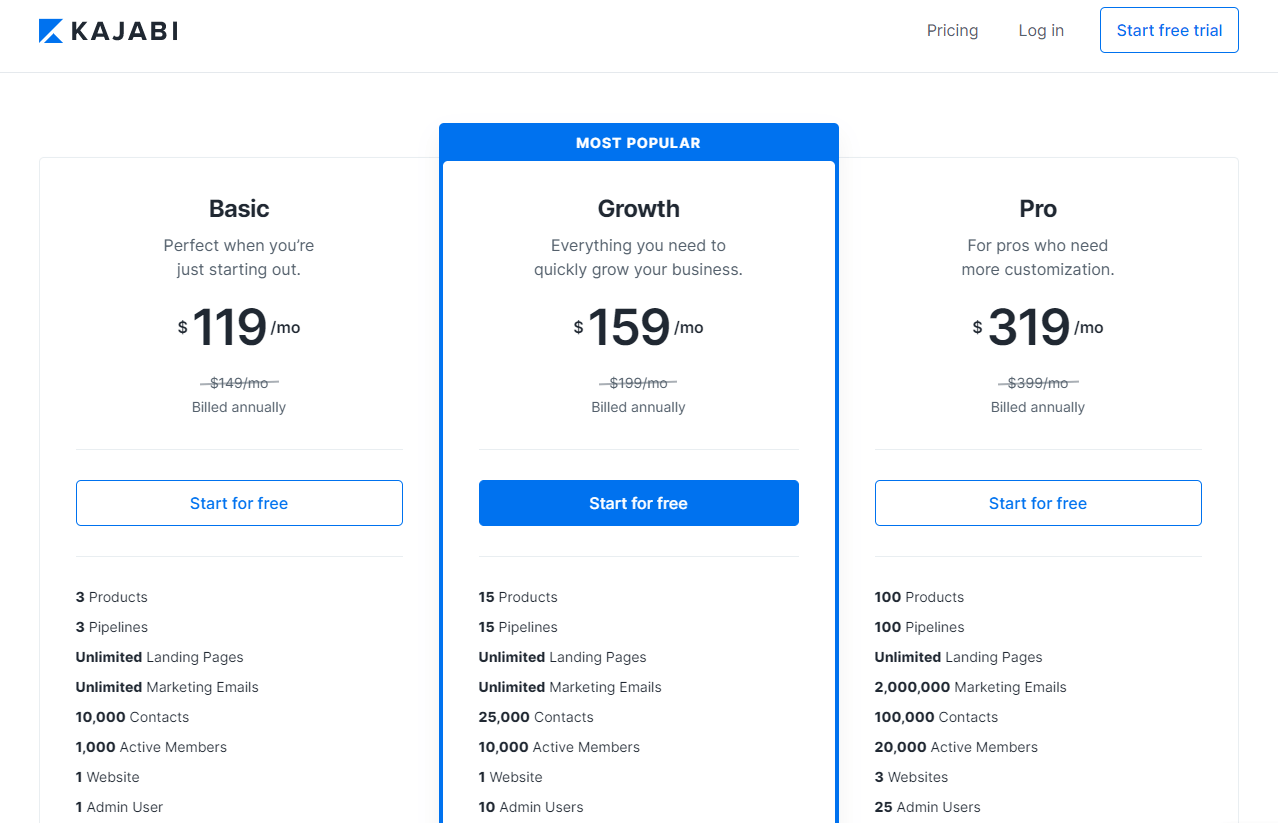 The first, Basic, is billed at $199/month when you choose the annual billing option. It includes three products, three pipelines, unlimited landing pages/marketing emails, 10,000 contacts, and 10,000 active members. You will have access to a single website and one admin user.
The Growth plan costs $159/month when billed annually and includes everything in Basic with 15 products, 15 pipelines, 25,000 contacts, ten admin users, advanced automation, 24/7 chat support, affiliate program, and removable Kajabi branding.
Pro costs $319/month and comes with everything in Growth with 100 products, 100 pipelines, 2,000,000 marketing emails, 100,00 contacts, 20,000 active members, three websites, and 25 admin users.  There is also a code editor for deeper customization.
All in all, it's more affordable than ClickFunnels and there is a free trial.
Final thoughts on ClickFunnels vs Kajabi
Kajabi is mostly for digital products like online courses, membership sites, and content.
ClickFunnels is for automated sales funnel for digital products, physical products, or services.
If you are interested in selling online courses with an LMS, use Kajabi.
Those who want to create complex funnels for following up with leads, automating touchpoints, and maximizing revenue for any product service should invest in ClickFunnels.
---