Reefer madness…
It's seem like it was just yesterday that the cannabis plant was dubbed "America's newest narcotic menace."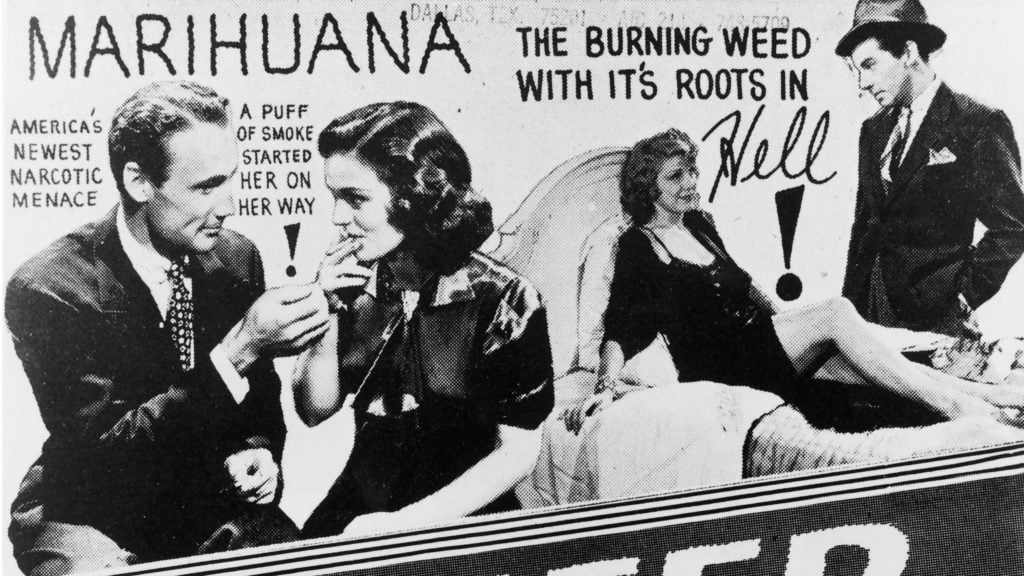 That's a far cry away from where we are now.
26% of Americans have tried CBD at least once in the past two years.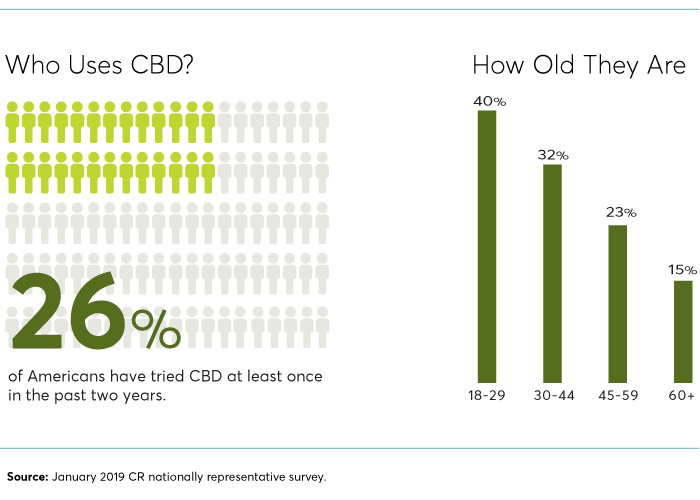 It's becoming legal in more places. More accepted. More studied.
Hence why there's also been a massive boom in CBD related startups.
People are trying to cash in as the industry grows exponentially. 💰
That means you have to cut through the static and stand out from competitors.
One way to do that is by writing better sales copy.
Good copy attracts 7.8x more website traffic and noticeably increases brand recall.
I'm going to be teaching you how to write CBD sales copy in today's article.
Follow along!
Why CBD businesses need steller sales copy
Stop for a moment. Think about how complex CBD and cannabis is itself.
There are over 400 chemicals found in the plant.
That's a lot to understand.
I didn't even mention the different products like sublingual tinctures, edibles, concentrates, and topicals.
All of this means that your customers are going to have questions. Lots of 'em.
Your conversion rate can tank if these aren't answered and the customer doesn't feel educated enough to purchase the product safely.
That's why deep educational and informational copy about CBD and products are essential.
The CBD industry is still in its infancy. Remember that the everyday consumer may not be a cannabis expert.
Will CBD get me high? What are the health benefits of CBD? Will it help me manage my pain or anxiety?
These are a few of the questions going through their head.
That brings me to my next point.
CBD copywriting strategies
These are effective CBD copywriting strategies you can use to communicate value, connect with your customers, and drive sales as a cannabis brand.
1. Start with the basics
If you are in a CBD business, you already know that its potential is huge.
Since the CBD industry is relatively new and CBD products are just starting to launch, your company's major focus should be on education.
Consumers are looking for cold hard facts about CBD products. Not guesses. Not assumptions.
Their health and well-being are on the line.
Create a website that provides a detailed description of products, scientific studies, and health-related data.
Answer every question under the sun related to cannabis that customers would want to know.
Look at this CBD sales page that I wrote: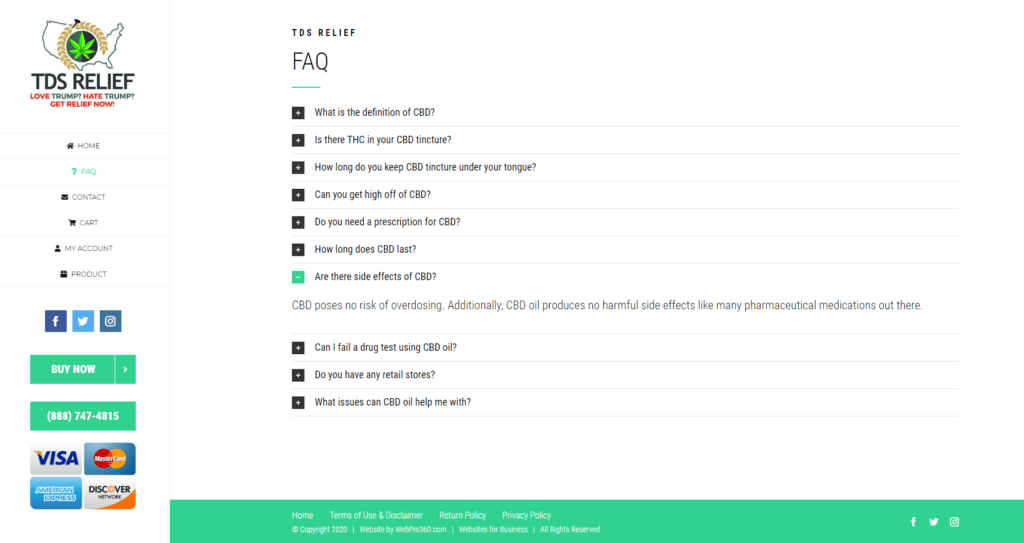 I ensured that all of the major questions that customers would ask about CBD oil were answered on an FAQ page.
This would relieve any objections and provide them with enough information to make a confident purchase. 👌
This also helps mold your brand into an authority. A thought leader. Somebody that the public can look up to as a source or reputable information.
Now, how do you find all of these questions?
One of the easiest ways is to use your good friend Google.
Remember, this is one of the most advanced algorithms on Earth to compile relevant answers.
Begin by searching for a question customers would be asking like "What is CBD?"
Scroll down to the bottom of the page to see related searches.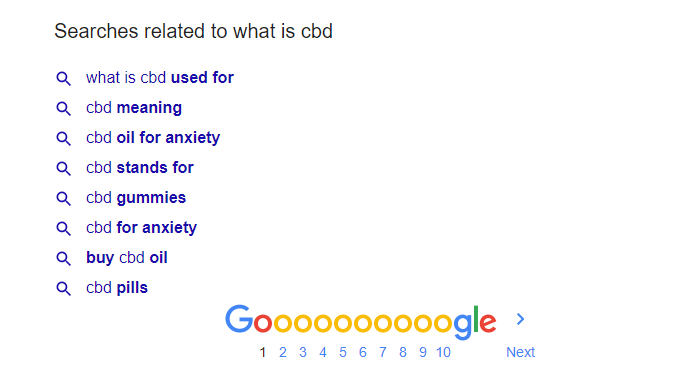 Time to go down the rabbit hole!
Click through these and compile separate questions into a document or spreadsheet.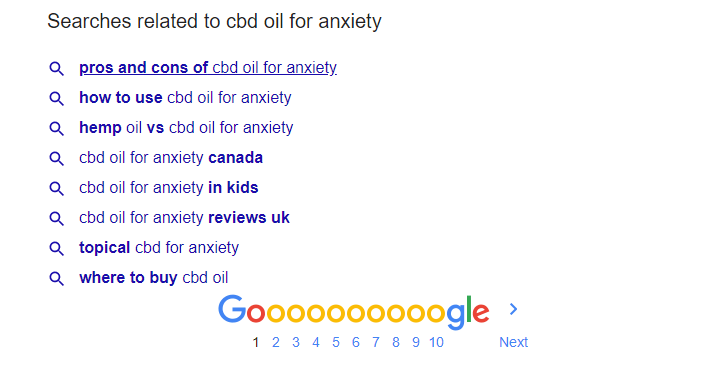 Then, integrate these into your CBD sales copy such as FAQ pages, product pages, and downloadable guides.
2. Elaborate on the physical health benefits
39% of people are under-informed about CBD pain-relief, inflammation, and chronic pain benefits.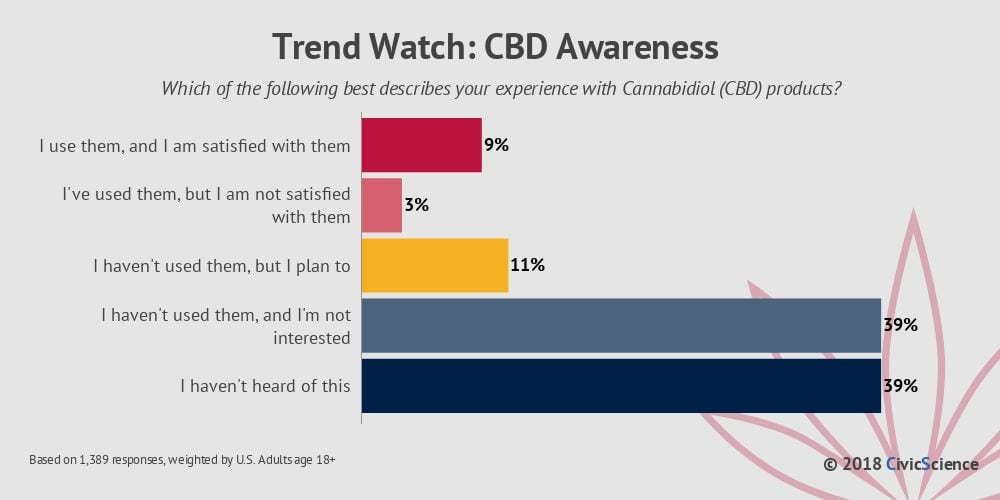 This is your chance to swoop in with science and data to help customers understand these perks
Unfortunately, sellers claim a variety of benefits, but do not provide solid evidence to back up their claims.
The result?
Customers who are disinterested and don't trust your brand.
Educate customers about CBD's therapeutic effects including:
Pain relief
Arthritis
Inflammation
Headaches
Diabetes
Workout recovery
Etc.
Those interested in experiencing these benefits will be much more inclined to convert.
However, you know that as a CBD expert that every strain and product acts differently.
You must research each one and clearly explain how its affects are unique and what to expect.
Check out the product page for this strain of CBD oil: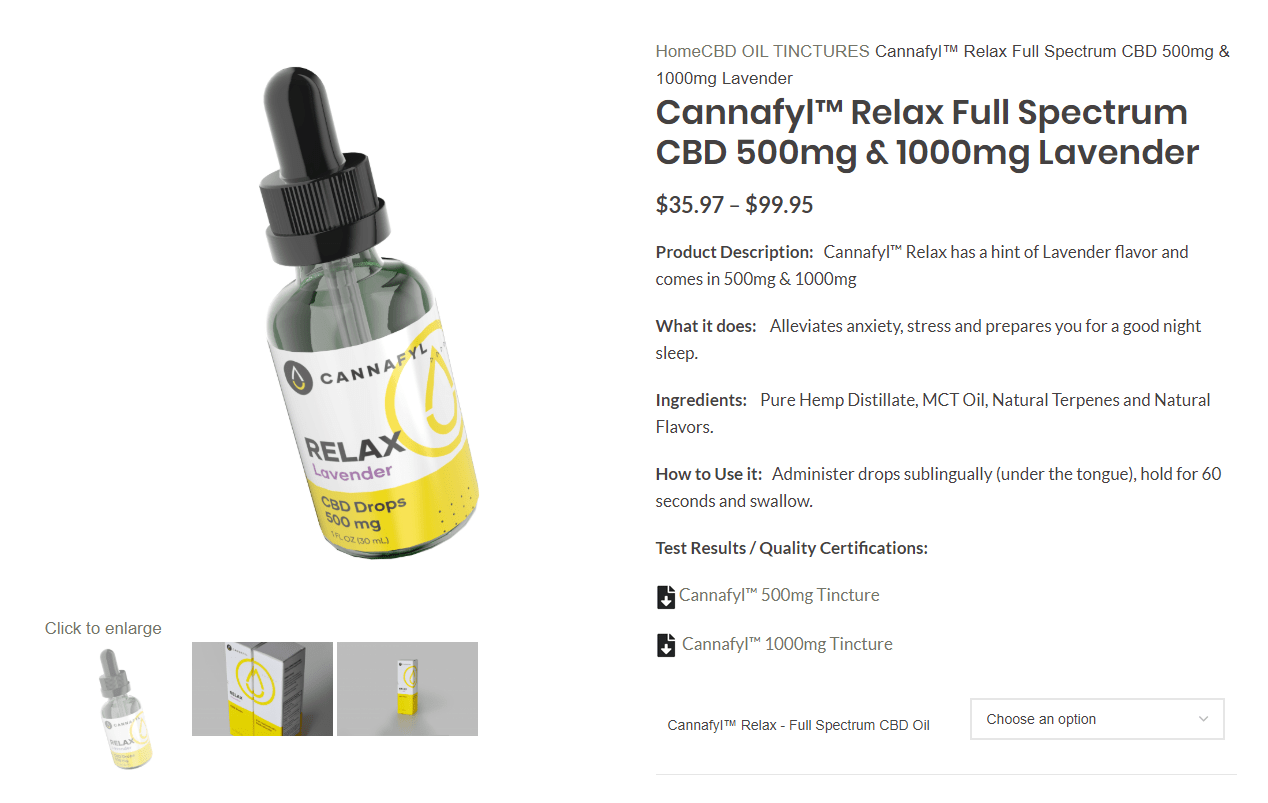 It states that it "Alleviates anxiety, stress and prepares you for a good night sleep."
That brings me to my next idea.
3. Tell customers about the mental benefits
Cannabis doesn't just help with physical ailments but has heaps of positive mental effects too.
These need to be clearly addressed to maximize conversions.
Not only does it educate customers but the benefits are the deeper reason why they are purchasing CBD in the first place.
…They want to escape work stress.
…They have anxiety and want to feel relaxed.
you get the point.
Look how the company Charlotte's Web does this on its product pages: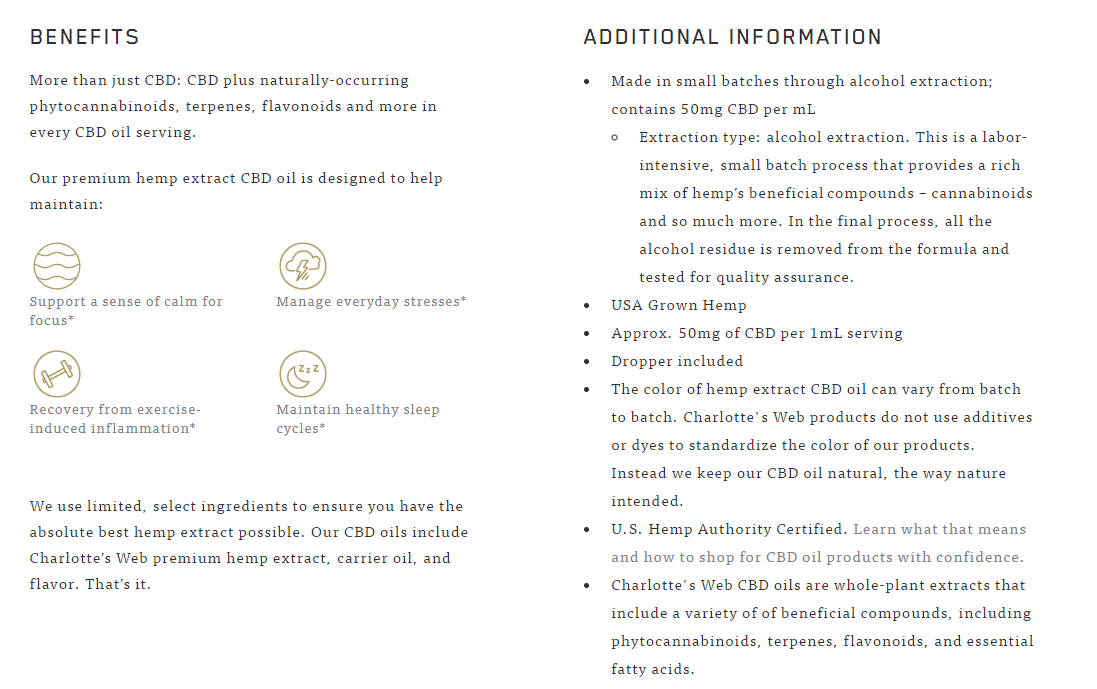 It neatly outlines the benefits of the product with easy-to-understand copy and accompanying icons.
4. Don't stop. Showcase your knowledge regularly.
Yes. You need to write effective product pages, home pages; the works.
But don't stop there. 🛑
Continue to show that you are the most knowledgeable company in the industry.
How?
By blogging.
Business to consumer generates more inbound traffic than B2B as monthly blog posts increase.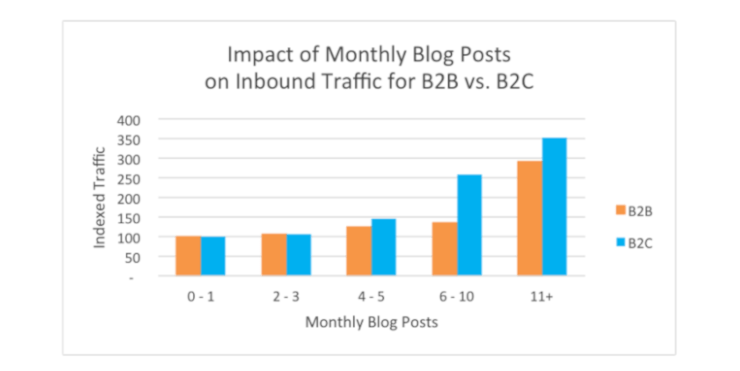 Don't miss out on this opportunity.
You could be attracting organic customers to your store without needing to spend mountains of dollars on PPC campaigns.
Here's the steps you need to take:
Step 1: research valuable topics
No, you can't blog about your cat. (Trust me, I want you to!)
Blogging for business requires you to target subjects that attract high-quality visitors and answer their questions.
You need to help them.
You need to make their lives better.
I suggest using a tool like Make Website Hub's blog post generator.
Type in relevant key phrases then click "Get Blogging!"
This will provide you several topic ideas.

Copy and paste these into a spreadsheet or other place to reference later.
Step 2: over-deliver incredible content
As a copywriter, let me tell you a not-so-secret fact: the internet is up to its neck in crappy content.
You know what I'm talking about.
Blog posts that don't answers your question and look like a newspaper with ten blocks of text.
No images, personality, entertainment factor, etc.
That accounts for 99% of content. (I made that number up but its probably not far off!)
And what seperates great content from all of the fluff? These key elements:
It's practical. It has instructions, screenshots, resources, and tools to help you achieve your goal without needing to read three more articles.
It has studies, data, and science to back up every claim. There's no guessing or pseudoscience.
There is a unique tone of voice and personality that separates it from other websites and makes you feel connected to the writer.
The article is neatly formatted and structured to deliver a delightful reading experience.
Visuals back up points and act as relief from all of the text.
The content solves the reader's problem and deeply empathizes with them.
On-page SEO is perfect and it is optimized for very specific terms.
That's it. It isn't rocket science.
But I'd be kidding you if I didn't say it's time consuming and tough.
Reach out to me if you need a CBD copywriter and writing isn't your natural strength.
Step 3: Promote and repurpose
Publishong a blog post and not promoting it will make it collect more dust than your high school yearbook.
That's why you need to get it in front of as many people as possible when it's first released.
SEO will do its job but it can take a while.
Take the liberty to promote it across every social network you're artp of.
This includes Facebook, Twitter, LinkedIn, and Pinterest.
Email it as a newsletter to your list.
Then, repurpsoe that bad boy.
Repurposing content means to take the original piece and change it into different formats.
Make a YouTube video.
Record a podcast episode.
Create an infographic.
This maximizes reach and content efficiency.
5. You are not the father
Remember that television show Maury where the host would reveal whether or not a man was the father of his children or not?
He'd bring out the "test results" and tell the truth.
You need to do that too.
Expect, in this case, you need to show the lab results of the products you sell.
CBD products can include other ingredients or chemicals.
Customers want pure good stuff. No fluff.
Nuleaf does this on each product page with a link to lab results.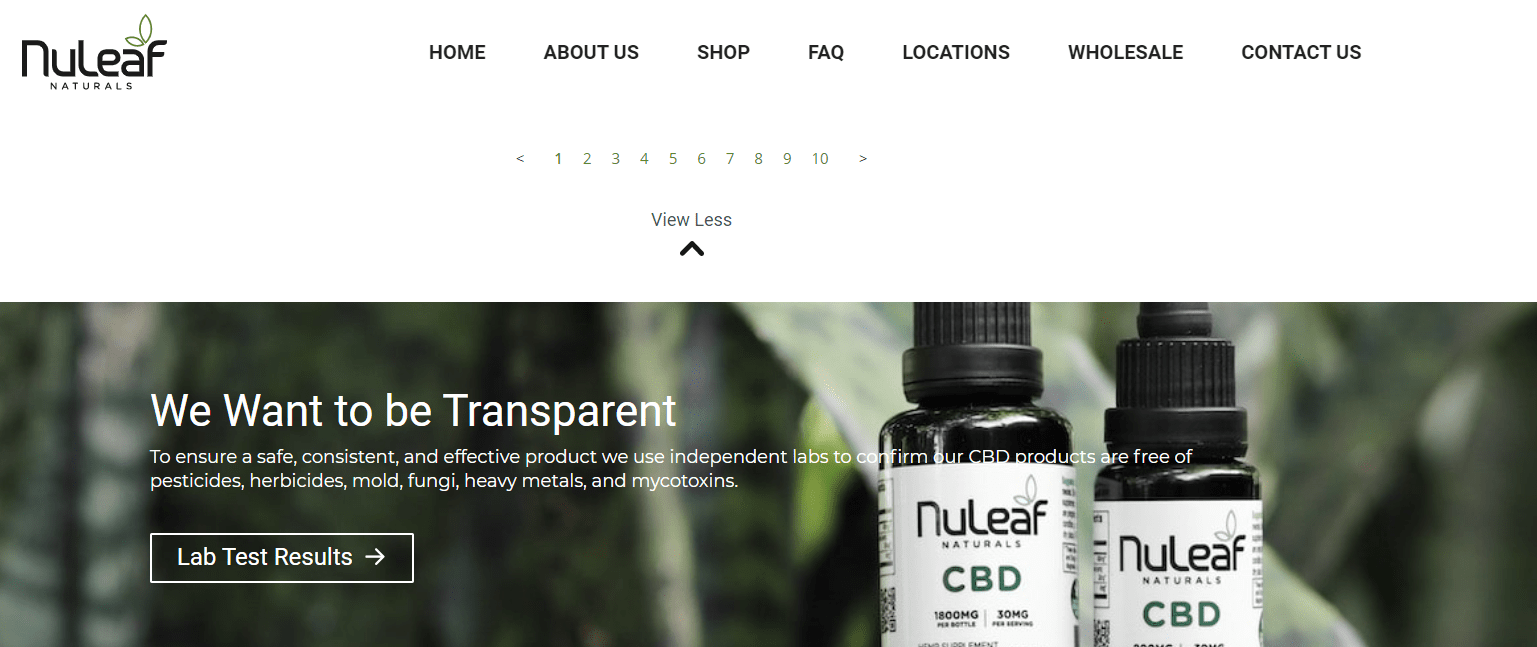 Clicking it will bring you to a test certificate with everything you need to know about weight, concentration, and other profile traits.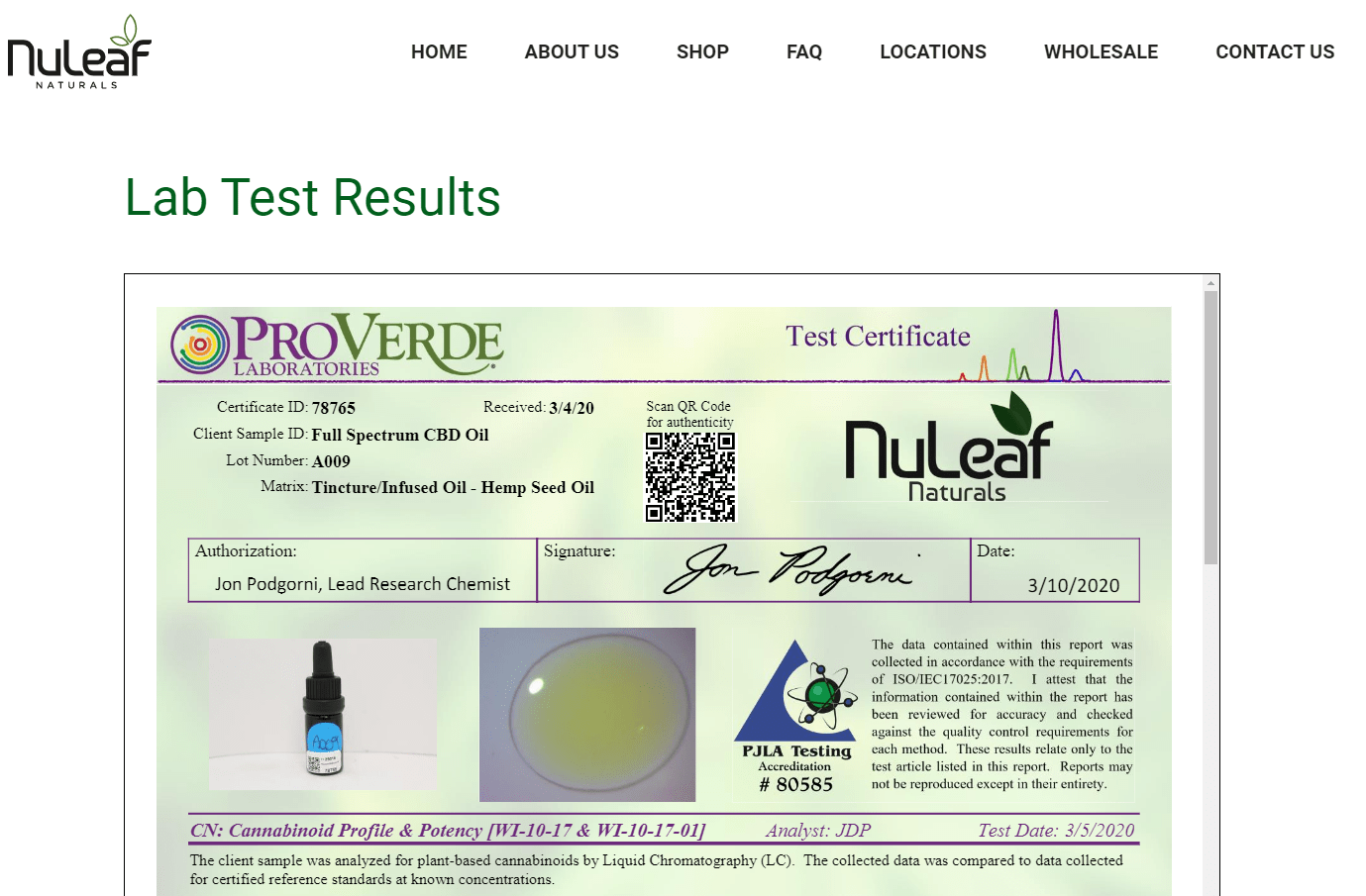 Providing this increases trust with consumers and will no doubt boost conversions.
Final thoughts on CBD copywriting
It doesn't matter what industry you're in.
Sales copy matters.
A lot.
After all, everything you interact with has copy.
Ads, emails, product pages; you name it.
Since CBD is a sensitive topic and growing industry, it becomes that much more important.
The first tactic I suggest is covering all of the basics. Provide customers with answers to question about CBD, its benefits, and side effects.
Then, touch on the physical benefits. Explain how it can help with inflammation, sleep, and recovery.
Similarly, explain the mental benefits like reduced stress, anxiety, and worry.
Blog about cannabis topics to naturally attract users to your website and position products within articles to drive sales.
Lastly, be completely transparent. Display the lab results of the products you sell on product and landing pages. This will build trust and maximize conversions.
Contact me if you need a CBD copywriter for hire.