8 out of 10 businesses fail.
This is especially true when it comes to the window cleaning industry.
It's super easy, after all, right?
You just need some water and a sponge, and you can make hundreds of dollars every day.
Not so fast.
If there's one thing I've learned in my 10+ years in business, it's that there's no such thing as a quick or easy venture.
A window cleaning business takes patience, organization, and marketing like anything else.
I've dabbled in it myself and have a few close friends that make upwards of 6 figures doing it.
Do you want to learn how to market a window cleaning business and skyrocket your revenue? Then scroll down.
Become a paperboy
Sometimes the most effective strategies are the simplest ones.
We want to overthink everything and make it complicated, but it isn't necessary. That's why you should invest in window cleaning advertising today.
In fact, direct mail has an average 29% ROI, as well.
Do you live in a residential neighbourhood with tons of houses around you?
Then you're literally sitting on top of a goldmine.
You just need a way to let everyone know about your service, and a simple brochure will do just the trick.
It doesn't need to be fancy or in colour, but it needs to be professional. Imagine someone dropped off a brochure that looked like a 9 year old made with MS Paint. You'd probably show it to your family, have a laugh, and toss it.
Here's how to avoid that.
Step 1: Sign up for Canva
Canva is a free design tool that will help you make professional-looking visuals for your window cleaning business.
It's great for logos, social media images, and in our case, a brochure.
Sign up quickly on the homepage.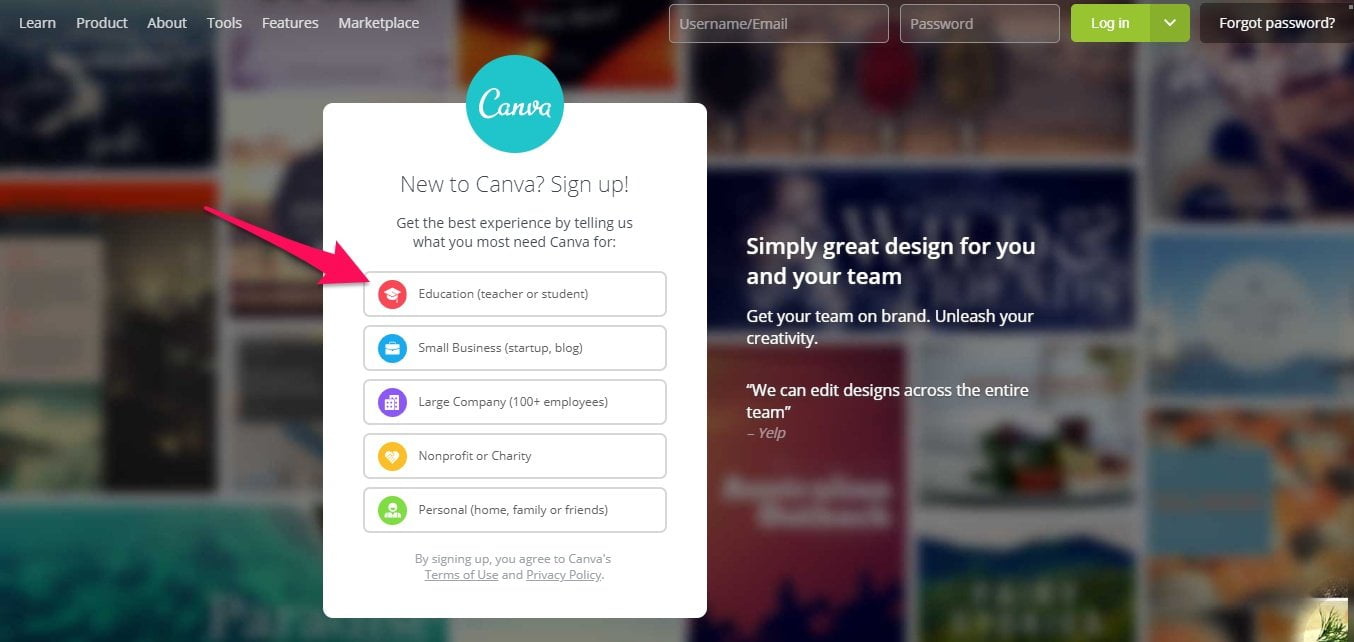 Step 2: Create a brochure
On the top left and under your profile, click "Create a design."
This will take you to the page where you can select a design style.

Scroll down until you see the marketing materials section. Select "Brochure" and then choose a template from the left sidebar.

I chose the first real estate template because it includes photos of houses and windows, which is exactly what your business focuses on!
Feel free to add your own photos if you'd like, though.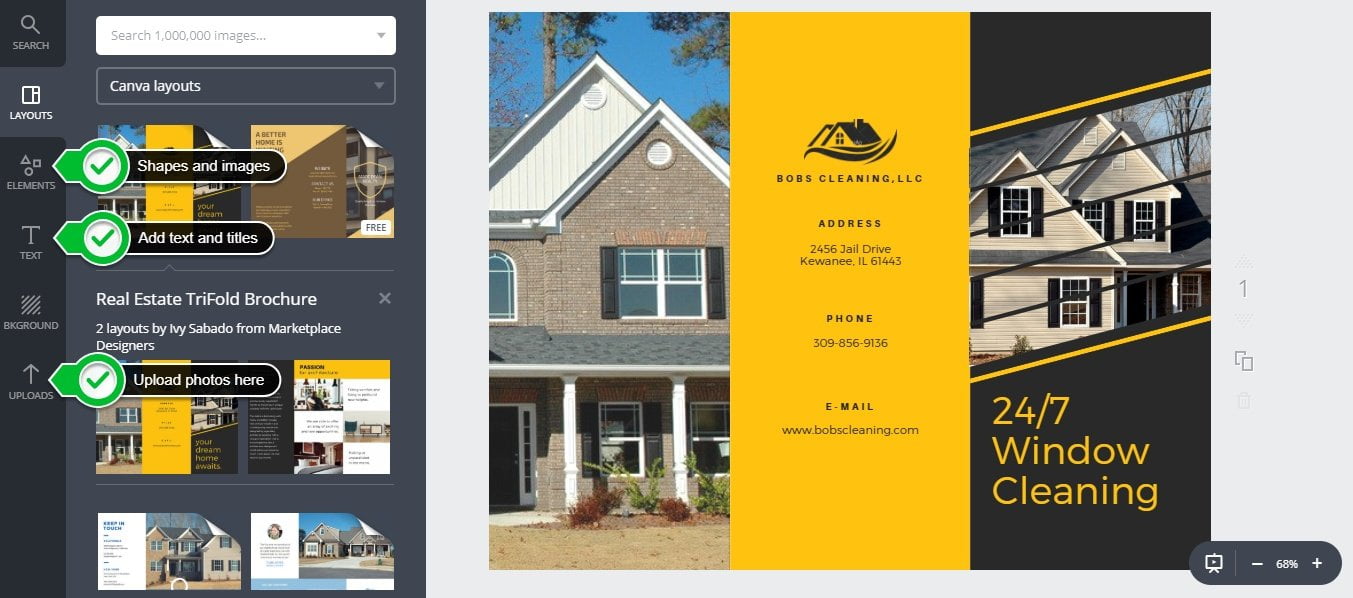 Canva will save you tons of time from making a brochure from scratch. Yours should include a phone number, email, and website if you have one(more on that later).
Step 3: Save and print
You can print directly from Canva for a price or simply print them yourself. The first option will cost you more money but is very convenient.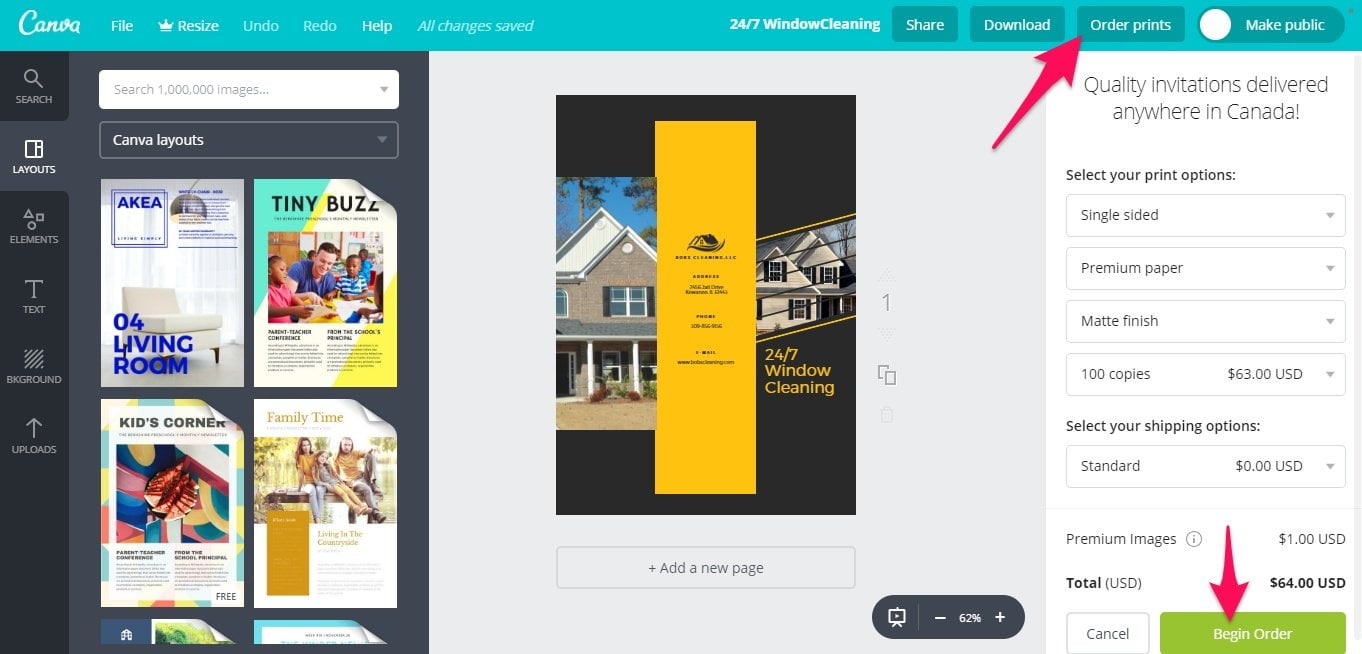 Just simply choose "Order prints" from the top bar, select how many you'd like, and order away.
If you're interested in keeping costs low, you can just save your Canva design and print it yourself.
Step 4: Pretend you're a little kid again
Remember in elementary school, how'd you have to go door to door trying to get donations or signatures for a cause?
If not, I know I did — who would've thought it'd prepare me to market a window cleaning business?
With your brochures in hand, it is time to put them in mailboxes around your neighbourhood.
Let's take the following example into consideration:
You send out 50 brochures
It has a 5% conversion rate, resulting in roughly 2-3 clients
Every client is worth $250 to you
That means you've effectively generated $750 worth of clients, and that's not counting referrals.
Imagine how much revenue you could generate if you did this on a consistent basis and scaled up how many brochures you hand out.
Window cleaning marketing doesn't have to be overly complex, especially when you're first starting out.
Create your army of window washers
If you want to go fast, go alone. If you want to go far, go together.
Do you want to make the big bucks? Then you need to scale.
You're only one person. You can only do so much in a day.
I had that exact same experience with companies in the past. I tried my hardest to stay and learn while growing, but eventually, it just wasn't possible.
I'd miss deadlines, not carry my weight, and ultimately let clients down. What fixed all of that? Hiring.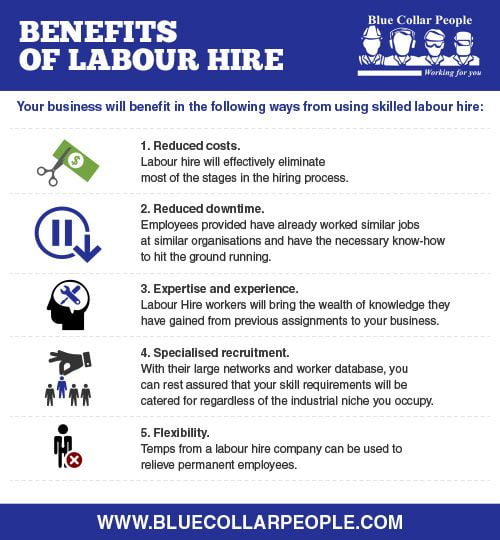 Employing contractors will be one of the smartest things you do for your window cleaning business.
You will be able to generate more revenue, and clients, and get peace of mind knowing that you have a team doing the work.
This creates the opportunity for you to double down on marketing, too.
Also, note that I said contractors specifically. When you employ full-time staff, you will need to give them employment insurance, benefits, and overall increases in costs and work.
While this is beneficial once your business scales to a certain point, it's wise in the beginning to work with contractors to learn how to manage people.
Post some local listings
You can begin hiring contractors by posting window cleaning ads on platforms like Kijiji.
On the top right, click the button to make a new ad.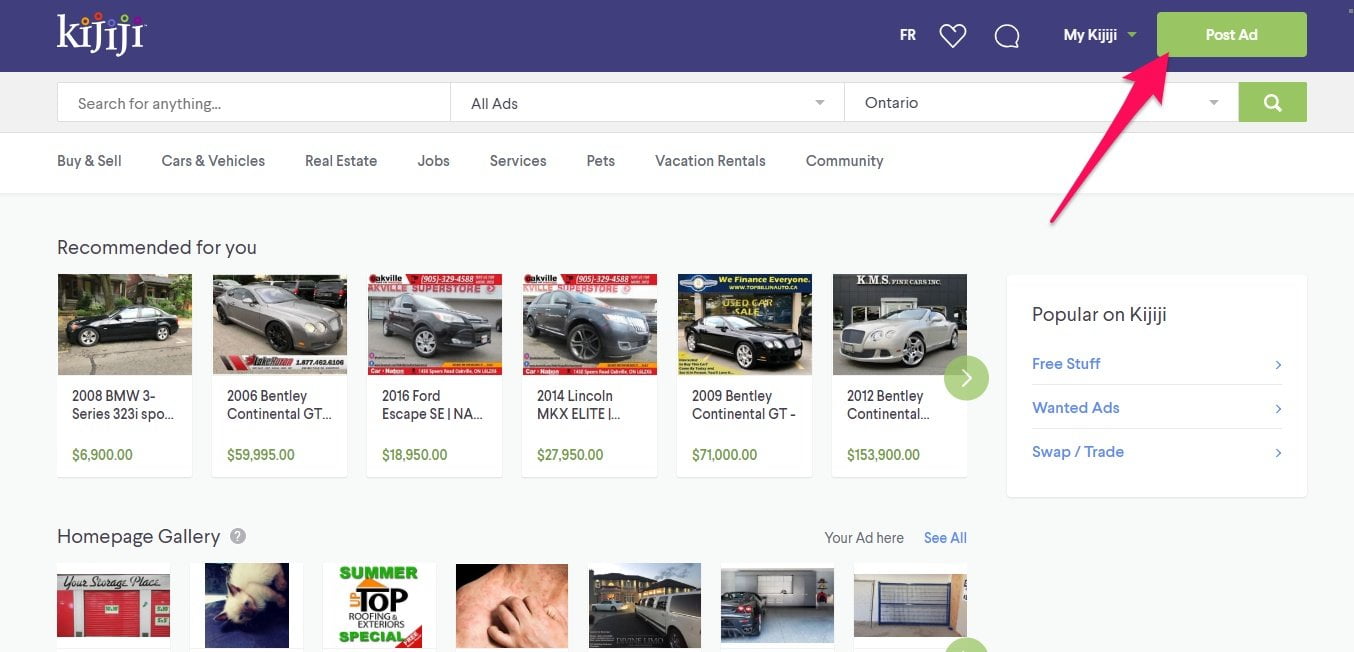 You don't need an account, but I'd recommend it as you can track your ads more easily.
And yes, you can tell I'm a car enthusiast from my recent search history.
Give the ad a title that will cut through the static. There are probably tons of ads for similar work, so make it pop. Use phrases like:
Great pay
Easy work
Good hours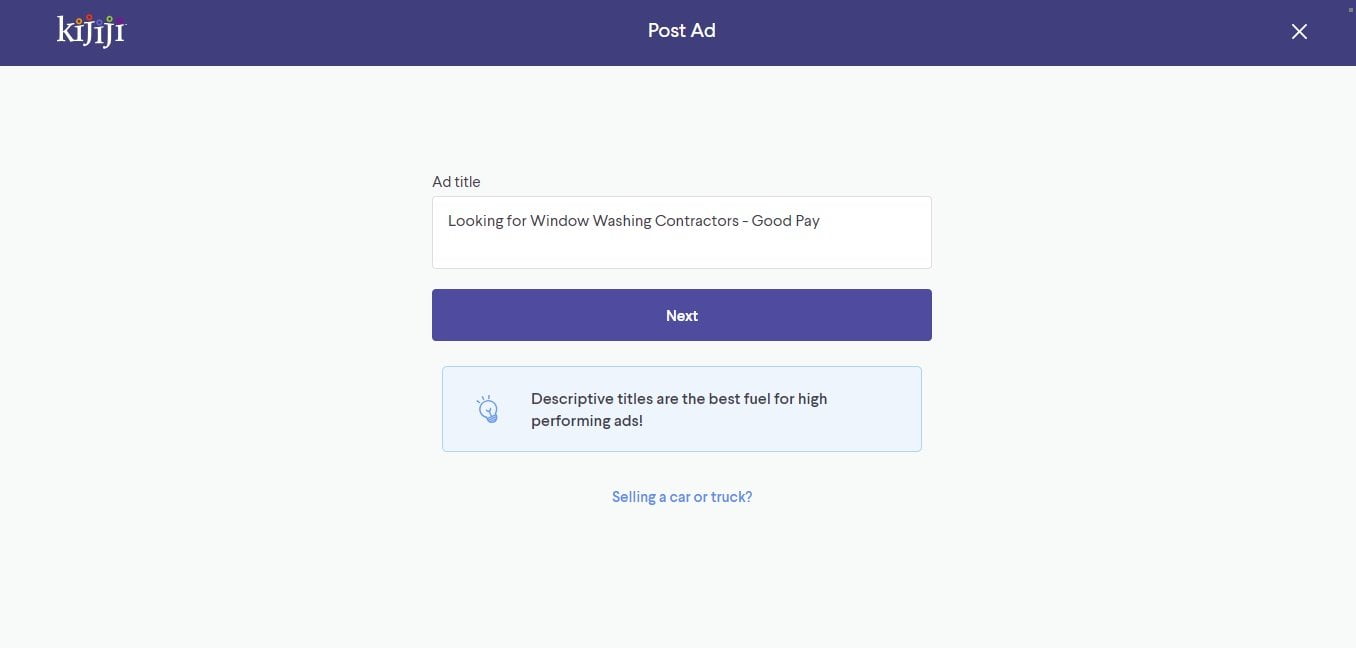 Select the jobs category after this and then the general labour sub-category.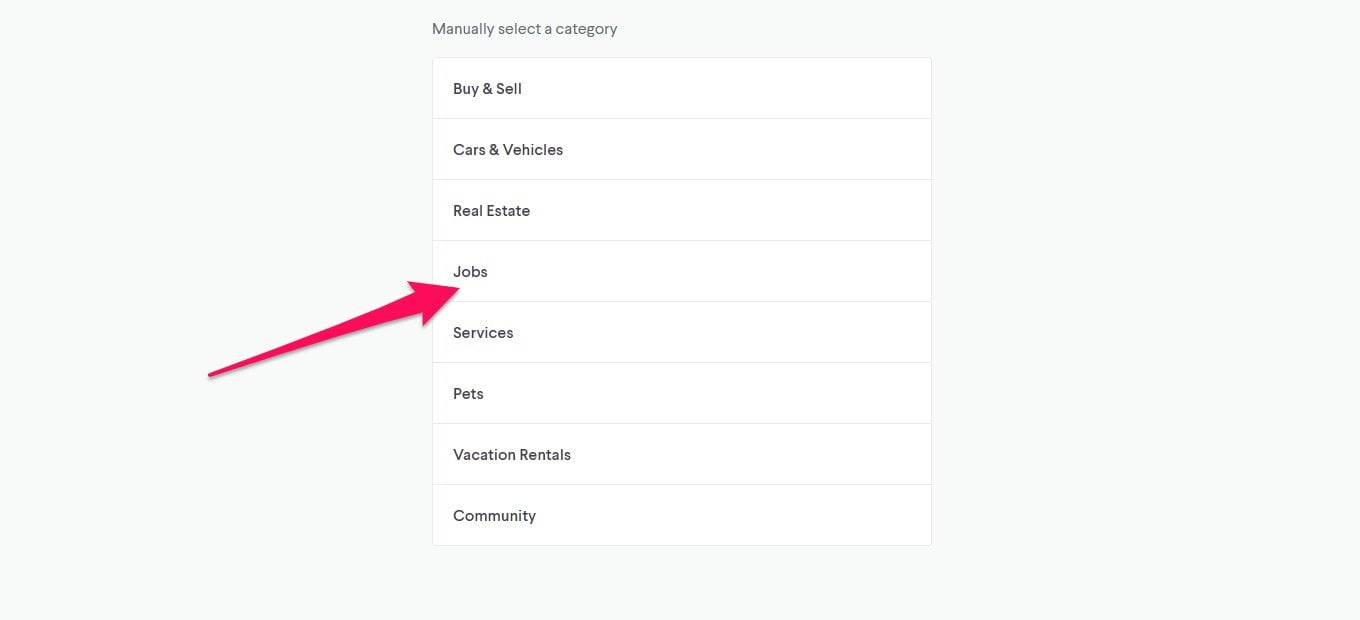 Next, it's time to set up the details of your ad. If you have a company name, enter it in the "Company" box. Ensure that you select the right job type, too.
I recommend working with contractors as it makes everyone's lives easier. Eventually, you can move up to hiring full-time employees.
The description should be short and sweet. No one wants to read a novel of text, so state what the job entails and how much the pay generally is.
Throw in some benefits to entice people to contact you. Note how in my ad, I said that the job isn't physically demanding, doesn't require much time, and skills aren't a prerequisite.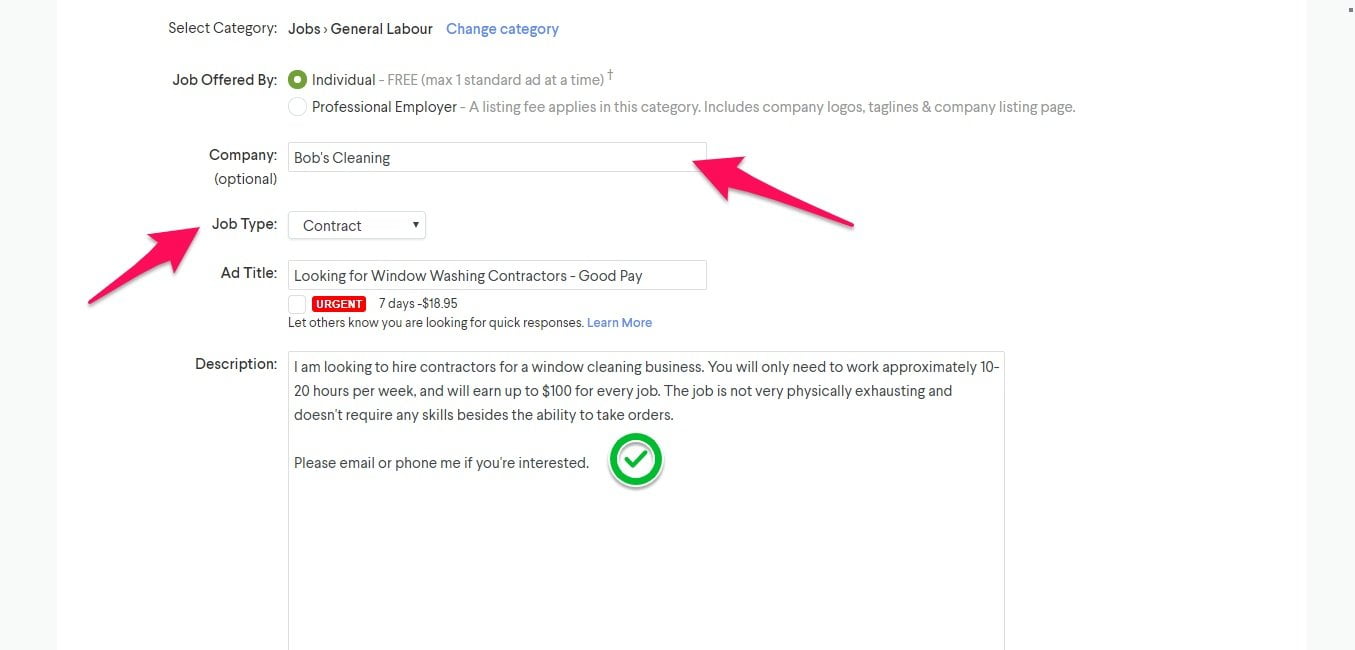 You can add some photos if you'd like. These could be a logo or previous jobs.
Once you're finished designing your ad, submit it!
If you're willing to commute a bit, post ads in cities nearby for the same service.
Build it and they will come
In today's business world, you need a website.
You're seriously debilitating your business by not having one.
It's like not putting gas into your car and expecting to get anywhere.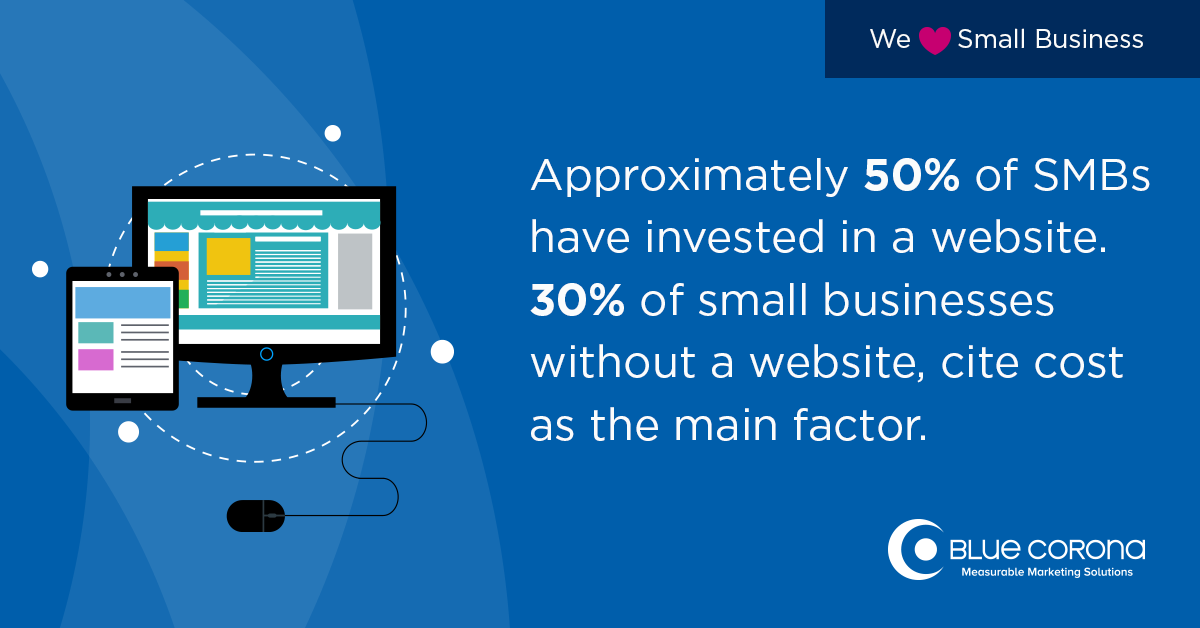 Over 50% of small to medium sized businesses have invested in a website, and this number is only going up.
When you have a website, customers and workers can contact you organically. With some upfront effort, you can have them passively reach out to you every day.
So, how does one make a website while keeping costs low? Simple.
Step 1: Get web hosting
Web hosts are companies that nicely put your website on their server for a monthly fee.
I suggest heading on over to Hostgator.com or Bluehost and finding a plan that works for your budget. If you'd like to test the waters and upgrade later, the standard shared hosting is fine.
But, I have to tell you something.
Shared hosting usually has lower performance, as your website uses the same resources as other sites. You'll greatly benefit by investing in the cloud, VPS, or dedicated plans, but there's no rush.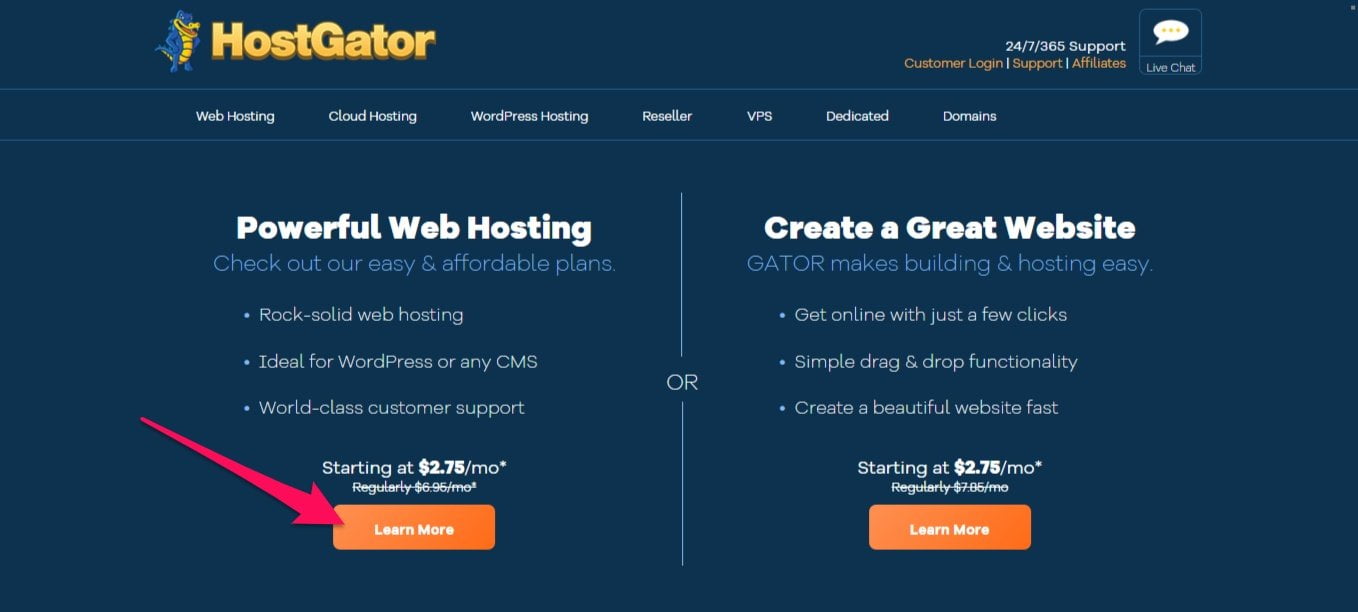 Hostgator offers three different levels to every plan:
Each features better resources and services, but the hatchling plan only can have a single website. Unless you plan to own several sites eventually, this isn't too big of a deal.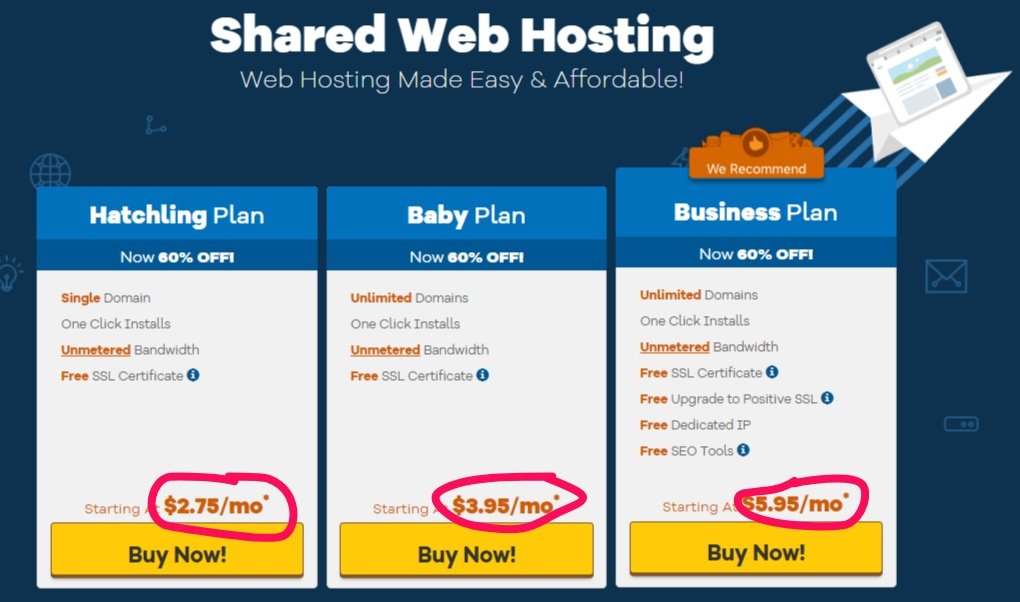 On the following page, it's best if you purchase a domain with your web hosting.
This will prevent you from having to propagate your host's nameservers to your registrar.
If that sounded like Japanese to you, definitely buy them together to avoid a headache later.
Then you need to select your billing cycle, username, and PIN.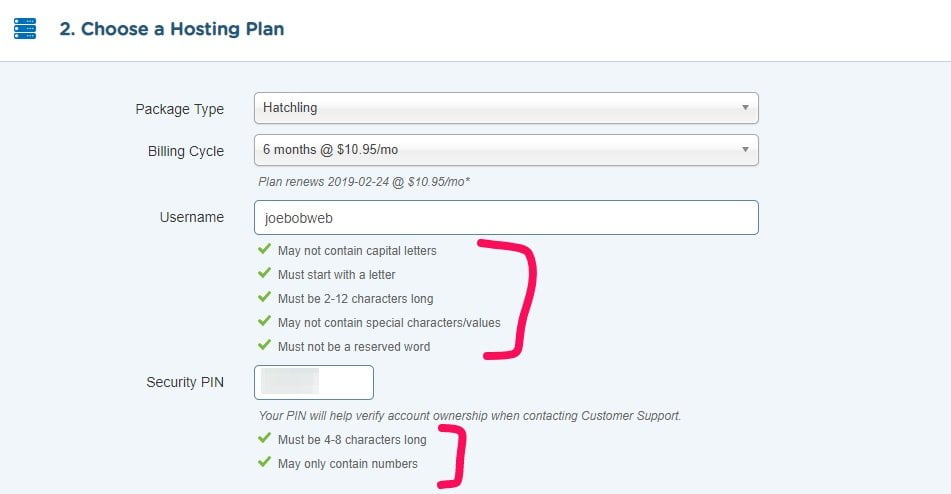 Follow the guidelines for filling out the form and make both your username and PIN secure. Don't share them with anyone, and avoid making them easy to guess.
Sensitive information being leaked is responsible for 47% of hacked websites. That means it's 100% avoidable.
There are a few add-ons that you can choose from, too.
Here's the truth.
Most of them are pretty useless.
You definitely want the SSL (secure socket layer certificate) and backup, but the others are unnecessary.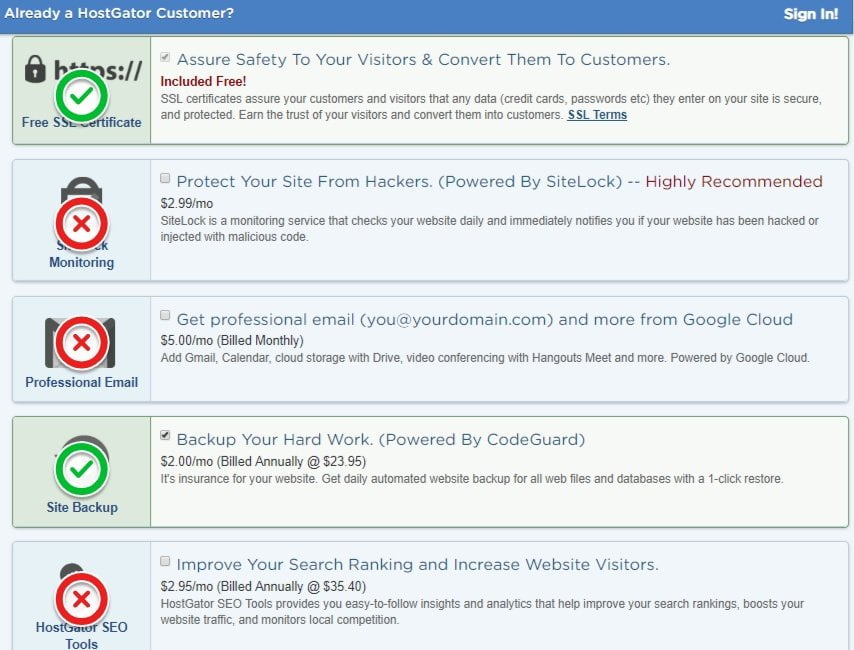 Over a quarter of websites have moved over to SSL, which provides more security for its users.
The backup will keep your website and its data safe in case of any outages, as well.
Once you've filled everything out, show Hostgator the money!
You will be emailed a cPanel login afterward.
This simply stands for the control panel and includes all of the tools you need to grow your window cleaning website.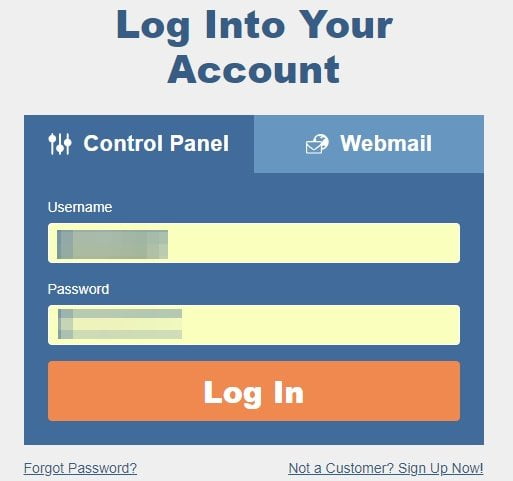 Step 2: Install WordPress
After you've logged in, find the instant WordPress installation feature. This should be under the popular links section at the top.

28.6% of all websites on the internet use WordPress because it's so convenient and customizable. I use it for all of my businesses and have no plans to switch.
Do you want a window cleaning website that will get you consistent revenue? Then contact me today to get a free consultation, and I will help you do so.
On the first screen, you will need to select which domain you'd like to install WordPress to. This will be the one you chose as you signed up.

You will then need to fill out:
A title for your website.
An admin username.
Your first and last name.
An email to be used for your admin account.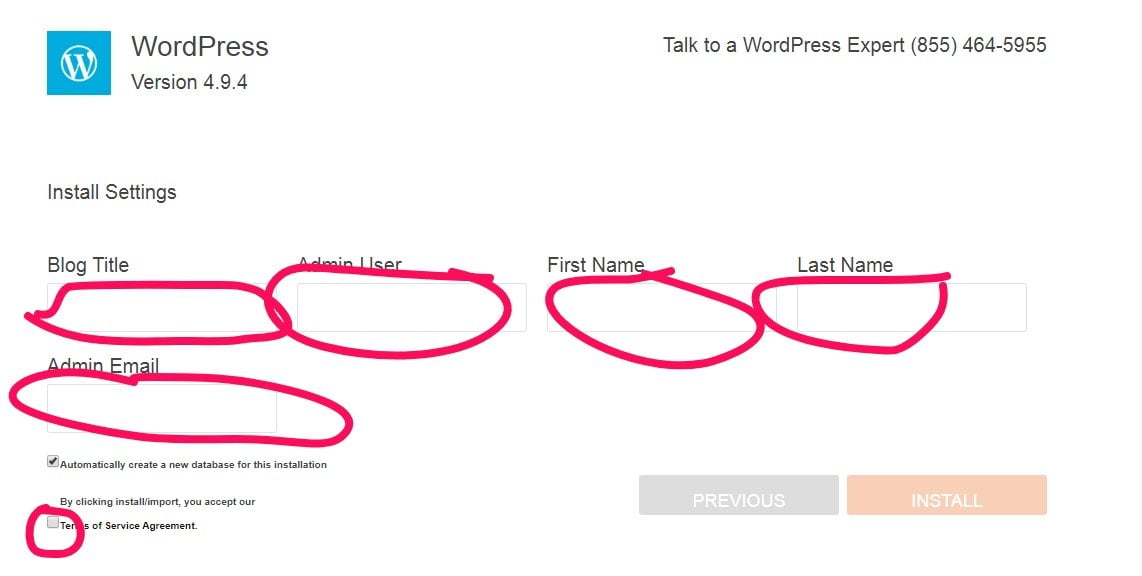 Agree to the terms of service and hit install afterward.
On the top bar, Hostgator will display your temporary password to access WordPress. Your admin dashboard can be accessed by visiting www.yourdomain.com/wp-admin.
Log in, and you'll see a dashboard like this.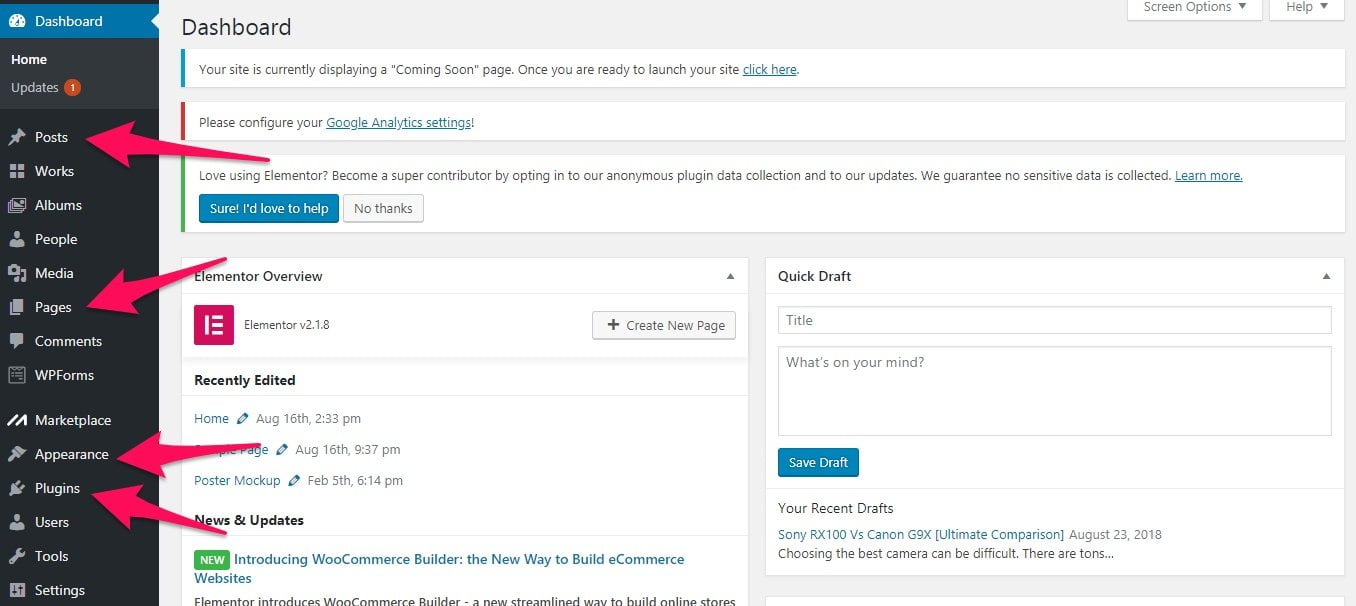 I highlighted the most important areas to focus on for now.
WordPress pages
Your website obviously needs some pages to display information about your window cleaning business.
I recommend creating the following pages:
An about us page to talk about your company's history and values.
A services page that details what you do and what you charge.
A contact page with a contact form (more on that in a moment).
Make sure to read my webpage copywriting tutorial for more information about this topic.
A blog is automatically created for you and should be used frequently.
It should be no surprise that companies get up to 67% more leads by creating content.
Paired with SEO and link building, you can have tons of organic traffic coming to your website and converting into sales.
What questions or concerns would your window cleaning clients have? Craft blog posts around these so you attract ideal users.
Installing useful plugins
Plugins add extra features to your WordPress website. Anything imaginable can be done with the click of a button, thanks to them.
But remember this one thing.
If you have too many plugins, it can create conflicts and slow down your site. I recommend sticking to 15 or less.
What WordPress plugins are good? Here are a few.
Yoast
WordFence
W3 Cache
WP-Optimize
Monster Insights
Contact form 7
Customizing the appearance
Under the appearance tab, you will be able to install pre-built themes and design them. The customizer is where you can do all of the tweaks.
There are tons of free themes that look professional, but it's great to invest in a paid theme eventually. They include premium plugins and services that you wouldn't get otherwise.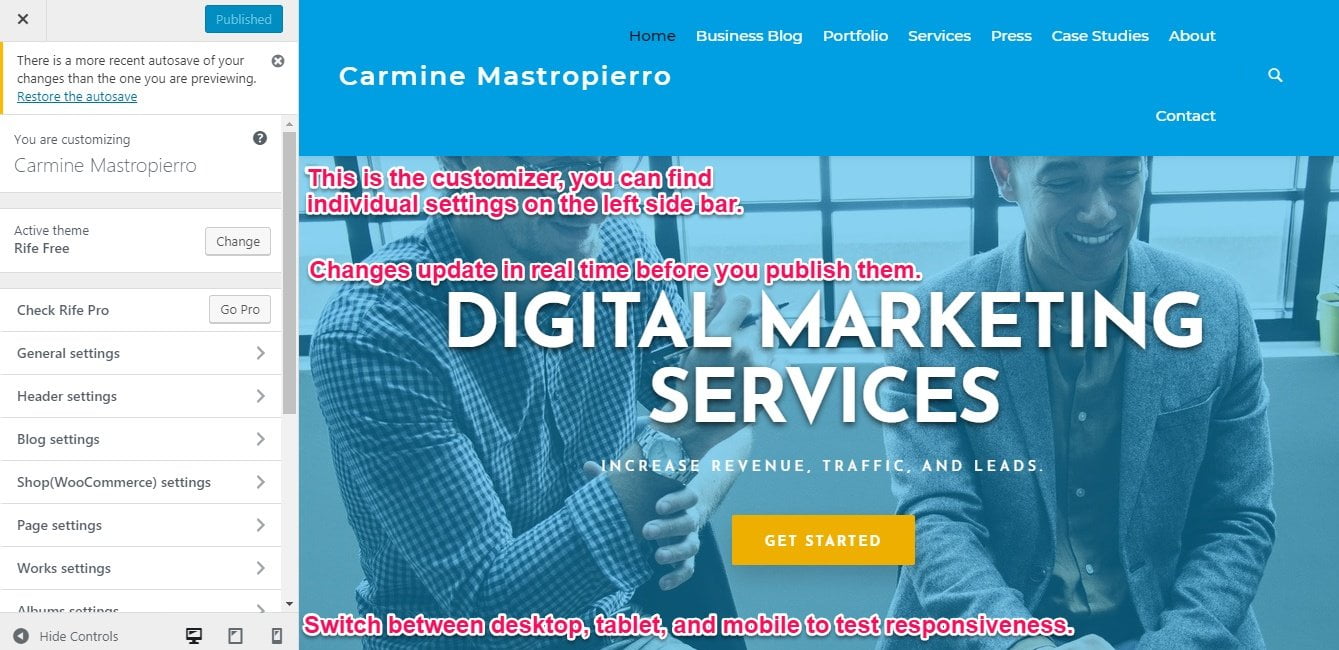 Take the time to make your website impress clients. Include all of the information they'd want to know and make it easy to contact you.
Don't go overboard on plugins, but rather find that middle ground of performance and useful features.
Finally, actively post content and invest in improving your online presence.
You should make social media accounts on Facebook, Twitter, and Instagram to connect to your WordPress site. They are also great platforms for driving traffic.
How much to charge for window cleaning
Charging as a service business can be done in a few different ways. I've experimented with them all in my own businesses. Here are my findings and how they apply to window cleaning.
Charging per hour
The most standard way to charge for window cleaning services is with an hourly rate. This should equal an amount that covers your costs, is fair to the customer, and leaves you with profit.
Let's say that you charge $50/hour, and it takes 3 hours to complete the average house. That's $150,w and you could be doing multiple houses per day, especially as you grow your team.
Charging per windowpane
The average window pane is cleaned for $2 to $7. That might not seem like much, but imagine if you cleaned a 30 window building at $7 each. That's $210.
Charging per project
As you become more experienced, you can eventually begin charging per project. You can look at the size of the house, and resources required, and give the client an estimate.
There are so many factors that play into window cleaning projects, like:
How many contractors you will need to complete the job.
What kind of tools are required.
How dirty the windows are.
The ease or difficulty of access to windows.
Depending on these, you should adjust your price accordingly.
Also, remember that commercial window cleaning prices, storefront window cleaning prices, and residential window cleaning prices all differ in nature.
A commercial project could involve cleaning the panes on the side of the skyscraper while doing an old lady's house isn't nearly as challenging.
How to get commercial window cleaning contracts
Do you want to make the big bucks?
Then you need to get commercial window cleaning clients.
They need their windows cleaned consistently to keep their business looking top-notch and have bigger budgets.
You're not going to land them as paying customers by walking in and handing out business cards. You need to schedule phone calls and face-to-face meetings.
You can begin by finding these companies on websites like 411.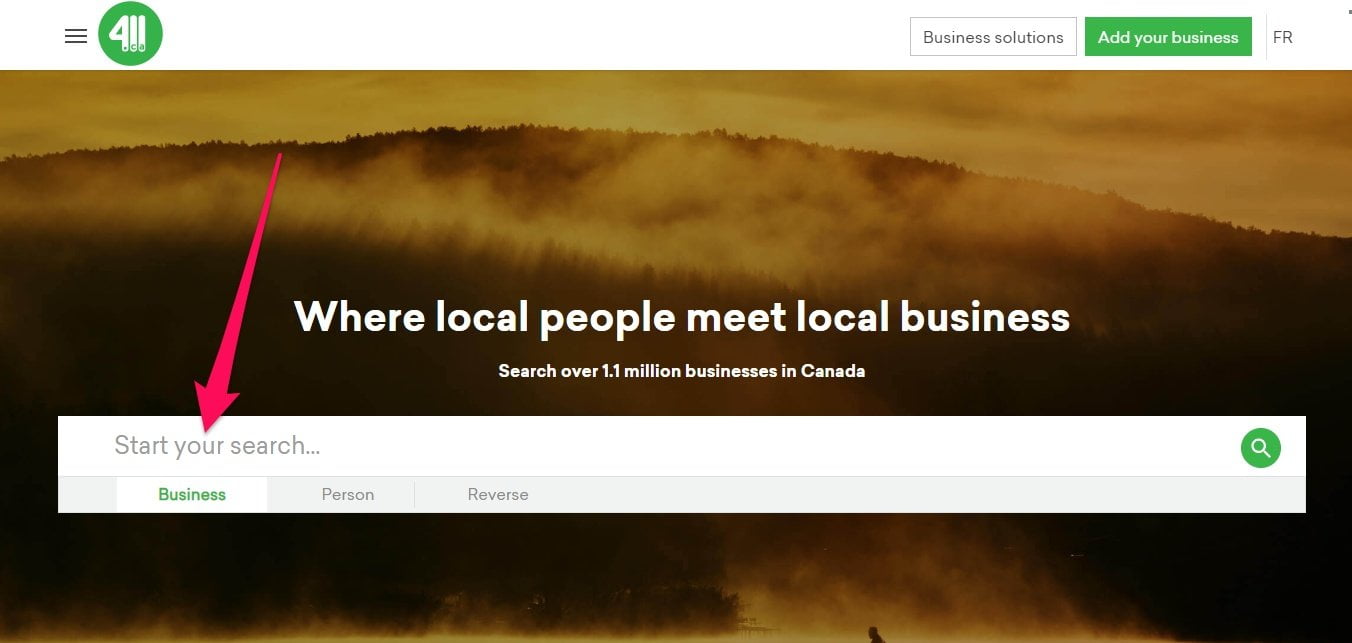 Enter a keyword like "manufacturing," "information technology, or "marketing," for example. These will help you find commercial buildings to pitch.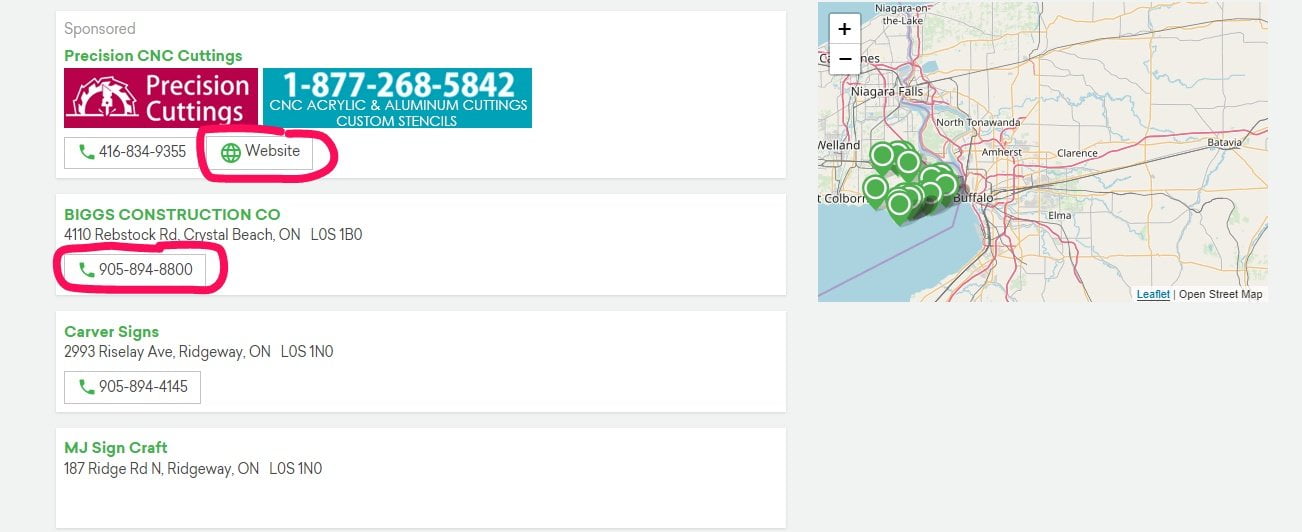 Their contact information will be listed under the address. You can visit their website to find an email, or just phone them.
Let me tell you something — I pitch upwards to 250 businesses per week for my digital services.
The absolute last thing you want to do is try to sell your services in the first email or phone call.
Everyone does that. It's obvious and unappealing.
Instead, you need to act as a researcher to discover if they are the right fit and to understand their pain points.
Here's an example email:
Hey Steve,

I have a quick question. Would you be kind enough to tell me who is in charge of the window cleaning vendor list and how I could contact them?

Sincerely,

Bob
See how simple that is?
And guess what? It works.
I can guarantee that people will forward you to the right person. Then it's time to get that person on a phone call.
Make sure to read my cold email guide to learn this strategy in-depth with templates and examples.
So many businesses, including mine, get annoying emails that look copy and pasted. Short emails that ask a genuine question work much better, instead.
What should you talk about while on the phone? You always want them to talk about their problem the most. Ask questions like:
What's your experience with previous window cleaners?
What did you like, and what didn't you like?
How often do you need your windows cleaned?
If they seem like a good fit for your business, offer insight into how you could help them. Mention previous clients that had similar issues and how you solved them.
Don't be too stiff, either. Show some personality and humour. You have to be able to deliver results, but everyone loves a fun person to do business with.
Summing up window cleaning marketing ideas
Window cleaning is a great industry to get into.
You don't need that much capital to get started, and the profit can be very respectable.
But, to stand out, you need good marketing.
Start off by creating professional brochures with a tool like Canva. You can put these into mailboxes within your neighbourhood and easily get clients. This is especially effective when you first begin and need to get the ball rolling.
Then it's time to build up a team. You won't be making 6 figures cleaning windows all by yourself. You need people you can rely on and that can scale up your operations.
Craigslist and Kijiji are surprisingly efficient for finding contractors. Post ads in local cities and you'll get people contacting you pretty fast.
Lastly, you need an online presence. Take the time to get a website up and running with Hostgator or any other good web host. Install WordPress and add necessary business information like pricing and services.
Check out my online courses to learn more about marketing.