Freelancers can find it hard to get their first client. It's a catch-22, you need clients to get experience, but you need the experience to get clients. There are several strategies and steps that can help to break this cycle and get your first copywriting client.
I've been freelancing and copywriting for a decade, and ahead are some of the best strategies I've used to land clients.
1. Cold Calling Strategies For Getting Your First Client
Cold calling is one way for freelancers to get their name out there and acquire their first copywriting client. I know, I know. It's intimidating, but nothing will give you more confidence and results than dialing up the phone. In fact, 92% of customer interactions happen over the phone.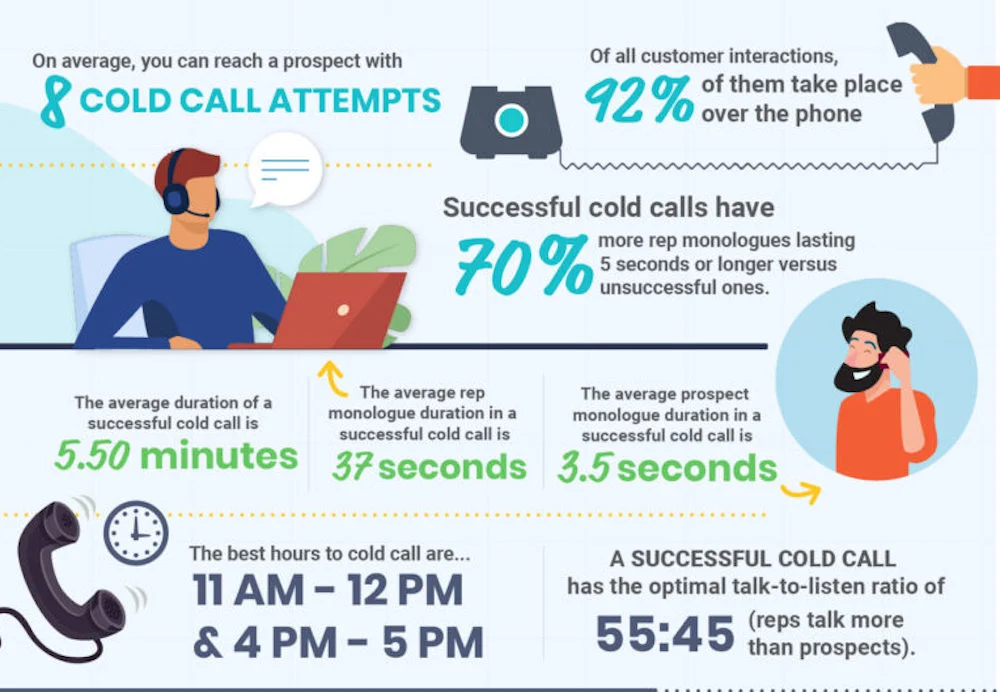 You can start by creating a list of businesses in your target audience and then give them a call to introduce yourself as a copywriter. Provide information about why they should use your services, and be sure to offer free consultations or discounts, so you're more likely to land an assignment.
Software you should use to help you with organizing and managing leads includes Salesforce, HubSpot, and Zoho. These customer relationship management (CRM) tools help you keep track of people you have called and talked to. You can use it to remember who you have contacted and what they said. This makes it easier for freelancers to find their first copywriting client by cold calling businesses in their target audience.
2. Cold Emailing Strategies
Cold emailing is another great way to reach out to potential clients as 8 out of 10 people prefer to be contacted by email. It's also better if you're shy about getting on the phone and dialing strangers. Start by researching the company and contact person's name, so you have more context when reaching out. Keep your emails concise and include information about why they should work with you as a copywriter. You can also use cold email templates that are designed for copywriters to get started quickly.
For copywriters looking to save time while still creating powerful messages that resonate with potential clients, investing in a cold email tool can be invaluable. With these tools, writers can craft personalized messages that are optimized for maximum impact without having to manually reach out to each person one by one. They can also be automated to save you heaps of time!
For example, Mailshake has features that allow you to personalize each message to the recipient and use automated follow-up emails. This can be especially helpful for freelance copywriters, who have limited time and resources when reaching out to potential clients.
Woodpecker is another cold email tool specifically designed for copywriters. It allows users to quickly create personalized, engaging emails using pre-written templates or creating their own from scratch. It also includes features such as automated scheduling, testing different messages, tracking responses, and reporting on performance metrics like click-through rates and response times.
Finally, Apollo is an advanced tool for automating outreach campaigns with a focus on personalization. Features include creating campaigns with multiple emails, custom variables to personalize content, and advanced analytics so you can monitor the success of your campaigns.
3. Leveraging LinkedIn and Social Media Outreach to Find New Clients
Social media marketing is essential for a freelance copywriter. That's why 73% of marketers say social media is somewhat or very effective for their business. Not leveraging social networks is a mistake I see my students make when I first start coaching them.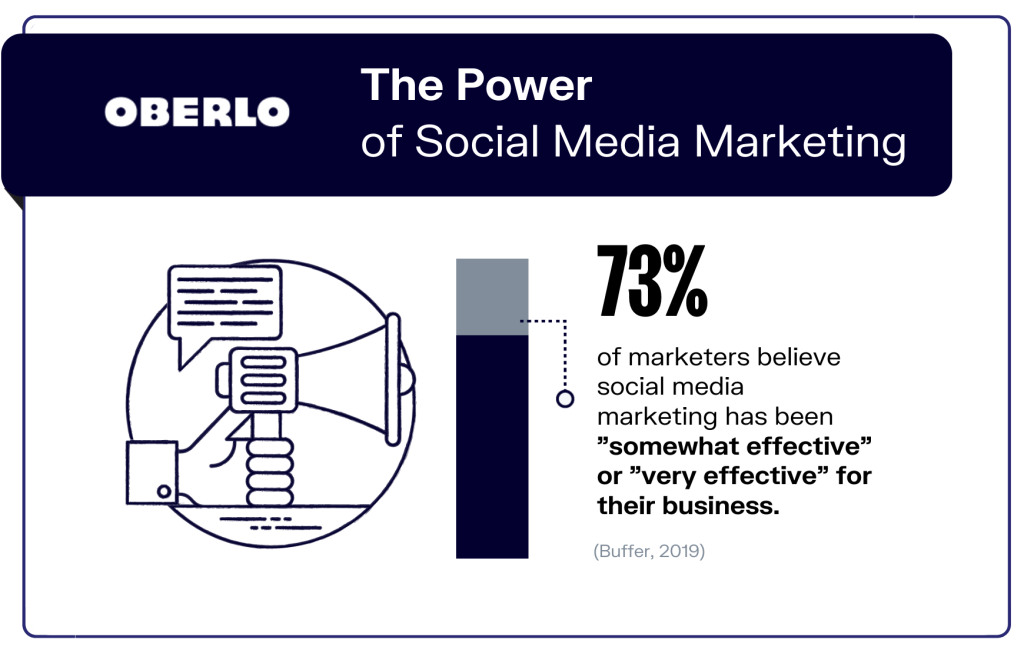 LinkedIn is a great platform to build connections with businesses that may need copywriting services. You can start by joining relevant groups or following industry influencers in your target market. Take part in discussions, post thoughtful comments, and share interesting content related to copywriting. This will help you get noticed and increase your chances of getting your name out there.
Social media platforms such as Twitter, Instagram, and Facebook are also useful for networking with potential clients or customers. You can use these platforms to engage with people in your target market by liking their posts, commenting on their posts, and sharing content related to copywriting. This will help you get noticed, build relationships, and build trust with potential customers.
Don't forget to use hashtags so people in your target market can find you easily. For example, if you're targeting businesses in the food industry, you could use hashtags such as "#foodcopywriter" or "#restaurantcopywriter." You may also want to consider creating an email list for leads so that each time someone expresses interest in your services, they are added to a list that you can follow up on at a later date.
Finally, remember to engage with potential clients whenever possible–responding quickly and politely is key to building relationships and generating interest in your services. By leveraging the power of LinkedIn and other social media platforms, copywriters can find new clients and build a successful freelance career.
4. SEO Tactics That Can Help You Get Found by Potential Clients
One of the best ways to get your first copywriting client is also through search engine optimization (SEO). And, specifically, local SEO. This is because many businesses are actively searching for a copywriter in their area. It also compounds over time, giving you organic exposure to new businesses.
To maximize your chances of being found by potential clients, creating content such as blog posts, press releases, and other web pages that are optimized for local search terms related to copywriting can help you get the attention of local business owners.
It's also important to make sure that these pages include keywords relevant to your services, so they appear in the search results. You should also consider using meta descriptions on each page, as this will help potential customers quickly understand what services you offer and why they should hire you.
Using link building tactics can also give your website more visibility in the search engine results pages (SERPs). Link building involves getting high-quality backlinks from other websites – the higher quality of the website linking to yours, the more powerful the link will be.
Finally, creating local business listings on well-known websites such as Yelp and Google My Business can also help potential clients find you more easily. Simply adding your business information and contact details to these sites is a great way to make sure that potential customers know exactly where they can find you when they're ready to hire a copywriter.
By leveraging SEO tactics such as content creation, link building, and local business listings, copywriters can increase their chances of getting found by potential clients. This remains one of my favourite ways to grow any business in general.
5. How Referrals From Existing Clients Can Be Beneficial in Finding More Work
Referrals are a great way to get your first copywriting job. Many potential clients will trust your services if they see that you already have happy customers who are referring you. Here's a cool statistic to make my point: 88% of customers seek a word of mouth assurance before purchasing a product or service.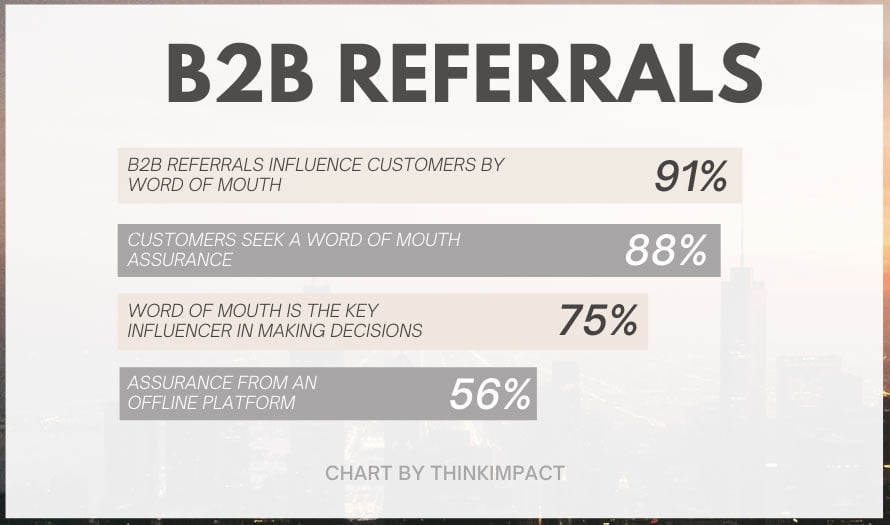 When one of your current clients refers someone to you, it's a sign that you did a good job for them and that they value your work. This can help build trust with new potential customers, as they will be more likely to hire you if they know someone has recommended your services.
You should always thank existing clients when they refer someone to you, either through email or in person. Additionally, consider offering incentives such as discounts or gift cards for any successful referrals made by existing customers.
Finally, don't be afraid to ask for referrals yourself; it doesn't hurt to reach out to existing clients and ask them if they know anyone who may need copywriting services.
Referrals are a great way for copywriters to grow their business and find new clients, so don't forget to take advantage of this powerful marketing tool. With the right incentives in place, existing customers can be one of your best sources of new leads.
6. Content Marketing Attracts More Copywriting Opportunities
Last but not least is content marketing. Content marketing is a great way to build awareness of your copywriting services and attract more potential clients.
Creating content such as blog posts, e-books, case studies, and whitepapers can help you demonstrate your expertise in the field and show potential customers what makes you qualified to be their go-to copywriter. You should also consider creating YouTube videos that explain different aspects of copywriting, such as how to write effective headlines or craft compelling calls-to-action.
Once you have created high-quality content, it's important to promote it through social media channels such as LinkedIn, Twitter, and Facebook, where potential customers may find it.
Doing this often enough will have more eyeballs on your brand and content, which can turn into paying clients. Make sure to stay consistent and disciplined through building a content calendar.
Final Thoughts on Getting Your First Copywriting Client
If you just starting freelance copywriting and you want to close your first client, you're in luck. I've been copywriting for 10+ years and have made more than five-figures per month as a freelancer. Some of the best strategies I'd recommend learning about and trying are:
Cold calling.
Cold emailing.
Social media outreach.
Local SEO.
Asking for referrals.
Content marketing.
Want to learn more about earning a living copywriting? Explore my online courses and get coaching from me.