Search engine optimization (SEO) is an essential skill for any marketer or a business owner.
If you don't understand how to implement and measure SEO, you're missing out on a huge growth opportunity, and odds are, competitors are getting ahead.
There's a reason the average SEO professional charges $2,000-$5,000/month. It's incredibly effective.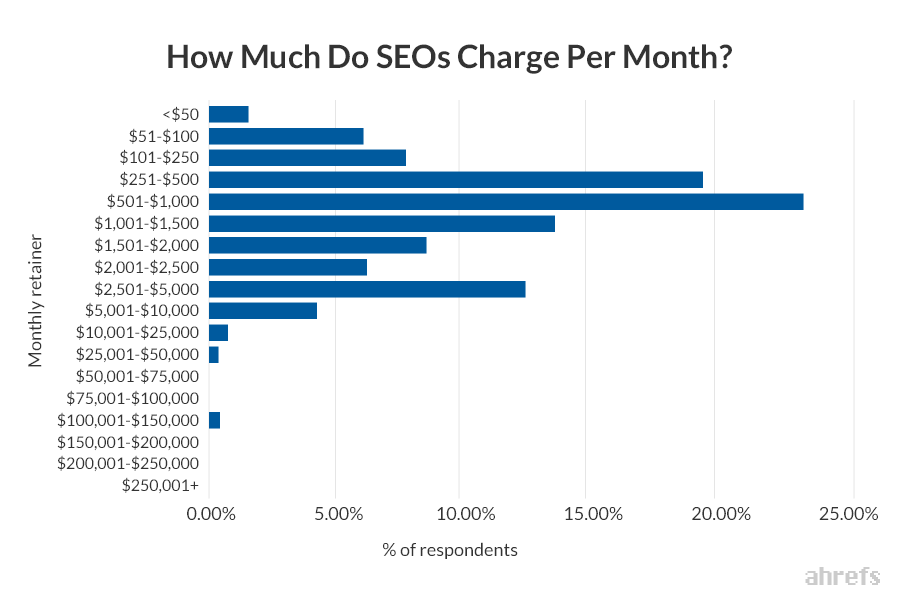 But, how do you learn SEO and get over common roadblocks? I personally recommend investing in an SEO course that teaches you the strategies and theory step-by-step.
I've personally bought thousands of dollars worth of courses over the years, and it's my favourite way to learn a new skill.
That's why in this blog post, I'm going to cover the best SEO courses and why you should choose them.
1. SEMrush Academy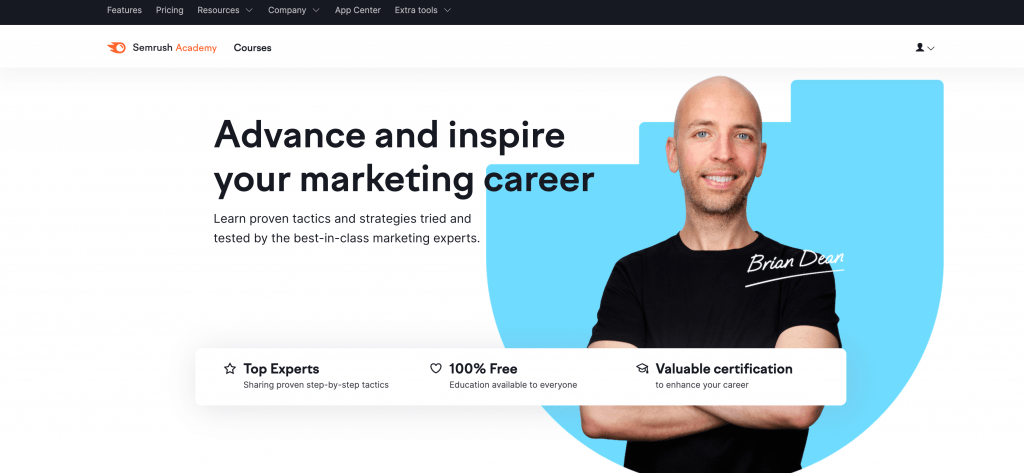 SEMrush is one of the largest SEO software providers in the world. I've used their platform for many years to improve my organic rankings and performance. Their online academy is 100% free and includes courses on SEO, social media, content marketing, and more.
The SEMrush Academy is taught by world-class experts and includes a valuable certification that you can put on your resume, website, or social media profiles. Their SEO Fundamental course includes 31 lessons to catch you up on the latest search engine marketing trends.
Pros
No cost.
Taught by experts.
Well-rounded topics.
Certificate of completion.
Good lessons on SEO theory.
Cons
So many courses can be overwhelming.
Lack of practical application.
Pricing
2. Ahrefs SEO Training Course

Another of the biggest names in the SEO world is Ahrefs. Odds are you've heard of them or used their software before. If not, I highly recommend it. However, they also offer their SEO training course that's completely free. It teaches you everything from keyword research to on-page SEO and backlink building. It's only 14 lessons across two hours, so it's not a huge time commitment, either.
Pros
No cost.
Good for beginners.
Courses on different SEO subjects.
Practical applications.
Cons
So many courses can be overwhelming.
Certain strategies and steps require Ahrefs software.
Pricing
3. My SEO Copywriting Course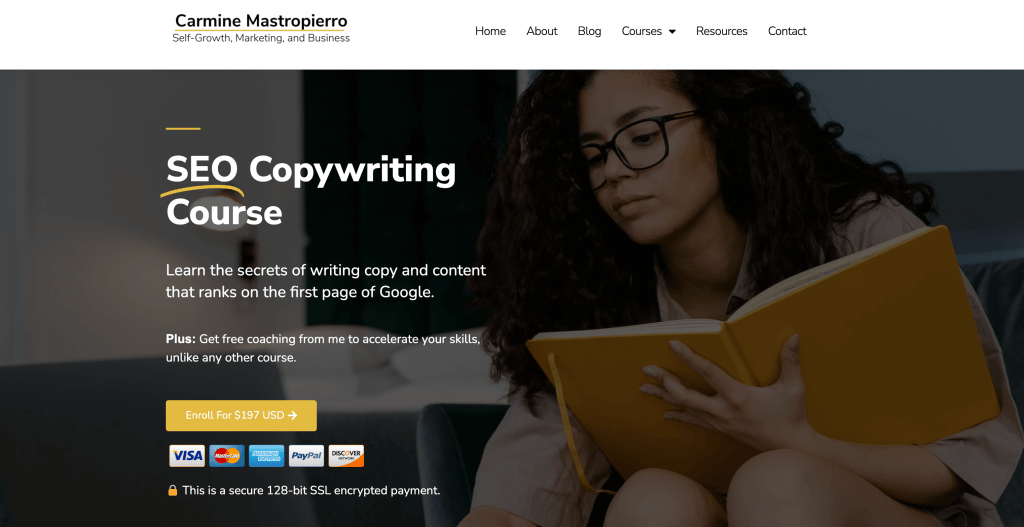 Next up is my SEO copywriting course. I've been practicing copywriting, SEO, and digital marketing for 10+ years. I've packed together my knowledge in actionable lessons that teach how to write sales copy that drives conversions and ranks on Google. While its focus is on copywriting, you will still learn about metadata, keyword research, schema markup, and other fundamental SEO practices.
Pros
Includes feedback and mentoring from me.
Access to private Facebook mastermind.
Doesn't require a large time commitment.
Certificate of completion.
Practical applications.
Cons
Doesn't teach a wide range of SEO subjects.
Pricing
4. SEO Training Course by Moz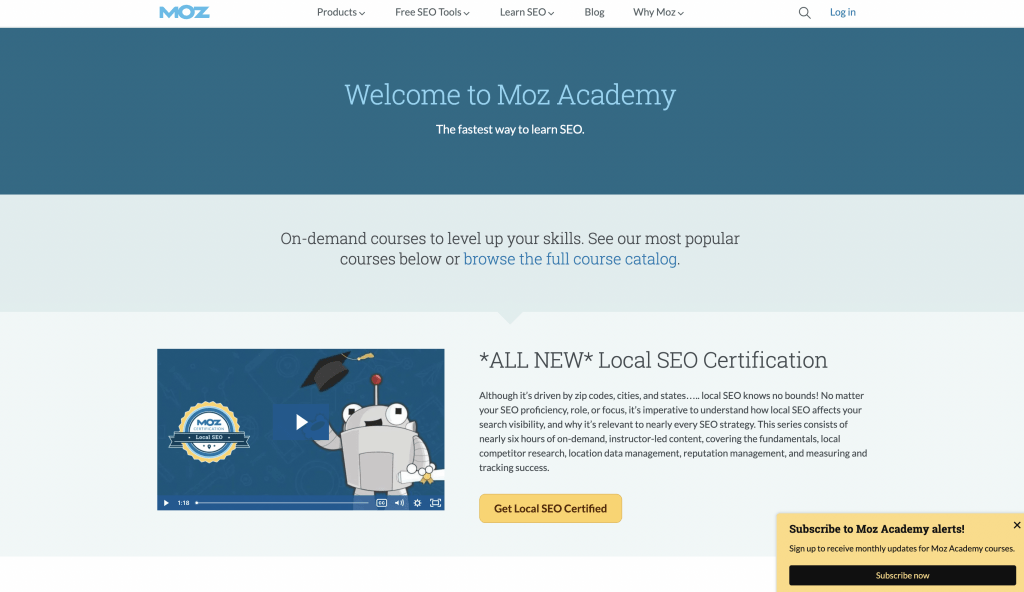 SEO has been one of the leaders in SEO knowledge for over a decade. Their blog and YouTube channel are goldmines for like search engine optimization. Better yet, they offer their SEO academy that teaches you technical SEO, local SEO, competitive analysis, and fundamentals.
Pros
Four perfectly tailored SEO courses.
Taught by industry leaders.
LinkedIn badge and certificate of completion.
Practical applications.
Cons
It can be expensive, depending on your budget.
Class registrations expire after one year.
Pricing
5. SEO Bundle by Reliablesoft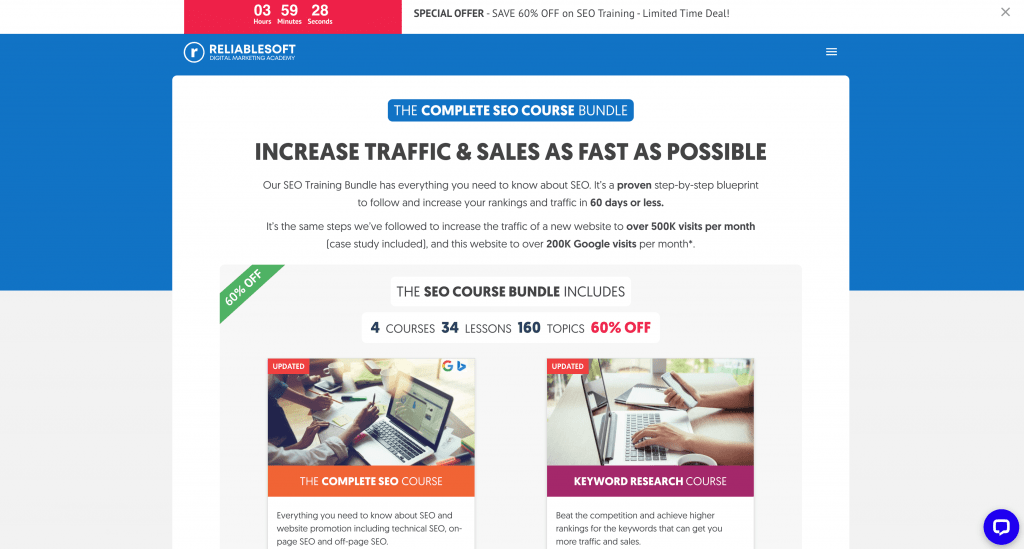 Reliablesoft is a digital marketing agency that has been serving clients since 2002. They now offer online training that teaches you SEO, among other topics like email marketing, Google Ads, and more. Their SEO bundle includes four courses, 34 lessons, and 160 topics. It's also very affordable compared to other courses.
Pros
You get four courses for the price of one.
60-day money back guarantee.
Beginner to advanced topics covered.
Regular sales and discounts.
Cons
No private community.
No mentorship or feedback.
Pricing
6. Yoast SEO Training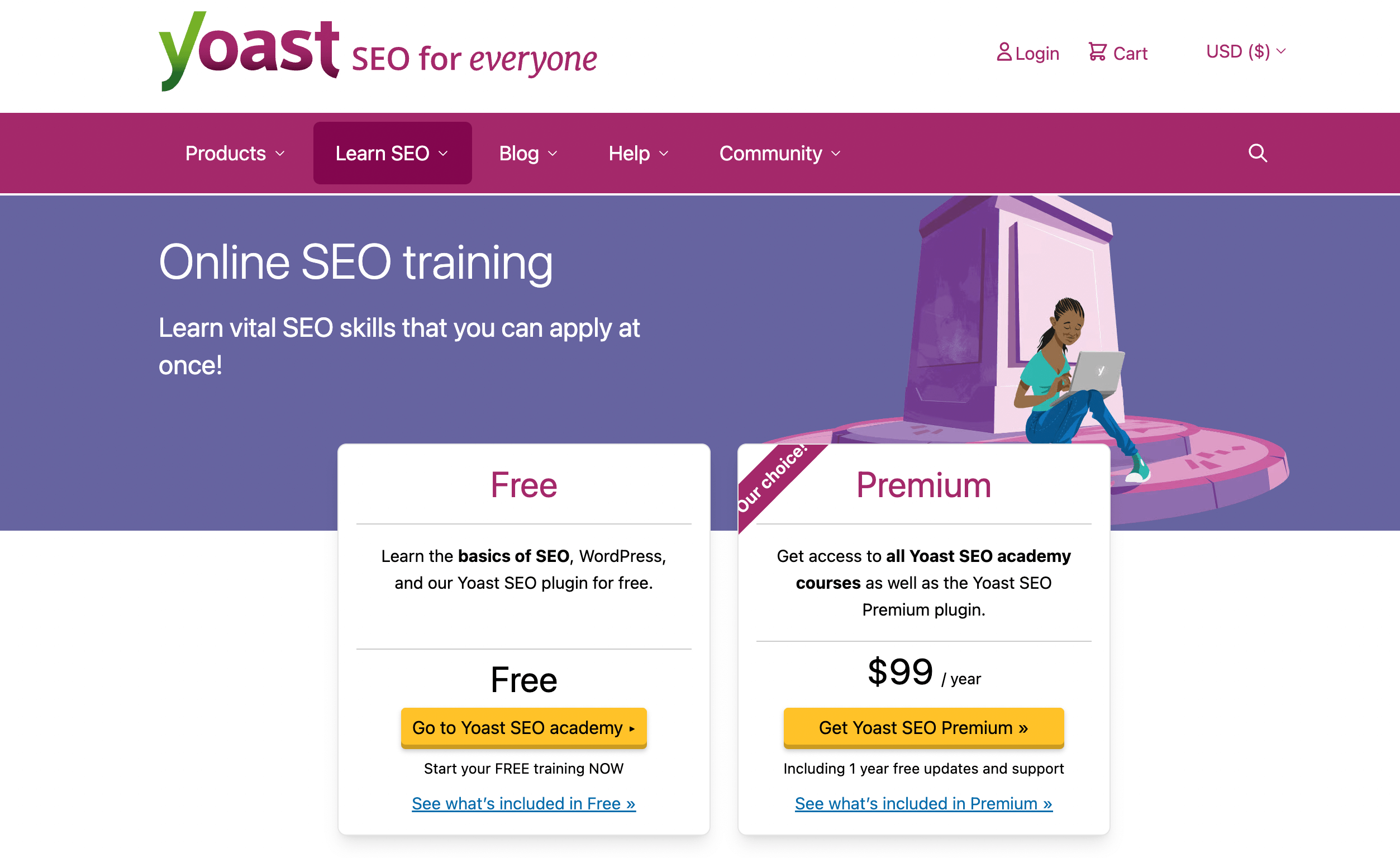 Yoast provides the most popular SEO plugin for WordPress and Shopify, and is a thought leader in the search engine optimization space. Outside of their products and content, Yoast has both free and paid online SEO training.
The free version of their course includes the basics of SEO, WordPress, structured data, and the Yoast plugin. The paid version includes everything in the free one, plus training on local SEO, SEO copywriting, e-commerce SEO, technical SEO, and much more.
Pros
Taught by an authority in SEO.
Affordable price and free version available.
Access to the Yoast plugin.
Webinar replays.
Cons
Course fee is paid annually.
Pricing
7. Neil Patel's SEO Unlocked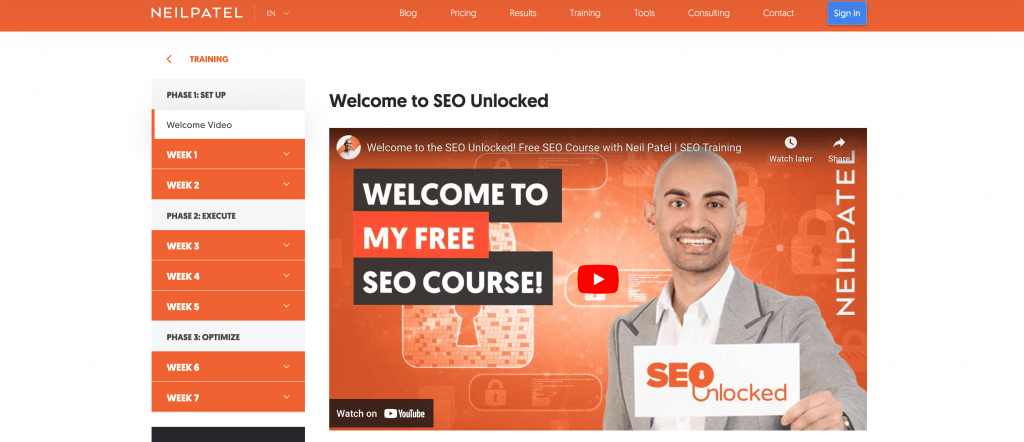 If you're into digital marketing, you know Neil Patel. If not, you might be living under a rock! Neil is the most famous digital marketer and runs one of the biggest blogs and marketing agencies. He offers free online training that teaches you skills like SEO and content marketing.
In particular, SEO Unlocked teaches you keyword research, on-page SEO, off-page SEO, technical audits, link building, and analytics. It's very well-rounded, making it one of the best SEO courses available. Not to mention it's free!
Pros
Taught by one of the best digital marketers.
Downloadables worksheets.
Easy-to-consume YouTube videos.
Cons
Not a traditional course with a community, customer support, etc.
Pricing
8. Google SEO Fundamentals by UC Davis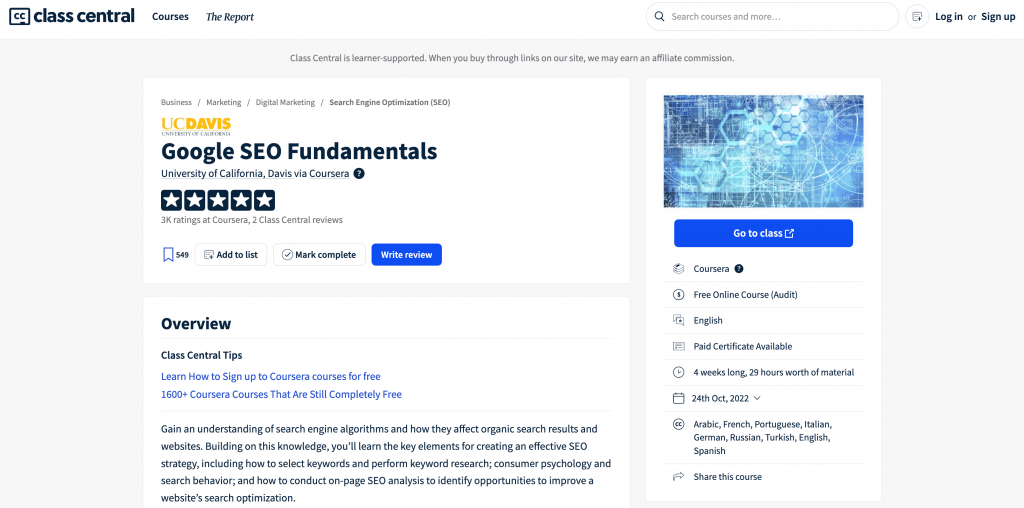 Next up is UC Davis' Google SEO Fundamentals course. It's taught by a prestigious school in the United States, includes a paid certificate, available in multiple languages, and lasts four weeks long. This is a great professional SEO course for learning the fundamentals of on-page, off-page, technical SEO, and keyword research. It also has 3,000+ reviews from happy students.
Pros
Taught by a prestigious university.
Covers the basics of SEO.
Cons
It's a basic course, so don't expect it to be extremely in-depth.
It could be more actionable.
Slow responses from the instructor or Coursera when you need help.
Pricing
Wrapping up the best SEO courses
Learning SEO is important if you want to grow a business or pursue marketing as a career path. It will mostly like be an integral part of your day-to-day work.
While you could mess around with websites and tools until you figure it out yourself, investing in an SEO course is one of the better options to save time and learn from experts.
These are the best SEO courses I covered today to recap:
SEMrush Academy
Ahrefs SEO Training Course
SEO Training Course by Moz
Reliablesoft's SEO Bundle
Yoast SEO Training
Neil Patel's SEO Unlocked
Google SEO Fundamentals by UC Davis
You can learn about SEO and more in my online courses, as well.