Take a look at the results I've generated for clients.
A personal finance company reached out to me to grow organically through search engine optimized blog content. I helped them rank for extremely competitive keywords, drive hundreds of new users per day, and greatly increase monthly revenue that stemmed from their blog.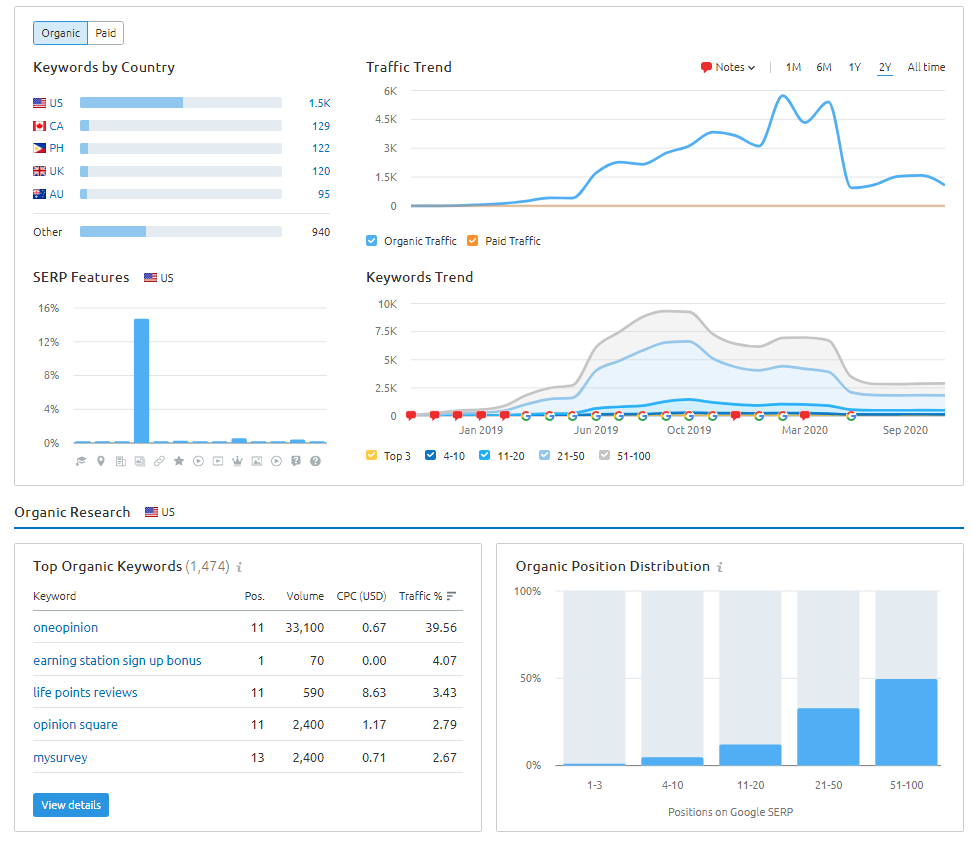 The finance company had a fresh blog with little to no content, search engine presence, and traffic. They also did not understand how to properly research keywords/topics that would attract their buyer persona(s) or create high-quality articles.
Ranking on the first and second pages of Google for ultra-competitive terms that have up to hundreds of thousands of monthly searches.

196% increase in organic traffic.

Indexed for 1,000+ new organic keywords.
I referenced their buyer personas and internal data to research keywords and topics that would attract high-quality users, generate organic traffic, and establish authority. 
I regularly produced long-form content that was focused on solving search intent and matching the reader's stage in the buyer's journey. Appropriate lead magnets and offers were made based on these two elements.
We worked together for approximately 12 months on the project.
The men's apparel company Pierro Shoes reached out to me to have their GQ Magazine sales copy written. I helped drive five figures in MRR and track sales from the advertisements.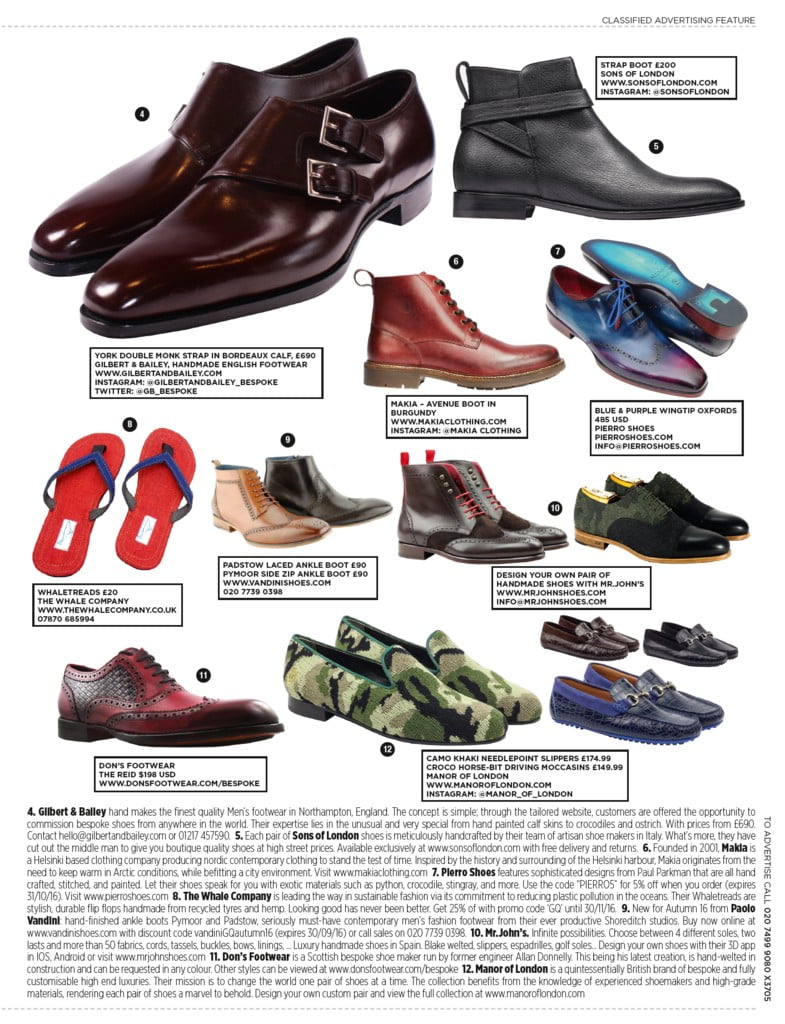 Pierro Shoes was a brand new men's apparel company that was offered to be featured in GQ Magazine one month after launching. They required sales copy to be written for all three of their autumn/winter advertisements. The brand did not want to waste this opportunity to drive significant revenue and increase brand awareness.
$10,000+ in monthly revenue from each magazine ad.

Loyal recurring customers and referrals.

Increased brand awareness, direct website traffic, and social media followers.
I studied their customer base, product, and industry to write sales copy that emotionally resonated with customers, displaying a clear value proposition, and positioned the product as luxurious and rare.
Additionally, I proposed they include a discount code and CTA only found in the magazine to track sales and increase conversions.
SaaS startup organic growth
A SaaS company approached me to help them develop a content marketing strategy and produce monthly SEO blog content to increase organic traffic and inbound leads.

As a new SaaS company, the startup had very little traffic, sales, and growth. They also did not have a clearly defined content marketing, lead generation, or SEO strategy. Their UVP and positioning also needed improvement.
171% increase in traffic.

Blog posts and social media content generated a 5% conversion rate on

cold traffic

.

131% increase in inbound leads from organic traffic.
I consulted with the SaaS startup and helped them gradually optimize an effective inbound marketing and content strategy. We A/B split tested various channels, topics, and formats to determine the highest ROI approaches.
SEO blog posts were written by me on a weekly basis and backlinks were built through guest posting. I also created lead magnets that were engineered for different stages of the buyers journey to include in content.
I also aided in positioning the product to make it unique and deeply resonate with solving buyer persona pain points. 
Learn about my Toronto marketing consulting services.
A B2C technology company in my portfolio used my content writing and SEO services to greatly increase their blog traffic, domain authority, and sales.

The technology client was not familiar with how to properly conduct content marketing—particularly blogging—to drive organic traffic and align it with their funnel. They had little to no search engine presence and traffic.
200% increase in monthly organic traffic within 11 months.

120% increase in inbound generated revenue.
I carefully conducted competitive, content, and keyword research to create an effective blog strategy for my client. This was based on their niche, customer profiles, and goals. Findings were compiled into an editorial calendar and the SEO blog content campaign commenced.
A B2C retailer was interested in growing their blog to establish thought-leadership, drive inbound sales, and promote their products in a non-invasive way. So, they contacted me and we began a project to scale their blog.

Consumers are less responsive to ads and campaigns that are designed for everybody. They want to trust brands and learn from them before purchasing. The B2C retailer had little content and organic traffic coming to their website.
198% increase in monthly organic blog traffic.

Consistent inbound opportunities for partnerships, advertising, and more stemming from the blog.

142% increase in inbound revenue.
I constructed an editorial calendar for the client based on their buyer personas, content guidelines, and other internal documents. These resources were used to find profitable search terms for each stage of the buyer journey. Content was produced for each buyer type.
Digital agency email sALES Copy
A local web design agency inquired to have a cold email outreach campaign written that would fill pipeline with hot leads and clients. Having multiple years of experience writing profitable cold email sequences, we began working together on this project.

The web design agency relied completely on referrals and word of mouth completely to drive new business. They wanted to create a system that would continually fill their pipeline so they could scale and not rely on something fickle. 
They also did not know how to write cold emails that were compliant, personalized, and capable of moving leads further down the sales pipeline. The agency needed consulting on which tools to use, how to set them up, and integrate the templates I delivered.
The campaign achieved a 47.4% open rate, a 9.6% response rate, and a 3% conversion rate. 548 total emails were sent which resulted in 14 new clients spanning from $5,000–20,000/each.
I wrote an eight-part cold email sequence with each message heavily customized to every lead. This maximized open, reply, and conversion rates.
The goals of the first email were:
Send a personalized message about the lead and how the agency discovered them.

Introduce the agency.

Use client names as social proof.

Elaborate on service benefits (while addressing ICP's pain points) and state exact numbers like revenue/CRO increases.

End with a call to action.
While my client was able to generate a significant amount of opportunities from the first email alone, success is always in the follow-up. That's why I designed the remaining follow-up email templates to:
Send industry-relevant content for feedback, providing value, and staying on the lead's radar.

Ask if we were speaking to the correct decision maker and be forwarded to the right individual if not.

Make personal observations on the lead based on their social profiles.

And more.
Drinking my own champagne
You have to practice what you preach.
So, I'm going to be transparent about how I grew my copywriting agency through content marketing, SEO, and other strategies.

While I've been serving clients for 8+ years, my personal domain was brand new and had absolutely no traffic, authority, etc.
I needed to devise an inbound marketing strategy that would attract high-quality leads, increase brand awareness, and drive organic traffic automatically.
I also needed to design a website, map my services, flesh out a funnel, and gradually build a team.
1,000~ users coming to my website every day.

Daily inbound inquiries for services.

Six figures in annual recurring revenue.
I researched and created multiple buyer personas that matched my ideal client profile.  SEO keywords and content topics were then chosen to bring relevant users to my website.
The content was distributed and re-purposed across several channels, including email, social media, podcasts, videos, and more.
Lead magnets were offered and several automated funnels were set up to automatically offer more resources and pitch services to hot leads.
I only built high-quality backlinks through guest posting on relevant and large websites. Not only did this build my authority, keyword rankings, and search traffic but it also showcased my writing skill and expertise. It resulted in countless large projects and business opportunities for my agency.