Interested in finding the best marketing automation or landing page tool?
You're in the right place. 👌
Today I'm comparing Leadpages vs ConvertKit.
They're going head to head so we can finally decide which one is better once and for all.
Keep reading to learn how their pricing, features, integrations, and more stack up against each other.
ConvertKit vs Leadpages overview
| | | |
| --- | --- | --- |
| | ConvertKit | Leadpages |
| Free plan | Yes | Free trial |
| Pricing | Starts at $29/month | Starts at $25/month |
| Multiple devices | No | Yes |
| Company size | Freelancers and SMB | Small–Large |
| Website builder | No | Yes |
| Landing page builder | Yes | Yes |
| Pop-ups | Yes | Yes |
| Alert bars | Yes | Yes |
| Form builder | Yes | Yes |
| Email campaigns | Yes | No |
| A/B split testing | Yes | Yes |
| Analytics | Yes | Yes |
| Automation and sequences | Yes | No |
ConvertKit
Let me introduce you to ConvertKit.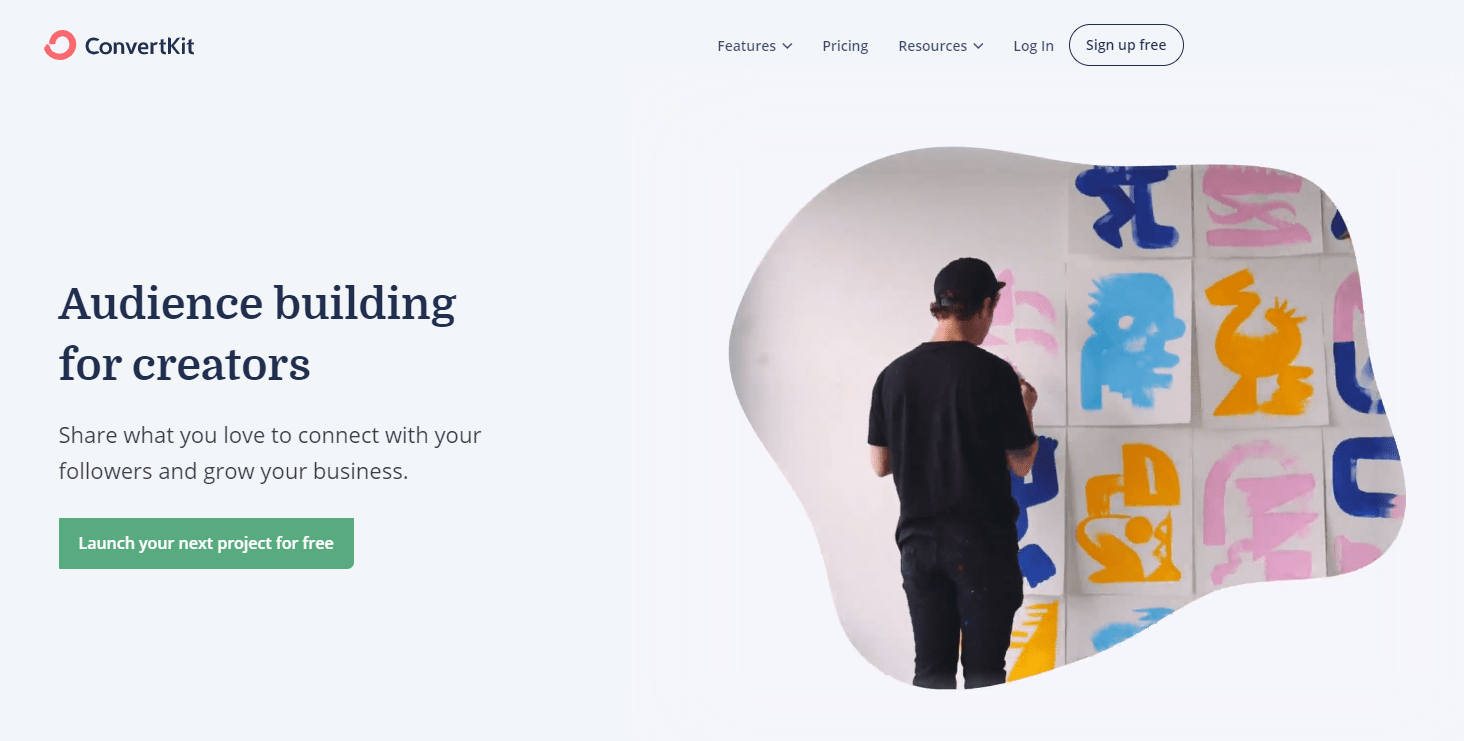 It is a marketing automation and CRO software that helps marketers generate leads, send personalized email campaigns, and automate daily workflows.
Or, in their words, "We exist to help creators earn a living online."
It's ideal for small businesses and freelancers as you'll be learning ahead.
ConvertKit is very well recieved too.
They scored a 4.5/5 star rating on G2 which isn't too shabby.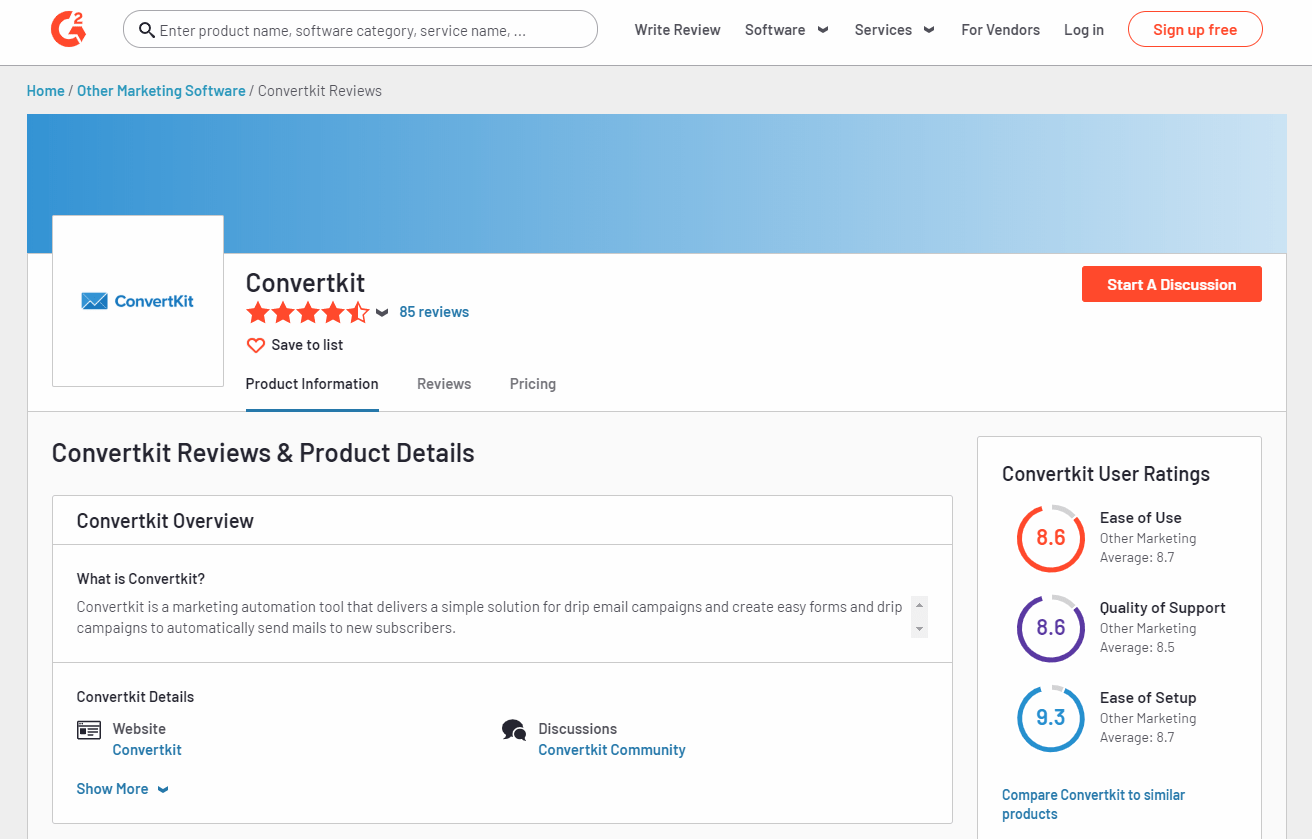 Customers rave about the platform being simple, easy, and use friendly. The drag-and-drop feature is well-liked and it helps create professional emails that convert.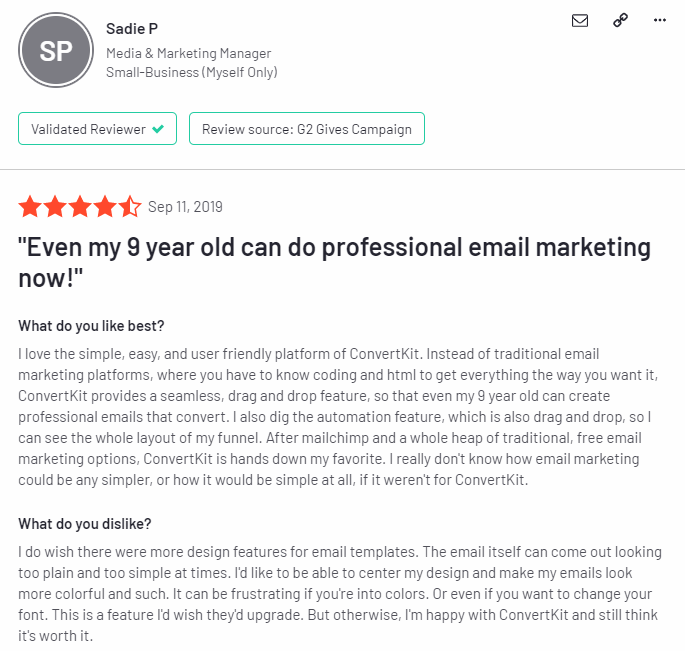 However, everything isn't so sweet.
This customer complained about the non-stop technical problems that affected both them and their subscribers.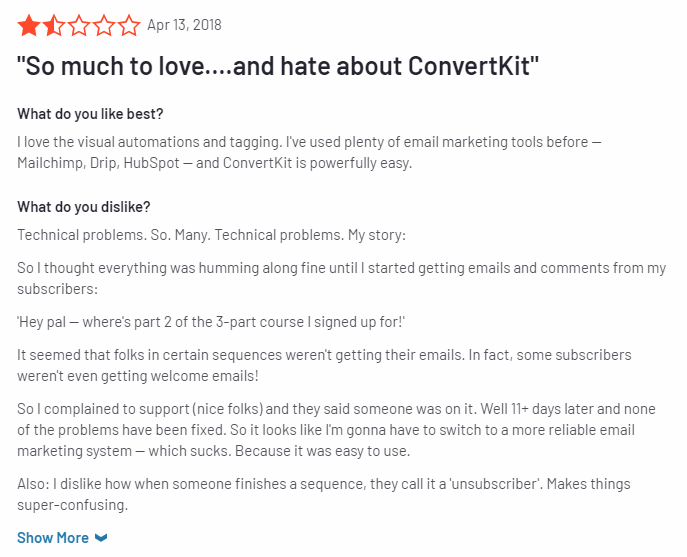 Apparently customer service was very slow as well.
Like all reviews, take them with a grain of salt.
Let's talk about ConvertKit's features next.
ConvertKit features
ConvertKit has four main features: sign up forms, automation, landing pages, and the email designer.
Sign up forms include:
Custom fields
Responsive templates
Lead magnets
Customizable designs
GDPR compliance
Unlimited forms
You can create one for free here. Register for an account and click "Create New."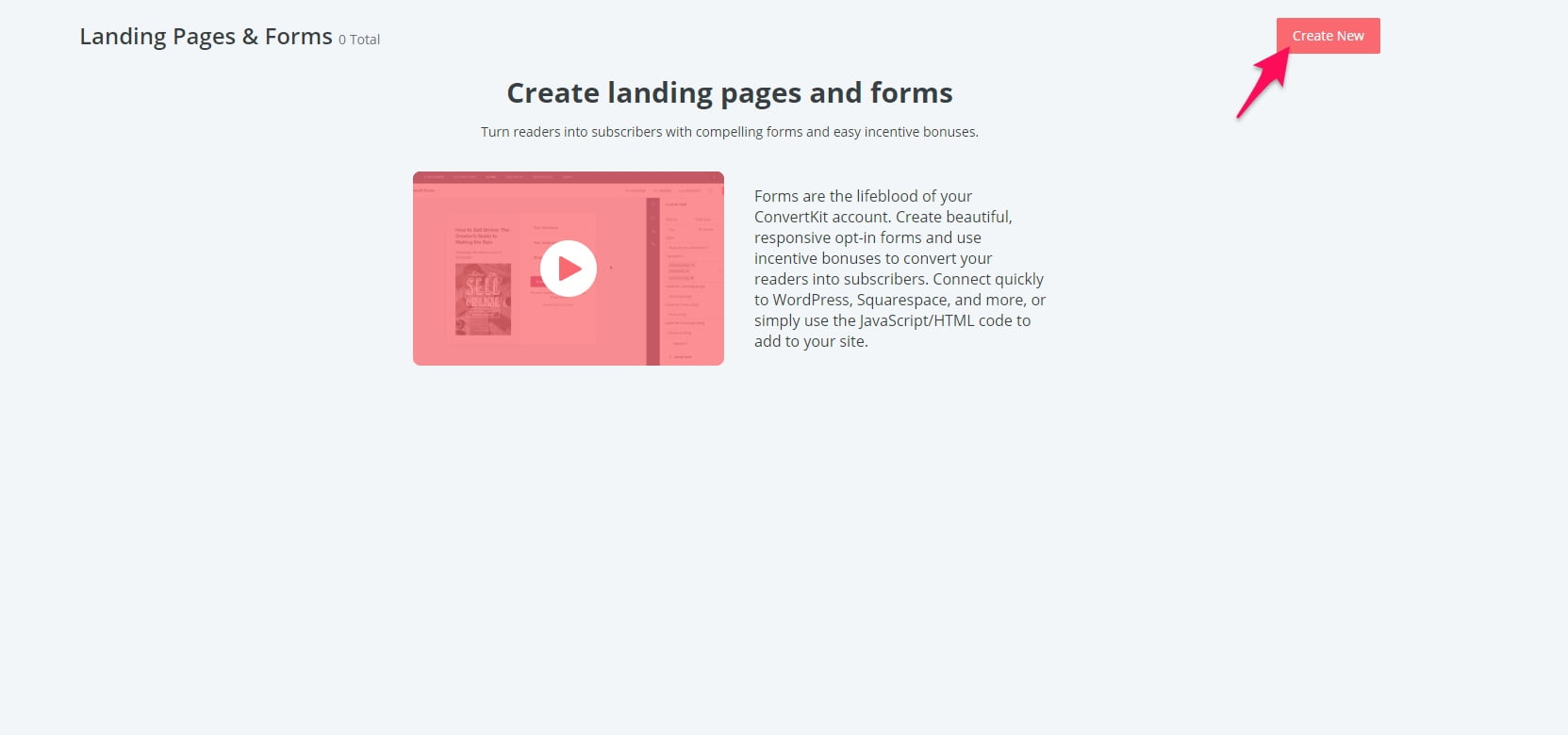 Choose between a form or landing page.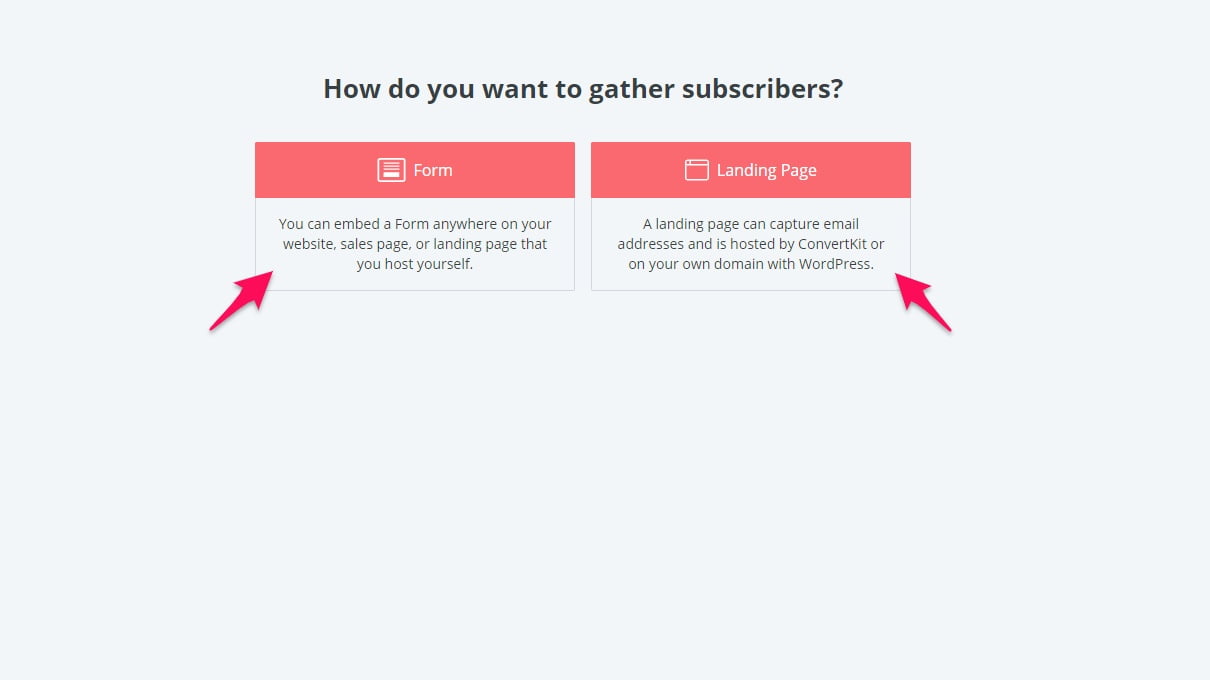 Select a display format.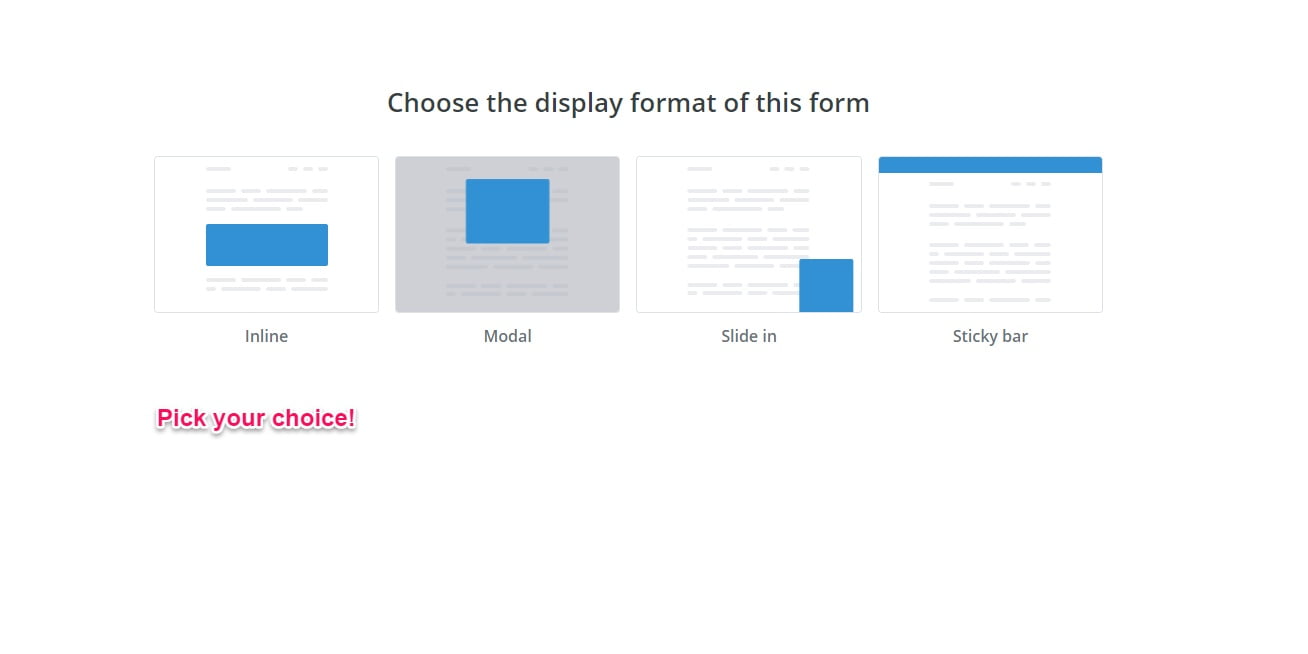 Choose one of the available templates.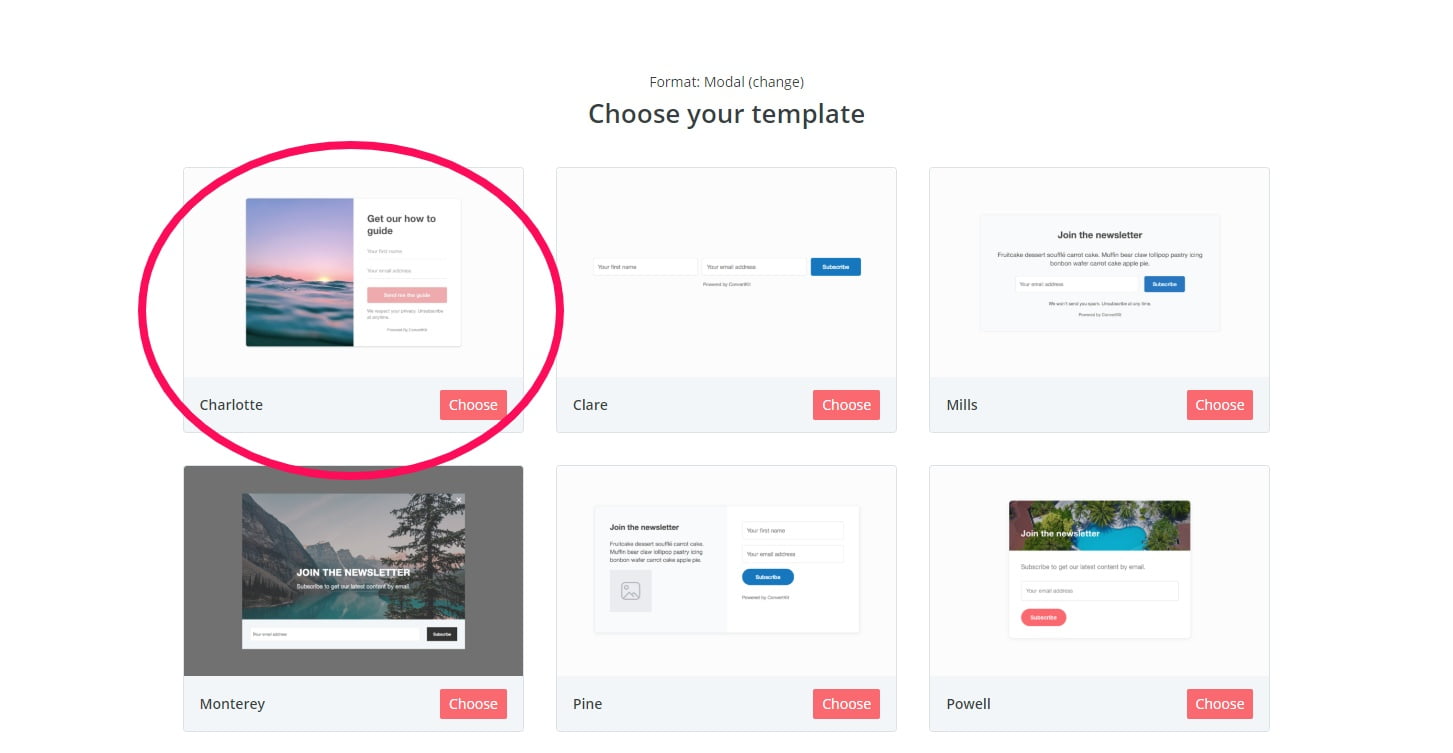 Customize it on the next page and it will be ready to publish!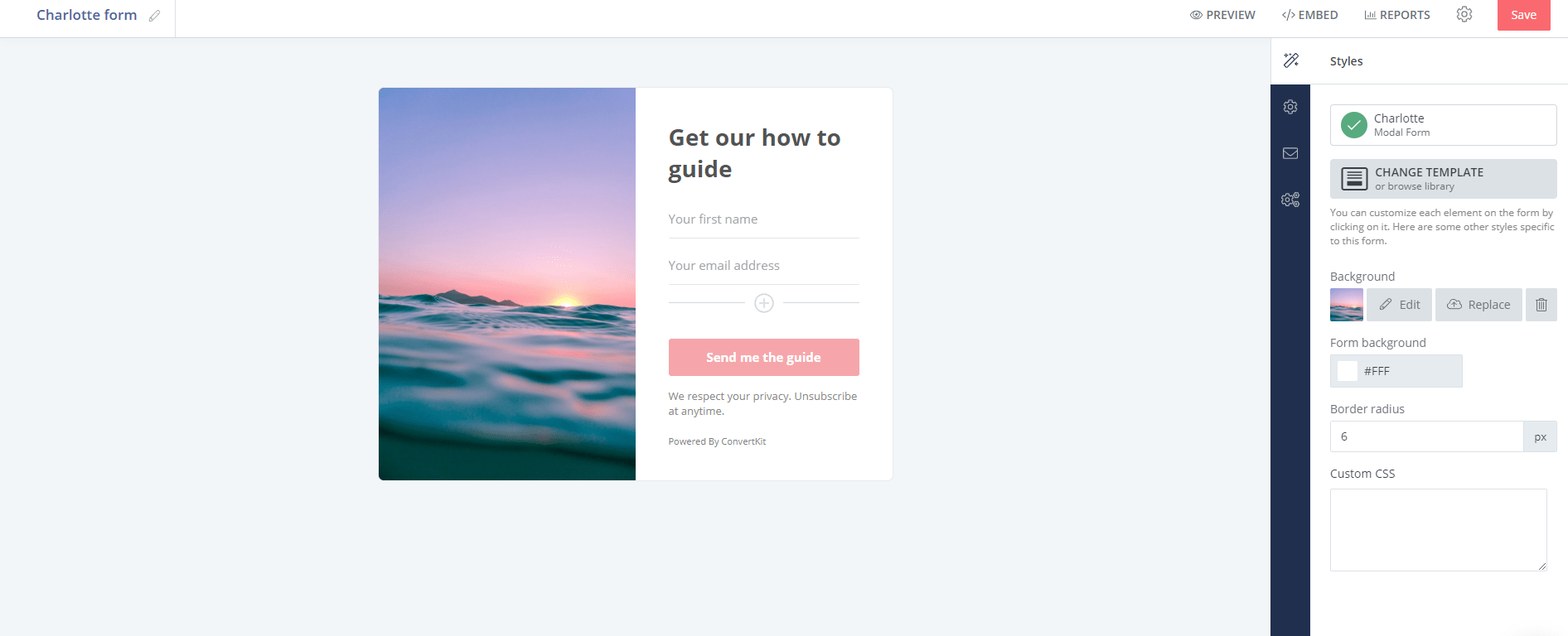 Similarly, ConvertKit has landing pages that help you capture more—you guessed it—leads.
Grow your email list with fully customizable templates that are designed by world-class professional designers.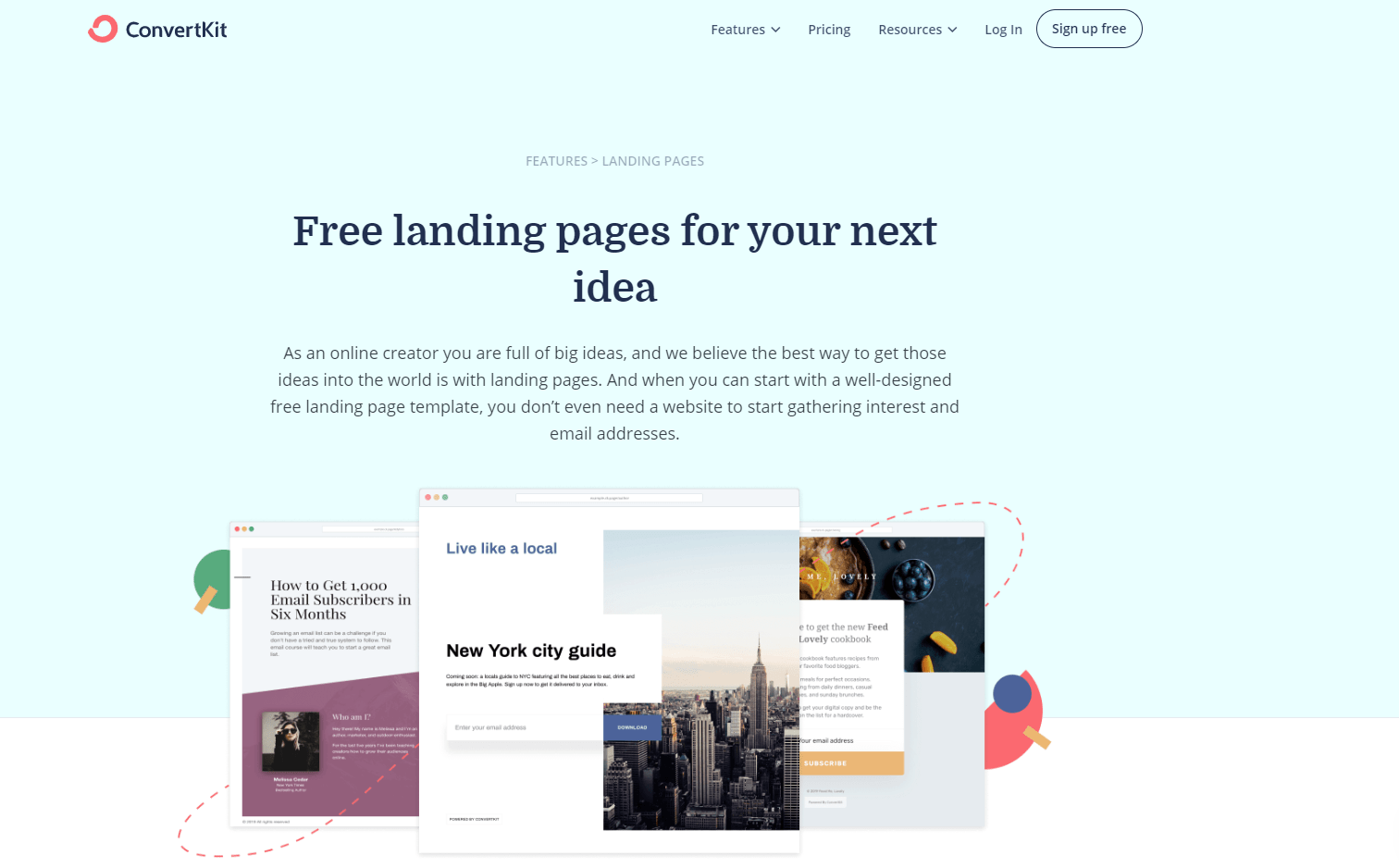 No coding. 100,000+ images. Device responsive.
ConvertKit's landing pages also collect custom data, connect to automation, deliver lead magnets, and integrate with countless other tools for complex sequences.
However, Leadpages' tops that with a built-in conversion guide, unlimited lead collection/traffic, and insanely fast load times.
If you're mostly interested in landing pages, ConvertKit is awesome but Leadpages is slightly better.
Then there's ConvertKit's marketing automation which Leadpages does not have.
This gives you powerful automated funnels with custom rules, action-based paths, segmented journeys, and targeted content.
Here's what the easy-to-use visual builder looks like: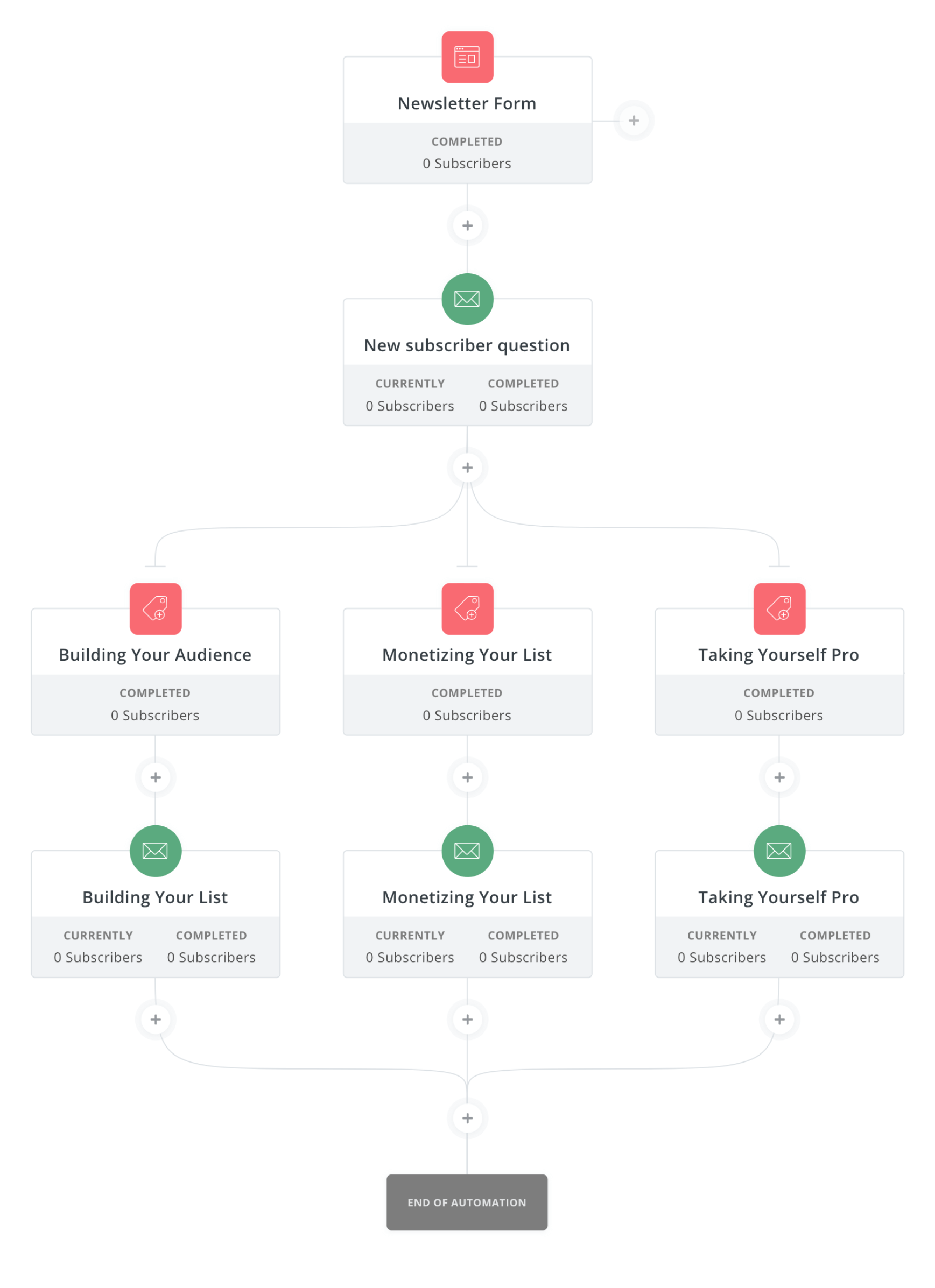 Use this to deliver personalized experiences for subscribers that increase conversion rates and the return of your email campaigns.
Those looking to flesh out complex funnels that run themselves need to definitely use ConvertKit over Leadpages.
Last but not least is the email designer.
Creating high-converting emails isn't easy.
You need the perfect mixture of copy, design, and strategy to drive revenue.
ConvertKit makes the process seamless.
You gain access to simple emails that land in subscriber's inboxes and convert.
Change the font, color, alignment, and other essentials in the click of a button. Add lists, buttons, dividers, and more to make emails more functional.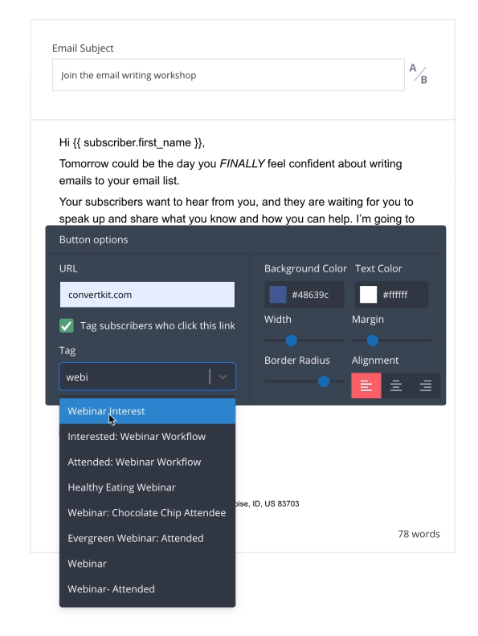 CTA buttons help you get more engagement with every email and they can be tagged to track clicks.
If you want to get your hands dirty and code, that option is available too.
ConvertKit overall has a much more robust email feature than Leadpages.
Convertkit pricing
Let's talk dollars and cents.
ConvertKit has a free version you can try here. It will allow you to create forms, landing pages, and get a feel for the software.
There is also the Complete plan which is billed at $29/month. ($25/month when billed annually.)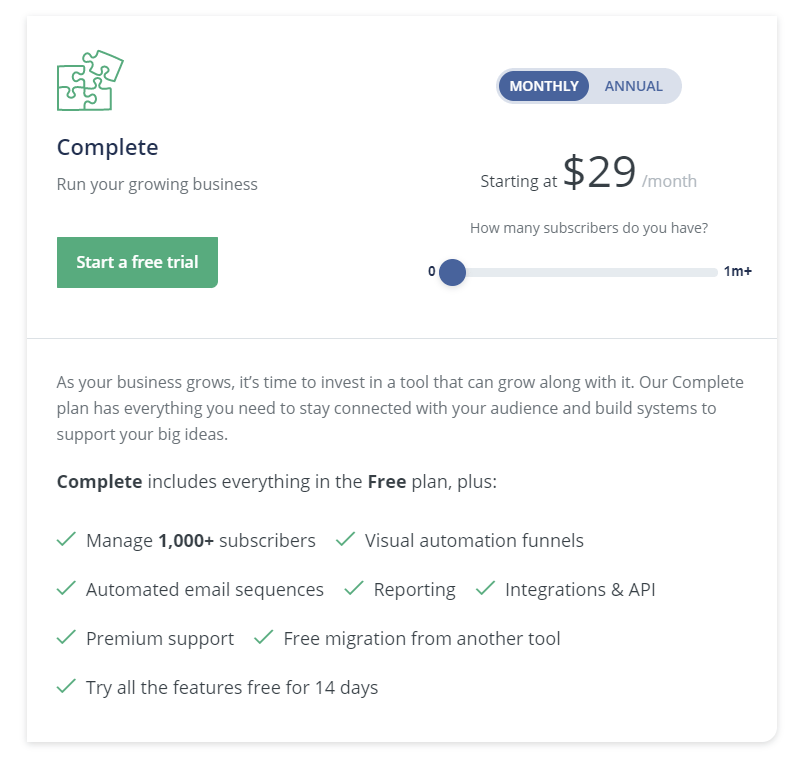 This includes everything in the free package along with:
1,000+ subscribers
Visual automation
Automated emails
Reporting
Integrations and API
Premium support
Free migration from existing email tool
Free 14 day trial
Leadpages' most basic plan is also $25/month so they are even on pricing.
However, Leadpages also has a $48/month and $199/month plan.
Leadpages
With ConvertKit out of the way, let's talk about Leadpages!
They specialize in one thing and one thing only: lead generation.
If you're struggling to attract leads and convert them into paying customers, listen up.
It scored a 4/5 star rating on G2 which isn't far behind ConvertKit.

52 of the 100 reviews are 5/5 stars.
This customer says the platform is easy to use, simplifies lead gen, and you're only limited by your own creativity: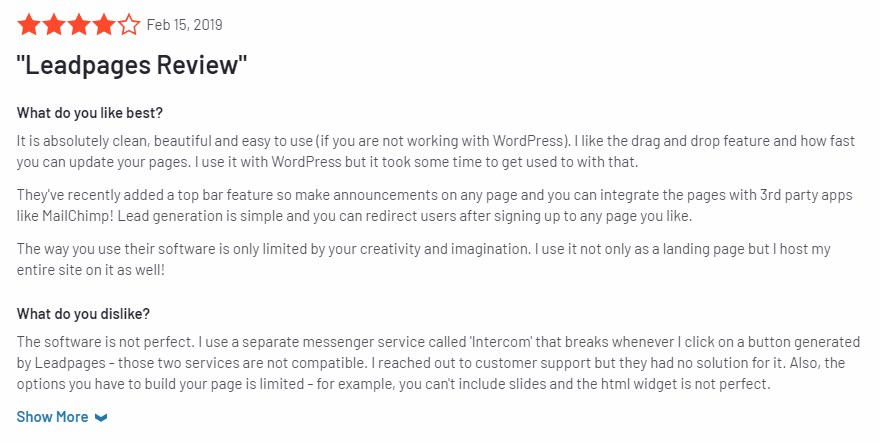 Another customer claimed the exact opposite.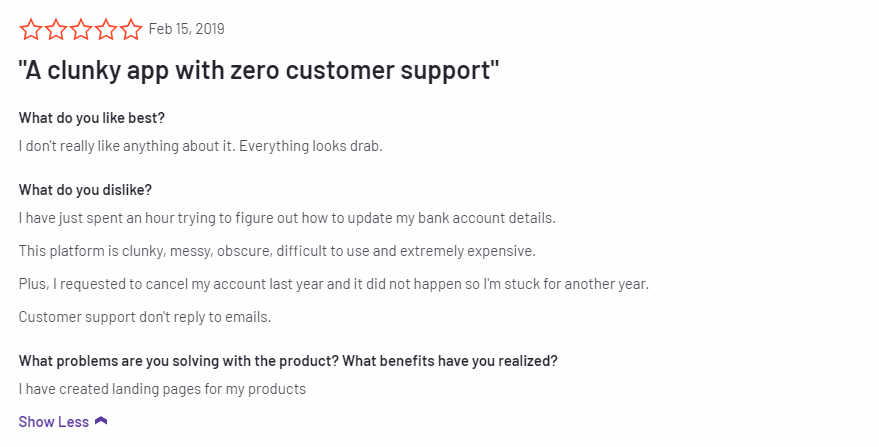 They found Leadpages to be clunky with poor support.
Let's see what features it offers.
Leadpages features
Leadpages, similar to ConvertKit, does a few things and does them well.
These include a website builder, landing pages, pop-up forms, and alert bars.
The site builder lets you quickly launch high-converting web pages without needing to code for weeks on end.
There's also 28+ templates for you to choose from depending on your industry and goal.

They've engineered the website builder to be the easiest and most effective one available today.
Transform webs traffic into sales.
Pre-built pages also save you hours of work by seamlessly integrating with any template.
Drag and drop content and different element or crack your knuckles and code from scratch if you prefer.
Similarly, the Leadpages landing page builder helps turn clicks into customers.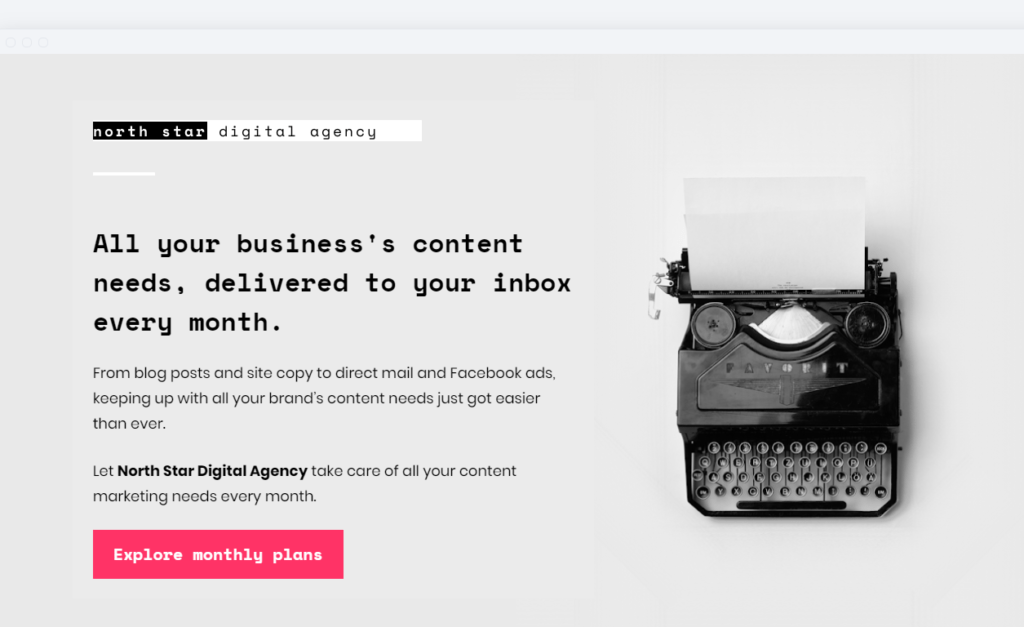 You gain access to a built-in conversion guidance system that predicts a page's performance so you can make tweaks ahead of time. ConvertKit does not include that.
They also don't charge you for success. That means no limits on traffic or leads.
Don't worry about throttling or hitting bandwidth limits either. Make unlimited amounts of landing pages for each traffic source and segment.
Add countdown times, video players, calendars, and other widgets to maximize conversions.
ConvertKit has better landing page automation but you don't get the deep customization that Leadpages offers.
Leadpages' pop-up forms are also more robust. You can add them to a landing page or website in just a few clicks.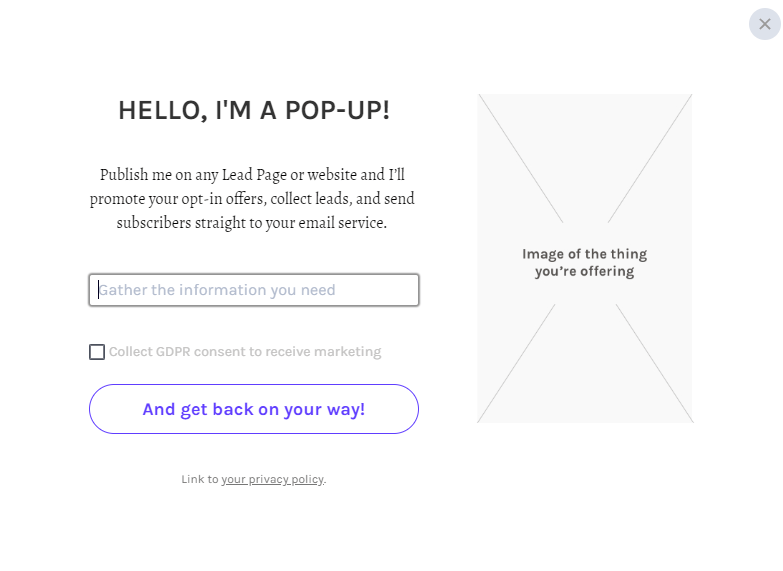 Trigger events, time delays, and exit-intent capability allow you to find the perfect moment to target your audience.
Lastly, the alert bars capture readers attention and boost conversions in a non-intrusive manner. Learn more about them.
ConvertKit has this type of form as well but it isn't as comprehensive.
There are mobile friendly layouts, opt-in or announcement options, flexible publishing settings, and analytics to track an alert bar's performance.
Leadpages pricing
Leadpages offers a free trial for all three plans you can get here.
Note that ConvertKit has a completely free version you can use and is cheaper than Leadpages. (Unless you bill monthly with ConvertKit, then it's $5 more per month.)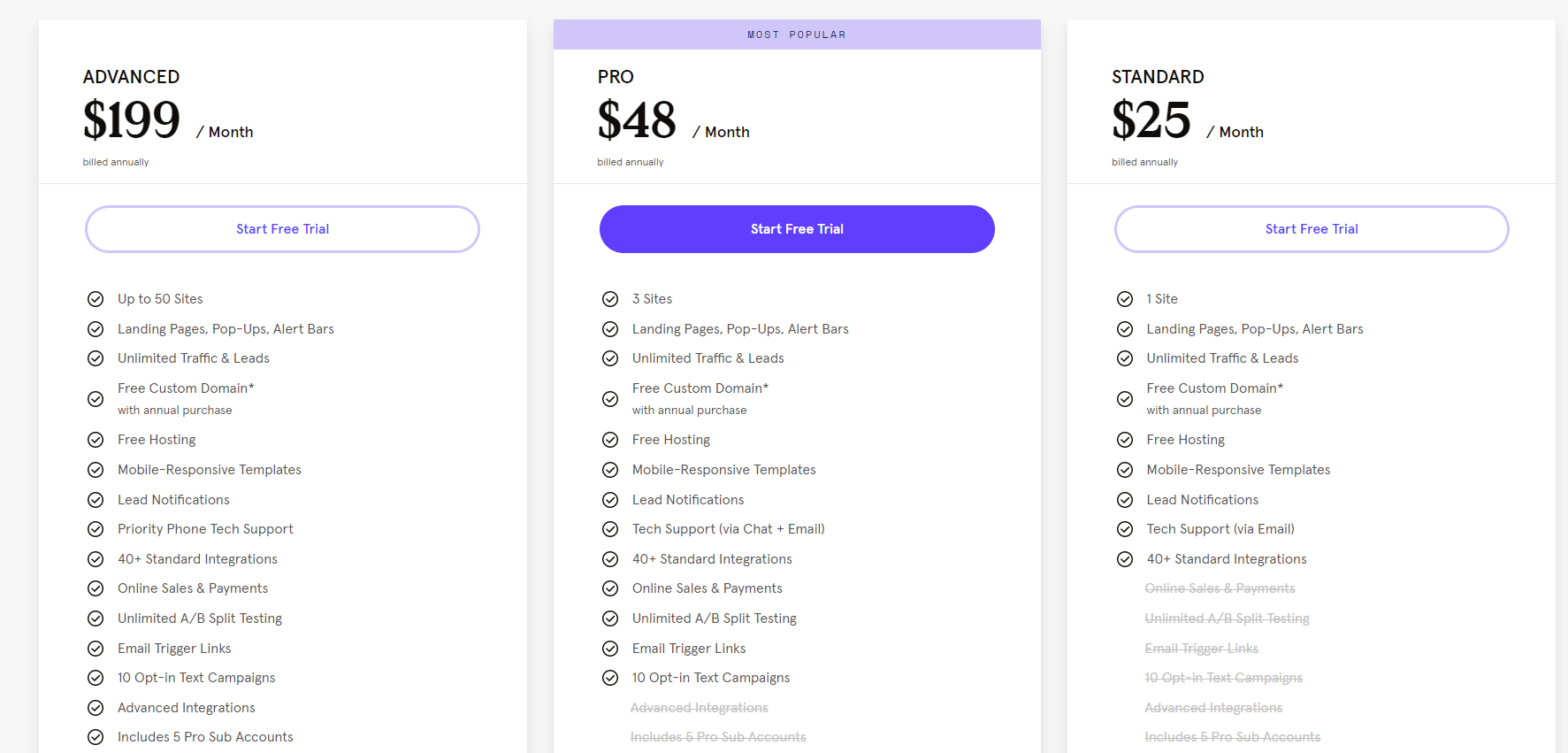 The Standard plan is billed at $25/month. It includes:
One site
Landing pages
Pop-up forms
Alert bars
Free custom domain
Free hosting
Mobile responsive designs
Lead notifications
Tech support via email
40+ integrations
The Pro plan is billed at $48/month and comes with everything in the previous plan plus:
Three sites
Online sales and payments
Unlimited A/B split testing
Email trigger links
10 opt-in text campaigns
Lastly, there is the Advanced plan coming in at $199/month. It includes everything in the Pro plan plus:
Up to 50 websites
Advanced integrations
Five Pro sub-accounts
50 opt-in text campaigns
One on one quick start call
Give the free trial a short. You have nothing to lose.
The first plan is ideal for anyone that needs basic lead gen tools and wants to stay lean.
If you want to collect payments, conduct split tests, and perform SMS marketing, go for the Pro plan.
The Advanced plan is for larger businesses that require more support and campaign capabilities.
Final thoughts on Convertkit vs Leadpages
Alright. Let's wrap this puppy up.
ConvertKit is a marketing automation tool that excels at automated workflows and email marketing. Use it of you wish to automate lead gen and send out higher-converting email campaigns.
Leadpages, on the flip side, is better at landing page and form creation. Use it if you only need high-converting forms.
ConvertKit is cheaper and has a free plan you can try here.
Leadpages offers a free trial but has more expensive plans.
Have fun driving more leads! 🙂