Competition isn't always a bad thing.
In business, it creates the opportunity for partnerships and learning from your competitor's strategies.
But at the same time, other businesses are taking your valuable customers and leads. If you don't monitor them, they might gain an advantage that you'll miss.
This is why analyzing the competition should be a regular practice for your business. It doesn't need to be very frequent, though. Once every couple of months can be more than enough.
How do you actually monitor competitors? By using various online tools which I'll be showing you today.
Ahead are seven market research tools to stay a step ahead of the competition.
SEMrush
SEMrush is a well-rounded website auditing tool that displays traffic levels, keywords, backlinks, and other metrics. Simply enter the domain of your competitor into the homepage search bar.
You will be able to see how much organic traffic their website is generating, how much PPC is driving, and a timeline of their traffic levels.
Use this information to benchmark your website's performance against others in your niche. How is your traffic progressing? Is it consistent, or have there been hiccups?
Scrolling down, SEMrush will reveal the exact keywords that the competition is ranking for. Use this to fine-tune your own SEO and keyword research.

I've used this with many websites to find interesting and unique keywords. Why spend hours doing your own keyword research when you can let the competition do it for you?
Next, let's look at the PPC section. If you use pay per click campaigns yourself, you'll find this very useful. You can see the competition's top paid keywords which you can use to optimize your own ads.
Better yet, wouldn't it be nice if we could see examples of their ads? Well, SEMrush does exactly that.
Above the backlinks breakdown, you will find an assortment of sample ads that your competitor uses. Use all of the information you find to drive more traffic to your own business.
Many marketers, including myself, always keep a swipe file handy. A swipe file is a collection of proven marketing ideas that you can use for inspiration later.
In the case of these sample ads, record the calls to action, headlines, and descriptions in an excel file. When you go to create your own PPC ad, you'll already have plenty of sales copy to test.
Alexa
A classic traffic auditing tool that veteran internet marketers will all remember.
While it's overshadowed by newer and fancier tools, Alexa still remains as a great free approach to analyzing competitors' traffic.
Entering a domain name on the homepage, you're brought to a page that is reminiscent of SEMrush.
It displays a website's traffic levels, global rank, and location of its users. You will also be able to discover how much they are bouncing, their average time spent on a page, and how many pages they view per session.
This information is useful for benchmarking. How do your bounce rate and similar metrics compare to major competitors?
Sometimes you're doing a lot better than you think. For example, one of my blogs has a bounce rate of 75%. I tried split testing and everything in the book.
I was able to improve it, but after looking at competitors, I noticed something — they had equal or higher bounce rate!
My blog was actually performing a lot better than I realized, especially since the average blog bounce rate is between 70-90%. I wouldn't have known unless I simply just bench-marked my stats against the competition.
Anyways, let's look at the geographic section of Alexa.

Why is this important? Because it can sharpen your targeting and customer persona. Compare where your traffic mostly comes from and where other brands in your market receive theirs from.
One feature that you'll benefit greatly from is the Upstream Sites area.
This displays what site users visited before landing on the competitor's website. A.K.A, where they're getting traffic from.
The above stats are for Amazon. Did you expect that 4.1% of their users would be from YouTube? Use this data to improve where you drive traffic from.
SimilarWeb Chrome extension
While website tools are useful, nothing beats a browser extension you can use on the fly.
SimilarWeb is a free Google Chrome extension that you can run on any website to unlock its stats.
Simply open the website of any competitor and click the SimilarWeb icon in the top right of your browser.
The overview displays monthly visits, bounce rate, and other in-sightly metrics. Navigating over to the sources tab, you can see a detailed breakdown of where competitors' traffic is coming from.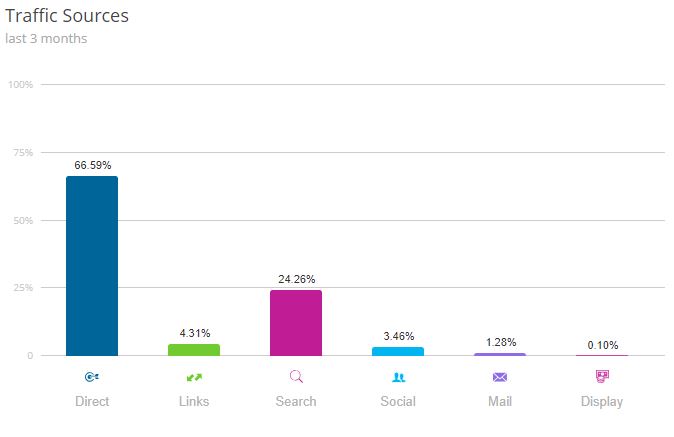 63% of businesses say that driving traffic and leads is their biggest struggle.
You may find that email or display ads drive the most traffic for a competitor's website, for example. You could take advantage of this by testing these strategies yourself.
Open up the referrals tab.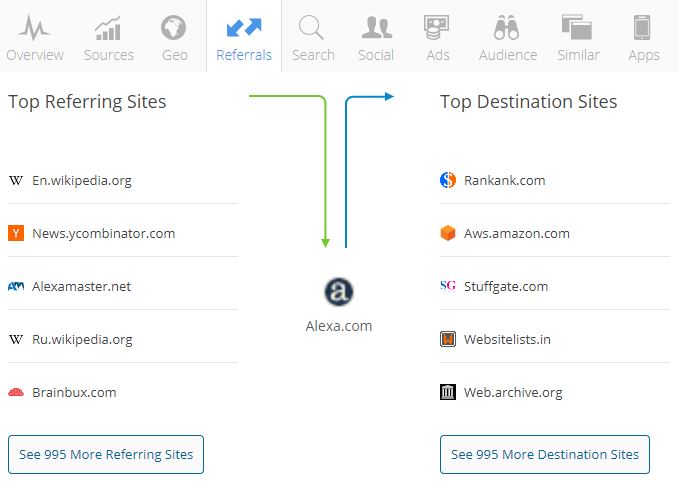 This will show you both the websites that link the most to a website and the websites they link out to the most.
Research how the referring websites are linking to them and use it as a way to discover backlinking opportunities.
SimilarWeb website version
Not only does SimilarWeb offer the free Chrome extension, but a free and paid web app. It offers a much more in-depth analysis of your competition which makes it worth every penny.
Conveniently download the report as a PDF to study it more thoroughly. Having this data allows you to benchmark yourself against other businesses or determine if a market is a good fit to enter.
Siteworthtraffic
Do you ever wonder how much revenue another business in your market is pulling in? Siteworthtraffic will give you a good estimate along with details about their website traffic.
Traffic sources, Alexa ranking, and additional analytic tools are all at your fingertips.
They update their database frequently, so you get up-to-date information. Use this tool to determine how you are progressing compared to competitors.
VisitorsDetective
A quick and free tool to study your competitor's daily, weekly, monthly, or annual traffic levels. Enter their domain and hit the check button.
Along with their visitor count, VisitorDetective shows where their users are coming from the most, what keywords are associated with their site, and how many incoming links they have. They have regular updates, so you're always a step ahead, too.
SEO PowerSuite
SEO PowerSuite is a full-fledged analysis tool. The features include:
Broken link discovery and fixing

Page speed increases by eliminating loading problems

Fixes title and descriptions

Structure internal links better
But most importantly, it offers a deep breakdown of traffic for every page of a website.
There is a free version available to download and two different paid licenses.
All of them offer more and more perks, depending on your needs. The website auditor will help you find competitors' highest-traffic pages, the most shared content, and more.
Studying the competition is a needed practice for any business. It allows you to size up competitors, benchmark your performance, and discover opportunities or trends. Use the tools we showed you today to begin monitoring your competition traffic and more.
What's your favorite tool for studying the competition?